I'm not going to lie; I love a good cheese sauce. Whether it be for my pasta or veggies, I can't say no to a cheesy dish. However, as a vegan, that's unfortunately not an option for me. That is until now! This vegan pistachio pesto sauce is everything a cheese sauce should be and more. Nutty, creamy, and with the perfect amount of saltiness, this sauce will have you forget about dairy-based sauces.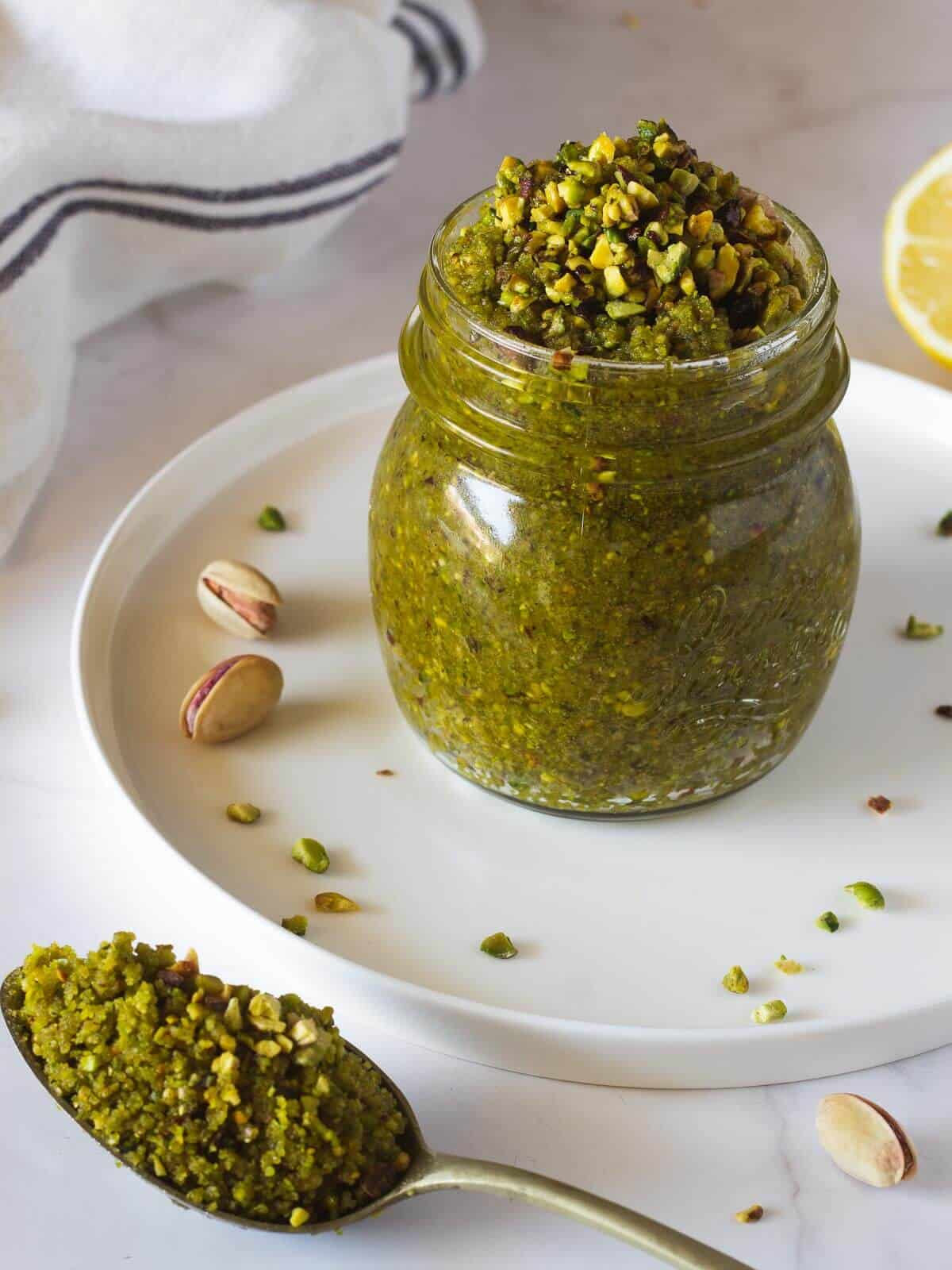 I don't want to blow my own trumpet, but we live in Italy, and we love pestos; as you might have noticed, given the myriad of pesto recipes we have on this blog; and I have to say, our basil pistachio pesto is the best one we have ever tried.
Before embarking on making our pistachio pesto, we bought excellent brands and tasted it in restaurants, and we were pretty disappointed.
We are big fans of pistachios. We love everything pistachio.
You guessed it, which one is the ice cream flavor we both always ask for! We love cream on our toast, snacking pistachios on their shell, tossing toasted pistachio into our pasta and risotto, and making delicious pistachio and chocolate chia pudding.
But we have always been disappointed with pistachio pesto. Maybe our expectations were too high. We dug into all kinds of recipes and analyzed every component and its quantities before deciding what stayed or left.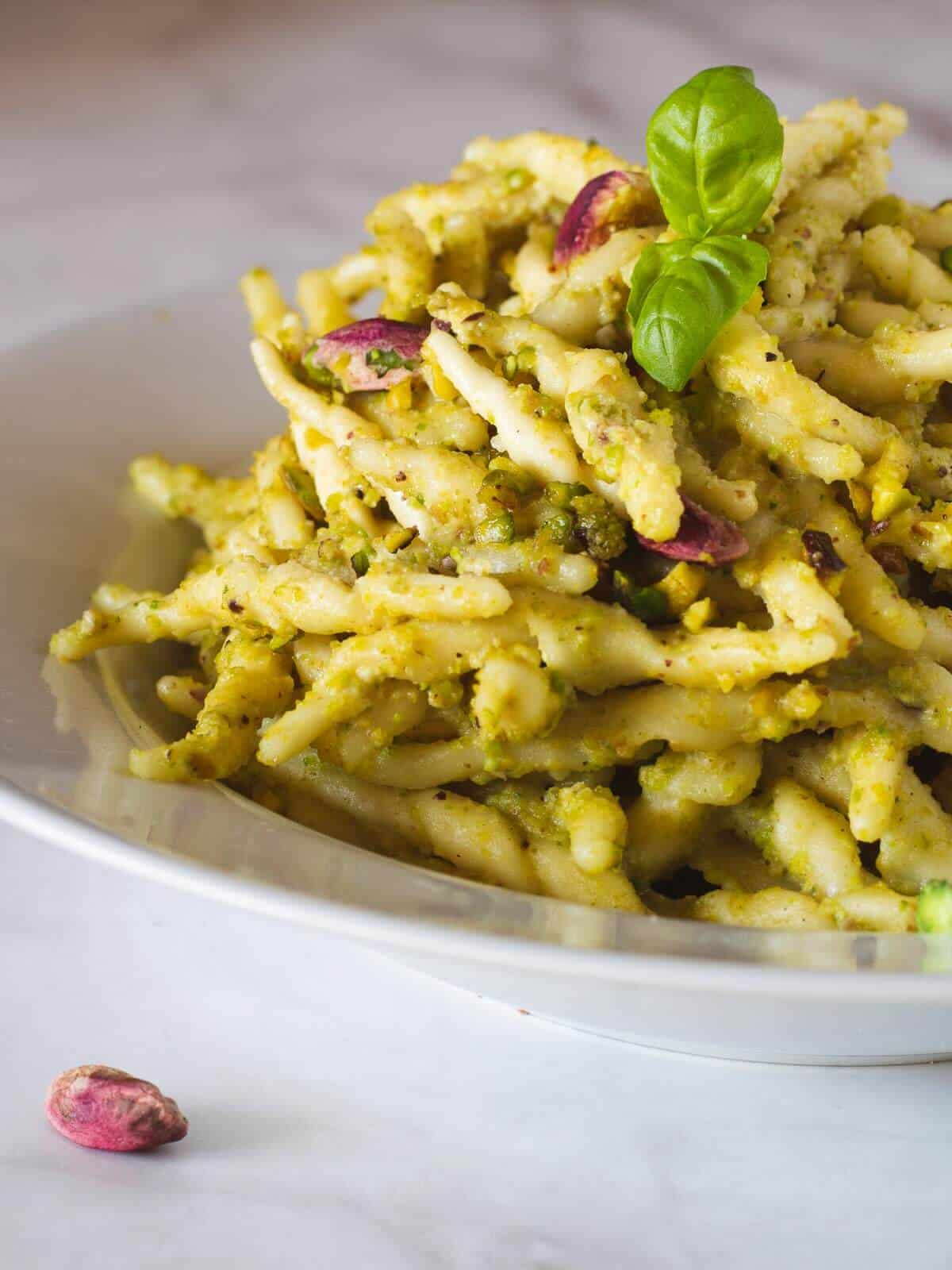 You can use this delicious pesto in a pasta salad, simply tossing it with your choice of pasta and adding fresh herbs like arugula or roasted vegetables.
This is the result. Read more about the theory of flavor below.
Jump to:
🧾 Ingredients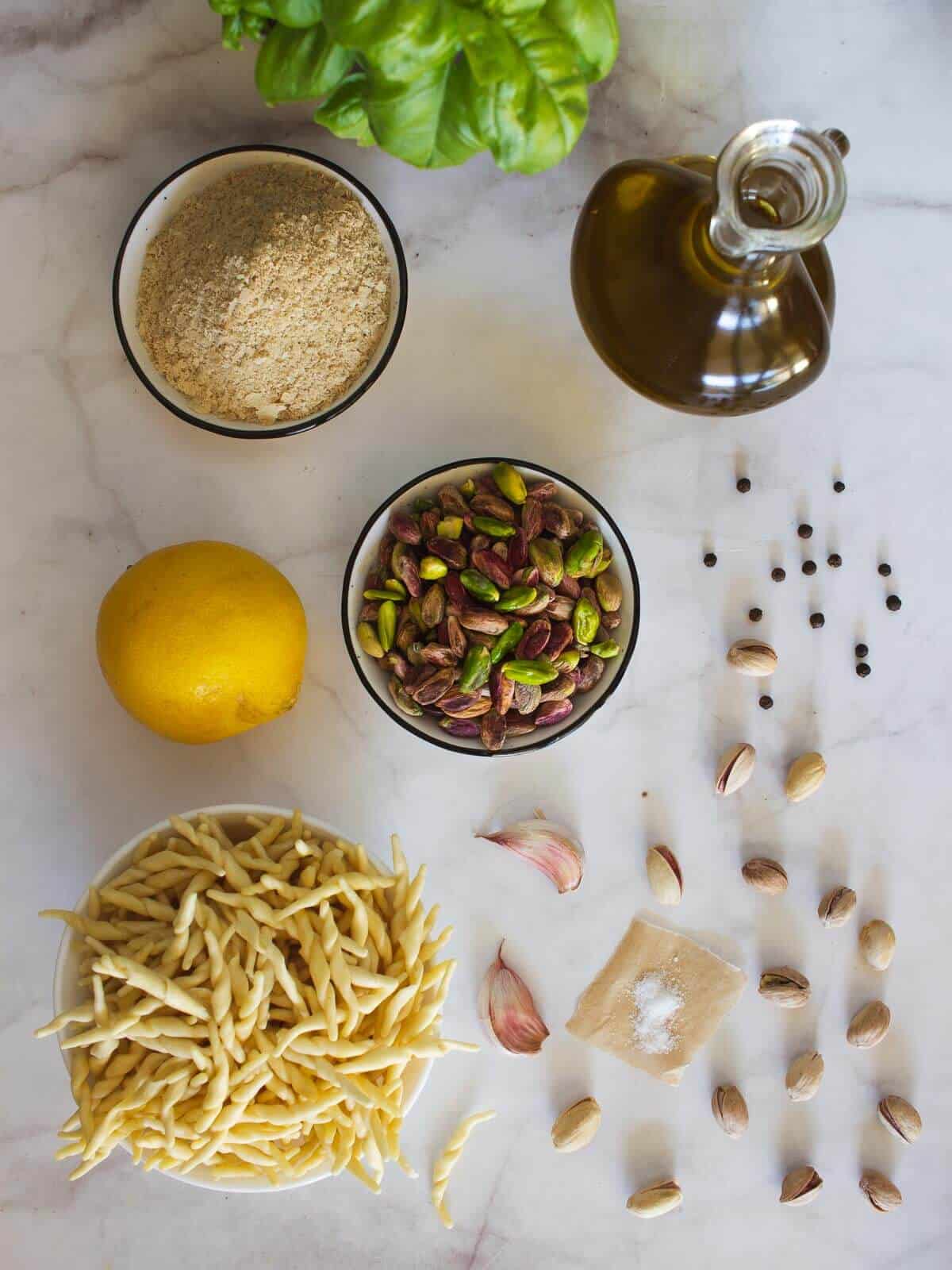 Toasted pistachios
Fresh garlic
Fresh basil leaves
Extra-virgin olive oil
Lemon juice
Nutritional yeast
Salt and black pepper to boost the pistachio pesto taste.
Optional: crushed red pepper flakes
🔪 Instructions
To make this homemade pistachio pesto recipe, follow the same instructions as you would for the more traditional basil pesto or arugula pesto.
The differences are in the number of herbs used and the treatment you give to the pistachios, as toasted pistachios may come unshelled, and the shells directly affect the color of your homemade pesto.
Only not using shelled pistachios
Cover the pistachios with boiling water and leave them soaking for a minimum of 15 minutes.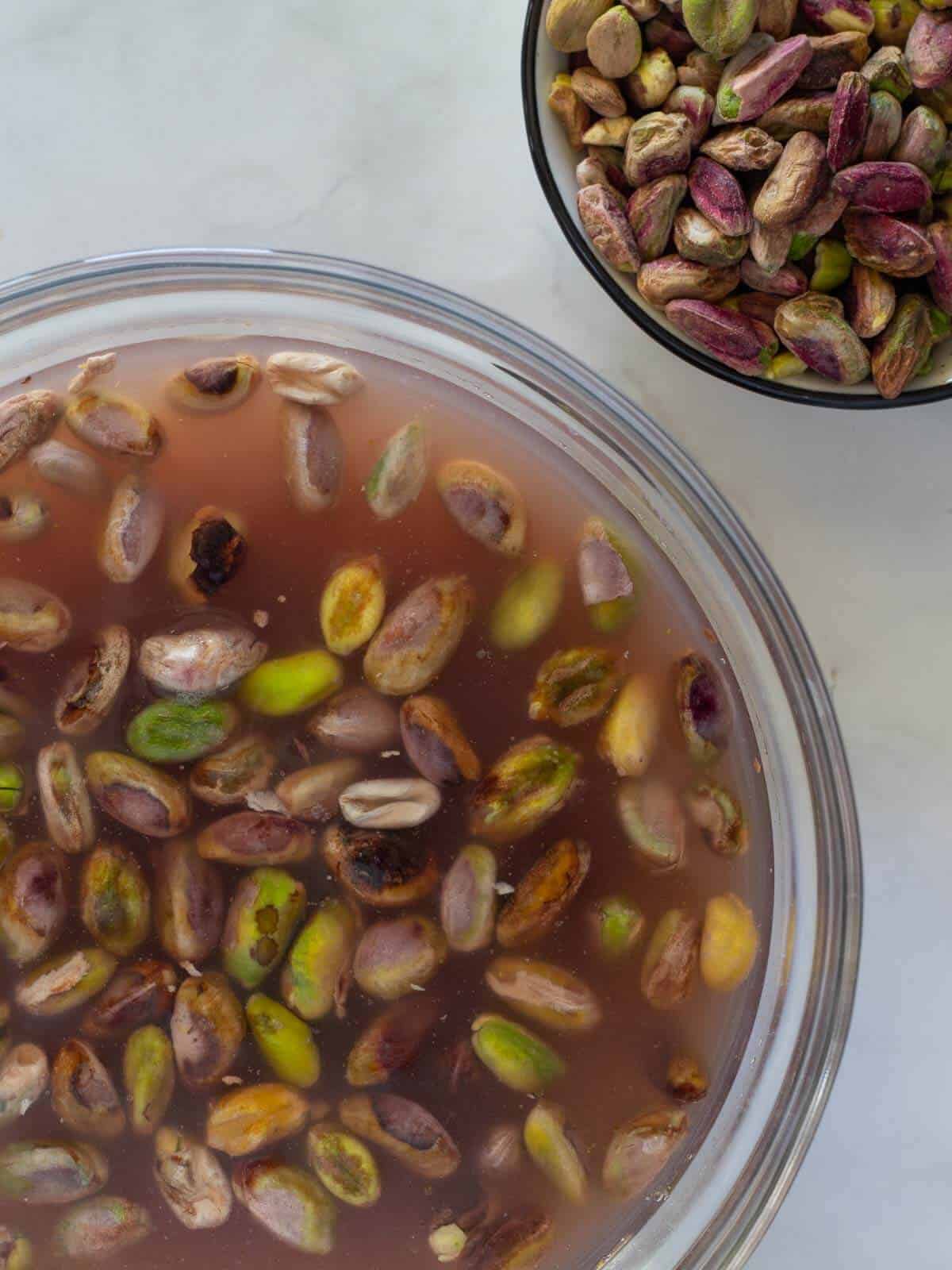 Remove the pistachio skins and reserve them. This step is a bit long, but that will give us a bright green pesto!
You can also choose to pop the shells off in 5 minutes simply roughly.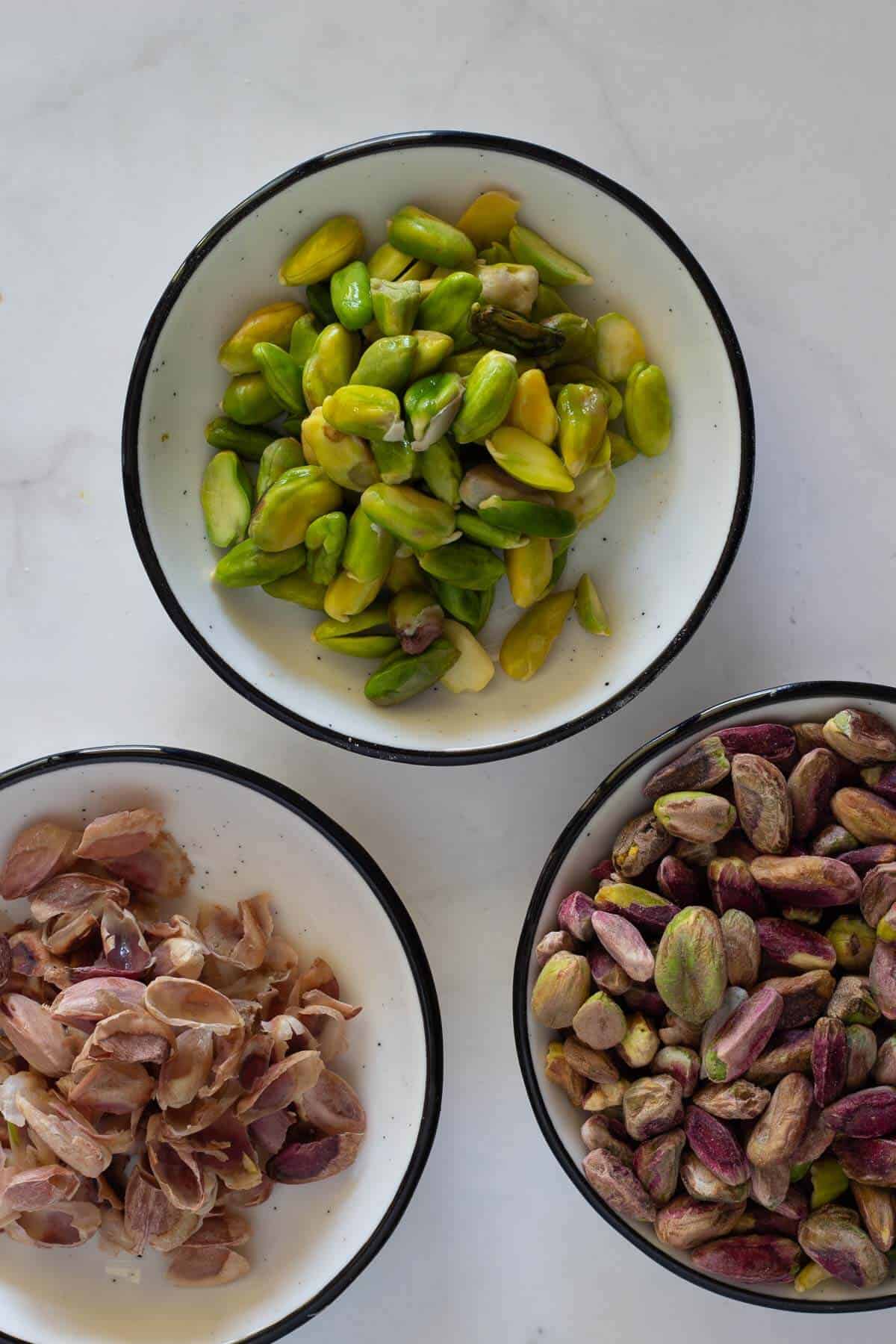 In a skillet, on medium-low heat, lightly toast the pistachios with the peeled and halved garlic cloves until the pistachios are fragrant. Don't burn them.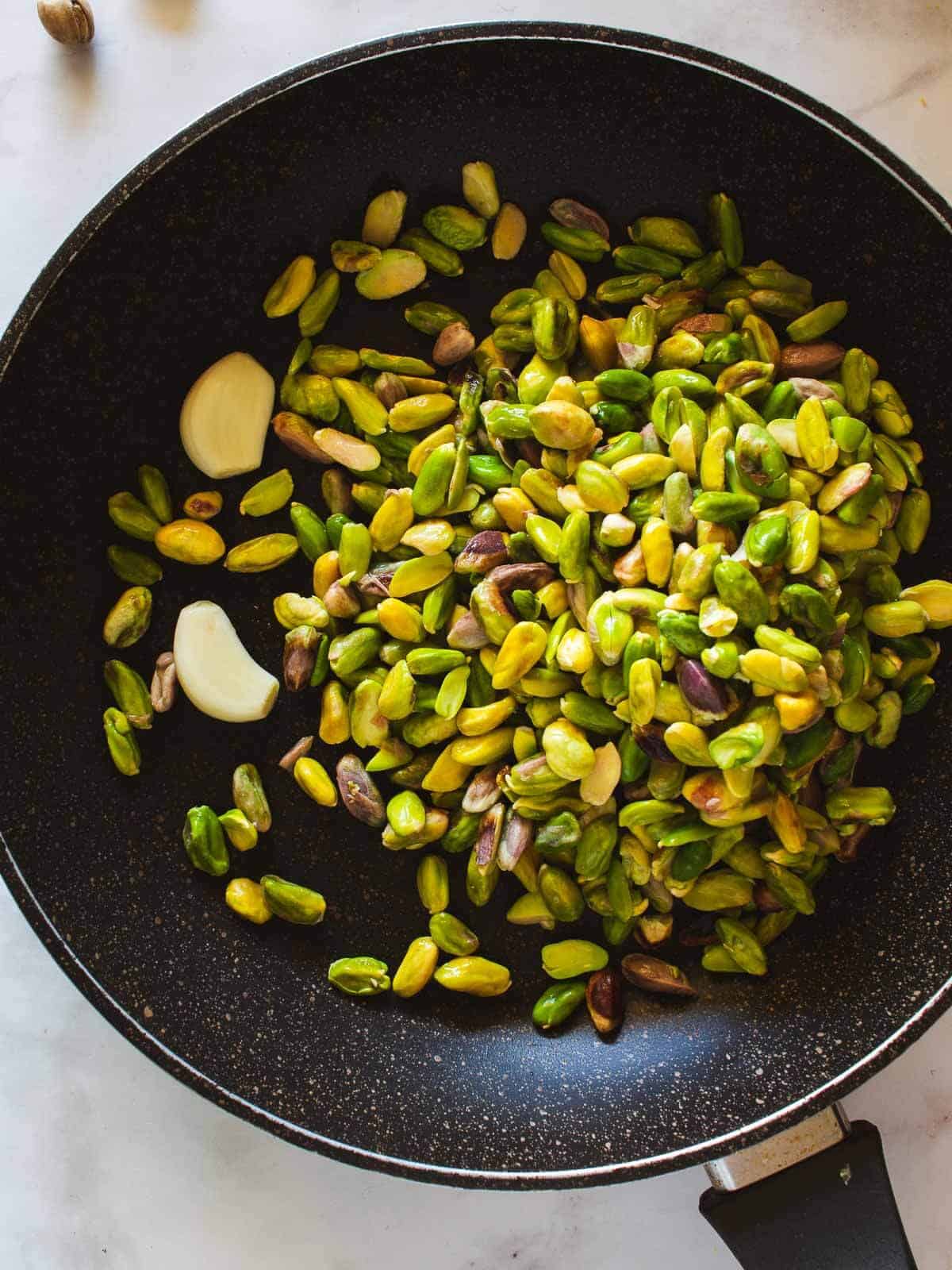 Blend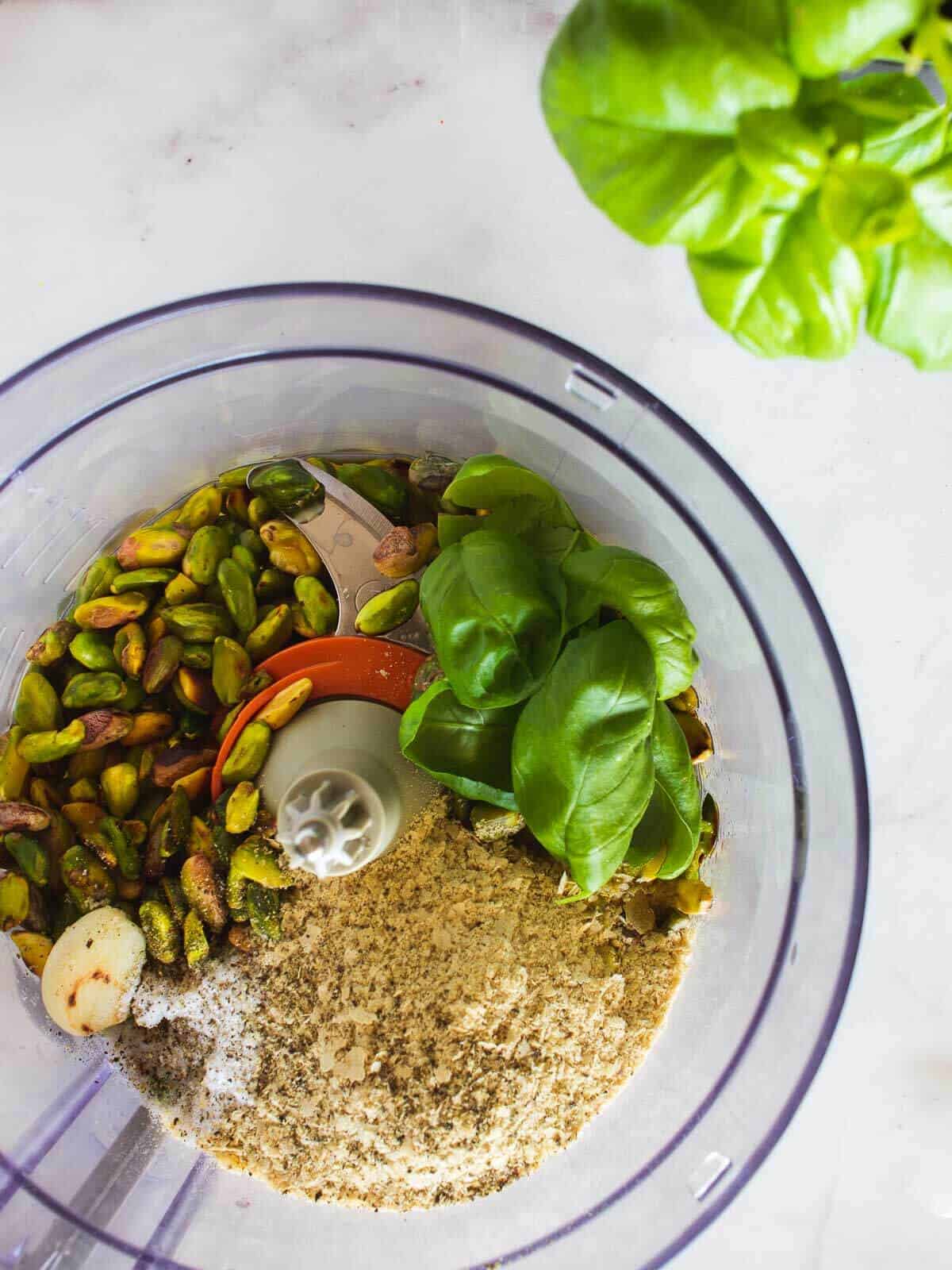 Put the roasted pistachios, fresh basil leaves, nutritional yeast, salt, pepper, and drizzle in the olive oil in a blender or food processor.
Blend and gradually add a little water until you have a creamy mixture. The amount of water can increase or decrease based on how we want to use our pesto or how we like it.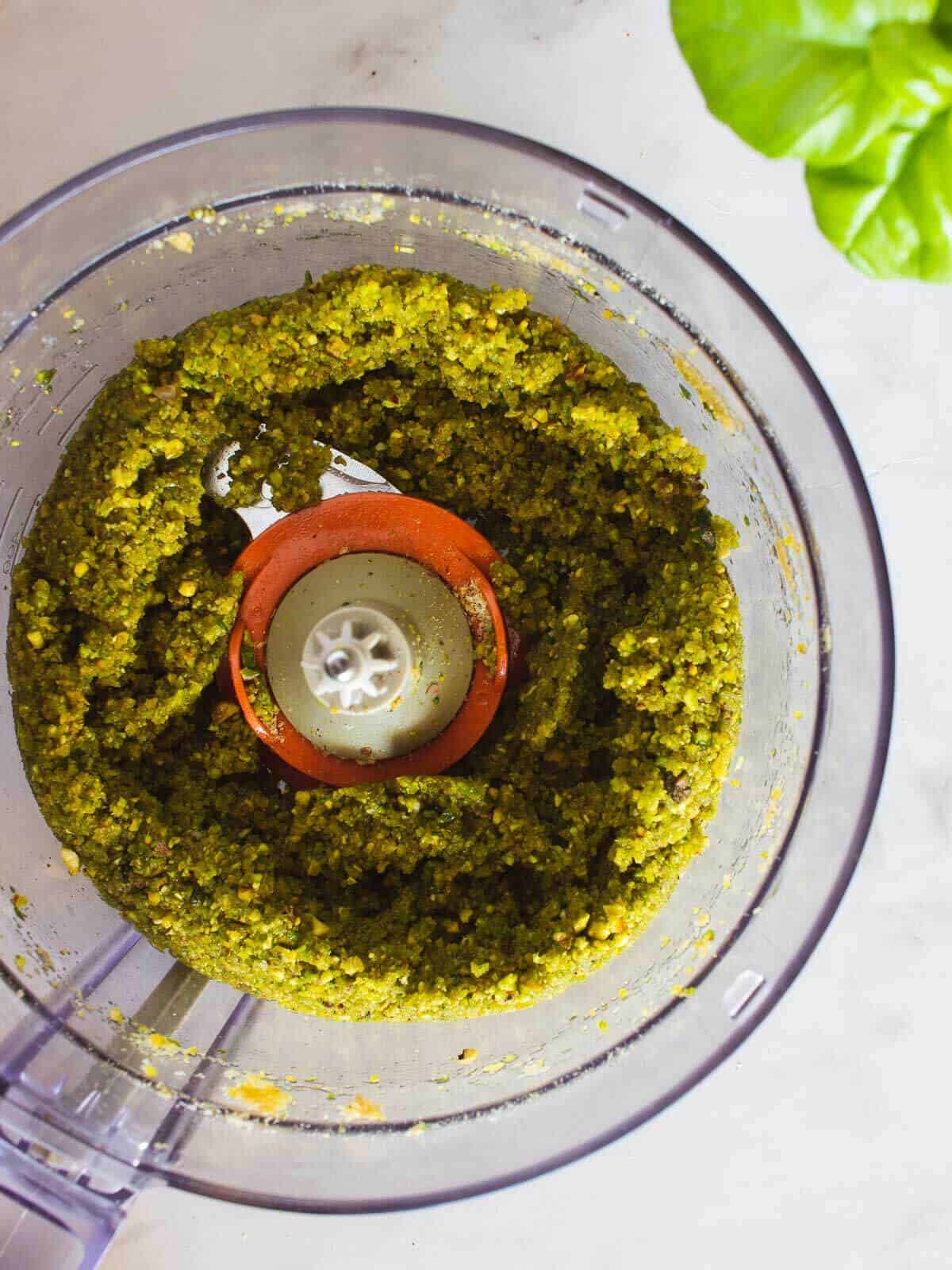 🫙 Storage
How To Refrigerate Pesto: To refrigerate pesto, make sure you store it in an airtight container and refrigerate it for up to 3 days. Also, to prevent your green basil pistachio pesto from browning and make it last for longer, press the pesto down with a spoon to let all the air out and pour a layer of olive oil on top to cover the surface. Alternatively, simply place a piece of cling on top of the surface of the pesto sauce.
How To Freeze Pesto: basil pistachio pesto freezes perfectly! You can freeze it either way, but I like to use ice cube trays to then use the portions as needed instead of thawing a whole batch.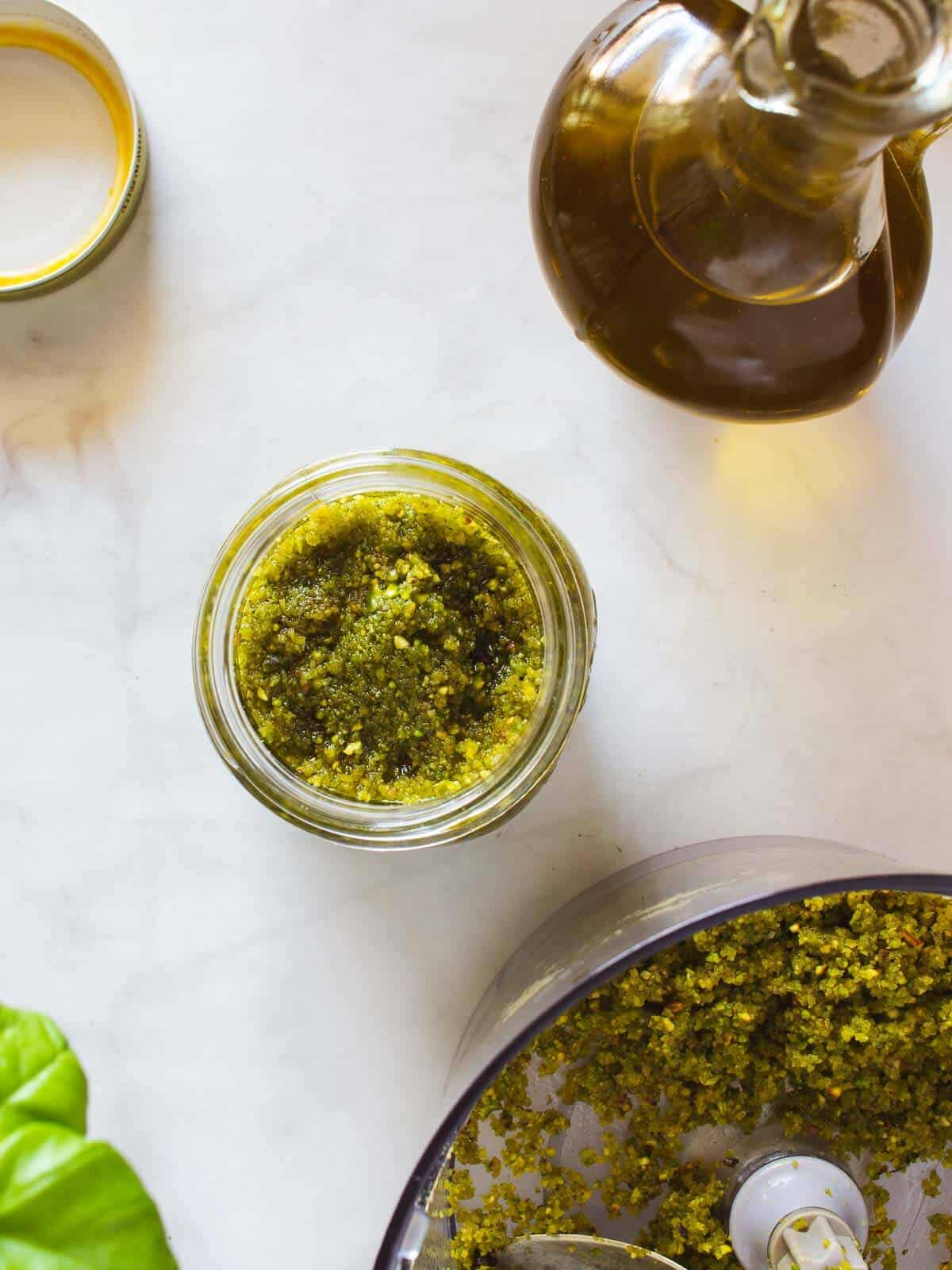 🥢 How to serve 
This vegan pistachio pesto is so versatile!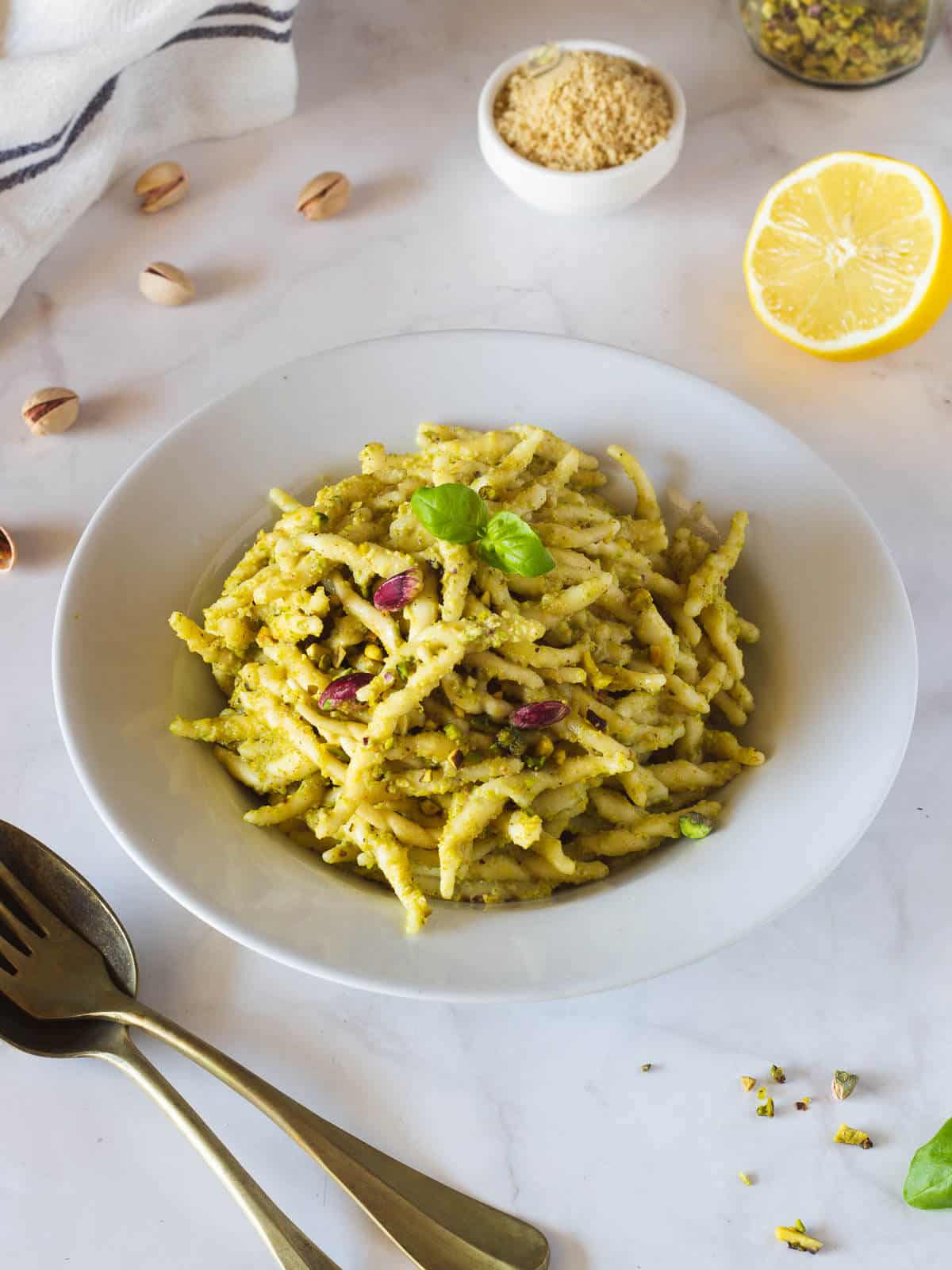 Pasta salad - I love using it as pasta or gnocchi sauce. Just as we use our carrots tops pesto.
Bruschetta - this pesto is perfect for adding on top of toasted Italian Artisan bread. I love tossing some cherry tomatoes on top.
Dip for Veggies - mixing this vegan pesto with some fresh vegetables is a winner. We like to toss some on top of our warm couscous salad, and it also pairs well on top of vegan poke bowls; as we regularly do with our vegan mint pesto.
Pizza - you can turn any basic pizza into a blast just by scooping some of this pesto on top. It works fantastically when making vegan pizza that uses vegan bechamel in replacement of the classic marinara sauce.
Potatoes - use this sauce on roasted potatoes or in plain mashed potatoes to give them an amazing flavor boost!
Salad dressing - just make sure to thin it out with some olive oil or water, then you can toss it with your favorite salad.
🍝  How to choose pasta
Pesto sauces perform very well when paired with pasta that has creases. That's why using rotini, maccheroni, fussili, farfalle (tie bows) are great choices.
We went for trofies, a Ligurian pasta that we love because it has one of the perfect bites we have tasted since living in Italy.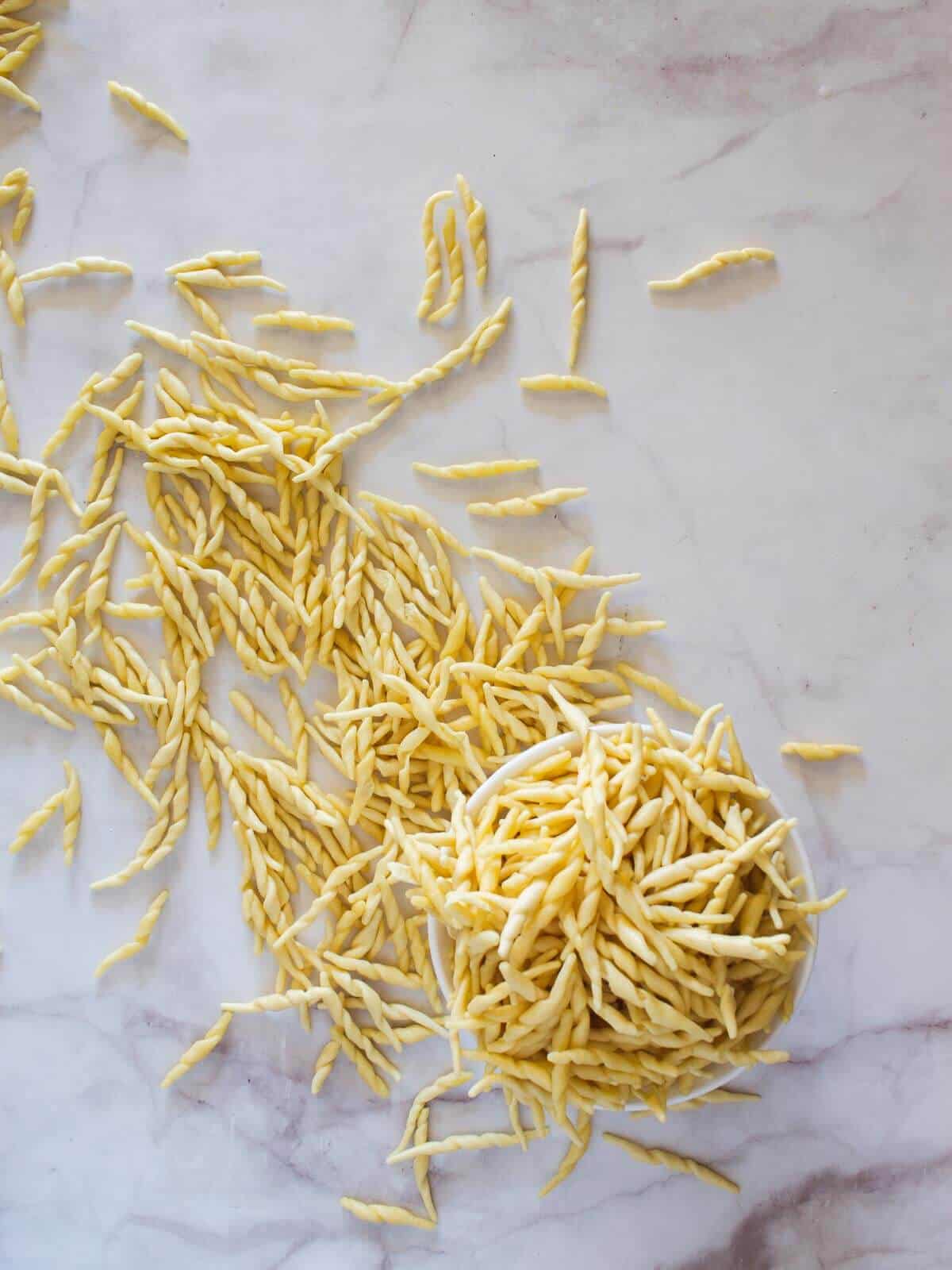 In fact, pesto was born in the Ligurian region, home to Genova, where the famous Basil Pesto alla Genovese was born; and guess what pasta they make to eat their pesto: trofie.
This is because it can pack lots of pesto within its folds.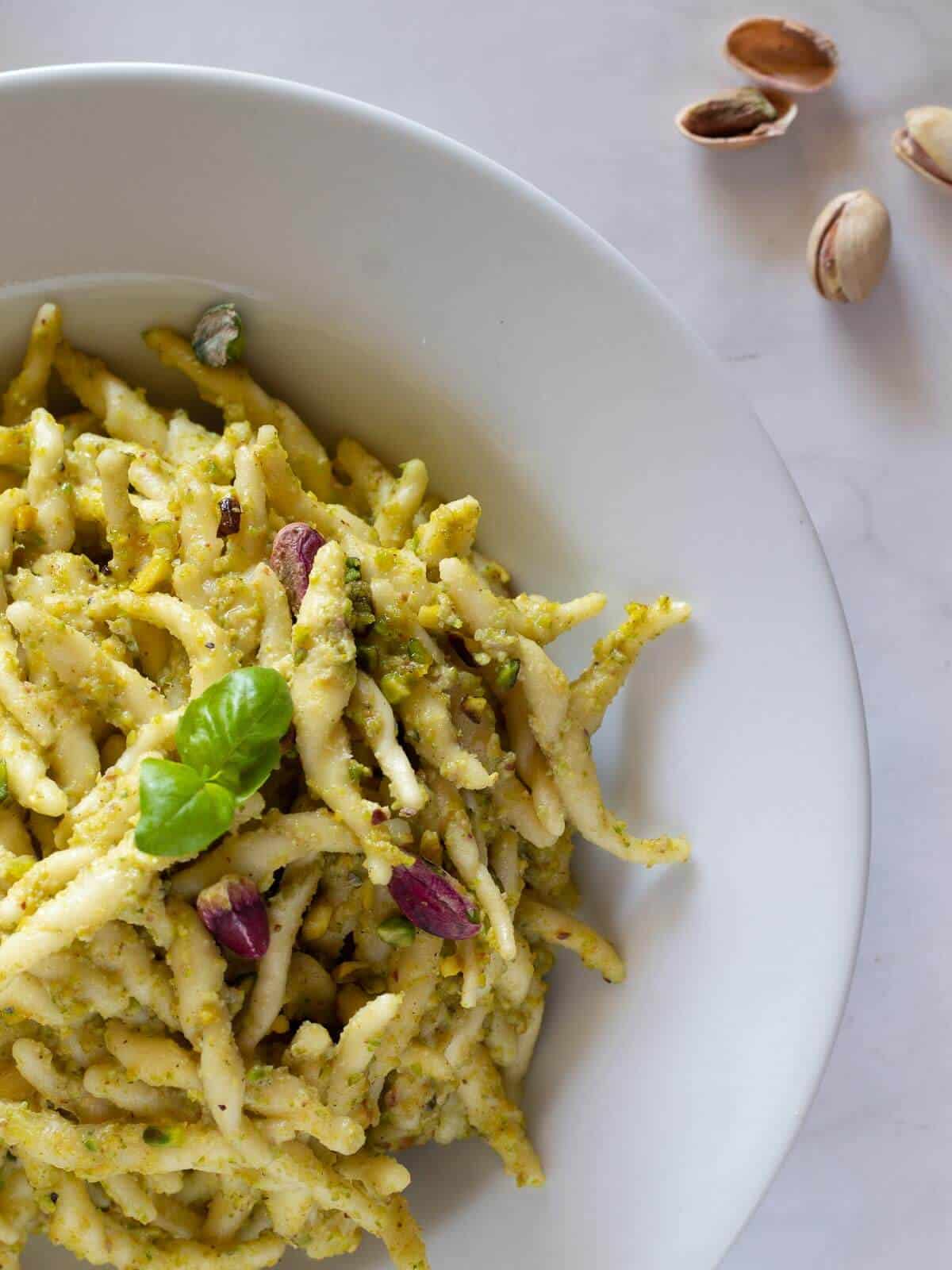 📖 Variations
Pesto sauces are extremely versatile and easily adjustable. That's one of the reasons why we love them so much; although you can find most of the pesto nuts variations on this blog, let's get into the how-to substitute ingredients.
Toasted pistachios
You can use any type of nuts to make pesto. The most widely used are pine nuts and almonds; cashew nuts and walnuts are also popular options.
If you have extra 3-5 minutes to spare, whatever nuts you are using, I recommend toasting them in a skillet to ensure the flavor comes out more prominently.
Garlic
A non-negotiable ingredient. Especially if you are making a vegan pesto.
You can leave them raw, in which case I'd recommend removing the germ since the taste can be very strong and overpowers pistachio's delicate flavor.
My way to go for any pesto is briefly toasting them in a skillet and putting a lid on to make it faster. This will soften the flavor and add a distinctive garlicky but not uncomfortable flavor.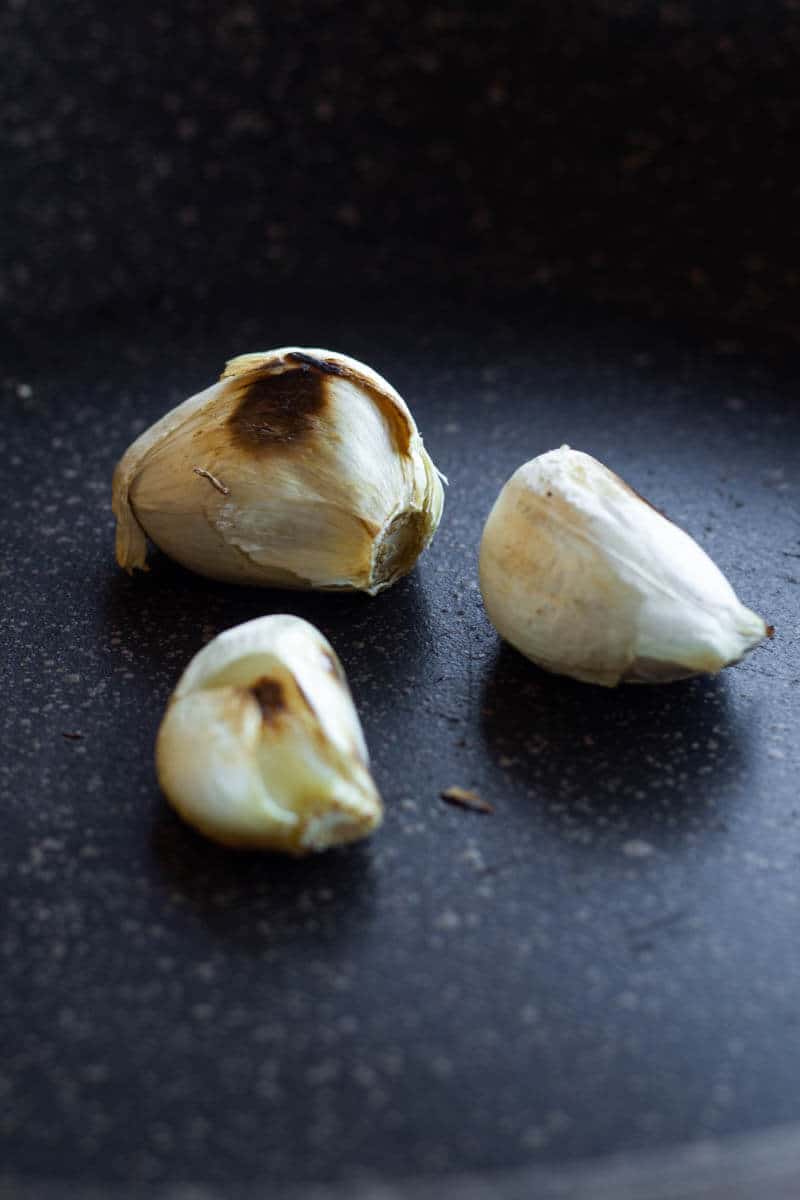 You can also use ground garlic instead; just make sure you use the following ratio: One fresh garlic clove equals ¼ teaspoon of granulated garlic powder. You can apply this conversion to dehydrated garlic flakes, powdered or minced refrigerated garlic.
Basil leaves
I like to keep the basil to pistachio ratio low because basil is strong and pistachio isn't. If I'd want basil pesto, I'd make it with a "less special" nut, as the nut choice will be almost unnoticeable.
Arugula and mint leave also pair very well with this homemade pesto.
Olive oil
Olive oil adds creaminess to your pesto, which is a very important component, but if you are cooking oil-free, you can use water instead. I recommend using warm water, and if making pasta is part of your pesto-making plans, just use some of the starchy water, as it will help to bring more creaminess into your sauce.
Lemon juice
Although lemon juice and lime juice are very interchangeable in many recipes, I wouldn't say pestos apply. Of course, it is a matter of taste, but as much as I love lime, fresh lemons trick here.
Nutritional yeast
Pesto recipes regularly have parmesan cheese as one of the most important components. When we veganize pestos, the trick is on the garlic, the lemon juice, and the nutritional yeast. This plant-based kitchen staple works wonders when emulating cheese's flavor.
And although, in some cases, it might not work perfectly, we find that it does when it comes to risottos, pestos, and vegan parmesan cheese used to sprinkle on top of pasta dishes and as a vegan salad dressing.
Salt and black pepper
These buddies will help bring all these nice flavors together because they are flavor enhancers.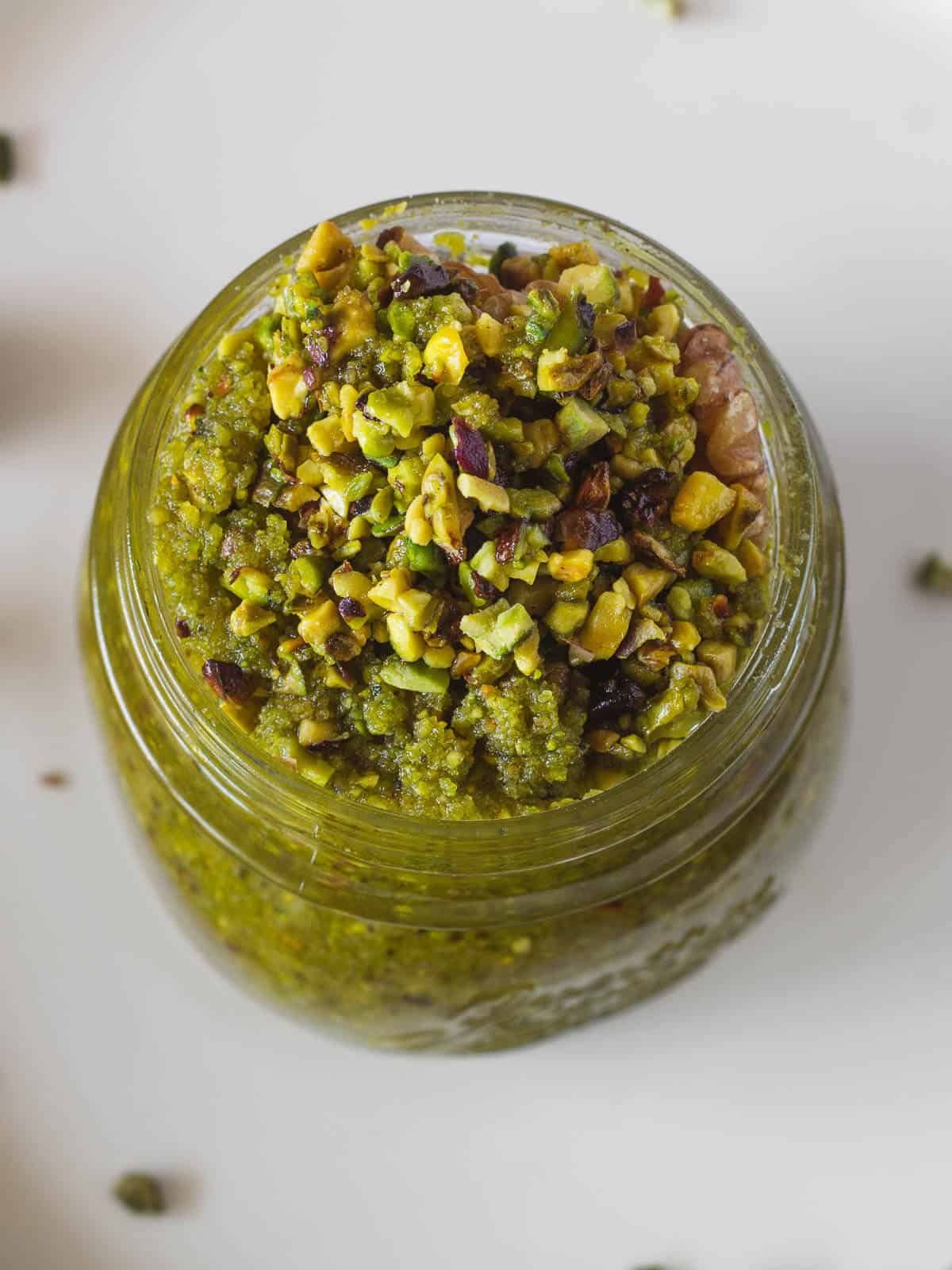 💡 Top tips
When cooking, you have three main ways to intensify flavors.
Extraction
Extracting and concentrating aromatic molecules to deliver a more intense hit of flavor. Extraction is all about solubility: most flavor volatiles are more soluble in oil than in water. That's why we use some oil in pestos, to concentrate the ingredients' flavors, usually nuts and herbs. Like we do here with pistachios and basil.
Fermentation
The process creates diverse flavors such as cheese, nutritional yeast, bread, kimchi, soy sauce, wine, beer, etc.
When we fermentate foods, in reality, we are herding microbes. They are breaking big sugar molecules and releasing volatile flavor molecules.
Cooking
The application of heat. The transformations that heat performs on flavor essentially break down big molecules such as proteins and fats into smaller, more volatile ones. That's why cooked foods tend to be much tastier than raw food.
The browning reaction - more formally known as the Maillard reaction after the early-twentieth-century French chem, ist who first described it- is responsible for a whole host of flavor changes when food cooks.
It's why bread is much tastier after it's baked or toasted, why we roast our coffee beans, and why roasted cauliflower is more delicious than it is when plain boiled.
This is why toasted almonds are great companions for your otherwise bland green beans, making a killer side dish!
It is crucial to toast the pistachios to bring up all their flavor. Pistachios have a delicate flavor that can be easily overpowered by other potent ingredients like garlic and basil. Instead, we want to enhance its flavor; that's why balance is so vital in a vegan pistachio pesto recipe.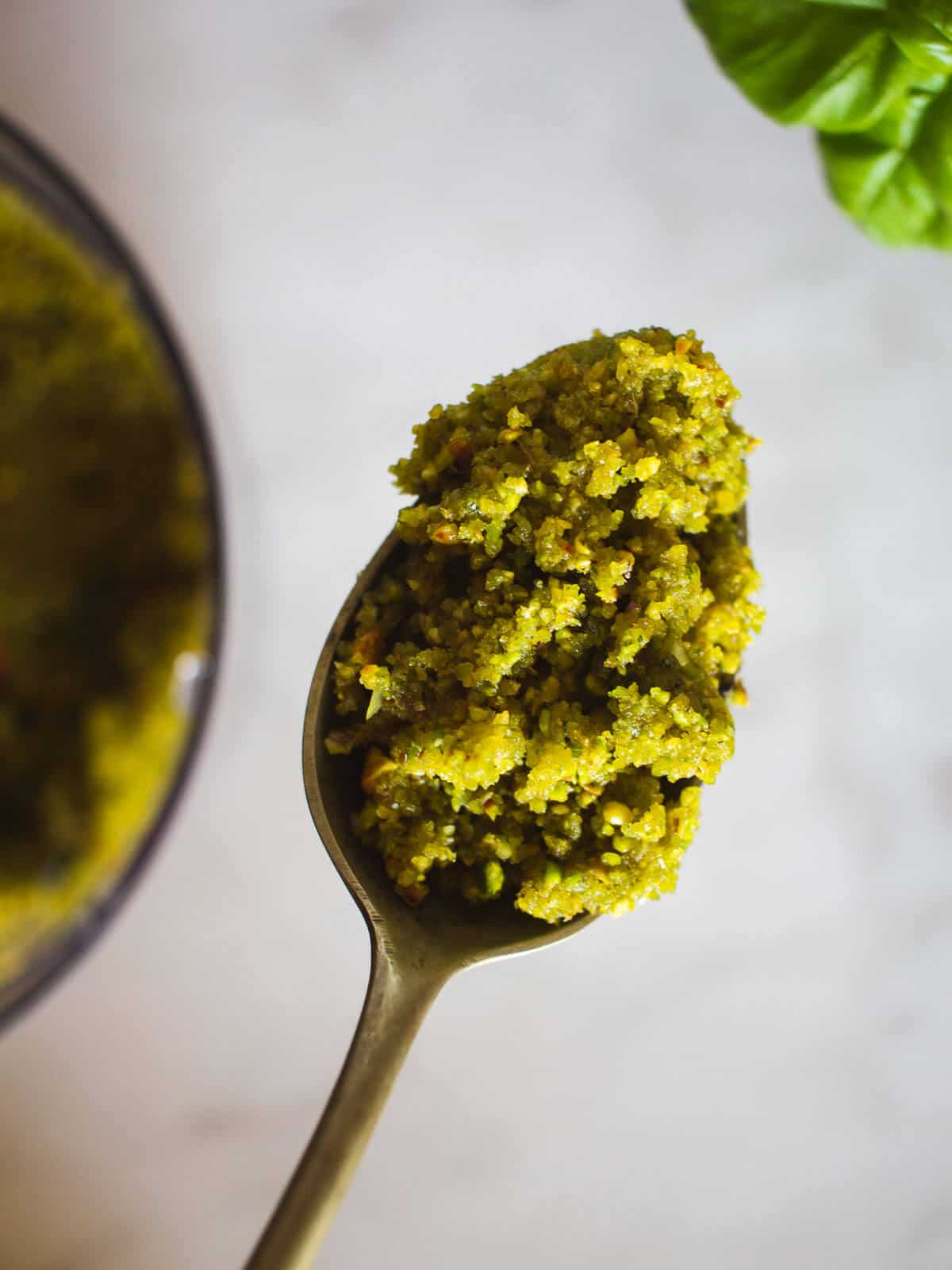 Check out more pesto recipes: Our sun-dried tomato pesto is so easy-to-make, just like the traditional basil pesto, kale and sage pesto, arugula pesto, mint pesto, and carrot tops pesto.
Try our roasted red pepper tofu pesto recipe for an oil-free, healthier pesto option.
⭐ If you try this recipe, let us know! 💬 Leave a comment, rate it, and don't forget to tag us @ourplantbasedworld on Instagram. Cheers!
📋 Recipe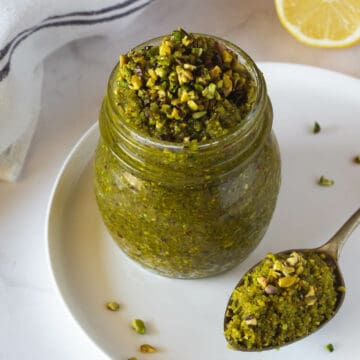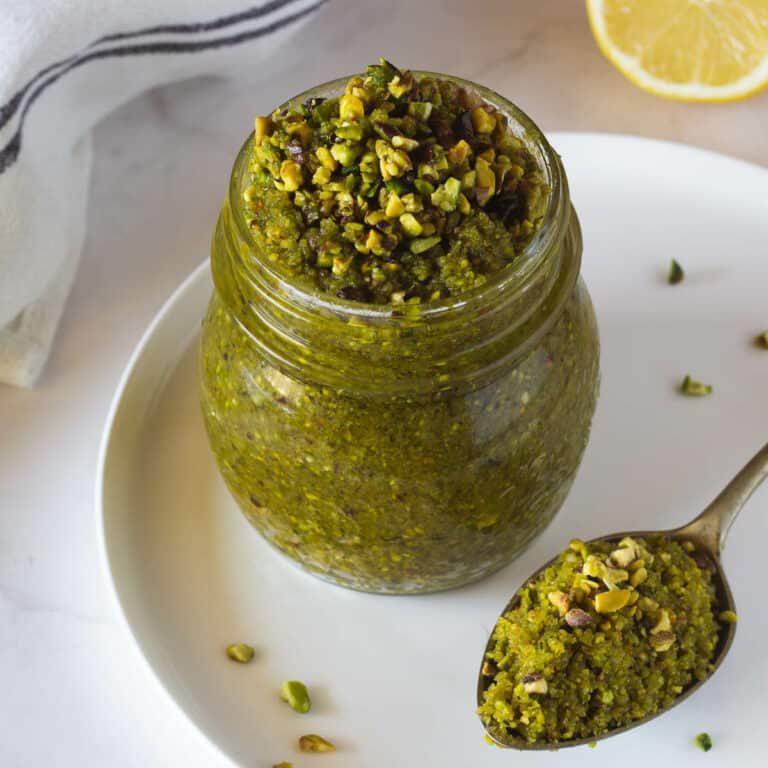 Vegan Pistachio Pesto Sauce + Pasta Salad
The combination of fresh basil, roasted pistachios, and garlic is absolutely heavenly, and the creamy avocado dressing takes this dish to the next level. Plus, this recipe is gluten-free and incredibly healthy.
Equipment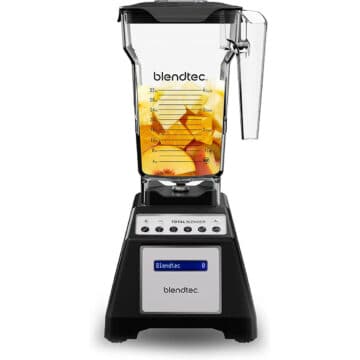 (affiliate link)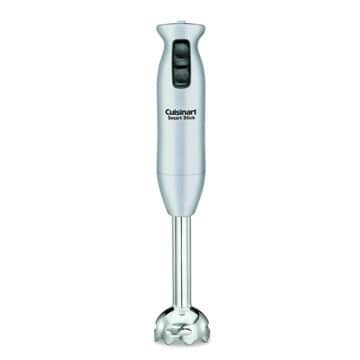 (affiliate link)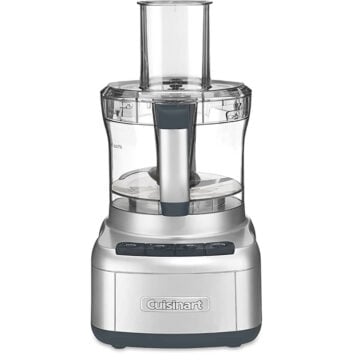 (affiliate link)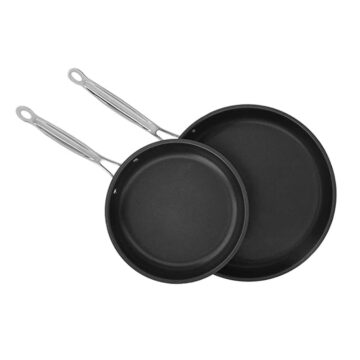 (affiliate link)
Ingredients
1

cup

pistachios

toasted, 200 grams; see especial instructions if using unsalted pistachio kernels

2

garlic

cloved, lightly toasted

⅓

cup

basil leaves

fresh, about 6 leaves

5

tablespoons

olive oil

extra virgin

2

tablespoons

lemon

juiced

6

tablespoons

nutritional yeast

¾

teaspoon

sea salt

¼

teaspoon

black pepper

freshly ground
Directions
Boil 5 cups of water and pour them into a medium bowl on the pistachios. Let them soak for at least 15 minutes.

Peel the pistachios.

Toast pistachio (only if using untoasted kernels) and garlic. In a skillet on medium-low heat, toast the pistachios and the garlic cloves. Don't let them burn. If you consume your pesto immediately with pasta, set the water to boil with salt, cook the pasta according to the package directions, and save some of the starchy pasta water, which will come in handy to stir the pesto.

Make sure the pasta is not overcooked, as you will finish the cooking with the pesto, and you don't want it to turn out soggy.

If using toasted pistachios, make sure you briefly toast the garlic cloves, cutting the middle to make it faster. This way, the garlic won't overpower the pistachios' delicate flavor.

Blend. Put all the ingredients in the food processor, or you can also use a small blender. Blend for 2-3 minutes until you reach the desired consistency. Traditional pesto is made with pestle and mortar, so it is meant to have some texture. I like to leave my pesto chunky, but you can blend it for longer if you want a more creamy consistency.

Adjust with water for fluidness or nutritional yeast for thickness.

Serve. In the same pot where you cooked the pasta add just a little of the cooking water on low heat, followed by a couple of scoops of the pesto and the cooked pasta. Mix gently and serve hot.
Notes
You can adjust how creamy or fluid you want the pesto by adding some more water or olive oil. This one is a thick version.
Tip
You can pre-cook for 2 minutes the garlic cloves together with the pistachios on a skillet to make them flavorless pungent.
To reheat cooked pasta with pesto, always add some water to bring the creaminess back.
Nutrition Facts
Calories:
253
kcal
Carbohydrates:
7
g
Protein:
7
g
Fat:
23
g
Saturated Fat:
3
g
Sodium:
585
mg
Potassium:
311
mg
Fiber:
4
g
Sugar:
1
g
Vitamin A:
241
IU
Vitamin C:
6
mg
Calcium:
29
mg
Iron:
1
mg
Nutrition Facts
Vegan Pistachio Pesto Sauce + Pasta Salad
Amount per Serving
% Daily Value*
* Percent Daily Values are based on a 2000 calorie diet.
🌡️ Food safety
Cook to a minimum temperature of 165 °F (74 °C)
Do not use the same utensils on cooked food that previously touched raw meat
Wash hands after touching raw meat
Don't leave food sitting out at room temperature for extended periods
Never leave cooking food unattended
Use oils with high smoking points to avoid harmful compounds
Always have good ventilation when using a gas stove
See more guidelines at USDA.gov.
The information shown is an estimate provided by an online nutrition calculator. It should not be considered a substitute for a professional nutritionist's advice. See our full Nutritional Disclosure here.
Please note that some of the links here are affiliate links, and I will earn a commission if you purchase through those links. I recommend all of the products listed because they are companies I have found helpful and trustworthy.