German White Asparagus recipe (Spargel), the perfect Spring dish, is easy to cook and delicious. Serve with melted vegan butter.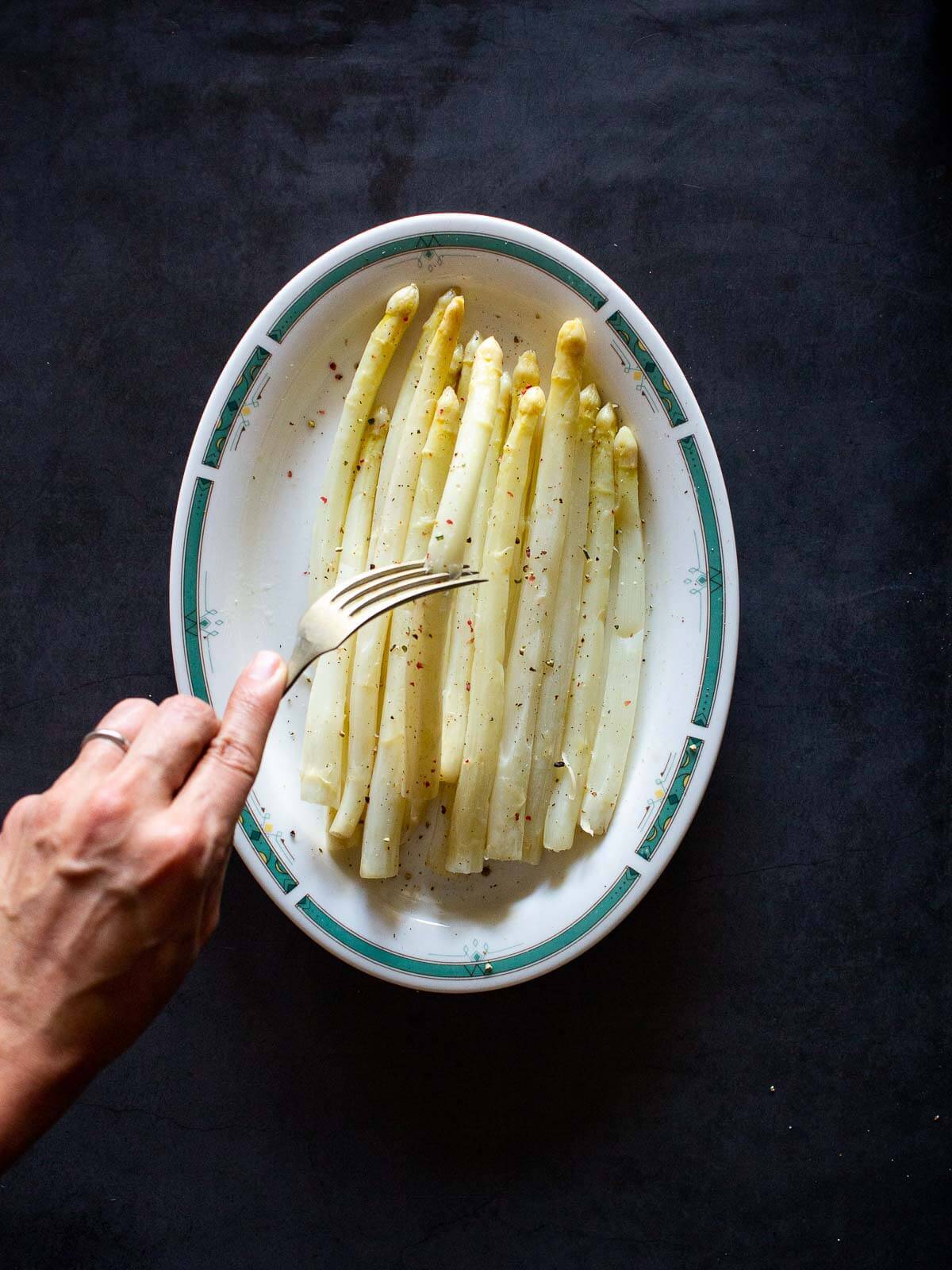 White asparagus is a delicacy that's often overlooked. This guide will show you how to cook white asparagus perfectly every time, with delicious results.
This white asparagus recipe makes an amazing vegan spring appetizer; we also love using it as a side dish when we make our lemony zucchini risotto.
When we see asparagus as we stroll in the Farmer's market, we immediately start craving our springtime favorite recipes, like lemon asparagus risotto, and lemony pasta with asparagus.
Have it with a glass of vegan sustainable wine, and you will impress your guests.
Jump to:
🧐 Where is asparagus grown in the world?
Asparagus is grown in many countries around the world, with white asparagus particularly popular in Germany and white asparagus season generally runs from January to May.
The white variety of the vegetable is grown below ground using a special white mulch that reflects sunlight away from it.
This keeps it white by not letting any light penetrate through the ground. The white asparagus usually has a sweeter taste than green asparagus, but white asparagus grown in North America may be bitter due to the colder climate white asparagus can grow in.
White asparagus has also been popular in France for centuries. In fact, the dish was so beloved by the French royalty, they were used as a form of currency!
The white asparagus recipe below uses both fresh and preserved vegetables to create an elegant yet simple dish.
White asparagus is also grown in Italy, the season runs from mid-April to the end of June). The white asparagus grown in Italy has a taste that is more like green asparagus than white asparagus from other countries.
🤔 What is white asparagus?
When you see white asparagus at the store or farmer's market, snap it up! White asparagus is popular in Europe and can be found at some US farmer's markets during spring and early summer.
The white spear of the white asparagus is actually a shoot that has been forced underground to grow in darkness.
This results in white spears with tender white flesh inside, while the green shoots have small flowers or buds. White asparagus is drier than green asparagus and more flavorful.
If you don't find white asparagus around you, no worries, we have an equally delicious recipe, with green asparagus and toasted almond flakes that you should definitely check out!.
Ready for the best white asparagus recipe?
🧾 Ingredients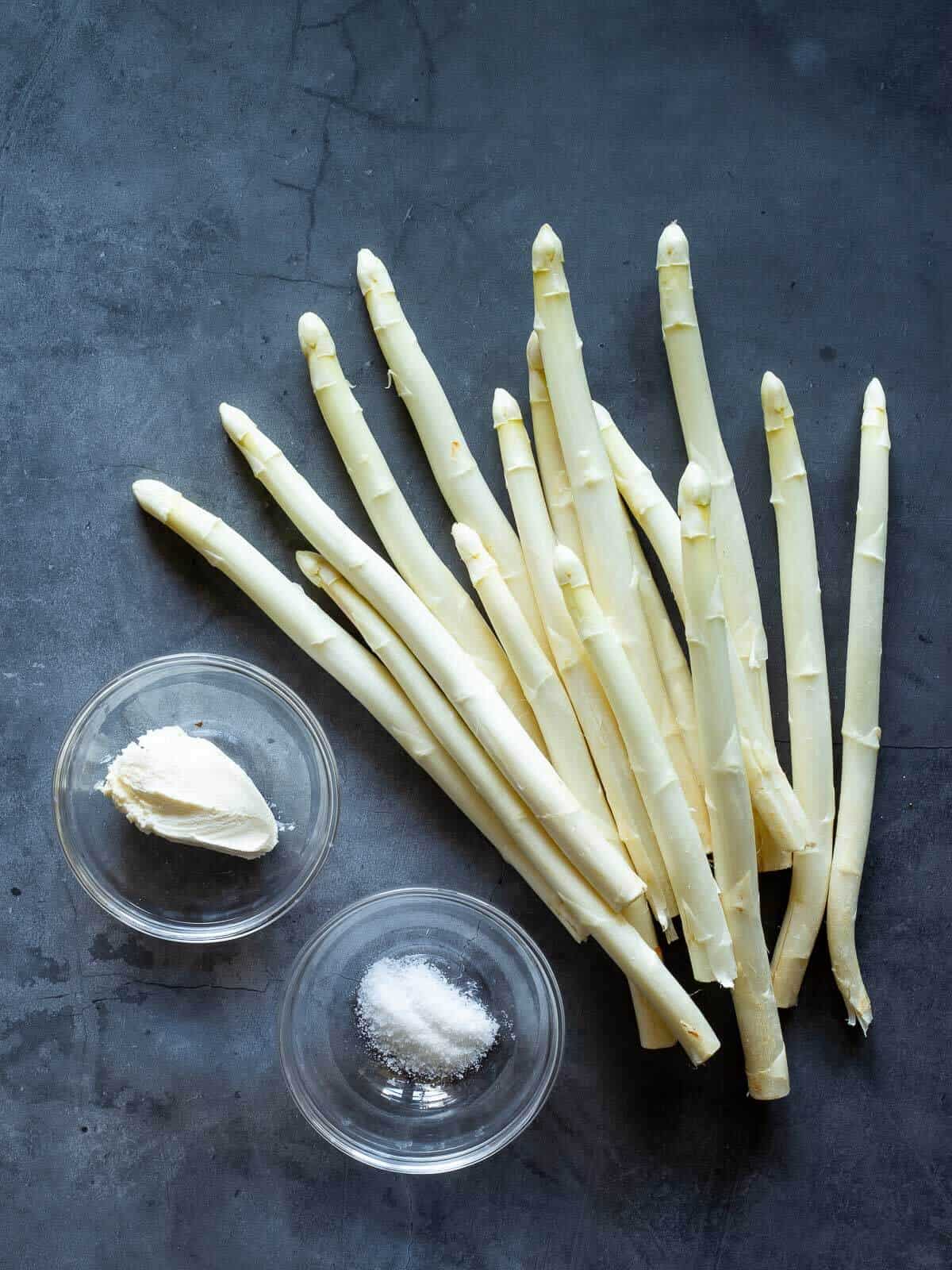 White asparagus: White asparagus is the main ingredient and provides a mild, slightly sweet flavor and a tender yet firm texture to the dish.
Vegan melted butter: Vegan melted butter is used to enhance the flavor of the asparagus and add richness to the dish.
Salt: Salt is used to season the dish and bring out the natural flavors of the asparagus.
Sugar (optional): Sugar can be added to the cooking water to balance out any bitterness in the asparagus.
Pink peppercorns (optional): Pink peppercorns add a subtle, slightly fruity flavor and a pop of color to the dish.
Lemon juice (optional): Lemon juice can be added to serve as a finishing touch, adding a tangy, bright flavor to the dish.
See quantities and complete instructions in the recipe card.
🔪 How to cook white asparagus
Fresh white asparagus is a delicacy that is only available for a few months of the year. It's how it's cooked that makes or breaks how successful your meal turns out.
Of course, how you cook any sort of food affects how it tastes, but how you cook white asparagus can either bring out its naturally sweet taste or affect how it tastes in a way that you do not want.
The key to how to cook white asparagus on stove
The secret is how you prepare the asparagus before you actually start cooking them. White asparagus needs very little preparation, but if you don't do what you need to do, how you cook white asparagus can become less than desirable.
Cooking white asparagus is effortless.
Clean the Asparagus with a vegetable peeler. Peel away the tough outer layer and cut the woody end, until you have clean and tender white asparagus spears. You will be left with about two-thirds of the asparagus.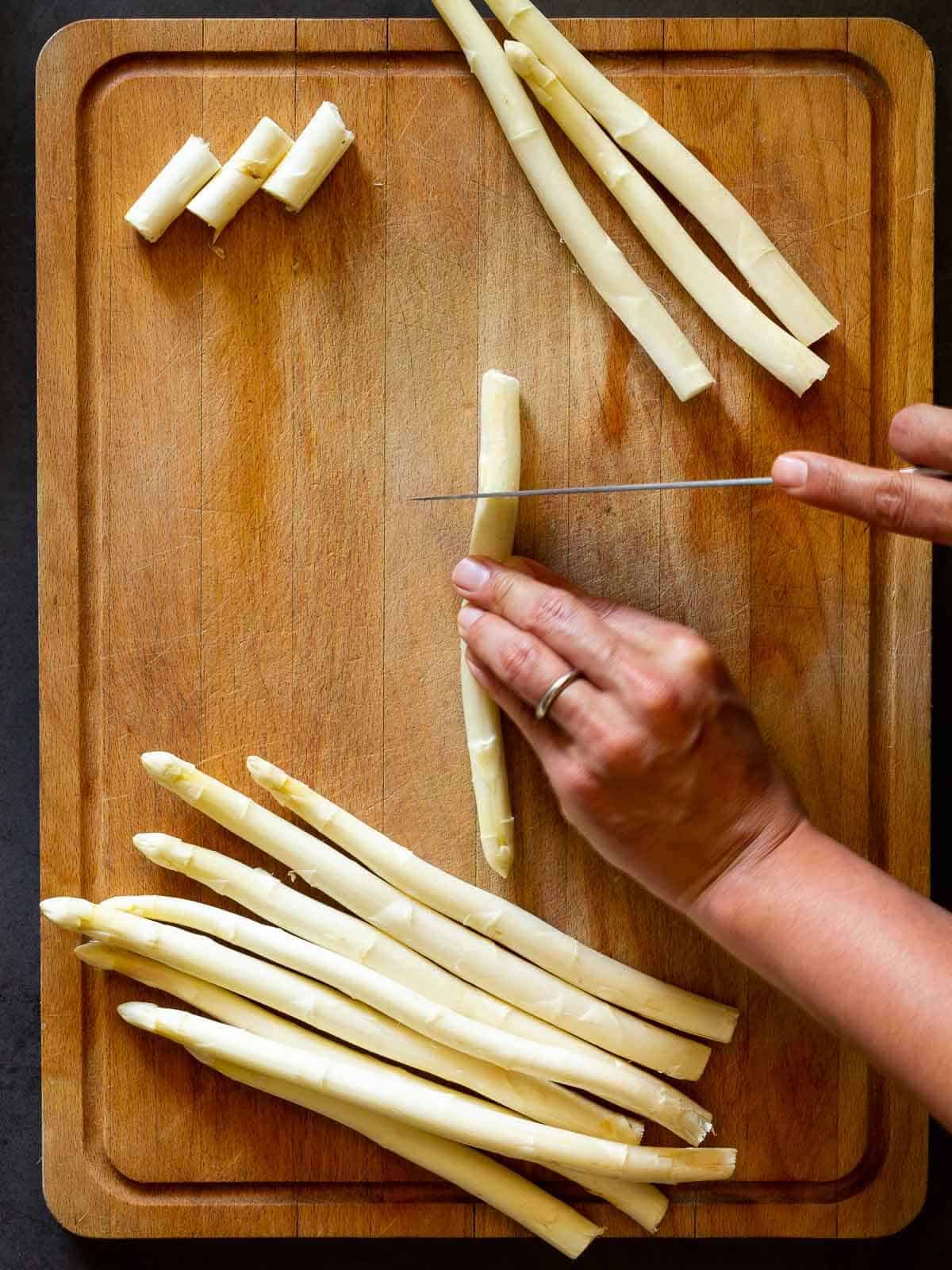 Chop white asparagus ends.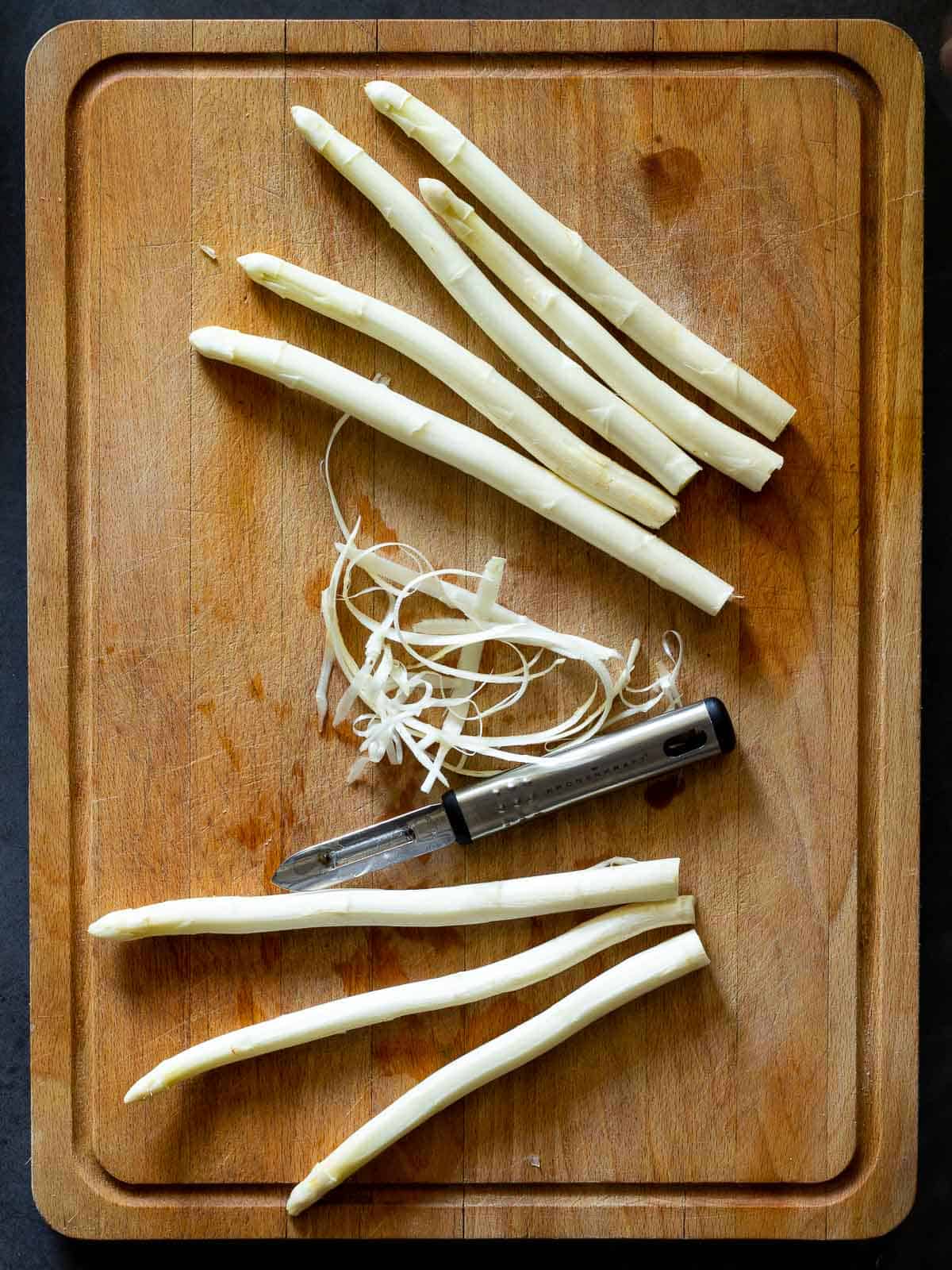 With a potato peeler, remove the outer layer.
Simmer in a large pot with boiling water, with a mix of salt and vegan butter. Cook until a knife inserted comes in easily.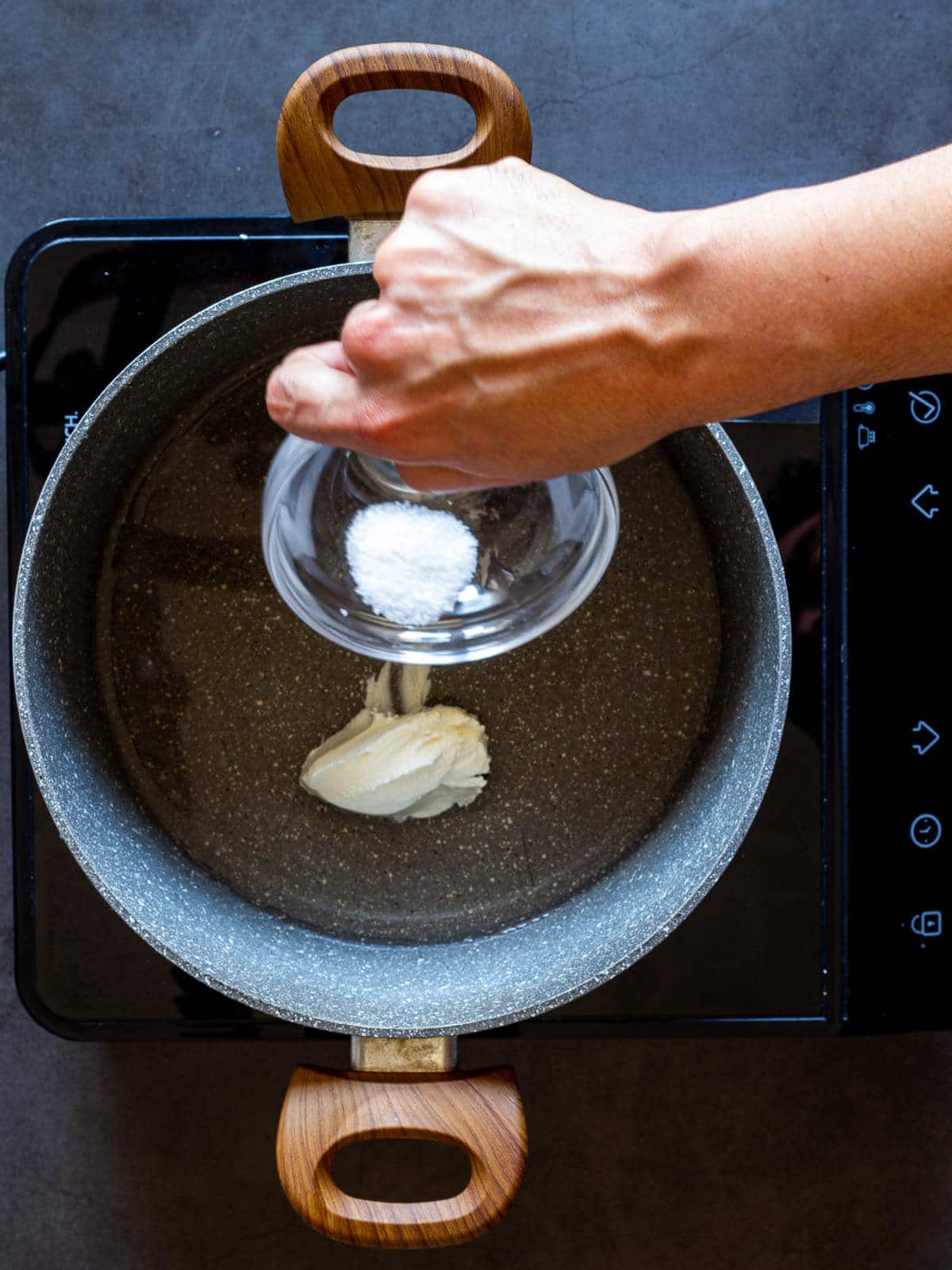 Simmer the vegan butter and salt in water.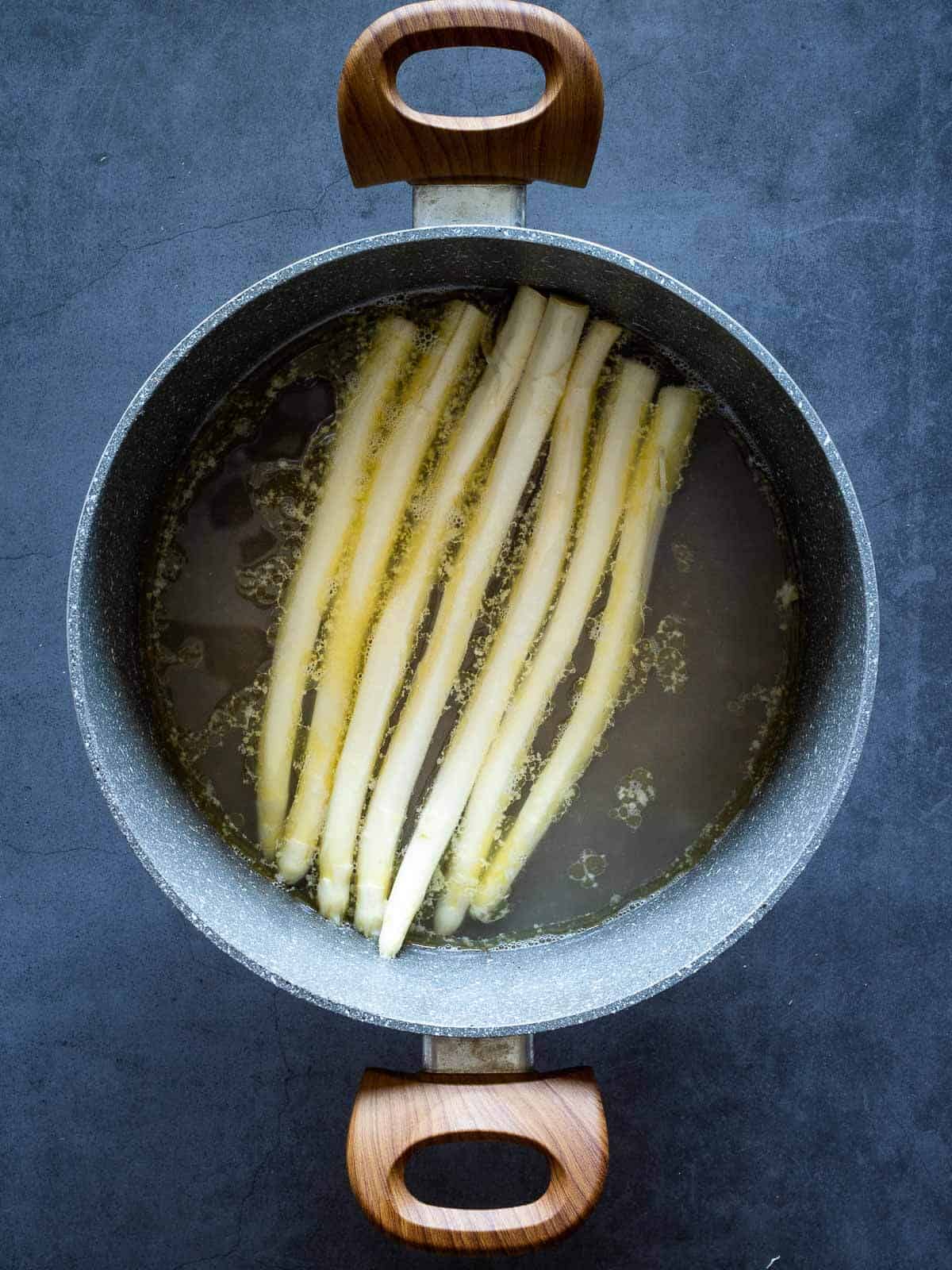 Add asparagus and continue simmering.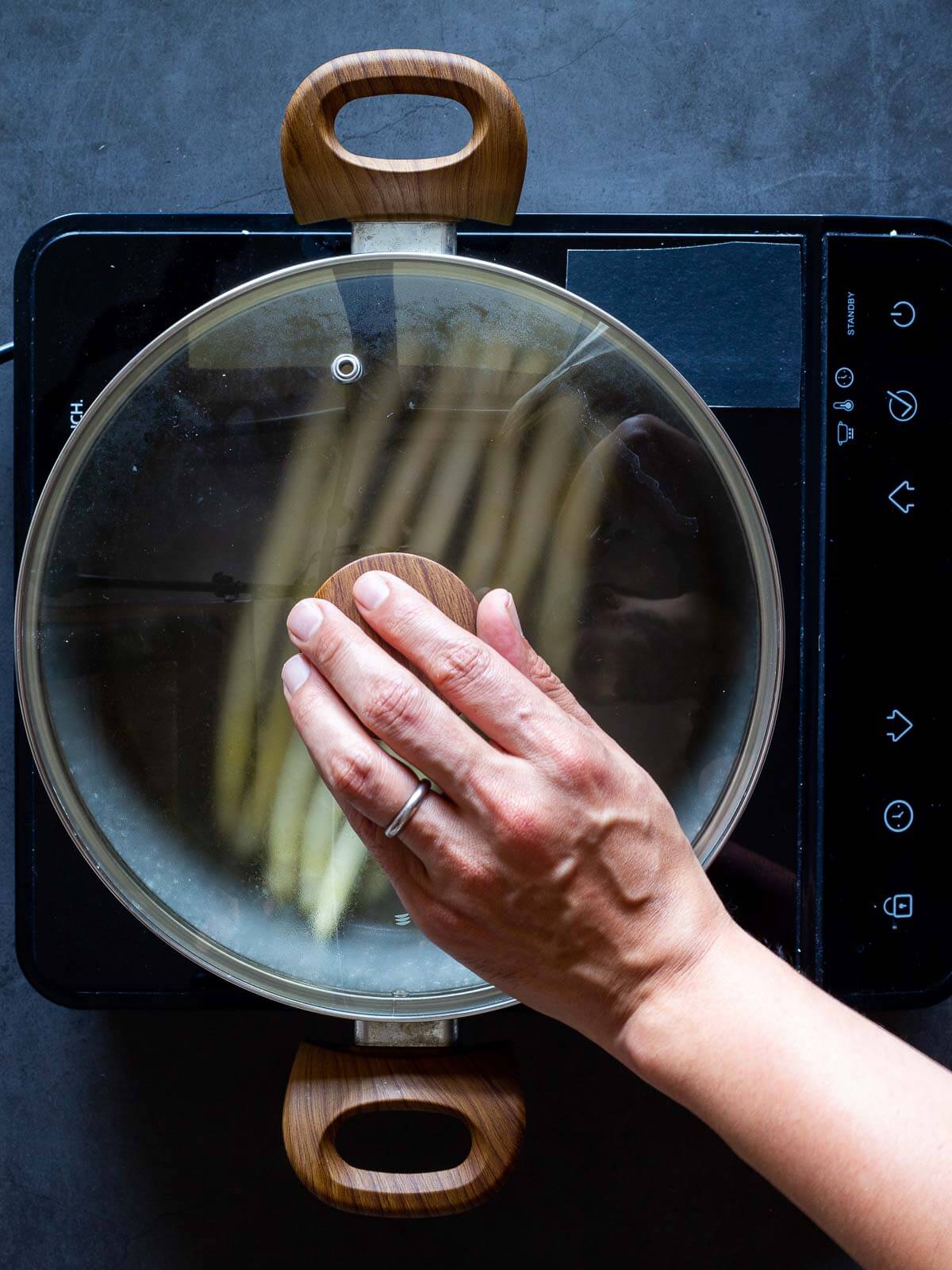 Cover with a lid.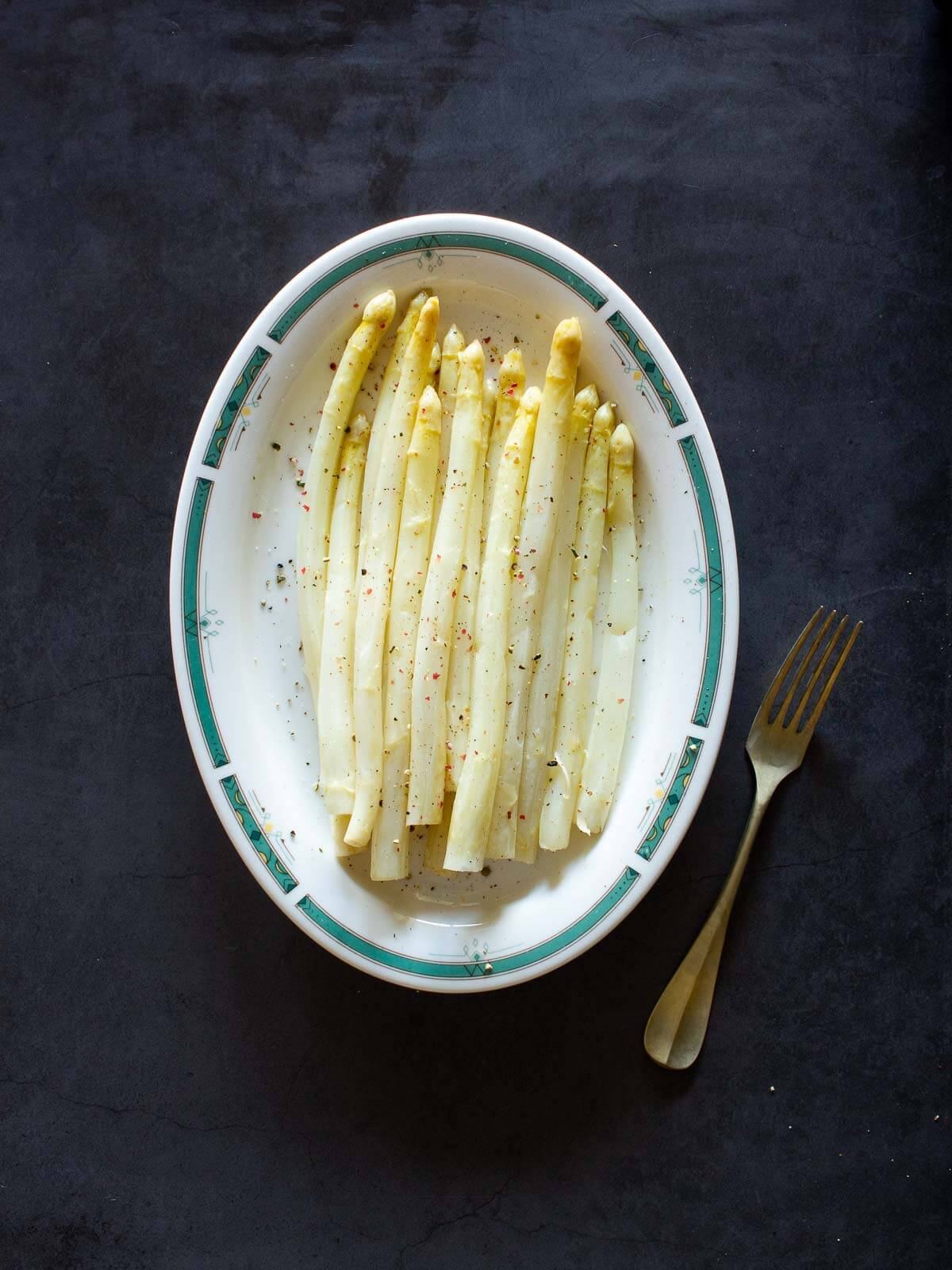 Transfer to a serving plate and grind some fresh red or white pepper on top.
Serve hot with pink pepper (optional).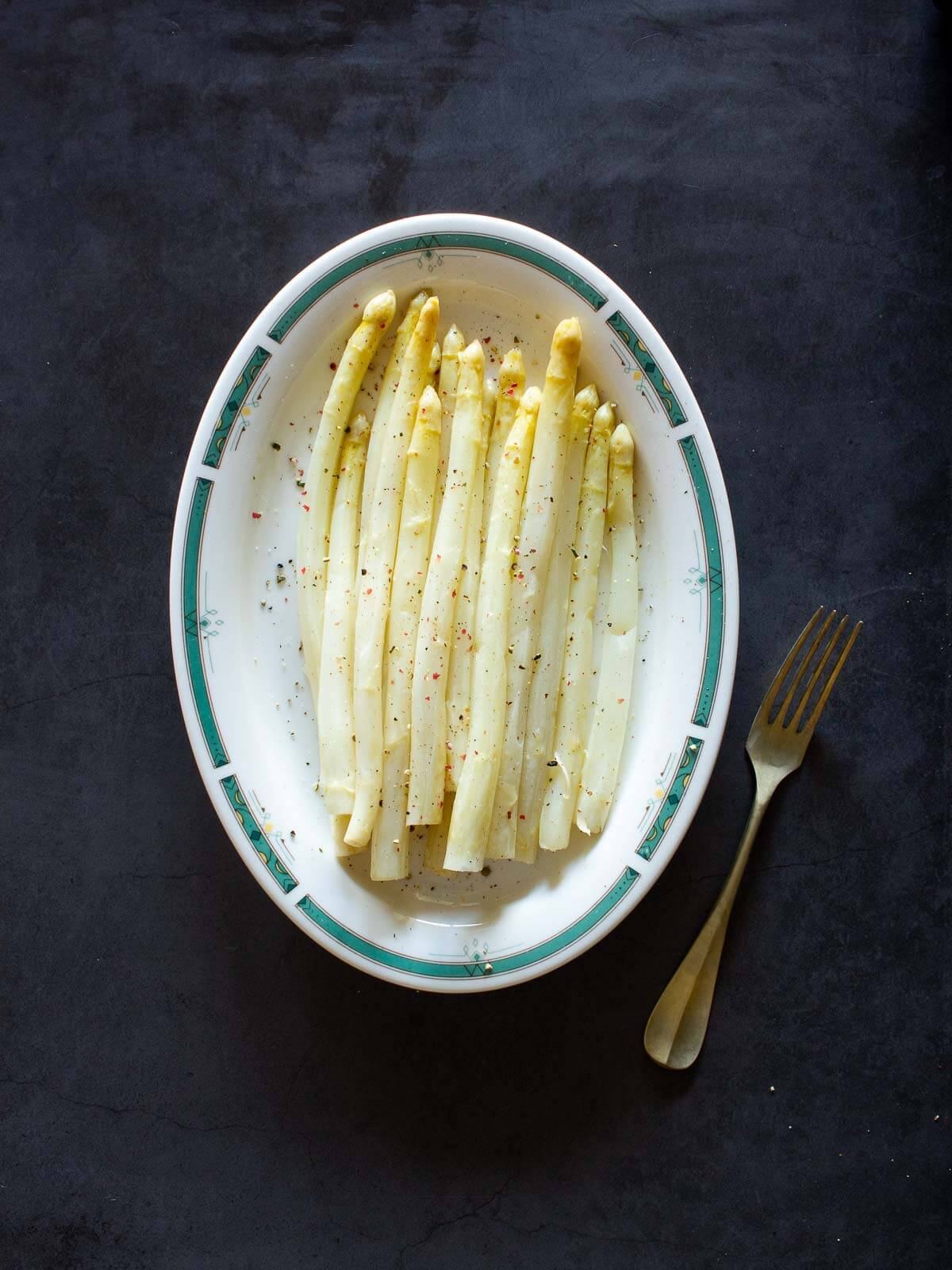 🥢 How to serve
Serve white asparagus with your favorite risotto recipe. You can serve white asparagus spears as appetizers or side dishes. Some people like adding hollandaise sauce on top.
You can add extra meted bitter or fresh dill to steamed asparagus as well.
We love adding freshly ground black pepper, as well as pink and red peppers.
🪧 White asparagus vs green
Is white Asparagus the same as Green?
Technically, the green and white asparagus are the same thing with one major exception—their color. The color difference comes from the way they've grown.
How does white asparagus grow?
When new spears pop out of the ground, they develop chlorophyll, turning the spears green through photosynthesis.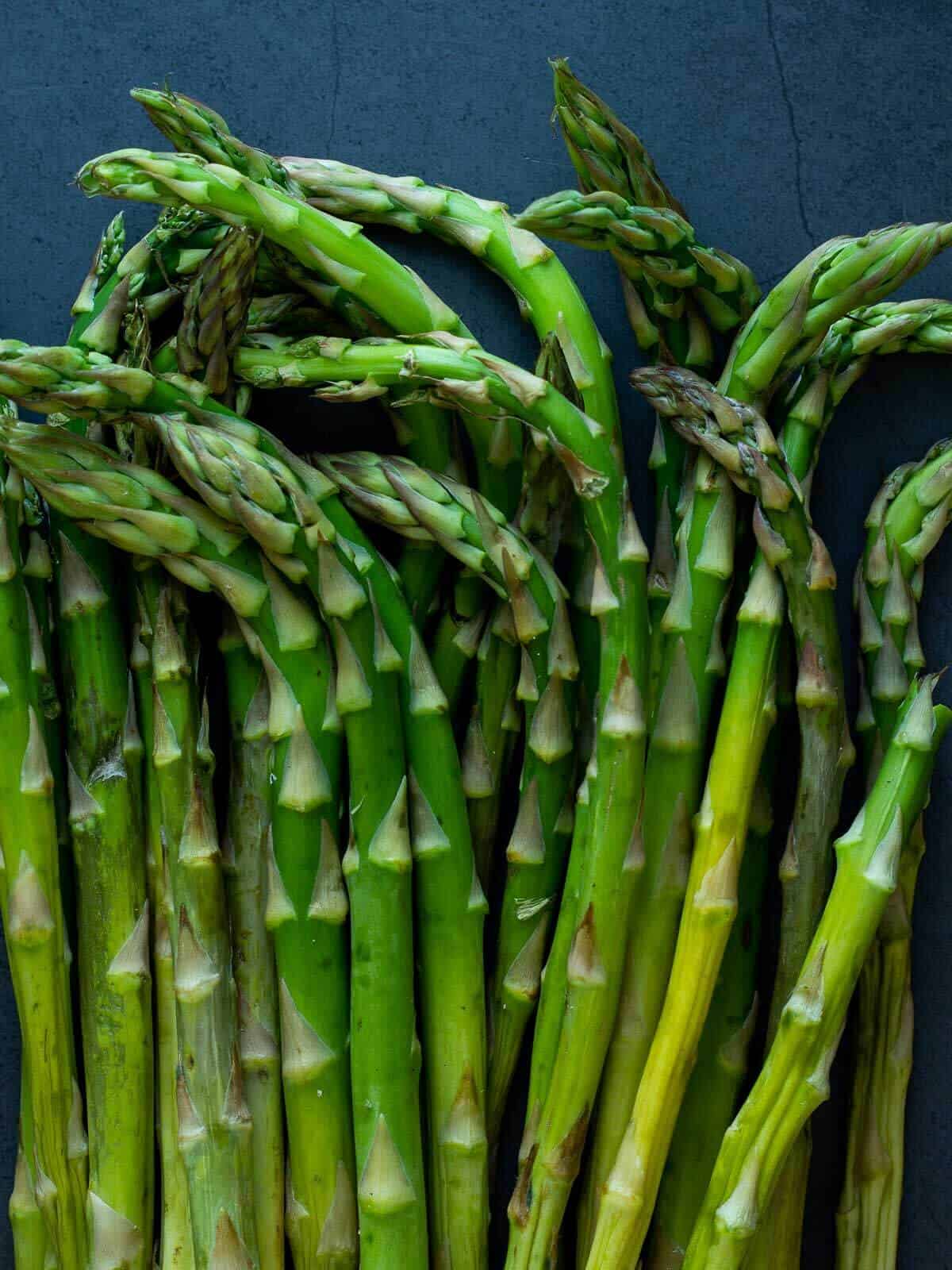 White Asparagus' flavor is milder and more delicate, with a slightly bitter taste, when compared to green asparagus. I tasted white asparagus when for the first time, I lived in Germany, and I now was able to find them again residing in Northern Italy. These beauties are a true delicacy from springtime.
Why are white asparagus white?
As they are grown entirely under the soil or may also develop covered with plastic, it is never exposed to sunlight. These two methods prevent photosynthesis, keeping the spears white.
how long does asparagus last?
Asparagus is one of the first vegetables to be harvested in spring and it's available all throughout the season (I'm not counting those bunches we can buy year-round because they're usually imported from Peru, China, or Guatemala).
Asparagus can last a long time depending on how you store it. After a few days, asparagus will lose its freshness and crunchy texture and start to look a bit slimy. Bacteria naturally found in the produce grow more rapidly at room temperature than when refrigerated which is why asparagus has a relatively short shelf life.
However, how quickly it loses its freshness strongly depends on the time of year it's purchased.
Calculating the exact shelf life of asparagus can get a bit complicated because it heavily depends on storage conditions, cut vs non-cut, and even how you cook it.

✅ Benefits of asparagus
Learn more about Asparagus Benefits.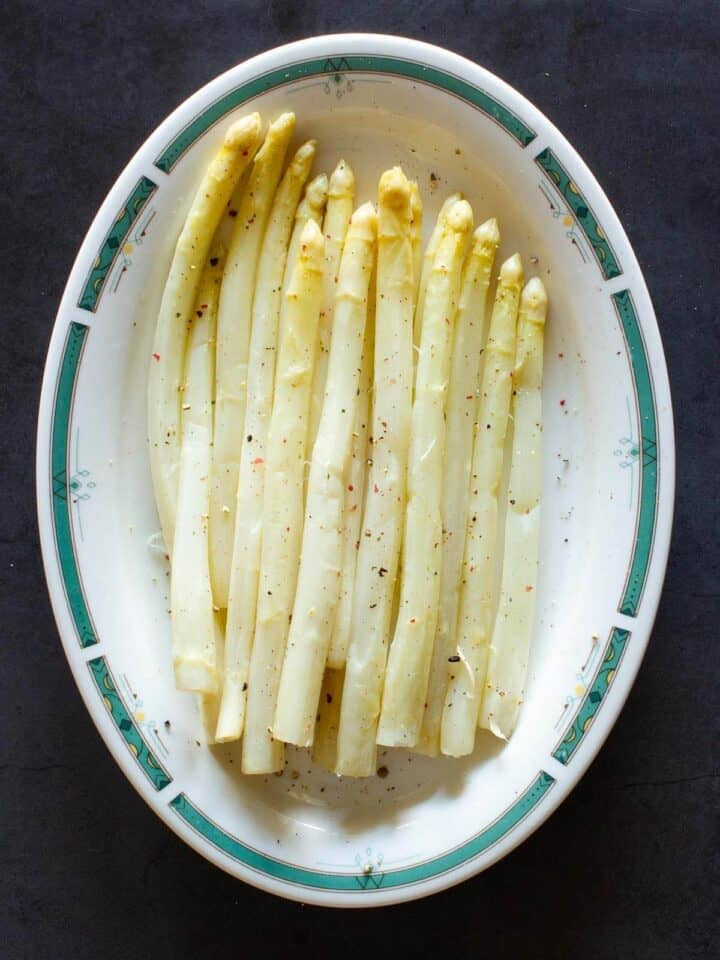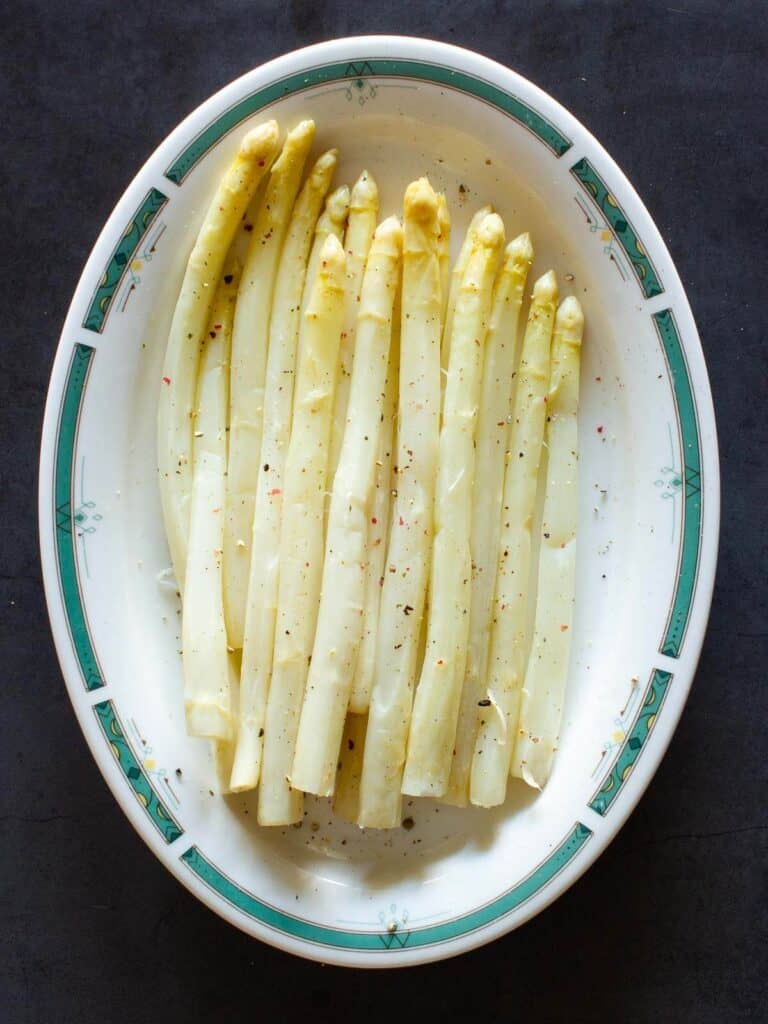 Now that you've learned how to cook white asparagus, it's time for the fun part- cooking them! This recipe is an excellent choice if you want something easy and elegant.
The ingredients are simple (even more so than most of our recipes!) and will leave your guests with a healthy meal they won't forget. Make this dish today, following the easy steps outlined!
📚 More asparagus recipes
Perfect Roasted Asparagus with Almonds and Pine-nuts
If you liked this recipe, I am sure you will be in for these easily grilled green beans with toasted almonds, another wonderful side dish!
⭐ If you try this recipe, let us know! 💬 Leave a comment, rate it, and don't forget to tag us @ourplantbasedworld on Instagram. Cheers!
📋 Recipe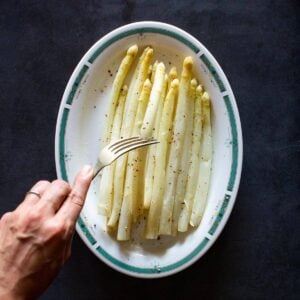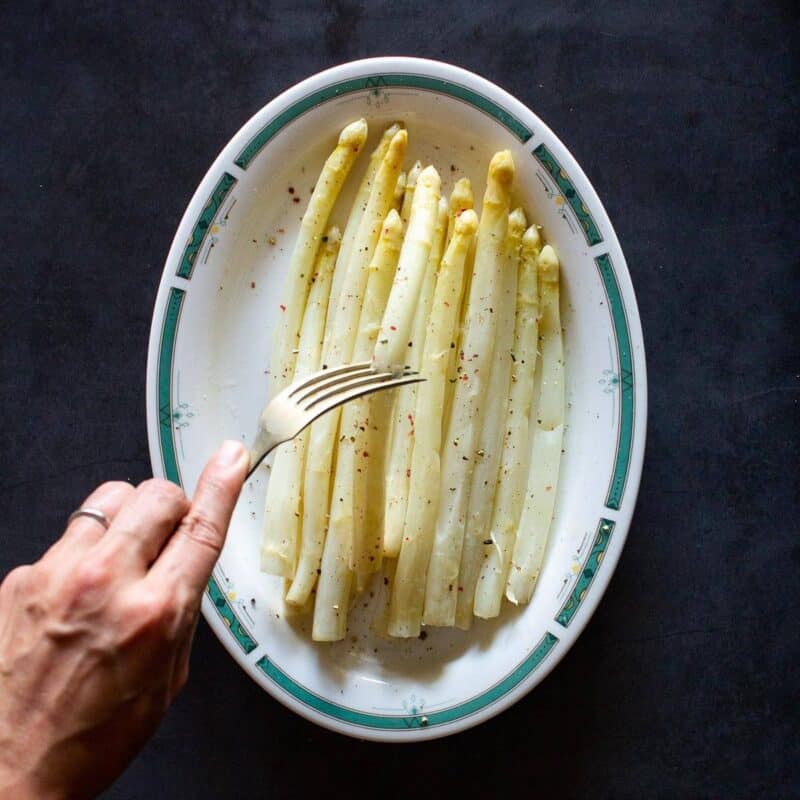 White Asparagus Recipe
Are you looking for amazing vegan white asparagus recipes? Look no further; this is the perfect article. We included some tips on how to cook your vegetables properly and a couple of suggestions on what side dishes will go well with your favorites!
Equipment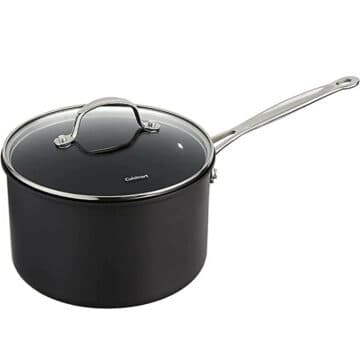 (affiliate link)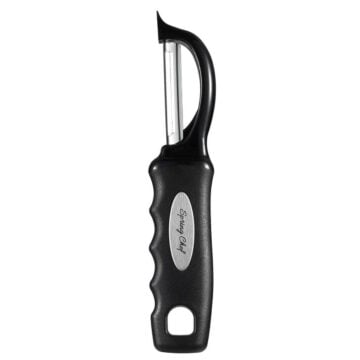 (affiliate link)
Ingredients
1

pound

white asparagus

1

tablespoon

unsalted vegan butter

or margarine

pink pepper

1

teaspoon

sea salt

1

teaspoon

sugar
Directions
Fill a pot with a lid halfway with water and add the salt, sugar, and vegan butter.

Cover, and bring to a low boil over high heat.

Clean the asparagus, chopping off the woody end of the spears.

Peel asparagus. Using a vegetable peeler, and starting about 1 ½ inch (4 cm) from the tip, peel away the remaining tough outer layer.

Simmer. Place the prepared asparagus lying down in the pot. Cover, and reduce heat to medium to keep them simmering.

Cook for 7 to 9 minutes, or until a knife inserted in one stalk comes out smoothly.

Remove from the pot, drain and serve. Sprinkle with pink pepper.
Notes
Tips if following a WFPB diet:
Replace sugar or maple syrup.
Replace water and salt with organic vegetable stock.
Omit the vegan butter.
Nutrition Facts
Calories:
43
kcal
Carbohydrates:
4
g
Protein:
3
g
Fat:
2
g
Saturated Fat:
1
g
Trans Fat:
1
g
Sodium:
606
mg
Potassium:
230
mg
Fiber:
2
g
Sugar:
2
g
Vitamin A:
991
IU
Vitamin C:
6
mg
Calcium:
28
mg
Iron:
2
mg
Nutrition Facts
White Asparagus Recipe
Amount per Serving
% Daily Value*
* Percent Daily Values are based on a 2000 calorie diet.
🌡️ Food safety
Cook to a minimum temperature of 165 °F (74 °C)
Do not use the same utensils on cooked food, that previously touched raw meat
Wash hands after touching raw meat
Don't leave food sitting out at room temperature for extended periods
Never leave cooking food unattended
Use oils with a high smoking point to avoid harmful compounds
Always have good ventilation when using a gas stove
See more guidelines at USDA.gov.
Nutritional Disclaimer
The information shown is an estimate provided by an online nutrition calculator. It should not be considered a substitute for a professional nutritionist's advice. See our full Nutritional Disclosure here.
Affiliate Disclaimer
Please note that some of the links here are affiliate links, and I will earn a commission if you purchase through those links. I recommend all of the products listed because they are companies I have found helpful and trustworthy.