Are you dealing with joint pain? Are you looking for a natural way to help alleviate the inflammation? If so, then you'll want to try this anti-inflammatory juice recipe. Featuring ingredients known for their properties in reducing inflammation, this anti-inflammatory drink is perfect for people looking for a healthy way to deal with their pain. Ready to start feeling better?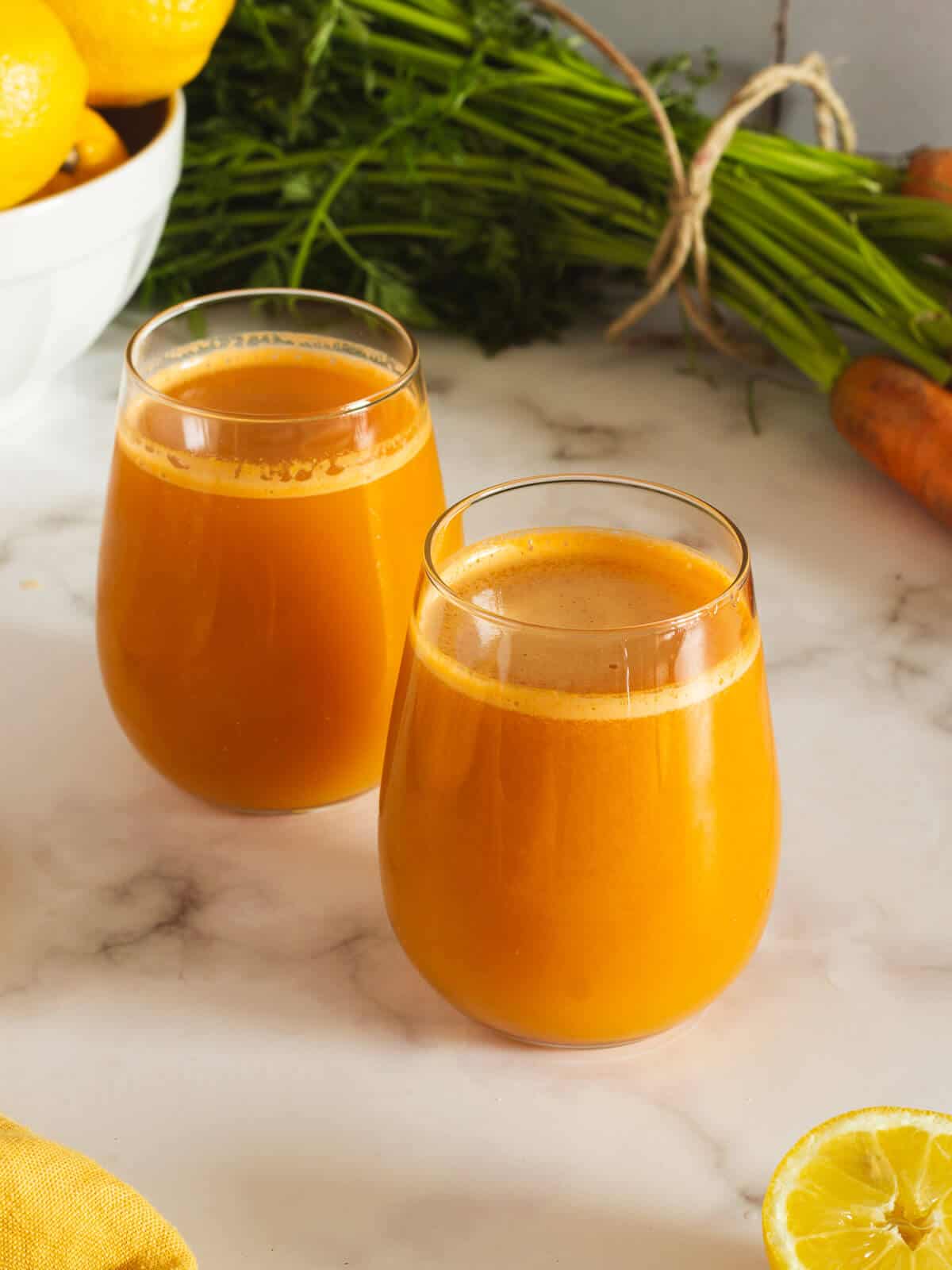 If you're like many, if not most adults, you're dealing with joint pain. It can be anything from mild discomfort to debilitating pain that keeps you from doing the things you love.
Jump to:
🤔 What is inflammation?
We all know that inflammation can be uncomfortable —and chronic inflammation is the root of all sorts of health problems, but what is it? Why does it happen?
Inflammation is nothing more than the body's immune response to harmful stimuli, such as irradiation, pathogens, damaged cells, or toxic compounds.
Our bodies act by initiating the healing process through inflammation, which is a defense mechanism vital to health.
This is why it is important to keep inflammation in line, giving our bodies the foods they need and removing harmful ones.
Chronic inflammation fuels joint problems, arthritis, asthma, dementia, heart disease, and cancer.
It can also make viral infections more problematic.
Here's some good news: you could take your anti-inflammatory diet up a notch by drinking this delicious juice in the morning and the ancient Ayurvedic remedy Golden Milk at night or fresh broccoli juice. Another great morning-time immunity booster is our lemon, turmeric, and ginger tea.
And we're always being told to eat foods that will help reduce inflammation.
Believe it or not, these anti-inflammatory drinks can do just that! As you may know, whole foods and a plant-strong diet can make a difference.
Keep reading to find out how to make an easy anti-inflammatory juice recipe, which along with detox juices and hydrating drinks, can help you get back on track!
🧾 Ingredients
This anti-inflammatory juice recipe is packed with anti-inflammatory foods that are readily available in most grocery stores.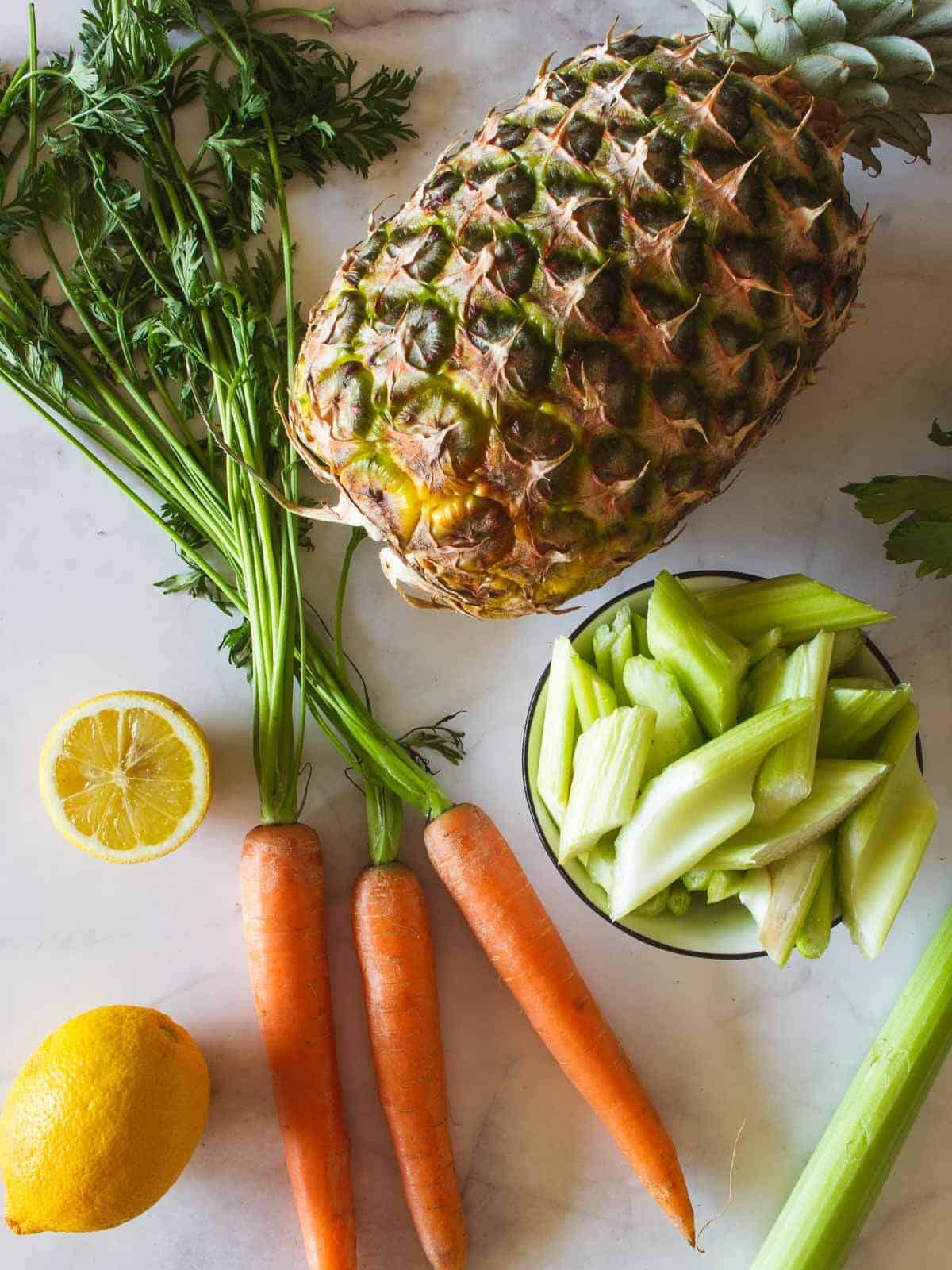 Pineapple
Celery
Carrots
Lemon
Optional: fresh ginger
🔪 Instructions
Ensure you wash thoroughly the vegetables, especially celery stalks, as they tend to hide dirt between their stalks.
Tip: if using fresh pineapple, don't forget to save your pineapple peels to make a delicious, anti-inflammatory, zero-calorie drink that you are sure to love: pineapple-infused water.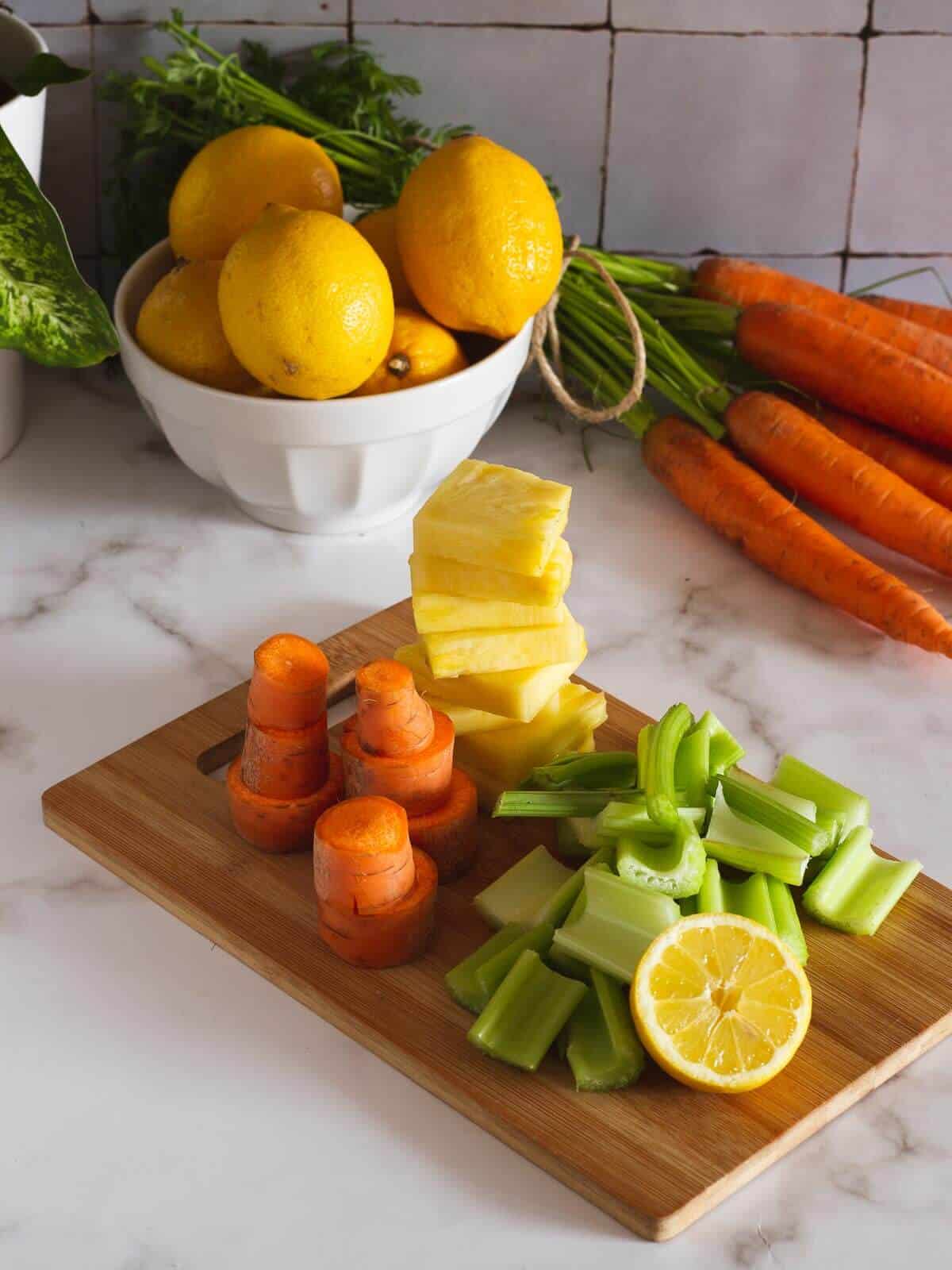 Pass everything except for the lemon through your juicer, alternating the chunks of the vegetables and pineapple to avoid cluttering.
Add lemon juice on top of the freshly served juice.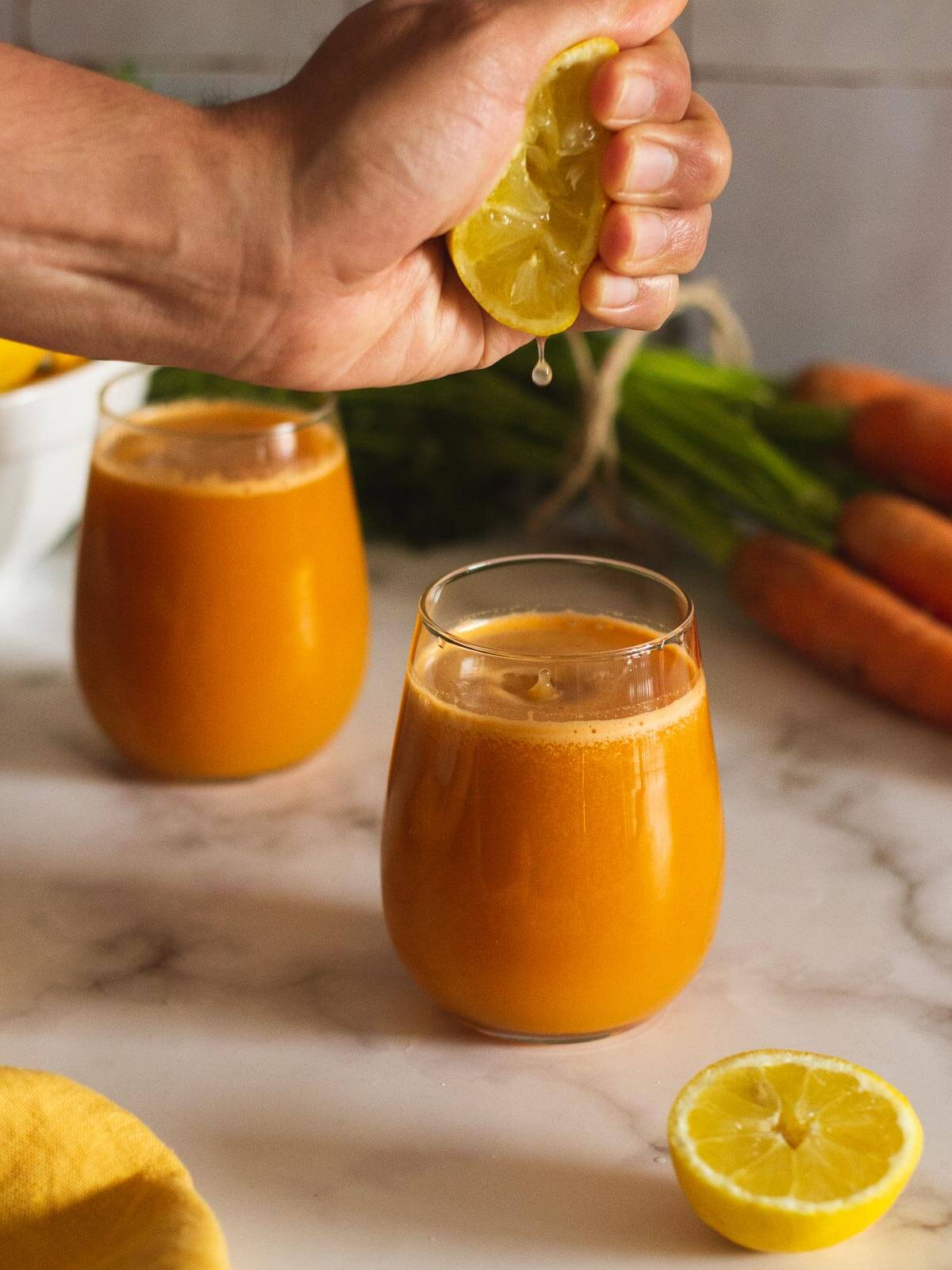 Get an excellent Cold-Pressed juicer, also known as a slow-masticating juicer.
It will be one of the best investments you have made this year! Trust me! Make sure you check the juicer's instructions before starting, as many juicers have different working mechanisms.
Use our Discount Code OPBW10 for 10% off (affiliate link)
Serve and consume immediately.
🫙 Storage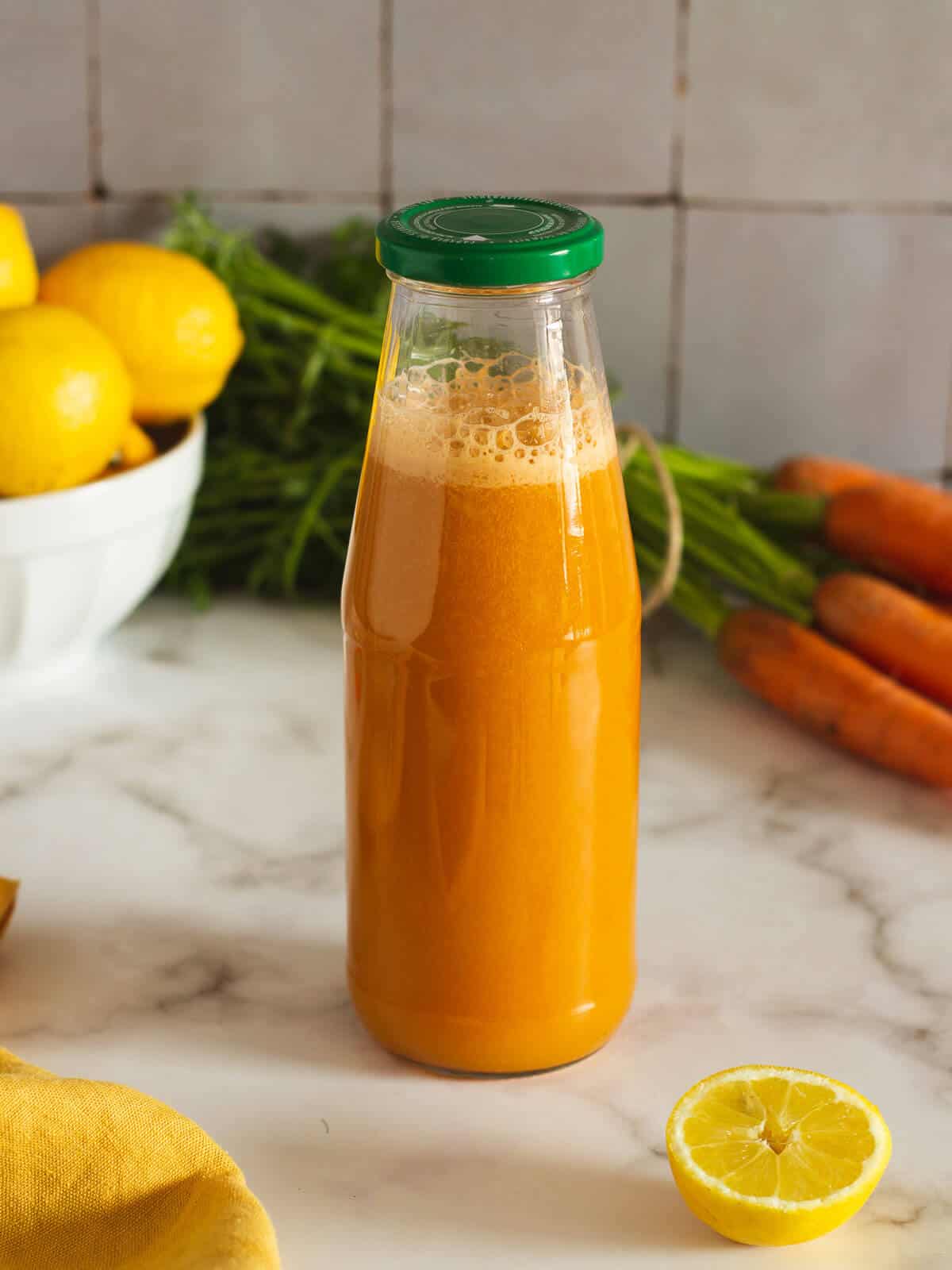 Store for up to 48 hours, but it is best when fresh to avoid losing the strength of the nutrients.
🤔 What Foods Reduce Inflammation?
There are many ways to cope with joint pain, but one of the simplest and most effective is to start drinking this anti-inflammatory juice.
This juice is packed with powerful antioxidants and nutrients that help with inflammatory diseases and improve joint health.
Let's discover the Anti-inflammatory properties of these ingredients.
Celery
This great vegetable is a medicinal product with broad anti-inflammatory actions (1).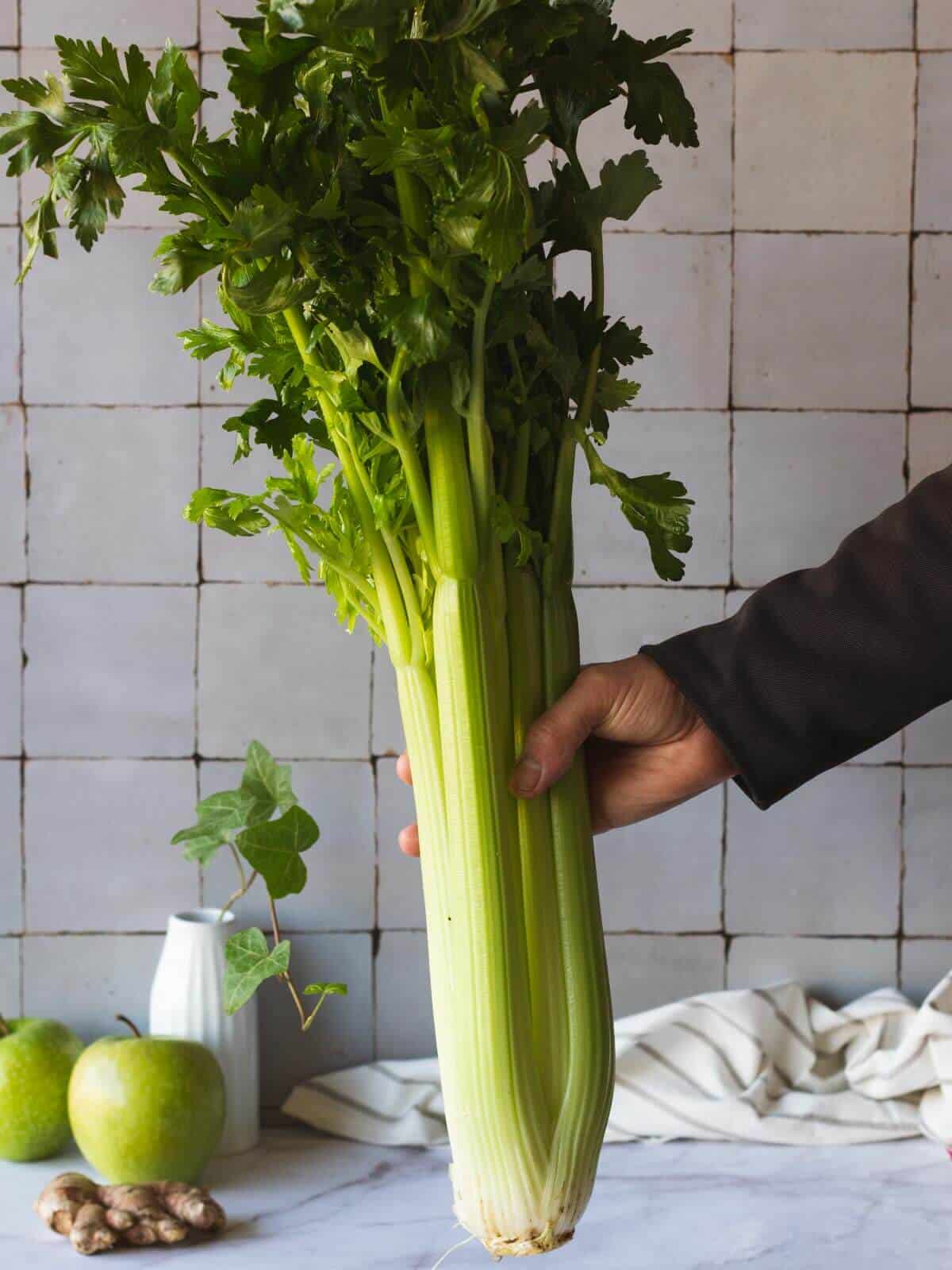 Celery helps reduce glucose, blood lipids, and blood pressure. This can help keep your heart healthy. Additionally, celery has anti-fungal and anti-inflammatory properties, as well as antibacterial effects due to its essential oils.
Drinking celery juice on an empty stomach has many other health benefits.
Pineapple
Pineapple juice is a delicious drink that can help fight inflammation. Not only does this fresh juice has a lot of Vitamin C, but it also has bromelain compounds that decrease inflammation and can help relieve pain.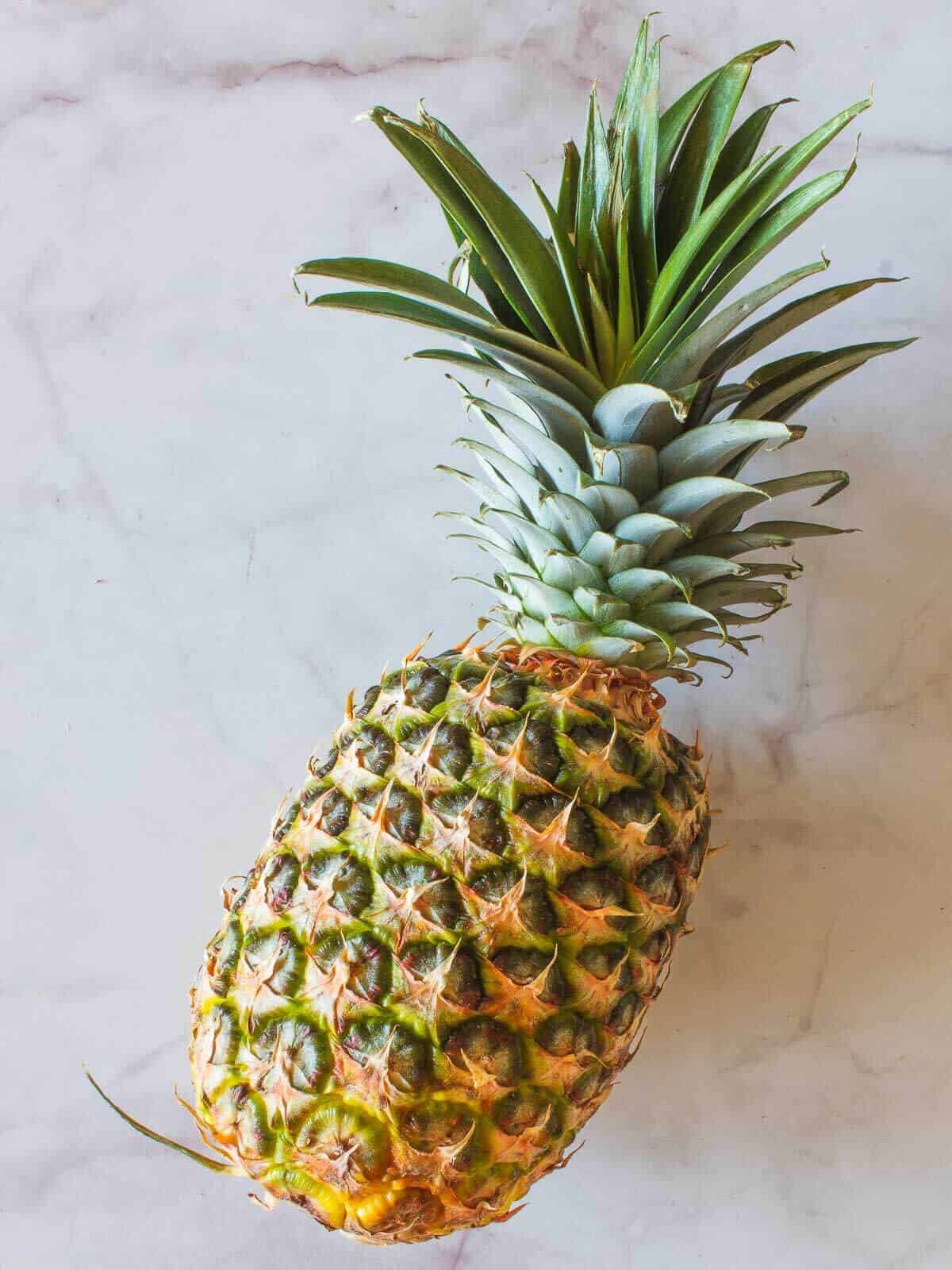 One study found that a combination of bromelain, trypsin, and rutin reduced pain and acute inflammation in the same way as diclofenac when treating knee arthritis.
Bromelain has also been recommended to help manage chronic inflammatory, malignant, and autoimmune diseases beyond arthritis.
Read on: Drinks to boost the immune system »
Carrots
Fresh carrots are a great source of beta-carotene, carotenoids, vitamin A, and antioxidants.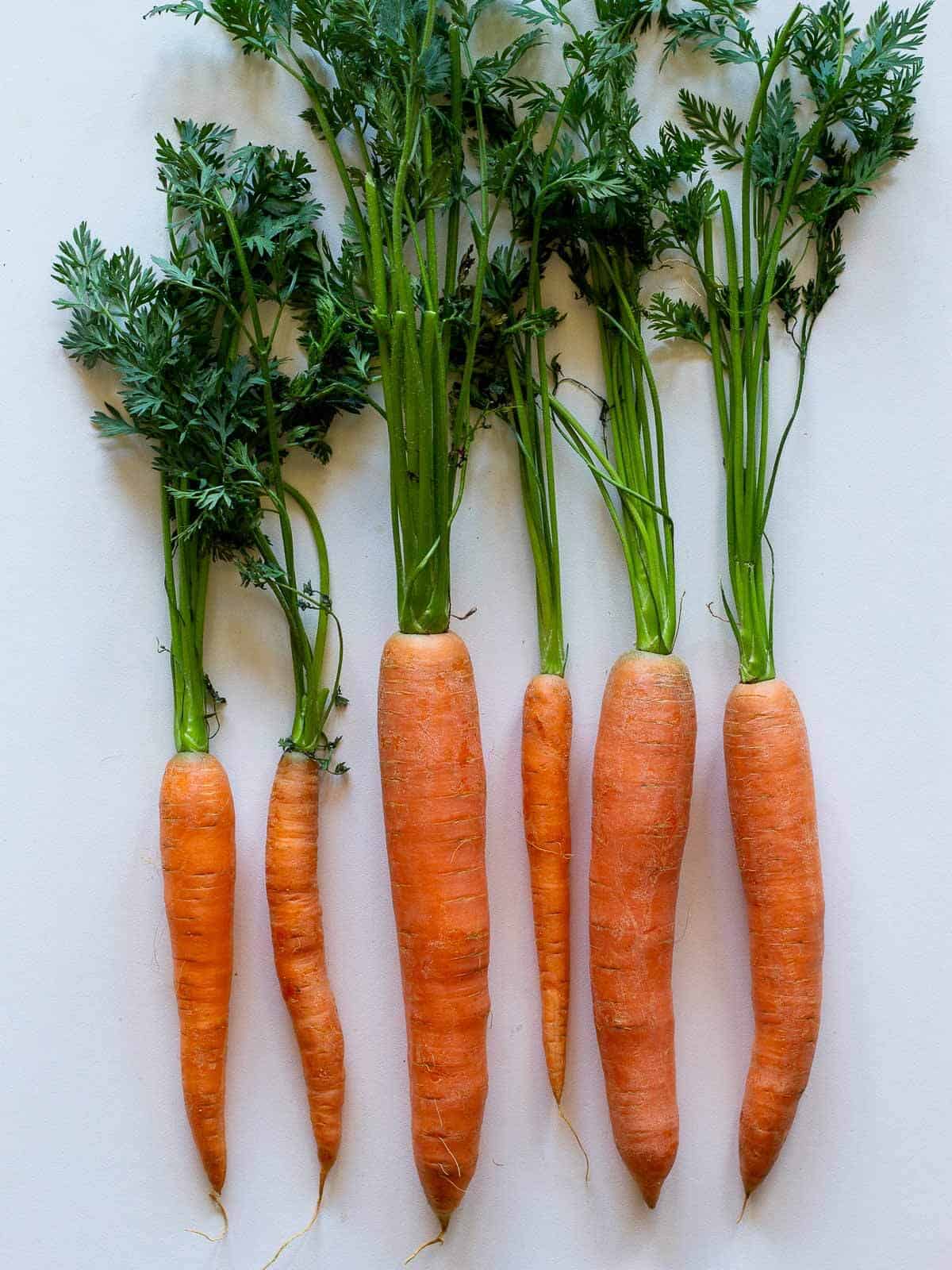 Studies have found that consuming carrot juice, rich in anti-inflammatory beta-carotene and Vitamin A, helps decrease inflammatory blood markers.
You can consume pure carrot juice or make a delicious carrot, apple, and celery juice, as apples also pack many properties that are great for reducing inflammation.
Lemons
Lemons have antioxidants that also help with inflammation, such as Vitamin C. This can help your body heal damaged cells. The antioxidants in lemons have powerful anti-inflammatory compounds, which decrease inflammation and reduce swelling (even minor internal swelling).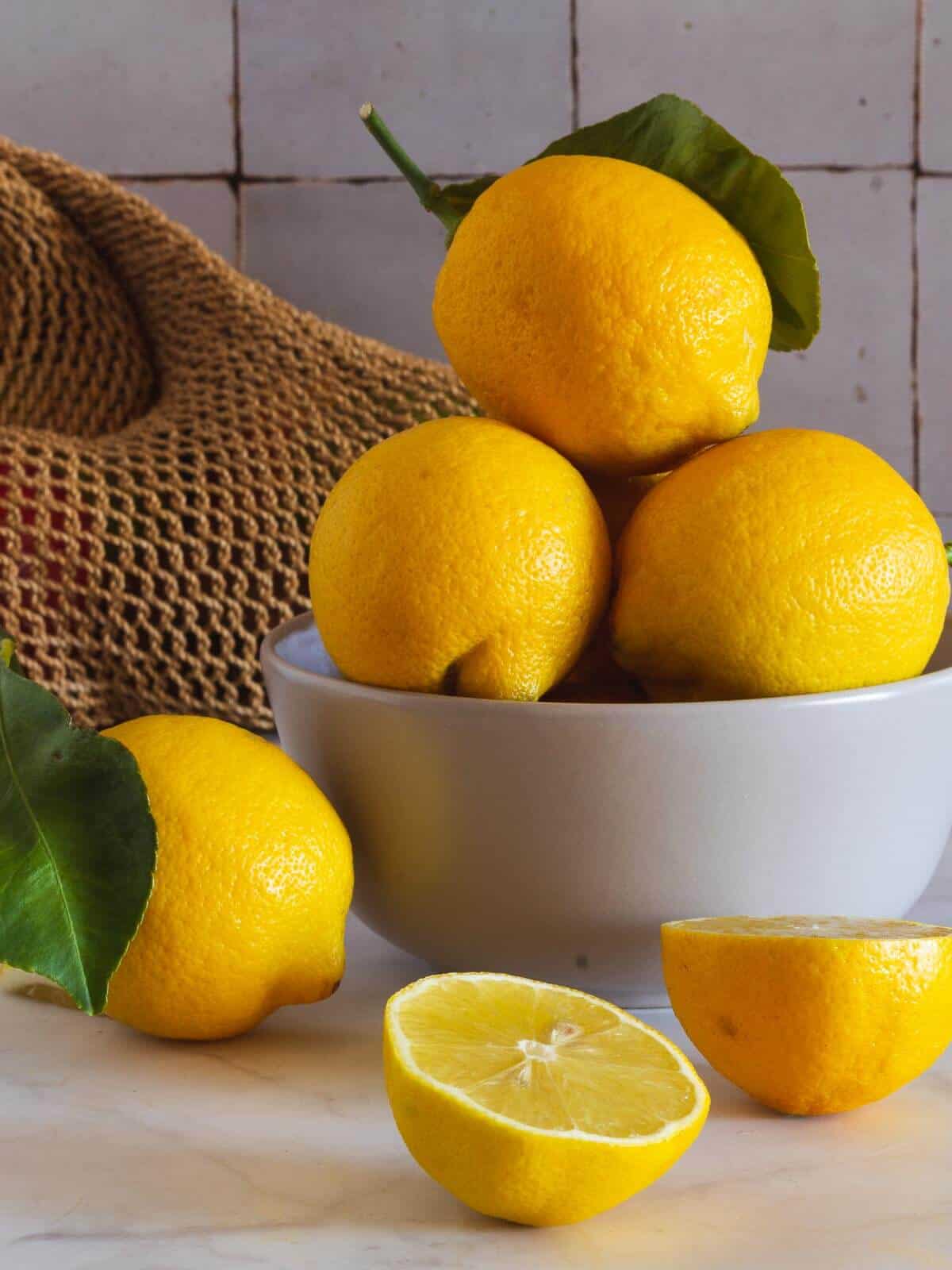 You can make lemon water using lemon peel for an easy, flavorful drink. Lime water is also a great option.
Lemon juice also helps to strengthen the body's natural defenses.
Ginger
Study after study shows us that ginger is incredibly potent in bringing down chronic inflammation and restoring health and vitality to your body.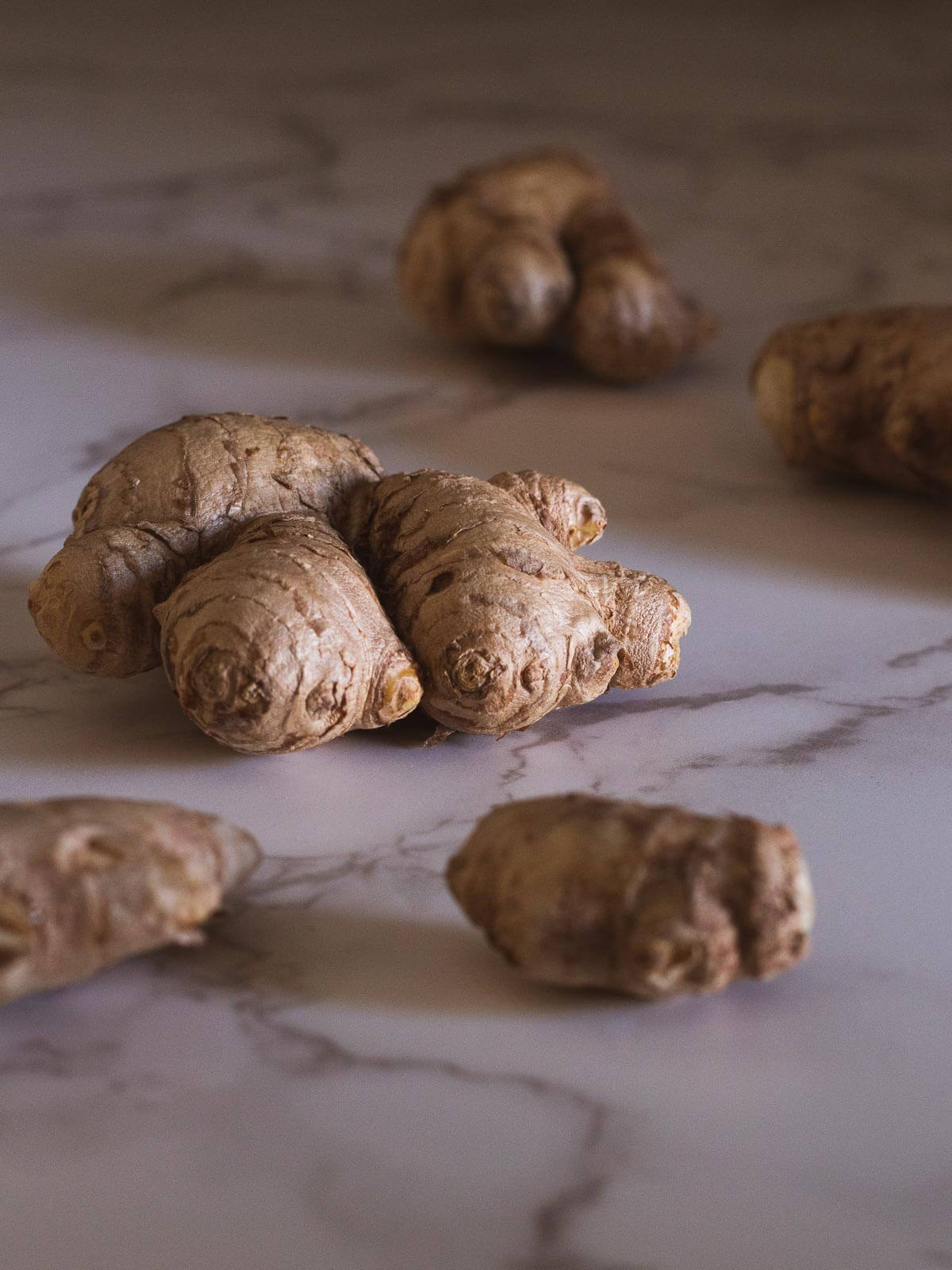 Consumer ginger is linked with reducing pain in people dealing with osteoarthritis.
Science keeps discovering that turmeric and ginger are powerfully beneficial for supporting an appropriate inflammatory response.
The challenge is that both ginger and turmeric — are spices (and strong ones), which can make it difficult to eat them in optimal abundance. You can add turmeric to dishes like Spiced Roasted Cauliflower, tofu scrambles, or add it to your drinks.
That's where juicing and making delicious Turmeric and Ginger packed vegan golden milk, come in handy.
🙅🏻 Foods that increase inflammation
While consuming anti-inflammatory foods is an integral part of the equation, removing the foods that boost inflammatory markers from your diet is equally important.
Avoid processed foods, refined sugars, alcohol, refined flour, sweeteners, cheese, french fries, junk food, processed meats, and salt.
📚 More anti-inflammatory drinks and juice recipes
These drinks are sure to help on your health journey.
Carrot, Apple, and Celery juice, with red apples, are known to decrease inflammation – especially if you include the skin in the juice.
Vegan Golden Milk, is packed with ginger, ground turmeric, with black pepper to boost curcumins' benefits.
Carrot and Cucumber juice, featuring anti-inflammatory carrots and celery.
Pomegranate Juice, help fight inflammation because of its high concentration of antioxidants.
Add this carrot ginger turmeric juice to your anti-inflammatory recipes!
This juice, made to fight hangovers is also packed with inflammation-fighting components that you could drink to add more variety to your juicing routine.
Kale and Leafy Greens Juice: this green juice features green apple, a fantastic fruit that helps fight inflammatory diseases and boosts the immune system.
Other drinks that have anti-inflammatory properties are green tea, pineapple water, lemon water, lime water, and CBD tea.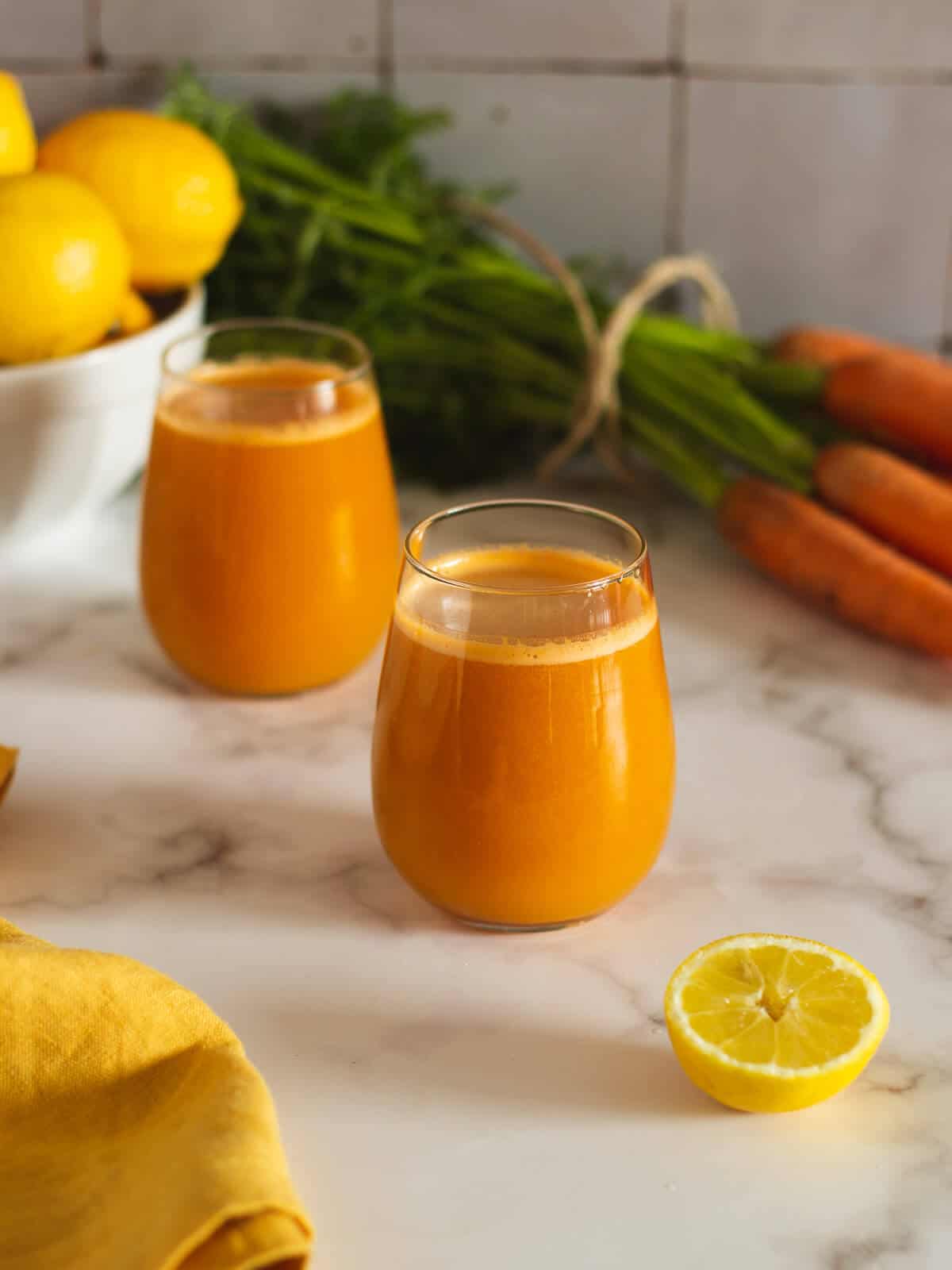 Lastly, although we should avoid having sweeteners while following an inflammation-reducing diet, you don't need to give up dessert.
Moreover, you can have a dessert packed with properties that will help you achieve your goals.
This dairy-free berry nicecream and frozen berries smoothie made with lots of berries are well known for their antioxidant properties.
⭐ If you try this recipe, let us know! 💬 Leave a comment, rate it, and don't forget to tag us @ourplantbasedworld on Instagram. Cheers!
📋 Recipe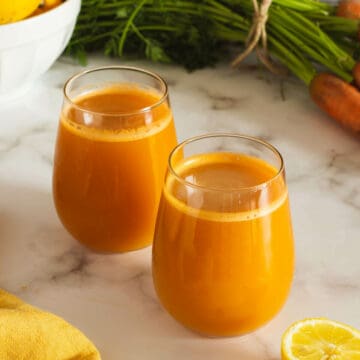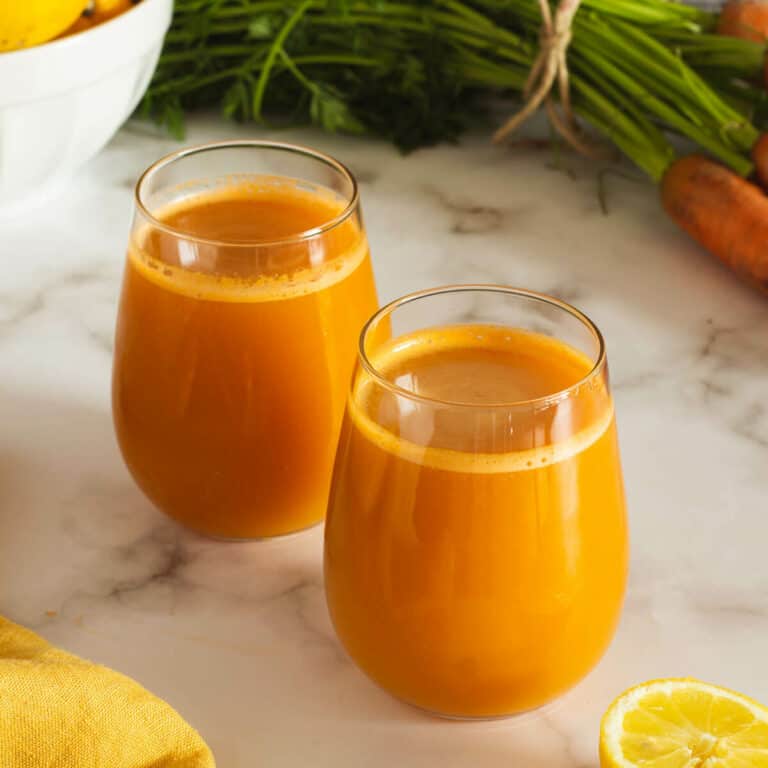 Anti Inflammatory Juice for Joint Pain
Are you dealing with joint pain? Looking for a natural way to help alleviate the inflammation and pain? If so, then try this anti-inflammatory juice recipe.
Equipment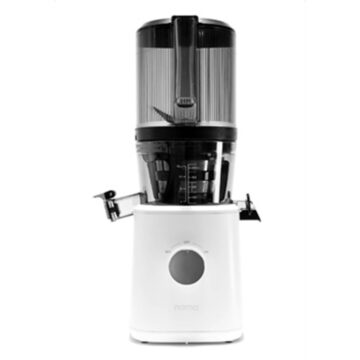 (affiliate link)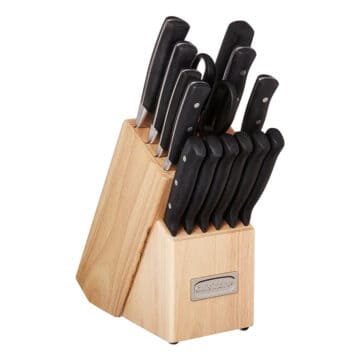 (affiliate link)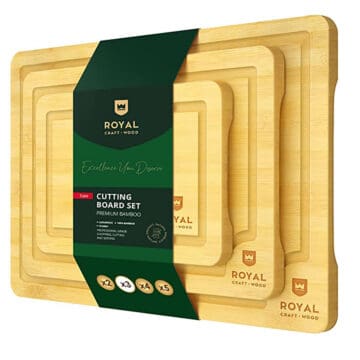 (affiliate link)
Directions
Wash and chop your ingredients into medium-sized chunks.

Pass everything through your juicer, alternating the chunks of the vegetables and fruit.

You can optionally add about half a cup of water to the juicer while it is still working to drag more juice out of the juicer.

Store for up to 48 hours, but best when fresh to avoid losing the strength of the nutrients.
Nutrition Facts
Calories:
48
kcal
Carbohydrates:
12
g
Protein:
1
g
Fat:
1
g
Saturated Fat:
1
g
Polyunsaturated Fat:
1
g
Monounsaturated Fat:
1
g
Sodium:
25
mg
Potassium:
181
mg
Fiber:
2
g
Sugar:
10
g
Vitamin A:
5142
IU
Vitamin C:
8
mg
Calcium:
21
mg
Iron:
1
mg
Nutritional Disclaimer
The information shown is an estimate provided by an online nutrition calculator. It should not be considered a substitute for a professional nutritionist's advice. See our full Nutritional Disclosure here.
Affiliate Disclaimer
Please note that some of the links here are affiliate links, and I will earn a commission if you purchase through those links. I recommend all of the products listed because they are companies I have found helpful and trustworthy.