This delicious strawberry pineapple smoothie recipe is one of my favorites - and it's vegan! Made with fresh or frozen strawberries, ripe or frozen pineapple, and almond milk, this smoothie is not only delicious but also healthy. So if you're looking for a tasty vegan treat or a healthy breakfast, give this recipe a try!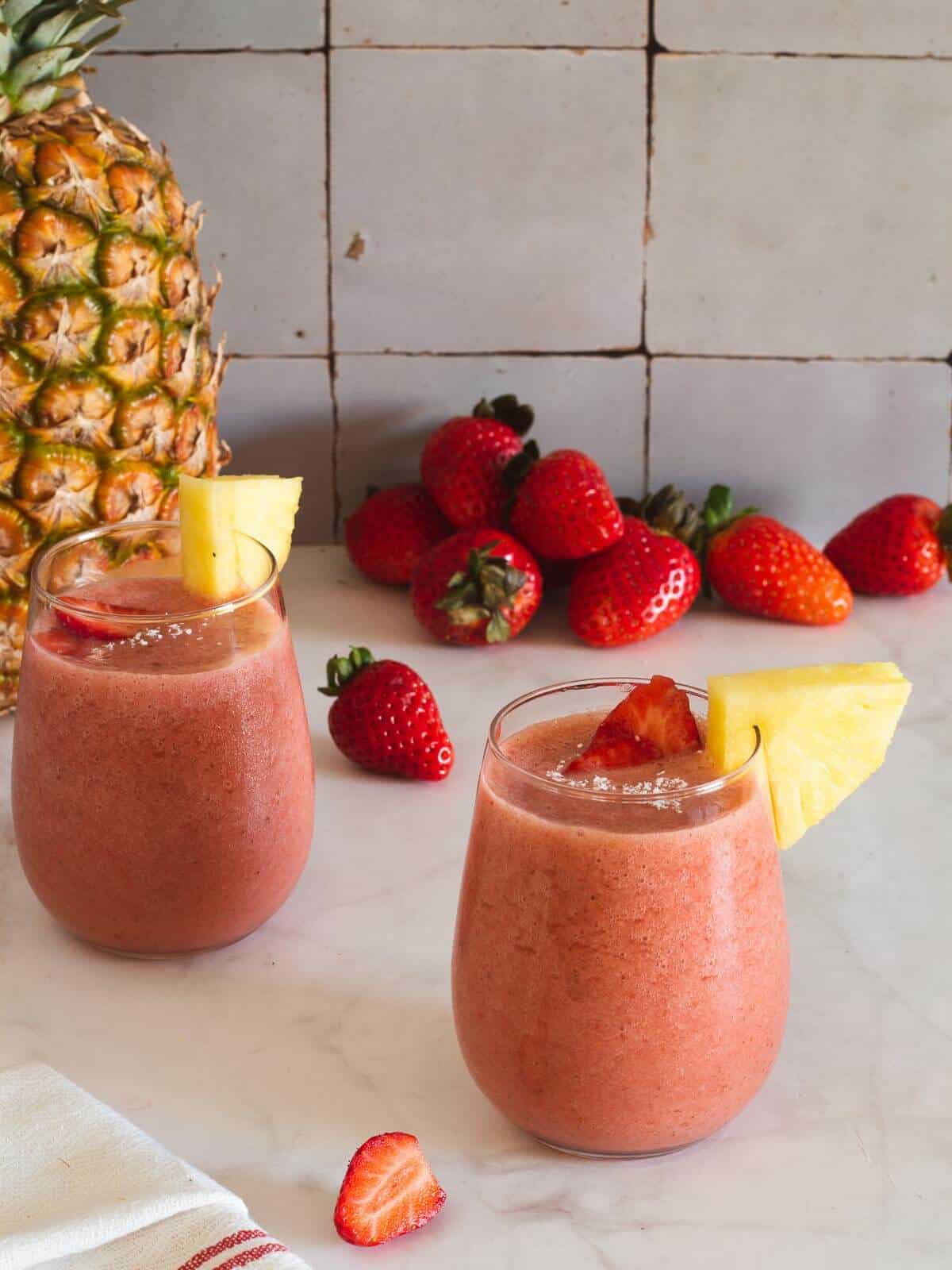 This strawberry pineapple smoothie recipe is perfect for spring and summertime! This Vegan Strawberry Pineapple Smoothie is refreshing, nutritious, and easy to make. Plus, it's a great way to use up overripen strawberries and pineapple. I hope you enjoy this recipe as much as I do!
The inspiration for this recipe came from our 3-ingredient pineapple coconut smoothie and our apple strawberry smoothies. also on this site.
We love smoothies and using our own homemade almond milk. Both store-bought and homemade oat milk or soy milk work perfectly, as well.
We removed the coconut and the bananas and added strawberries, almond milk, and lemon juice to make the perfect strawberry-pineapple smoothie combination.
If you like the bananas on your frozen strawberry smoothie recipe, you should also have to check out our delicious strawberry kiwi banana smoothie, which makes a great low-calorie breakfast or quick snack!
Jump to:
🧾 Ingredients
You make this delicious smoothie in 5 minutes with just a few ingredients.
Choose ripe fresh fruit or frozen produce this way, and you won't need to add sweeteners or just a little.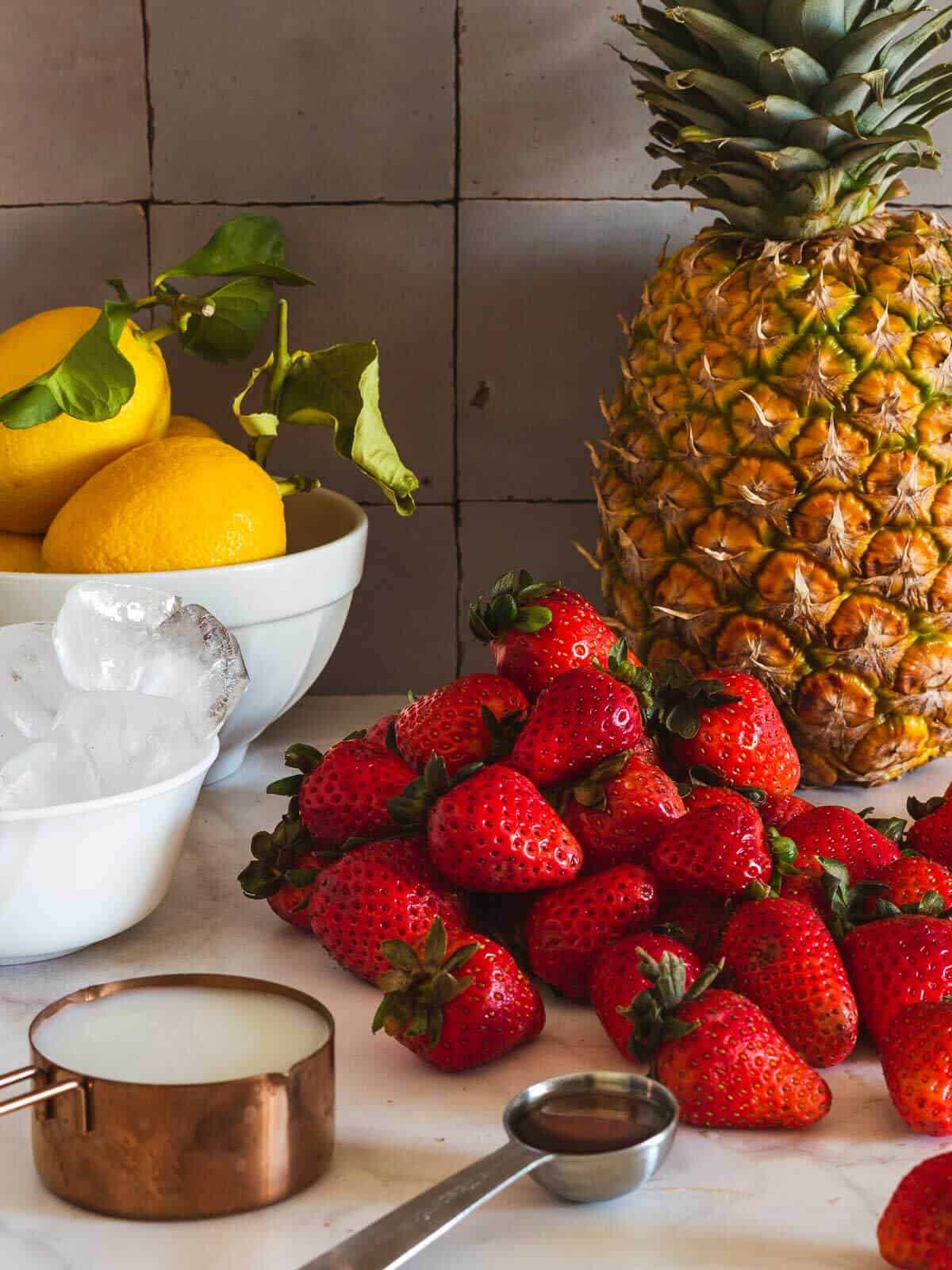 Fresh or Frozen Strawberries: These ruby gems add a natural sweetness and are loaded with vitamin C, perfect for an immune boost. Plus, strawberries offer a tangy note that balances the tropical vibes.
Sweet Pineapple Chunks: The tropical twist to the drink, pineapples contribute not just flavor but also enzymes like bromelain, which aid digestion.
Unsweetened Almond Milk: It keeps the smoothie dairy-free while offering a creamy texture. Almond milk is also a lower-calorie alternative to traditional milk, making it a win-win.
Lemon Juice or Orange Juice: The citric kick from either juice acts as a natural preservative and makes a vegan buttermilk when mixed with almond milk.
Ice Cubes (if using fresh fruit): Ice ensures your smoothie has that perfect chilly temperature and slushy texture. It also helps to dilute the sweetness just a smidge if your fruit is on the sugary side.
See quantities in the recipe card.
💡 Smoothie making tip
In general, you can use both fresh fruits and frozen fruits for your smoothie recipes. What will change is the number of ice cubes that you add to them since you want them to have a smoothie texture, but it also comes with water.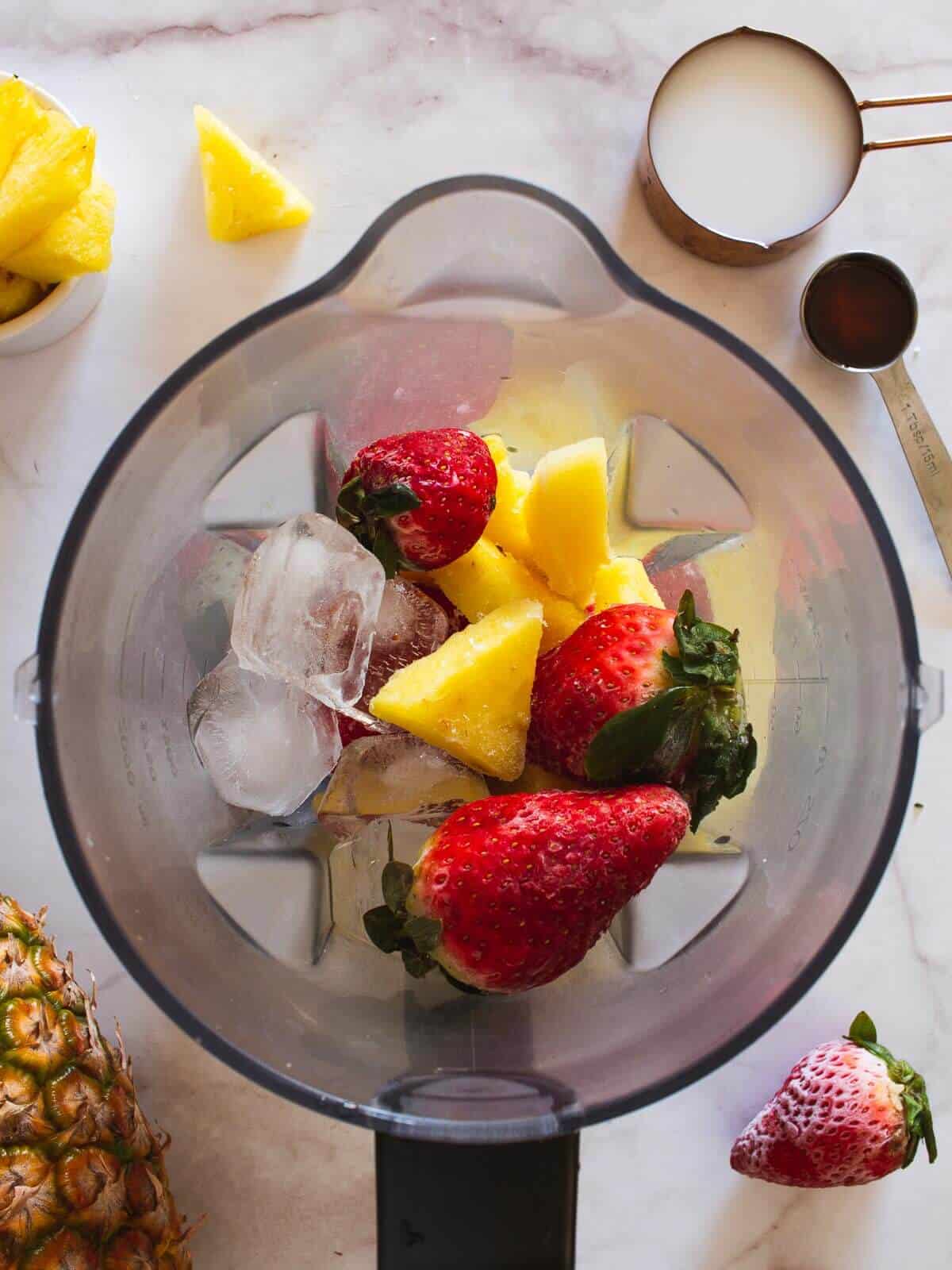 When you add water, the sweet taste is diluted, and you may need to add more sweeteners to achieve the right sweet spot.
When smoothie recipes call for frozen ingredients, they inevitably require more liquid and maybe additional maple syrup.
Blender setting:

If using fresh fruit, you can use the smoothie mode of your high-speed blender.
On the other hand, use the ice mode to start with, so the blender breaks the first frozen fruit chunks and then uses the smoothie mode.
🔪 Instructions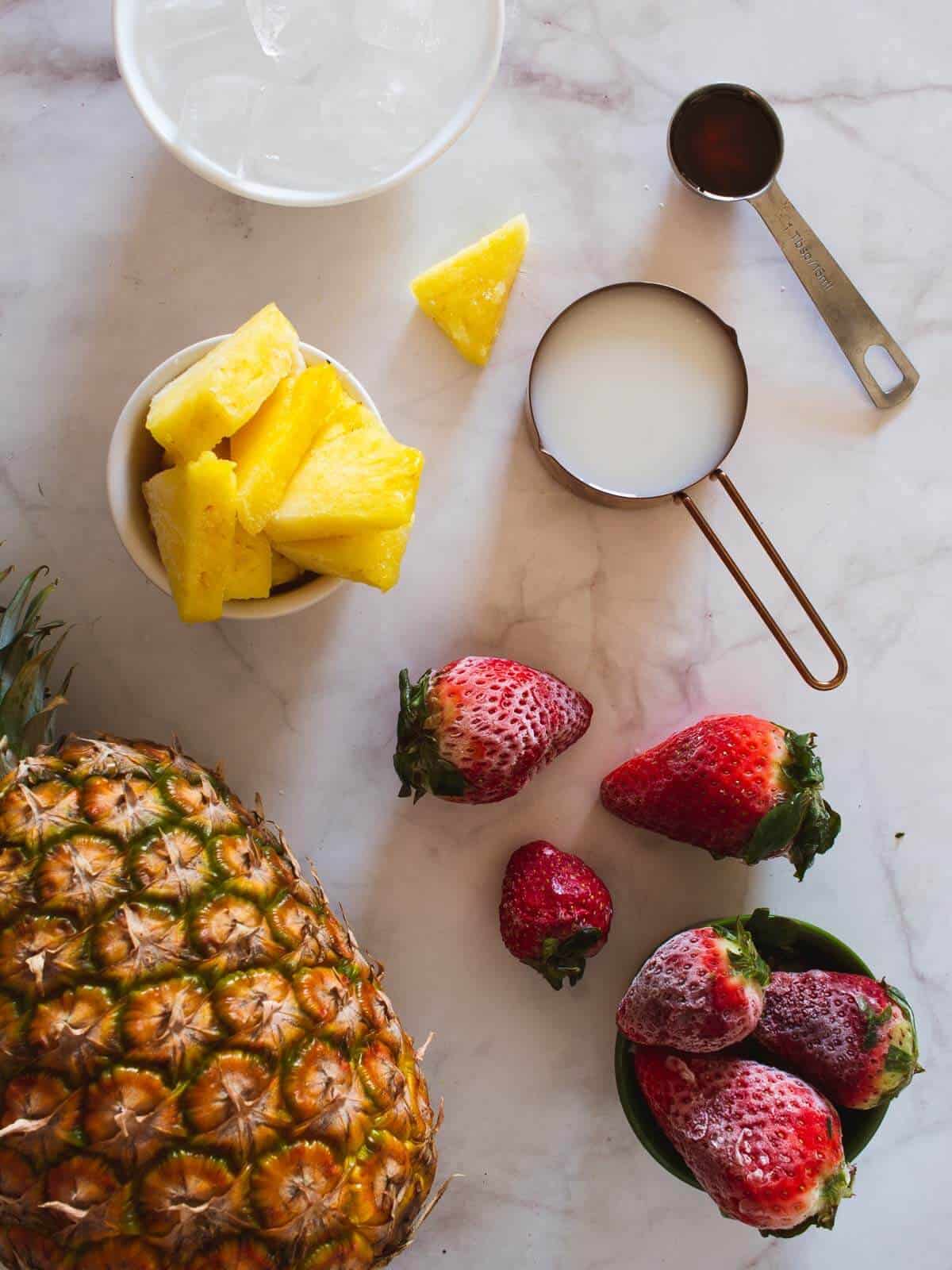 Step 1: Measure your ingredients.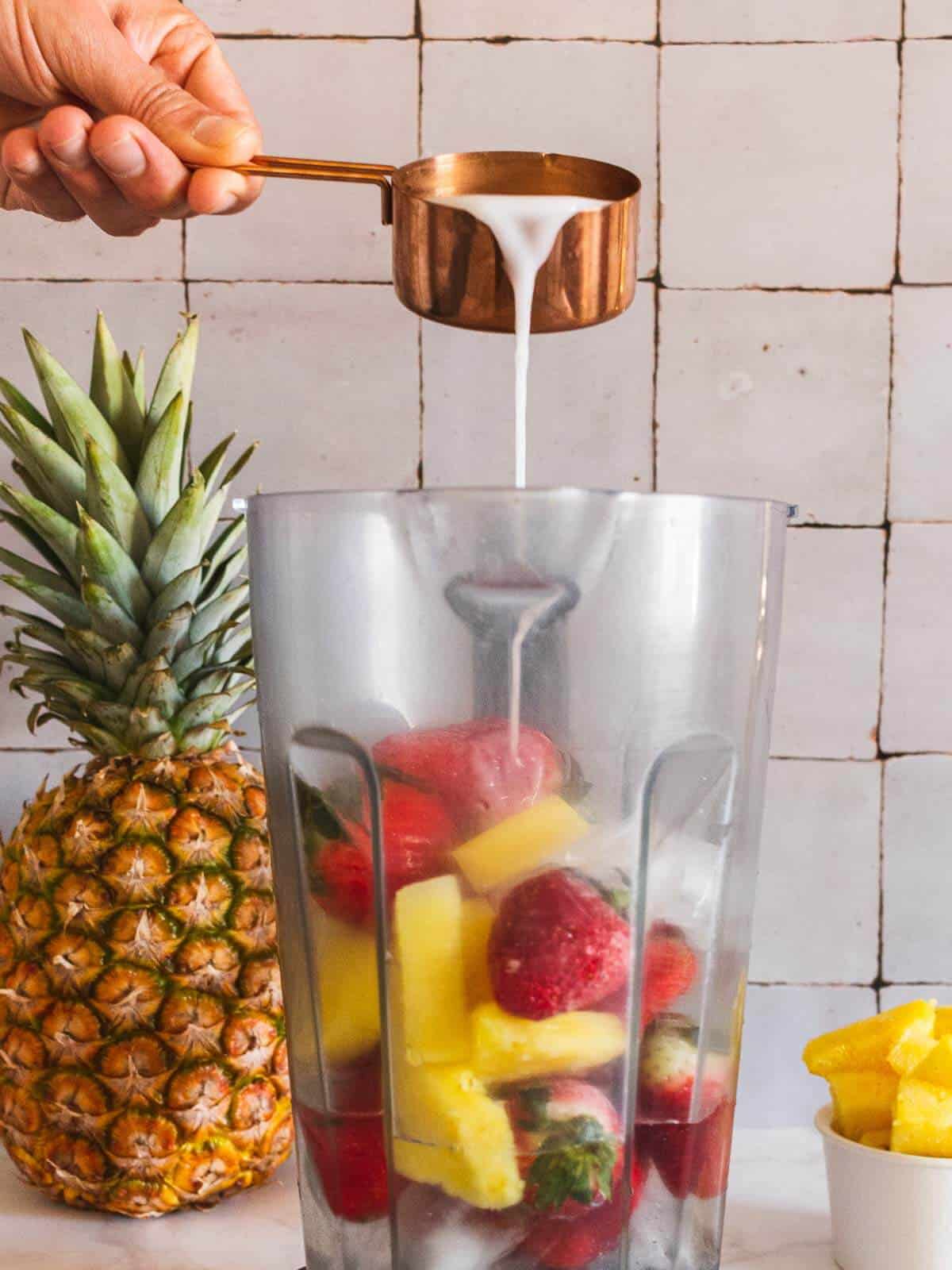 Step 2: Add the frozen ingredients to the blender, followed by your choice of dairy-free milk.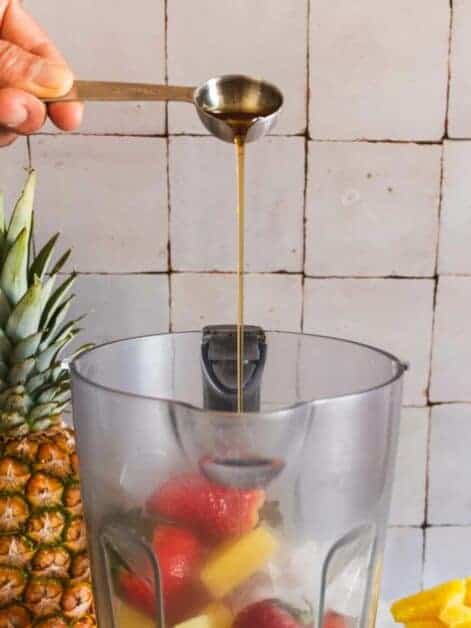 Step 3: add sweetener.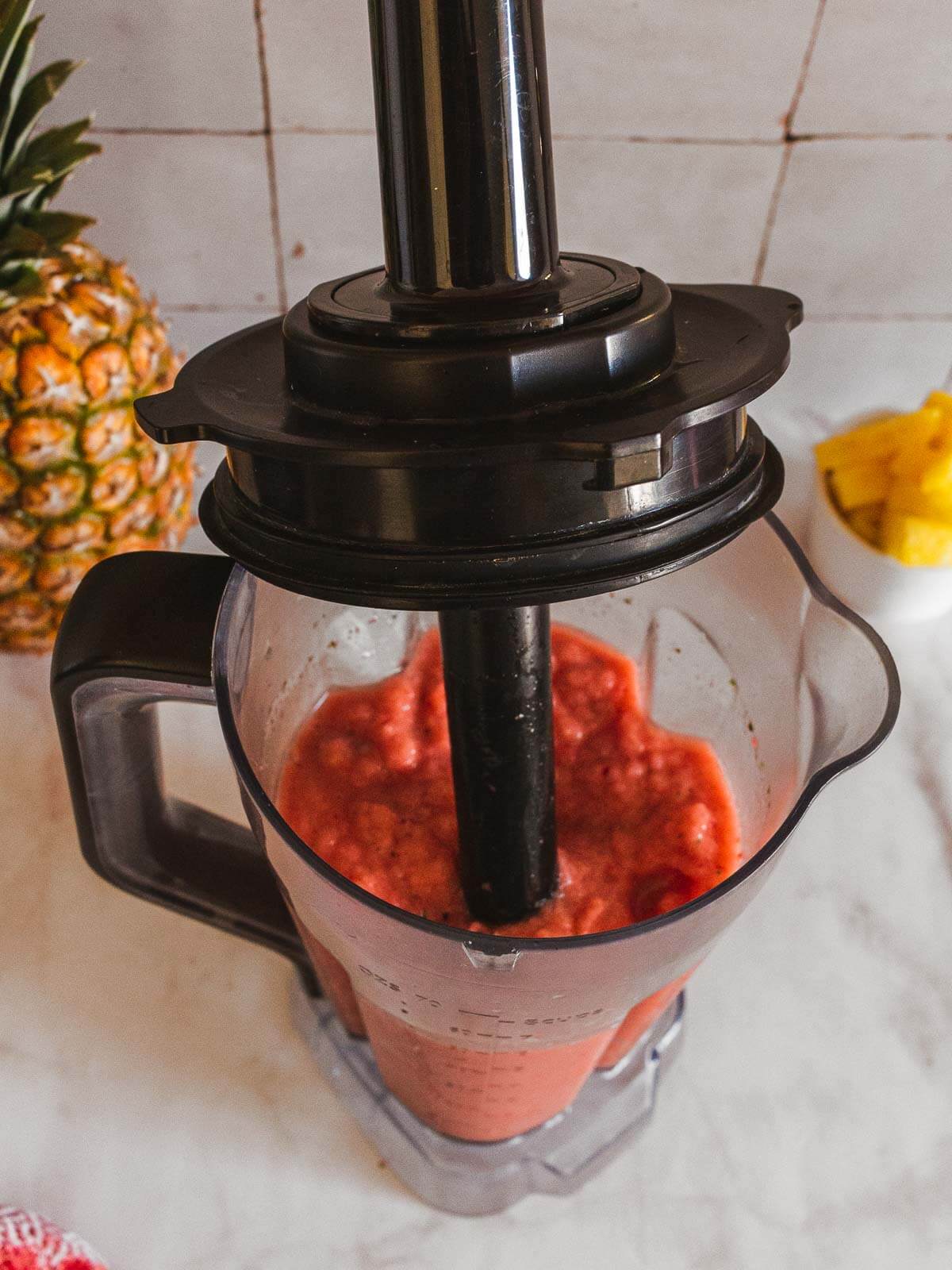 Step 4: Blend, If the blender struggles, add more almond milk or water. If your blender has a tamper, use it to help the blender runs smoothly. Blend for approximately 40 seconds or until the smoothie reaches your desired consistency.
Note: if your blender tends to struggle with big chunks, I recommend that you add almond milk and water first in the blender. It prevents blenders from snagging frozen fruit from mixing.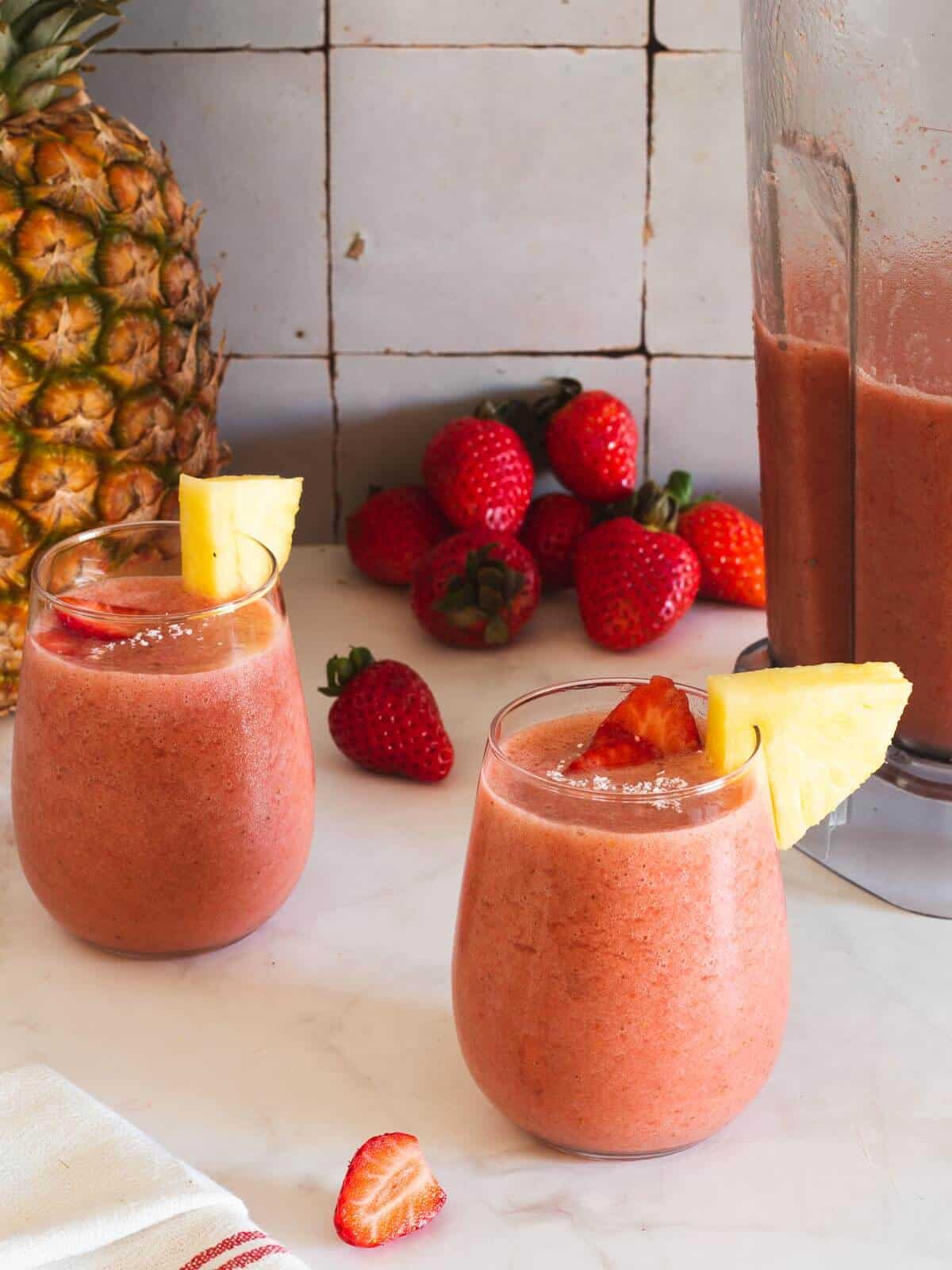 Serve immediately.
You can optionally mix in a banana for extra fruity.
If you like to make this refreshing smoothie thinner, simply add more almond milk.
Fact: strawberry leaves are edible and nutritious. The leaves can be consumed in salads, tea, boiled, and smoothies. They are rich in iron, Vitamin C, Vitamin K, and antioxidants. They also contain ellagic acid, which has immune-boosting properties.
🪧 Garnishing Options
Feeling fancy?
Shredded coconut on top,
sliced strawberries,
and pineapple triangles to serve.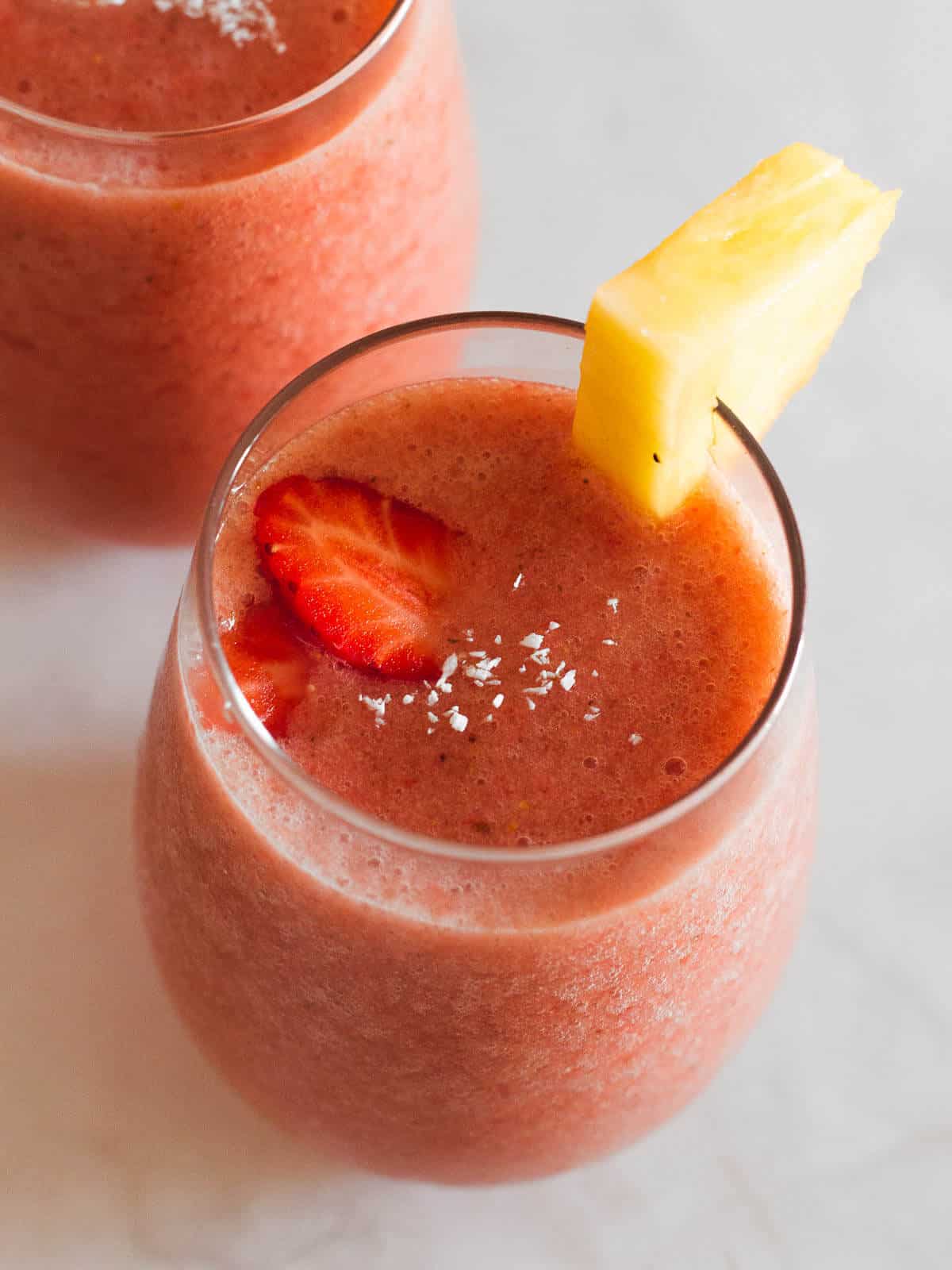 📖 Optional add-ins and variations
Banana
So there are two kinds of smoothie fans: those who love bananas and those who can't stand them. We love adding bananas to our smoothies, but they can be overpowering, depending on the rest of the ingredients.
This Pineapple smoothie without banana has just the right amount of sweetness and creaminess.
Bananas are great for adding creamy texture, sweetness, and flavor, but if we already have all those components in our smoothie, they will just add extra sweetness, which comes with calories.
I like the simple combination of pineapple and fresh or frozen strawberries, so we left them out. Also, they are high in fiber and great for aiding constipation problems.
If you are one of those not-so-common people, like Joaquin, who just don't gain weight, and always look forward to squeezing in extra calories into their meals, add a ripe banana!
Read on: the perfect pineapple and cucumber smoothie for weight loss »
If you want to make a strawberry banana smoothie, you can directly add a fresh or frozen banana into the blender jar.
Lemon juice or Orange juice
Did you know that adding citrus like lemon juice, orange juice, or tangerine enhances the flavor of strawberries?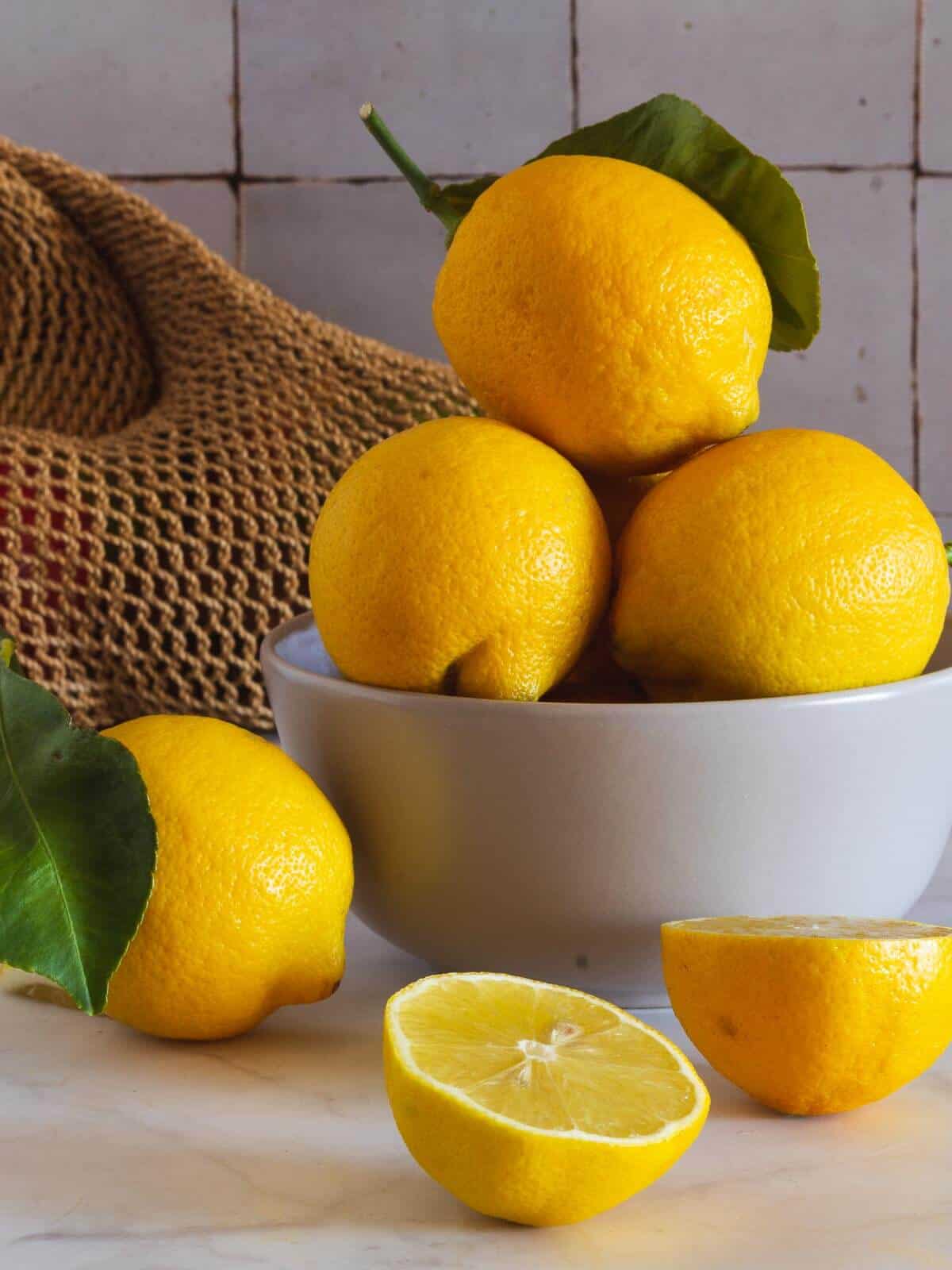 I learned that from my Local Ice Cream shop owner and Gelatiere in Italy.
Add a splash of citrus to your smoothie and the flavor will be drastically elevated!
Wheat germ
The wheat germ is what causes the new plant sprout to develop and grow. While only a tiny piece of the apple, the germ is quite nutritious.
It's high in thiamin, folate, magnesium, phosphorus, and zinc.
Oats
Add gluten-free rolled oats or oatmeal to add extra fiber and protein to your smoothie. I recommend adding two tablespoons.
They don't need to be gluten-free if you don't have any dietary restrictions.
If you left your fruit in the freezer and plan to add oats to your smoothie, why not leave your oats soaking overnight? That way they will add an extra creamy texture to your smoothie, plus oats have non-soluble fiber that is super healthy and contribute to heart health.
We love having either having pumpkin overnight oats or our lemon and blueberry version for an extra healthy breakfast.
Seeds
Adding chia seeds or flax meals are great ways to add antioxidants and protein to your smoothies. I always add one tablespoon per portion.
Protein powder
If you want to make this smoothie a protein powerhouse, add a scoop or two of this great vegan clean protein.
You could also use vanilla or banana-flavored protein powders which go well with our choice of fruits.
Dairy-free milk
I started making this smoothie years ago using coconut milk, and I have always loved the combination and how it contributes to the smoothie tropical flavor.
Recently I used homemade almond milk because I didn't have coconut milk or shredded coconut, and we were so surprised by how much the flavor changed.
So delicious! It tasted like a different smoothie, equally delicious but with a distinct strong twist.
You can also achieve this by adding a tablespoon of almond butter, which will also increase the protein content and healthy fats content.
Yogurt
If you want an extra layer of creaminess, you can use vegan plain or vanilla yogurt.
🍧 Tips for frozen fruits
Pineapple
When you stumble upon a not-so-sweet pineapple, you can use them for your smoothies or to make pineapple water. Pineapples are also great for making anti-inflammatory and hangover fighting juices, given their high concentration of Vitamin C and bromelain, which are great healthy antioxidants and enzymes.
Frozen pineapple chunks are perfect for smoothies and nicecreams (non-dairy ice creams).
They are not 100% ideal for smoothies, as you want your smoothie to be on the sweeter side, but you can quickly fix that with a tablespoon of agave syrup, maple syrup, or your sweetener of choice.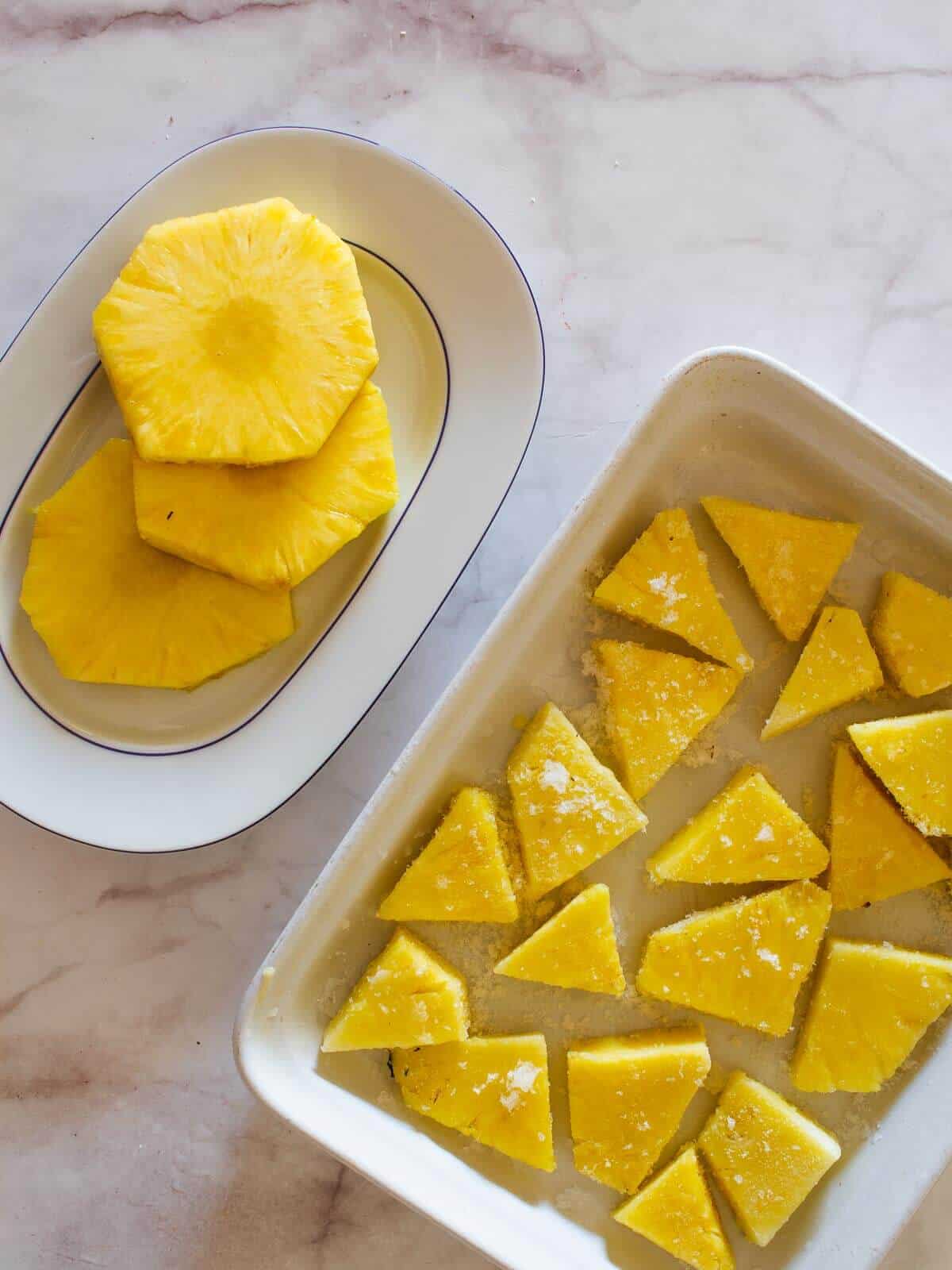 To make this strawberry pineapple smoothie, you can also use canned pineapple. Just grab those pineapple chunks and add them to the blender.
You can also use the remaining pineapple juice to add some sweetness instead of using the suggested maple syrup tablespoon in the recipe.
Freezing pineapple chunks in a flat pan with parchment paper makes picking the correct quantity for your smoothie easy, but you can put them in a bag.
They will freeze as big chunks, making them more difficult for the blender to handle.
Yes, you can substitute the suggested water for coconut water for additional coconut taste and electrolytes.
Strawberries
Frozen fruit is inexpensive, and if fresh strawberries are about to get moldy, you can save them by freezing them and using them in your smoothies.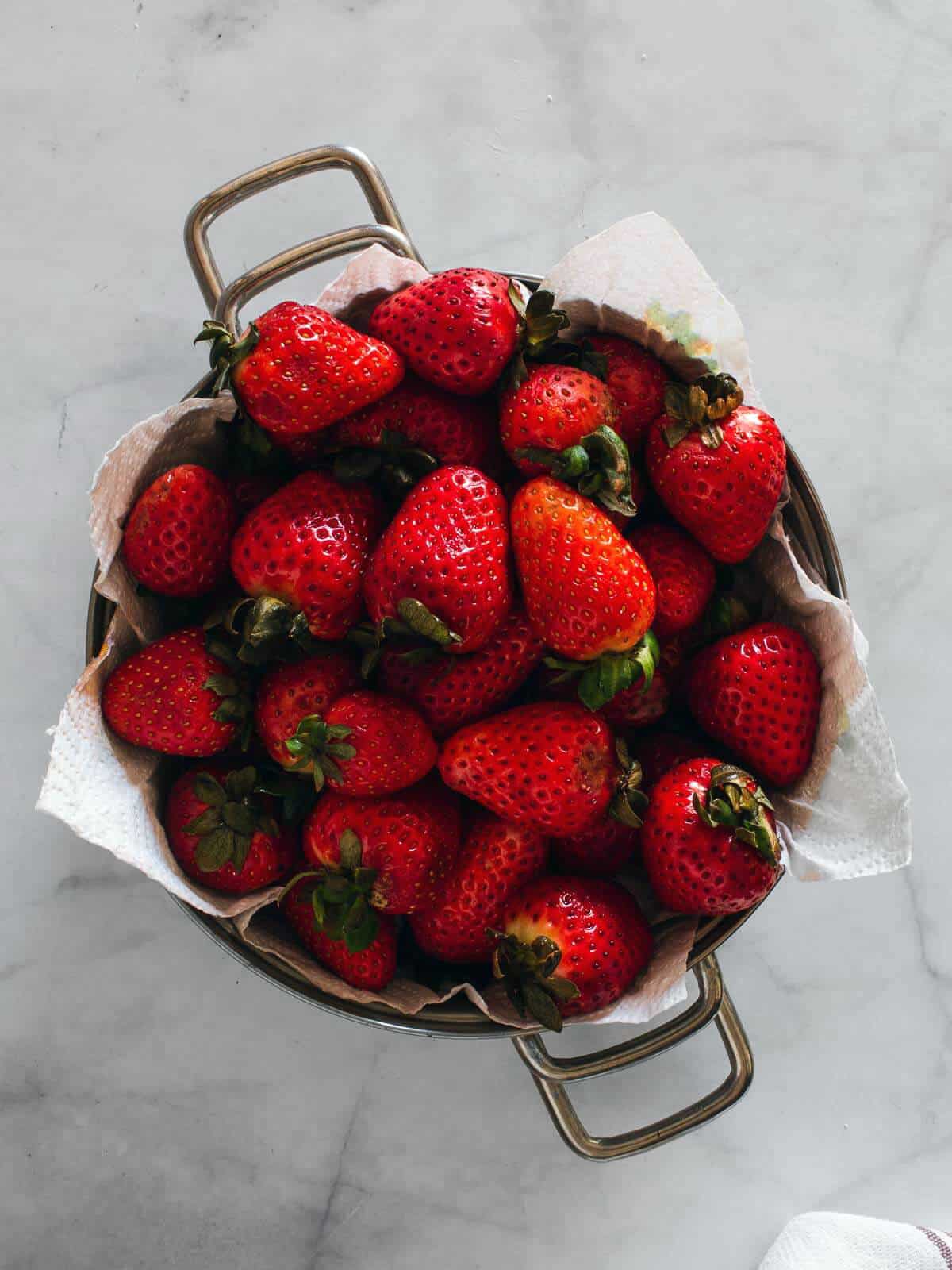 Try to freeze the strawberries, somehow lose, leaving some space between them, for the same reasons as the strawberries. Otherwise, juicing strawberries is another great way to use big batches.
You can also use frozen strawberries to make dairy-free berry ice cream in minutes.
Banana
Although we are not using bananas in this recipe, as it is an optional ingredient, I wanted to show my method for freezing them.
I rip out the banana slices, then store them inside the bag in an empty bag. So anytime you require frozen fruit, plenty is available, and there is no need to get a bag of frozen fruit from the supermarket.
🫙 Storage
Fruit smoothies are at their best when fresh. If you have leftovers, store them using an airtight container, and keep them in the refrigerator for a day or two.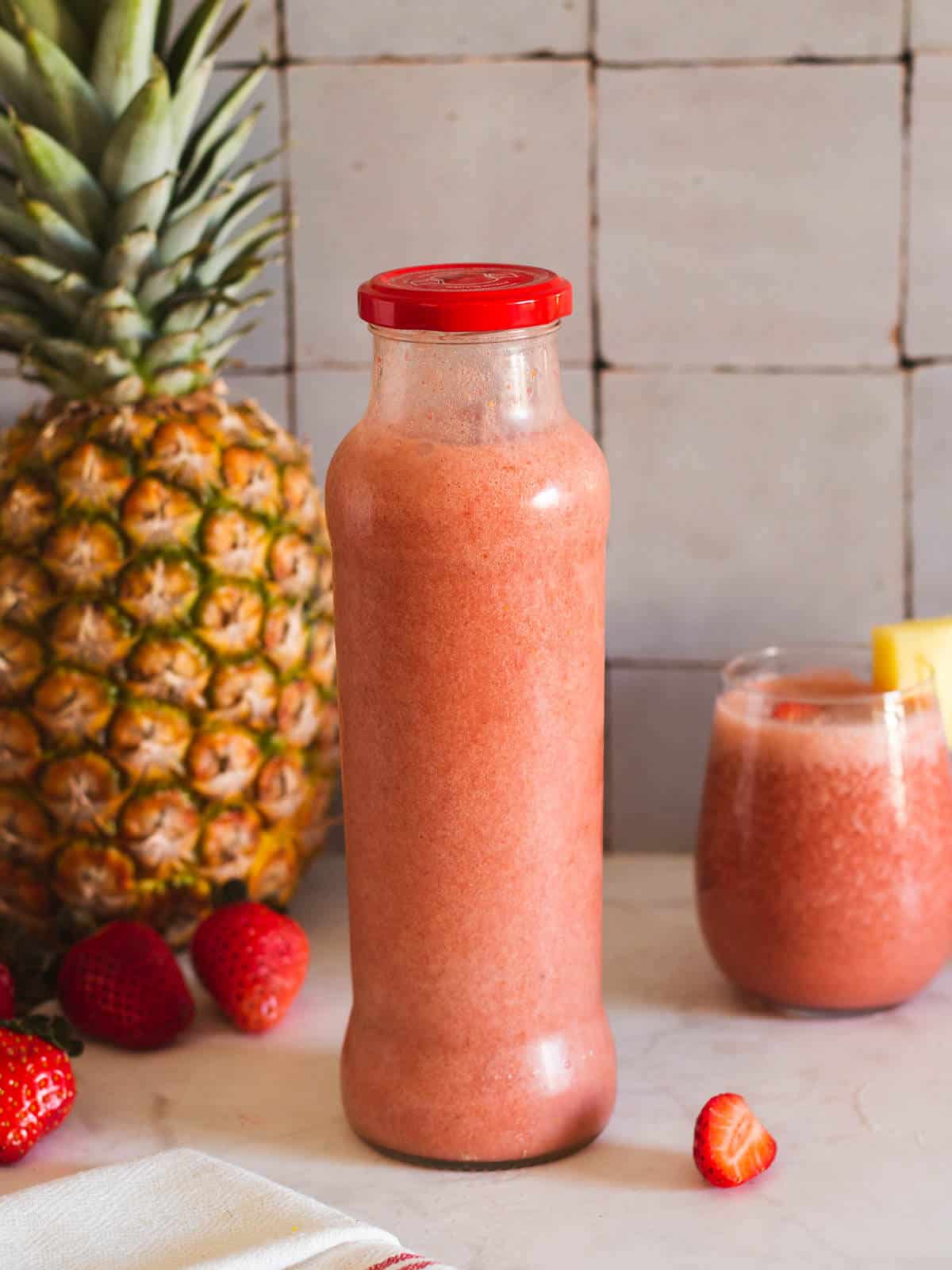 Store in the fridge closed for up to three days.
🍽 Equipment
When making smoothies, having a great blender is game-changing. It makes all the difference when you are working with ice, fresh fruit, and frozen goods.
It reduces the time you spend chopping ingredients and making things go throw smoothly, and simply press a button and wait.
This Blendtec blender (affiliate link) is our choice (affiliate link).
❓ Frequently asked questions
How to make a thick smoothie?
People believe that to make a smoothie thicker; you need to add more ingredients to it. However, this is not the truth. There are a few ways that you can make your smoothie thicker without adding more ingredients.
The first way is by using frozen fruit instead of fresh fruit. This will add thickness and creaminess to your smoothie without changing the flavor too much.
Another way to make your smoothie thicker is by adding ice cubes. This will also add thickness and creaminess, but it may change the flavor of your smoothie slightly.
Lastly, you can add yogurt or oatmeal to your smoothie. These ingredients will not only make your smoothie thicker, but they will also add protein and fiber; if you want to make a thick and creamy smoothie without adding more ingredients, these three ways to do it!
Can I use pineapple juice?
Yes, you can, but you may need to add more ice cubes and more frozen strawberries to achieve the perfect strawberry and pineapple smoothie consistency.
Can I use coconut water?
Yes, you can substitute the suggested water for coconut water for additional coconut taste and electrolytes.
🥤 More smoothie recipes
Please take a look at our post-workout green smoothie or Spinach Blueberry Smoothie to see how to create the perfect exercise partner.
You may also like to check our superfoods detox green smoothie, featuring delicious pomegranate juice and Swiss chard, so you start your day right with a bunch of healthy ingredients that will keep you full and nurtured until lunch!
If you like juicing for health and love fresh pineapple and all of its benefits, you will love our pineapple and cucumber juice for weight loss and our hangover cure juice.
Have a check at our favorite hydrating, low-calorie, detoxifying drinks.
If you try this pineapple and strawberry smoothie recipe, let us know! Leave a comment, rate it, and don't forget to tag a photo #ourplantbasedworld on Instagram. Cheers!
📋 Recipe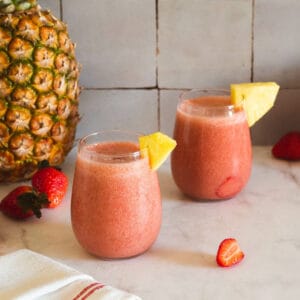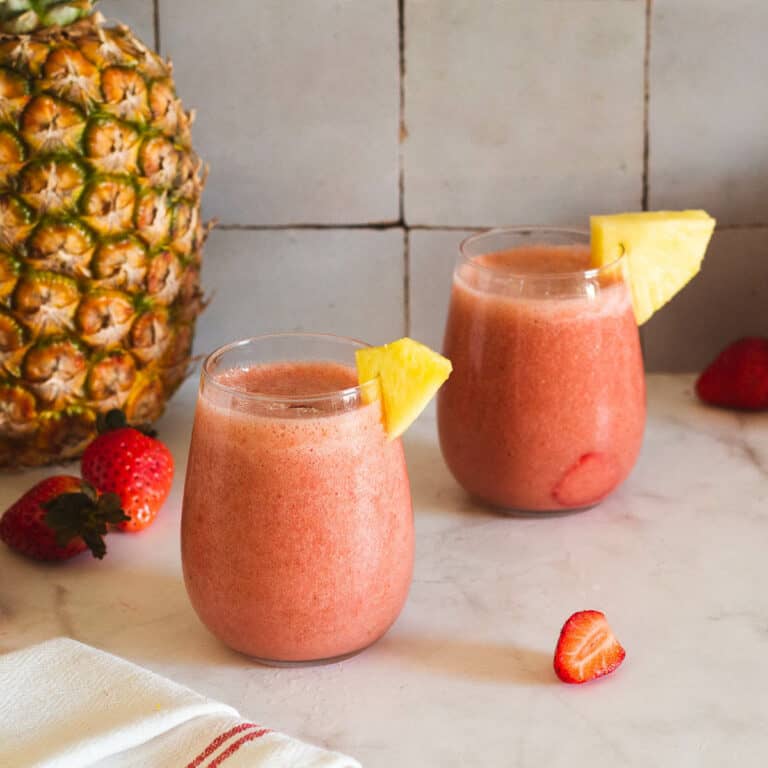 Vegan Pineapple Strawberry Smoothie - No banana or Yogurt
This refreshing smoothie is the perfect healthy treat! Made without yogurt or banana, it's also gluten-free and perfect for those with dietary restrictions. Whether you're looking for a quick breakfast or a refreshing snack, this recipe will hit the spot!
Equipment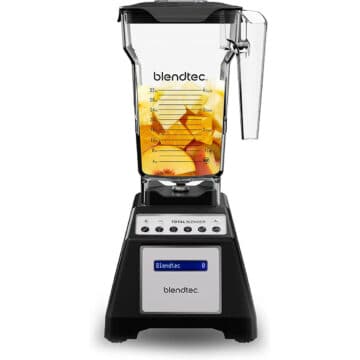 (affiliate link)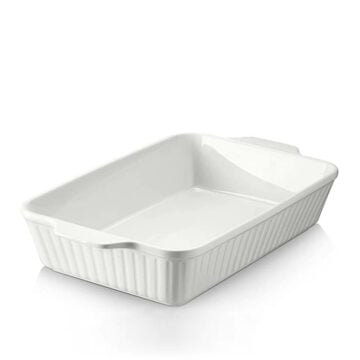 (affiliate link)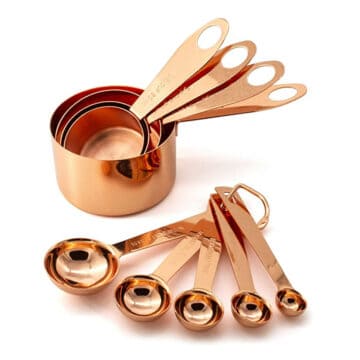 (affiliate link)
Ingredients
12

oz

pineapple

ripe, chopped and frozen. About 1 ½ cups

16

oz

strawberries

ripe, chopped, and frozen. About 2 cups

½

lemon

juiced

1 ½

cup

plan milk

almond milk, or coconut milk

1 cup

water

½

cup

ice cubes
Directions
Prepare fruit and measure liquids.

Blend. Add all the ingredients to a high-speed blender. Introduce liquids first, followed by chunks of frozen fruit. If using frozen fruit -use the blender's ice function, helping the blender with a tamper or stopping and pulsing; then blend at high speed, as usual.If using fresh fruit - use the smoothie option for 40 seconds and use extra ice and 1 extra tablespoon of maple syrup.

Taste and adjust flavors if needed. Add more almond milk for creaminess or pineapple to thicken or maple syrup (optional) for additional sweetness.

Serve immediately.

Smoothie leftovers will keep in a covered mason jar in the refrigerator for up to 3 days, though best when fresh.
Notes
Boozy Daikiri: you just need to add the rum 1 oz for a soft one and 2 oz for a strong one.
Protein Post Workout Smoothie: if you want to drink it after working out, add a scoop of a plant-based protein powder. It can be plain or vanilla, or even hemp seeds.
Nutrition facts are calculated without the protein powder.
Adding the suggested protein powder adds 28 calories, 0 carbohydrates, and 5 grams of protein per serving.
Add agave or maple syrup for extra sweetness or extra dates. We like using dates because they have a ton of beneficial post-workout benefits.
Vegan Clean Protein: if using the clean protein powder

(affiliate link)

, add our 10% discount code OURPBWORLD10 at check-out to enjoy the benefit. (affiliate)
Nutrition Facts
Calories:
240
kcal
Carbohydrates:
54
g
Protein:
3
g
Fat:
3
g
Saturated Fat:
1
g
Polyunsaturated Fat:
2
g
Monounsaturated Fat:
1
g
Sodium:
253
mg
Potassium:
585
mg
Fiber:
8
g
Sugar:
40
g
Vitamin A:
126
IU
Vitamin C:
218
mg
Calcium:
308
mg
Iron:
1
mg
Nutrition Facts
Vegan Pineapple Strawberry Smoothie - No banana or Yogurt
Amount per Serving
% Daily Value*
* Percent Daily Values are based on a 2000 calorie diet.
Nutritional Disclaimer
The information shown is an estimate provided by an online nutrition calculator. It should not be considered a substitute for a professional nutritionist's advice. See our full Nutritional Disclosure here.
Affiliate Disclaimer
Please note that some of the links here are affiliate links, and I will earn a commission if you purchase through those links. I recommend all of the products listed because they are companies I have found helpful and trustworthy.