Green juice is the perfect way to start your day. It's hydrating, filling, and packed with vitamins and minerals. Plus, it's easy to customize to your taste preferences. I've added spinach for an extra dose of nutrients in this recipe, but you can switch it up with any other greens you like. So if you're looking for a healthy and delicious way to start your day, give this apple green juice recipe a try!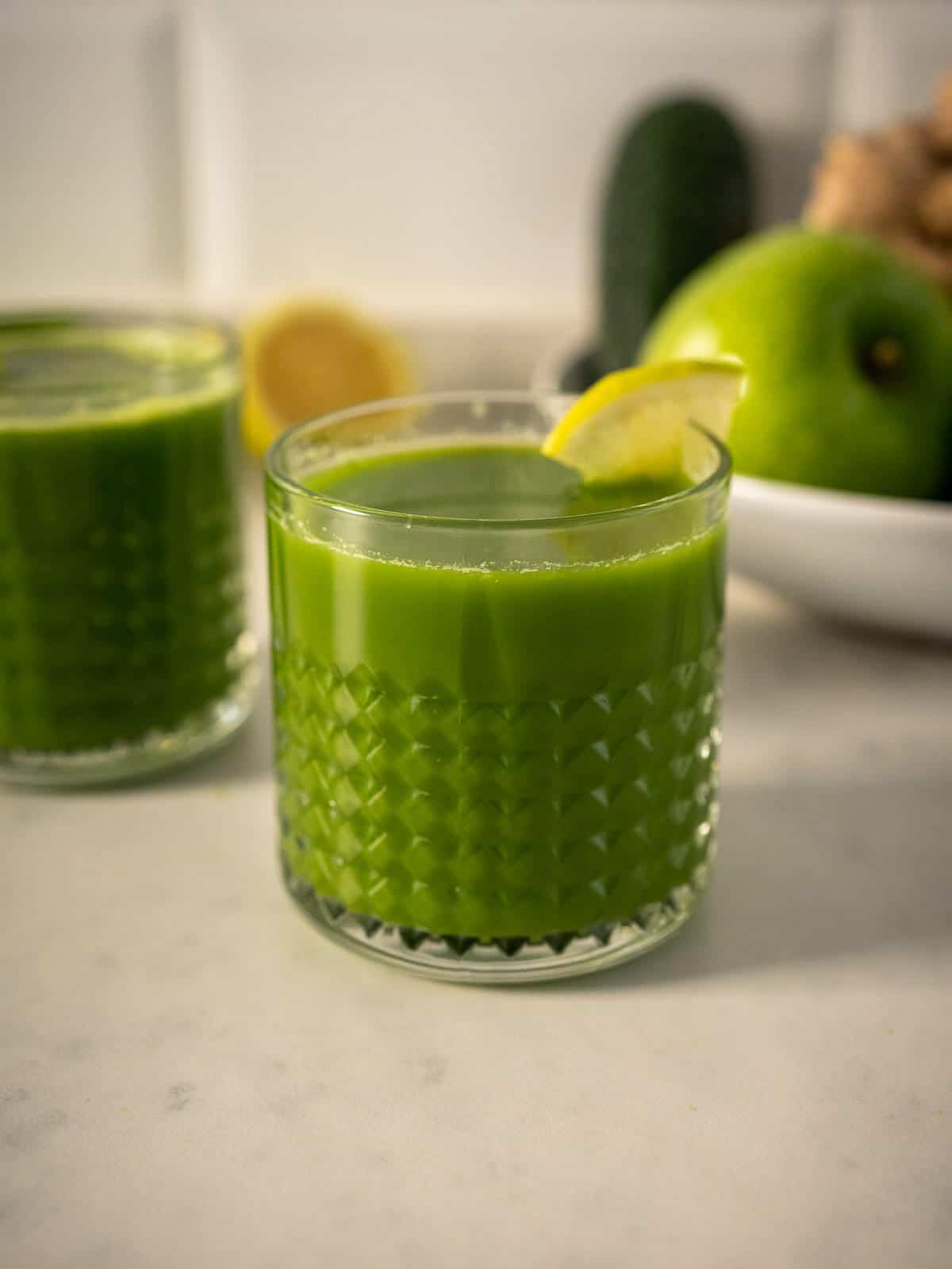 This green celery spinach juice recipe inspired our morning celery juice and our simple kale juice, made with celery, apple, and ginger. We wanted to make green juice, including leafy greens and just the right amount of natural sugars, and more vegetables, such as hydrating cucumber.
This spinach juice is light and makes a fantastic weight-loss-aiding juice, and better drinks at the beginning of the day. It provides a vitamin-rich and super-hydrating base. Make sure you add this yummy drink to your weekly juicing rotation.
Jump to:
🧾 Ingredients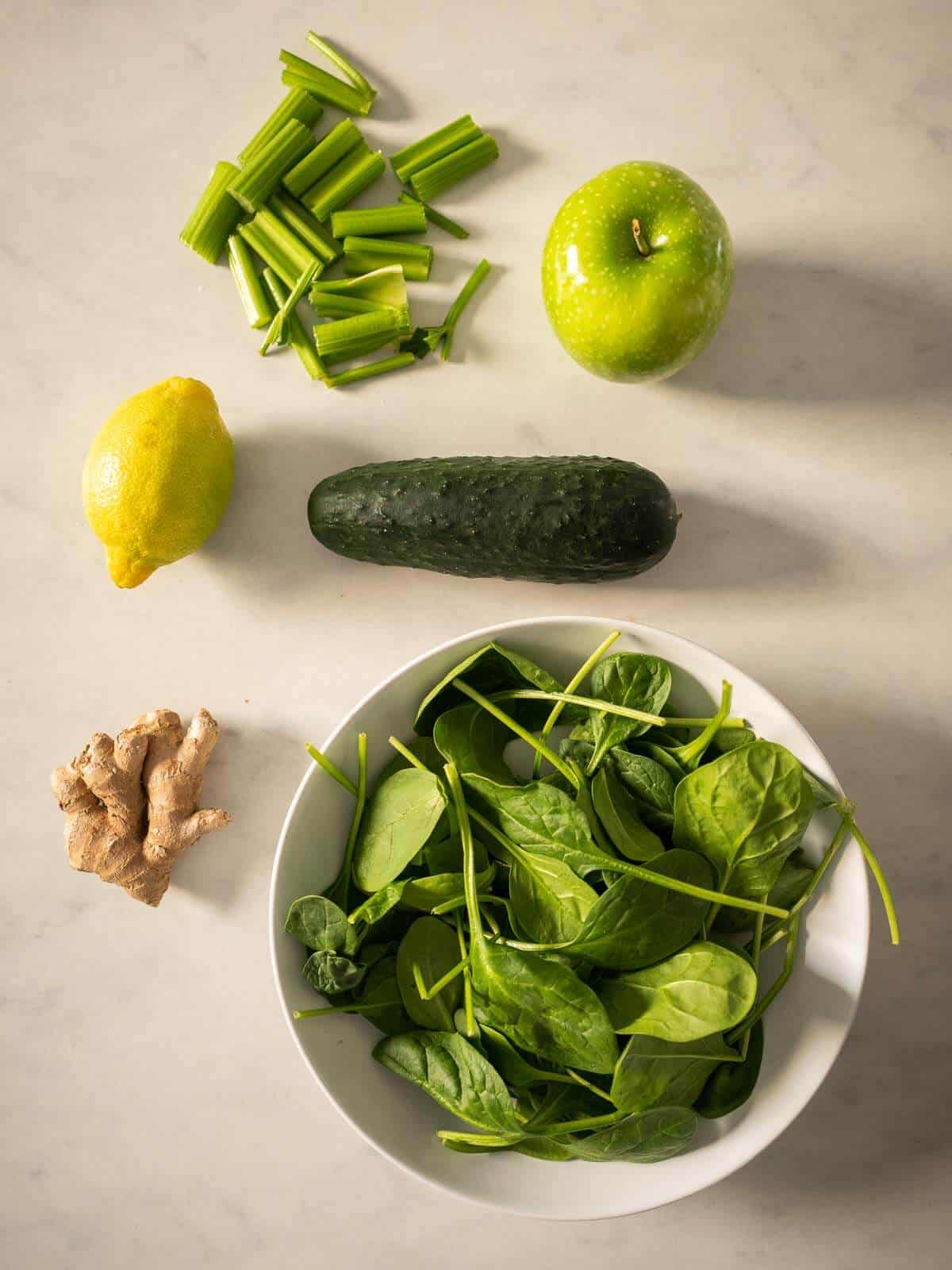 Green apple - "An apple a day keeps the doctor away," the saying goes. Eating apples has been shown to improve heart health, lowering the risk of developing heart diseases (source).
Spinach - is a "superfood" rich in numerous vitamins, minerals, and antioxidants. Spinach smoothies are also a great way to consume this fantastic green.
Celery - aids in weight loss and has many liver-cleansing properties.
Cucumber - adds low-calorie hydration and minerals.
Fresh ginger - provides anti-inflammatory phytonutrients and has been shown to modulate insulin release (source), thus regulating blood sugar.
Lemon juice - enhances the flavor and adds the antioxidant Vitamin C.
See the recipe card for quantities.
🔪 Instructions
Wash all the ingredients throughly.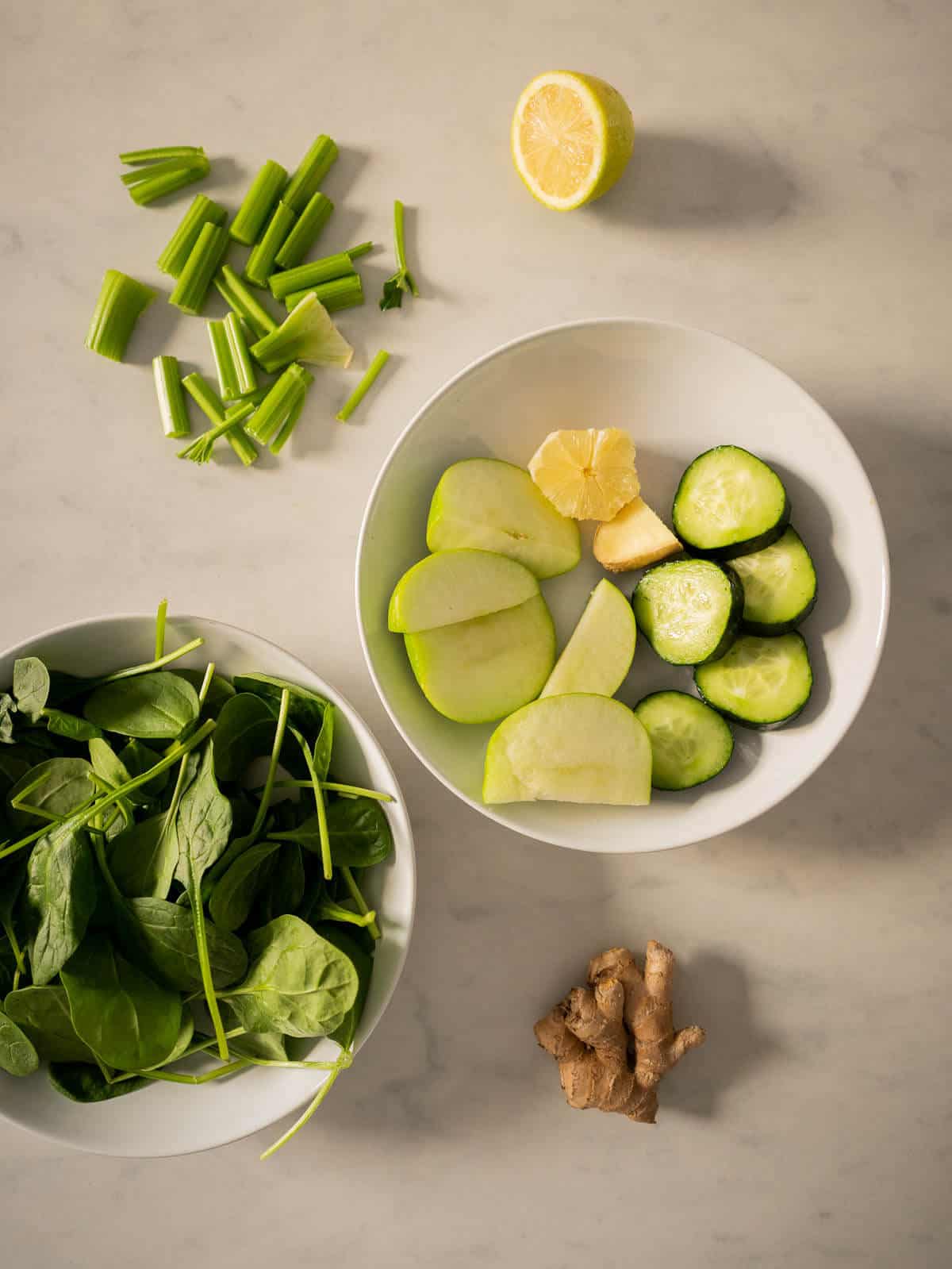 Chop all the ingredients into sizeable chunks that fit into your juicer.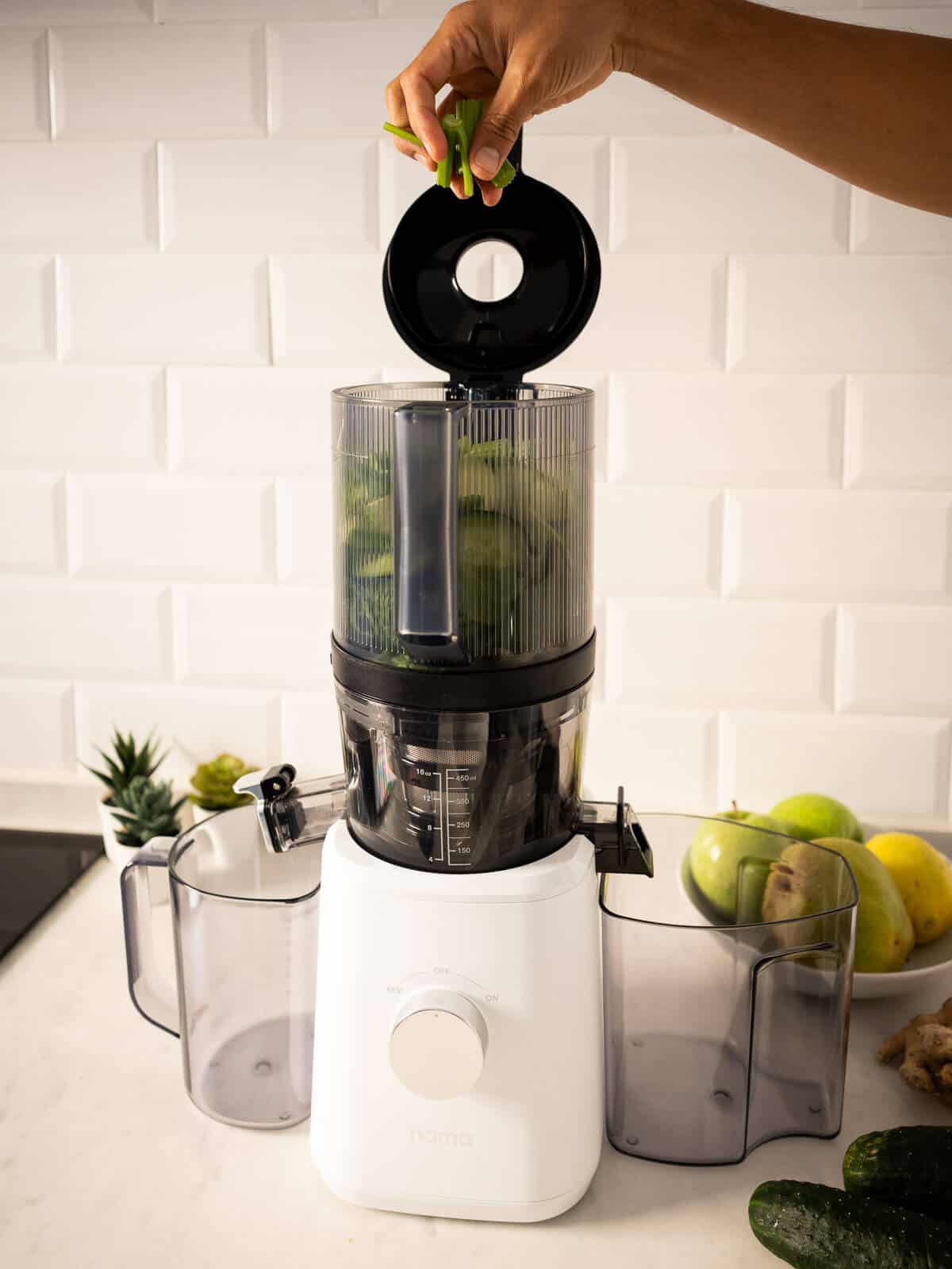 Add ingredients into the juicer, beginning with the softer ones.
If you use the Juicer method, simply pass all the ingredients through your juicer, starting with the spinach, followed by cucumbers, lemon, ginger, and apples. Always start with leaves, and continue with softer ingredients.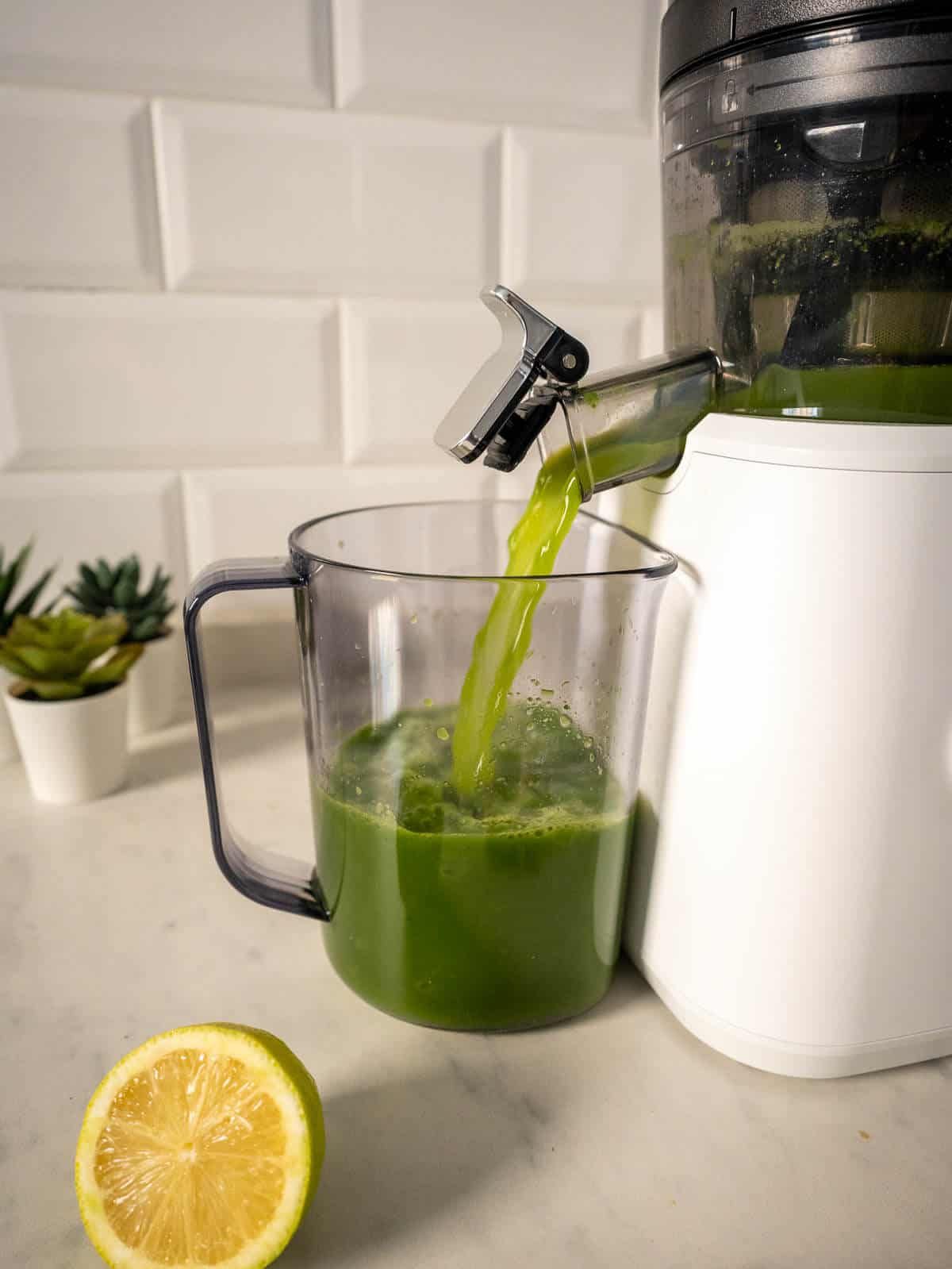 Pour the juice into the jar.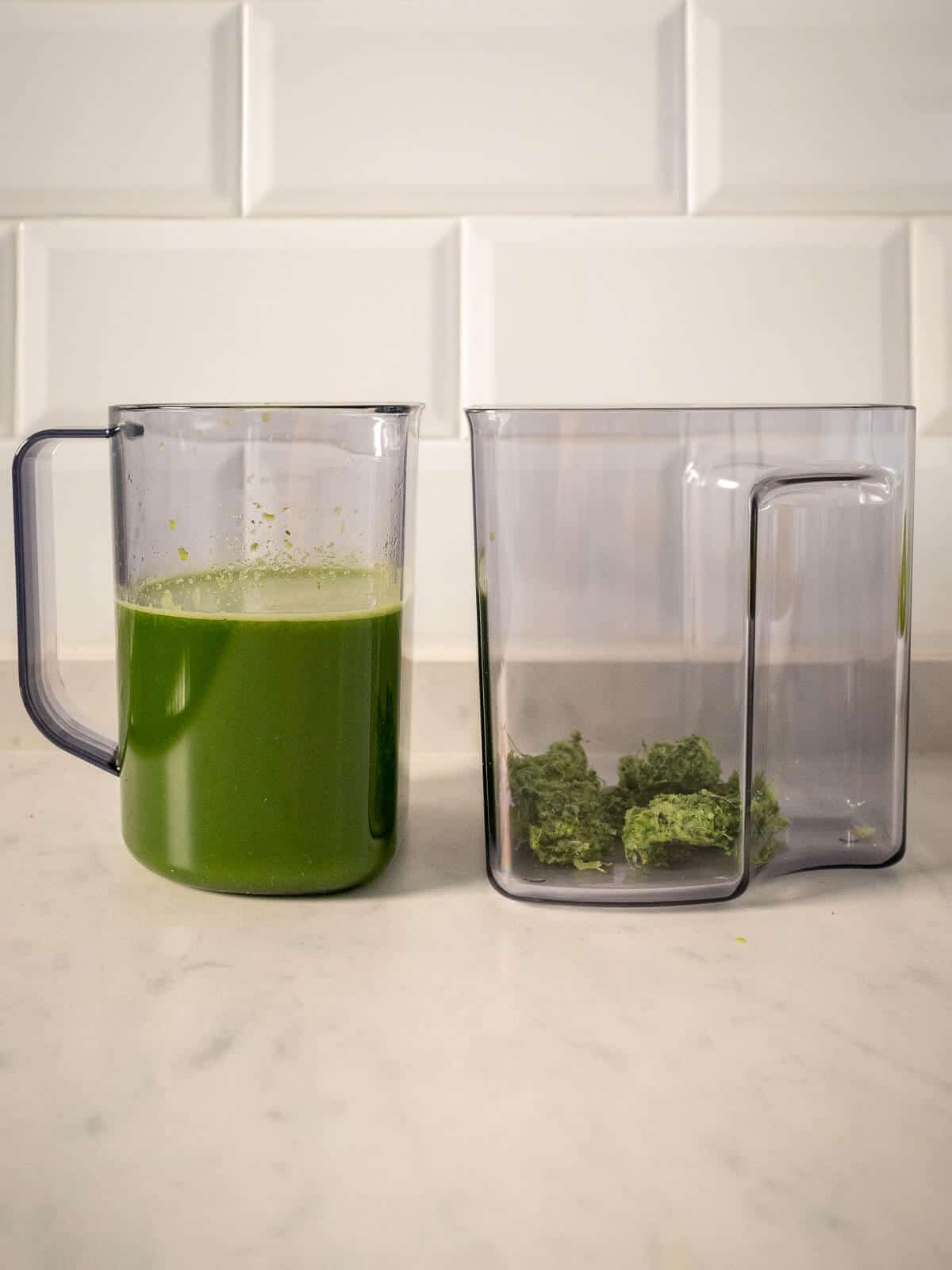 Discard pulp leftovers into the organic residues or use them for your compost.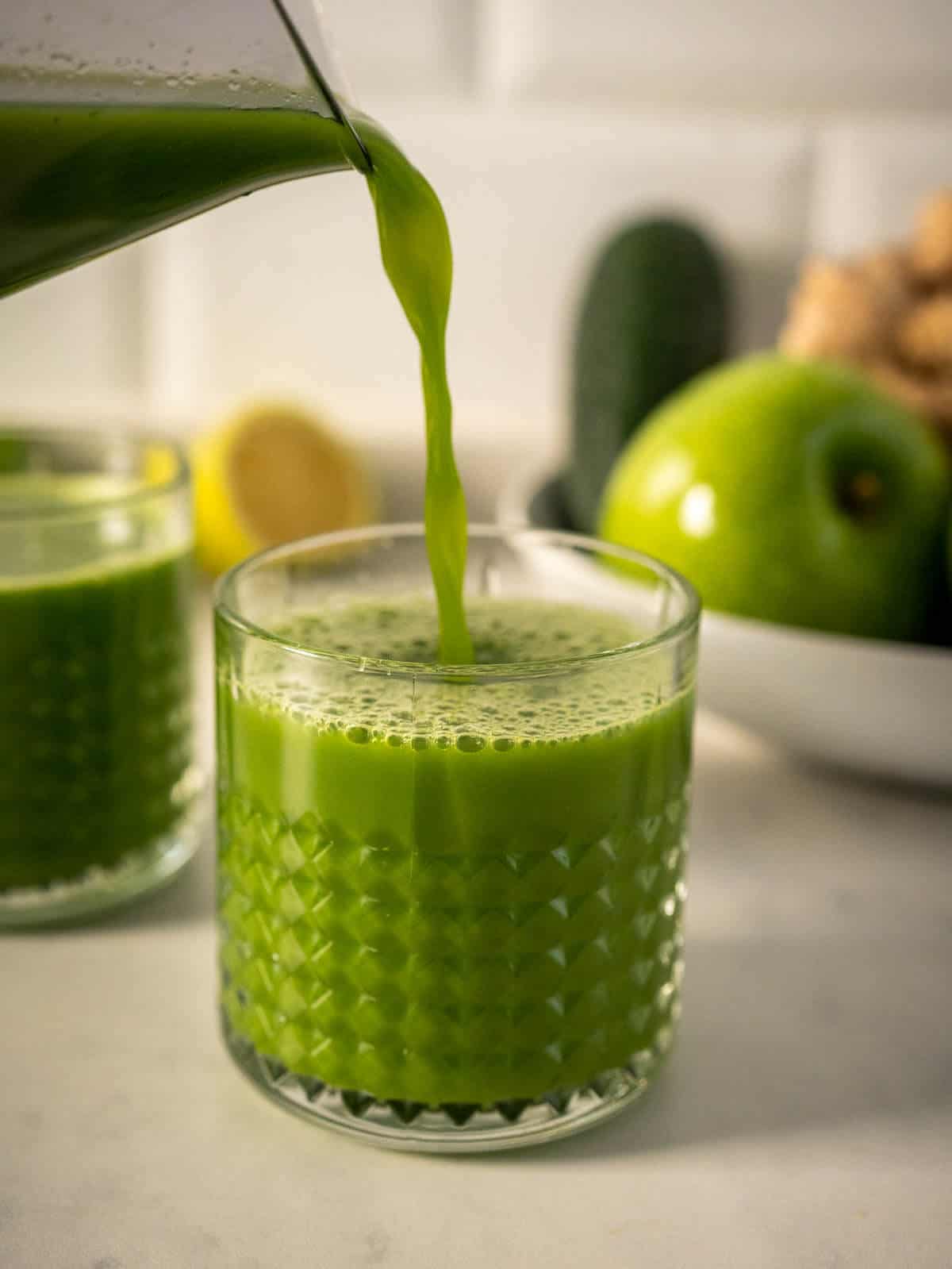 Serve or store. We like to drink our juice chilled.
🍶 Substitutions
Green juices are super versatile, so you can play around, especially when you don't have all the ingredients a recipe calls for. Always try using fresh produce with bright green color.
Green apple - you can substitute it with chunks of firm pineapple.
Spinach - use kale or Swiss chard instead.
Lemon juice - use lime juice instead.
Celery or cucumber - sub for the same amount of the missing vegetable.
Hint: use baby spinach if you don't love the taste of the leafy greens, as its flavor is more delicate.
📖 Variations
Green smoothie - take all the ingredients in this spinach apple recipe, and instead of juicing them, bring them to a high-powered blender with a glass of water and a couple of ice cubes. This way, you will ingest all of the fresh produce´s fiber.
More anti-inflammatory powers - add turmeric root to the mix. Keep in mind that turmeric may stain your juicer, so it might be better to add a half teaspoon of turmeric powder directly into your juice and mix it well with a fork. Add a pinch of black pepper to activate turmeric's properties.
🍽 Equipment
Get an excellent Cold-Pressed juicer (affiliate link); it will be one of the best investments you have made in the year! Trust me! Check the juicer's instructions before starting, as many juicers have different working mechanisms.
If you don't have a juicer, you can add everything into a blender and pass it through a colander. Then serve the strained juice in drinking glasses.
See how to juice without a juicer!
🫙 Storage
Store this spinach juice in a glass container such as a mason jar or a BPA-free airtight container in the fridge for up to 48 hours.
💡 5 Health benefits of this Apple Spinach Juice recipe
This green apple and spinach juice contains some of Earth's most nutritious fruits and vegetables. It has a very balanced amount of sugars and low-calorie and hydrating vegetables.
The juice contains Vitamin K, E, iron, and folic acid, which are great for bone health and contain many antioxidant properties.
Spinach is a great source of lutein, an antioxidant that protects your eyes from age-related diseases such as macular degeneration and cataracts. Studies have found people who take supplements containing this nutrient are at lower risk for developing these conditions, which can lead to blindness or severe vision problems!
Lutein is a nutrient that helps preserve cognitive abilities. Studies have shown it to be present at higher levels among older adults. They exhibit better verbal fluency, memory retention, reasoning ability, and processing speed than those who don't consume enough lutein.
Ginger contains antioxidants and anti-inflammatory properties, which have many benefits for your health! The ginger side effects include improving coughs, lowering fevers, or fighting off infections - it's an excellent remedy when you're sick at any time of year (and not just during winter).
❓FAQ
Can I drink green apple juice at night?
Yes. Green apple juice is a good source of minerals, vitamins, and enzymes that benefit the body. It can help to detoxify the liver and improve digestion.
Some people recommend drinking green apple juice at night because it has a slightly laxative effect and can help to cleanse the system before bed. However, listening to your body and drinking only as much as you feel comfortable drinking is essential.
Also, remember that apples have high sugar content, so if you have diabetes or metabolic disease, it is better to refrain from having sugary drinks altogether.
Which green apple is best for juicing?
Granny Smith apples are the best for juicing because of their tart, crispy taste.
Other green apples such as Crispin, Shizuka, or Pippin Apples are also good for juicing, but Granny Smith apples are a bit more tart and therefore provide a more refreshing drink. They're perfect for those who want to start their day with a healthy dose of greens!
Calories in green apple?
A medium 3 inches diameter green apple (182 g) has approximately 95 calories.
🧃 More green juices
Try out this celery, apple, and kiwi drink for a simple and refreshing start to the day with only 3 ingredients.
Our morning celery juice is a great option to add anti-inflammatory juice to your juicing routine.
This simple green juice is made with kale, a superfood that goes perfectly with all kinds of juices.
If you are fighting inflammation and want a cancer-preventing juice got for this delicious green broccoli juice.
Try out also these carrot and spinach health shots if you are feeling under the water.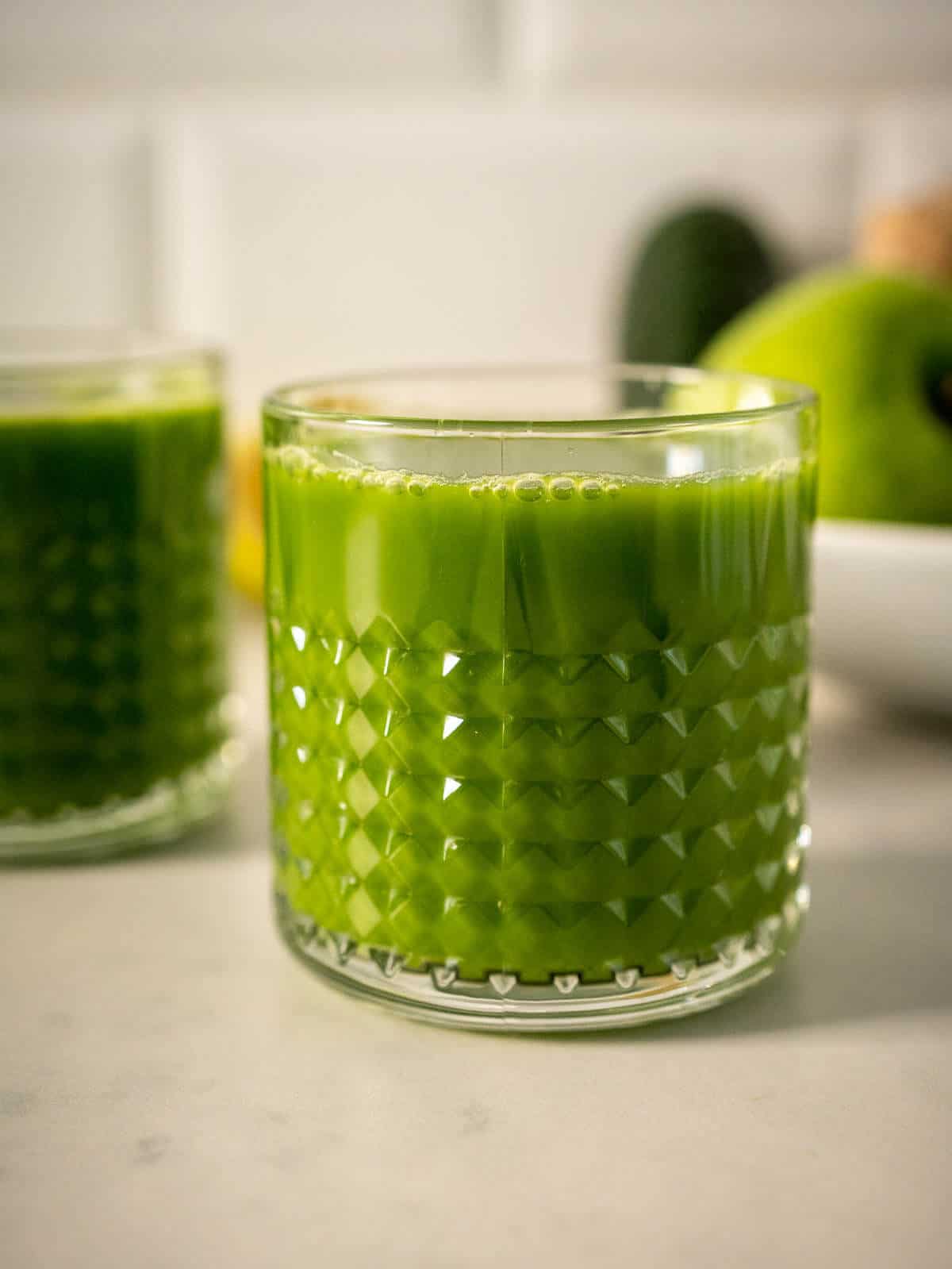 ⭐ If you try this apple and spinach juice recipe, let us know! 💬 Leave a comment, rate it, and don't forget to tag us @ourplantbasedworld on Instagram. Cheers!
📋 Recipe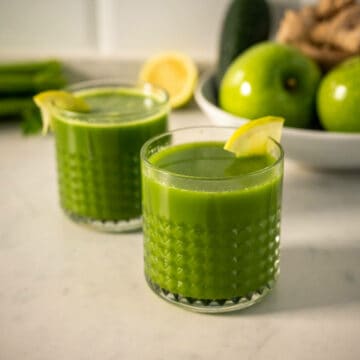 Juice Green Apple: Hydrating Spinach Mean Green Juice Recipe
Looking for a delicious and hydrating green juice recipe? Look no further than the mean green juice recipe made with spinach, apples, and lemon!
Equipment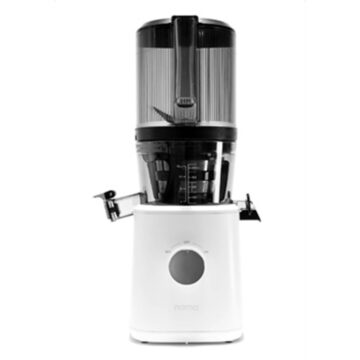 (affiliate link)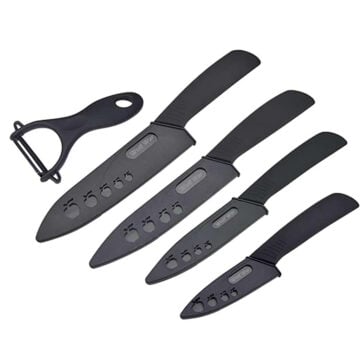 (affiliate link)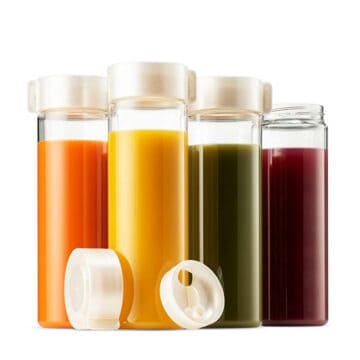 (affiliate link)
Ingredients
Directions
Wash cucumber, celery stalks, green apples, and spinach leaves throughly.

Peel lemon and core green apples.

Cut all the ingredients into an appropriate size.

Juice. Add all the ingredients into the juicer, starting with the spinach leaves, followed by cucumber and lemon, and ending with the tougher ingredients like celery, apples, and ginger.

Serve immediately or store closed in an airtight container for up to 3 days if using a cold press juicer or 24 hours if using a centrifugal user.
Notes
It is unnecessary to peel the ginger; the Juicer will do it all.
If you want to thin the juice a little, you can add about half a cup of water.
To make Celery Juice without a juicer, check how in the post.
Use our Coupon Code OPBW10 for 10% off, limited time only, at Nama Well Cold-Pressed Juicers 

(affiliate link)

.
Nutrition Facts
Calories:
125
kcal
Carbohydrates:
32
g
Protein:
2
g
Fat:
1
g
Saturated Fat:
0.1
g
Polyunsaturated Fat:
0.1
g
Monounsaturated Fat:
0.02
g
Sodium:
14
mg
Potassium:
482
mg
Fiber:
6
g
Sugar:
22
g
Vitamin A:
436
IU
Vitamin C:
28
mg
Calcium:
45
mg
Iron:
1
mg
Nutrition Facts
Juice Green Apple: Hydrating Spinach Mean Green Juice Recipe
Amount per Serving
% Daily Value*
* Percent Daily Values are based on a 2000 calorie diet.
Nutritional Disclaimer
The information shown is an estimate provided by an online nutrition calculator. It should not be considered a substitute for a professional nutritionist's advice. See our full Nutritional Disclosure here.
Affiliate Disclaimer
Please note that some of the links here are affiliate links, and I will earn a commission if you purchase through those links. I recommend all of the products listed because they are companies I have found helpful and trustworthy.