Hang on to your taste buds; we're about to explore a delicious and healthy kiwi drink to get your day started on the right foot! This blend of kiwi, celery, and green apple is not only nutrient-dense, but it also packs a refreshing flavor punch. So if you're looking for an easy way to incorporate more fruits and veggies into your diet, give it a try today!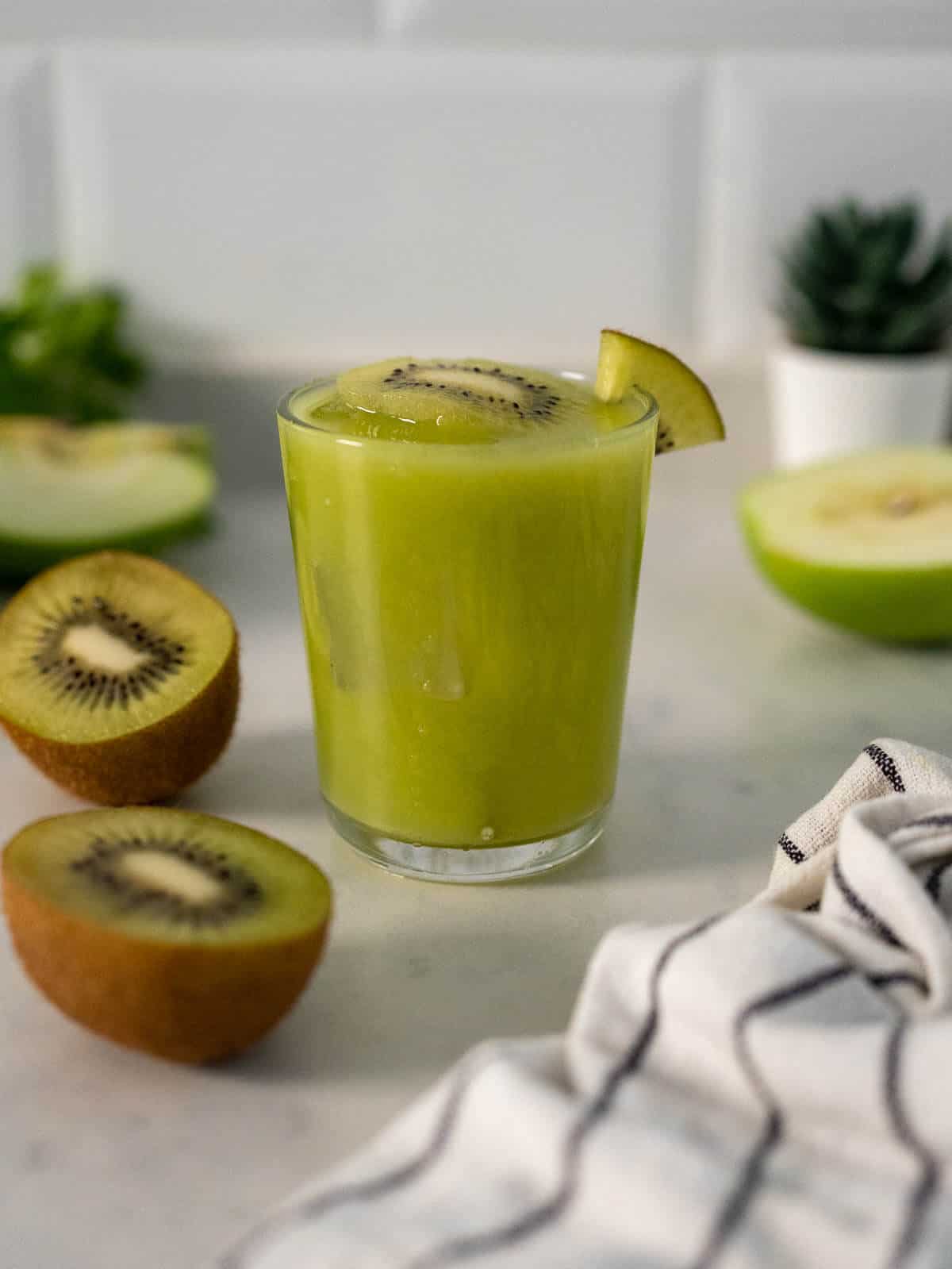 I think Kiwis are one of the most beautiful fruits on Earth. Their unpromising hairy brown skin only covers the most amazing star-like juicy center.
Kiwi's tart flavor provides a delicious way to start the day with a smoothie or breakfast bowl. Not only are kiwi fruits an excellent source of vitamin C, but they also contain more potassium than bananas and provide over 6% of your daily recommended dietary fiber needs. With its unique flavor combination, kiwi is a great addition to salads, on sweet/savory toasts, or its own as a delicious mid-morning snack.
Kiwi juice also contains heart-healthy benefits, including reducing the risk of clots and reducing blood pressure levels. Plus, some research has been carried out that shows a link between kiwis and the reduction of chest issues. This includes asthma, prolonged coughing, wheezing, etc.
This fresh kiwi fruit juice is made with apples and celery for a delicious, hassle-free start to the day.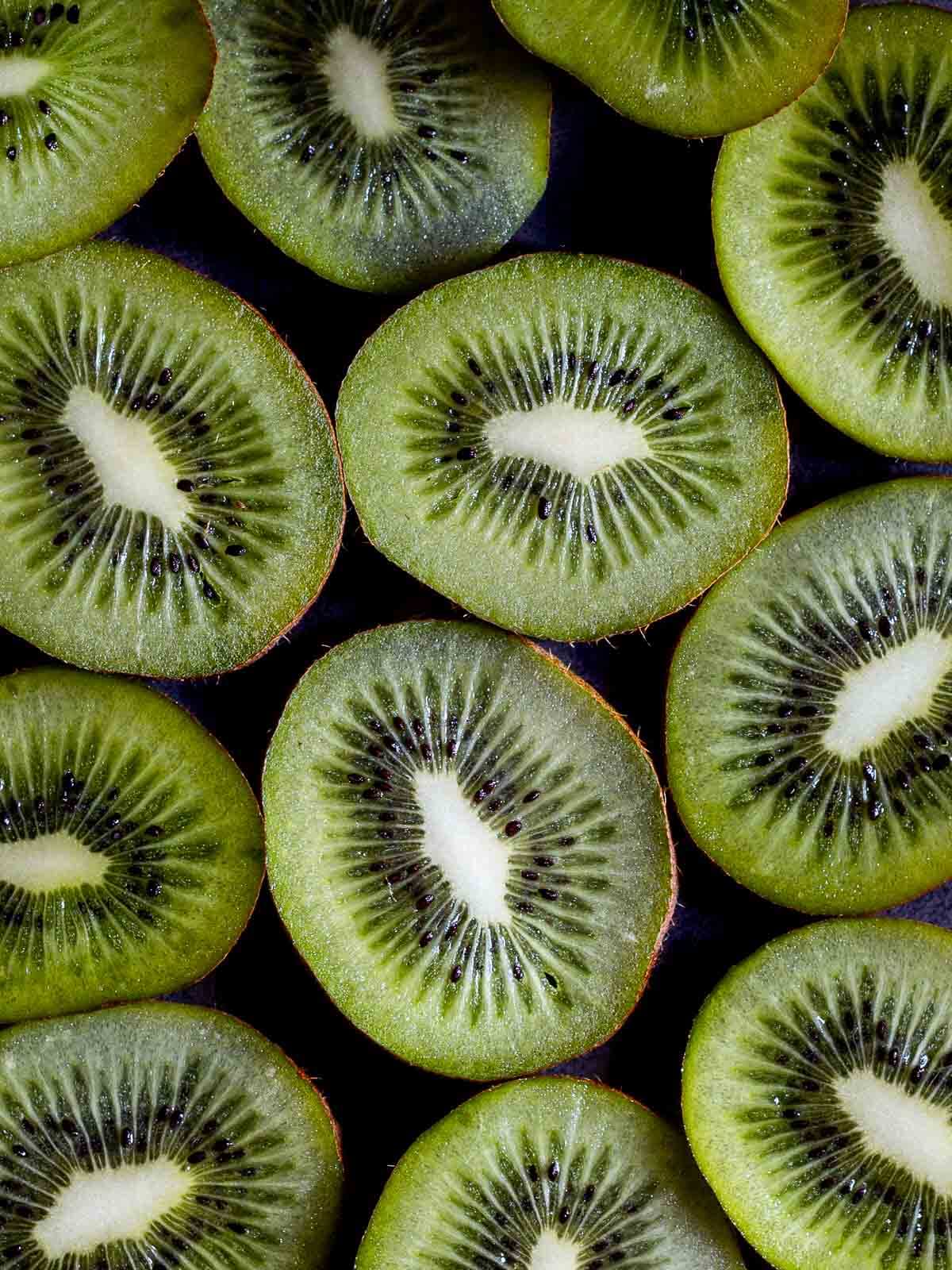 Make this kiwi juice recipe part of your juicing for health routine or your weight loss juices rotation, along with a low-calorie kiwi apple green smoothie.
This was inspired by our kiwi juice recipe, where we pair fresh kiwi juice with mandarine oranges and cucumbers.
Make this kiwi and celery juice part of your juicing for health routine or your weight loss juices rotation, along with a kiwi apple low-calorie green smoothie.
Jump to:
🧾 Ingredients
This fresh kiwi juice is made with just a few delicious ingredients.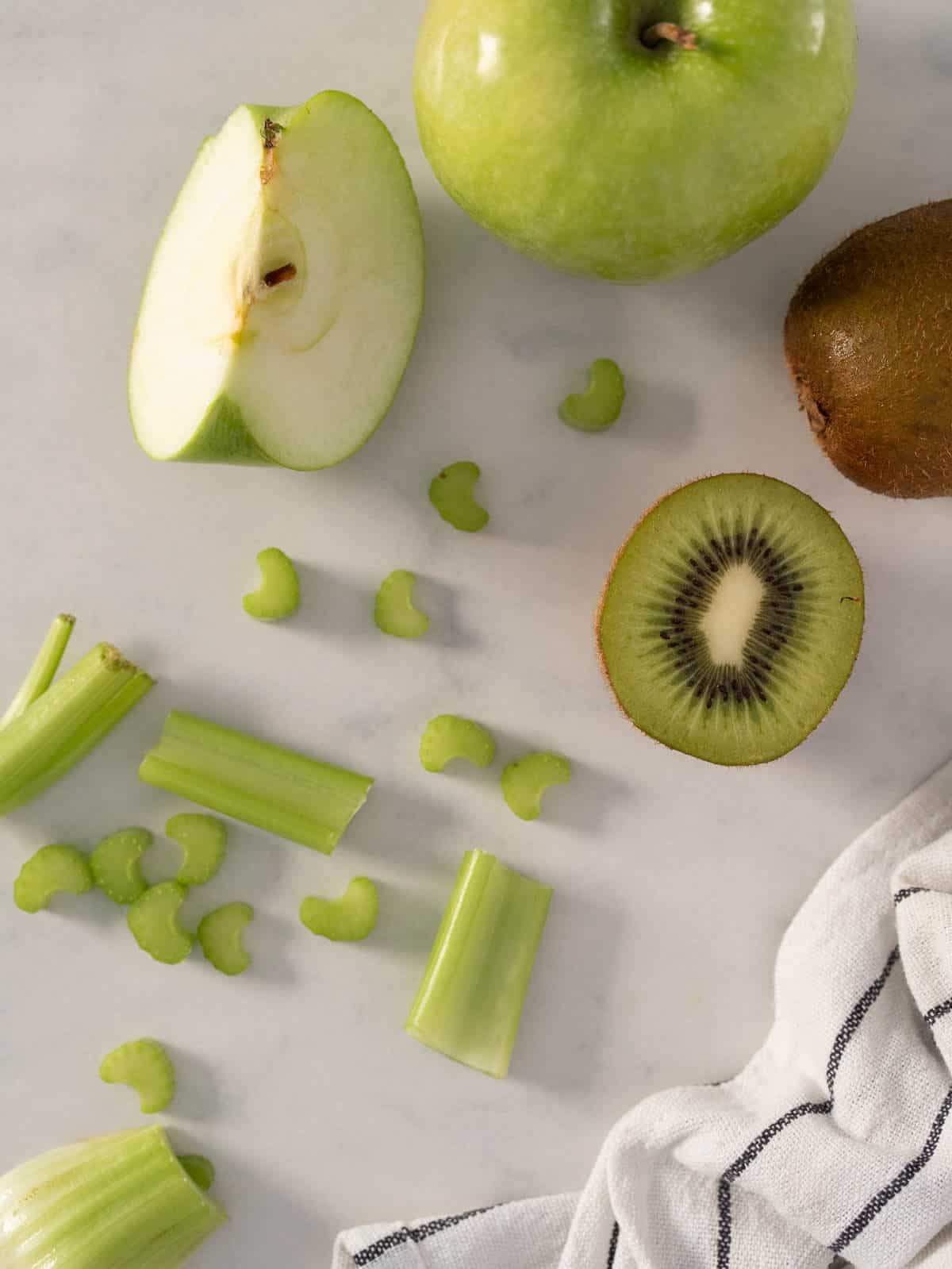 Kiwi fruit 🥝 - adds sweetness and color. Use ripe kiwi that is naturally sweet. Its health benefits include high vitamin C, vitamin K, and potassium levels. It's also low in calories and has a mild digestive effect. Additionally, kiwi is packed with antioxidants and flavonoids, which can help protect against oxidative damage caused by free radicals. Its health-promoting benefits make it an ideal addition to any plant-based diet! Learn more about kiwi´s benefits.
Green Apple 🍏 - brings color and sharp flavor to this juice. Apple's health benefits include being a rich source of Vitamin C, fiber, and antioxidants.
Celery 🌱 - yum! celery adds a natural salty flavor to this juice, which is packed with vitamins, minerals, and antioxidants. It has wonderful anti-inflammatory properties, aids healthy digestion, and promotes heart health. For celery-based celery juice, try our morning celery juice!
Hint: when juicing, try using organic produce to minimize any pesticide juice contamination probabilities.
See the recipe card for quantities for the perfect homemade kiwi juice.
🔪 Instructions
This kiwi juice recipe involves 3 simple steps.
Washing and preparing your ingredients. Optionally peel the kiwi fruit (I usually only remove its hard button. Remove the apple core and leave the skins on.
Chopping in sizable chunks.
Juicing your fruits and celery.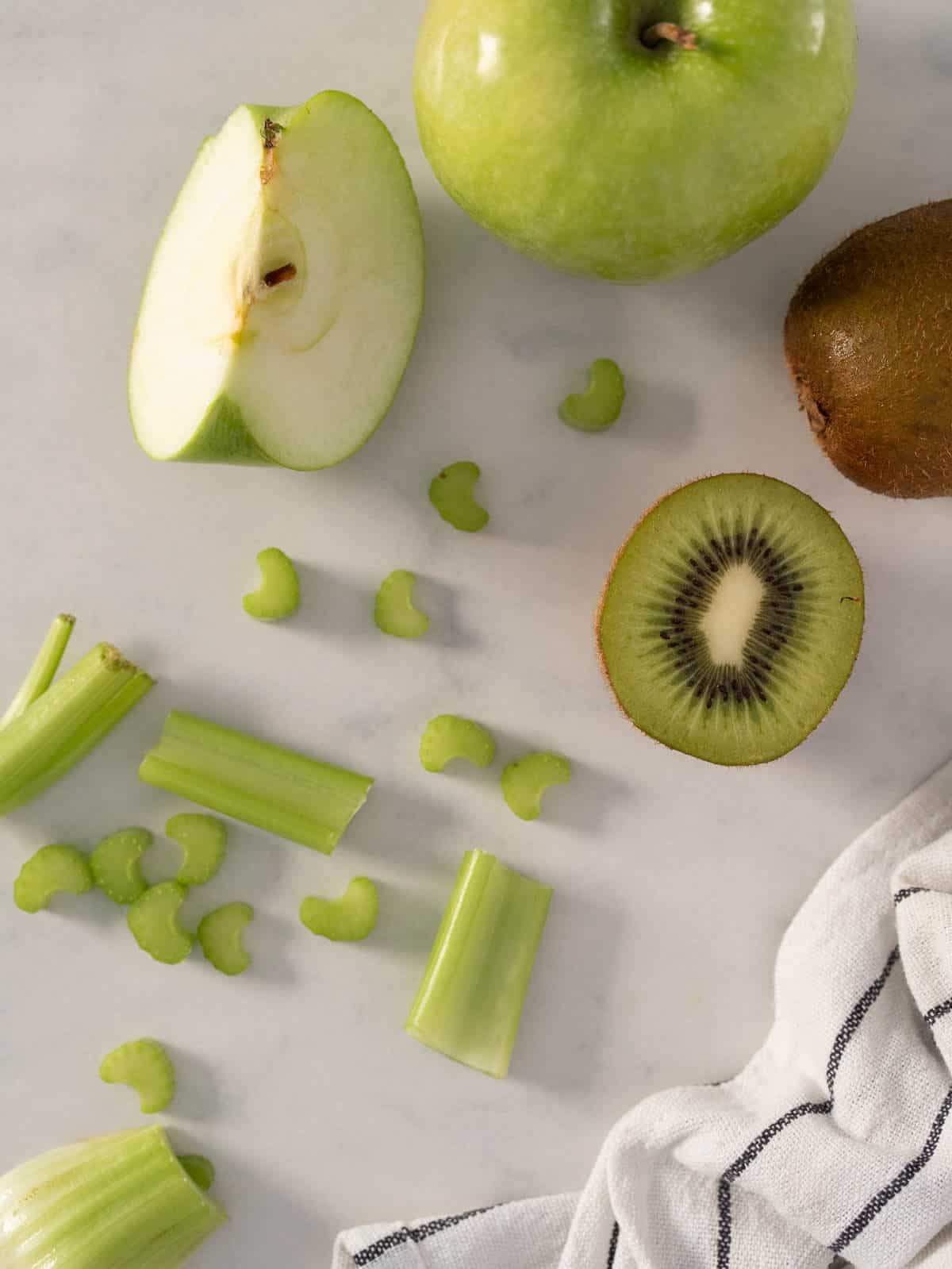 Remove the apple´s core and chop all the ingredients.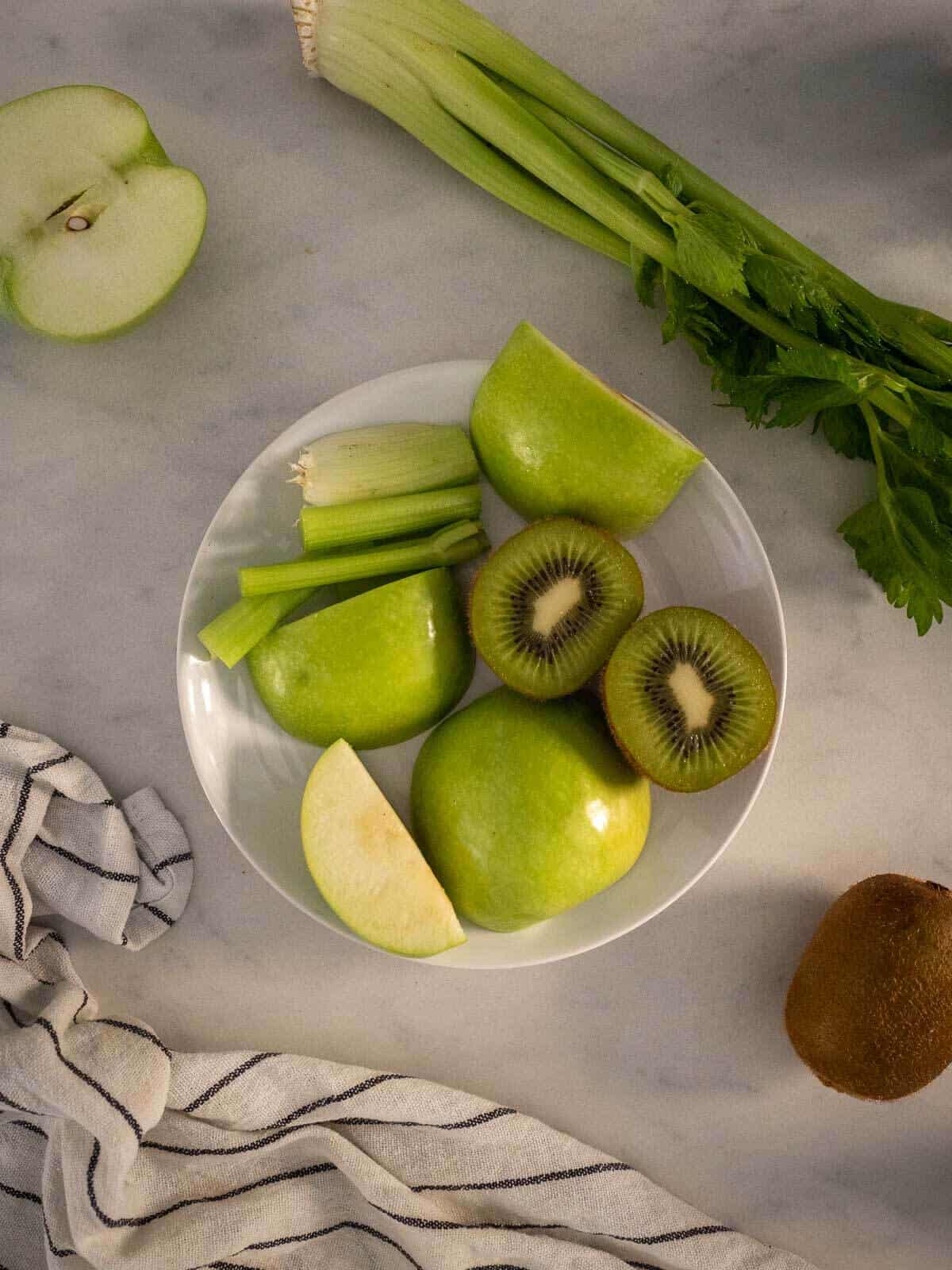 Prepare for juicing or portioning them, storing the chopped ingredients in a BPA-free container for a quicker juicing morning.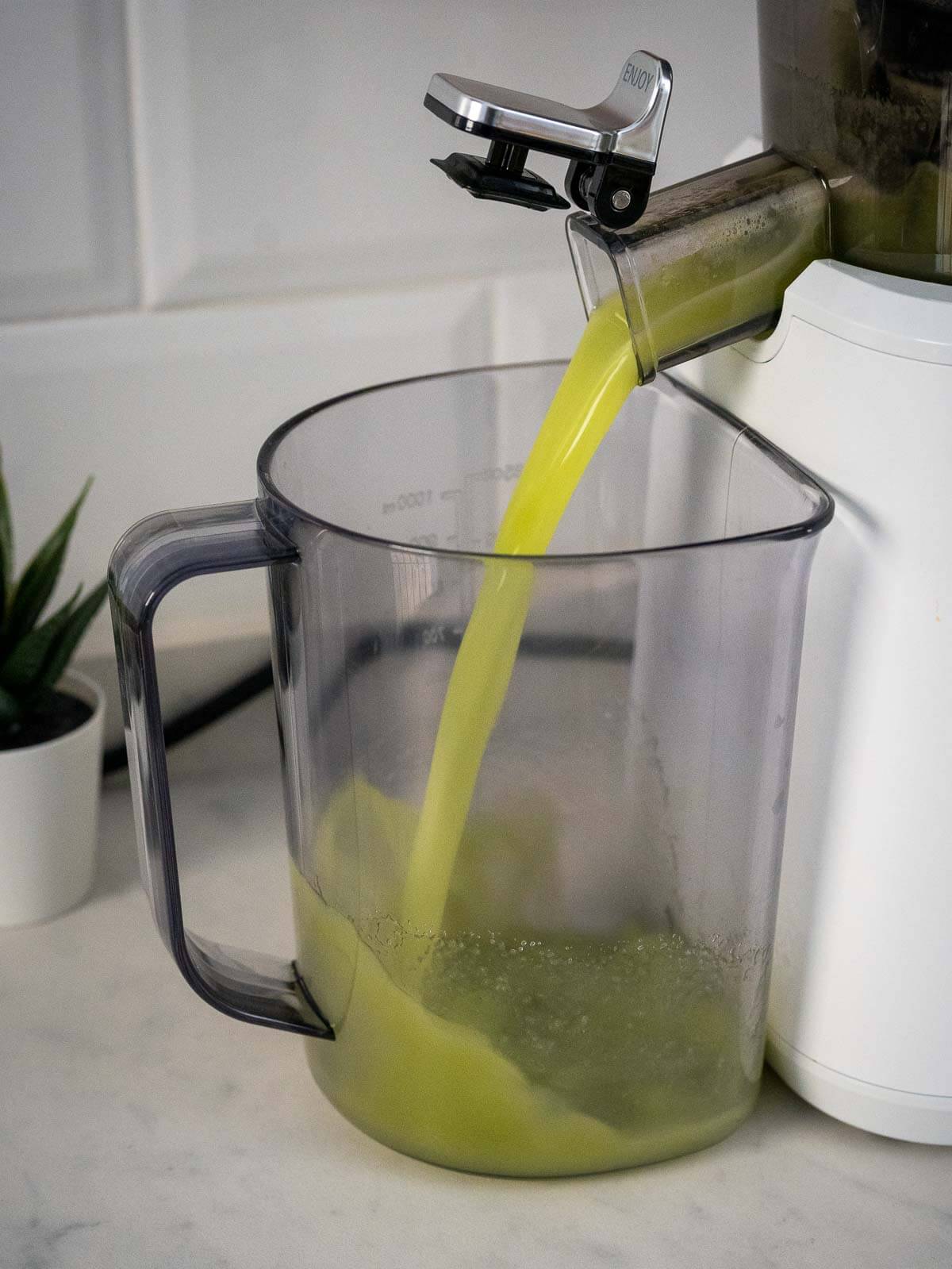 Pass all the ingredients through the juicer.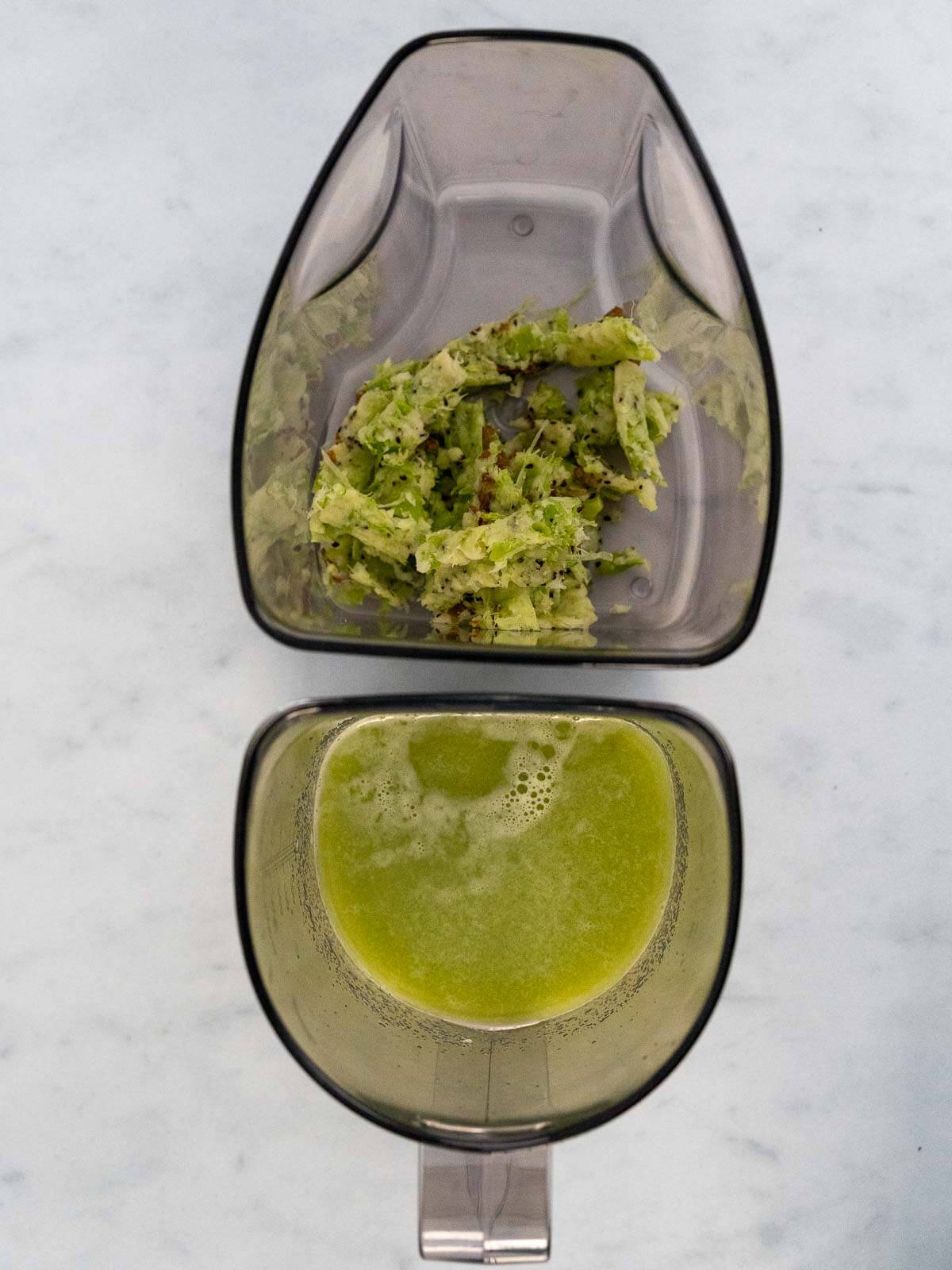 Compost your apple, celery, and kiwi pulp.
Hint: optionally enjoy this simple kiwi juice recipe with sparkling water and ice cubes for a refreshing and hydrating summer drink.
Read on: how to juice without a juicer (fully-explained technique) or see how to do it for this drink on the recipe card.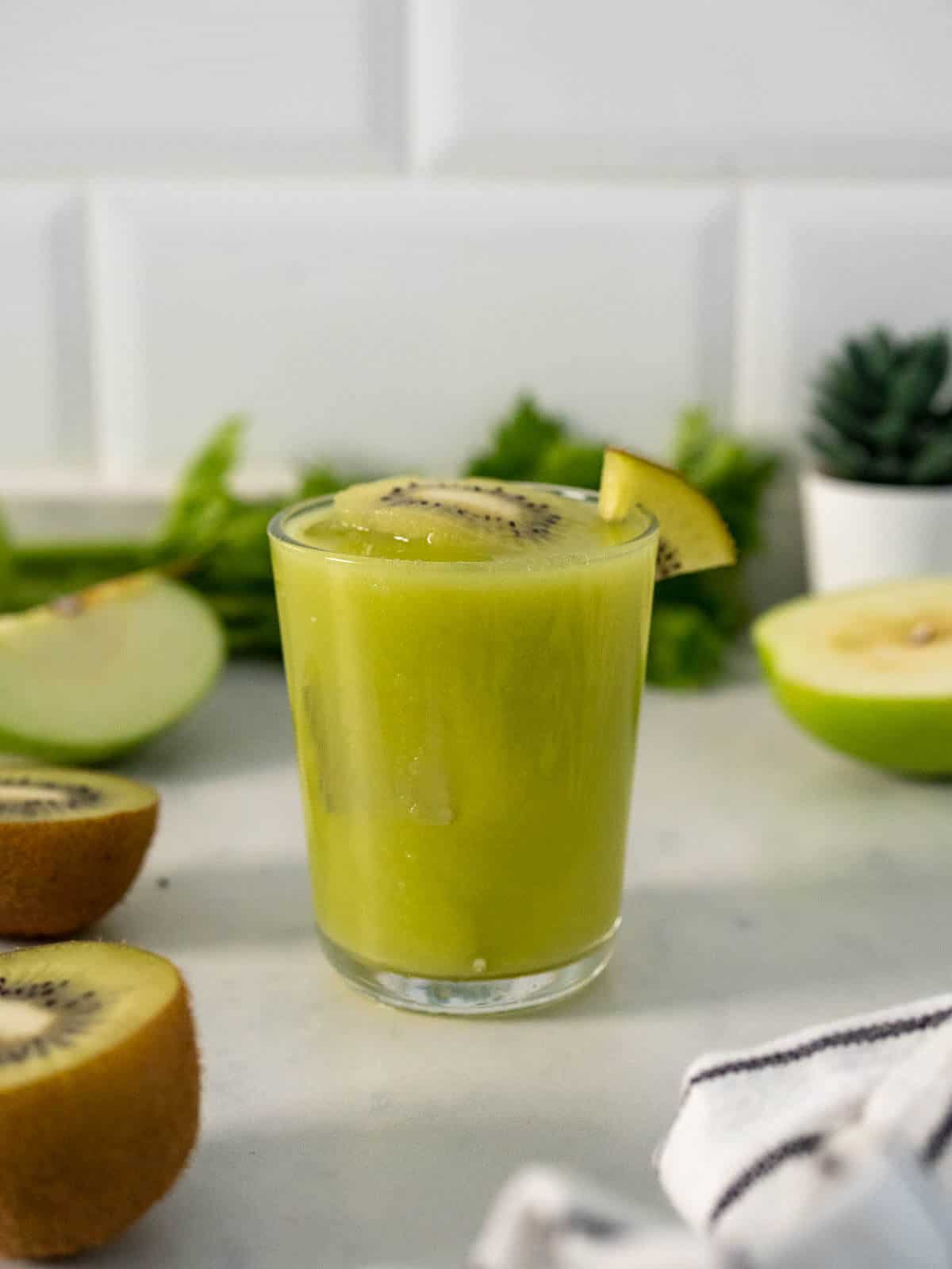 See our juice storing tips to understand better how to keep your leftover juices and retain as many of their ingredients' nutrients as possible.
🍶 Substitutions
Green apples - use any other apples or citrus fruits like orange juice, clementines, and lime juice.
Celery - use the same amount of cucumbers to substitute the juice's watery, hydrating, and salty components.
🍽 Equipment
Juicer - choose a cold-pressed juicer (affiliate link)over a centrifugal juicer. They are a little more expensive but are definitely the best option in the long run. They yield more juice, and since there is no heat involved as there is in centrifugal users, your juice preserves more nutrients and oxidizes slower (lasts more).
OR
Blender- if you don't have a juicer, you will need a high-speed blender

(affiliate link)

and,
Mesh strainer- when making juice, use a regular colander or nut milk bags. We recommend using the same ones we use to make almond milk.
Bowl - It is always better to use a large bowl

(affiliate link)

to work the blender method without making a mess in the kitchen early in the morning.
🥡 Storage
Store this leftover kiwi juice in a BPA-free (affiliate link), or tightly sealed glass container in the fridge for up to 3 days.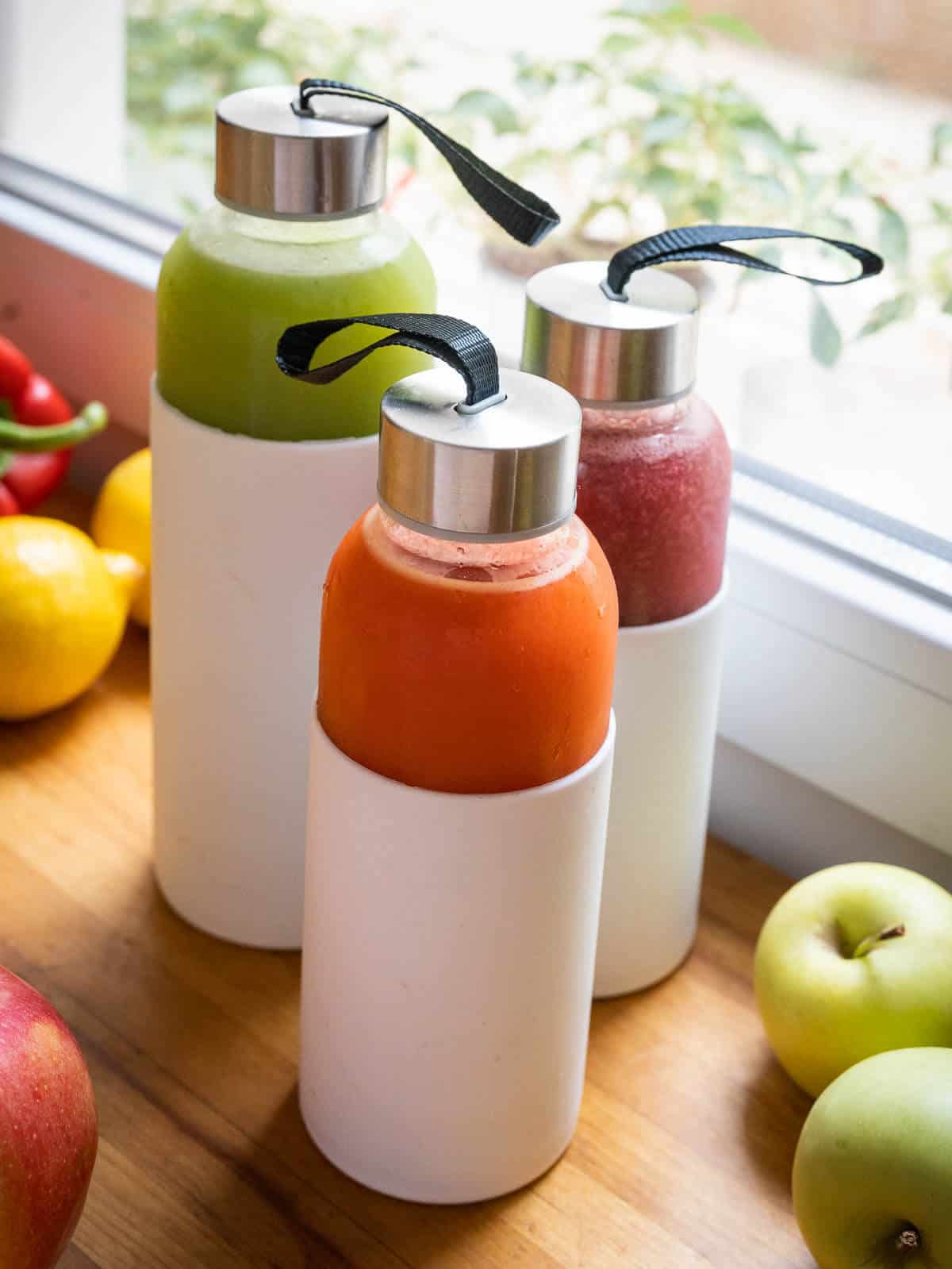 You can freeze your kiwi fruit juice in an airtight container, but it doesn't stand up well to freezing for more than 3 months. It will never reach the same nutrient density as fresh juice, but you will still enjoy its health benefits.
💡 Top tip
Kiwi fruit is great for fighting insomnia. It has numerous health benefits and can help provide a good night's sleep. Eating kiwi before bed can help relax the body and reduce stress levels, making it easier to drift off into a rest.
✅ Celery, apple, and kiwi juice benefits
Let's talk about the benefits of this kiwi apple juice blend.
Anti-inflammatory properties - kiwi and apple juice are a powerhouse of anti-inflammatory compounds. Potassium, vitamin C, and antioxidants help reduce inflammation in the body, making this juice an ideal choice for anyone looking to reduce inflammation. Celery is also rich in luteolin, a powerful antioxidant that has been shown to fight inflammation and prevent cancer cell growth. Pairing it with apples and kiwis adds even more antioxidants, making this juice an excellent choice for helping reduce inflammation. Furthermore, the power of enzymes in celery and kiwi helps cleanse the body and boost its immunity against diseases. With all these powerful ingredients working together, this is one juice you don't want to miss!
Blood pressure levels - apple kiwi juice reduces blood pressure levels. It is a natural way to reduce high blood pressure, as it is rich in essential vitamins and minerals. Celery is also packed with antioxidants, which help protect the body from free radicals, and kiwi contains compounds that can lower cholesterol levels. Drinking this juice every day has been scientifically proven beneficial for the cardiovascular system. Try it out and see how it works for you!
Prevents cell damage - drinking this juice is a great way to get your daily dose of antioxidants which help prevent cell damage and disease. It contains vitamins A, C, E, and K and minerals like potassium. Plus, it tastes delicious! Try adding a bit of honey or agave for sweetness. Enjoy this tasty drink every day for optimal health benefits!
❓ FAQ
What mixes well with kiwi?
The possibilities are endless!
Some of the most popular products pair wonderfully with kiwi juice include apples, oranges, grapefruit, celery, leafy greens, ginger, cucumber, carrots, beets, and spinach. Apples offer a subtle sweetness, grapes provide tartness, and oranges bring a delightful citrus flavor.
Celery gives an enjoyable mineral flavor when combined with sparkling water or other liquids, while the cucumber's cooling effect helps balance the taste of all ingredients.
Carrots add a sweet vegetable taste that plays nicely with acidic juices like kiwis'.
Beets contribute their earthy notes and lend themselves well when looking for something earthy - similar attributes can also be found in spinach.
Coming up with different combinations for drinks rich in vitamins A & C from these vegetables and antioxidants from fruits like strawberries or blueberries is truly where you become creative because those are just some ideas on what vegetables mix well!
🧃 More green juices recipes
Try out this simple kale green juice for a superfood-powered breakfast.
This is our preferred weight-loss green juice made with delicious pineapple and a similar one made with pineapple ginger, and spinach.
For a hydration boost, try out this green apple and spinach green juice.
Our green pear juice was designed to solve constipation issues in mind.
If you are looking for juice for cleaning your liver, this recipe is your go-to juice.
This is a low-sugar juice, thought especially for people with diabetes.
If you are fighting inflammation and want a cancer-preventing juice got for this delicious green broccoli juice.
If you are trying to get rid of a bad hangover, try this pick-me-up hangover juice.
⭐ If you try this kiwi fruit juice recipe, let us know! 💬 Leave a comment, rate it, and don't forget to tag us @ourplantbasedworld on Instagram. Cheers!
📋 Recipe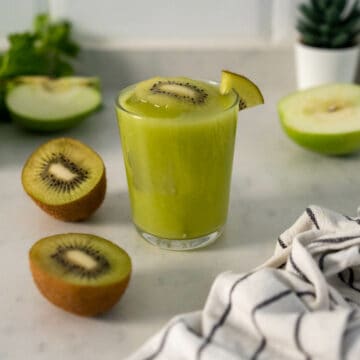 Kiwi Drink (Morning Green Juice)
Start your day with this delicious kiwi drink that is packed with nutrients and antioxidants! The perfect morning green juice made with 3 ingredients.
Equipment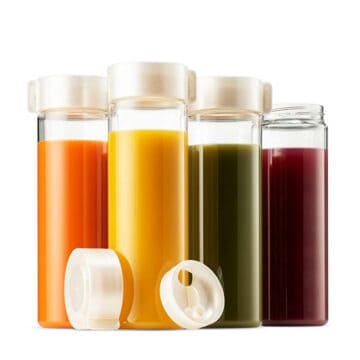 (affiliate link)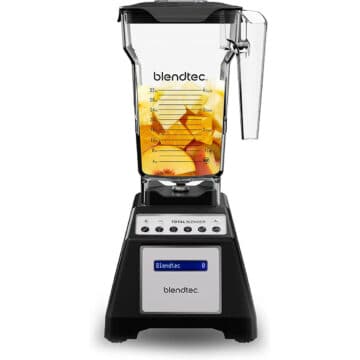 (affiliate link)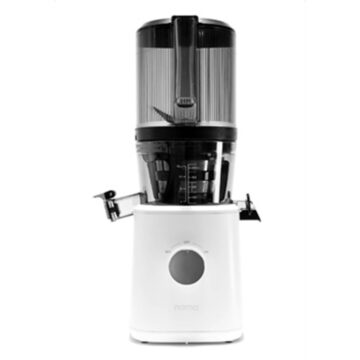 (affiliate link)
Ingredients
1

kiwi

1

apple

1

celery stalk
Directions
JUICER
Wash apples and celery thoroughly.

Optionally Remove the kiwi's skin (I don't) and core apple.

Chop all the ingredients into the appropriate juicer size.

Add ingredients into the juicer, starting with the softer ingredients and continuing with the tougher ones.

Serve chilled with ice cubes or/and sparkling water.
BLENDER
Blend. Add the peeled and cored ingredients to a blender- and blend until smooth. Then, using a nut bag, colander, or mesh strainer, strain the juice over a large bowl to remove the pulp.

Press. Use a spoon to help stir the pulp and press out the freshly squeezed juice.
Notes
We like chilling the juice for at least 15 minutes before serving.
The juice will keep in a juice bottle or airtight container for up to 3 days, although better if consumed freshly made.
Nutrition Facts
Serving:
8
oz
Calories:
95
kcal
Carbohydrates:
25
g
Protein:
1
g
Fat:
0.3
g
Saturated Fat:
0.1
g
Polyunsaturated Fat:
0.1
g
Monounsaturated Fat:
0.01
g
Sodium:
5
mg
Potassium:
205
mg
Fiber:
4
g
Sugar:
19
g
Vitamin A:
116
IU
Vitamin C:
8
mg
Calcium:
13
mg
Iron:
0.2
mg
Nutrition Facts
Kiwi Drink (Morning Green Juice)
Amount per Serving
% Daily Value*
* Percent Daily Values are based on a 2000 calorie diet.
Nutritional Disclaimer
The information shown is an estimate provided by an online nutrition calculator. It should not be considered a substitute for a professional nutritionist's advice. See our full Nutritional Disclosure here.
Affiliate Disclaimer
Please note that some of the links here are affiliate links, and I will earn a commission if you purchase through those links. I recommend all of the products listed because they are companies I have found helpful and trustworthy.