This Morning Celery Juice is the ultimate Immune System Booster and has excellent anti-inflammatory properties. The benefits of celery juice in the morning are life-changing, and adding it to your self-nurturing routine can be truly impactful.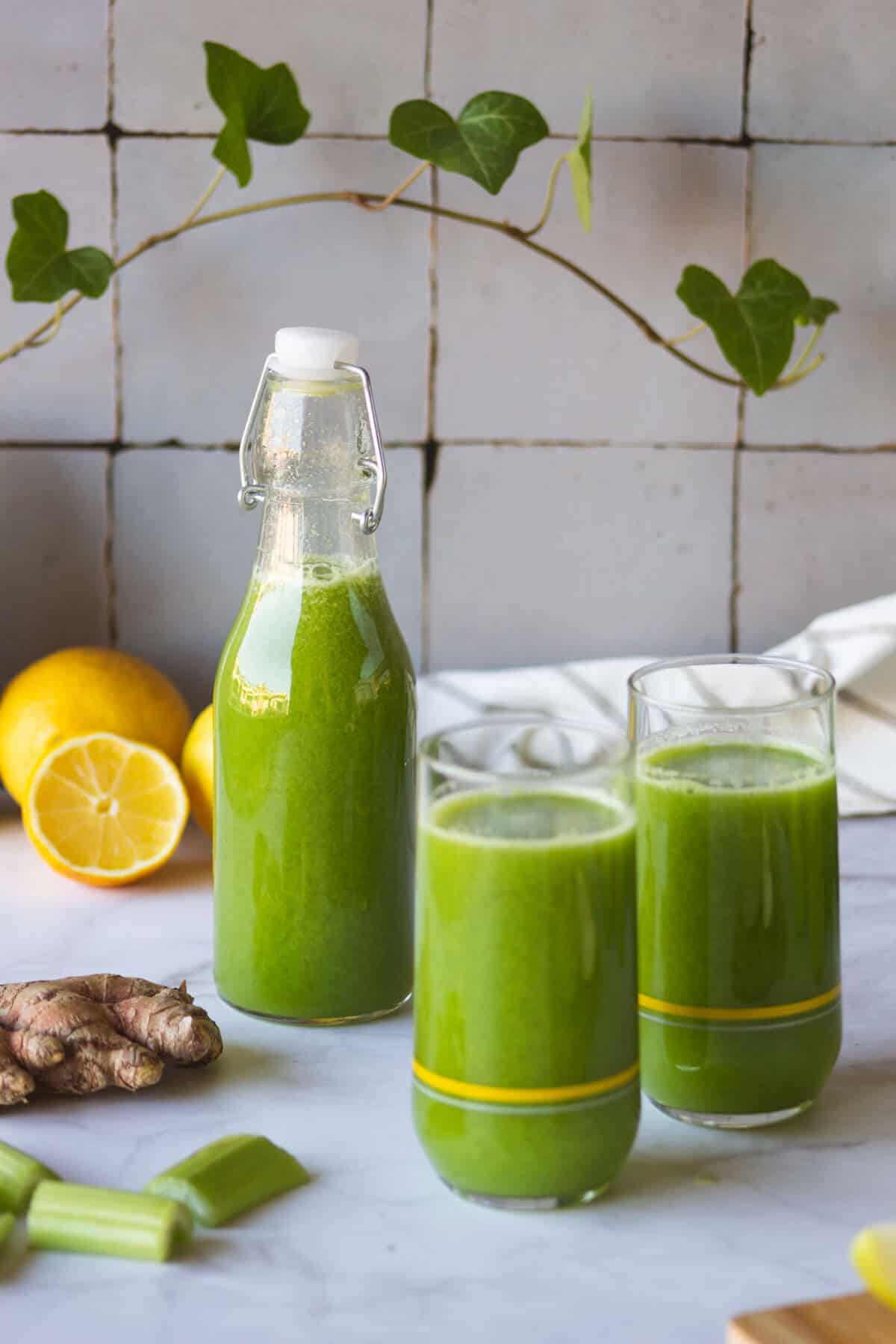 Celery juice is a simple and delicious way to start your day. It's an especially great option if you're not feeling well because it boosts the immune system, helps digestion, and has natural anti-inflammatory properties.
The benefits of drinking celery juice every morning are countless!
Celery juice provides you with rich nutrients that can give you more energy for the day. It is one of the most acclaimed healing juices. Celery juice helps detoxify the body as it contains many antioxidants (also present in celery seeds) and enzymes essential for removing toxins from your system.
Many people with chronic disease find that having a few ounces of celery juice consistently for sustained periods has found some level of relief, like reduced inflammation or skin problems.
In this blog post, I will:
Discuss some of the benefits of drinking celery juice in the morning on an empty stomach
Plus, provide a recipe for making celery juice!
You might have heard about the latest celery juice trend, but do you know why it's so great? Celery juice contains health benefits and essential nutrients like magnesium, potassium, and calcium.
These minerals suit your bones, blood pressure, and heart health. It can also reduce morning sickness during pregnancy (when midwives in Europe back when they were the only prenatal care available).
Celery juice is also a natural diuretic; it helps rid the body of excess water weight and toxins. It can even help people struggling with kidney stones.
Not only that, but morning celery juice is excellent for your skin! The high levels of Vitamin A in celery reduce wrinkles, acne scars, and dark spots from sun damage while improving your complexion.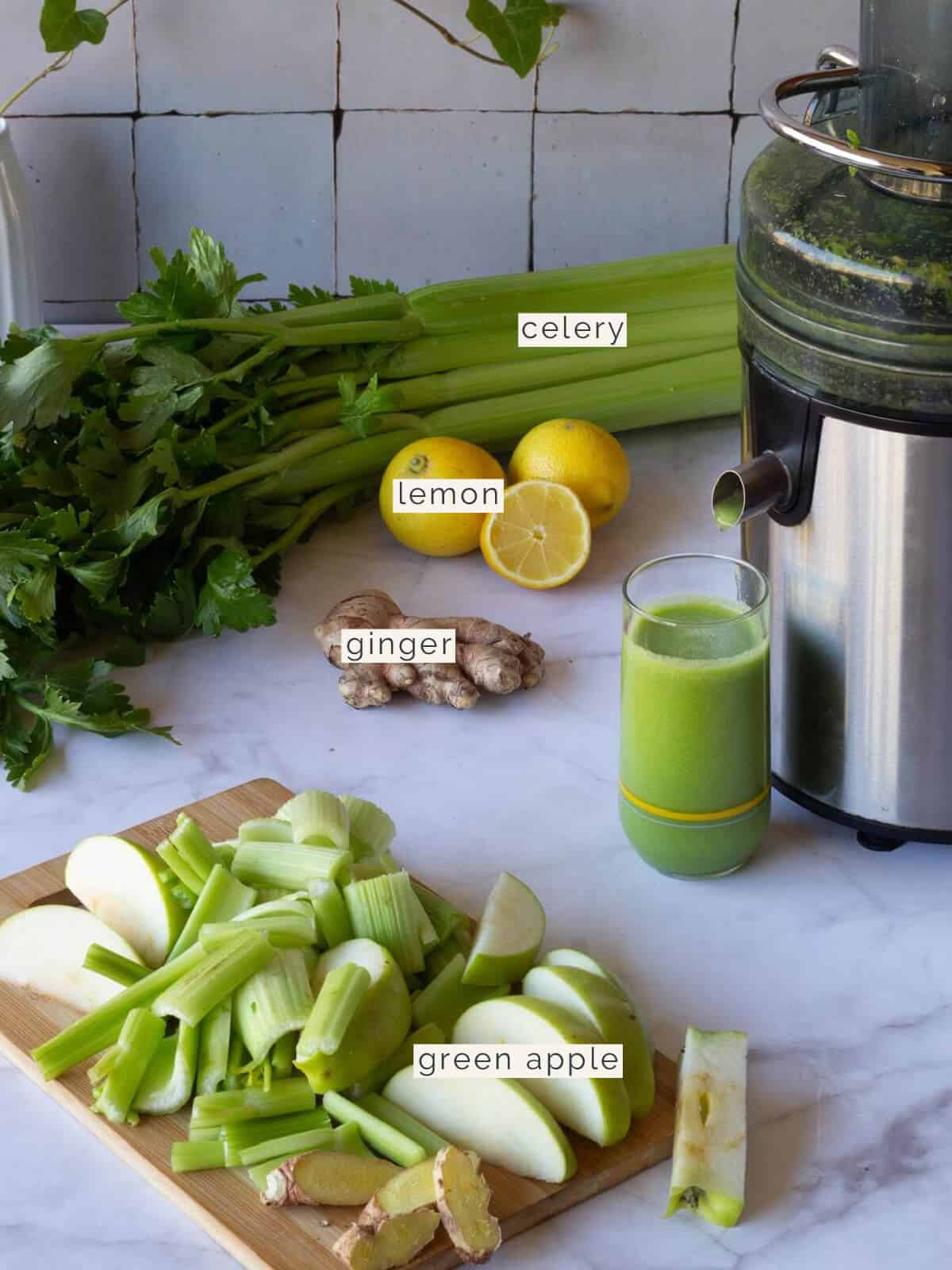 Jump to:
🧐 Celery Juice Benefits Abstract
Celery juice can help prevent diseases, especially cardiovascular diseases.
Drinking celery juice in the morning on an empty stomach helps boost your metabolism because it provides essential nutrients for proper organ function and cell production.
Because of its high antioxidant content, celery benefits skin health and can help you prevent diseases such as diabetes and cancer.
Celery juice is good for your heart, blood pressure, eyes, hair, and nails!
This morning celery juice recipe contains ginger to help reduce inflammation, improve heart health, and boost immunity! If fighting inflammation is your main goal, alternate this juice with our anti-inflammation juice.
☀️ Drinking fresh celery juice on an empty stomach
Drinking fresh celery juice on an empty stomach is beneficial because it helps you detoxify your body and provides you with essential nutrients.
You can better absorb the nutrients available within the inner fibers of celery that the juicer has extracted; thus, we can enjoy more of the celery stalks' health benefits.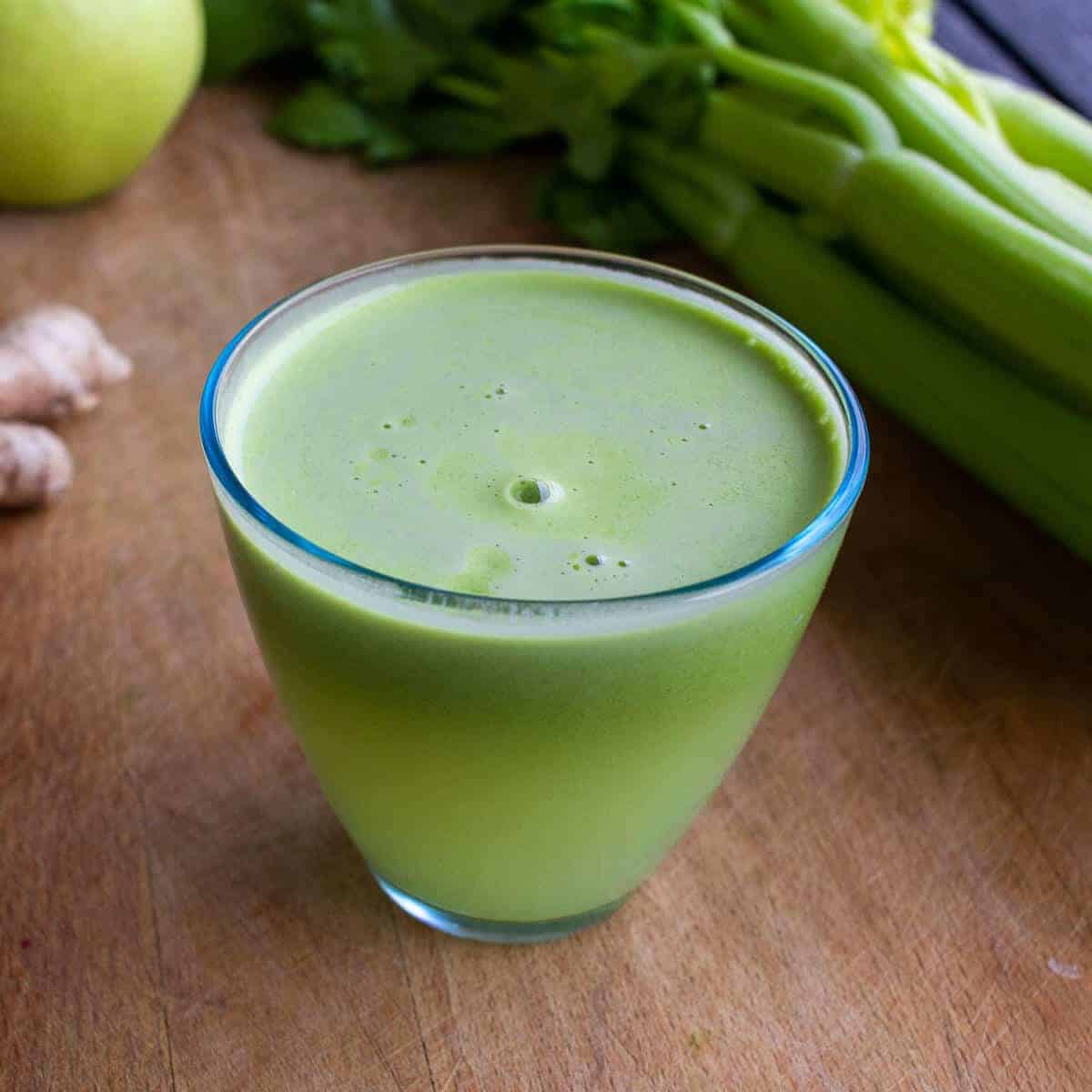 These nutrients help our bodies remove free radicals and eliminate heavy metals, such as mercury and aluminum, found in our systems.
These metals accumulate over time and damage vital organs like the kidneys and liver. Celery helps to flush these metals out of the body.
Celery juice is also a great morning drink because it helps kick-start your metabolism, increasing fat-burning throughout the day and night and helping you lose weight. It contains an amino acid called tryptophan that has been found in studies to help suppress
This recipe is closely related to our Cucumber, Carrot, and Celery juice, which brings together more nutritional value for skin health.
🙋🏻‍♂️ My experience
I started making Organic Celery Juice detox last year after a terrible accident where I temporarily lost my ability to move two of my right-hand fingers. It was a matter of several factors.
One of the things affecting my health was the resulting chronic inflammation from the incident.
I read thoroughly about celery juice's benefits and how it could help, so I started drinking celery juice every morning.
I drank celery juice consistently for one month. Every morning, on an empty stomach.
I was amazed to see how quickly I got better, not only with inflammation but also helped me lose the extra pounds I gained after being convalescent in bed for three months and experiencing improved digestion.
I started seeing the benefits very early! It is suggested to stay on track for a couple of weeks, ideally 21 days, but I started noticing effects from day 5th.
To fight against chronic illnesses, you should know about the benefits of drinking celery juice daily. Some call it a miracle juice... I wouldn't call any drink a miracle drink, but it helped me get back to my life faster.
🧾 Ingredients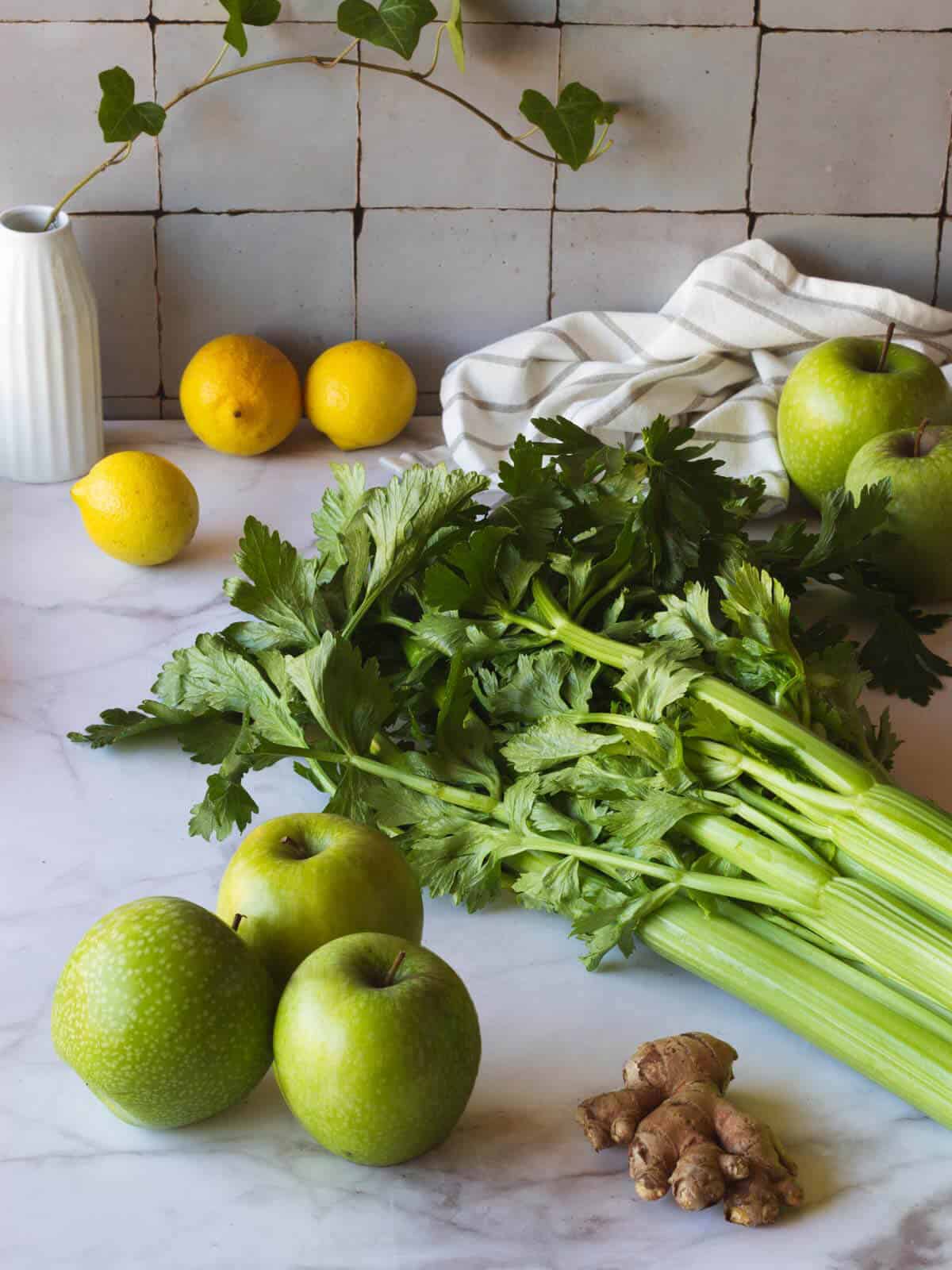 Organic celery
Fresh ginger
Green apple
See the recipe card for quantities.
🔪 Instructions
How to make celery juice?
It is effortless to make Detox Morning Celery Juice. The easiest method is to put the celery in a Juicer to extract the juice in seconds.
If you don't have a Juicer, the second method is to place the celery in a blender (affiliate link)and blend until smooth. Then, strain through a strainer, cheesecloth, or nut-milk bag and serve. (see below this section for the step-by-step guide).
Not yet into juicing? I highly recommend getting a Cold-Pressed Juicer. Great investment. If you are unsure, give it a try with a blender, a more typical kitchen artifact, and see how you like it.
What is the ideal amount of celery juice to receive the healing benefits?
The ideal celery juice quantity for all its healing benefits is sixteen ounces a day. However, you may choose to increase your intake up to twenty-four to thirty-two ounces a day if suffering from chronic illness or symptoms.
Wash and chop your ingredients
You only need to chop the celery and apple coarsely so they fit the juicer.
Celery leaves are edible and nutritious, but they have a bitter taste. I sometimes use them, but I recommend experimenting first with celery stalks, so you get acquainted with the flavor and start including leaves if you wish.
Otherwise, you can eat celery leaves in salads or use them for compost.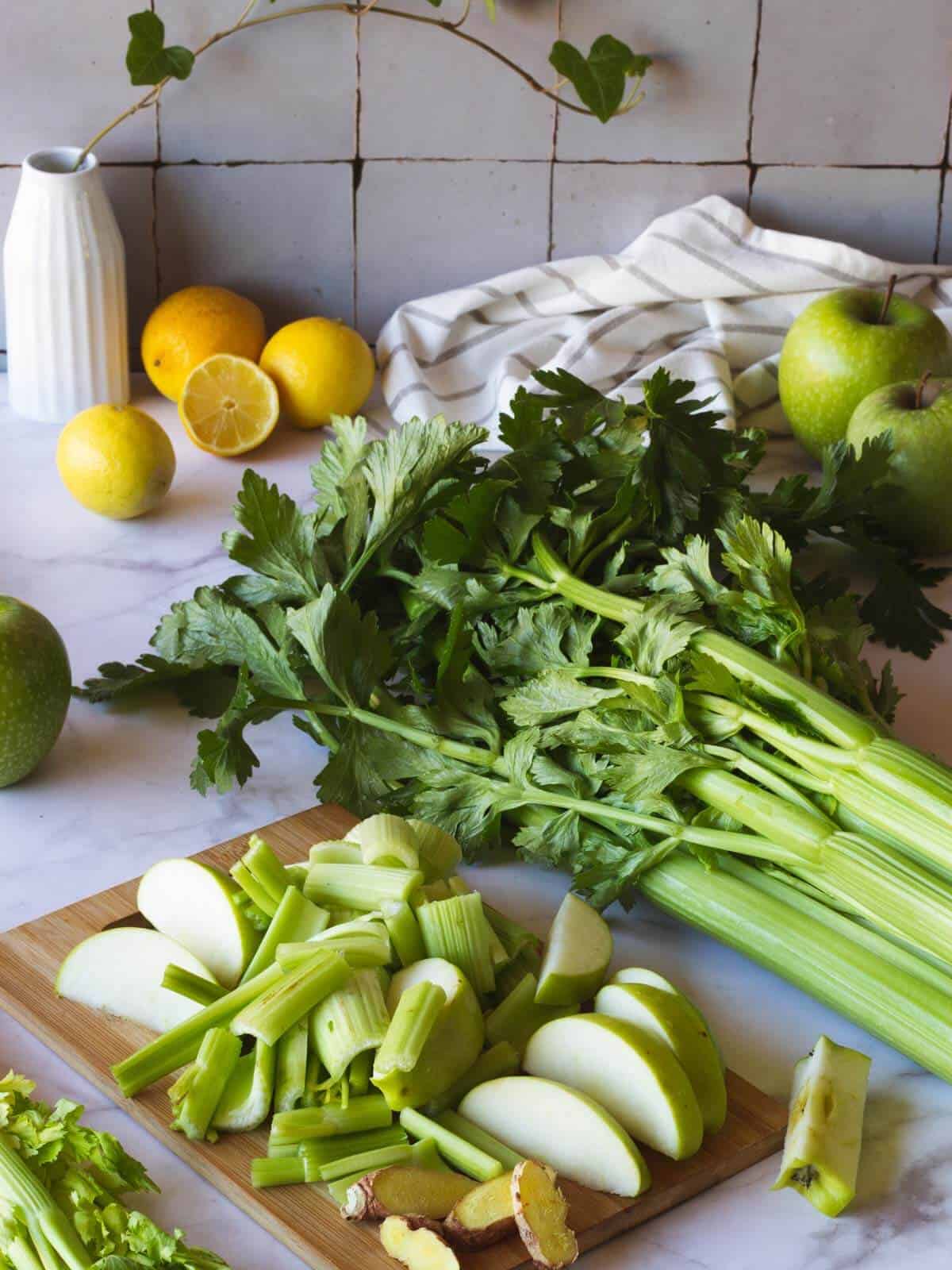 Juice
Turn your juicer on and run all coarsely chopped ingredients through, using the tamper. We recommend mixing the different ingredients so they all pass smoothly. If you use large chunks of apple, the outer skin may get stuck, so we use quarters.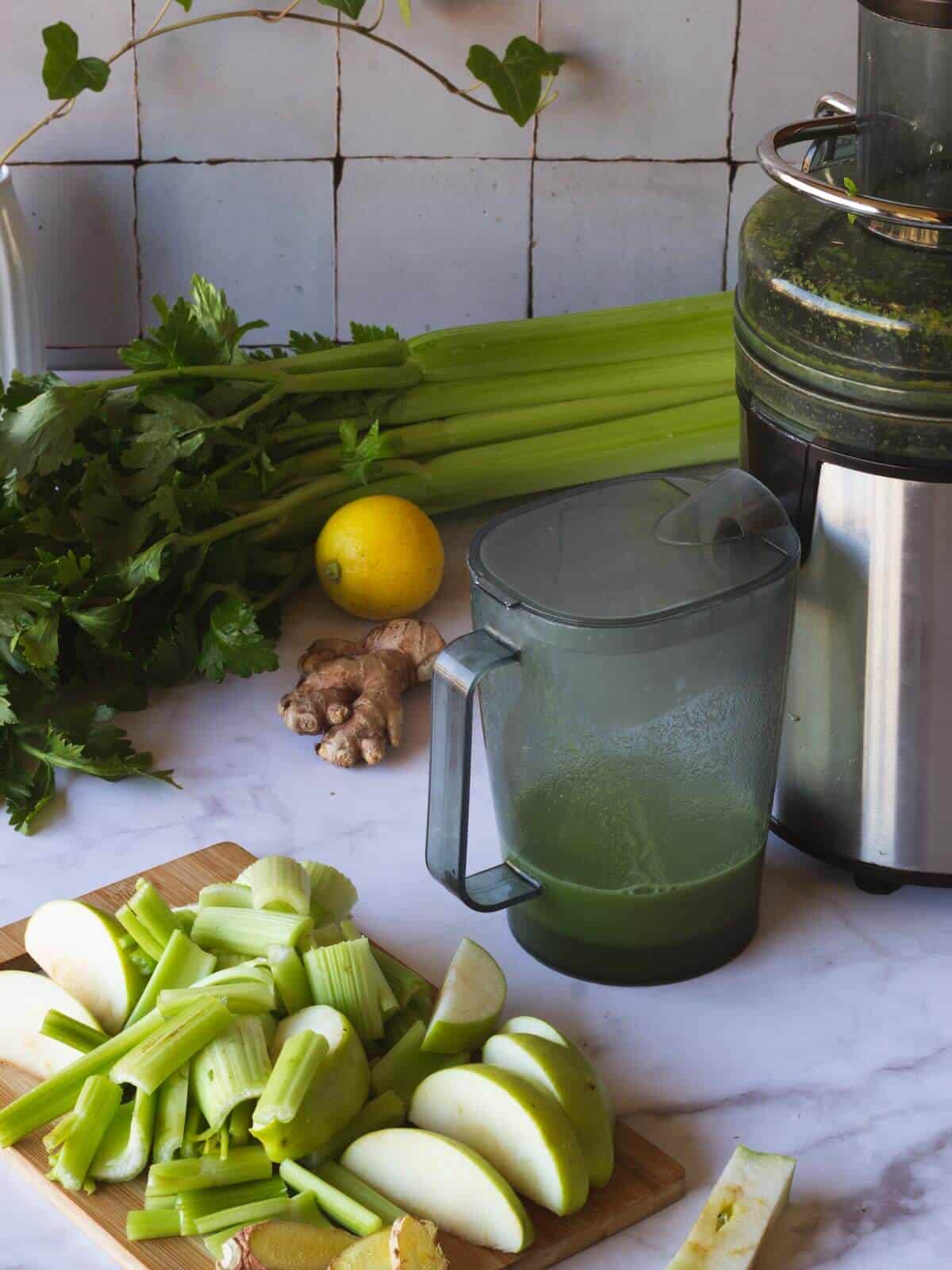 Sometimes I add some water while the machine is still working to push out stubborn remnants that may have gotten stuck.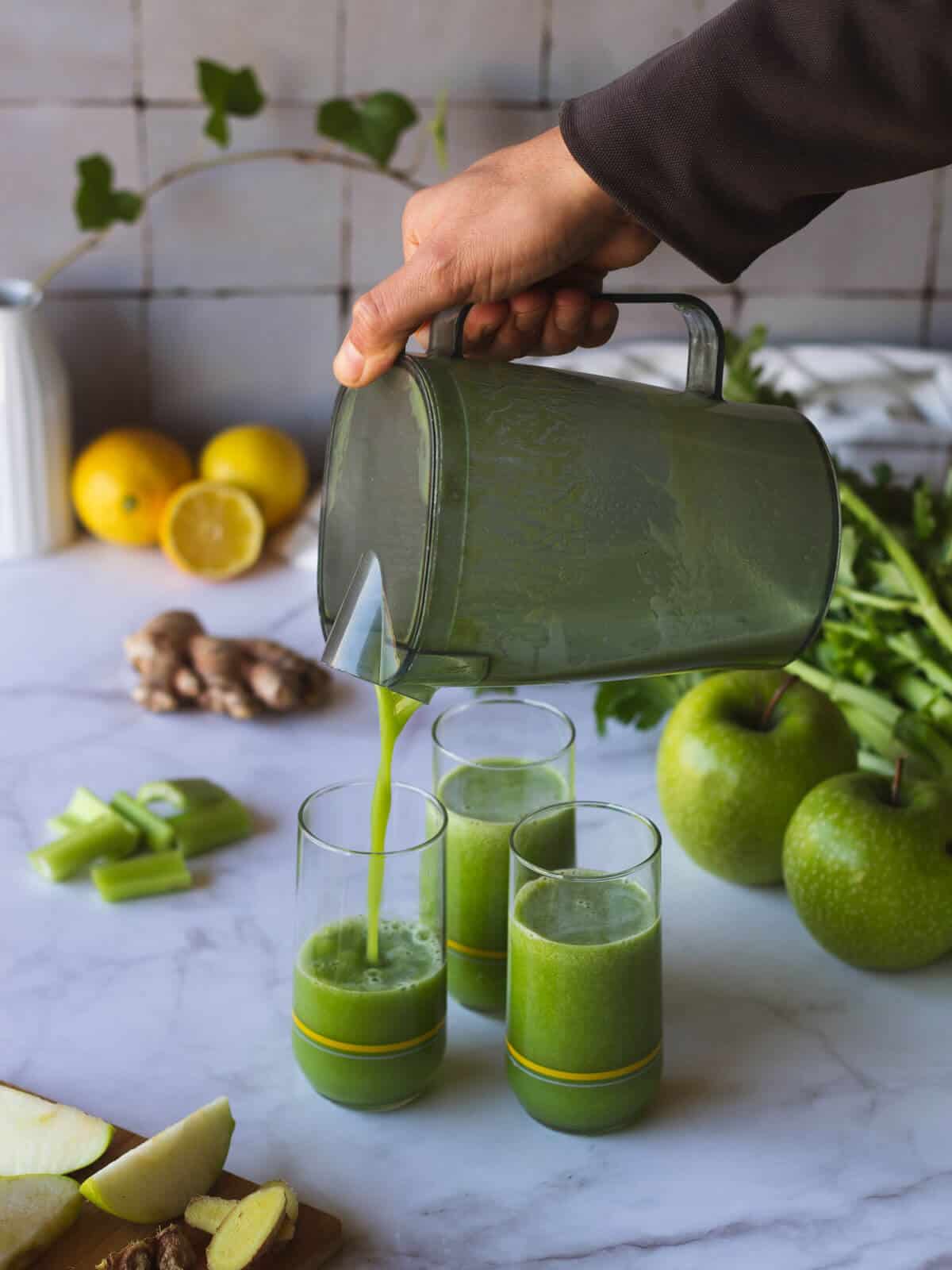 You can optionally add fresh lemon juice and drink immediately.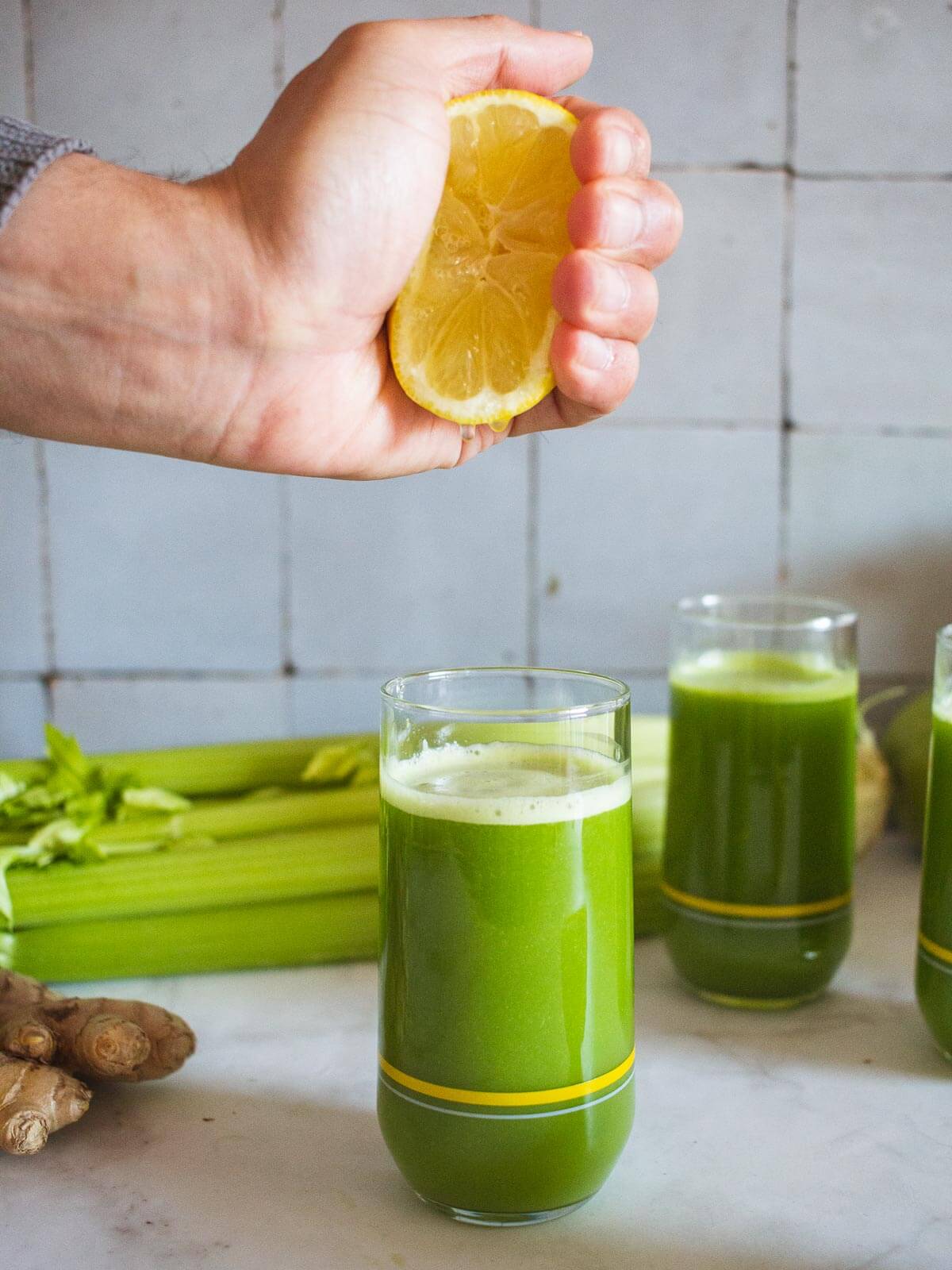 💡 How to make celery juice without a juicer?
Celery juicing is also easy if you are using a blender.
Just as I explained before, roughly chop your four celery stalks, green apple, and ginger.
Add all the ingredients to a blender.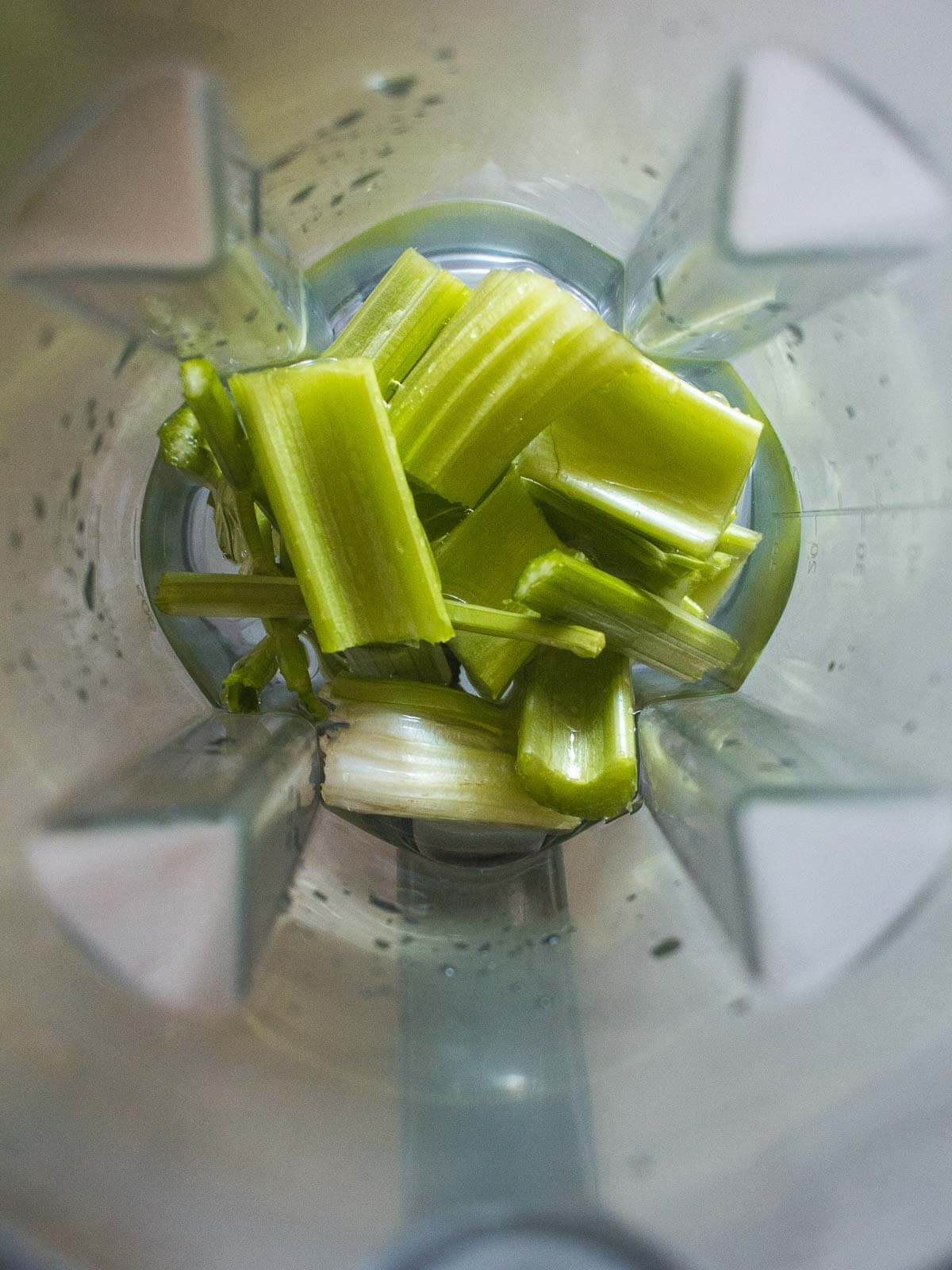 Add one cup of water to a high-speed blender and mix for 30 seconds.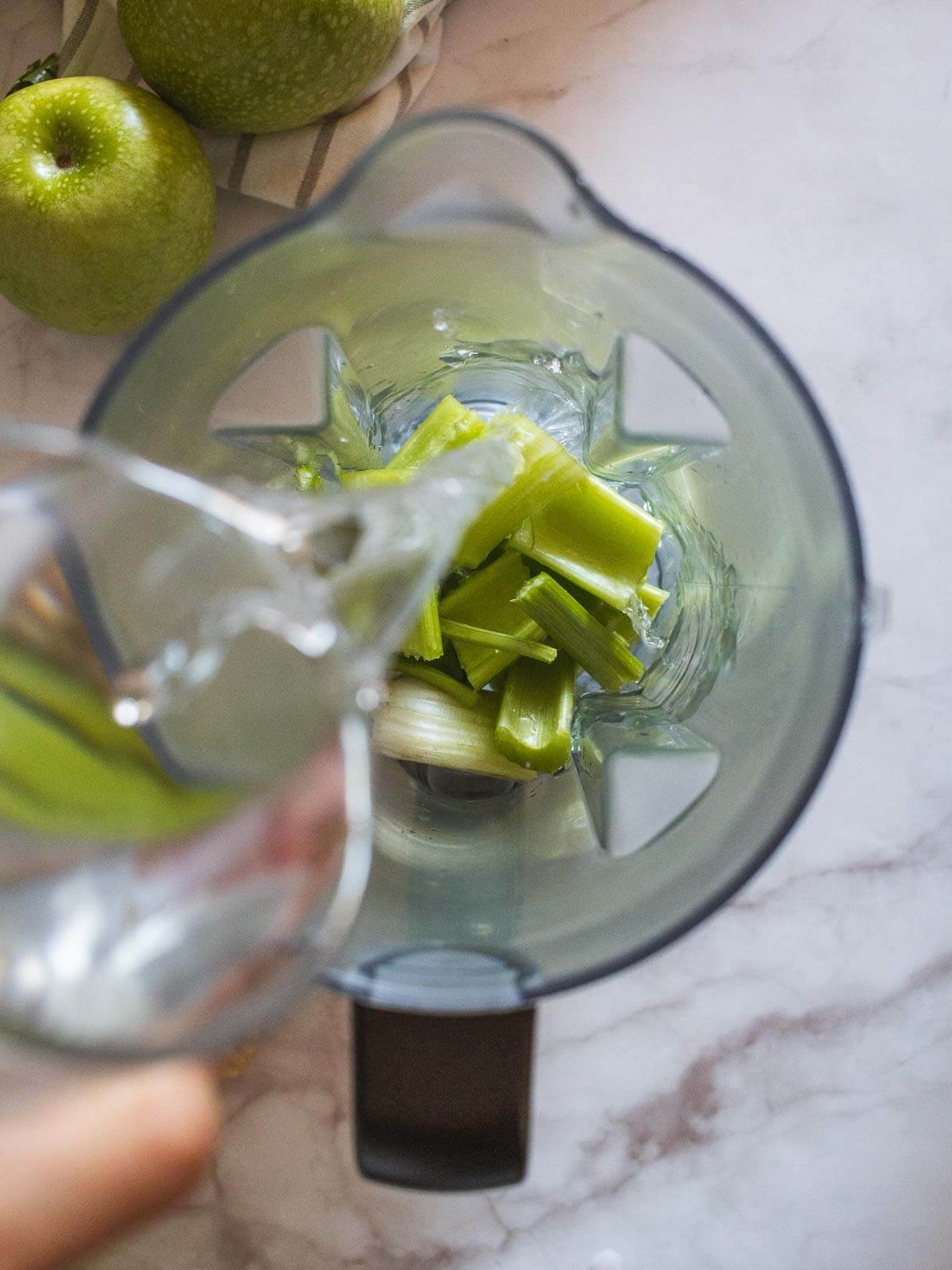 Pass the resulting mixture through a fine-mesh sieve, colander, cheesecloth, or nut milk bag, to strain out the pulp. Optionally add lemon juice.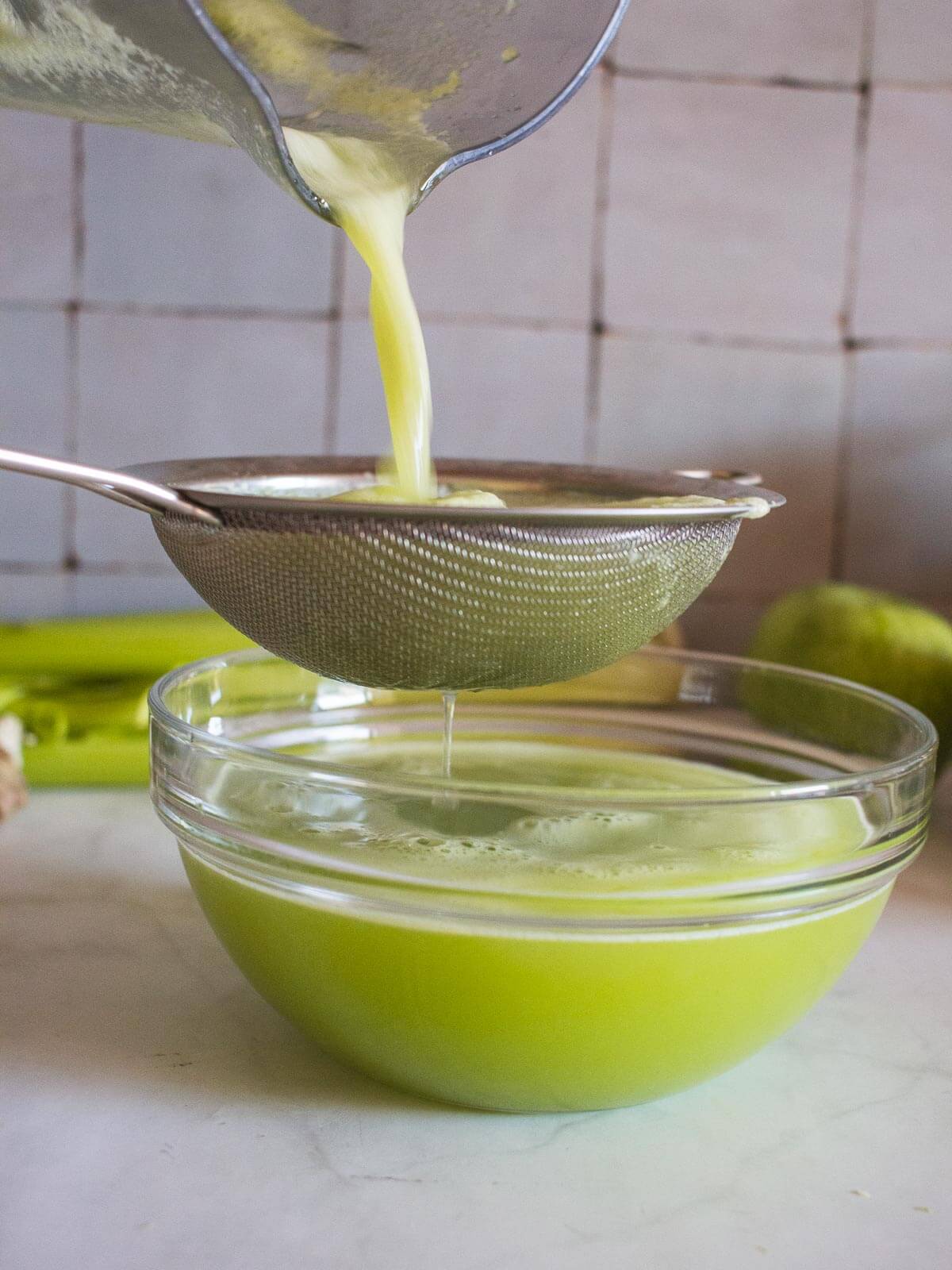 Note: if you prefer to keep the juice's fiber, you can skip the straining and add more water to make it thinner.
🫙 Storing
Yes, you can store celery juice in the fridge; make sure you put a lid on it. It is always better to make it fresh, as specific vitamins like Vitamin C, a potent antioxidant, are "volatile"... basically, they lose strength with time.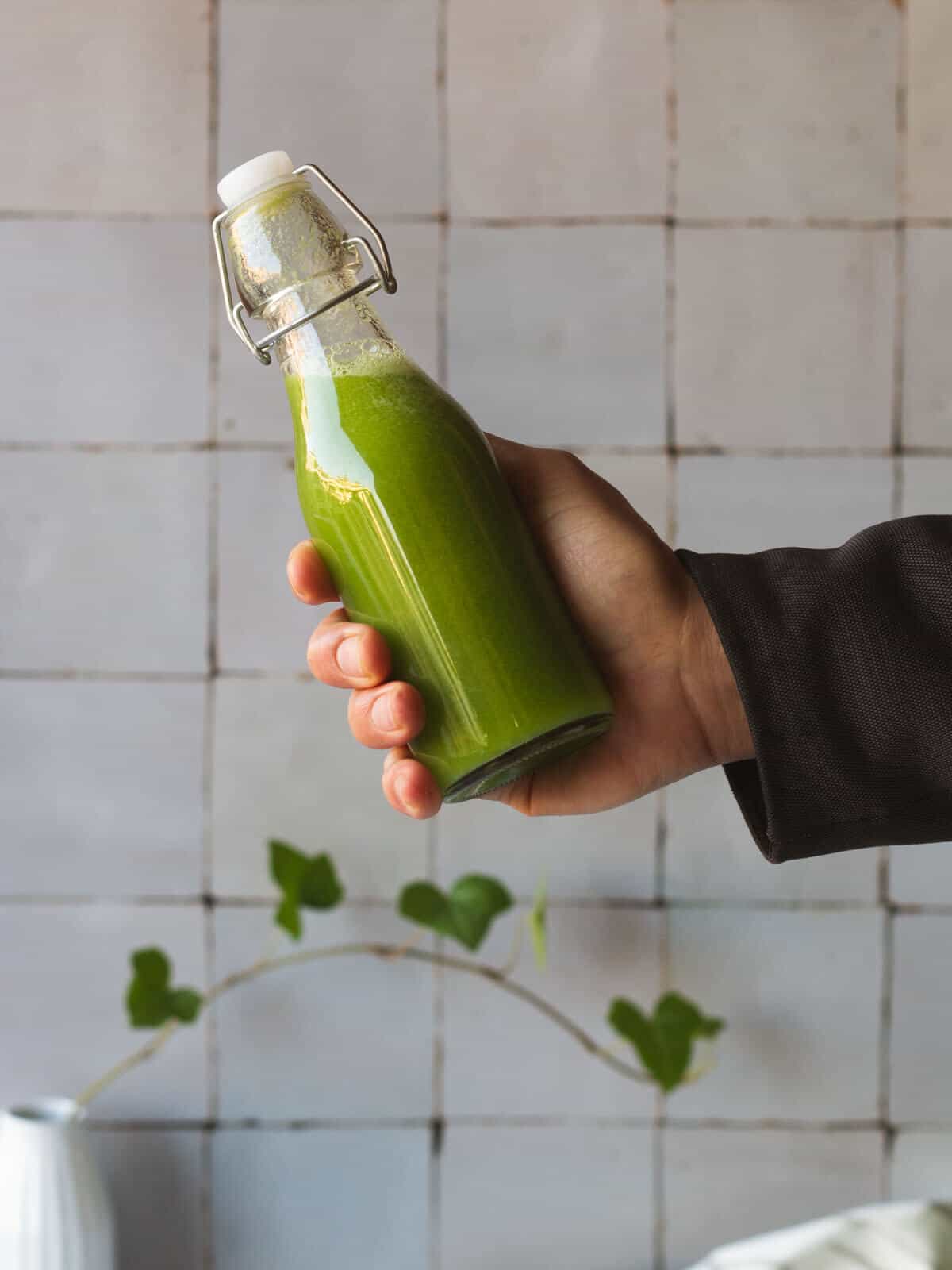 Still, this effect can be counteracted by closing it and storing the Juice in an air-tight container. Fresh Juice will always win over 1-day or 2-days Juice, but fridge-stored Juice will always win vs. not juicing.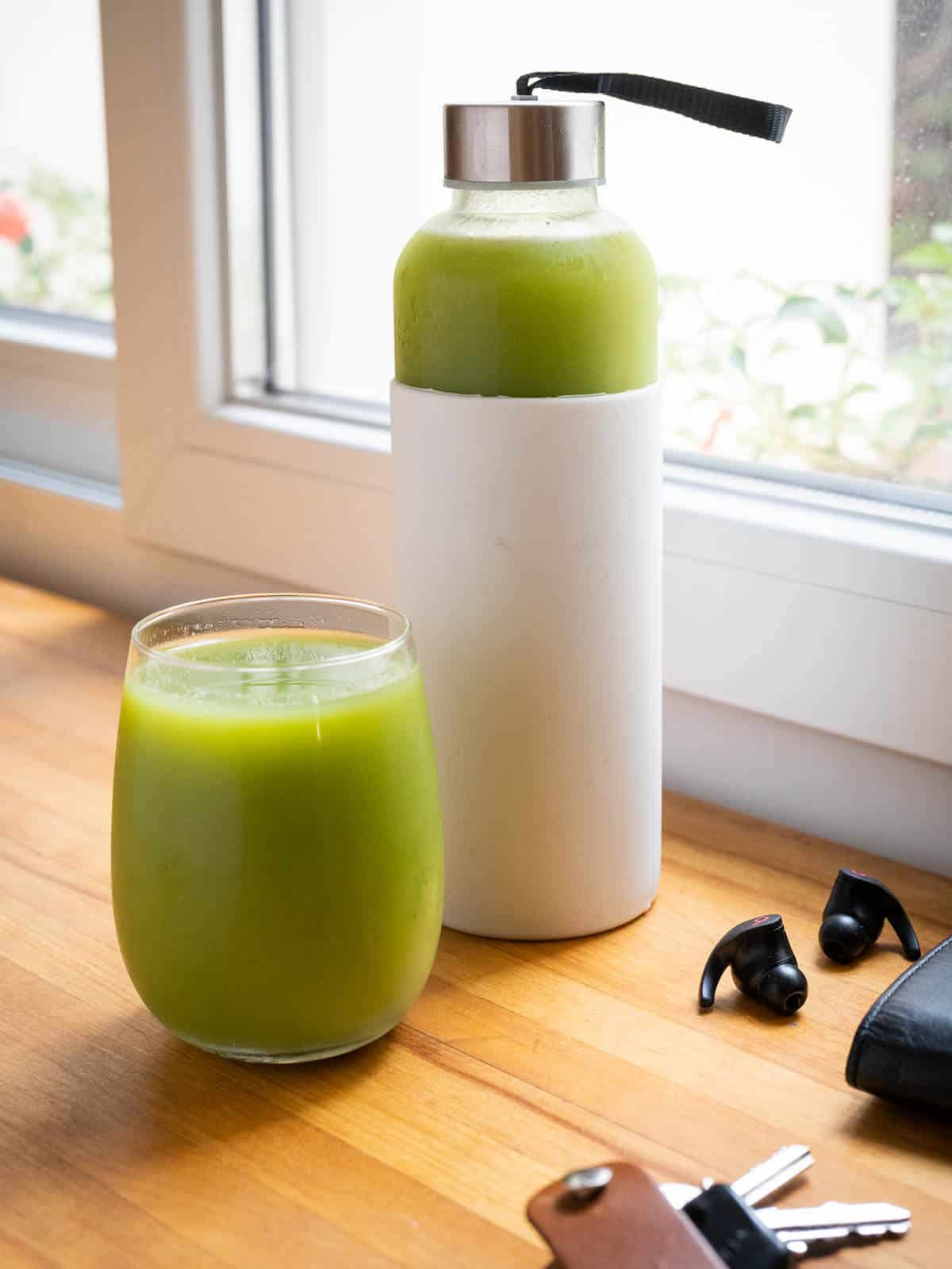 From what I have researched, we are talking about a 25% daily decrease in properties...not bad at all, but it is worth considering.
⭐ What are the benefits of drinking celery juice in a nutshell?
There are many benefits of drinking celery juice on an empty stomach and waiting about fifteen minutes before consuming any solids.
Cleansing. Celery juice cleans all the mess inside your body. It has a sodium cluster salt that kills pathogens behind auto-immune conditions.
Liver. Celery juice revives liver cells.
Nervous system. Celery juice restores our central nervous system and flushes out our livers from toxins and residual old pharmaceuticals, metals, herbicides, pesticides, and petrochemicals.
It Aids digestive problems and gets rid of acid reflux. See juice for digestion and upset stomach.
Celery juice aids weight loss by cleaning toxins in the liver and helps improve health overall.
Read on: Homemade Liver Cleanse Juice »
📋 11 Benefits of Celery Juice in detail
There is a lot of consensus and research on the benefits of celery. But what does celery juice do?
Here is a list of the top benefits of celery juice. Please do your research and ask your doctor.
Anti-inflammatory
Celery Juice is a natural anti-inflammatory that reduces chronic joint pain, gout, and rheumatoid arthritis. It soothes the body but is believed to soothe the nerves due to its calming and relaxing properties. (1)
Alkalizing
This healing drink with a high concentration of highly alkaline celery helps to prevent chronic diseases. (2)
Powerful antioxidant characteristics
This juice contains antioxidants and cancer-fighting compounds. (3)
Digestion
Celery juice improves digestion because it increases circulation in the intestines. It's good for constipation, bloating, puffiness, and water retention; it acts as a gentle and natural diuretic and laxative.
It also helps to regulate low stomach acid, intestinal cramping, distention, and acid reflux.
If you want to increase your fiber intake, you can also eat celery sticks. (4)*
Healthy cholesterol
Celery Juice lowers cholesterol. It Reduces the bad cholesterol (LDL) in our bloodstream. (5)
Blood pressure
Research suggests that celery helps lower blood pressure by acting as a smooth muscle relaxant, improving the flow of calcium and potassium in cells and allowing blood vessels to expand and contract with greater ease.
Celery's sodium content helps stabilize blood pressure, meaning that if you have high blood pressure, it helps to bring it down, and if you have low blood pressure, it will help to bring it up. (6)
Liver health
It Aids the liver; celery helps reduce fat build-up in the liver. The nutrients in celery protect the liver and produce enzymes that help flush fat and toxins. (7)
Fights infections
Celery Juice helps fight infections. Celery contains powerful antimicrobial properties that boost immunity and fight infections. (8)
Heals gut
Celery Juice activates and heals the gut helping us digest things faster and more efficiently and preventing acid reflux and ulcers. (9)
Nutritional benefits
Celery Juice is very nutritious. It contains vitamins and essential minerals like potassium, folate, vitamin K, vitamin B6, and vitamin C. Great for the skin. (10)
Note on fiber: to make the most gut health benefits, it will be best not to strain your celery juice; make it with a blender. (11)
Celery juice for weight loss
Celery juice is loaded with nutrients that can help you lose weight. For one, it's a great source of fiber, which helps to keep you feeling full and satisfied after eating. It's also low in calories and rich in minerals like potassium and sodium, both of which are essential for regulating water balance in the body.
Drinking celery juice is also a great way to get your daily dose of vitamins and antioxidants, both of which are important for supporting a healthy metabolism (12). In fact, studies show that people who drink celery juice regularly tend to have lower body mass indexes and smaller waistlines than those who don't.
So if you're looking to drop a few pounds, start by adding some celery juice to your diet!
💭 Best way to drink celery juice
The best way to drink this magnificent juice is first thing in the morning on an empty stomach by itself.
I propose adding a green apple and ginger to this recipe because many people find it too bitter and fall off track before experimenting with this juice's great benefits.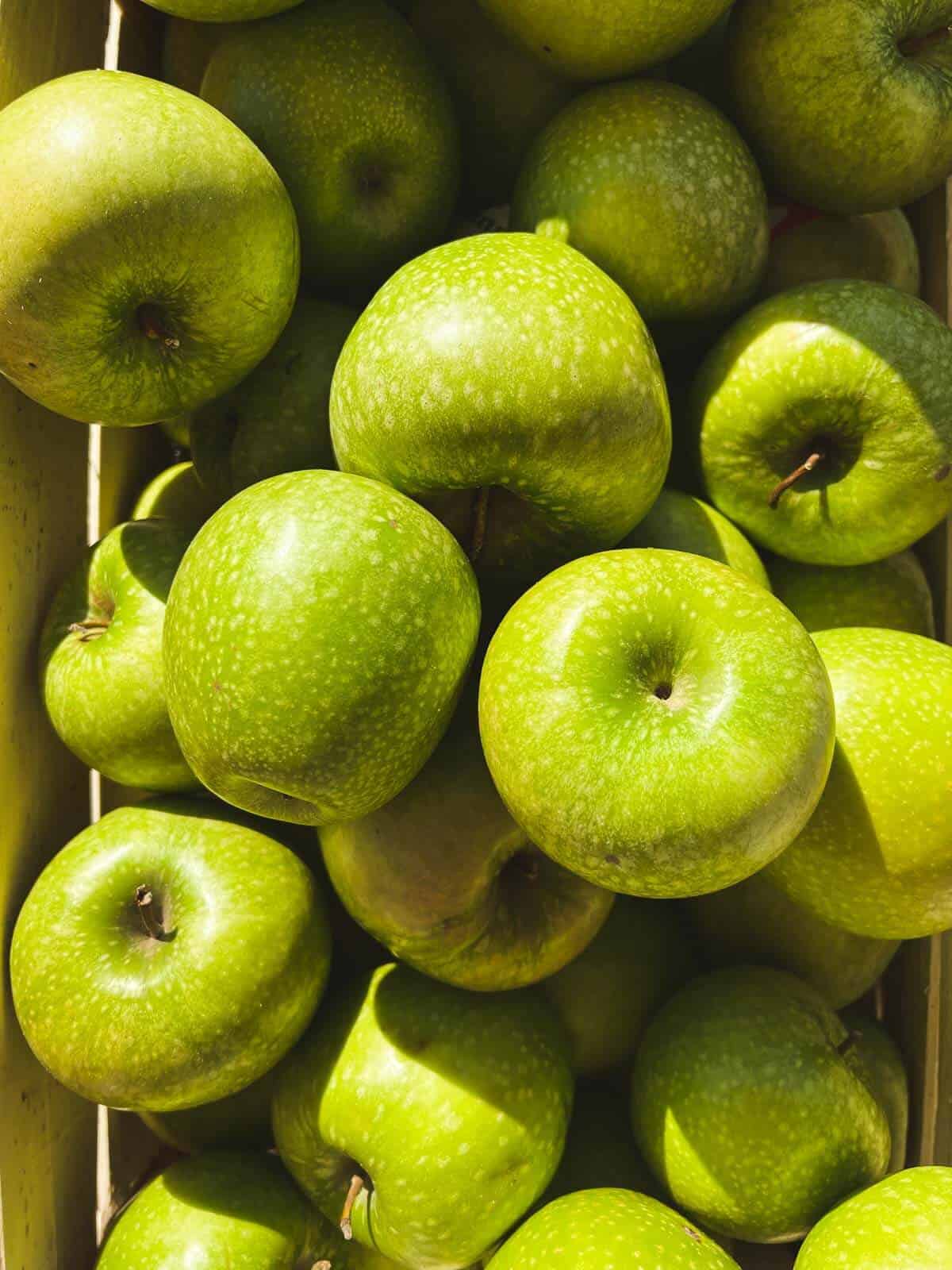 My twist to make it delicious
I add ginger and an apple to our juice because ginger adds an immune system booster property we all need these days. I also like replacing apples with fresh pineapple for a change!
Read on: Spinach Ginger Smoothie » and Grapefruit Ginger Smoothie »
Pineapples also have fantastic diuretic and anti-inflammatory benefits, making them a great match.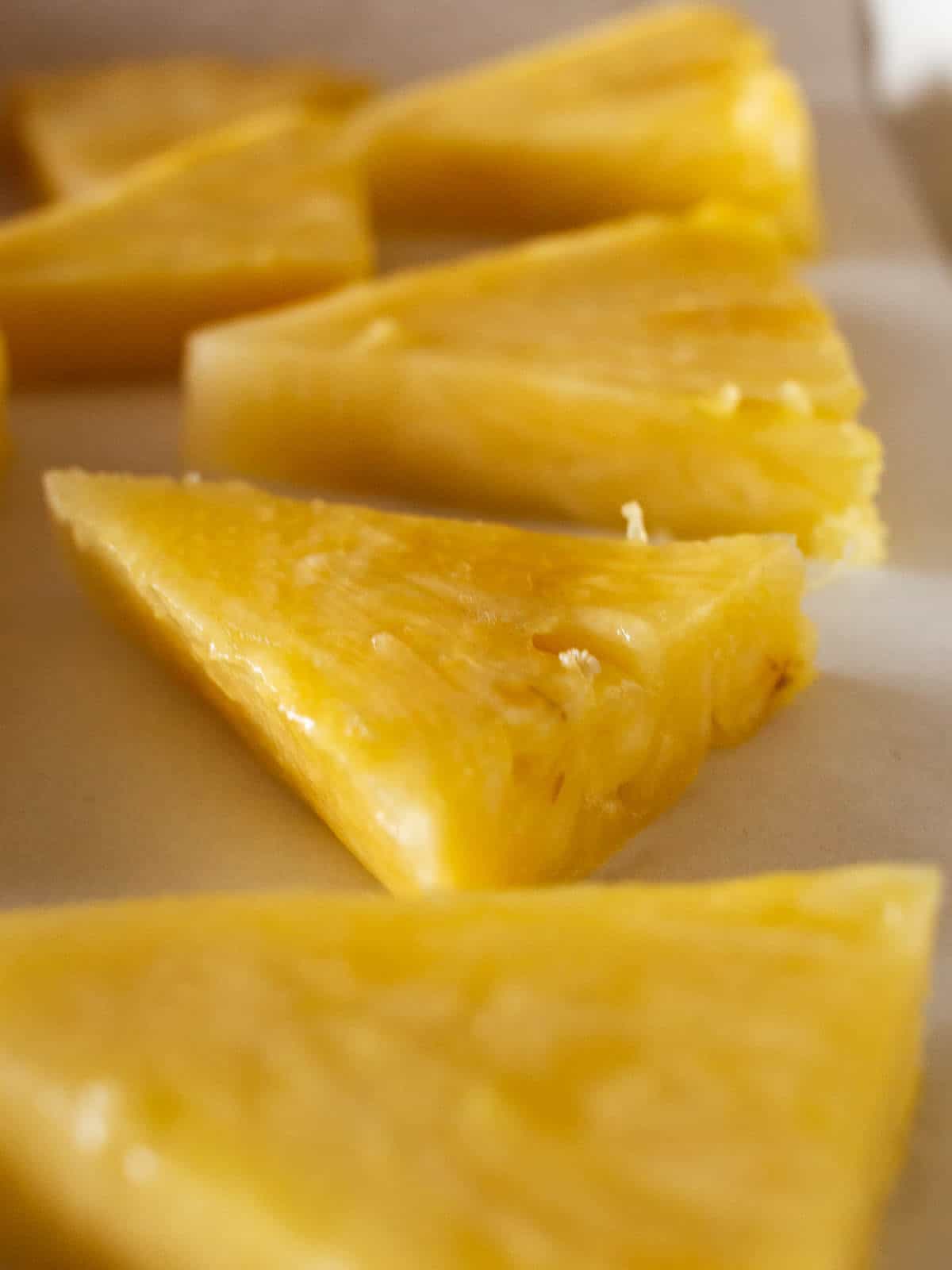 I add the green apple for its antioxidant properties and sweetness, enhancing the flavor and making it delicious, which I cannot say about this morning's green juice by itself.
Of course, you can add as many fruits and vegetables to your morning juice, but keeping it simple saves time and allows your body to absorb the nutrients much better.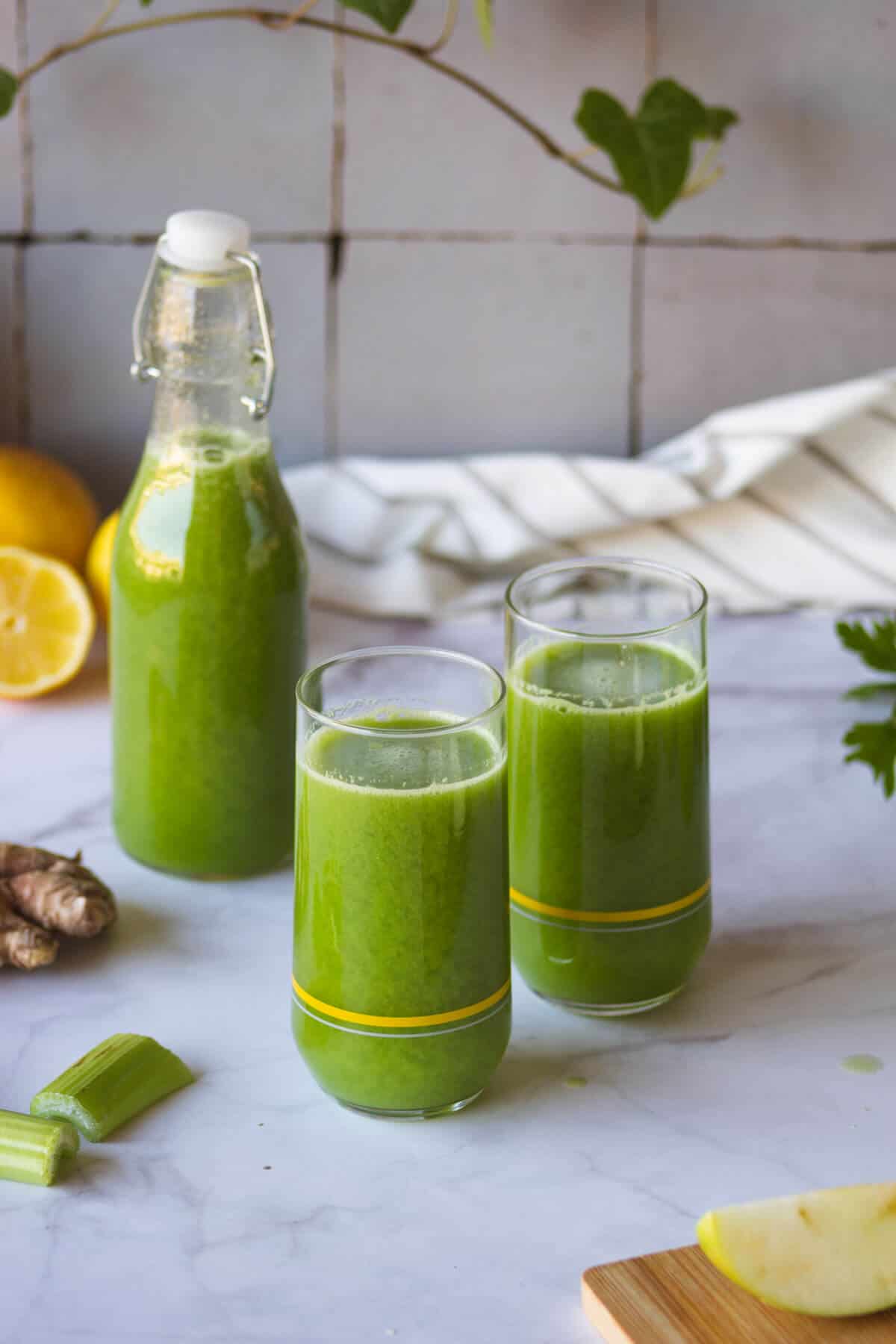 It happened to me. So adding an apple and ginger during the first weeks will help you get used to the flavor of celery because it tastes delicious.
Then little by little, you can increase the ratio of celery vs. apple and ginger and drink it by itself.
It doesn't mean that it won't work; it is just that celery juice's most significant benefits are realized when consumed on its own.
Wait for 15 to 30 minutes before consuming anything else.
Celery Juice is not a breakfast; it is a tonic. You still need to have breakfast afterward.
I drink my morning celery juice pre-workout and eat a protein breakfast post-workout. Then, I eat something like a Tofu Scramble or Homemade Granola to replenish my body with the minerals lost from sweating.
Also, I prefer exercising with as little as possible in my stomach for two reasons:
Avoid any pain in the right side of the belly.
Feeling lighter
I can eat a full protein-packed breakfast, which my body will absorb better.
I often drink beet juice after working out for its anti-inflammatory, stamina, and muscle power-improving benefits.
Drinking Celery juice in the morning is great because it has anti-inflammatory properties.
In addition, the ingredients in this juice help improve skin health, improve the digestive tract's function, and help relax nerves, which are sometimes damaged due to unhealthy lifestyles and food choices.
Please look at our Hangover Juice recipe for another excellent detox juice.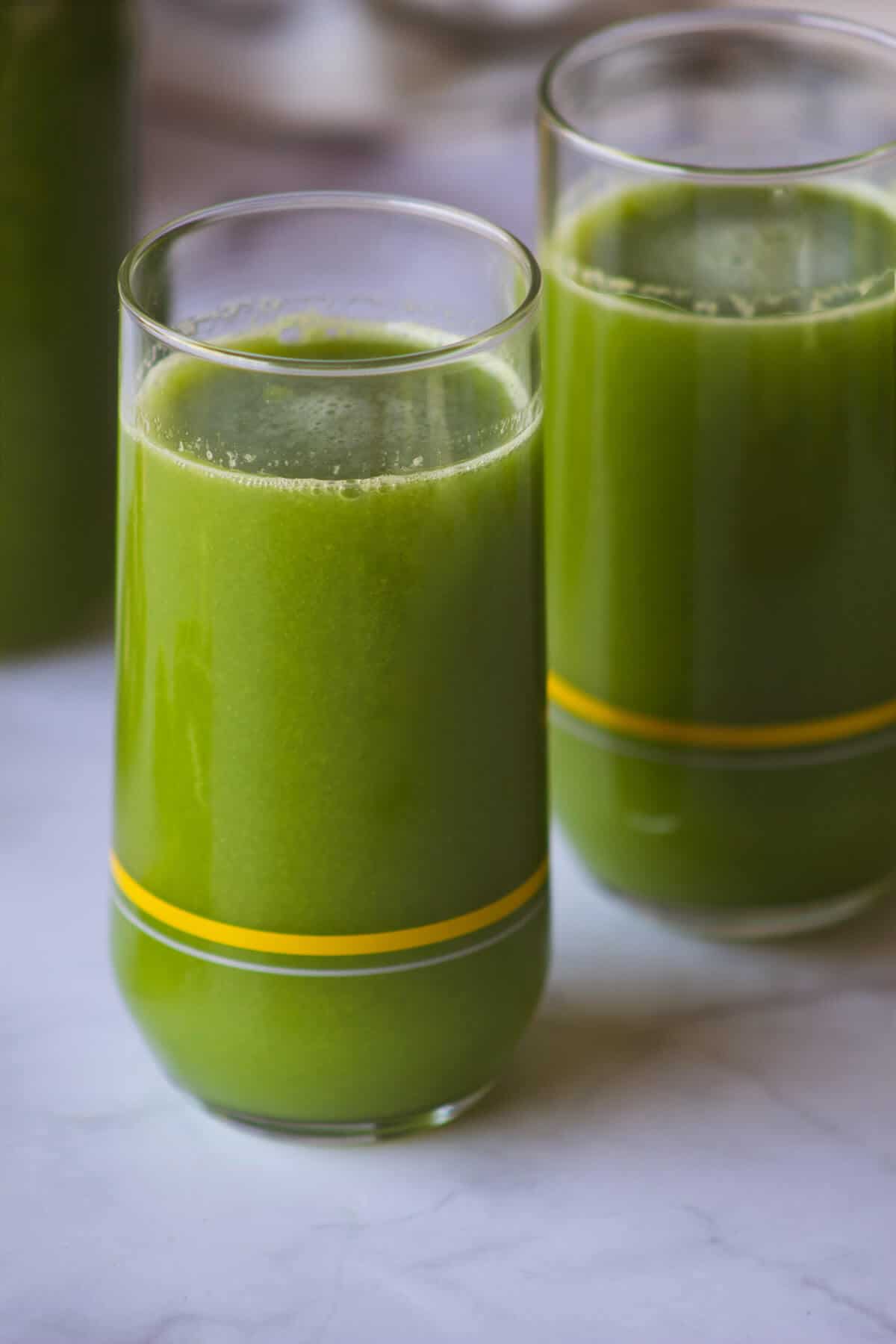 Read on: how to pick the best juicer »
If you don't have a juicer, you can also make this celery apple juice following these simple tips on juicing without a juicer, plus three delicious recipes.
❓ More celery benefits
In the morning (jugo verde as it is called in Latin America), this green juice can also strengthen bones and have anti-insomnia properties.
But why celery juice and not just eat it with hummus or cooked?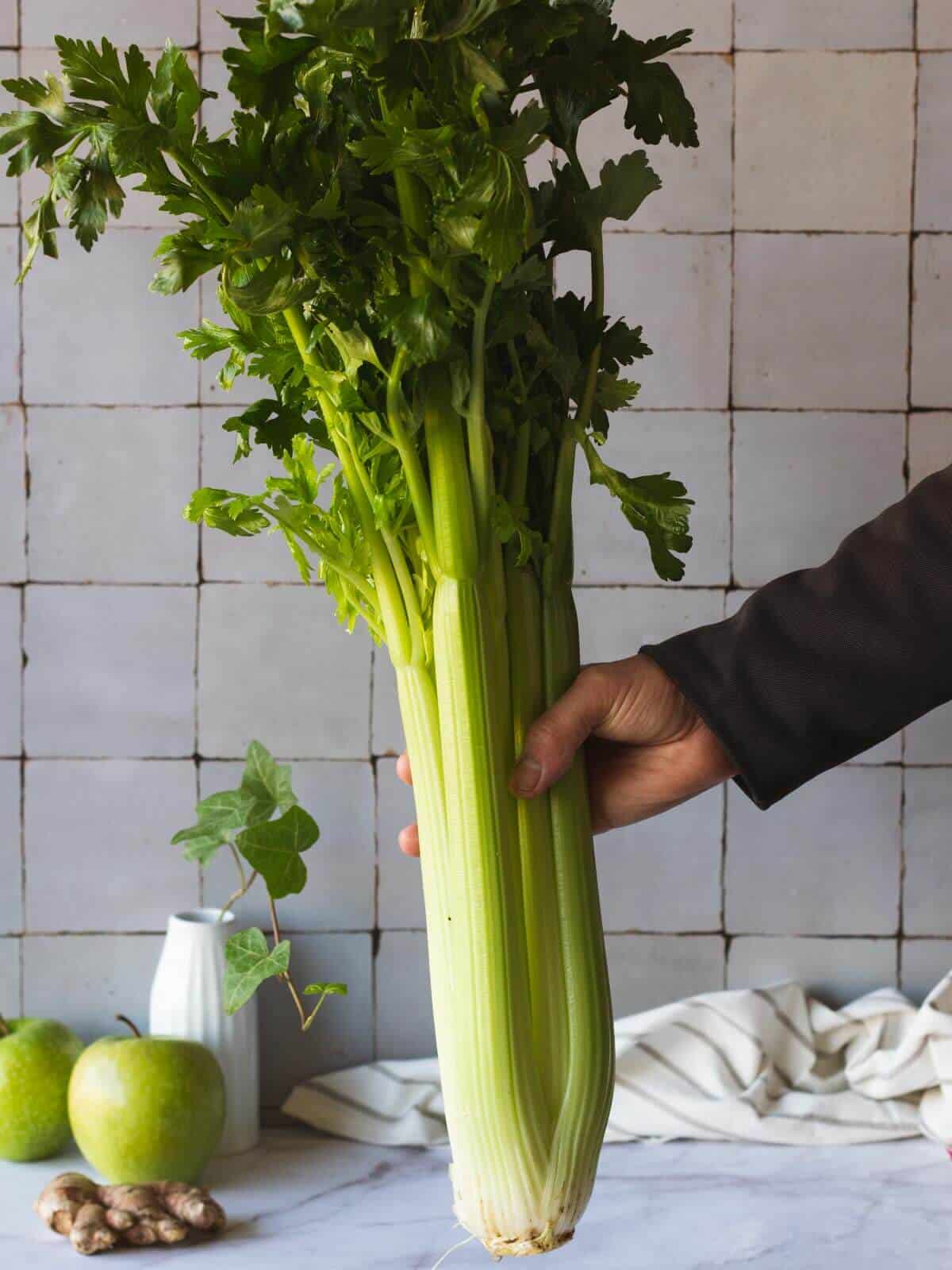 Celery is high in fiber, which is excellent for the digestive tract. Still, it makes it harder for the body to extract the total value of this super vegetable.
That is why it is good to give our body a little help by doing some pre-work, so it spends less time breaking the fiber and more time assimilating the nutrients.
…and why first thing in the morning?
The digestive tract is clean; thus, the intestine can absorb everything much better.
✅ Conclusion
Celery juice is a powerful and healthy drink that offers many health benefits. It's easy to make and can be consumed in minutes.
If you don't have a juicer, you can still enjoy the benefits of celery juice by blending it with other fruits or vegetables. Start incorporating celery juice into your daily routine and experience all the fantastic benefits for yourself.
Add celery juice to your diet, and let us know your experience.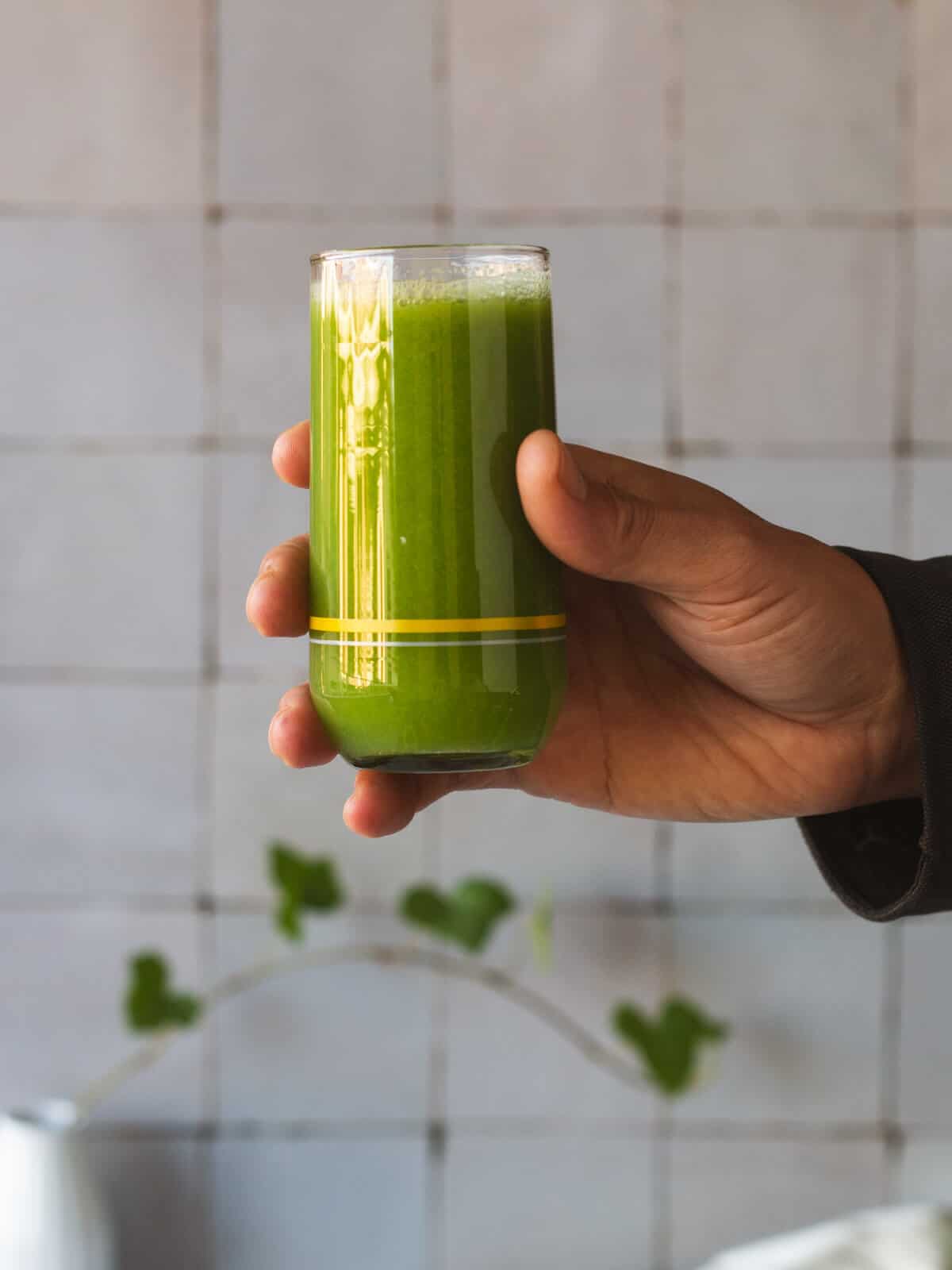 Do you want to know more about the benefits of Juicing? Check out our post:
Juicing for Health: The Truth about Juicing
🧃 More healthy juices
Since are carrot lovers and admirers of great skin, the Carrot, apple, and celery juice, is the juice that we drink the most, along with our cabbage juice which has excellent anti-inflammatory benefits.
The Beetroot, apple, and celery juice or the Pomegranate juice are our juices of choice previous to workout, given their fantastic recovery benefits. After working out, we either have our Post-workout smoothie for protein or the Carrot, Cucumber, and Celery juice for enhanced hydration.
Also, our Simple Green Juice made with Kale Pineapple and Cucumber Juice for Weight Loss can be a great ally to getting back on track after a weekend of indulgences.
If you want less sugary hydrating green juice, go with this spinach juice or this kiwi drink made with celery and green apples.
Additional nutritious breakfast ideas
The only Tofu Scramble Recipe you need!
⭐ If you tried this apple celery juice recipe and liked reading about the celery juice benefits, let us know! 💬 Leave a comment, rate it, and don't forget to tag us @ourplantbasedworld on Instagram. Cheers!
📋 Recipe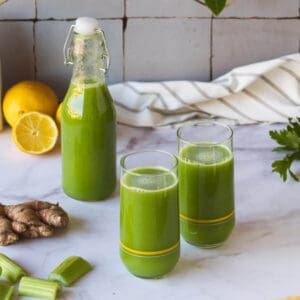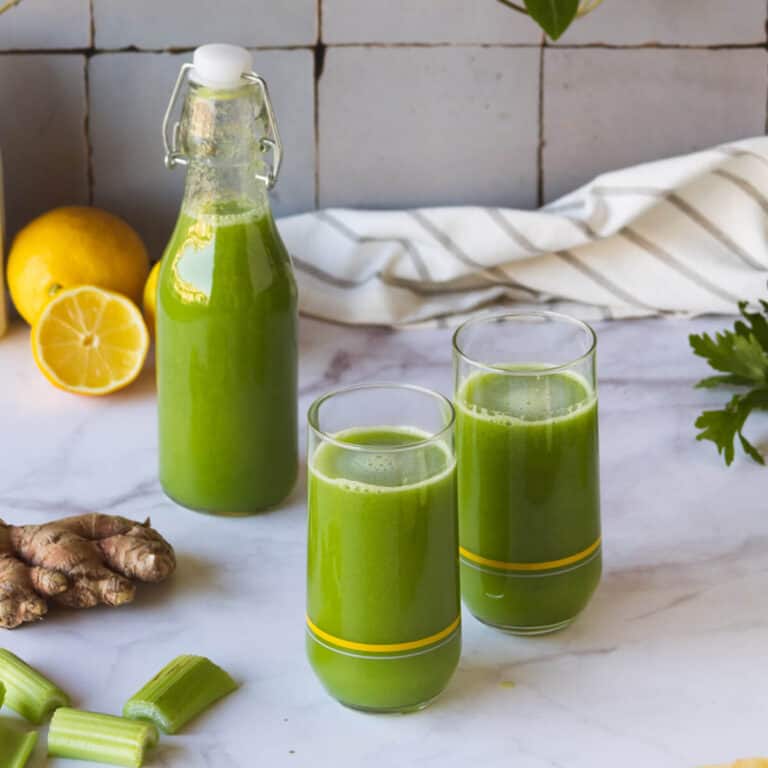 Morning Green Celery Juice
A morning cup of celery juice with fresh ginger can have the same benefits as a 10-day vacation. Learn how it works and why you should try this powerful weight loss and anti-inflammatory drink
Equipment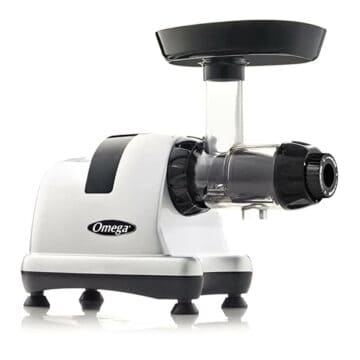 (affiliate link)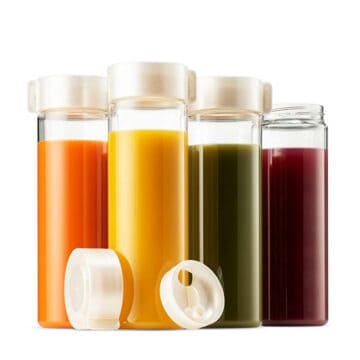 (affiliate link)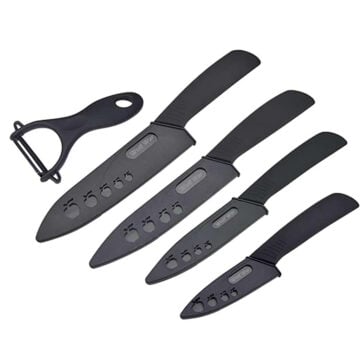 (affiliate link)
Ingredients
3

cups

celery

about 4 stalks

1

green apple

cored and coarsely chopped

1

knob

ginger

fresh, about 1 inch
Optional
½

lemon juice

or lime juice, fresh
Directions
Rinse the celery, apple, and ginger.

Chop. Depending on the Juicer you have, you may be able to throw everything in the Juicer without cutting it; if not, take out the apple's core.
Makin Celery Juice with a Juicer:
Start introducing all the ingredients, combining the leaves and solids to prevent the juicer from getting stuck.

Serve fresh or store close in a container for a maximum of 24 hours, although it is recommended to have it freshly juiced.
Makin Celery Juice with a Blender:
Place the celery in a blender and blend until smooth.

Strain through a strainer, cheesecloth, or nut-milk bag and serve.

Serve fresh or store close in a container for no more gthan 24 hours.
Notes
It is unnecessary to peel the ginger; the Juicer will do it all.
If you want to thin the juice a little, you can add about half a cup of water.
To make Celery Juice without a juicer, check how in the post.
Nutrition Facts
Calories:
74
kcal
Carbohydrates:
18
g
Protein:
1
g
Fat:
1
g
Saturated Fat:
1
g
Sodium:
123
mg
Potassium:
506
mg
Fiber:
5
g
Sugar:
12
g
Vitamin A:
729
IU
Vitamin C:
9
mg
Calcium:
67
mg
Iron:
1
mg
Nutrition Facts
Morning Green Celery Juice
Amount per Serving
% Daily Value*
* Percent Daily Values are based on a 2000 calorie diet.
🌡️ Food safety
Cook to a minimum temperature of 165 °F (74 °C)
Do not use the same utensils on cooked food, that previously touched raw meat
Wash hands after touching raw meat
Don't leave food sitting out at room temperature for extended periods
Never leave cooking food unattended
Use oils with a high smoking point to avoid harmful compounds
Always have good ventilation when using a gas stove
See more guidelines at USDA.gov.
Nutritional Disclaimer
The information shown is an estimate provided by an online nutrition calculator. It should not be considered a substitute for a professional nutritionist's advice. See our full Nutritional Disclosure here.
Affiliate Disclaimer
Please note that some of the links here are affiliate links, and I will earn a commission if you purchase through those links. I recommend all of the products listed because they are companies I have found helpful and trustworthy.