Are you looking for a unique and delicious way to give your health an instant boost? If yes, then look no further than these amazing Apple, Lemon, Carrot, and Spinach Juice Shots! These truly tantalizing little shots are packed with all the vitamins, minerals, and antioxidants you need to maintain your health. Not only do they taste fantastic, but drinking this healthy concoction will mean feeling energized, revitalized, and even better than before! Read on to learn more about why these juice shots are like liquid gold for your well-being.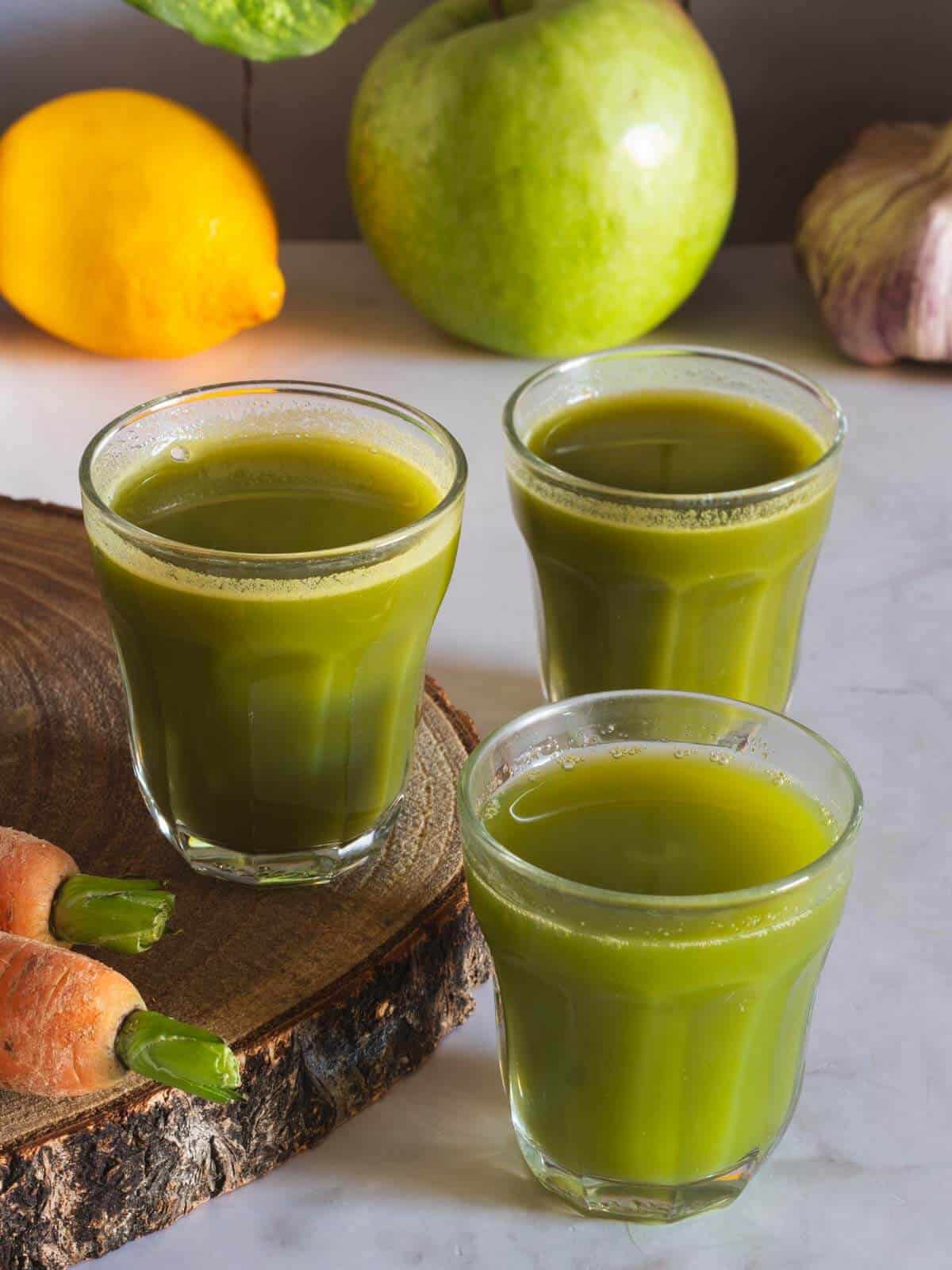 We constantly create new functional smoothies, health shots, and juices to fit seasons' juicing needs. The cold months usually come with flu season, and preparing to fight those pesky viruses is key.
Add these health shots with garlic and lemon to your morning routine to set the high your immune system needs to stay healthy. This juice is packed with essential vitamins, minerals, and antioxidants, which help you get your daily dose of greens.
Jump to:
🧾 Ingredients
These juice shots are made with just a few delicious ingredients.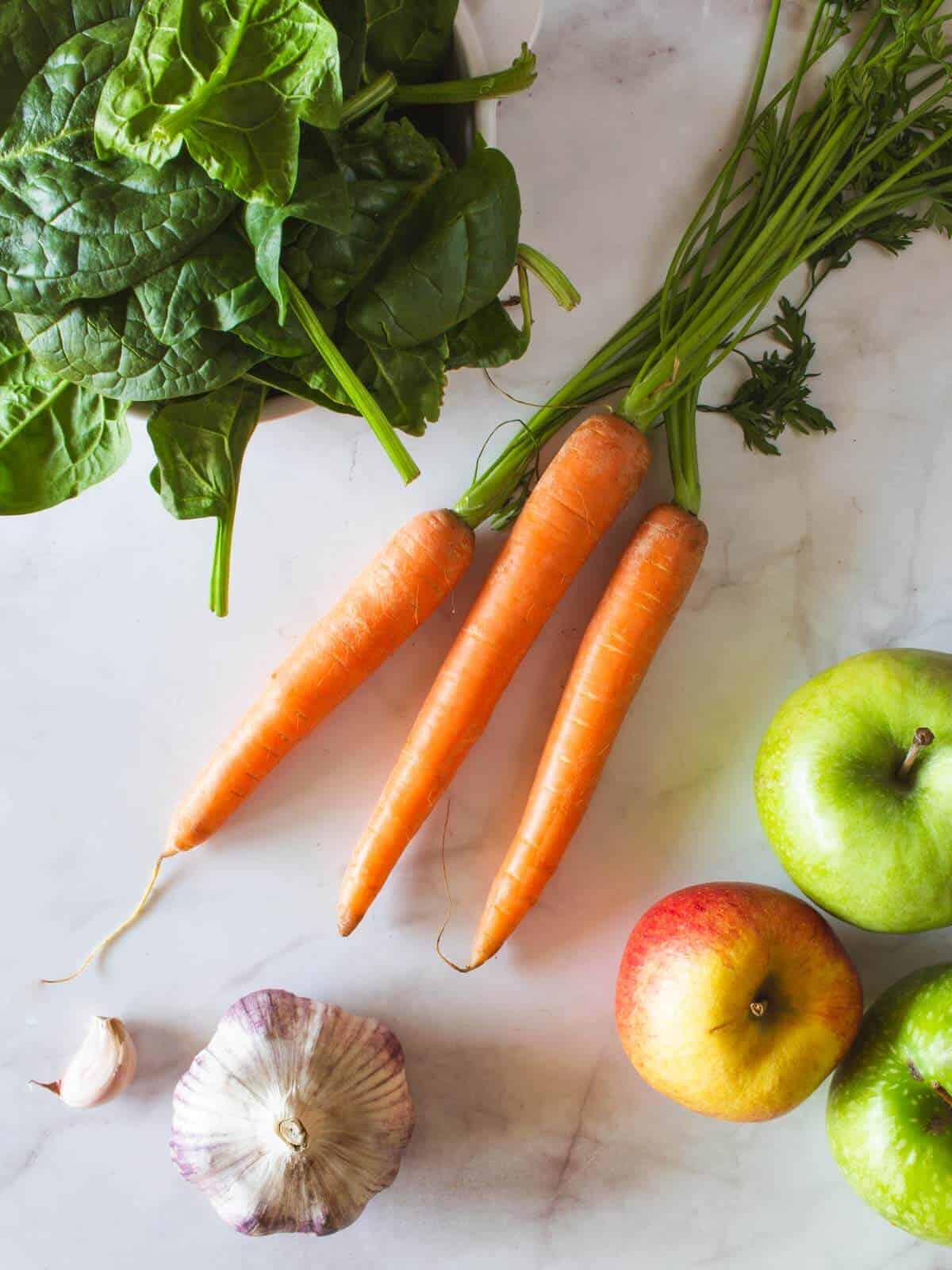 Carrot 🥕 - adds sweetness and is a great way to add nutrition and color to many dishes. It is an excellent source of beta-carotene, which may help protect the skin from sun damage and helps support eye health.
Spinach 🥬 - brings color and nutrient-dense goodness to your juices and smoothies. It contains vitamins A and C, iron, potassium, magnesium, and calcium.
Apple 🍏 - adds the most fantastic sweetness and richness to your juices. They are rich in fiber, vitamins, and minerals. Apples are also a great source of antioxidants which help fight off free radicals and oxidative stress in your body. Apples are an excellent source of Vitamin C and other important nutrients like calcium, iron, magnesium, and potassium. Apple juices can be used to aid digestion and clear toxins from the body.
Lemon 🍋 - add extra seasonal citrus to your juice shots to brighten up any flavor. Lemons are full of Vitamin C, fiber, and antioxidant flavonoids. They have been used for centuries in medicines to treat various ailments, from the common cold to fever.
Garlic 🧄 - optional on this juice! It has antiseptic and antibacterial properties, helps strengthen the immune system, and can help lower cholesterol. I'm a big fan of adding garlic to my juices, so this is definitely something I'll be trying out.
See the recipe card for quantities.
🔪 Instructions
This morning detox drink involves 3 simple steps.
Washing and preparing your ingredients. Peel the lemon. Removing the skin and white parts. Also, peel the optional garlic clove.
Chopping in sizable chunks.
Juicing your veggies and fruit.
You will be left with the pulp but use it for compost or a smoothie.
Hint: if you don't have time, you can freeze the pulp and use it for pulp muffins or carrot cake later (only if you didn't add the garlic clove).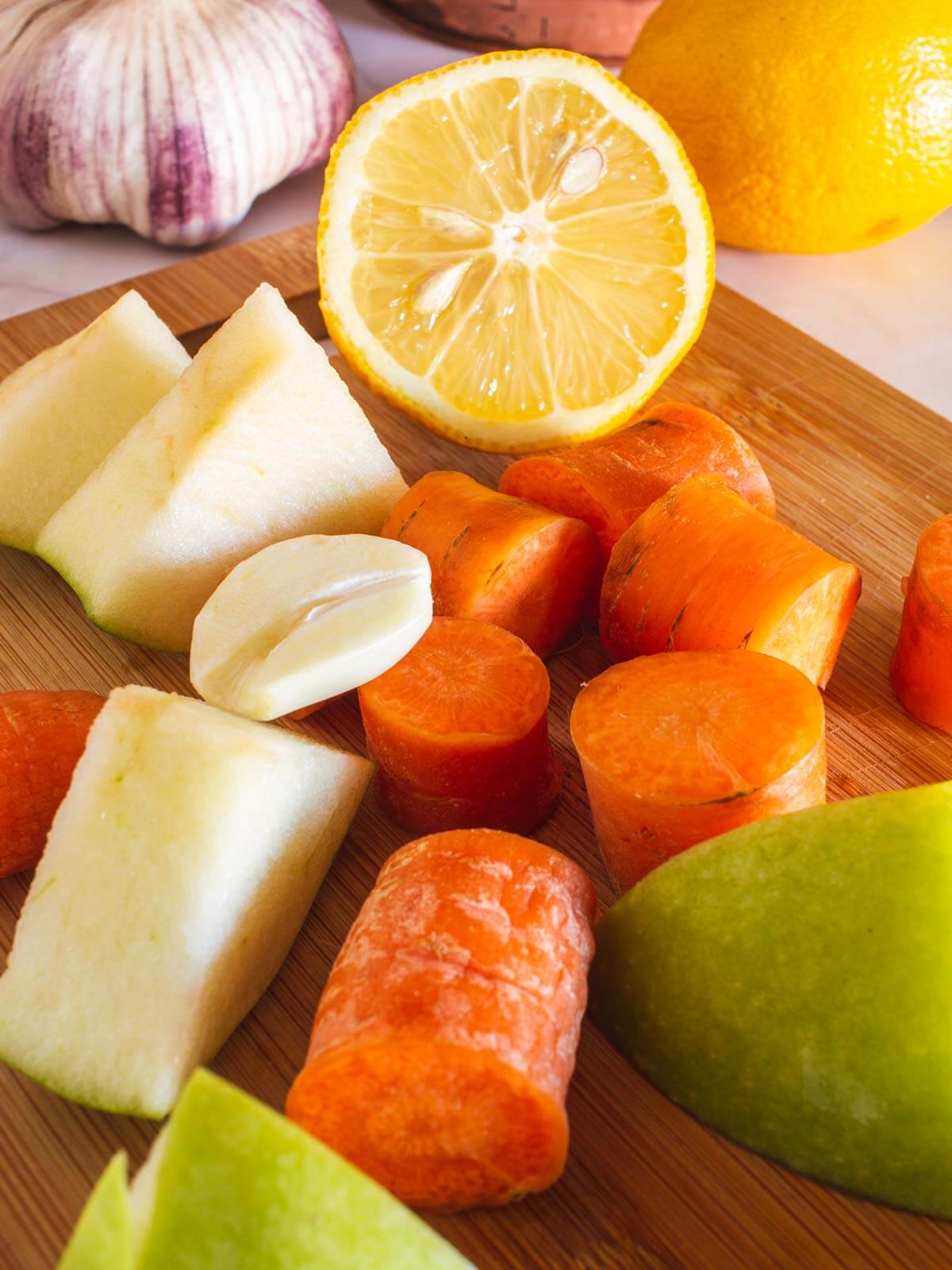 If you choose to add the garlic, don´t forget to remove the inner germ, to get minimize its strong flavor and make it easier to digest.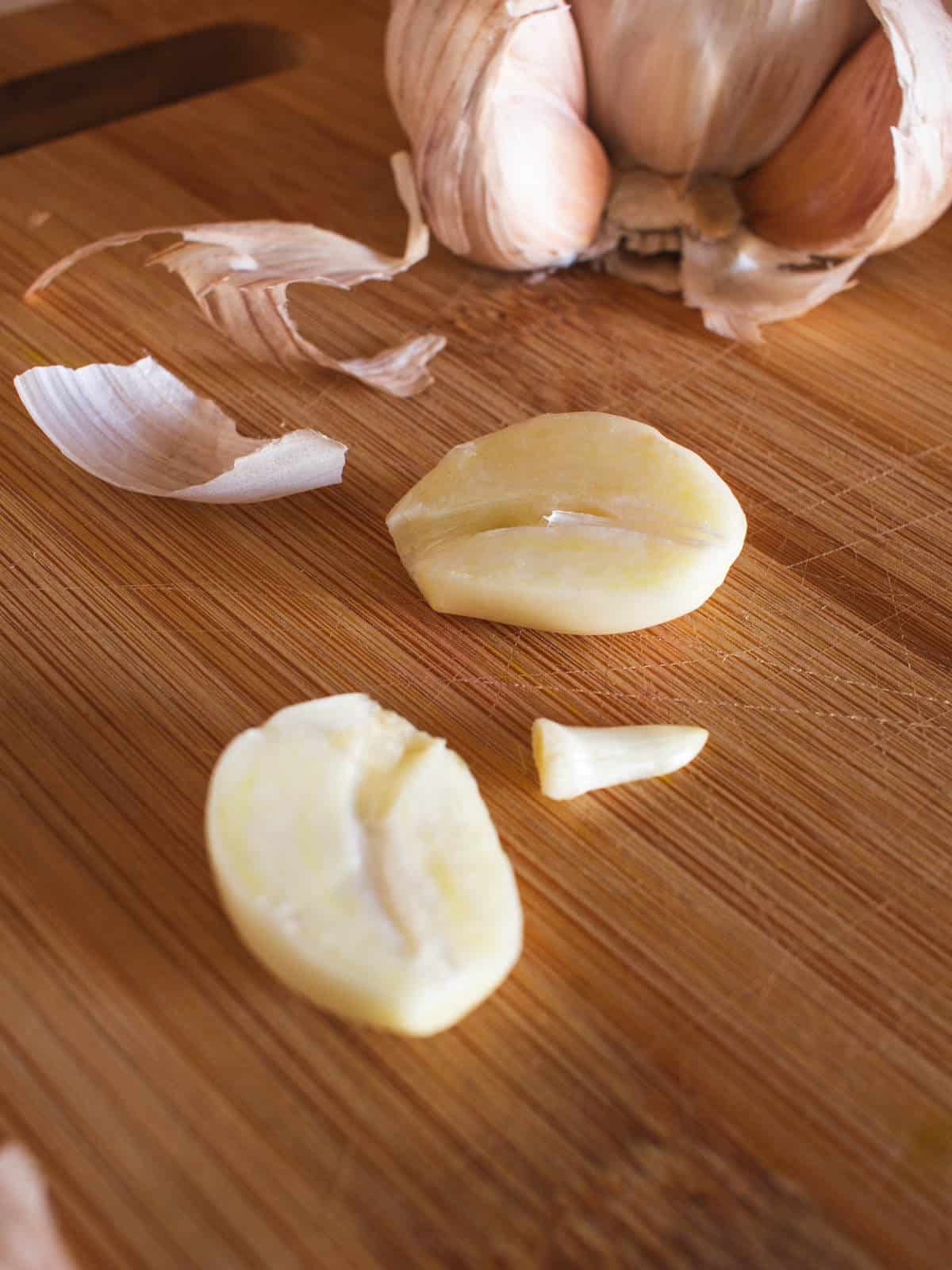 Hint: if you want to make these lemon garlic health shots juice but don't have a juicer yet, you can use a blender with a nut milk bag to separate the remaining pulp from the fresh juice.
Read on: how to juice without a juicer (fully-explained technique) or see how to do it for this drink on the recipe card.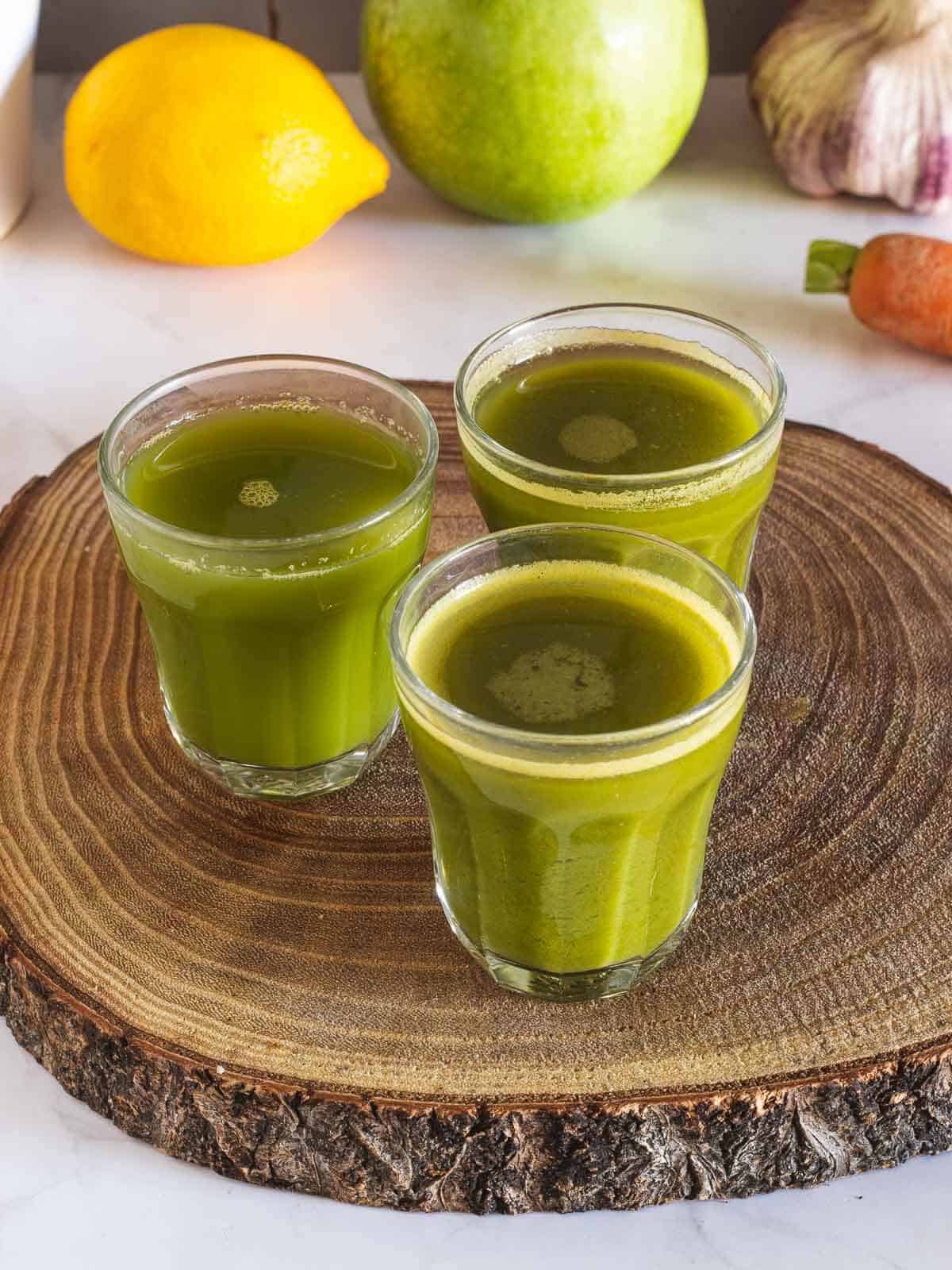 See our juice storing tips to understand better how to keep your leftover juices and retain as many of their ingredients' nutrients as possible.
🍶 Substitutions
Spinach - you can substitute with other leafy greens such as kale or collard greens.
Apples - use any kind of apples you like. Use red apples for a sweeter note and green apples for a tangy note. See juicing green apples with spinach.
Lemon juice - use limes instead or substitute for other citrus fruits such as grapefruit or oranges.
Garlic - you can omit it if you find it too overpowering, or you can sub for ginger root.
🥕 Variations and more carrot juice recipes
Try out some carrot ginger juicer variations with the following:
🍽 Equipment
Juicer - choose a cold-pressed juicer over a centrifugal juicer. they are a little more expensive but are definitely the best option in the long run. Cold-pressed juicers yield more liquid, and since there is no heat involved as there is in centrifugal users, your juice preserves more nutrients.
OR
Blender- if you don't have a juicer, you will need a high-speed blender

(affiliate link)

and,
Mesh strainer- when making juice, use a regular colander or nut milk bags. We recommend using the same ones we use to make almond milk.
Bowl - It is always better to use a large bowl

(affiliate link)

to work the blender method without making a mess in the kitchen early in the morning.
🥡 Storage
Store this carrot juice in a BPA-free (affiliate link), tightly sealed container in the fridge for up to 3 days.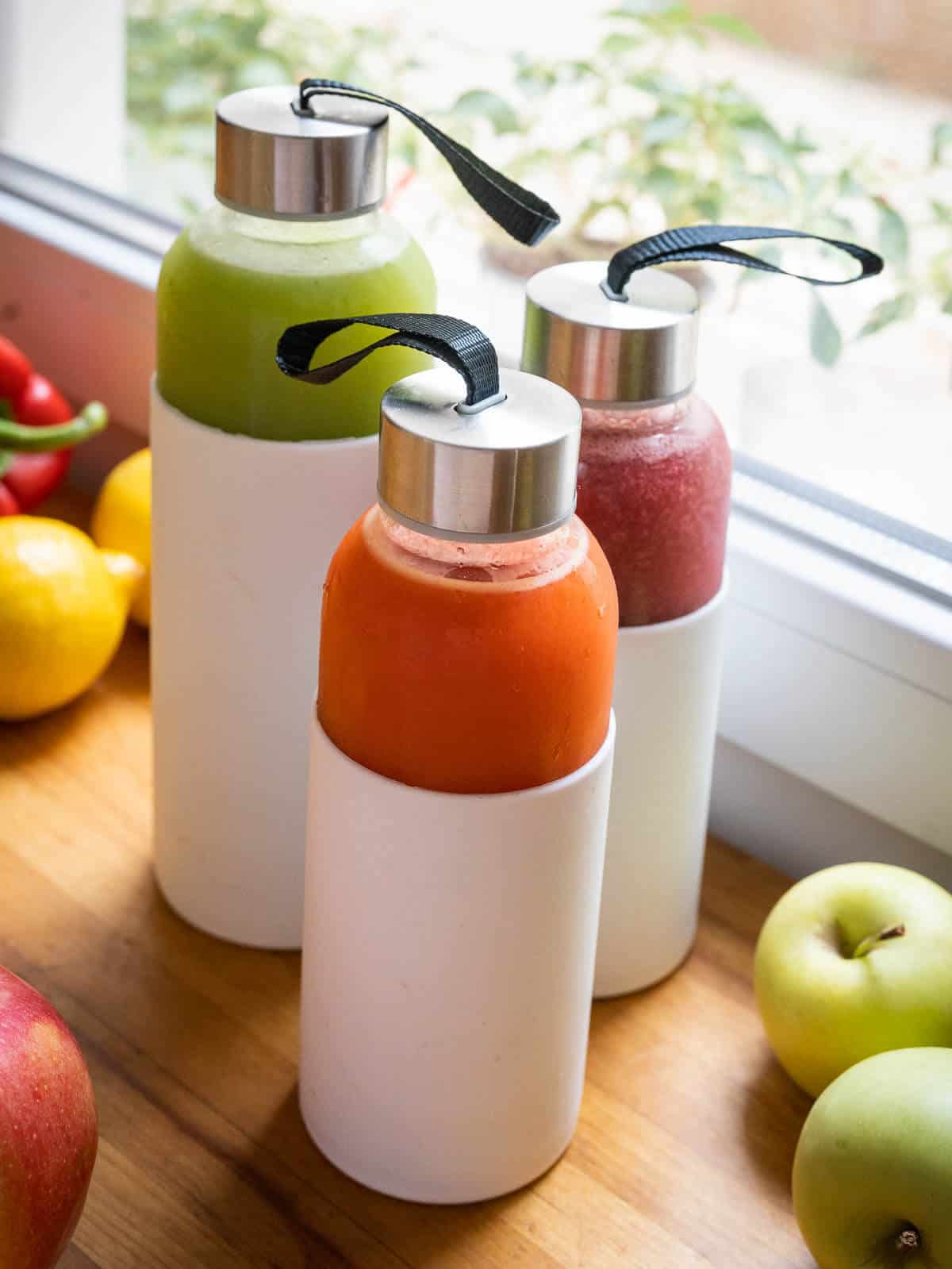 You can freeze your health shots in an airtight container, but it doesn't stand up well to freezing for more than 3 months. It will never reach the same nutrient density as fresh juice, but you will still enjoy its health benefits.
✅ Apple Carrot and Spinach juice benefits
Let's talk about the benefits of this juice.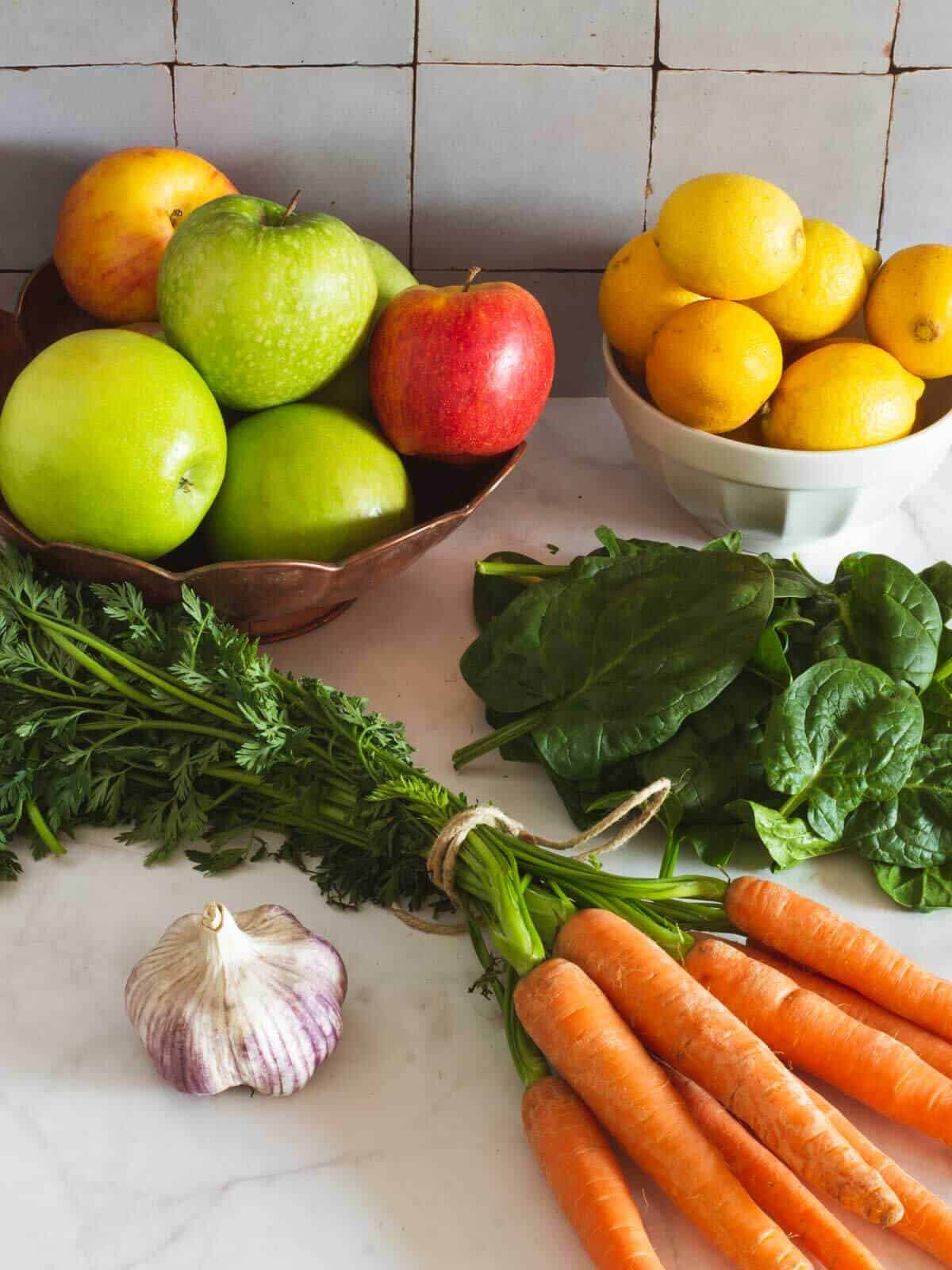 Carrot and spinach juice is an excellent choice when it comes to healthy drinks. Carrots are rich in beta-carotene, which helps boost your immune system, regulate metabolism, and even reduce the risk of certain diseases such as cancer. Additionally, carrots contain lots of vitamins A, C, K, and B6 that can help improve eye health and protect skin from sun damage.
Spinach is a powerhouse of nutrients, too - it's full of antioxidants called carotenoids that can reduce inflammation in the body & prevent DNA damage caused by free radicals; plus, it's packed with Vitamin K for strong bones and even contains iron for energy production!
Putting these two together gives you an incredibly nutrient-dense drink with numerous benefits.
Drinking carrot and spinach juice regularly will provide your body with essential vitamins and minerals required for growth and development; promote better digestion; improve cardiovascular health; enhance immunity against various infections; aid weight loss efforts, and much more - all without adding any artificial sweeteners or preservatives to your diet!
Thus, this delicious yet nutritious concoction should definitely be incorporated into every health enthusiast's routine if they want to stay fit and healthy while enjoying the natural goodness of its ingredients.
❓ FAQ
Are health shots worth it?
Health shots have become a big trend in the last few years for a good reason. Generally speaking, health shots are small doses of concentrated natural ingredients that can enhance your overall well-being. Whether or not this type of product is worth it depends on several factors.
For starters, let's talk about the health benefits associated with taking health shots. There has been plenty of research to suggest that certain herbs and supplements can improve overall health and wellness, reducing inflammation markers in the body and improving digestion and immunity functions. Health shots contain some beneficial ingredients such as turmeric, ginger, garlic, citrus, probiotics, and apples packed full of vitamins like Vitamin C, which help ward off colds and other illnesses while also boosting energy levels throughout the day.
⭐ If you try this apple lemon juice recipe, let us know! 💬 Leave a comment, rate it, and don't forget to tag us @ourplantbasedworld on Instagram. Cheers!
📋 Recipe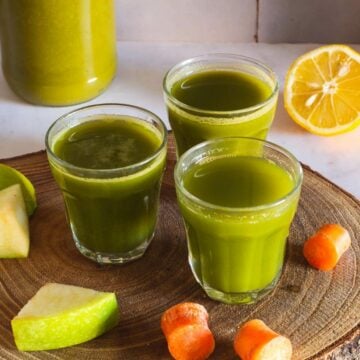 Apple Lemon Carrot and Spinach Juice Shots
These healthy carrot and spinach juice shots are perfect for a quick snack or a light breakfast to clear your respiratory tract and boost your immunity.
Equipment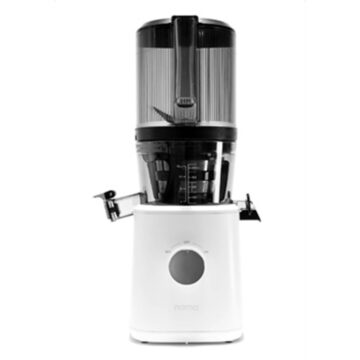 (affiliate link)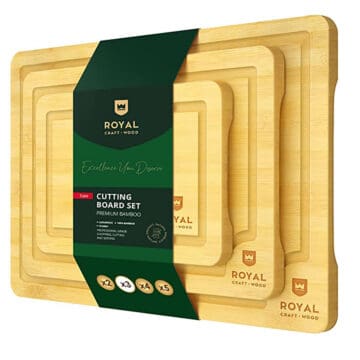 (affiliate link)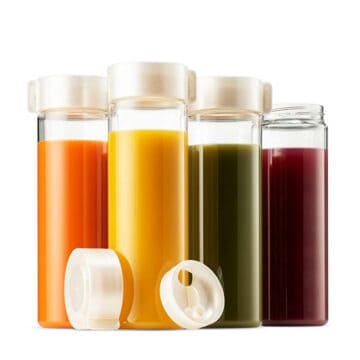 (affiliate link)
Ingredients
Optional
½

tablespoon

garlic

clove, or ginger root
Directions
Chop. Depending on the Juicer you have, you may be able to throw everything in the Juicer without cutting it; or just roughly cutting your produce in big chunks. If not, remove the tops of the carrots.

Juice. Start introducing all the ingredients, combining the leaves and solids, to prevent the juicer from getting stuck.

Thin-up. If you want to thin the juice a little, you can add about half a cup of water in the juicer aperture so it drags some of the rest of the fruits and veggies.

Serve. Or you can reserve the juice for up to 24 hours in a mason jar.
Notes
It is not necessary to peel the ginger; the Juicer will do it all.
You can also add both the carrots and celery stalks and leaves.
I use this

Juicer

. Works very well but I am planning to upgrade to a

Cold-Pressed

one (the benefits are outlined in the article).
Nutrition Facts
Calories:
129
kcal
Carbohydrates:
34
g
Protein:
2
g
Fat:
1
g
Saturated Fat:
0.1
g
Polyunsaturated Fat:
0.2
g
Monounsaturated Fat:
0.03
g
Sodium:
36
mg
Potassium:
459
mg
Fiber:
7
g
Sugar:
22
g
Vitamin A:
6612
IU
Vitamin C:
44
mg
Calcium:
53
mg
Iron:
1
mg
Nutrition Facts
Apple Lemon Carrot and Spinach Juice Shots
Amount per Serving
% Daily Value*
* Percent Daily Values are based on a 2000 calorie diet.
Nutritional Disclaimer
The information shown is an estimate provided by an online nutrition calculator. It should not be considered a substitute for a professional nutritionist's advice. See our full Nutritional Disclosure here.
Affiliate Disclaimer
Please note that some of the links here are affiliate links, and I will earn a commission if you purchase through those links. I recommend all of the products listed because they are companies I have found helpful and trustworthy.