Juicing has become a popular way to increase our intake of fruits and vegetables, but what to do with juice pulp leftovers? Throwing it away seems like a waste, especially since it's still full of nutrients. Fortunately, several creative juice pulp uses and pulp recipes are available and are worth having handy after making fresh juice.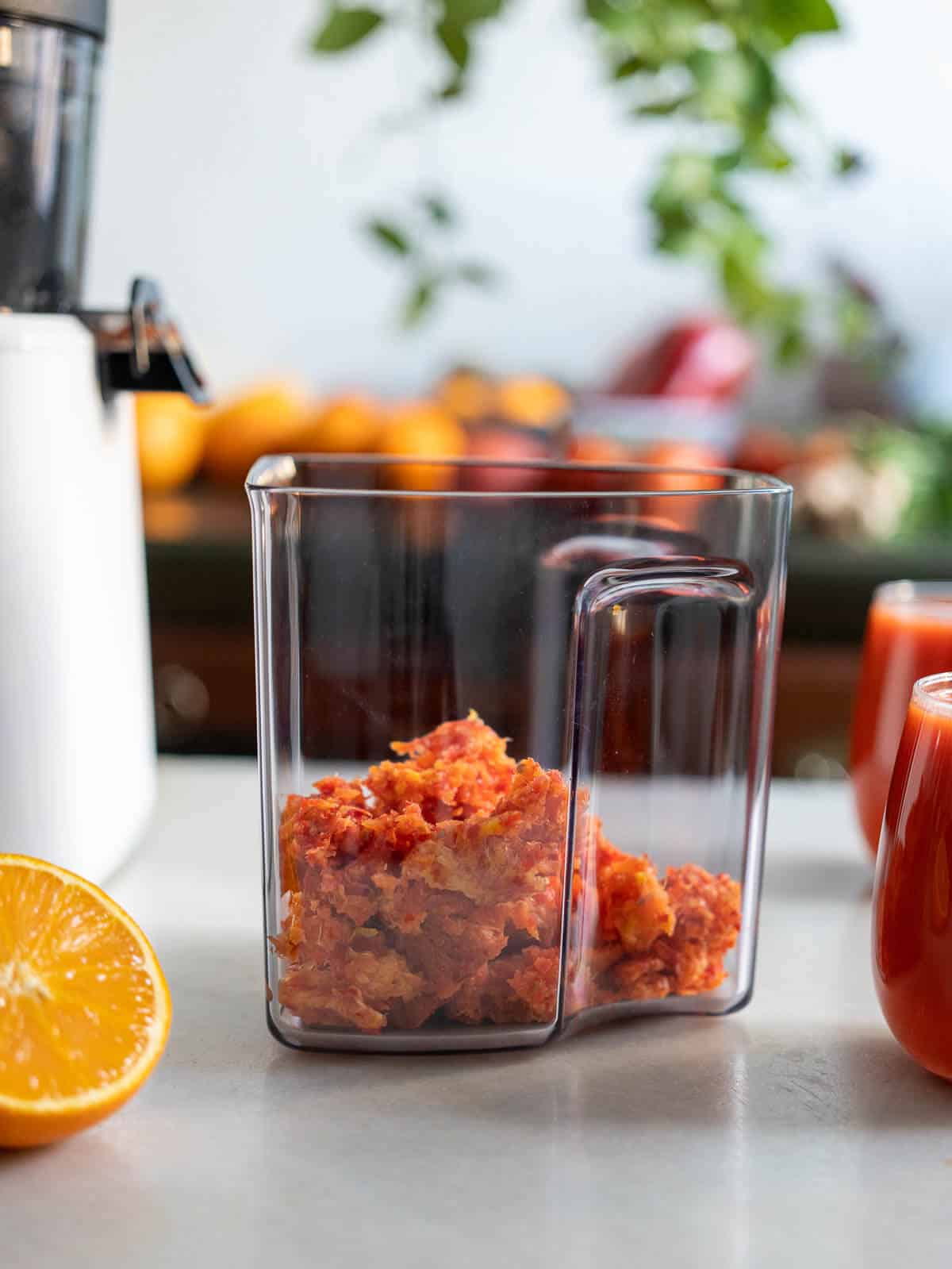 Juicing is a healthy habit that has opened up a world of possibilities, but it also raises questions about what to do with the leftovers, specially after making a large batch. From storing fresh juice to finding creative ways to use juice pulp, incorporating these practices into our routine has helped reduce waste and maximize the benefits of juicing.
Jump to:
1. Make popsicles
Making popsicles with juice pulp is a great way to use up leftover pulp and create a tasty and healthy treat. Here's a simple recipe to make popsicles with juice pulp:
Ingredients:
2 cups of juice pulp (any flavor)
2 cups of water
¼ cup of honey or agave nectar (optional)
Instructions:
In a blender, blend the juice pulp with water until well-mixed and smooth.
Taste the mixture and add honey or agave nectar if desired for extra sweetness.
Pour the mixture into popsicle molds, leaving about ¼ inch of space at the top.
Insert the popsicle sticks and freeze for at least 4 hours or until solid.
To remove the popsicles from the molds, run them under warm water for a few seconds and gently pull the sticks.
Optional: You can also add chopped fruit, such as berries or peaches, to the mixture for added texture and flavor.
With this simple recipe, you can turn leftover juice pulp into a delicious and refreshing treat that's perfect for a hot summer day.
Popsicles with juice pulp are not only a fun and easy way to use leftovers but also a great way to increase your intake of fruits and vegetables while satisfying your sweet tooth.
2. Make veggie broth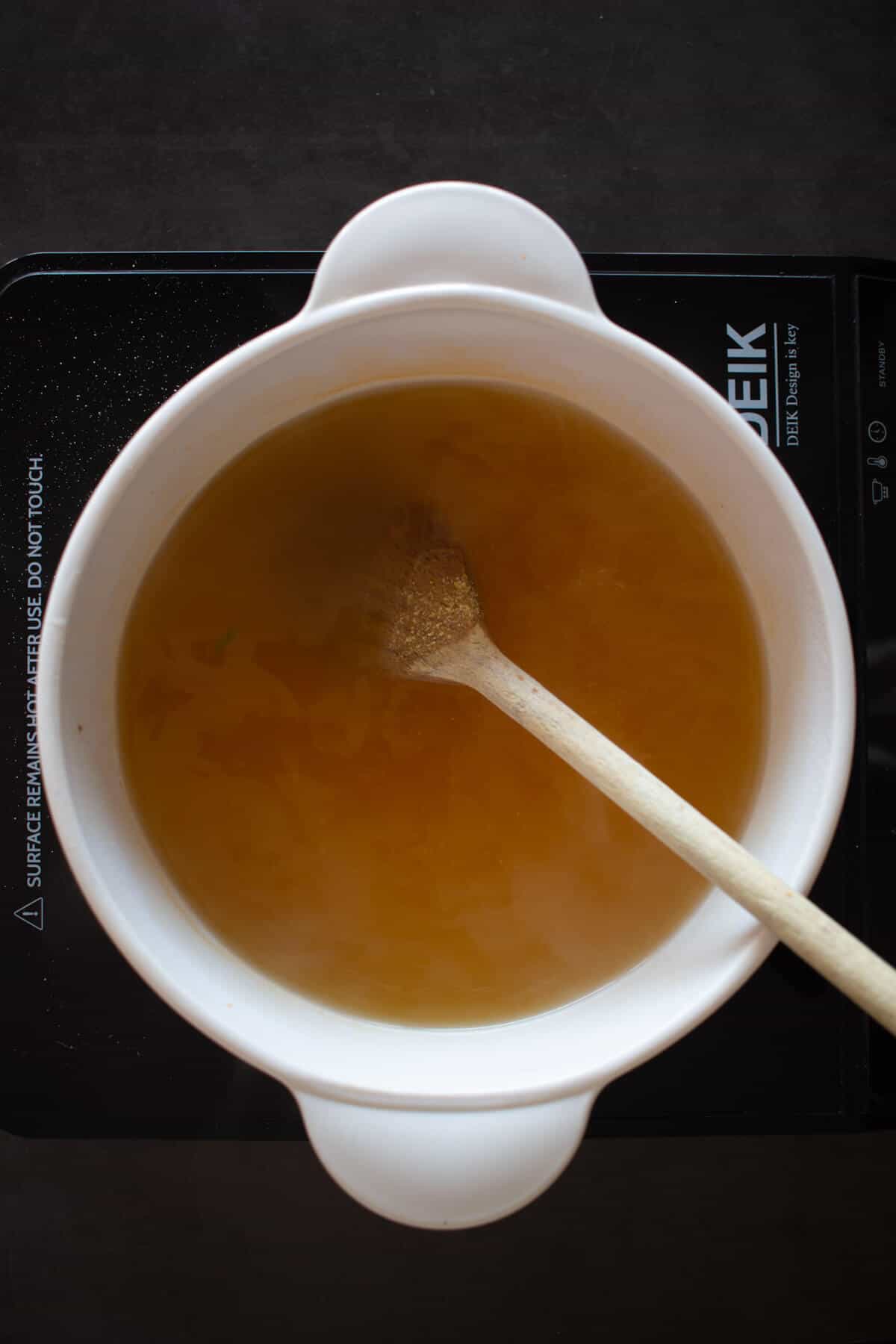 When you make vegetable juice like this diabetic-friendly one, which is low in sugar, don't hesitate to turn it into vegetable broth. Vegetable broth is a flavorful base for soups, stews, and sauces.
To make vegetable broth, collect the juice pulp in a large pot, add enough water to cover the pulp, and bring it to a boil. Simmer for an hour, then strain out the solids. Add salt, herbs, and your favorite spices to taste.
Note: make a veggie broth only from vegetable juice or juices that are made mostly from veggies, otherwise the fruit sweetness can get into
3. Bake with pulp
Another way to use juice pulp is to incorporate it into baked goods. Carrot pulp, for example, can be used to make delicious carrot cake, juice pulp muffins, veggie pulp crackers, vegetable pulp savory muffins, or fiber-rich pulp bread like plum juice when made with a juicer. Similarly, apple pulp can be used in apple crisp, pie, or sauce. Juice pulp can also be added to pancake batter or oatmeal for added fiber and nutrition.
Check out this great quick bread recipe for juice pulp bread.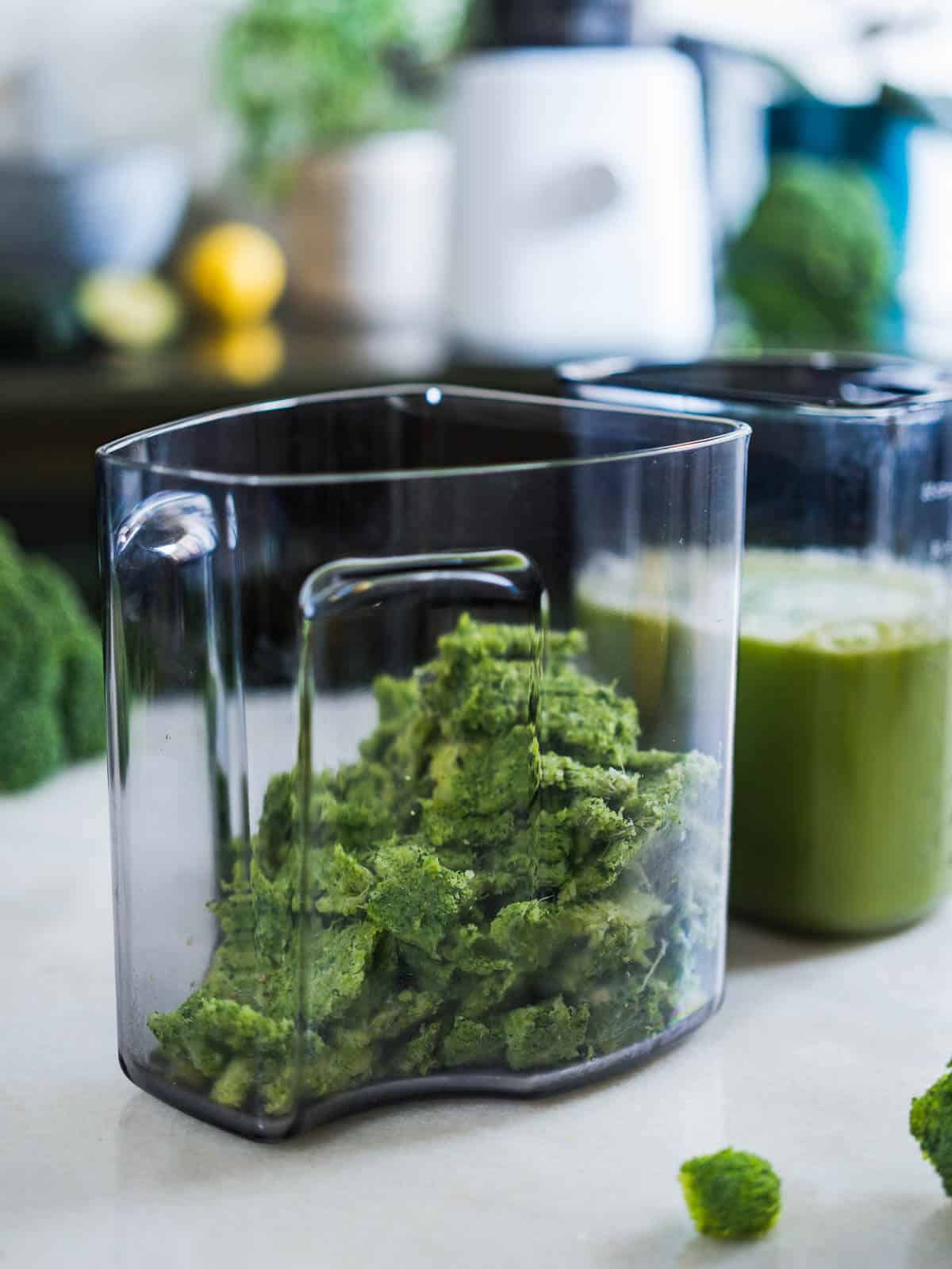 4. Blend in smoothies
Juice pulp can be added to smoothies for added fiber and nutrition. Green juice pulp, such as kale, spinach, or celery, can be added to smoothies to make them more filling and nutritious. Also, fruit pulp, such as apple or pear, can be added to smoothies for added sweetness and flavor.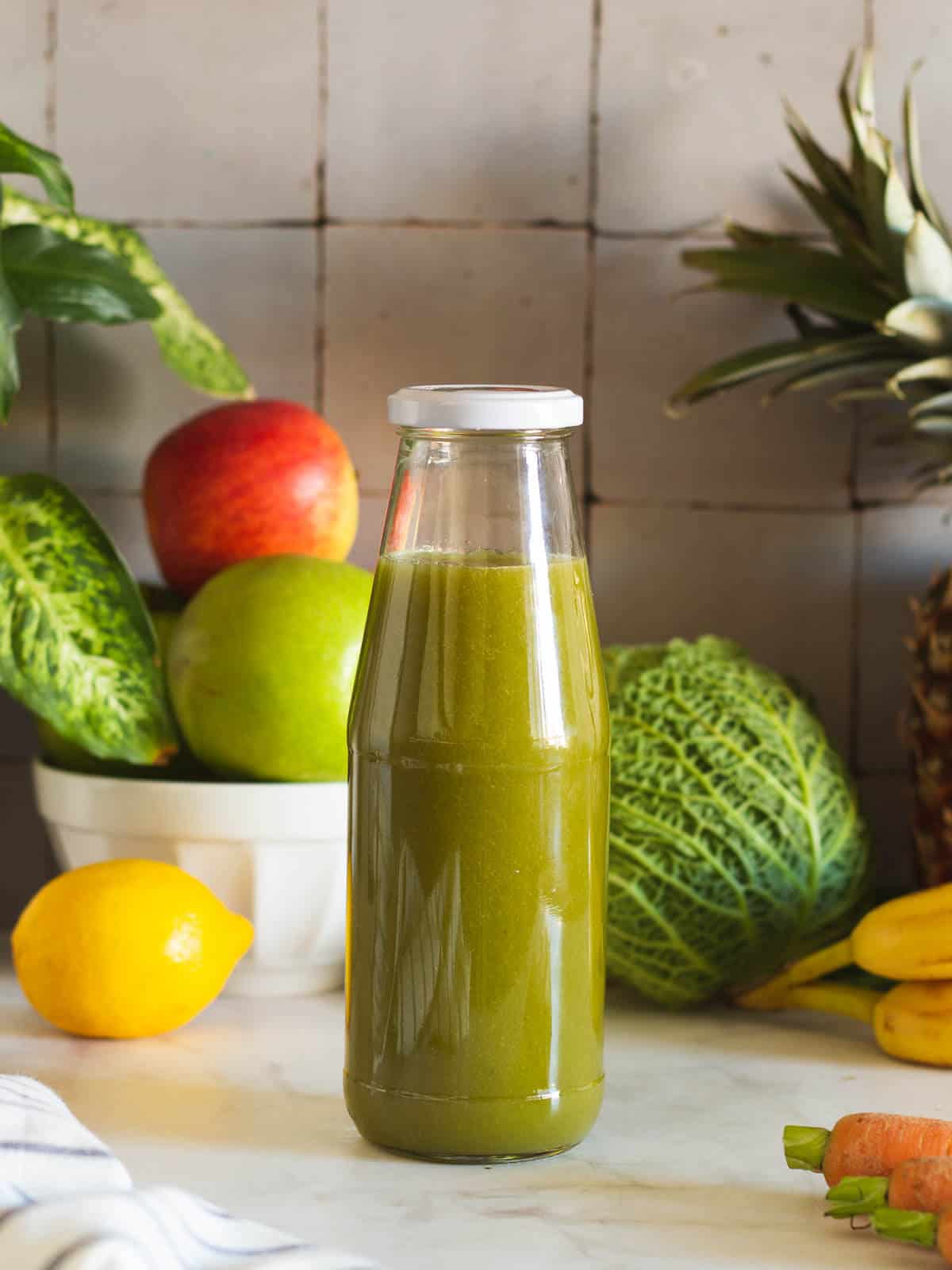 5. Make veggie burgers
You can use the pulp to make delicious and healthy veggie burgers. Simply mix the pulp with cooked quinoa, oats, or breadcrumbs, add spices and herbs, and form into patties. Cook the patties on a griddle or grill until crispy and golden brown.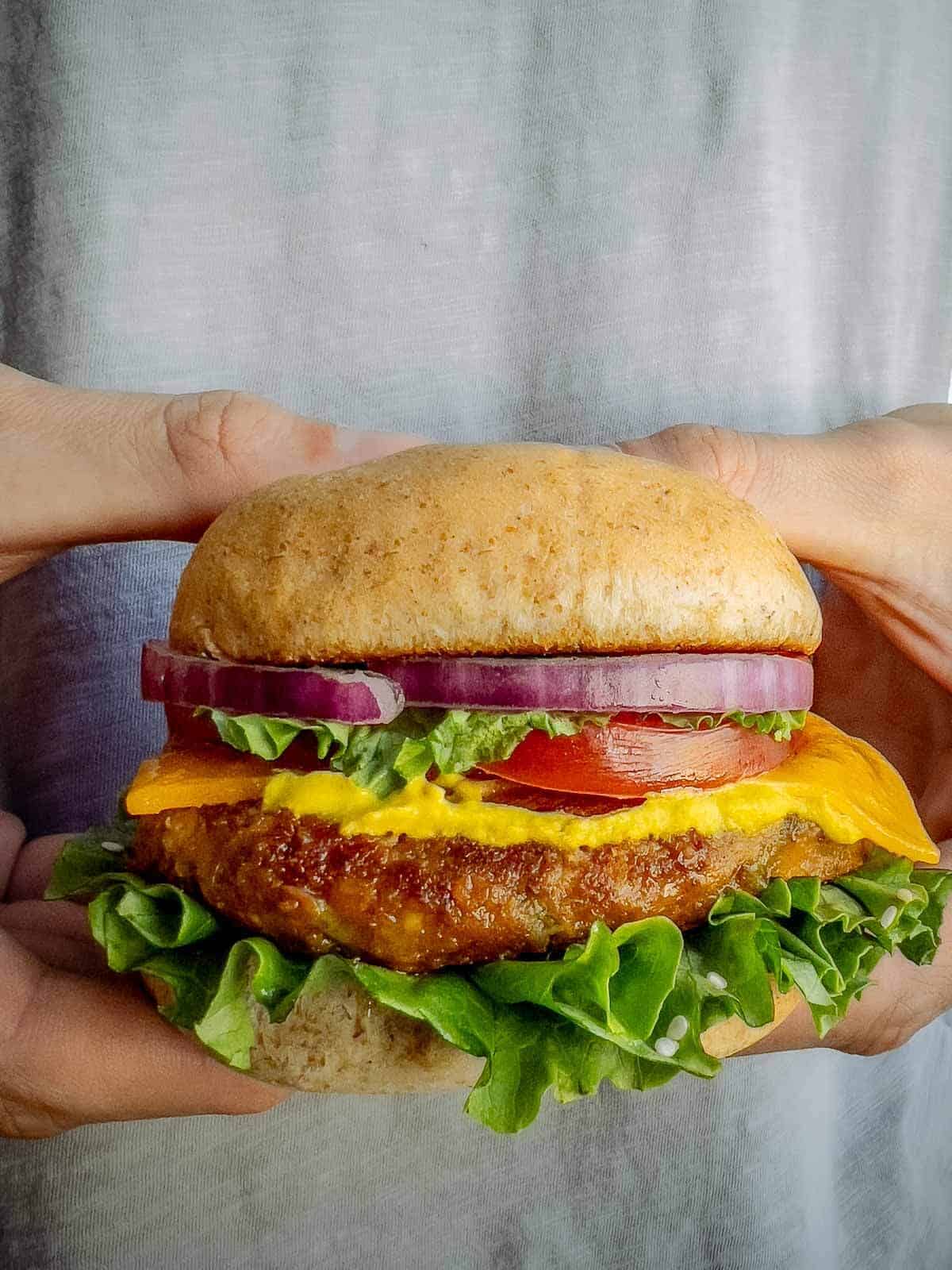 To make veggie burgers with juice pulp, you'll need the following ingredients:
2 cups of juice pulp (choose your favorite veggies pulp. We find our celery juice is a great celery pulp recipe!)
1 cup of cooked quinoa
1 cup of rolled oats
1 small onion, diced
3 garlic cloves, minced
1 teaspoon of smoked paprika
1 teaspoon of ground cumin
Salt and pepper, to taste
Olive oil, for cooking
Here are the steps:
In a large bowl, combine the pulp, cooked quinoa, rolled oats, diced onion, minced garlic, smoked paprika, ground cumin, salt, and pepper. Mix well until all the ingredients are evenly distributed.
Use your hands to form the mixture into patties of the desired size. The mixture should hold together well but not be too dry. If it's too dry, add a bit of water or vegetable broth. If it's too wet, add more oats.
Heat some olive oil in a large skillet over medium-high heat once hot, add the patties, and cook for 4-5 minutes per side or until golden brown and crispy.
Serve the veggie burgers on buns with your favorite toppings, such as lettuce, tomato, avocado, or vegan cheese.
These veggie burgers are a great way to use juice pulp and add extra fiber and nutrients to your diet. They're also perfect for meal prep, as they can be stored in the fridge or freezer and reheated when needed.
We also, love using our red juice and carrot juice pulp to make carrot patties.
6. Use as a filler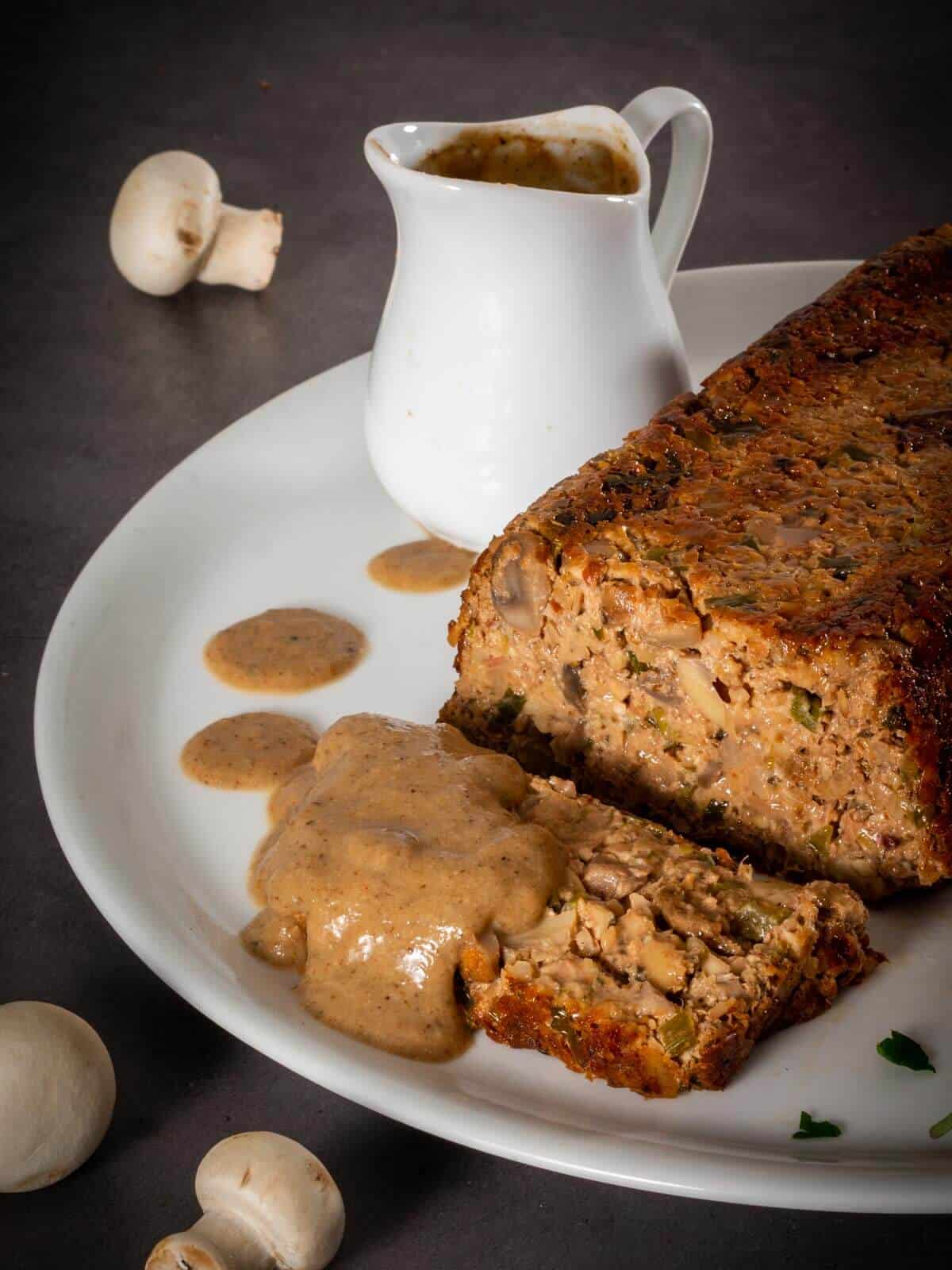 Juice pulp adds bulk and can be used as a filler in meatloaf, meatballs, or casseroles. Simply mix the pulp with ground beef or turkey, add spices and herbs, and bake or cook as desired. The pulp adds moisture and nutrition to the dish while stretching the meat and reducing the overall cost.
7. Feed it to your pets
If you have pets, you can try mixing pulp with other ingredients and feed them pulp as a treat or add it to their regular food. Your furry friend can benefit from the added insoluble fiber and nutrition, especially if they have digestive issues or need to lose weight. Be sure to check with your veterinarian before feeding your pet juice pulp.
Check out this recipe for dog treats using juicer pulp.
8. Add it to bars, energy balls, or granola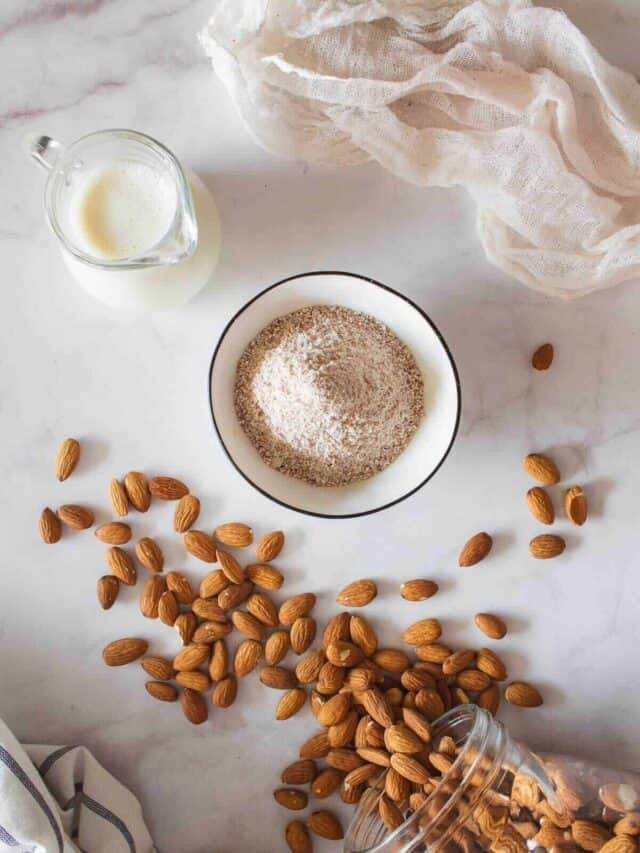 Almond meal from almond milk pulp.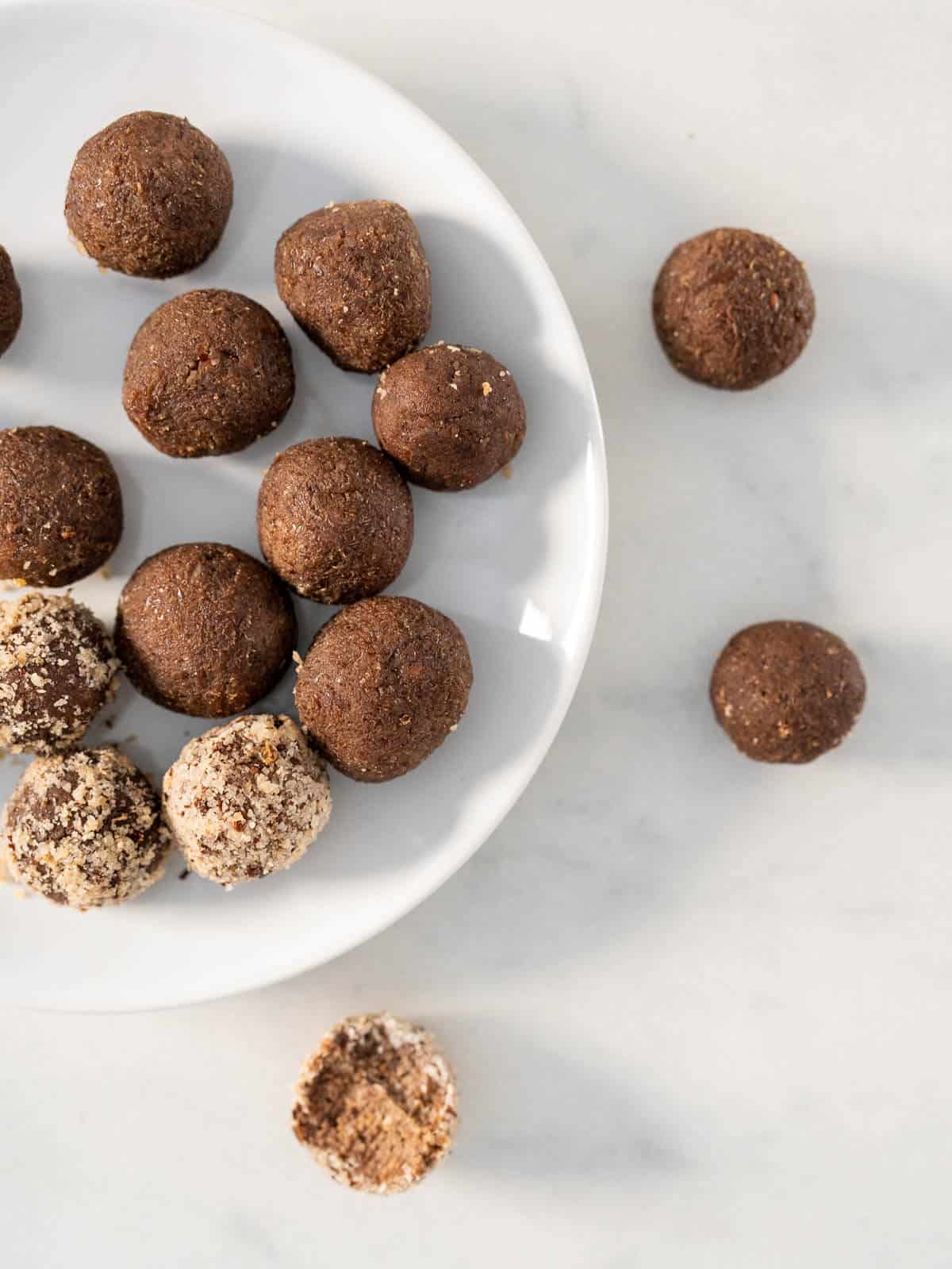 Protein balls made with almond pulp.
Plant milk and juice pulp can be used as a nutritious and flavorful addition to bars and energy balls. Here are some tips for incorporating them:
Choose the Right Type of Plant Milk When using plant milk in bars and energy balls, it's important to choose a type that is thick and creamy. This will help the mixture hold together and prevent it from becoming too dry. Almond milk, Coconut milk, cashew milk, and oat milk are all good options.
Use a High-Speed Blender to ensure that the plant milk or juice pulp is well incorporated into the mixture; it's essential to use a high-speed blender

(affiliate link)

. This will help break down chunks or fibers and create a smooth consistency. Even when you juice without a blender, you may want to strain the pulp out to make your juice 100% liquid.
Adjust the recipe when using plant milk or juice pulp in bars and energy balls, it's important to adjust the recipe accordingly. The added moisture and fiber may require more dry ingredients, such as oats or protein powder, to help the mixture hold together. Be sure to experiment with the recipe until you find the right balance.
Use in Moderation. While plant milk and juice pulp can add nutrition and flavor to bars and energy balls, it's important to use them in moderation. Too much moisture can cause the mixture to become too soft or sticky, making it difficult to handle and form into balls or bars. Start with a small amount and gradually add more as needed.
Refrigerate or Freeze Once you've formed the bars or balls, be sure to refrigerate or freeze them to help them hold their shape. This will also help the flavors meld together and create a more cohesive texture.
Overall, using plant milk and juice pulp in bars and energy balls can be a great way to add nutrition and flavor. With some experimentation, you can create delicious and nutritious snacks perfect for on-the-go or post-workout fuel.
See the recipe for protein balls using almond pulp, from homemade almond milk leftovers.
9. Vegan Flavored Cream Cheese
Making vegan flavored cream cheese with pulp is a great way to reduce food waste and create a delicious, sustainable spread. By using leftover juice pulp in your cream cheese, you're adding fiber and nutrition while also infusing unique flavors into your recipe. With just a few simple steps, you can create a versatile, plant-based spread that's perfect for bagels, crackers, and more.
10. Add it to your yogurt
Add sweet fruit juice pulp to your morning vegan yogurt. We especially like adding our pineapple, cucumber, and lemon juice pulp to coconut-based yogurt. It adds a delightful tropical sweetness to the creamy coconut base!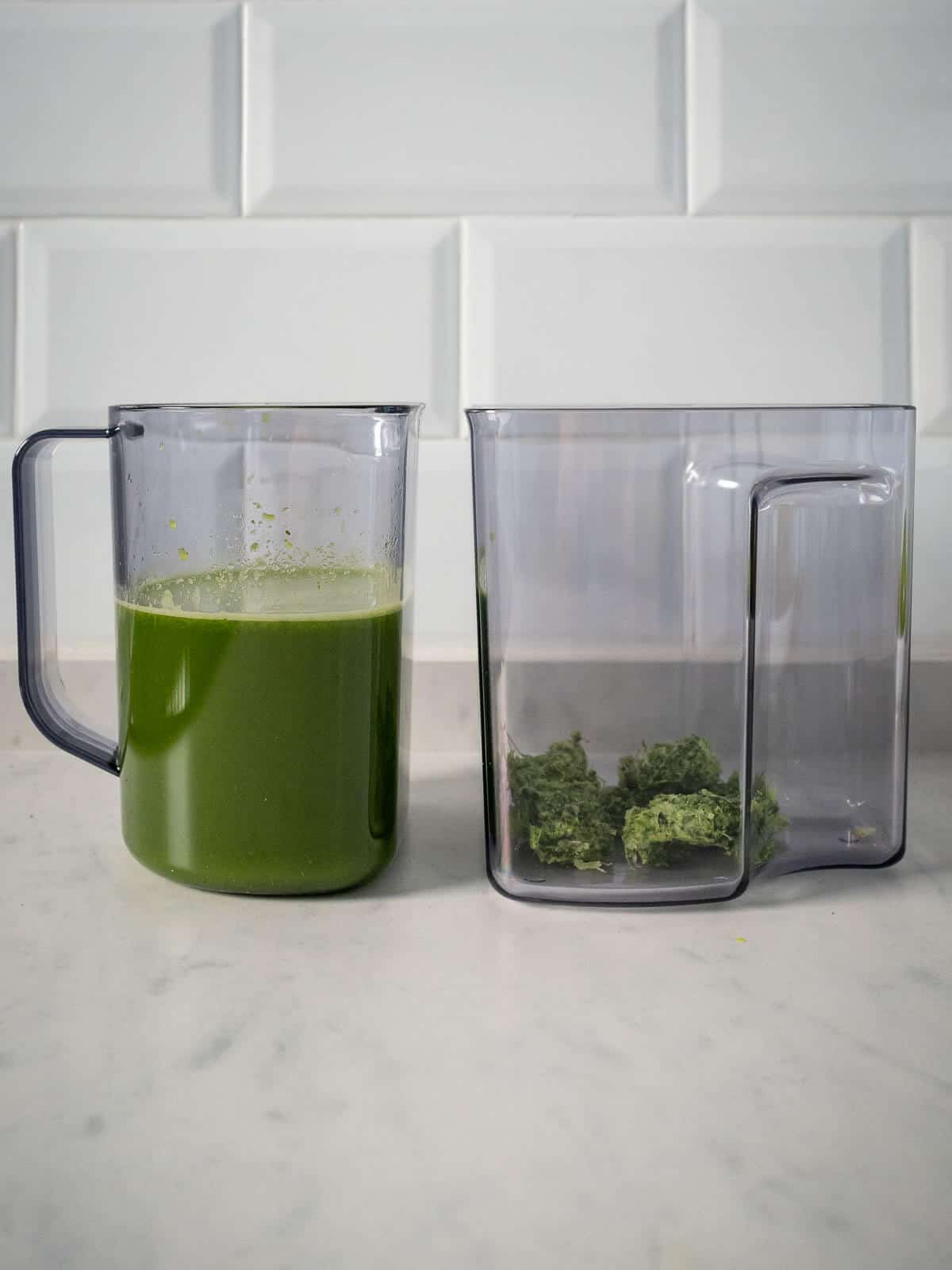 Another great option is using the pulp from pear juice and homemade blueberry juice, which goes perfectly with almond-based yogurt.
11. Add Pulp to Pasta Sauce
Adding juice pulp to pasta sauce is a great way to reduce food waste and add extra nutrients and fiber to your meal. The best juice pulp to add to pasta sauce is usually from vegetables like carrots, sweet potato, celery, and tomatoes, as they complement the flavors of tomato sauce well. By incorporating juice pulp into your pasta sauce, you can create a delicious and nutritious meal while also minimizing waste.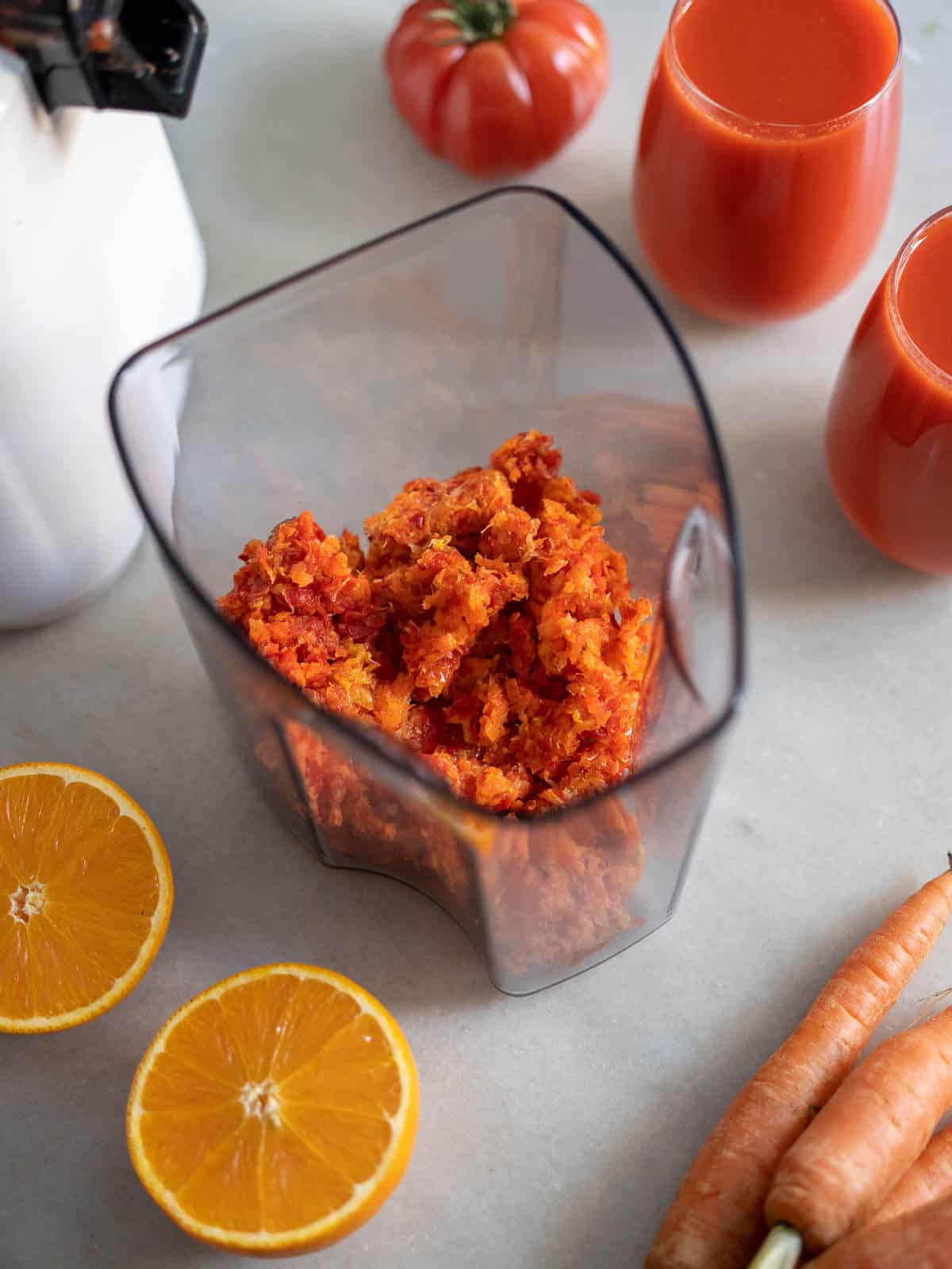 12. Compost It
If you're unsure what to do with your juice pulp, you can always compost it. Juice pulp is rich in nutrients and adds greatly to your compost pile. Mix it with other organic matter, such as leaves, grass clippings, or food scraps, and keep the pile moist and well-aerated.
In conclusion, juice pulp doesn't have to go to waste. There are several creative ways to use it, from making veggie broth and baking with it to blending it in smoothies and making veggie burgers. By finding a use for juice pulp, we can reduce waste, save money, and increase our intake of fruits and vegetables. So, the next time you juice, don't throw away the pulp – get creative and use it in a new and delicious way!