The holidays are a time for friends, family, and feasting. What better way to celebrate this season with loved ones than by serving them delicious vegan mushroom gravy?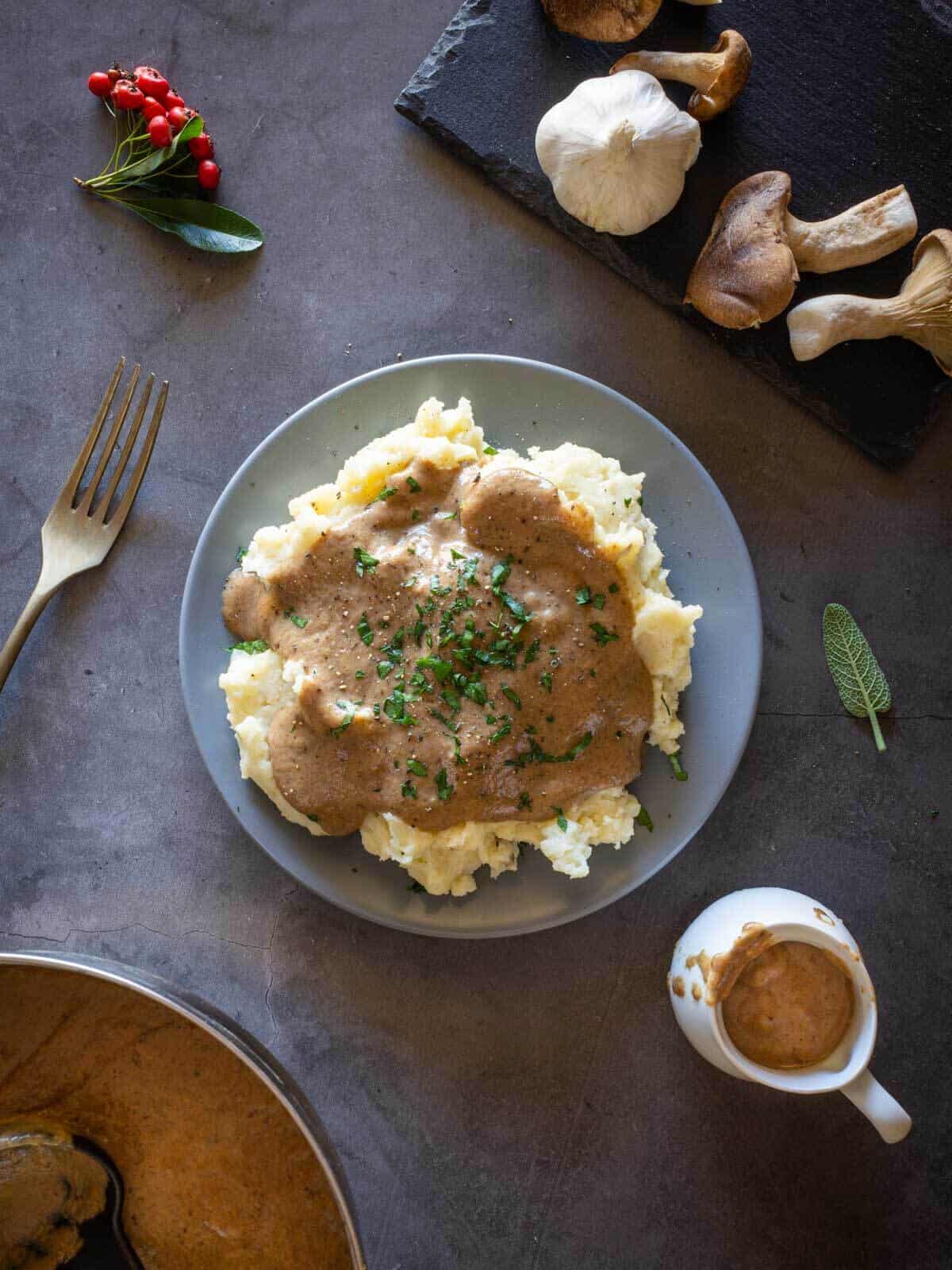 This recipe is easy to make, rich in flavor, and perfect for any holiday table or fall banquet that you may be hosting. You can even use it as an alternative stuffing for Thanksgiving or Christmas dinner!
This tasty gravy is perfect to top your mashed potatoes, or baked potatoes, or to use on top of your holiday roast. We even like using it on plain, perfectly steamed jasmine rice.
Jump to:
💚 Why you will love it
Earthy Flavors: Delight in the deep, umami-rich taste of dried shiitake or porcini mushrooms.
Aromatic Herbs: Fresh sage, thyme, and rosemary infuse this gravy with garden-fresh aromas.
Velvety Texture: Cornstarch gives a luxuriously smooth consistency that perfectly drapes your dishes.
Versatile Use: Ideal for drizzling over your favorite vegan dishes or as a base for other recipes.
Simple Ingredients: Made with everyday pantry staples for a fuss-free cooking experience.
This vegan mushroom gravy recipe is great if you are looking for a gluten-free option as it uses cornstarch as the thickening agent instead of flour as traditional gravy does.
🧾 Ingredients
So What is mushroom gravy made of? You need very simple ingredients, to make a naturally vegetarian gravy.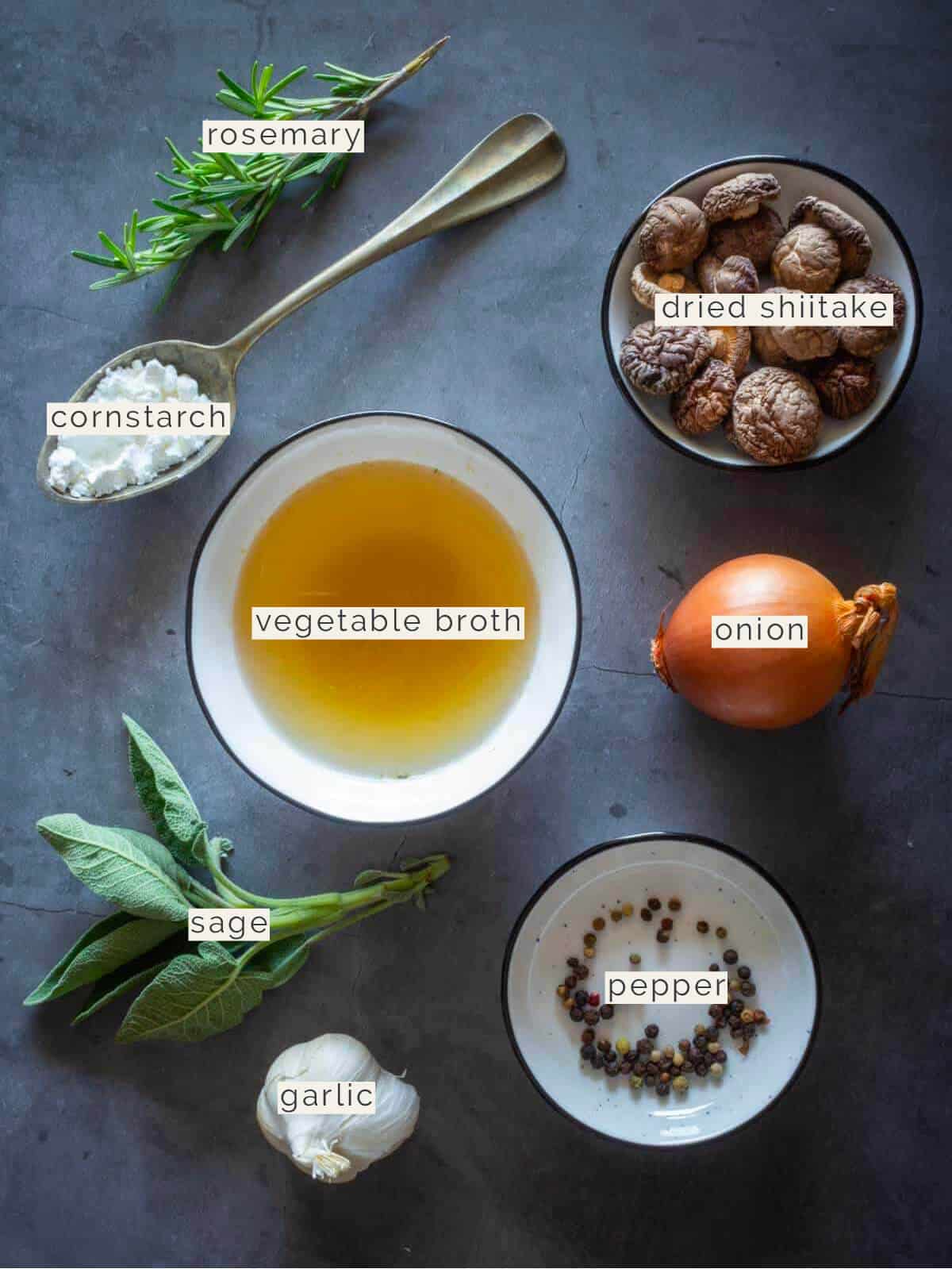 Dried Shiitake or Porcini Mushrooms: Impart a meaty texture and umami depth, perfect for a hearty gravy base.
Vegetable Broth: Acts as a flavorful liquid foundation, infusing the gravy with a rich, savory character.
Onion: Provides a sweet and aromatic quality that complements the earthiness of the mushrooms.
Garlic: Adds a pungent kick, enhancing the overall savoriness of the gravy.
Fresh Sage (or Thyme): Offers a woodsy and peppery note, tying together the rustic flavors.
Fresh Rosemary (or Dried): Contributes a piney aroma and a lemony pine flavor that brightens the robust gravy.
Cornstarch: Thickens the gravy to a luscious consistency without altering the flavor profile.
Optional:
Olive oil, red or white wine, almond milk, and salt and pepper to taste.
Substitutions
Cornstarch: Arrowroot powder or tapioca flour can be used as a thickening agent in place of cornstarch; they both offer a similar texture without the need for corn-based products.
Sage: Marjoram or poultry seasoning can mimic sage's warm and peppery taste, especially in a gravy.
Rosemary: Dried rosemary can be replaced with an equal amount of dried thyme or oregano, which will still impart a Mediterranean aroma and flavor.
Mushroom Type: If dried shiitake or porcini mushrooms aren't available, dried cremini or portobello mushrooms can offer a similar earthiness, or even a mix of wild mushrooms for a complex flavor profile.
🍽 Equipment
What do you need for mushroom gravy?
To make mushroom gravy, you need a large saucepan, a food processor, an immersion blender, or regular blender, and a wooden spoon.
Pro Tip: gravy thickens always when it starts cooling down, even with the time it takes for it to move from the fire to the gravy bowl. Also, the gravy thickens while in the refrigerator and is then reheated.
🔪 Instructions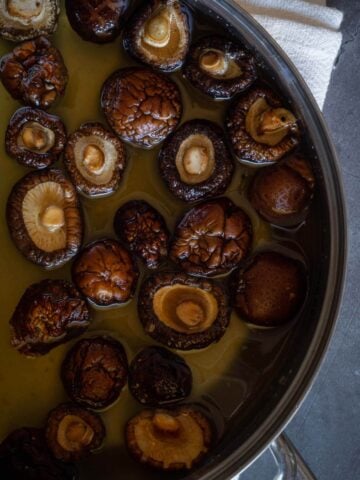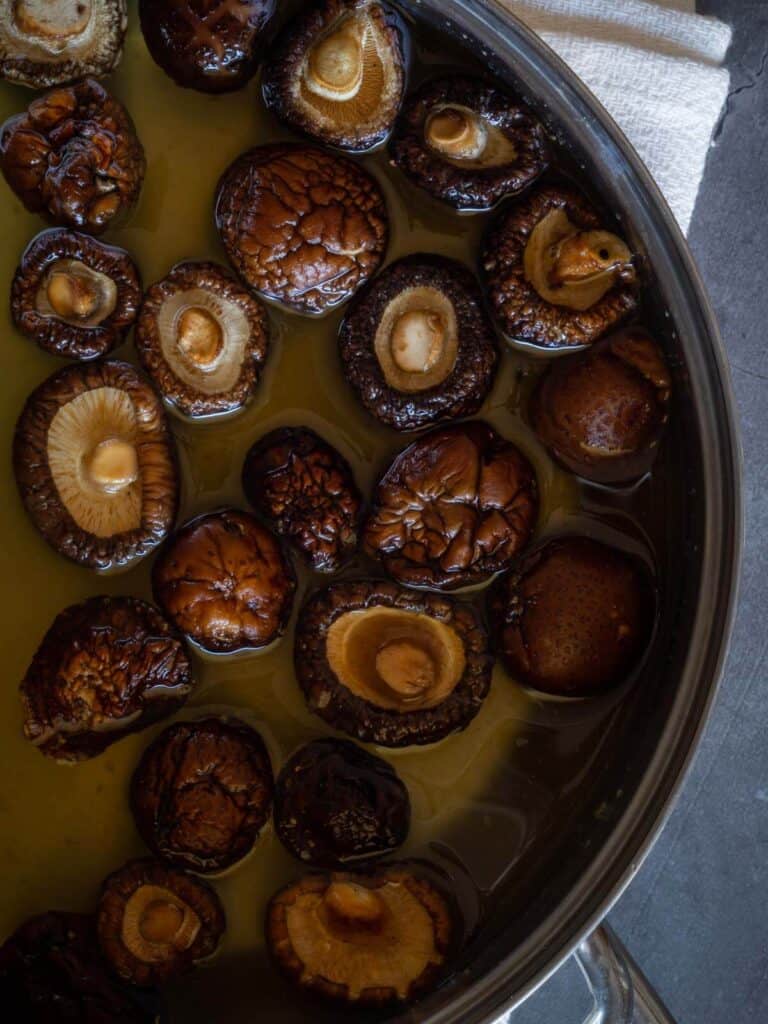 Step 1: Let's start by simmering the vegetable stock along with the dried mushrooms.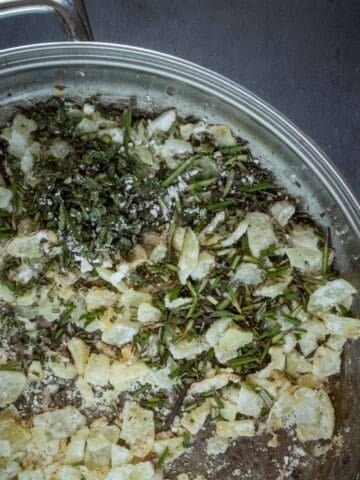 Step 2: Finely chop onion and garlic and add into a large skillet; sautée with olive oil, or water if you prefer not to use oil. Add the freshly chopped sage and rosemary; then add the cornstarch and coat all the ingredients.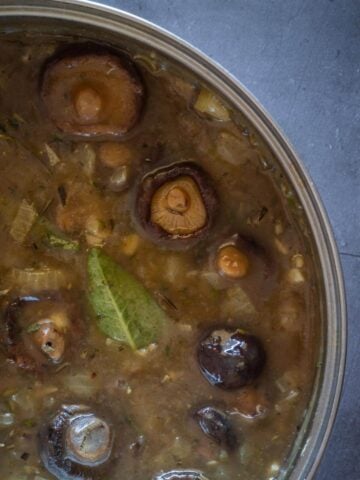 Step 3: Add the mushrooms and stock, stirring constantly while keeping medium-high heat. Turn off and let the mixture cool down.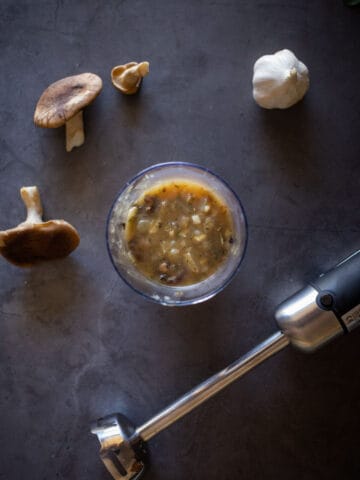 Step 4: Transfer to a blender or use an immersion blender and process the mixture until it is creamy.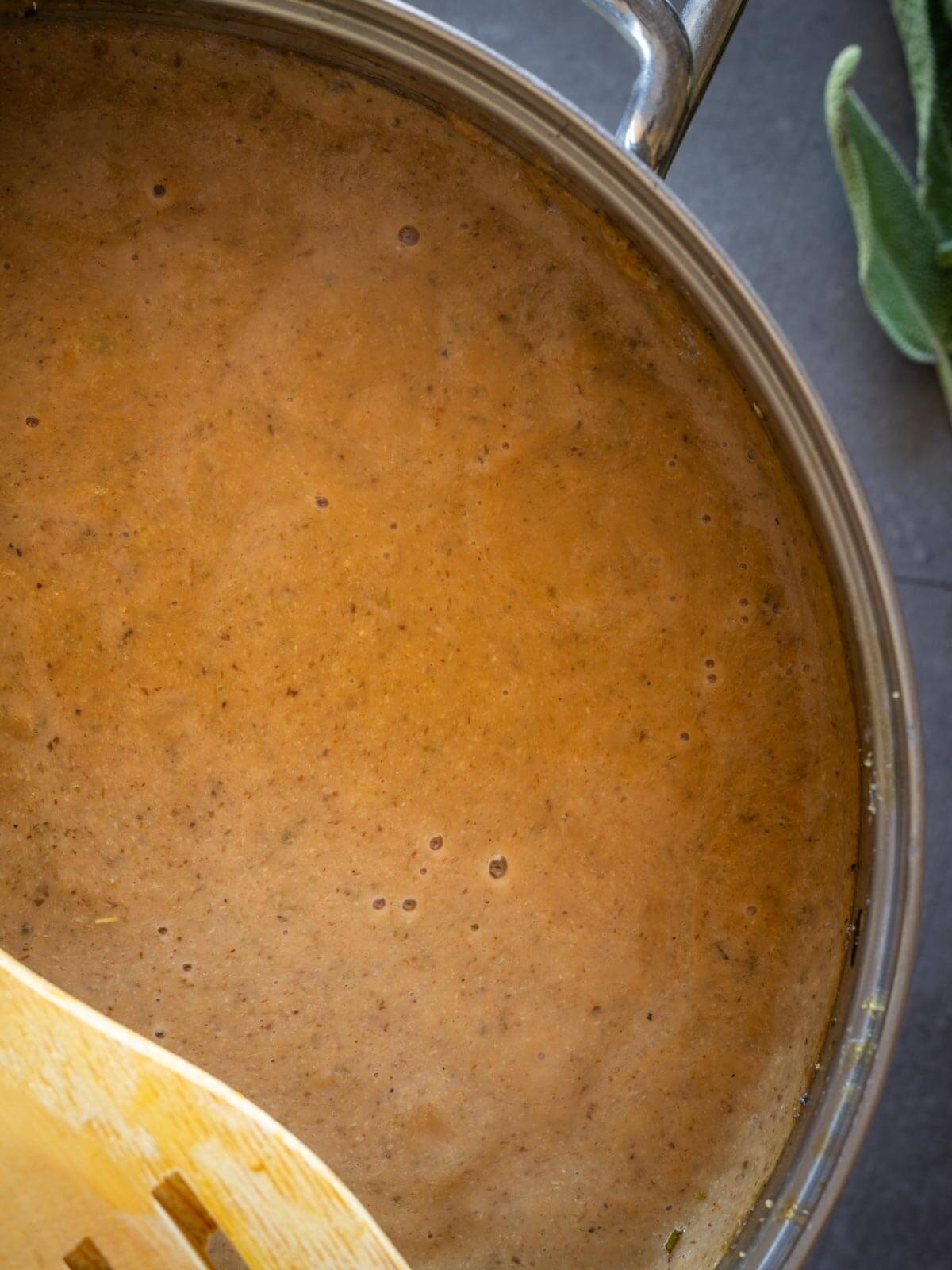 Step 5: Place back in the saucepan and reheat if needed (it's best to warm). Stir and adjust the flavors. Season with sea salt and pepper to taste.
Below are the expert tips to adjust it in case you want to make it thicker or thinner.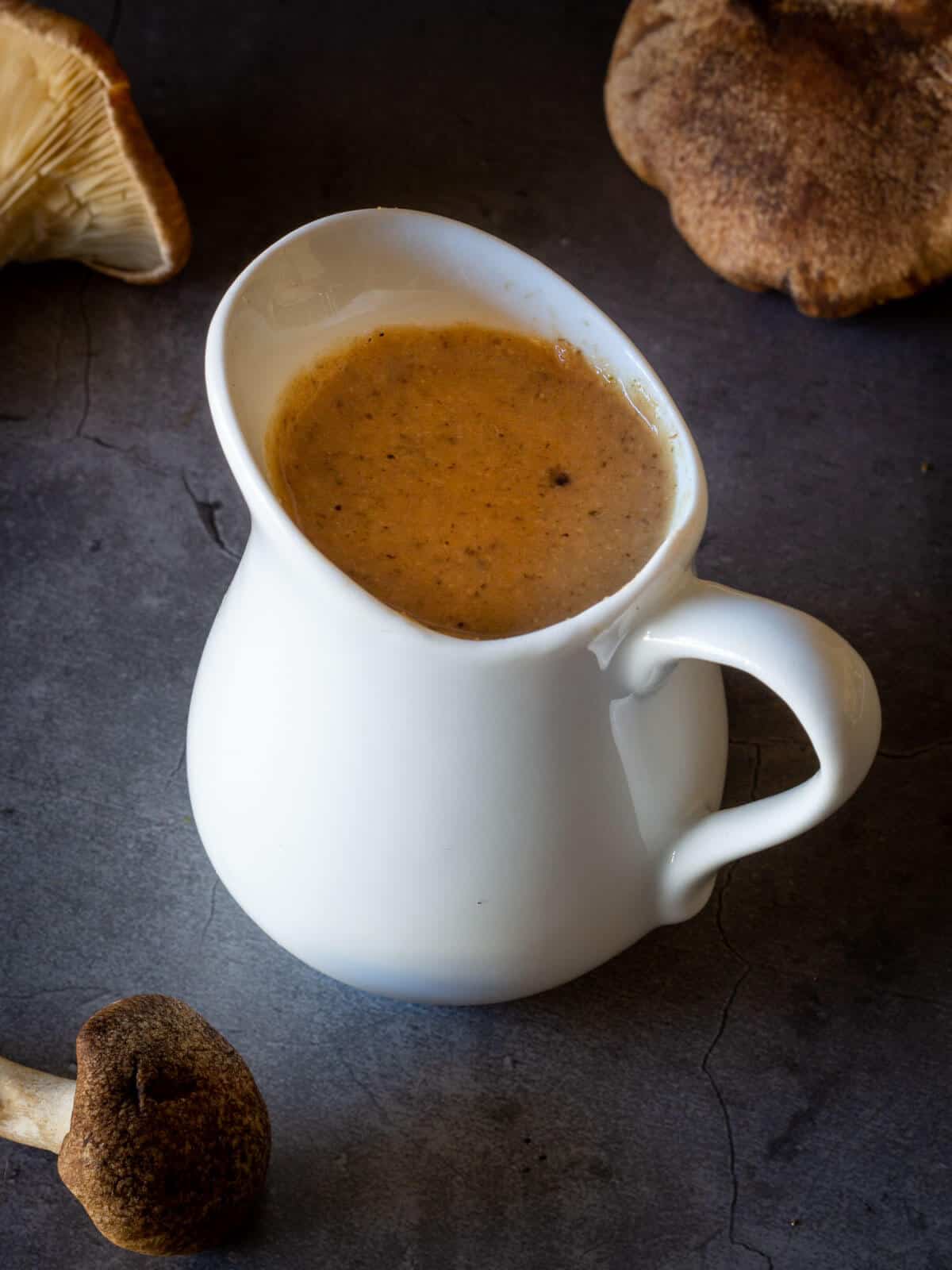 Enjoy this rich and savory vegan mushroom gravy recipe, served hot spooned over vegan meatloaf, mashed potatoes, or holiday nut roast. I promise it will be absolutely delicious, and even meat-eaters will devour it.
It reminds me of one of my favorite mushroom recipes, the mushroom stroganoff.
This mushroom gravy is great because it holds up a lot of umami flavor needed for a good gravy recipe. Umami tends to be more prominent in non-vegan foods.
💡Expert tip
Wondering how to adjust the gravy's thickness? We've got answers!
If your mushroom gravy is too thin, you can scoop out a small portion of the gravy and whisk in a few teaspoons (1-2) more cornstarch (or add flour if you don't need to keep it gluten-free) until no clumps remain.
Then add it back to the larger batch in the saucepan, stirring occasionally for a couple of minutes on medium-low heat – repeat as needed until the desired thickness is reached.
If the gravy is too thick or heavy, thin it with a little of your reserved vegetable mushroom broth, almond milk (to make it lighter), or water. Add your choice of hot liquid and stir until it's hot and boils.
When reheating, it will be very thick and probably require more thinning. Yeah, Gravy. And so is. Have it in the refrigerator. It will be thick. It'll require thinning.
A note on gravy color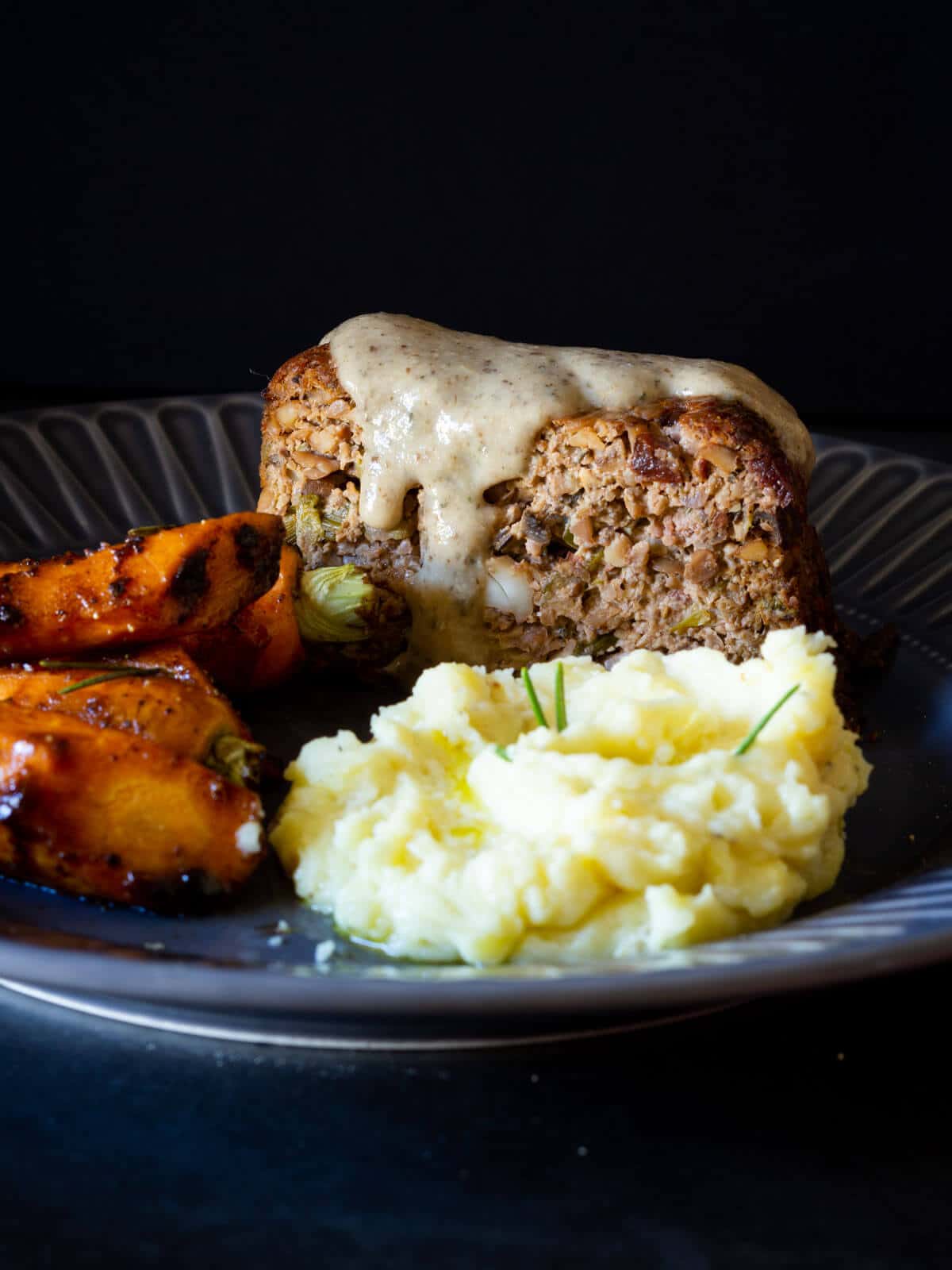 It is determined by the color of the stock/veggie broth you use. Brown bread = lovely brown stew. Adding red wine can also play a role.
Darker color and complexity. You can use leftover red wine just after you finish sautéing the onion and garlic to make a brown mushroom gravy.
📖 Variations
This creamy gravy recipe is versatile, so feel free to adjust ingredients and customize everything your mind desires.
You can also use fresh mushrooms to make this easy mushroom gravy. We suggest using button mushrooms, brown cremini mushrooms, or portobello mushrooms, as they have a more intense flavor and color and thus can provide a richer flavor.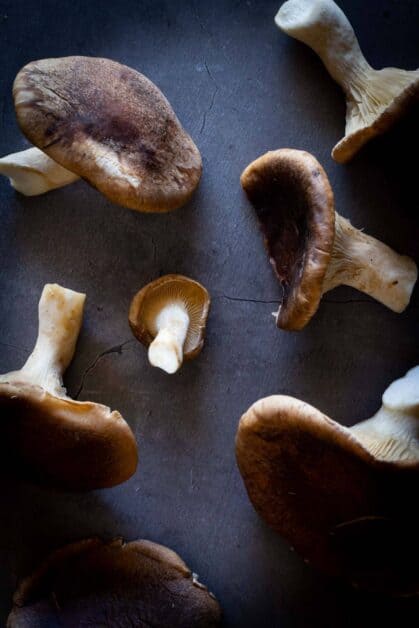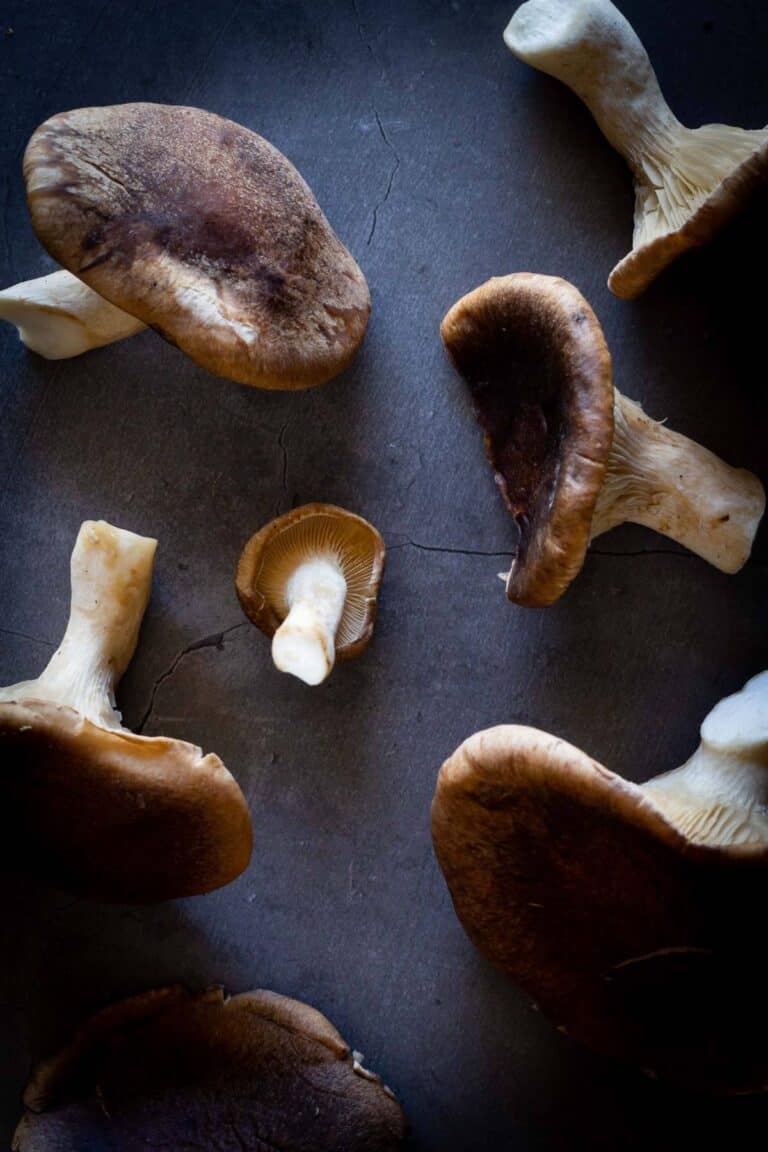 You can use white or red wine during the cooking process; as soon as you finish sautéing the onion and garlic, this will provide a richer and more complex flavor to the mushroom gravy recipe.
Use red wine to make a darker gravy and white wine for a light-colored one.
Look how easy it is to integrate mushrooms into your diet with these great mushroom recipes:
🥢 How to serve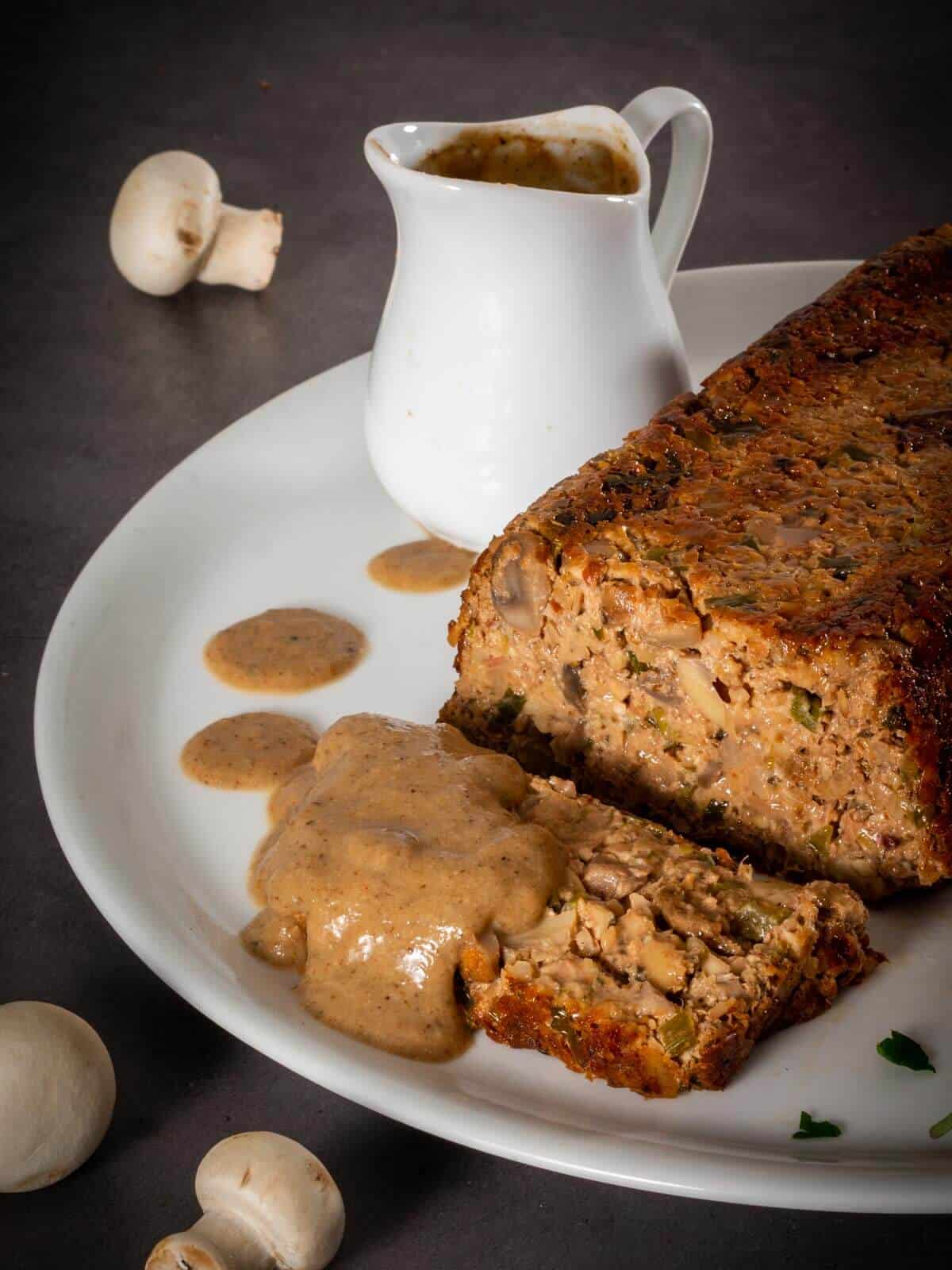 This gravy is the best topping in a vegan schnitzel, vegetarian holiday roast, or veggie roasts. It goes very well on a Christmas dinner table, along with maple-baked tofu marinade, maple-glazed carrots, and Roasted Brussels Sprouts.
This vegan gravy is great for adding flavor and creaminess to dishes that just need that extra flavor punch.
❓ FAQ
What type of mushrooms should I use in mushroom gravy?
You can use all types of mushrooms; you should decide if you want to make a mushroom gravy recipe with a strong or mild flavor, and decide if you are looking into Italian or Asian flavors.
If you are looking for Italian flavors, I suggest using dried porcini mushrooms for strong flavors or fresh Portobello mushrooms for milder flavors.
Instead, if you want a touch of Asian (like we did here), you should use dried shiitake mushrooms for a strong flavor. If you still want Asian-inspired flavors but prefer the gravy to be lighter in flavor, go for fresh white cremini mushroom, and add some miso paste or powder while simmering the veggie stock.
You can also use leftover mushrooms to ensure they are not in the trash. Learn how to make the best of your leftovers!
How can I thicken gravy without flour?
As explained before, you can simply use starch such as cornstarch, tapioca starch, or arrowroot. This way, you can keep your gravy gluten-free.
Alternatively, if you want to add more flavor, you can use more soaked mushrooms and cooked onions, blend and add them to the saucepan and keep stirring.
Tip: if you will make the mushrooms gravy with fresh mushrooms, sauté them with garlic and onions instead of adding them to the vegetable broth, as they need no hydration.
🥡 Storing
Can I freeze mushroom gravy? Leftover gravy can be thawed overnight and then reheated.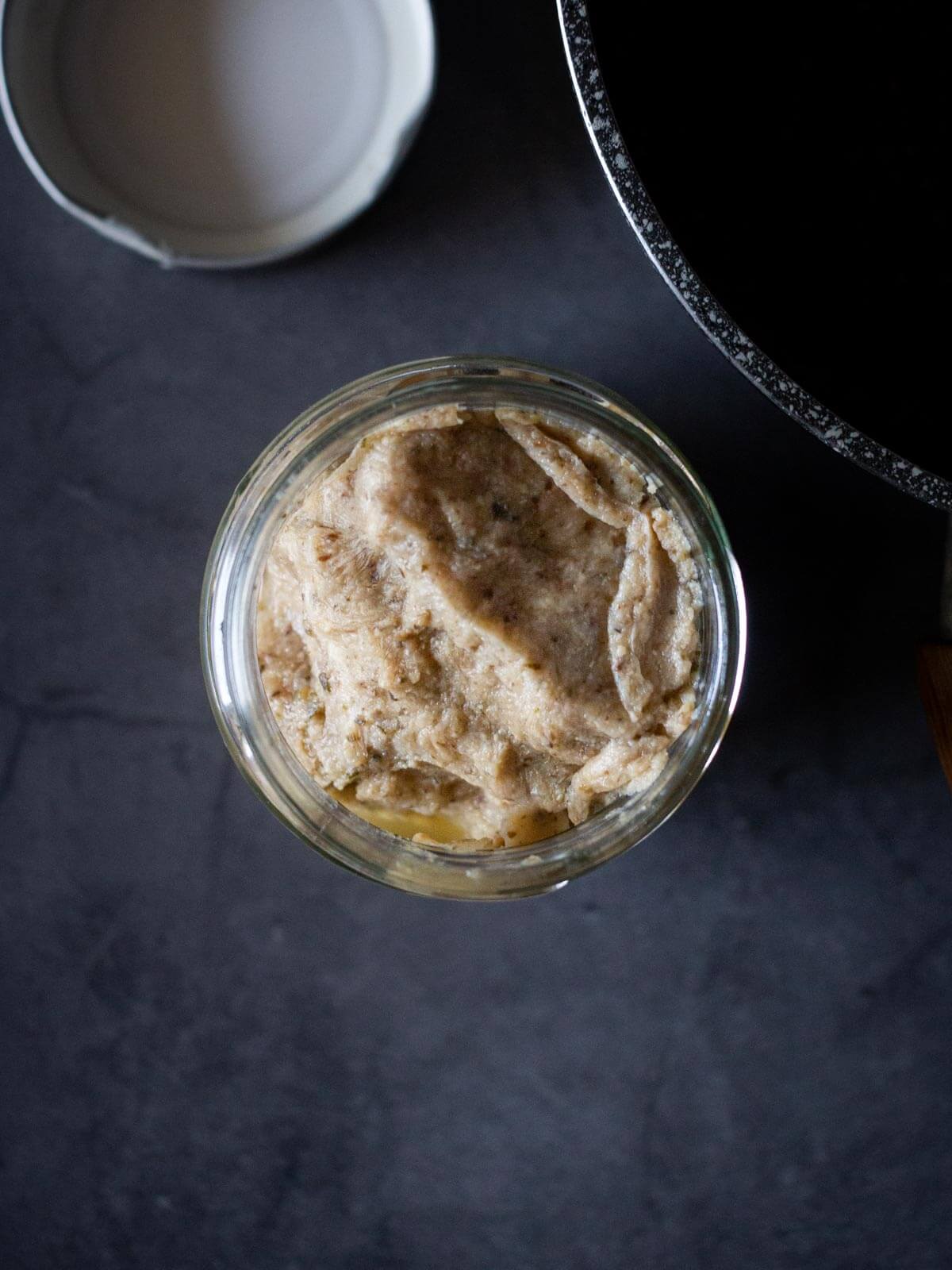 You will need to place the thawed gravy in a saucepan on low to medium heat, stir, and add any liquid, such as water, vegetable stock, or almond milk, to bring it back to life!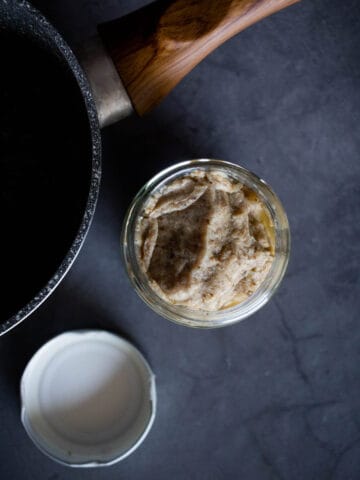 Step 1: thaw the gravy overnight in the fridge.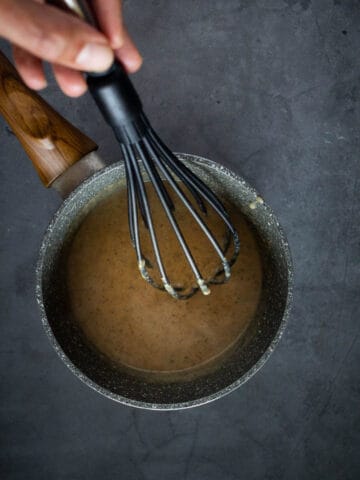 Step 2: reheat mushroom gravy in a small saucepan and stir with a whisk.
Feel free to adjust the seasonings. Add garlic powder to adjust the flavor.
📚 More mushroom recipes you will enjoy
Our air fryer oyster mushrooms are a must in your easy mushroom recipe repertoire!
Learn why eating shiitake mushrooms are good for you!
Make delicious Vegan mushroom empanadas and make them even more wholesome, by making your own vegan empanada dough.
Use your favorite mushrooms to make Stuffed shells pasta with protein-packed tofu and dairy-free pesto.
Or grab some aromatics and make these Herbs stuffed mushrooms, which might steal the show in your holiday gatherings!
⭐ If you try this recipe, let us know! 💬 Leave a comment, rate it, and don't forget to tag us @ourplantbasedworld on Instagram. Cheers!
🎥 Video
📋 Recipe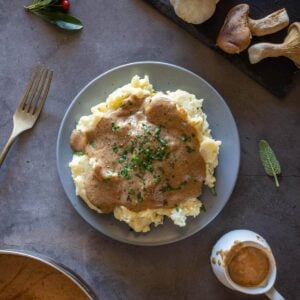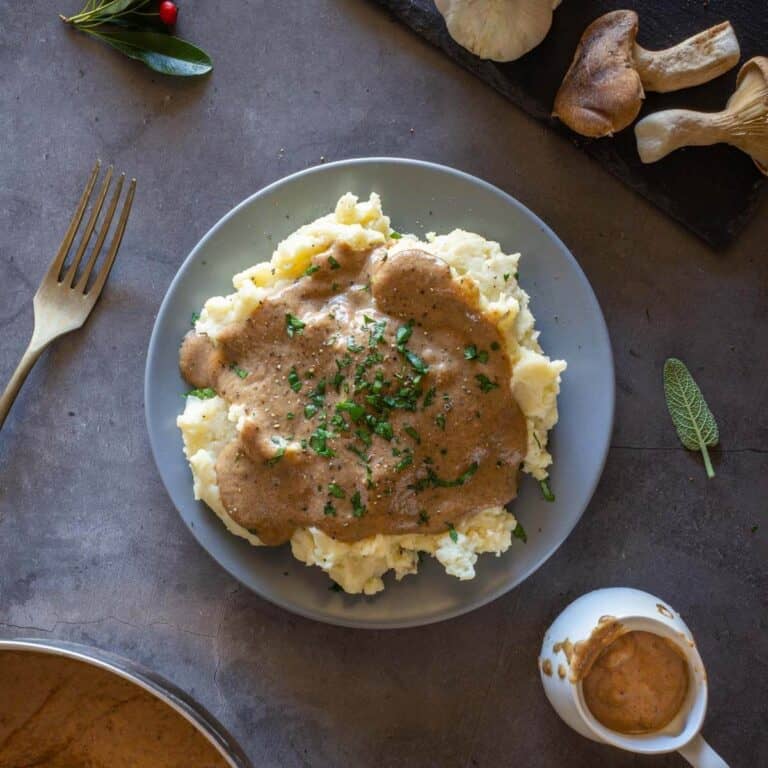 How to Make a Vegan Mushroom Gravy
The holidays are a time for friends, family, and feasting. What better way to celebrate this season with loved ones than by serving them delicious vegan mushroom gravy?
Equipment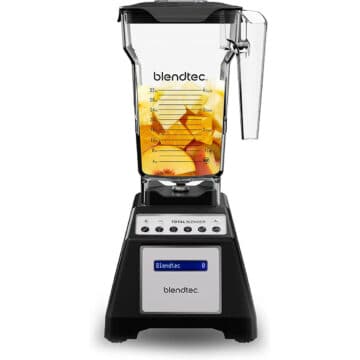 (affiliate link)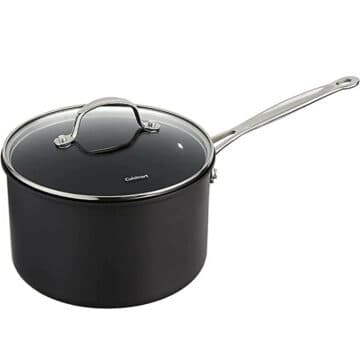 (affiliate link)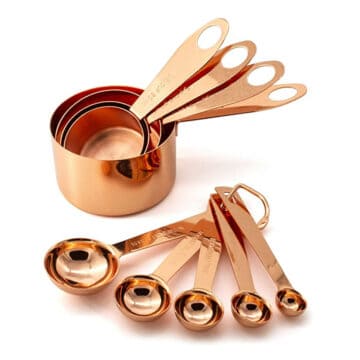 (affiliate link)
Ingredients
1

ounce

shiitake mushrooms

dried, or 2 cups of shiitake mushrooms

3

cups

vegetable broth

1

onion

diced yellow or white onion

3

cloves

garlic

minced

3

tablespoons

cornstarch

or all-purpose flour

1

teaspoon

sage

fresh, minced

1

tablespoon

rosemary

fresh, or sub-dried, chopped
Optional:
Sea salt and black pepper to taste

1

tablespoon

extra-virgin olive

or avocado oil for sautéing (if avoiding oil, sub water)
FOR SERVING (optional)
Directions
Rehydrate dried mushrooms in vegetable broth in a large saucepan. Bring to a simmer over medium heat. Turn off heat, cover, and let rest.

Sauté. In the meantime, heat a large skillet over medium heat. Once hot, add oil (or water) and chopped onion and sauté for 5 minutes. Then add the minced garlic and sauté 2 minutes, don't forget to stir frequently, so the garlic doesn't burn.

Add cornstarch (or flour) and stir, cook for 1-2 minutes, and add the chopped sage and rosemary. Next, add the mushrooms with their broth (it is always good to reserve some broth to play with the thickness), stir, and cook for 3 minutes.

Transfer the gravy to an immersion blender (or blender) and blend until the mushroom gravy looks smooth.

To serve transfer back to your pan and warm over low heat for 2-3 minutes more.

Taste and adjust seasonings as needed.
Notes
Serve with mashed potatoes, glazed maple carrots, vegan roast, steamed Jasmin rice, and more.
Store completely cooled leftovers covered in the refrigerator for up to 5 days or in the freezer for up to 1 month. Reheat in a saucepan until it simmers, adding more veggie broth to thin as needed.
Nutrition Facts
Calories:
35
kcal
Carbohydrates:
8
g
Protein:
1
g
Fat:
1
g
Saturated Fat:
1
g
Polyunsaturated Fat:
1
g
Monounsaturated Fat:
1
g
Sodium:
354
mg
Potassium:
82
mg
Fiber:
1
g
Sugar:
1
g
Vitamin A:
196
IU
Vitamin C:
2
mg
Calcium:
10
mg
Iron:
1
mg
Nutritional Disclaimer
The information shown is an estimate provided by an online nutrition calculator. It should not be considered a substitute for a professional nutritionist's advice. See our full Nutritional Disclosure here.
Affiliate Disclaimer
Please note that some of the links here are affiliate links, and I will earn a commission if you purchase through those links. I recommend all of the products listed because they are companies I have found helpful and trustworthy.