Have you ever seen Romanesco broccoli before? It's a pretty unique vegetable, with a striking appearance that is almost too beautiful to eat. But trust me, this broccoli is delicious, and it's definitely worth giving a try. In this recipe, I'll show you how to cook it quickly in a skillet so that it comes out perfectly tender and flavorful. So what are you waiting for? Get cooking!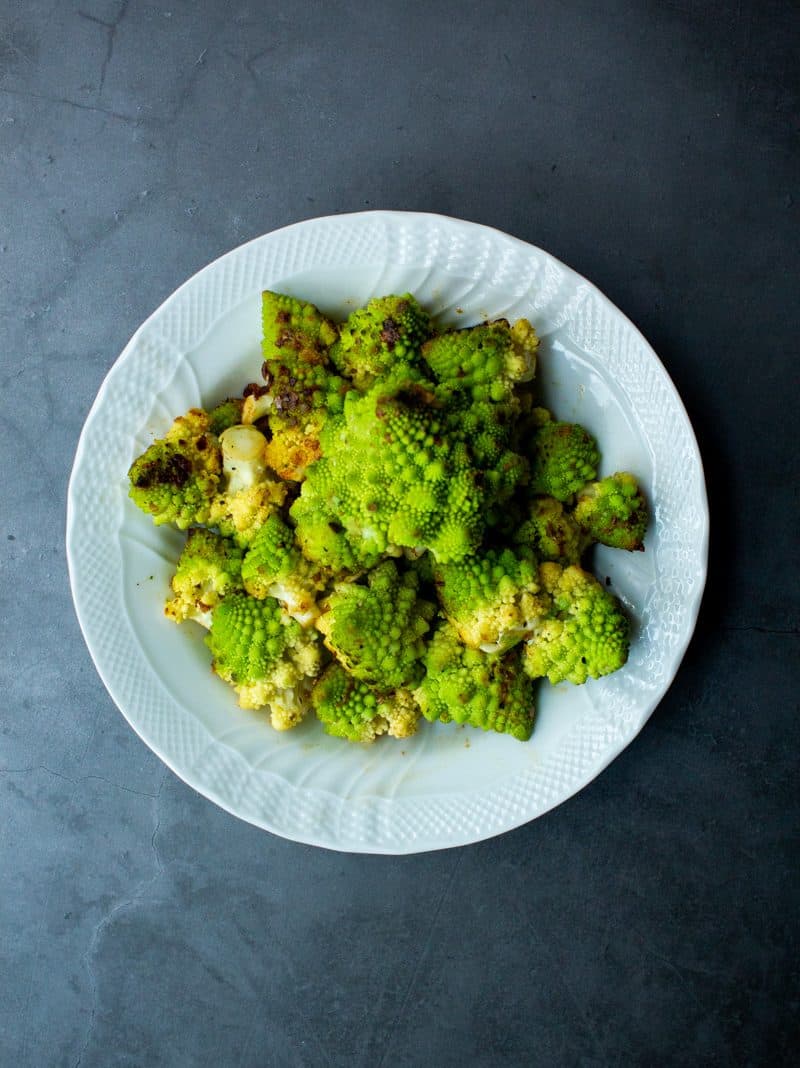 If you are lucky to have this precious vegetable around, do yourself a favor and grab one. You will be rewarded as you enjoy it in this delicious and straightforward Romanesco Broccoli Recipe.
Jump to:
🤔 Romanesco plant
Broccoli romanesco is often considered a gourmet vegetable, and its use is still very limited. Like the cauliflower, romanesco belongs to the species Brassica oleracea; like cabbage romanesco, it also belongs to the Brassica family.
Romanescos can be green, violet, or orange in color, and Romanesco has a whole pyramid shape. Romanesco is an edible flower.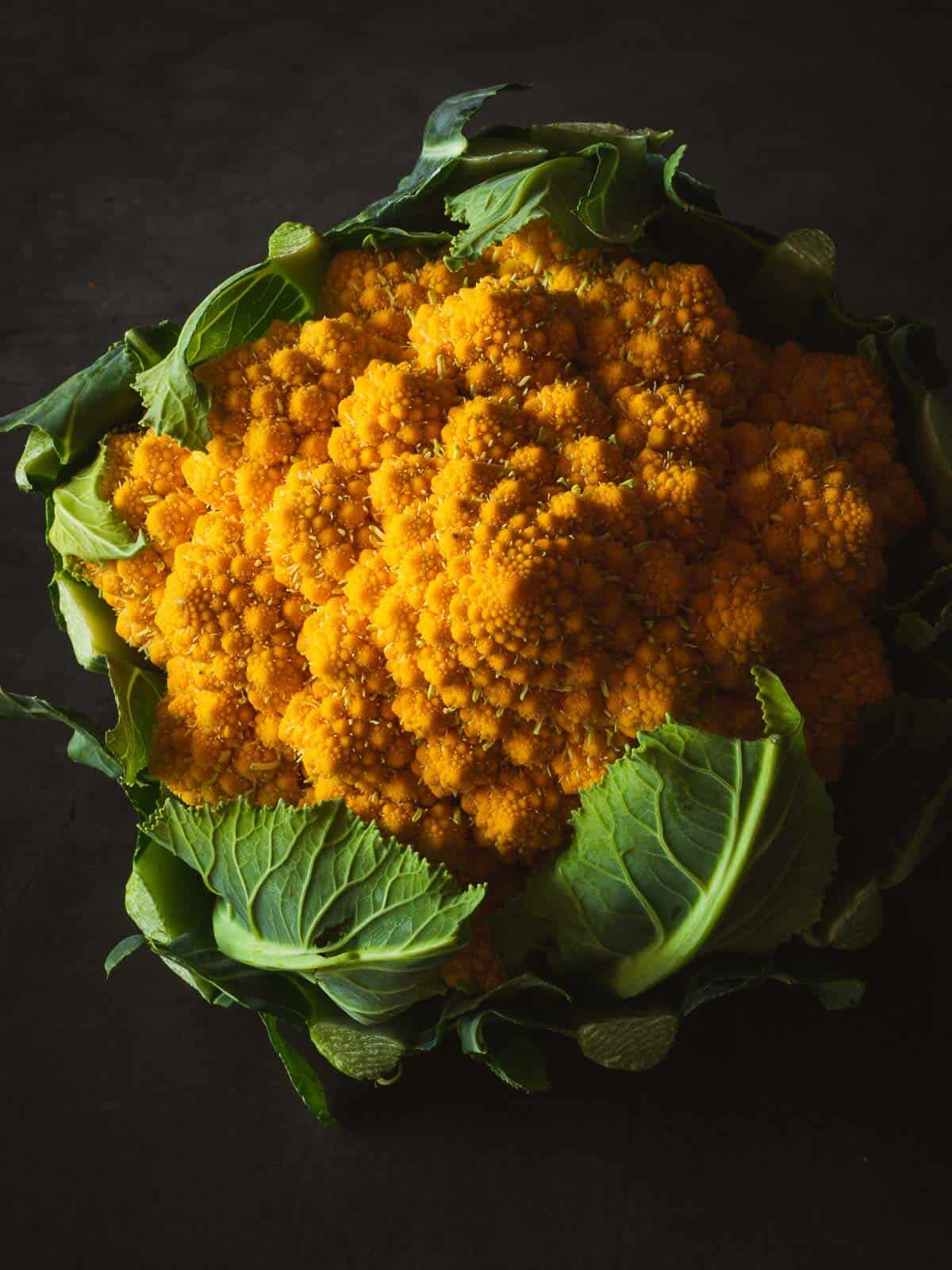 The Romanesco broccoli is a variety of broccoli with striking, fractal-like patterns in its florets. The head usually has what looks like small pinecone structures or miniature Christmas trees.
When the vegetable grows to full size, it turns green and acquires thin stems. It is considered closer to cauliflower than broccoli in taste, with a nutty flavor.
It makes its appearance during the fall season, making it one of the most straightforward seasonal fall season recipes we often make during this time of the year.
If you wonder if broccoli and cauliflower come from the same plant, the answer is no. All the Cruciferous family members come from different plants, although they look very similar. BUT... along with Brussels sprouts, collard greens, and other cruciferous vegetables — they all come from the same plant species, the brassica oleracea.
Romanesco taste is closer to that of cauliflower with a crunchier texture; in fact, sometimes it is called romanesco broccoli, and in some places, they call it romanesque cauliflower.
🧾 Ingredients
Broccoli romanesco: Romanesco broccoli is the main ingredient and provides a slightly nutty, earthy flavor and a crunchy texture to the dish.
Minced Garlic cloves or garlic powder: Garlic adds a pungent, savory flavor to the dish and helps to enhance the other spices and ingredients.
Extra virgin olive oil: Olive oil is used to roast the Romanesco broccoli and add richness to the dish while also providing healthy fats.
Sea salt or kosher salt: Salt is used to season the dish and bring out the natural flavors of the Romanesco broccoli.
Optional ingredients
Pepperoncini flakes and lemon zest: Pepperoncini flakes add a spicy kick to the dish, while lemon juice and lemon zest adds a tangy, bright flavor. These ingredients are optional but can enhance the overall taste of the dish.
Herby - add dry or fresh herbs like thyme to serve.
Deluxe - add toasted pine nuts for an extra delish side dish!
Check our post on steaming broccoli and cauliflower to learn how to make the best of your vegetables' nutritional value.
🔪 Instructions
This romanesco broccoli recipe is put together in minutes given the cooking method. Stir-frying is the best way to enjoy this delicious romanesco stir fry, an easy and healthy comfort food.
By sautéeing this veggie we bring up all the flavors quickly and simply. You also get to absorb all the nutrients better as the stir-frying time and exposure to heat are minimal.
Prepare romanesco
Clean your broccoli under running water.
Cut the inside stem of the broccoli and the inside of the floret's branches, keeping the edible flower bud. Cut them one by one, so you keep the shapes of the romanesco florets. Broccoli Alla Romana
Dry. After either steaming or boiling the florets, continue by drying them. Let them dry with or dry them up with a tablecloth.
Cook romanesco
Stir fry. Add oil to a skillet and toss the minced garlic on medium-high heat for 30 seconds, until golden and add the broccoli florets. The florets should be crisp-tender. You want them to keep some crunch!
Season. Add salt and freshly ground black pepper or red pepper flakes to the romanesco stir fry just right before serving. If you lie, you could also sprinkle some lemon zest on top. Serve warm.
You can also top the romanesco stir fry with toasted sesame seeds to make it look even prettier.
🥡 Storing
Keep leftover cooked romanesco in the fridge closed in an airtight container for up to three days.
🇮🇹 A Roman dish
We had this dish the first day we arrived in Rome. The Jewish Ghetto hosts a variety of Jewish-Roman restaurants with food to die for! Our Roman friend Alessandro took us there to experience firsthand some of this community's signature dishes and the secrets to mastering their cooking.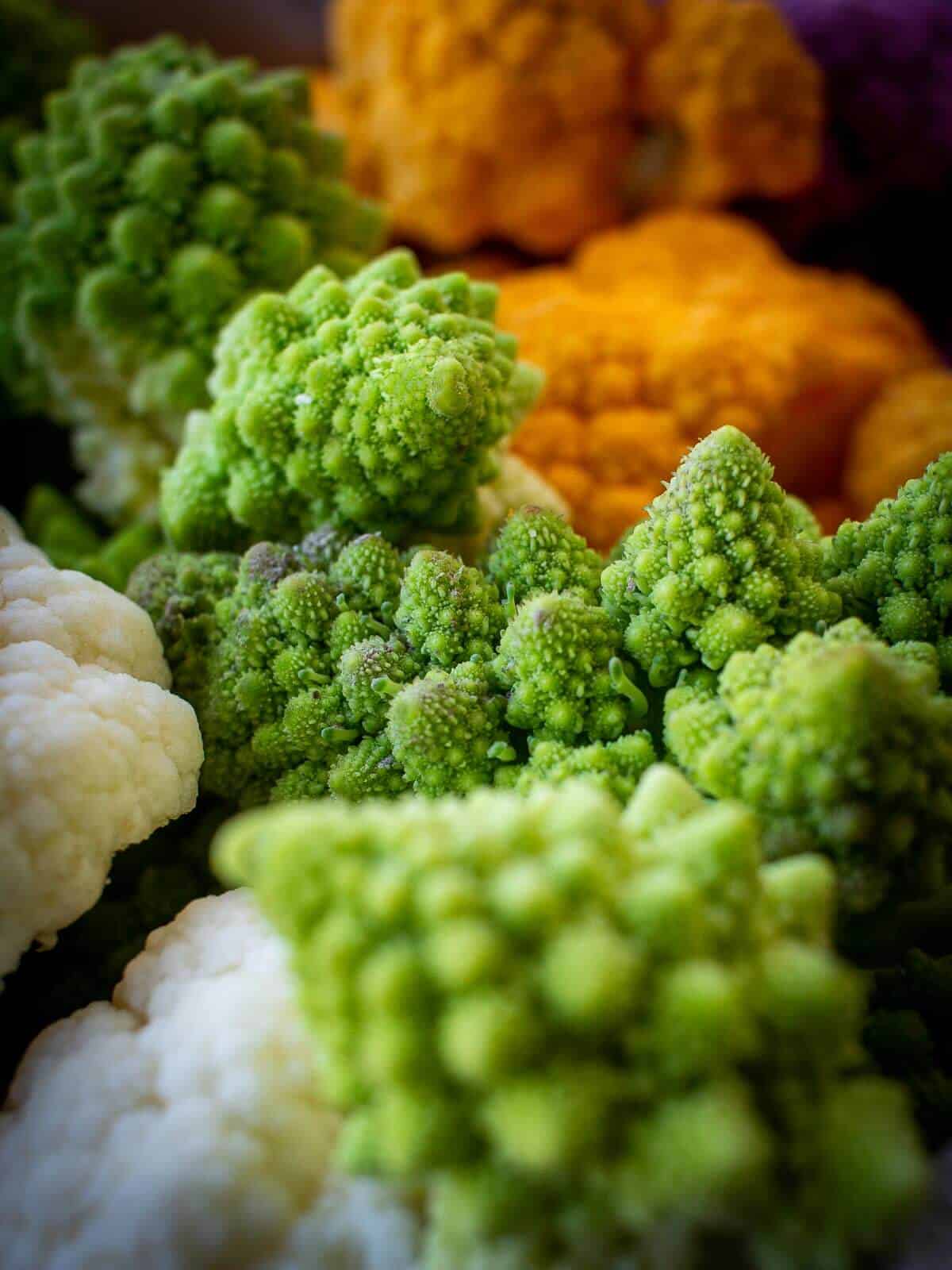 We went to a Jewish restaurant and had a variety of terrific small dishes. I loved the double deep-fried artichokes and the Broccoli Romani in Padella.
Then, we decided to reproduce the Broccoli Romanesco recipe to avoid frying artichokes and keep the waistline while still possible. Make sure to try them on your next visit to Rome. They are wonderful.
🥦 Romano broccoli and fractals
This beautiful vegetable has some characteristics that make it very interesting from a mathematical point of view. First of all, it has a shape with a fractal appearance, repeating itself on different scales.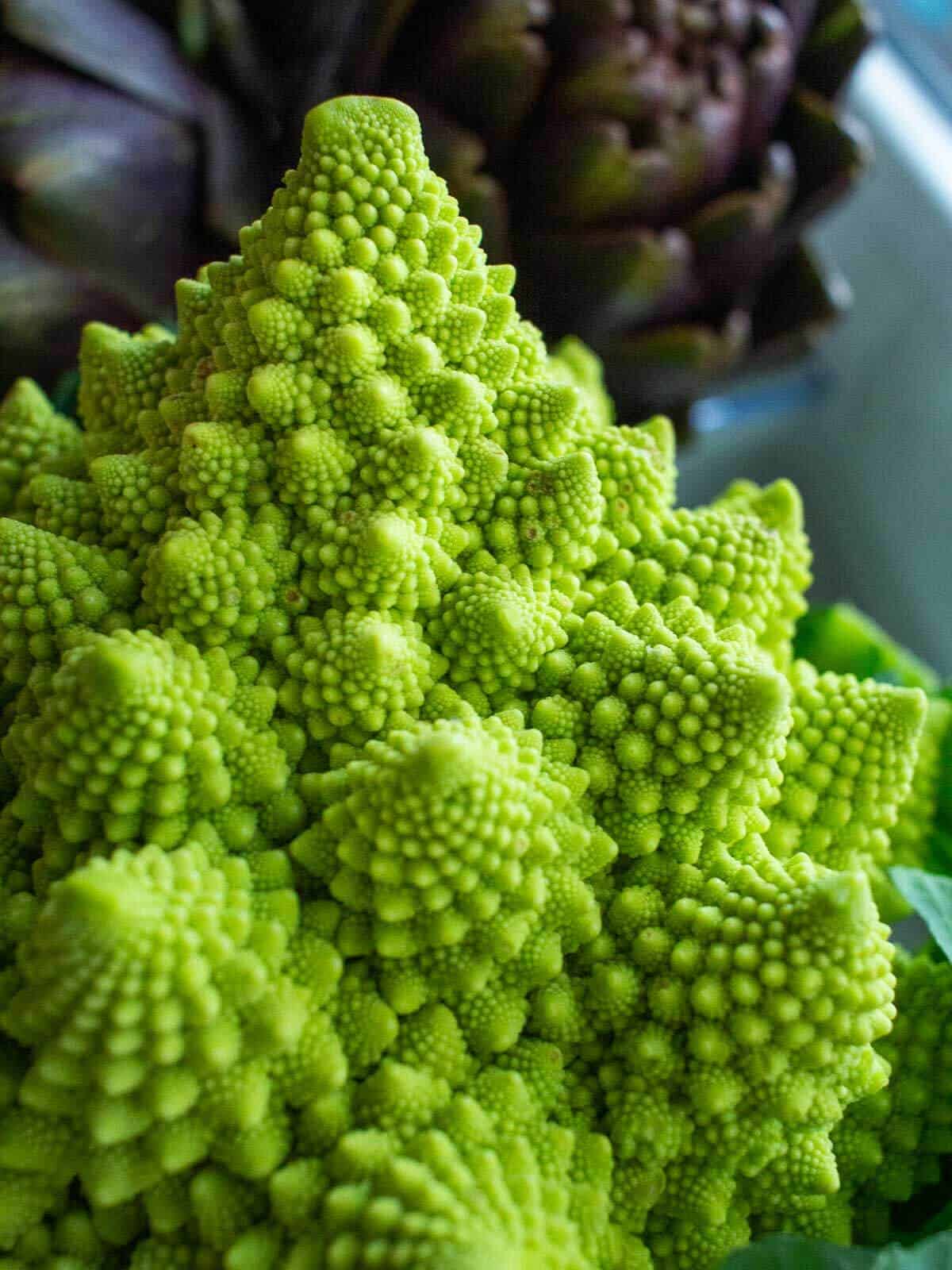 Its florets reproduce in miniature; the shape of the largest floret and the smaller flowers is precisely the same. I find it very interesting that the number of these elements is always a number that belongs to the Fibonacci sequence, a series in which each number is the sum of the previous two.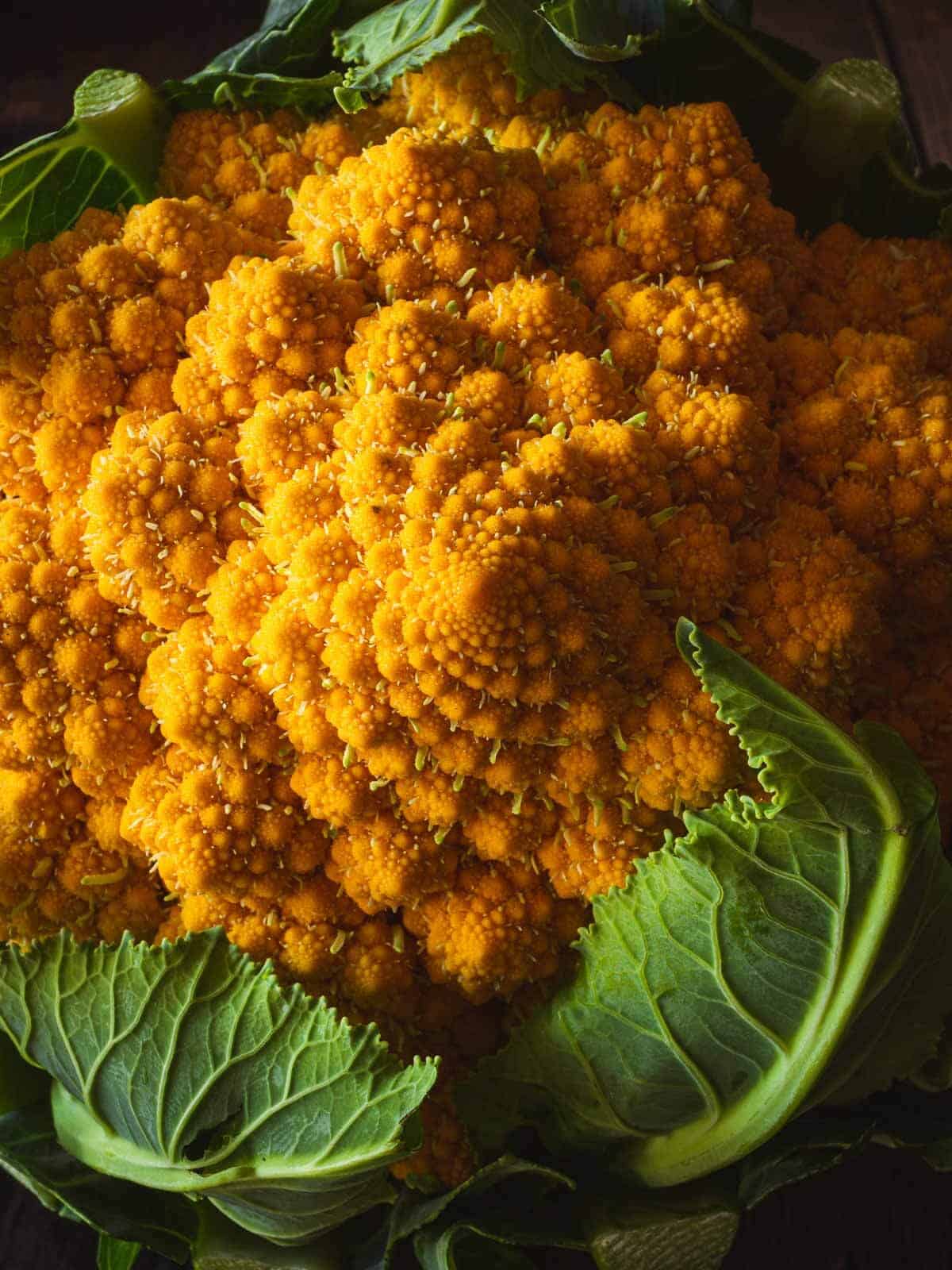 This cruciferous vegetable is highly nutritious and, as Science Says, is amongst the 3 of the Healthiest Foods You Can Eat. It has a lot of beneficial, healthy properties and very few calories.
👨🏻‍🍳 How to cook romanesco broccoli
To cook romanesco, you can choose between many methods. It is crucial to avoid overcooking this beauty; the best romanesco should be minimally cooked and keep its firmer texture. Otherwise, you will miss the opportunity to experiment with its texture and amaze your guests with its eye-catching color.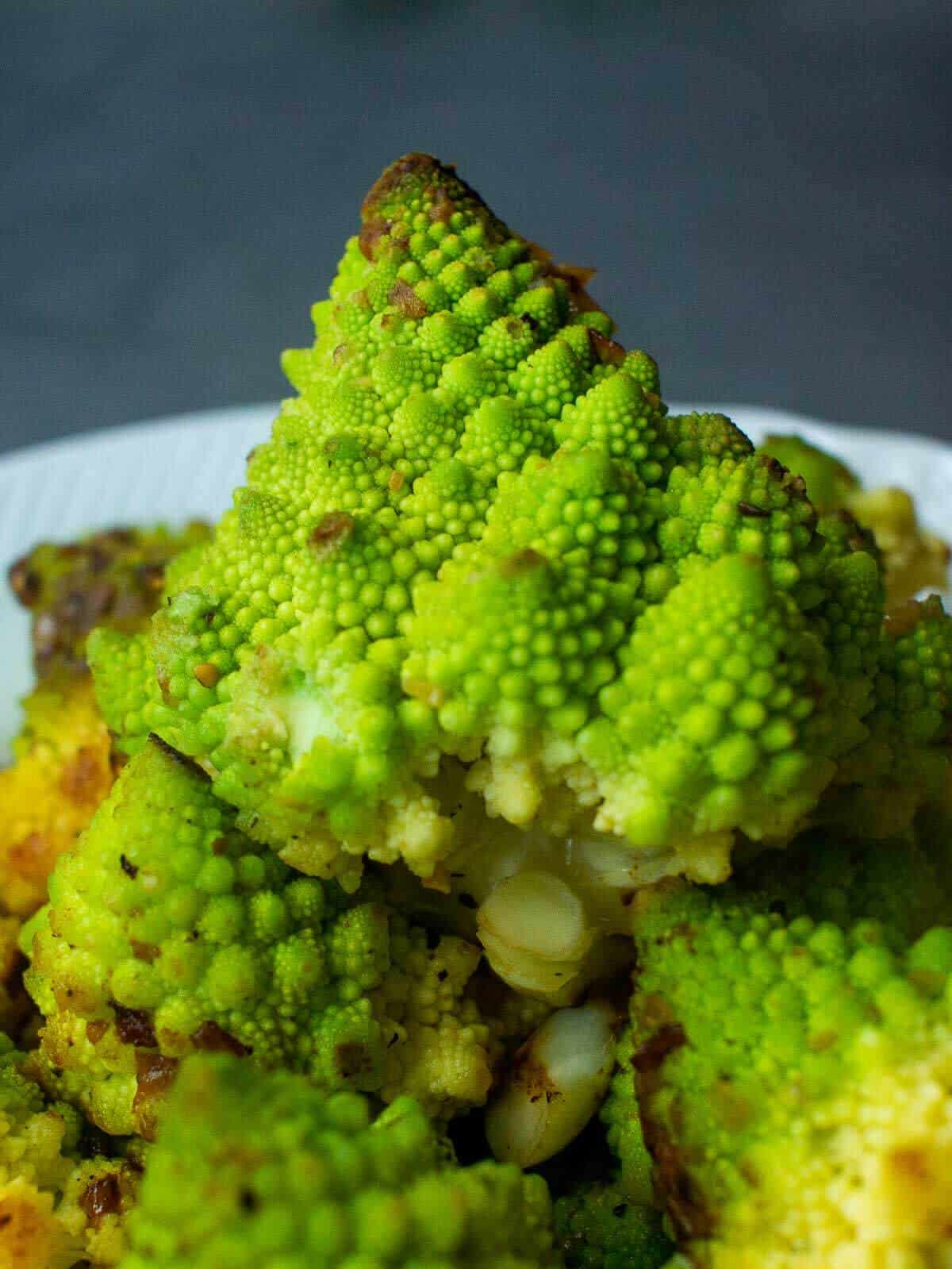 Steaming, sautéing, boiling, or roasting your broccoli? I prefer steaming.
Steaming
If steaming: In a saucepan, set two fingers of water to boiling and put a metal or bamboo colander on top of the saucepan.
Place the romanesco florets on top of the colander and put a lid on top; leave them for 2 minutes.
Boiling
If Boiling, put 4 cups of water to boil. When the water bubbles with big bubbles, add the broccoli florets to the boiling water and take them out after 30 seconds. Just blanch them.
Roasting
To roast romanesco, you can spread the romanesco florets in a lined baking sheet with parchment paper and then drizzle with olive, oil and your preferred seasonings, such as ground garlic powder, red pepper flakes, salt, and pepper.
Roasted romanesco takes 15-20 minutes in the oven at 400º F (200 ºC).
🥦 More broccoli recipes
We love to roast broccoli with potatoes and this roasted garlic and rosemary potatoes with broccoli is one of the best you will try; they are made in a sheet pan in a single layer for extra convenience.
Our broccoli salad is made with avocadoes and chickpeas and is great for a Spring or Summer light meal.
🥢 Pairing suggestion
We like topping these beauties with our carrot tops chimichurri for a change.
📚 More simple recipes
Tasty roasted vegetables have a big place in our kitchen. We love roasting cauliflower with a spicy tahini sauce, and the famous Catalonian Escalivada, which features red peppers and eggplants.
If you like cruciferous veggies, we recommend you to check out our Cauliflower Wings, which make a breath party or game day vegan and a healthy alternative.
These healthy roasted Brussels sprouts and Grilled Cauliflower Steaks are also big favorites on our table.
We are big fans of roasted pumpkin and butternut squash, as they can be eaten quickly with minimal seasoning and deliver a big flavor!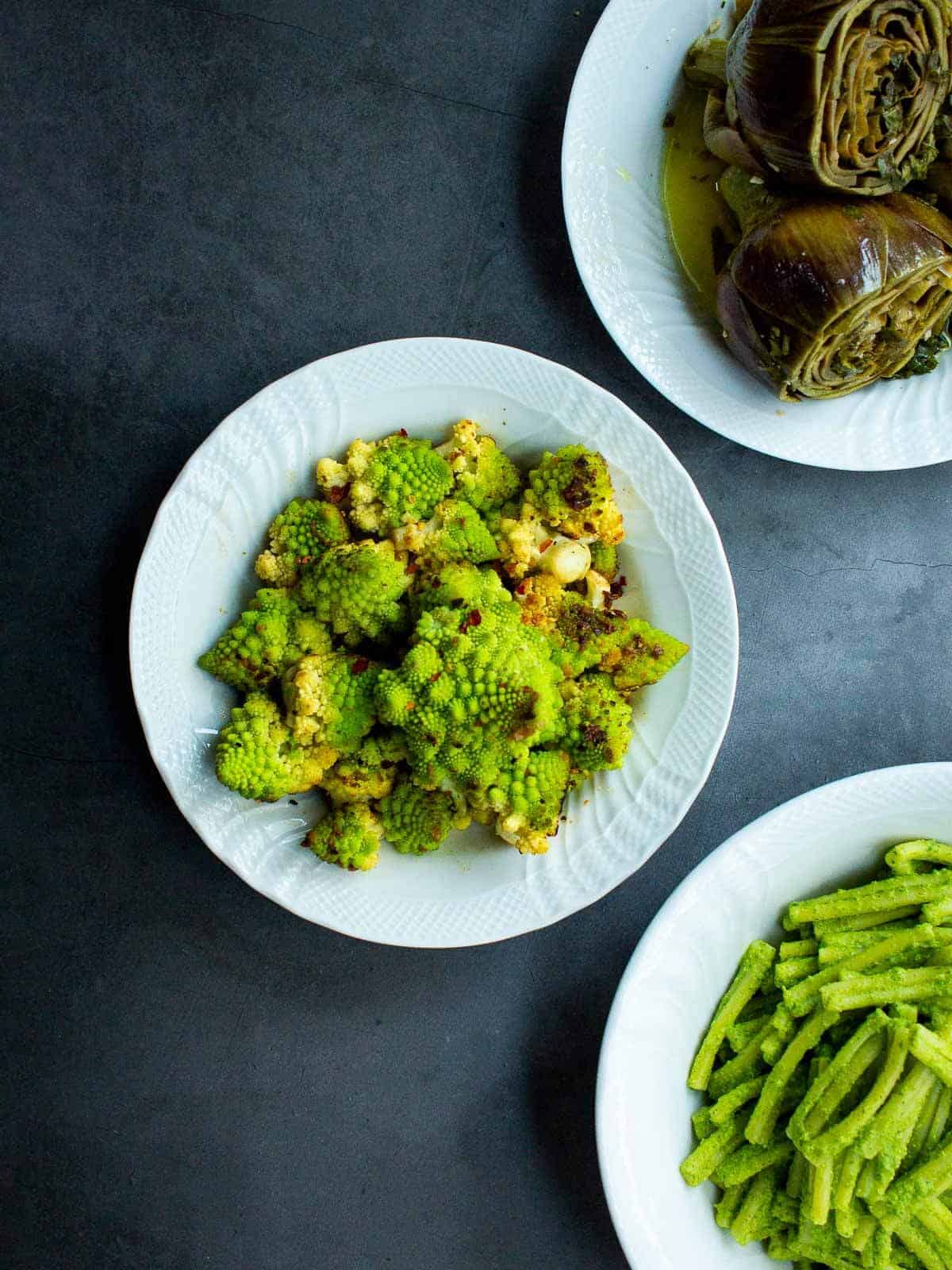 ⭐ If you try this recipe, let us know! 💬 Leave a comment, rate it, and don't forget to tag us @ourplantbasedworld on Instagram. Cheers!
📋 Recipe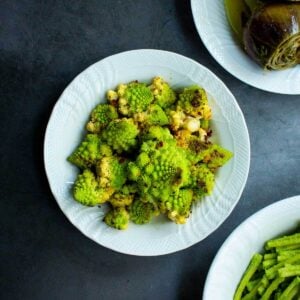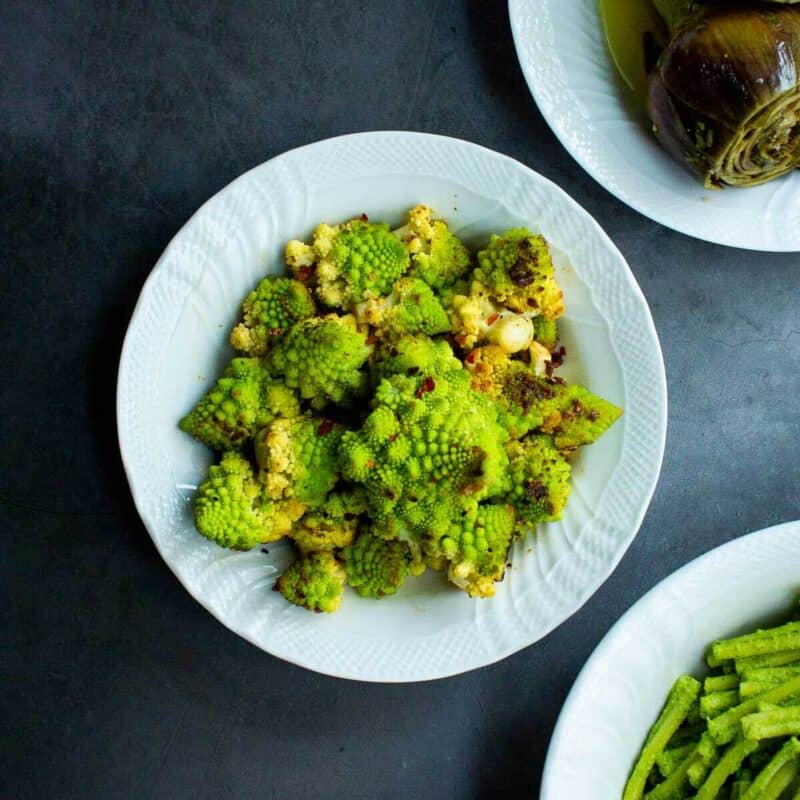 How to Cook Romanesco Broccoli
If you are lucky to have broccoli romanesco locally, do yourself a favor and grab one. You will be greatly rewarded with this beauty.
Equipment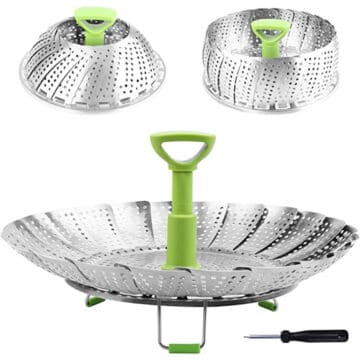 (affiliate link)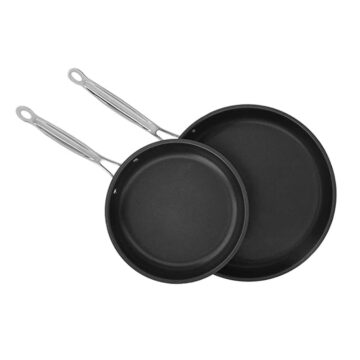 (affiliate link)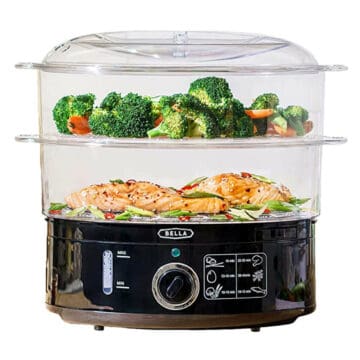 (affiliate link)
Ingredients
Optional (and recommended):
Directions
Wash your broccoli under running water.

Cut the inside stem of the broccoli and the inside of the floret's branches. Cut them one by one, so you keep the shapes of the florets. Broccoli Alla Romana

After either steaming or boiling the florets, continue by drying them. Let them dry with or dry them up with a tablecloth.

Heat the olive oil in a pan and stir fry the chopped garlic on medium heat for 30 seconds, until golden and add the broccoli florets.

Add salt and pepper (or pepperoncino).
Nutrition Facts
Calories:
64
kcal
Carbohydrates:
1
g
Protein:
1
g
Fat:
7
g
Saturated Fat:
1
g
Sodium:
146
mg
Potassium:
7
mg
Fiber:
1
g
Sugar:
1
g
Vitamin A:
1
IU
Vitamin C:
1
mg
Calcium:
3
mg
Iron:
1
mg
Nutrition Facts
How to Cook Romanesco Broccoli
Amount per Serving
% Daily Value*
* Percent Daily Values are based on a 2000 calorie diet.
Nutritional Disclaimer
The information shown is an estimate provided by an online nutrition calculator. It should not be considered a substitute for a professional nutritionist's advice. See our full Nutritional Disclosure here.
Affiliate Disclaimer
Please note that some of the links here are affiliate links, and I will earn a commission if you purchase through those links. I recommend all of the products listed because they are companies I have found helpful and trustworthy.