Have you ever tried juicing red cabbage? If not, you're in for a treat! Red cabbage is loaded with antioxidants, which makes it great for your health. Plus, it has a delicious flavor that goes well with other vegetables. In this post, I'll show you how to make red cabbage juice, also known as purple cabbage juice. A juice that is healthy, flavorful, and made with only 3 ingredients. So, if you're looking for cabbage juice recipes for ulcers, check this one out!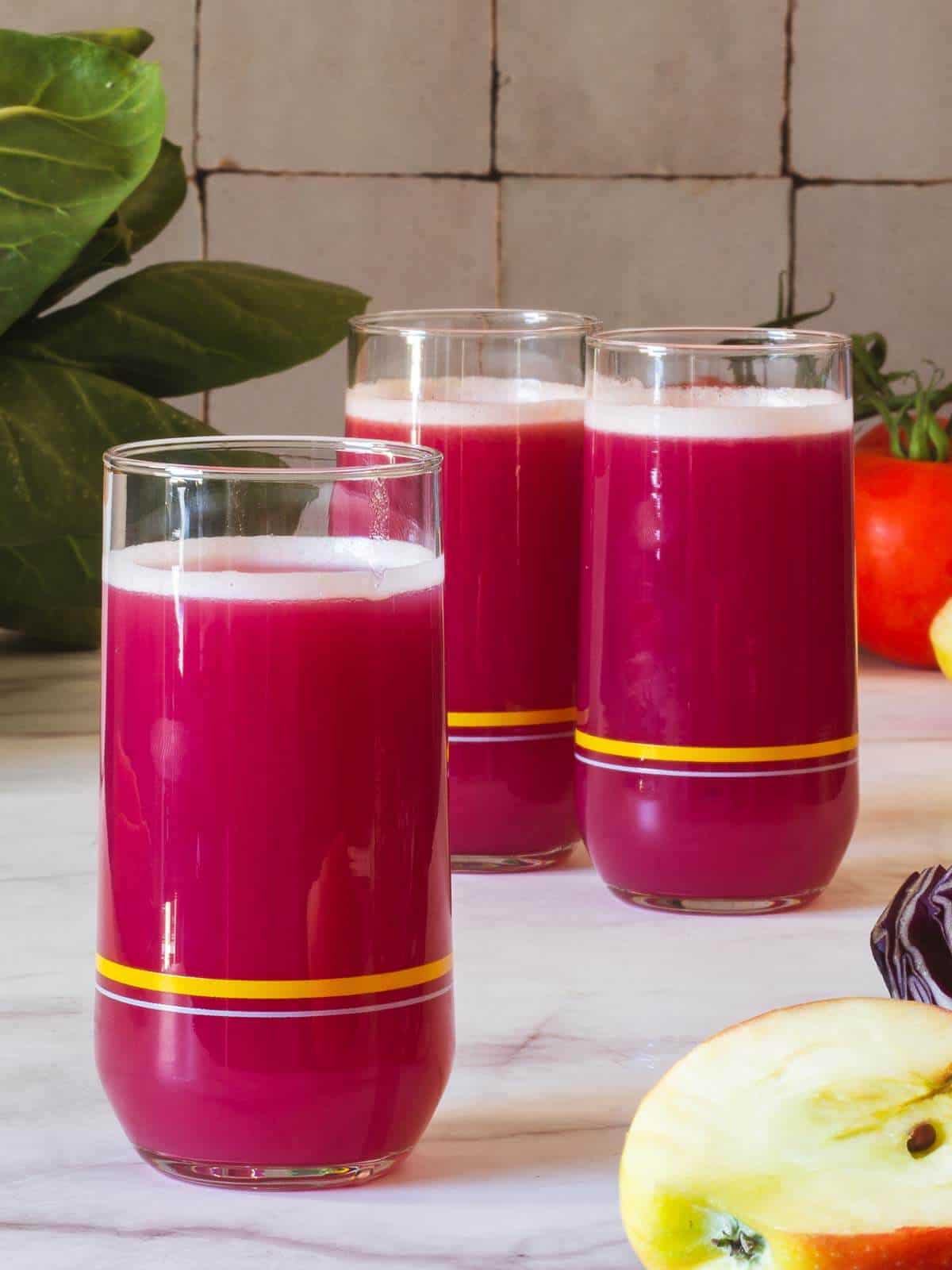 Purple/Red cabbage is a very affordable and rich source of anthocyanins (food with antidiabetic, anti-inflammatory, and antimicrobial properties), which gives purple cabbage its vivid color. Consuming foods with anthocyanin has been linked to a reduced decline in lung function (Source).
Also, red cabbage is packed with fiber. Multiple studies show the more fiber one consumes, the better lung function (Source).
This purple cabbage recipe was inspired by my green cabbage juice recipe on this site and is perfect for people looking to have a lung detox, naturally treat stomach ulcers, constipation and bloating, or a liver cleanse. Have it first thing in the morning before a healthy breakfast.
Jump to:
🧾 Ingredients
Raw cabbage juice can have a slightly spicy taste, so it is important to counteract it; you need sweet ingredients, like fruits. That's why we go with a red cabbage apple recipe, which will mellow it with tomatoes.
So you only need three everyday ingredients to make this juice cabbage recipe.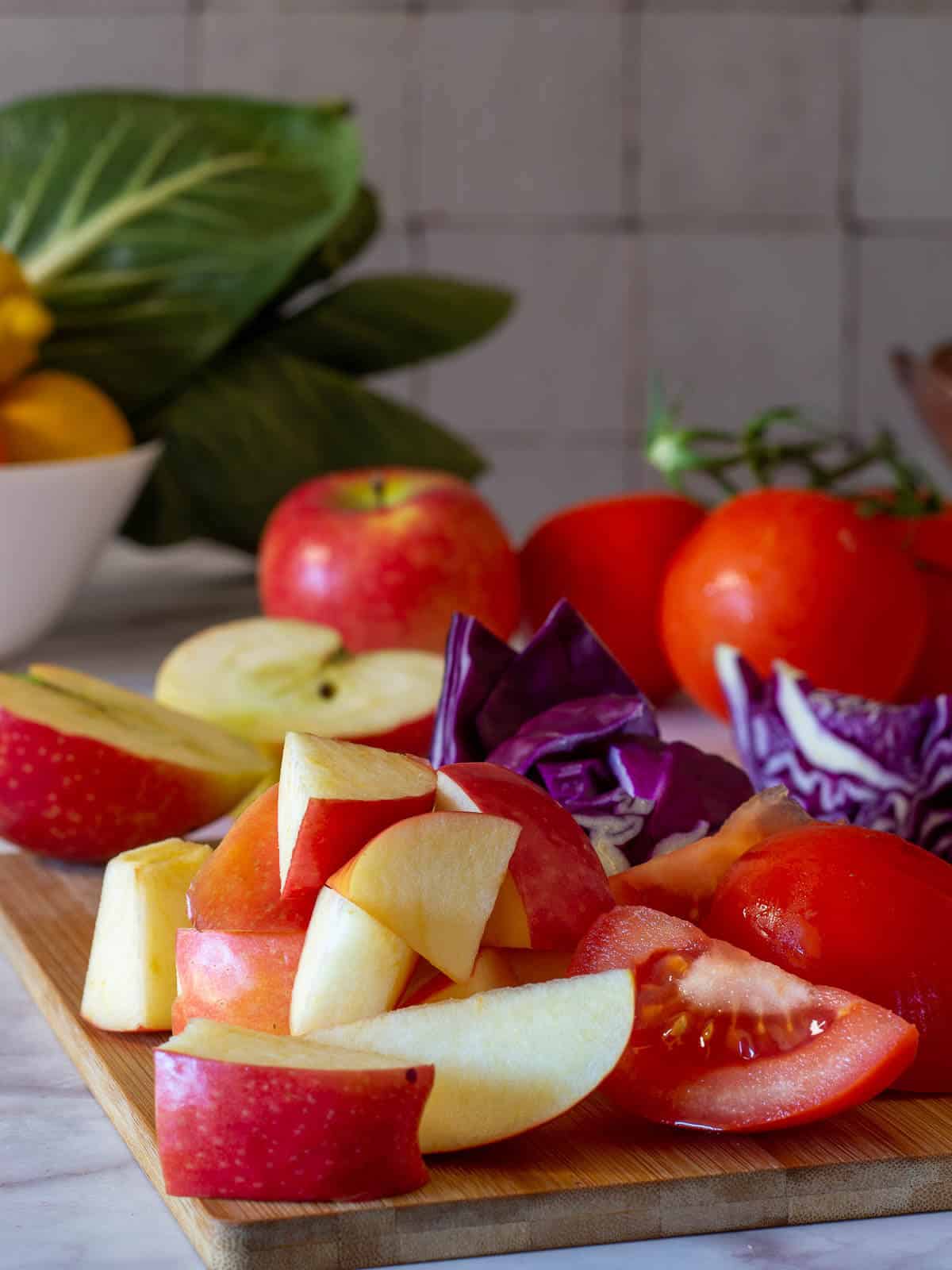 Purple / Red cabbage is even better when they are in season.
Apples add the perfect sweetness to make the cabbage juice pleasant.
Tomatoes add color and acidity to balance the rest of the flavors.
See the recipe card for quantities.
🔪 Instructions
Making cabbage juice is very straightforward.
Coarsely chop all the ingredients.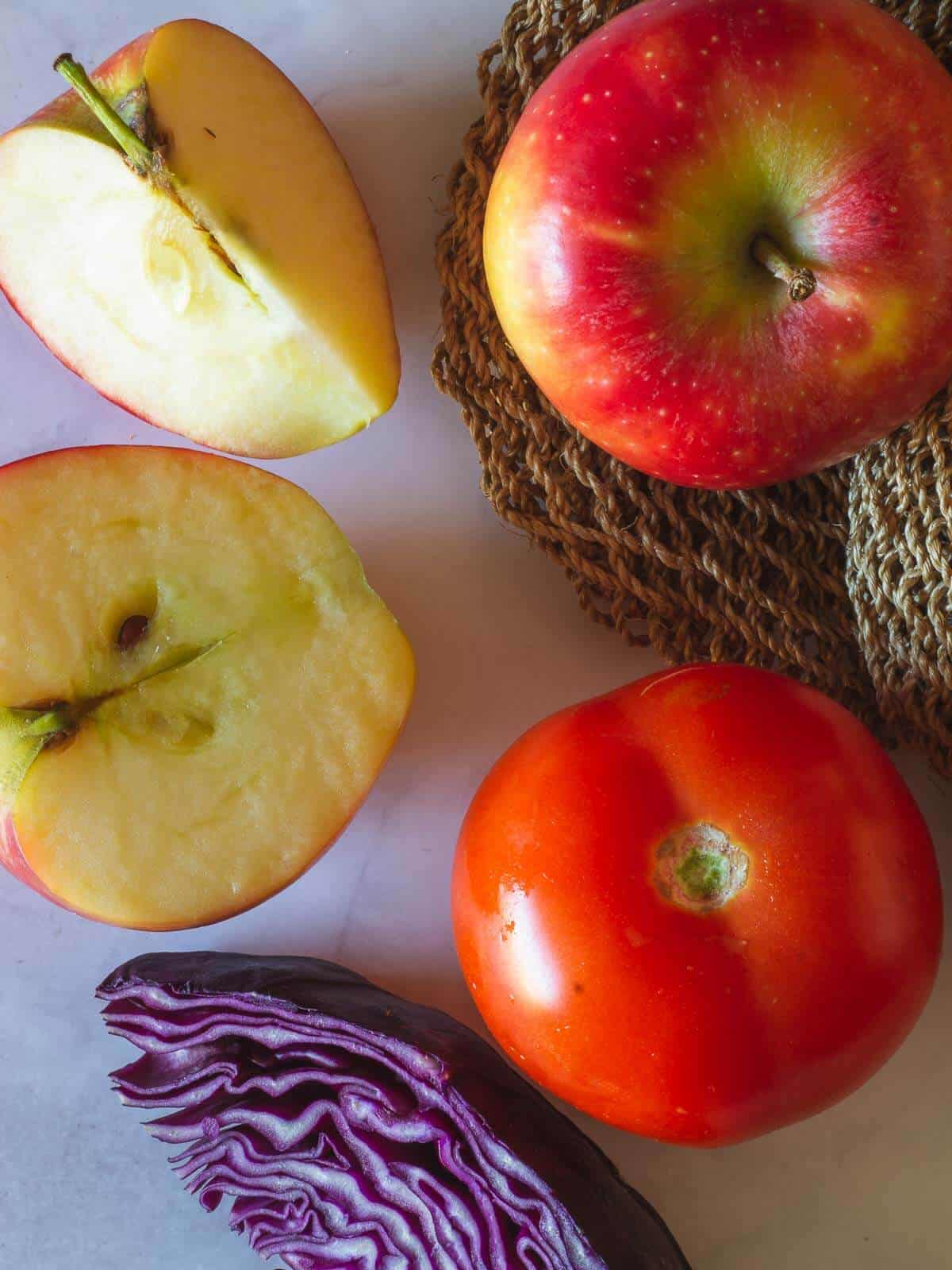 🍶 Substitutions
Take note of some variations we have tried and enjoyed to make this red cabbage juice recipe.
Sweetness - instead of apple juice, use orange, pears, pineapple, kiwi, carrots, or beets.
Vegetables - celery stalks and cucumber are great vegetables to balance the cabbage.
Acidity - lemon juice and fresh lime juice work great with cabbage, making it a tasty and delicious recipe.
See how to use beets when juicing with our carrot and beets detox juice, and our beetroot pre-workout juice.
📖 Variations
Juicing with red cabbage is quite simple, but it is nice to vary the flavor so avoid getting tired of the same flavors.
Ginger - we love this fantastic root, and we tend to add it to all of our juices because it is great for gut health and has many other health benefits. If you're looking to lose weight, adding it to your juice makes sense to reduce inflammation.
Citrus - we find mandarine oranges and clementines to be a fantastic addition to this juice, and they are packed with powerful antioxidants.
🍽 Equipment
All kinds of juicers work for this red cabbage and apple recipe, but the best are cold-press juicers because centrifugal juicers heat the nutrients reducing their nutritional value.
We like using this cold-press juicer.
If you don't have a juicer, see how to juice without a juicer, using a high-speed blender (affiliate link) or a nutribullet (affiliate link). (affiliate).
🥡 Storage
When drinking red cabbage juice, it is better to consume it immediately, but if you want to save some time in the morning, you can store the chopped ingredients in a BPA-free airtight container or store the fruits and vegetable juice in a mason jar, tightly closed.
Store the juice in the fridge for 1-2 days.
💡 Top tips
If you still find the red cabbage juice too sharp, you can add more fruit to this juice recipe without affecting its health benefits.
It is best to use whole and unpeeled fruits and vegetables when juicing to make the most out of their nutritional benefits.
This applies to most fruits and vegetables, except for citrus.
When using carrots or kiwis with tough bottoms, you can remove them with a knife to take better care of your juicer or blender.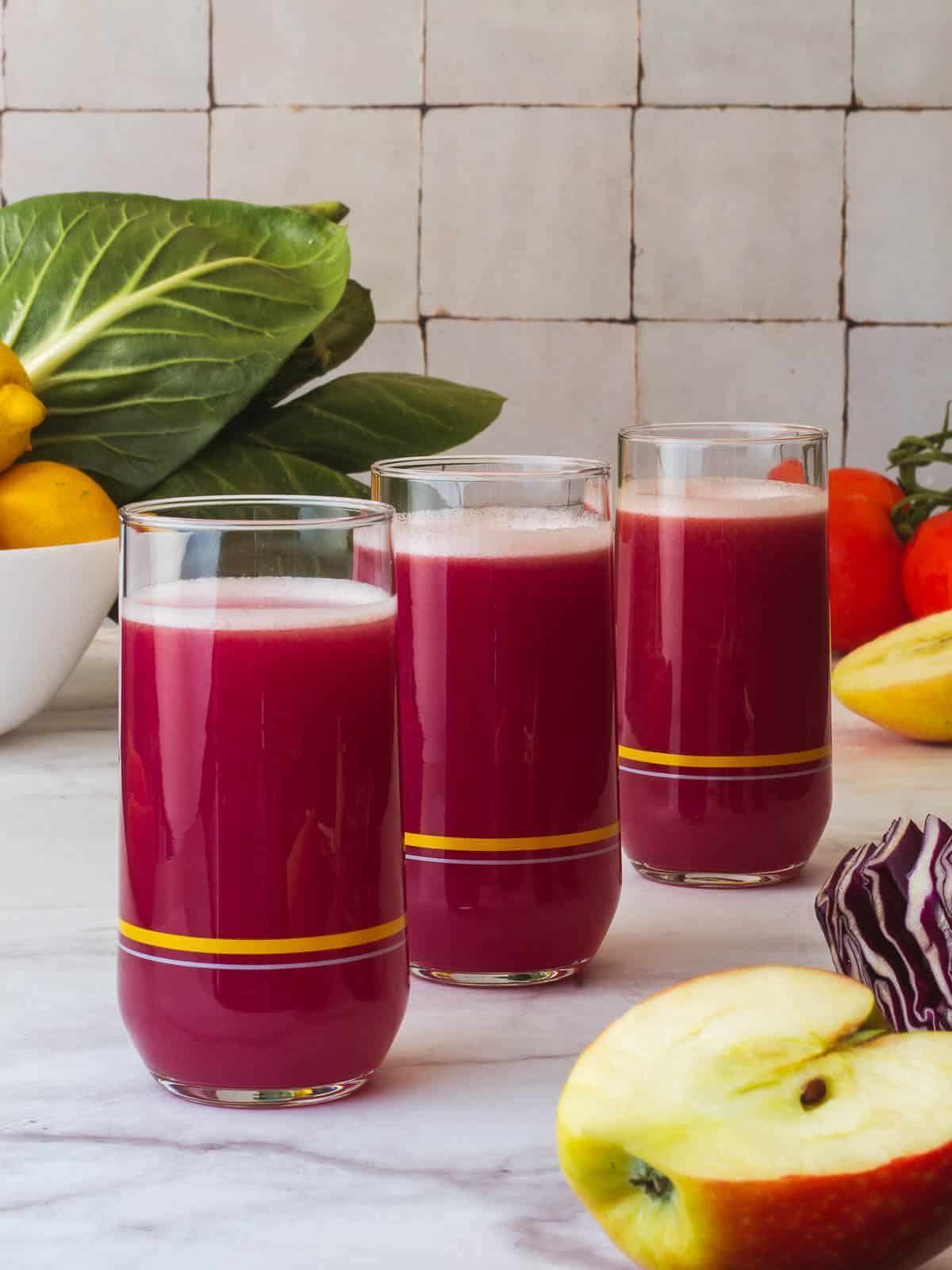 🧃 More healthy juice recipes
Check out this delicious pineapple and cucumber juice and this green juice if you want to shed some pounds off.
Do you care for healthy skin and eyesight? Include this carrot juice in your morning rotation.
Find out about the most delightful and easy-to-make hydrating drinks for summertime.
Wondering if juicing is safe if you live with diabetes, check out our low-sugar juice recipe.
Have you heard about celery juice detox? If not, you have been missing big news; check out how to make this fantastic juice with only 3 ingredients.
Check out the best juice to fight a hangover!
❓FAQ
What are the benefits of purple cabbage?
Purple cabbage is a nutritional powerhouse that tastes great in various dishes. Here are just a few of the benefits of this regal vegetable:
1. Purple cabbage is an excellent source of vitamins C and K. Vitamin C is known for its immune-boosting properties, while vitamin K is essential for bone health.
2. This cruciferous veggie also contains potent antioxidants that can help protect your cells from damage.
3. Purple cabbage is a good fiber source, promoting gut health and regularity.
4. This colorful veggie can also help improve blood sugar control, thanks to its magnesium content.
5. Red cabbage can also help balance hormones, as maca powder does during menopause, aiding fertility.
How much cabbage juice should I drink?
Well, that depends on how much cabbage juice you like to drink! All jokes aside, it's recommended that you start by drinking a small amount and gradually increase the amount as your taste buds adjust.
Some people find the taste of cabbage juice too strong, but others enjoy its slightly sour flavor. As for how much cabbage juice is recommended per day, most sources recommend drinking at least 3 glasses per day if you take it therapeutically. Otherwise, you can simply have one glass daily in the morning.
Is purple cabbage good for weight loss?
Red Cabbage is loaded with nutrients, such as Potassium, vitamins K and C, and drinking it is linked to many purported benefits, including body detox, decreased inflammation, weight loss, improved gut health, and balanced hormones.
Read on: Juicing Cauliflower with a delicious apple, carrot, and ginger juice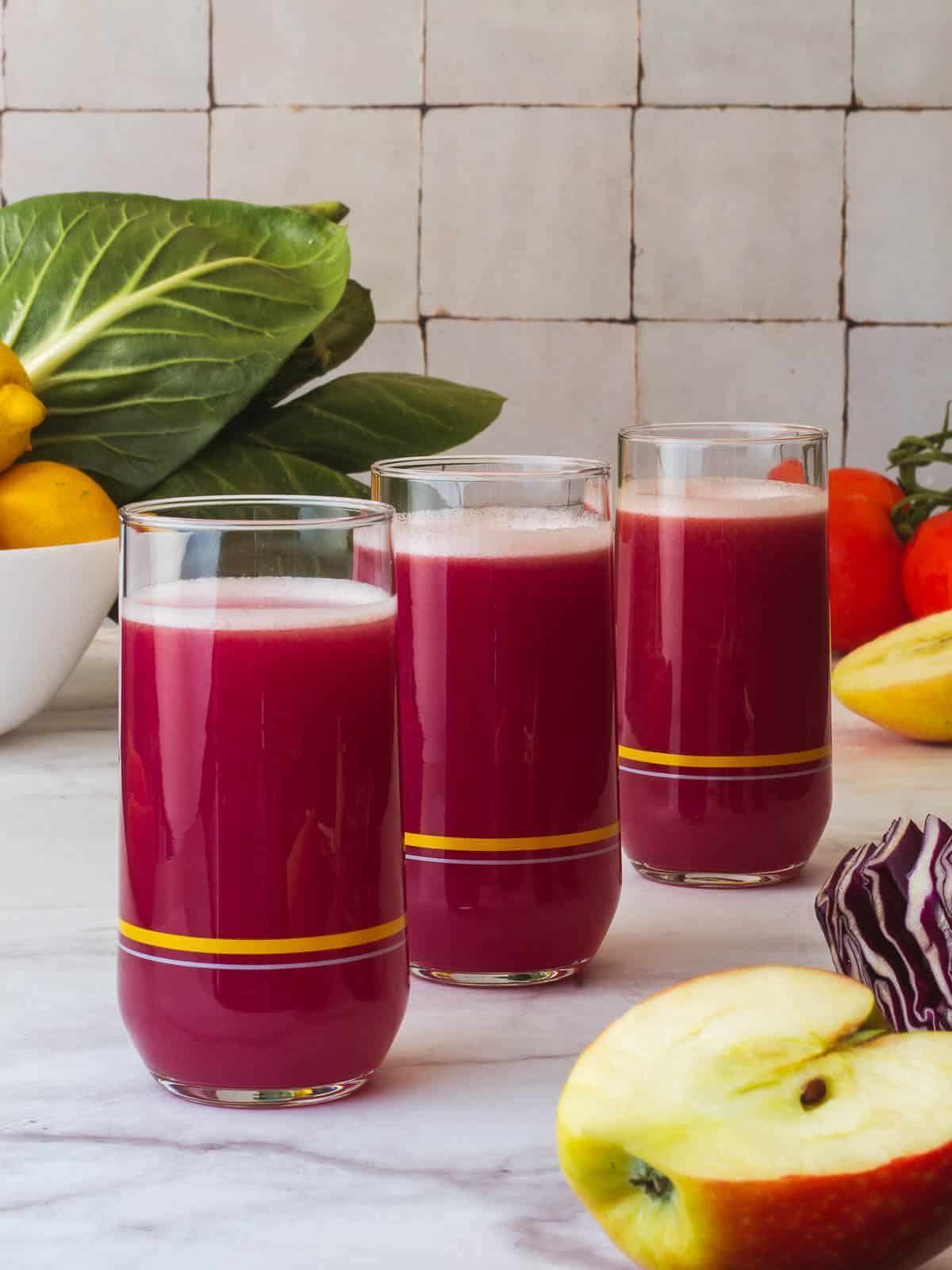 If you try this recipe, let us know! Leave a comment, rate it, and don't forget to tag a photo #ourplantbasedworld on Instagram. Cheers!
📋 Recipe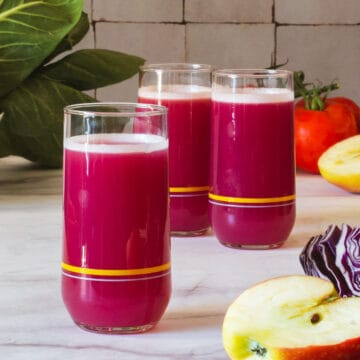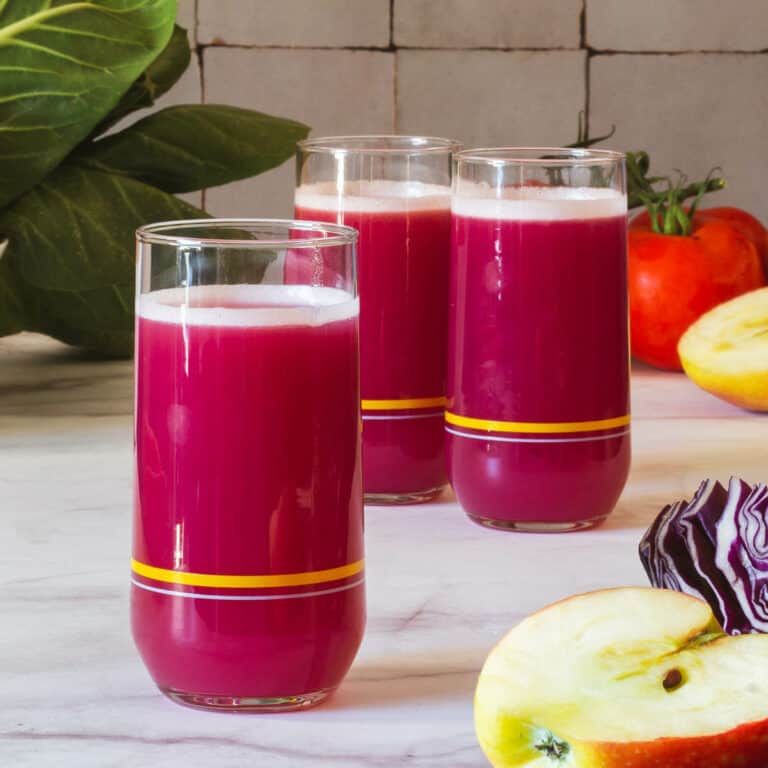 Red Cabbage Juicing + Purple Cabbage Juice Recipe
Looking for a delicious and nutritious way to enjoy red cabbage? Check out this red cabbage juice recipe, only 3 ingredients and packed with health benefits.
Equipment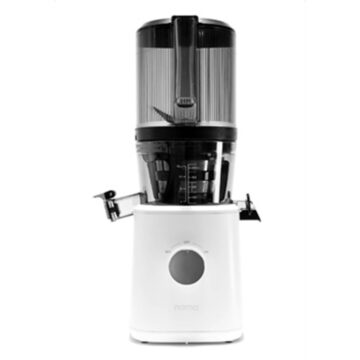 (affiliate link)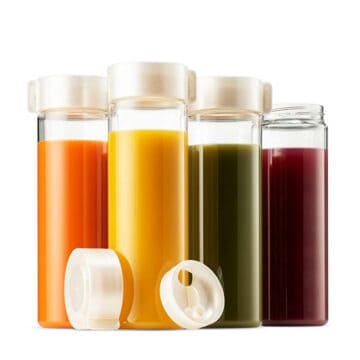 (affiliate link)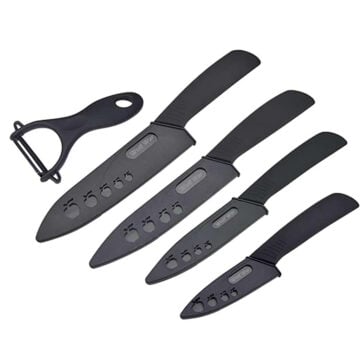 (affiliate link)
Ingredients
11

oz

red cabbage

about 3 cups, coarsely chopped

1

tomato

large chopped into chunks

1

red apple
Directions
PREPARE THE VEGETABLES and FRUITS
Wash all your vegetables and fruits thoroughly.

Coarsely chop the red cabbage.

Core and chop the apple.

Cutaway the peel from the ginger, lime, or lemon, if using.
MAKE JUICE
Turn the juicer on and push everything through, alternating between the vegetable and fruit chunks. If using lemon reserve it for squeezing it at the end.

When everything but the reserved lemon has been juiced, stir the optional lemon juice and taste for tartness.
Notes
Make-ahead: fresh fruit and vegetable juice is best enjoyed soon after juicing, but you can make it a day or two in advance.
Make sure to store in glass, airtight containers. In case you have used a cold-pressed juicer, you are cashing up the expense! It should last a little longer.
Nutrition Facts
Calories:
107
kcal
Carbohydrates:
26
g
Protein:
3
g
Fat:
1
g
Saturated Fat:
0.1
g
Polyunsaturated Fat:
0.2
g
Monounsaturated Fat:
0.04
g
Sodium:
46
mg
Potassium:
622
mg
Fiber:
6
g
Sugar:
17
g
Vitamin A:
2302
IU
Vitamin C:
101
mg
Calcium:
82
mg
Iron:
2
mg
Nutrition Facts
Red Cabbage Juicing + Purple Cabbage Juice Recipe
Amount per Serving
% Daily Value*
* Percent Daily Values are based on a 2000 calorie diet.
Nutritional Disclaimer
The information shown is an estimate provided by an online nutrition calculator. It should not be considered a substitute for a professional nutritionist's advice. See our full Nutritional Disclosure here.
Affiliate Disclaimer
Please note that some of the links here are affiliate links, and I will earn a commission if you purchase through those links. I recommend all of the products listed because they are companies I have found helpful and trustworthy.