Vegetable juice is a great way to get your daily dose of vegetables, but which is the best vegetable juice for diabetics? There are many different types of vegetable juice, and they all offer different benefits. This blog post will discuss the best vegetable juices for diabetics and how they can help improve your blood sugar levels. Stay tuned!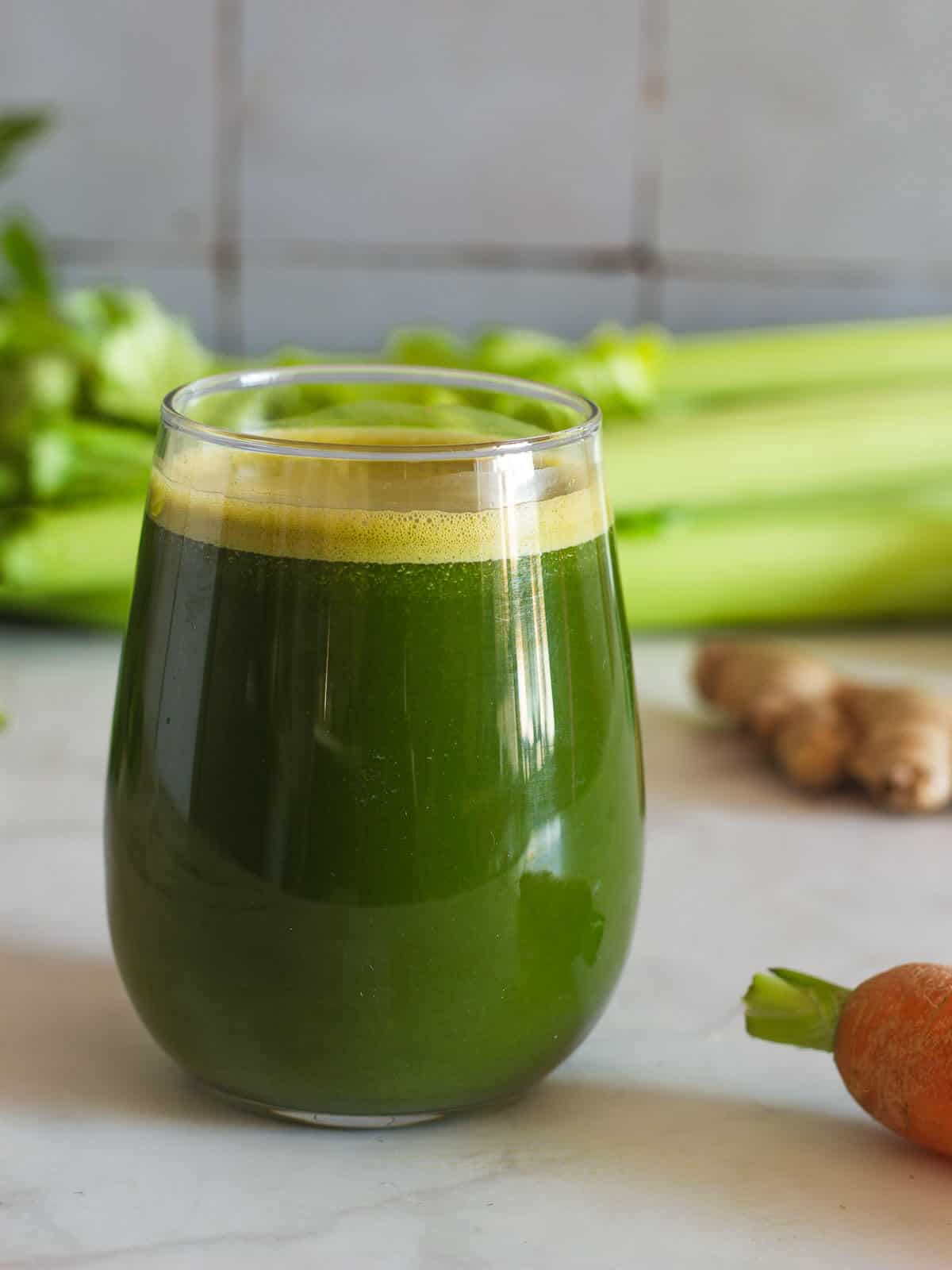 Not all vegetable juices are created equal, though. In this blog post, I'll share with you the best vegetable juice for diabetics. So read on and find out which one is right for you!
💡 Is drinking Juice a good idea for people with diabetes?
For those without type 2 diabetes, sipping on juice is often a no-brainer. But if you're navigating life with diabetes, juice may be more of a cautionary tale than a go-to drink.
Here's why: In a non-diabetic scenario, the food you eat breaks down into sugar, hitting the bloodstream. That signals your pancreas to release insulin, guiding sugar into cells for energy. But if you have diabetes, the insulin story is a bit more complicated—either your body isn't producing enough, or it can't efficiently use what it has. This results in elevated blood sugar and potential complications down the line.
The thing with whole fruits is they're fiber-rich, slowing down sugar absorption from the gut. But juice? Most of that fiber gets left behind, leaving you with a sugary concoction that can spike your blood sugar fast.
Now, juice isn't all bad news bears. It can offer some perks like vitamin C, vital for tissue repair, growth, and a well-functioning immune system. Studies¹ also indicate that veggie and fruit juices may lower the risk of chronic diseases like cardiovascular issues and certain cancers.
But let's not sugarcoat it: juice lacks fiber and can be high in sugar and calories. Even though you can get a vitamin C fix from a glass of OJ, it's far better to opt for whole fruits and veggies, especially if you're juggling type 2 diabetes. Juice binging can trigger weight gain and hyperglycemia, the extreme blood sugar spike with risks like:
Severe dehydration due to hyperosmolar hyperglycemic state,
Diabetic ketosis, potentially leading to a coma.
Chronic high sugar levels can wreak havoc on your eyes, kidneys, nerves, and blood vessels, escalating the risk of stroke or heart attack and slowing down wound healing.
If you do opt for juice, keep tabs for hyperglycemia symptoms like fatigue, blurry vision, and excessive thirst. Juice isn't a total no-go, but it's definitely a handle-with-care situation if you have diabetes.
The most important aspect of juicing for people with diabetes is watching carefully what ingredients to include in the juice. Always choose the right vegetables for your juices and smoothies, and choose fruits with a low glycemic index.
Jump to:
🧾 Ingredients
Carrots: Rich in beta-carotene, which converts to vitamin A, carrots offer antioxidants that can help regulate blood sugar. Plus, their natural sweetness provides a taste balance without spiking glucose levels.
Celery: A low-calorie hydrator, celery packs a good amount of fiber to slow down sugar absorption and helps in detoxifying your system.
Spinach: This leafy green is a powerhouse of magnesium, a mineral known to aid in blood sugar control. Plus, the high fiber content also makes it a diabetic-friendly option.
Ginger: Known for its anti-inflammatory properties, ginger may also help in managing blood sugar levels. Its zesty kick adds flavor without the need for added sugars.
Lemon: A splash of lemon juice offers a boost of vitamin C and aids in alkalizing the body.
🔪 Instructions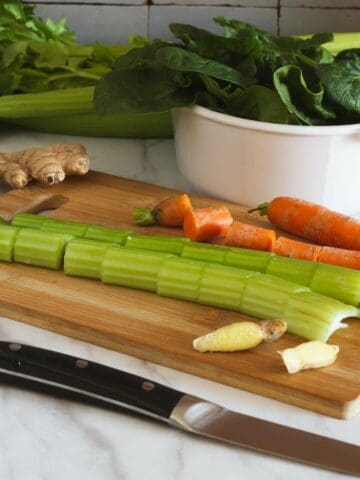 Clean your veggies and coarsely chop them.
Juice your ingredients by passing them through a juicer (see how to juice without a juicer if you don't have one).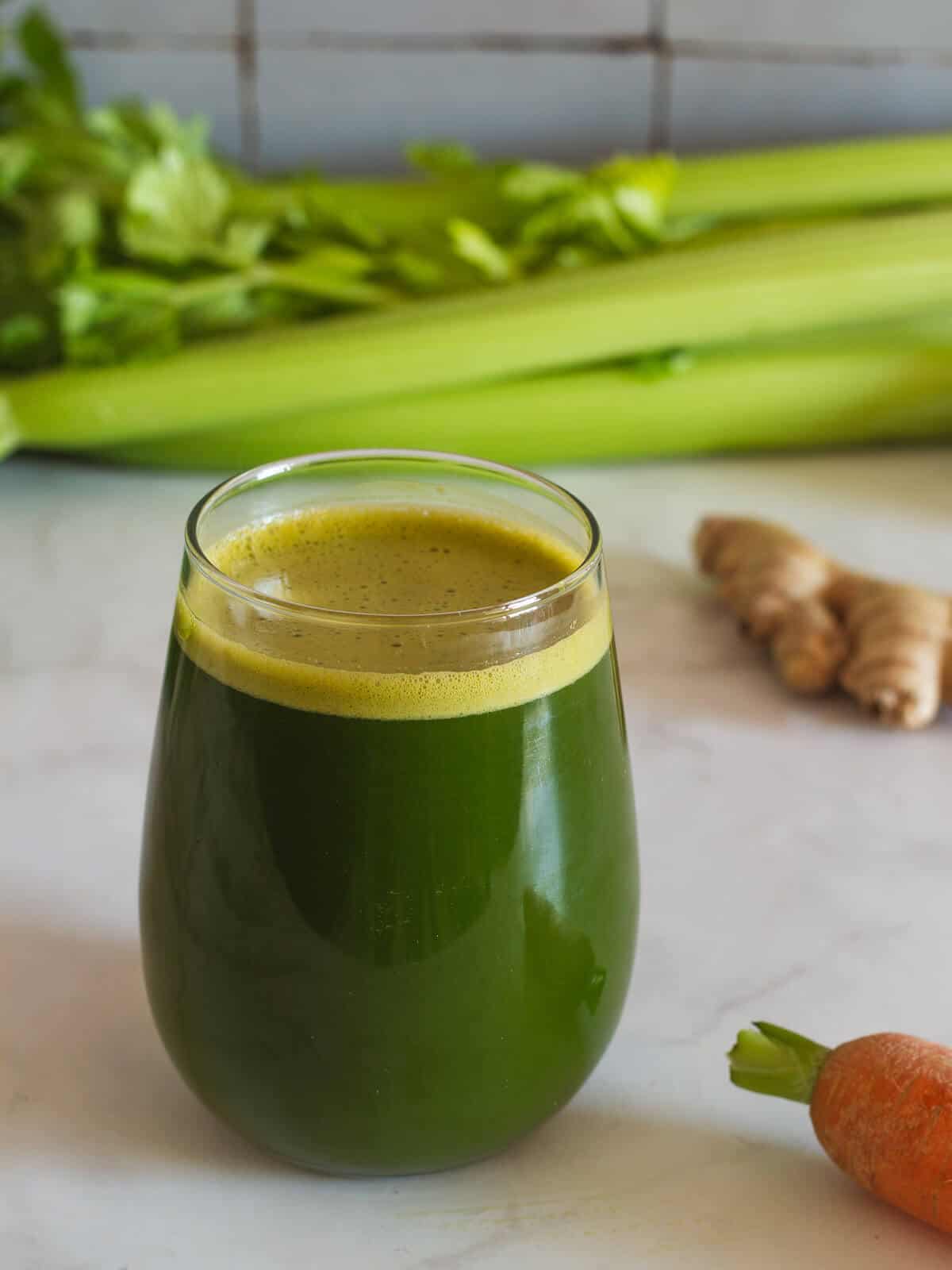 Serve chilled, and add the lemon juice on top.
🫙 Storage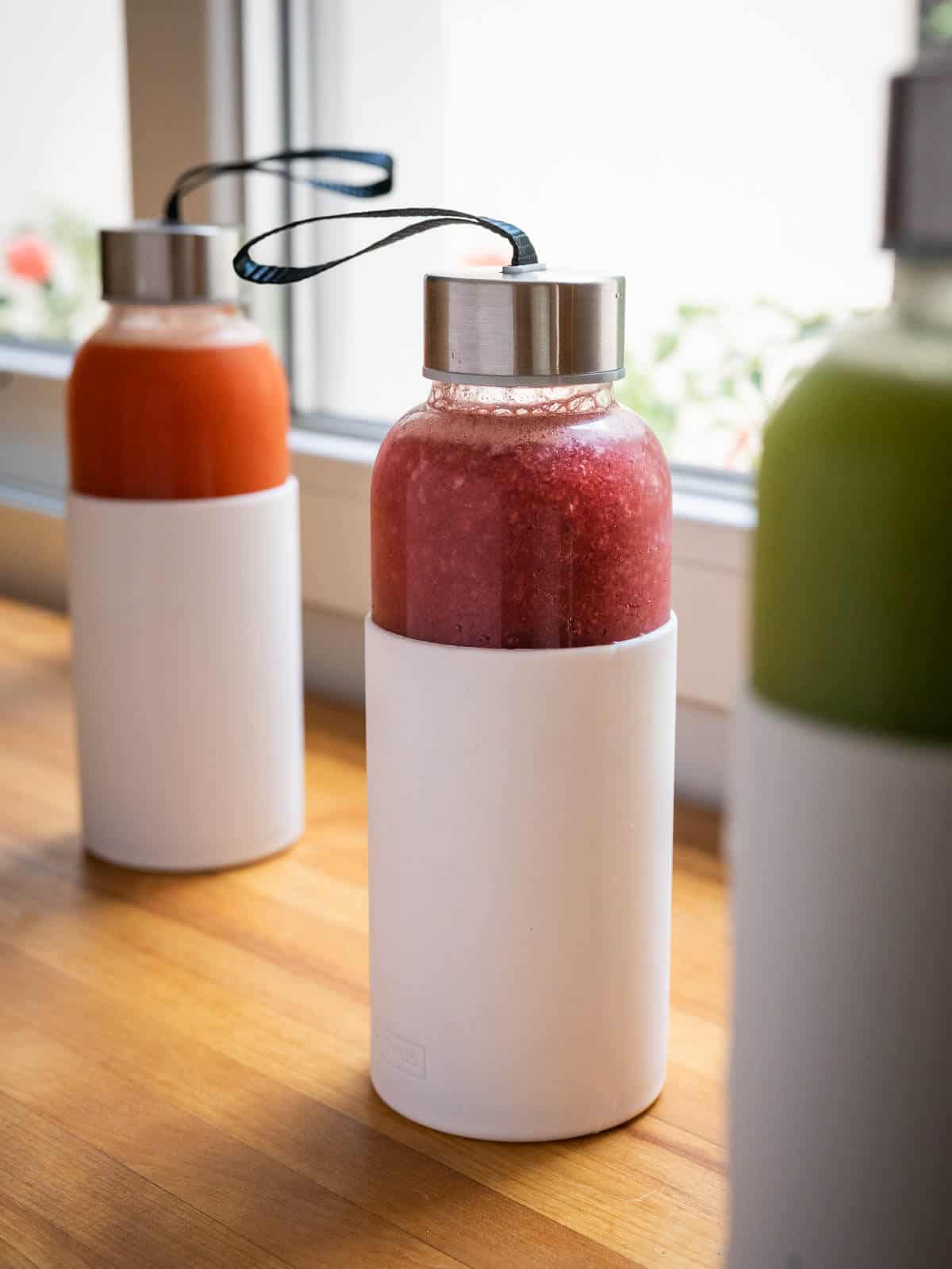 Fridge It
Chill & Seal: Transfer your fresh juice into an airtight glass container. Make sure the container is filled to the top to minimize air exposure, which can degrade nutrients.
Consume Quickly: For maximum flavor and nutrition, aim to enjoy your juice within 48 hours.
Freeze It
Prep & Pour: Divide the juice into freezer-safe glass jars, leaving about an inch of space at the top for expansion.
Label It: Don't forget to slap on a date label so you can keep track. Your juice will stay good for up to 3 months.
Thaw & Enjoy
Defrost Naturally: When you're ready to sip, transfer your frozen juice to the fridge for a slow, natural thaw over 12 hours.
Shake It Up: Ingredients might separate during freezing. Give it a good shake before enjoying.
See our complete guide on storing juice.
❓FAQ
What are the best juices for diabetics?
The best juices for people living with diabetes are those with low sugar content, as drinking fruit juice can affect blood sugar levels. That's why it is good to use only vegetables and use other ingredients such as ginger root and lemon juice to enhance their flavor, balancing the vegetable's flavor with acidity.
Also, ginger has anti-diabetic-promoting properties (source), which makes it a great natural product to add to a low-sugar diet.
Read on: Spinach Ginger Smoothie »
How to make a juice that is good for diabetics?
As a rule of thumb, try to avoid fruit juices, like freshly squeezed orange juice, because they concentrate lots of sugar in a serving, contributing to high blood sugar levels.
People with diabetes need to avoid blood sugar spikes and aim for blood sugar regulation.
Check the green cabbage and red cabbage juice for excellent low-sugar juice options.
Does vegetable juice raise blood sugar?
Most vegetable juices are low in sugar; this recipe only contains 2 grams of sugars and 6 grams of carbohydrates.
Aim for vegetables with low-glycemic indexes like spinach and celery, and combine them with carrot juice, which has just the right amount of sweetness to make the drink pleasant.
Is apple juice good for diabetes?
Unfortunately, apple juice has a lot of sugar and can raise blood glucose levels. An exception will be if the person is facing hypoglycemia, in which case apple juice or orange juice can help raise blood sugar levels.
Read on: Juicing Cauliflower with a delicious apple, carrot, and ginger juice
🥒 Best juice for diabetics
There are certain exceptions with fruit juices, like bitter melon juice and pomegranate juice.
Pomegranate juice
A study showed that pomegranate juice might benefit people with diabetes because its natural sugar is attached to antioxidants. This means that it does not cause blood sugar to spike. This feature may help decrease insulin resistance and lower blood sugar.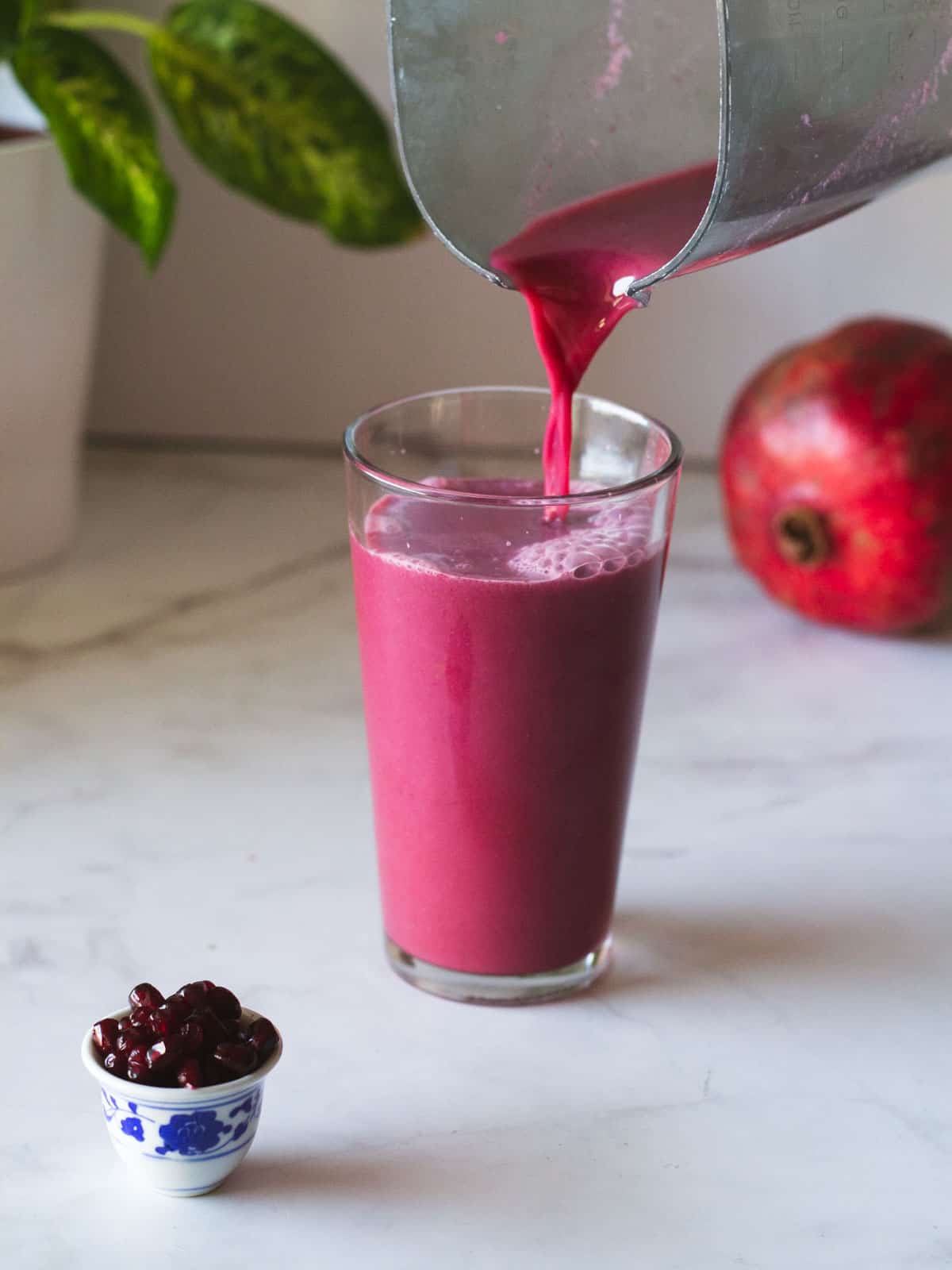 Strawberry Juice
Another great option with only 7 grams carbohydrate and 4 grams sugar is strawberry juice, which is easily made at home using just strawberries, lemon, and water. You only need a blender (affiliate link) to make it.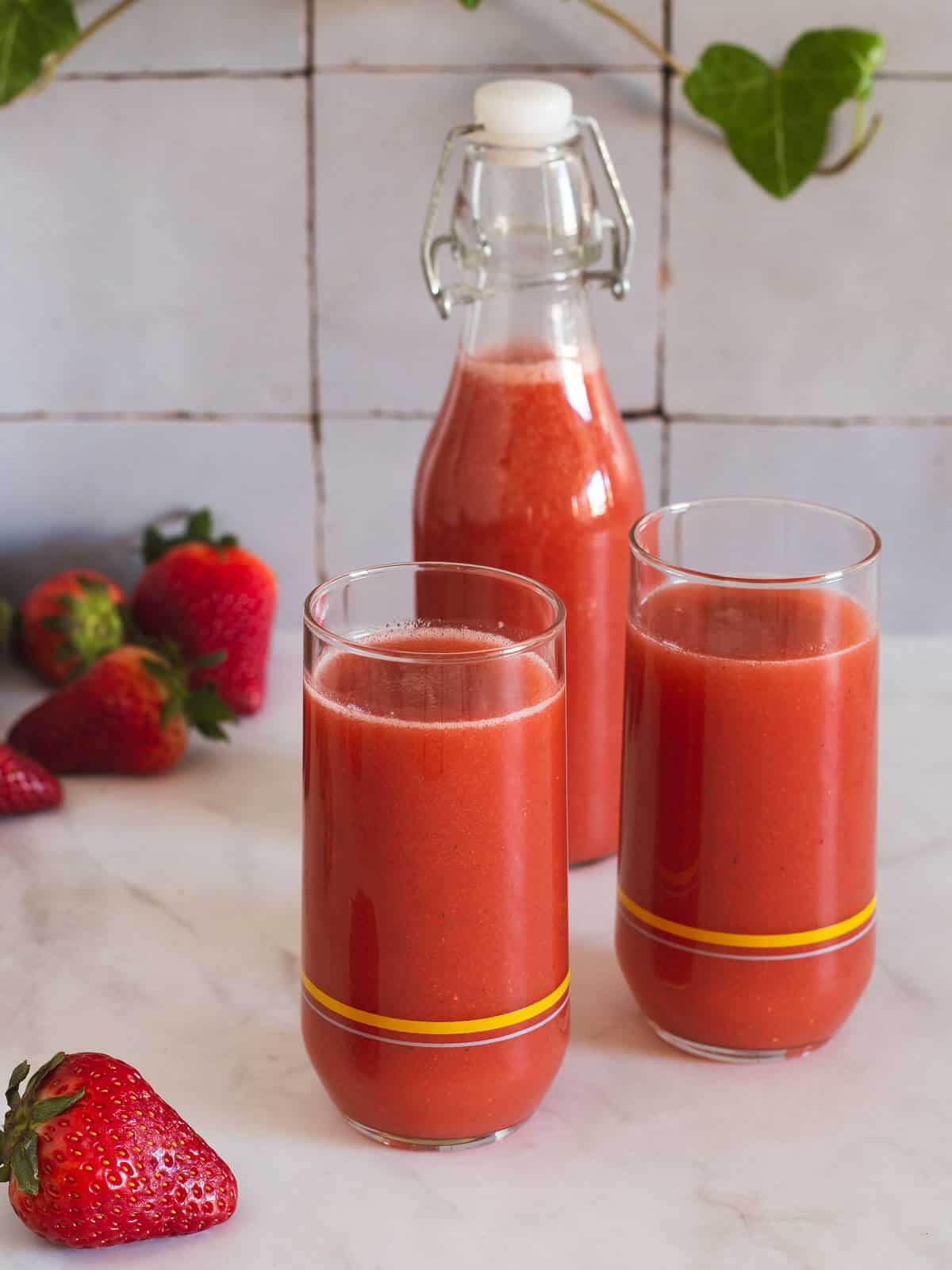 Tomato Juice
Tomato juice is a smart pick for individuals with type 2 diabetes. It's recognized for its ability to lower the likelihood of blood clot formation, which is especially crucial given the elevated risk of cardiovascular problems and atherosclerosis in diabetic folks.
Carrot Juice
While carrots may taste sweet, they're actually good at keeping blood sugar levels in check when consumed in reasonable amounts, especially if you combine carrots with veggies like cucumber and celery with a low sugar content.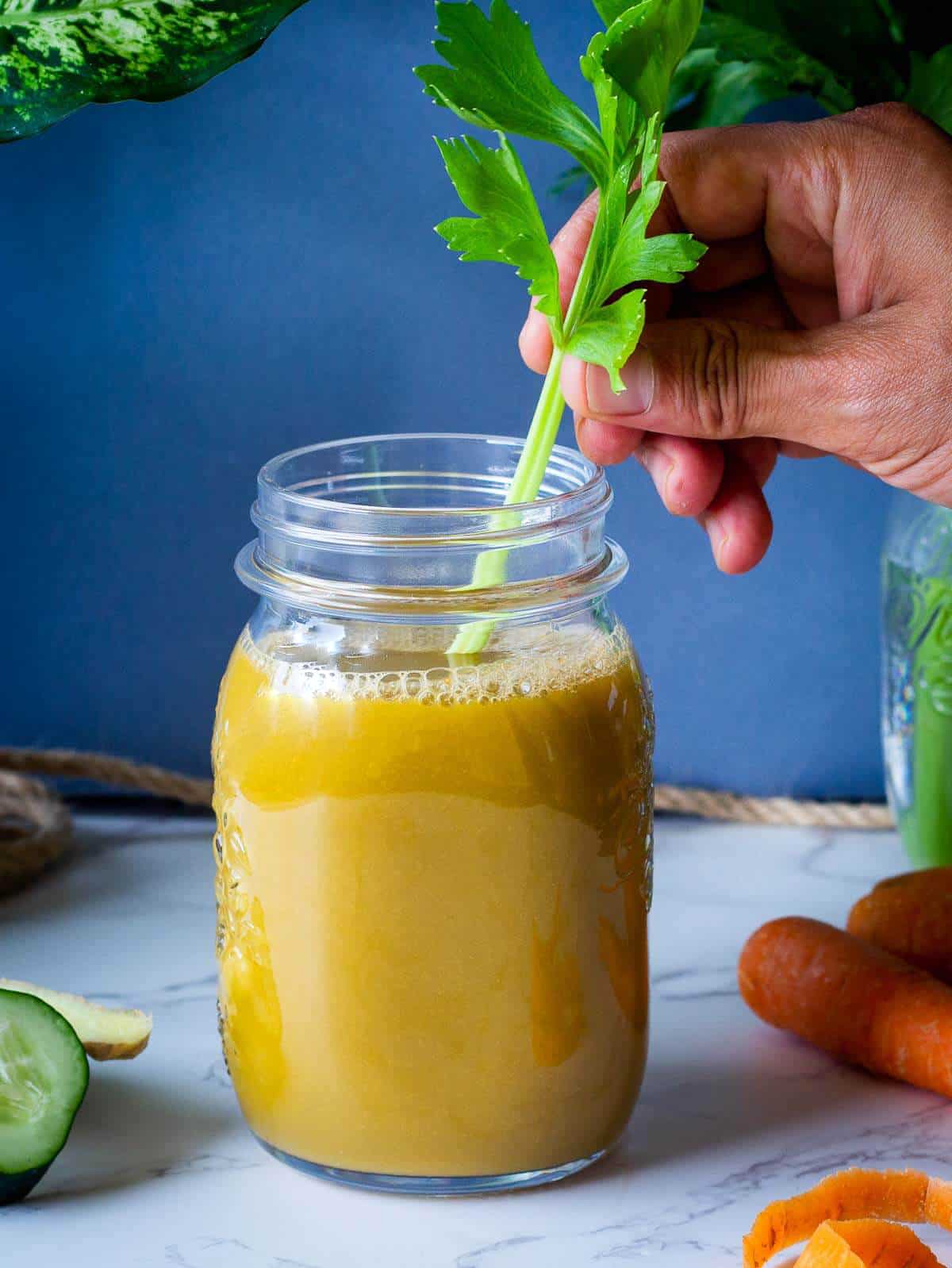 Packed with an array of vitamins, minerals, and carotenoids that act as antioxidants, carrots offer multiple health benefits. Just keep an eye on portion sizes; even though they have a low glycemic index, a 250 grams serving of carrot juice still comes with less than 25 grams of carbs.
What can diabetics drink besides water?
When managing blood sugar, you need to avoid sugary drinks, drinking alcohol, drinks with added sugar, or energy drinks, as that can play a big role in raising blood sugar levels.
Aim for drinks like sparkling water, green tea, pineapple water, lemon water, and unsweetened tea.
Another excellent drink for people with diabetes is this low-sugar, high-fiber smoothie, made with apples, cabbage, and carrots, and it is also great for treating constipation.
Read on: Hydrating Drinks with low sugar content »
Conclusion
If you are diabetic, juicing is a great way to get your body's nutrients. The best vegetable juice for diabetics is one that is low in sugar and high in fiber. In addition to juicing, it's important to eat a healthy diet and exercise regularly. Start feeling better today by incorporating juicing into your diabetes management plan.
⭐ If you try this recipe, let us know! 💬 Leave a comment, rate it, and don't forget to tag us @ourplantbasedworld on Instagram. Cheers!
📋 Recipe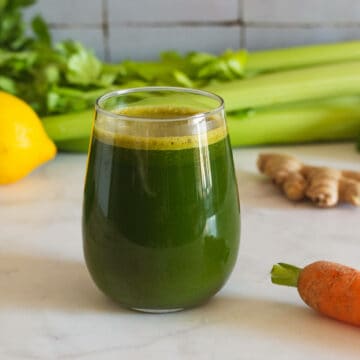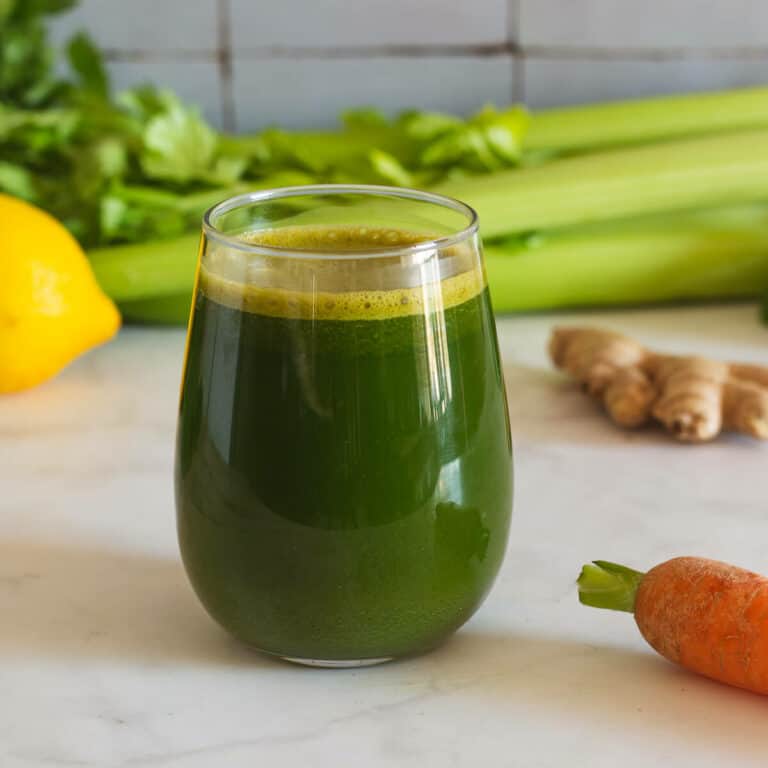 Vegetable Juice for Diabetics
Not all vegetable juices are created equal, though. In this blog post, We'll share with you the best vegetable juice for people with diabetes.
Equipment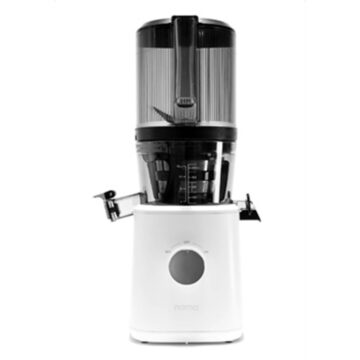 (affiliate link)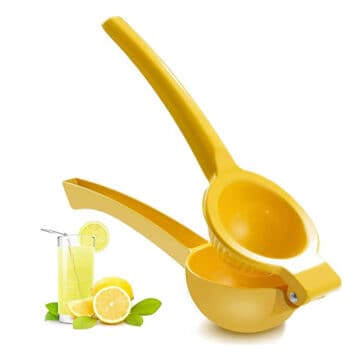 (affiliate link)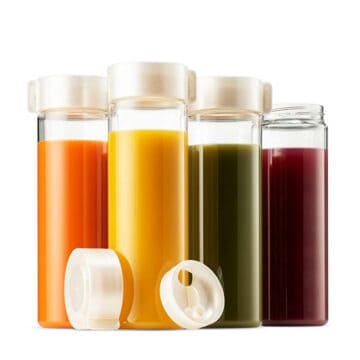 (affiliate link)
Directions
Wash and coarsely chop all your veggies and ginger.

Pass all the produce through the juicer, adding about half a cup of water.

Serve chilled, and add the lemon juice on top.
Notes
There is no need to peel the ginger or lemon.
Feel free to change veggies for other non-sugary vegetables like cucumbers, broccoli, and celery, using the same ratios.
Nutrition Facts
Calories:
24
kcal
Carbohydrates:
6
g
Protein:
1
g
Fat:
1
g
Saturated Fat:
1
g
Polyunsaturated Fat:
1
g
Monounsaturated Fat:
1
g
Sodium:
24
mg
Potassium:
157
mg
Fiber:
2
g
Sugar:
2
g
Vitamin A:
5157
IU
Vitamin C:
16
mg
Calcium:
19
mg
Iron:
1
mg
Nutrition Facts
Vegetable Juice for Diabetics
Amount per Serving
% Daily Value*
* Percent Daily Values are based on a 2000 calorie diet.
Nutritional Disclaimer
The information shown is an estimate provided by an online nutrition calculator. It should not be considered a substitute for a professional nutritionist's advice. See our full Nutritional Disclosure here.
Affiliate Disclaimer
Please note that some of the links here are affiliate links, and I will earn a commission if you purchase through those links. I recommend all of the products listed because they are companies I have found helpful and trustworthy.