Vegetable juice is a great way to get your daily dose of vegetables, but which is the best vegetable juice for diabetics? There are many different types of vegetable juice, and they all offer different benefits. This blog post will discuss the best vegetable juices for diabetics and how they can help improve your blood sugar levels. Stay tuned!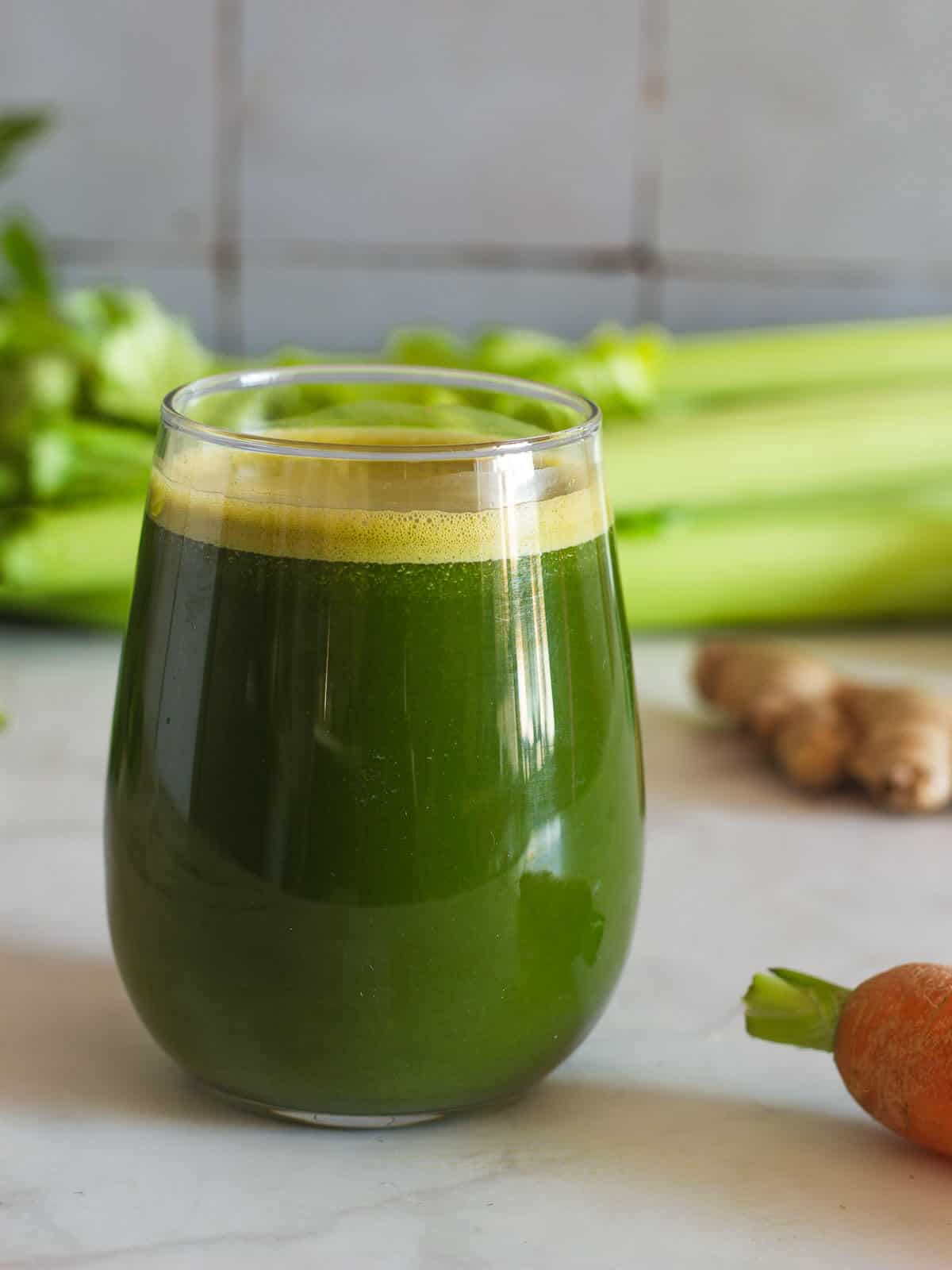 Not all vegetable juices are created equal, though. In this blog post, I'll share with you the best vegetable juice for diabetics. So read on and find out which one is right for you!
The most important aspect of juicing for people with diabetes is watching carefully what ingredients to include in the juice. Always choose the right vegetables for your juices and smoothies, and choose fruits with a low glycemic index.
Jump to:
🧾 Ingredients
Carrots
Celery
Spinach
Ginger
Lemon
🔪 Instructions
Clean your veggies and coarsely chop them.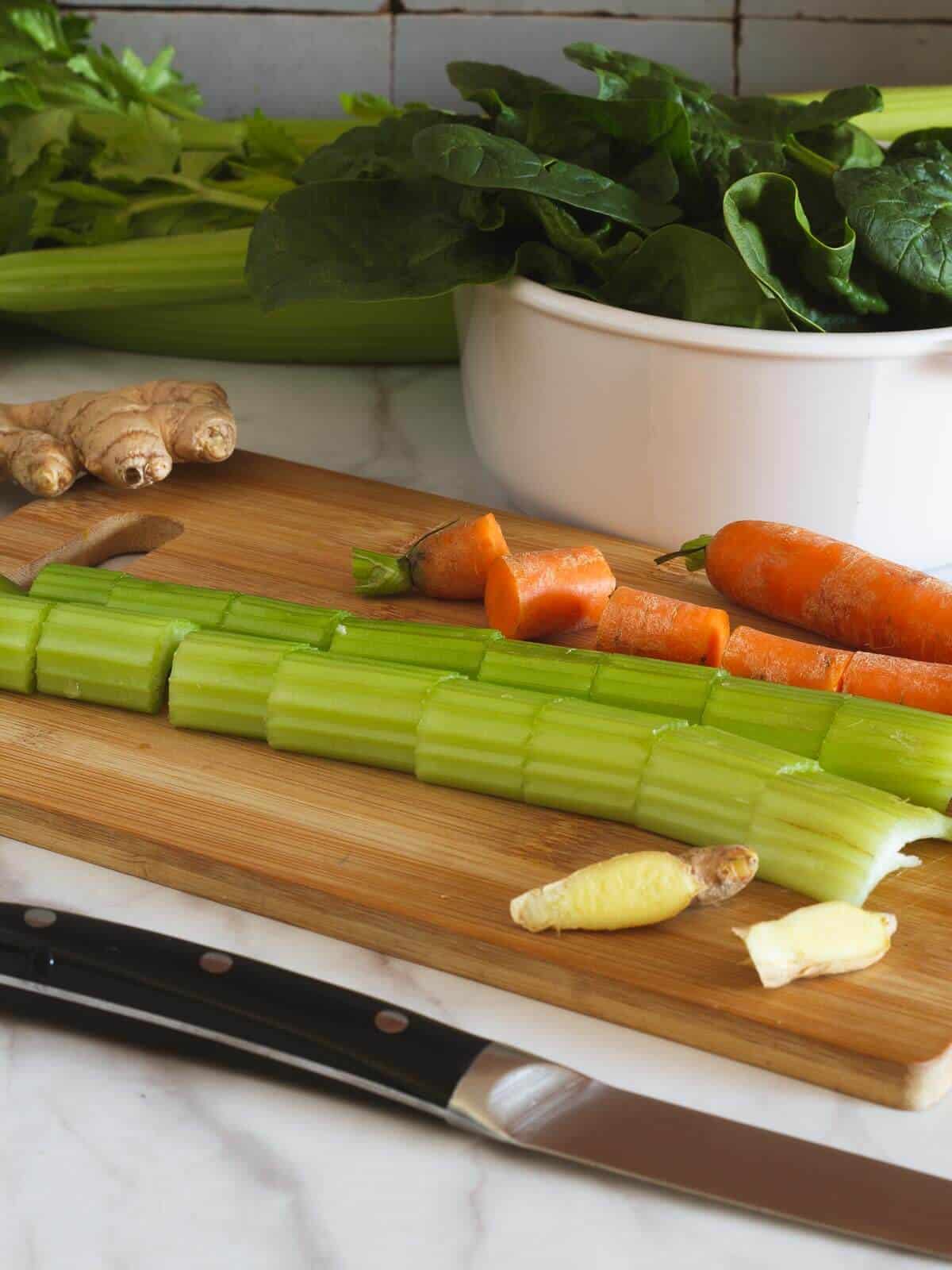 Juice your ingredients by passing them through a juicer (see how to juice without a juicer if you don't have one).
Serve chilled, and add the lemon juice on top.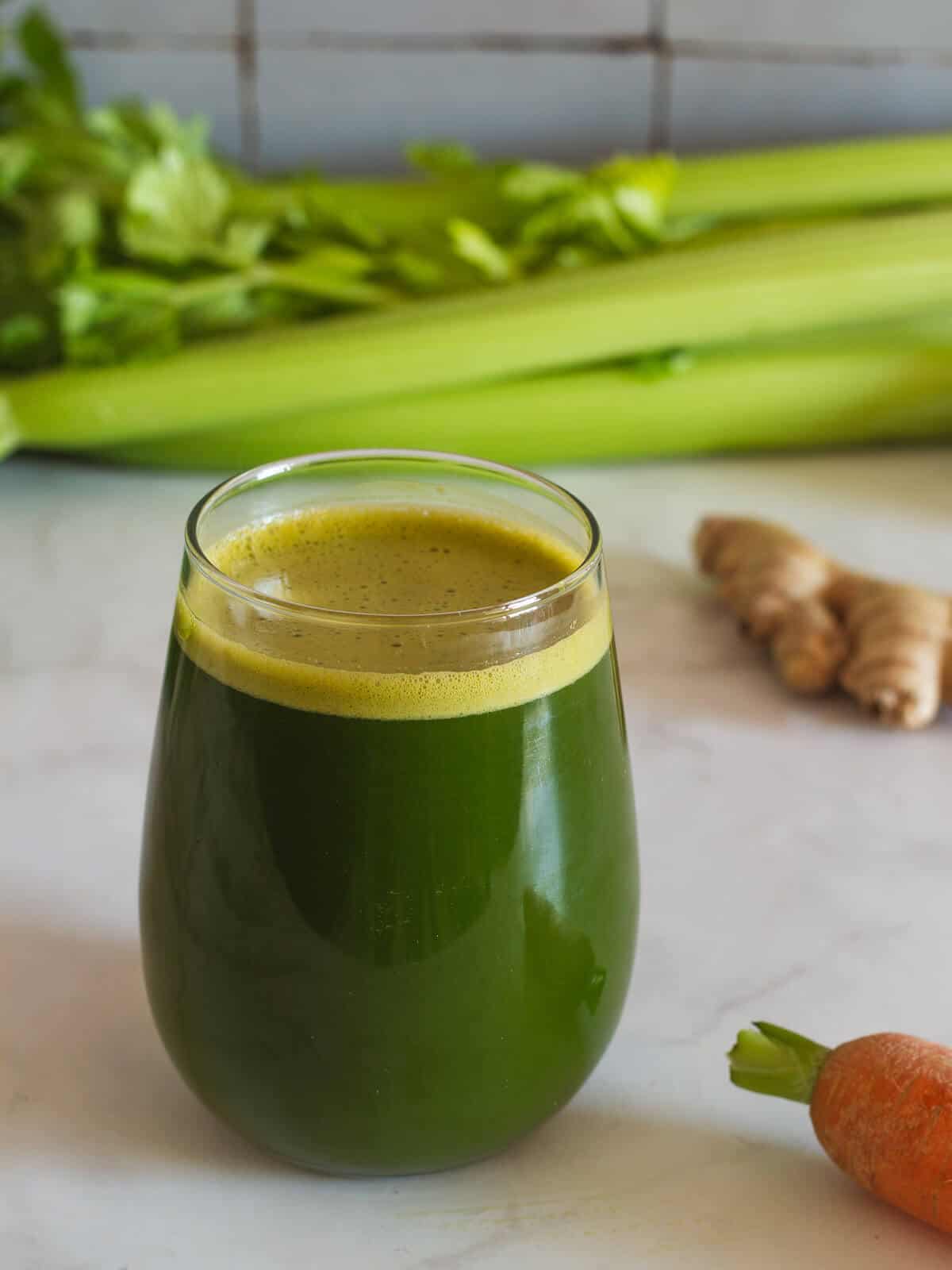 ❓FAQ
What are the best juices for diabetics?
The best juices for people living with diabetes are those with low sugar content, as drinking fruit juice can affect blood sugar levels. That's why it is good to use only vegetables and use other ingredients such as ginger root and lemon juice to enhance their flavor, balancing the vegetable's flavor with acidity.
Also, ginger has anti-diabetic-promoting properties (source), which makes it a great natural product to add to a low-sugar diet.
Read on: Spinach Ginger Smoothie »
How to make a juice that is good for diabetics?
As a rule of thumb, try to avoid fruit juices, like freshly squeezed orange juice, because they concentrate lots of sugar in a serving, contributing to high blood sugar levels.
People with diabetes need to avoid blood sugar spikes and aim for blood sugar regulation.
Check the green cabbage and red cabbage juice for excellent low-sugar juice options.
Does vegetable juice raise blood sugar?
Most vegetable juices are low in sugar; this recipe only contains 2 grams of sugars and 6 grams of carbohydrates.
Aim for vegetables with low-glycemic indexes like spinach and celery, and combine them with carrot juice, which has just the right amount of sweetness to make the drink pleasant.
Is apple juice good for diabetes?
Unfortunately, apple juice has a lot of sugar and can raise blood glucose levels. An exception will be if the person is facing hypoglycemia, in which case apple juice or orange juice can help raise blood sugar levels.
Read on: Juicing Cauliflower with a delicious apple, carrot, and ginger juice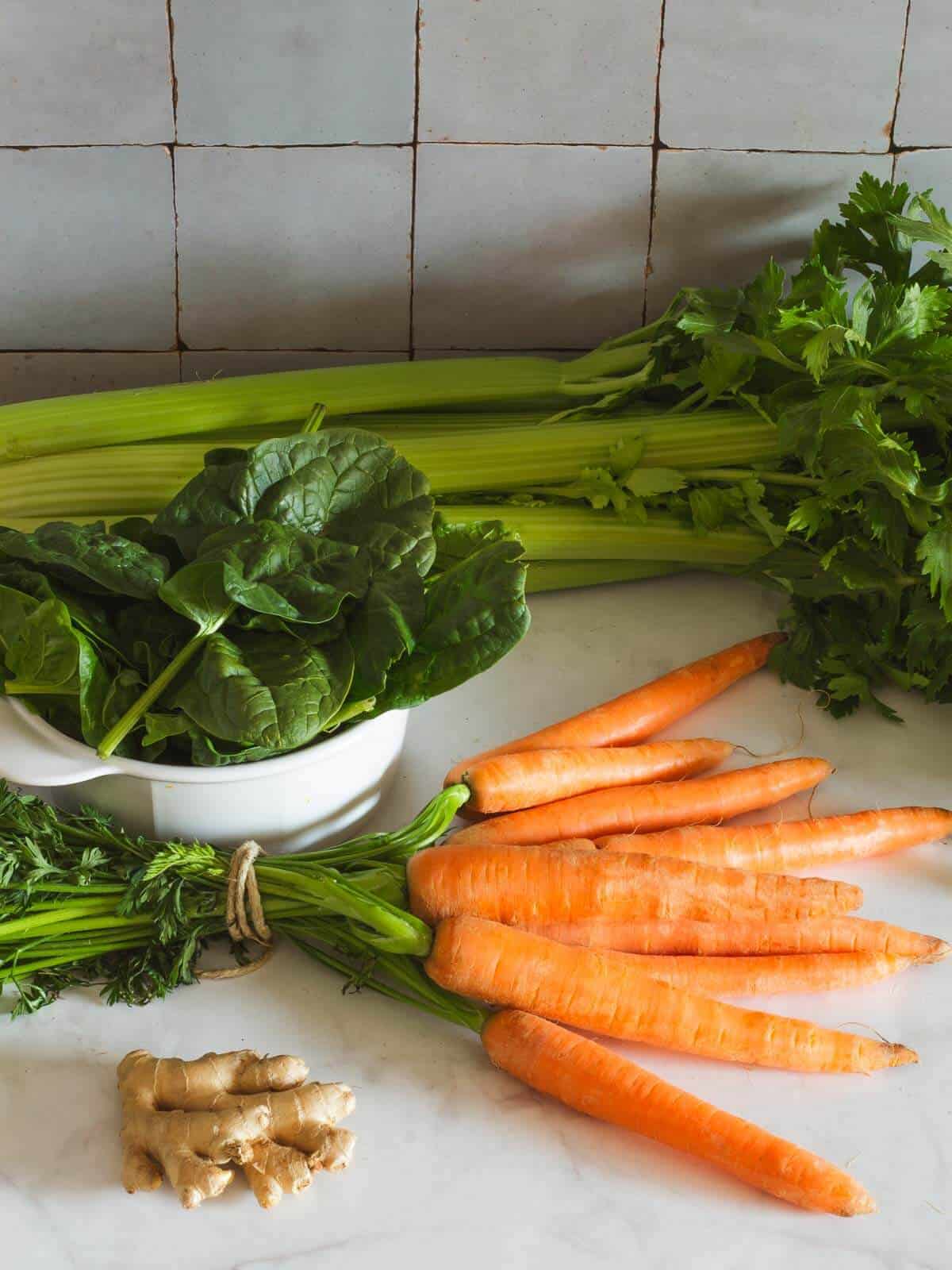 🥒 Best juice for diabetics
There are certain exceptions with fruit juices, like bitter melon juice and pomegranate juice.
A study showed that pomegranate juice might benefit people with diabetes because the natural sugar it contains is attached to antioxidants. This means that it does not cause blood sugar to spike. This feature may help decrease insulin resistance and lower blood sugar.
Another great option with only 7 grams carbohydrate and 4 grams sugar is strawberry juice, which is easily made at home using just strawberries, lemon, and water. You only need a blender (affiliate link) to make it.
What can diabetics drink besides water?
When managing blood sugar, you need to avoid sugary drinks, drinking alcohol, drinks with added sugar, or energy drinks, as that can play a big role in raising blood sugar levels.
Aim for drinks like sparkling water, green tea, pineapple water, lemon water, and unsweetened tea.
Read on: Hydrating Drinks with low sugar content »
If you are diabetic, juicing is a great way to get your body's nutrients. The best vegetable juice for diabetics is one that is low in sugar and high in fiber. In addition to juicing, it's important to eat a healthy diet and exercise regularly. Start feeling better today by incorporating juicing into your diabetes management plan.
Another excellent drink for people with diabetes is this low-sugar, high-fiber smoothie, made with apples, cabbage, and carrots, and it is also great for treating constipation.
⭐ If you try this recipe, let us know! 💬 Leave a comment, rate it, and don't forget to tag us @ourplantbasedworld on Instagram. Cheers!
📋 Recipe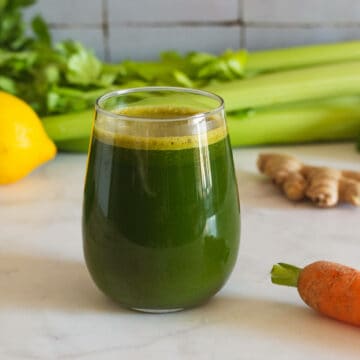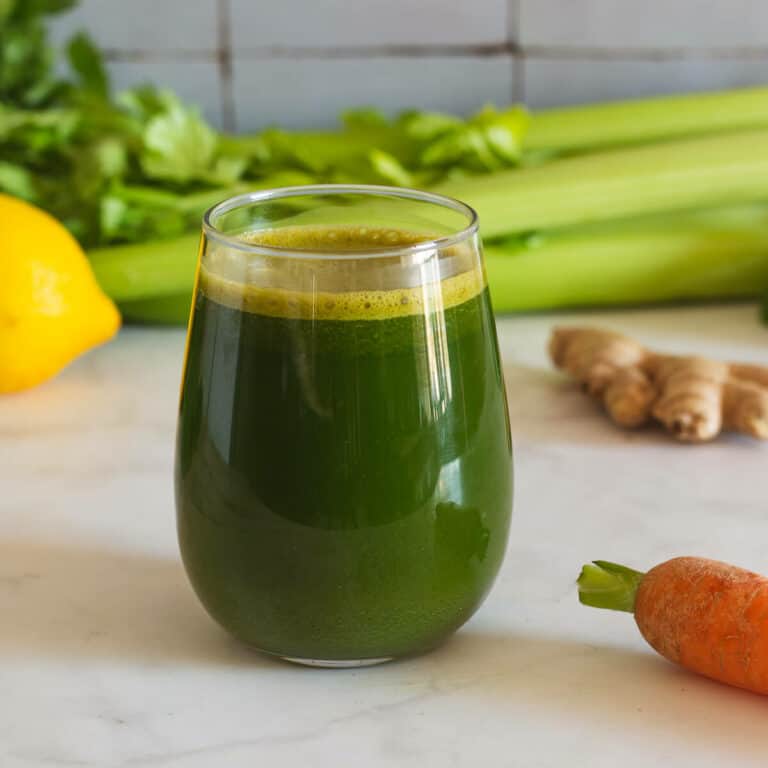 Vegetable Juice for Diabetics
Not all vegetable juices are created equal, though. In this blog post, We'll share with you the best vegetable juice for people with diabetes.
Equipment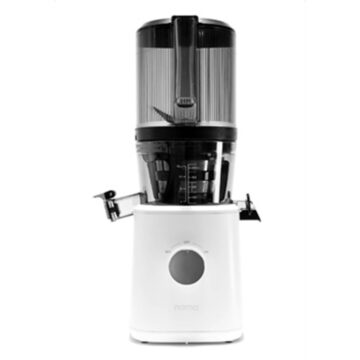 (affiliate link)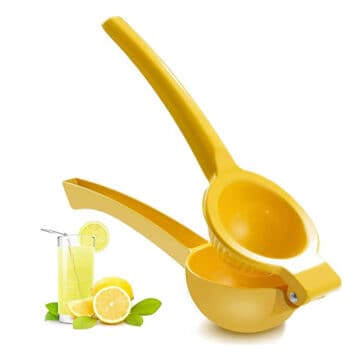 (affiliate link)
Directions
Wash and coarsely chop all your veggies and ginger.

Pass all the produce through the juicer, adding about half a cup of water.

Serve chilled, and add the lemon juice on top.
Notes
Note: no need to peel the ginger or lemon.
Nutrition Facts
Calories:
24
kcal
Carbohydrates:
6
g
Protein:
1
g
Fat:
1
g
Saturated Fat:
1
g
Polyunsaturated Fat:
1
g
Monounsaturated Fat:
1
g
Sodium:
24
mg
Potassium:
157
mg
Fiber:
2
g
Sugar:
2
g
Vitamin A:
5157
IU
Vitamin C:
16
mg
Calcium:
19
mg
Iron:
1
mg
Nutrition Facts
Vegetable Juice for Diabetics
Amount per Serving
% Daily Value*
* Percent Daily Values are based on a 2000 calorie diet.
🌡️ Food safety
Cook to a minimum temperature of 165 °F (74 °C)
Do not use the same utensils on cooked food that previously touched raw meat
Wash hands after touching raw meat
Don't leave food sitting out at room temperature for extended periods
Never leave cooking food unattended
Use oils with high smoking points to avoid harmful compounds
Always have good ventilation when using a gas stove
See more guidelines at USDA.gov.
The information shown is an estimate provided by an online nutrition calculator. It should not be considered a substitute for a professional nutritionist's advice. See our full Nutritional Disclosure here.
Please note that some of the links here are affiliate links, and I will earn a commission if you purchase through those links. I recommend all of the products listed because they are companies I have found helpful and trustworthy.