With the cold days ending, start craving pineapple, coconut, and beach-evoking smoothies. Try this Healthy Green Pineapple Banana Spinach Smoothie! It is packed with nutritious ingredients like spinach, pineapple, and banana; this smoothie is delicious and good for you. Perfect for a quick breakfast or snack on the go.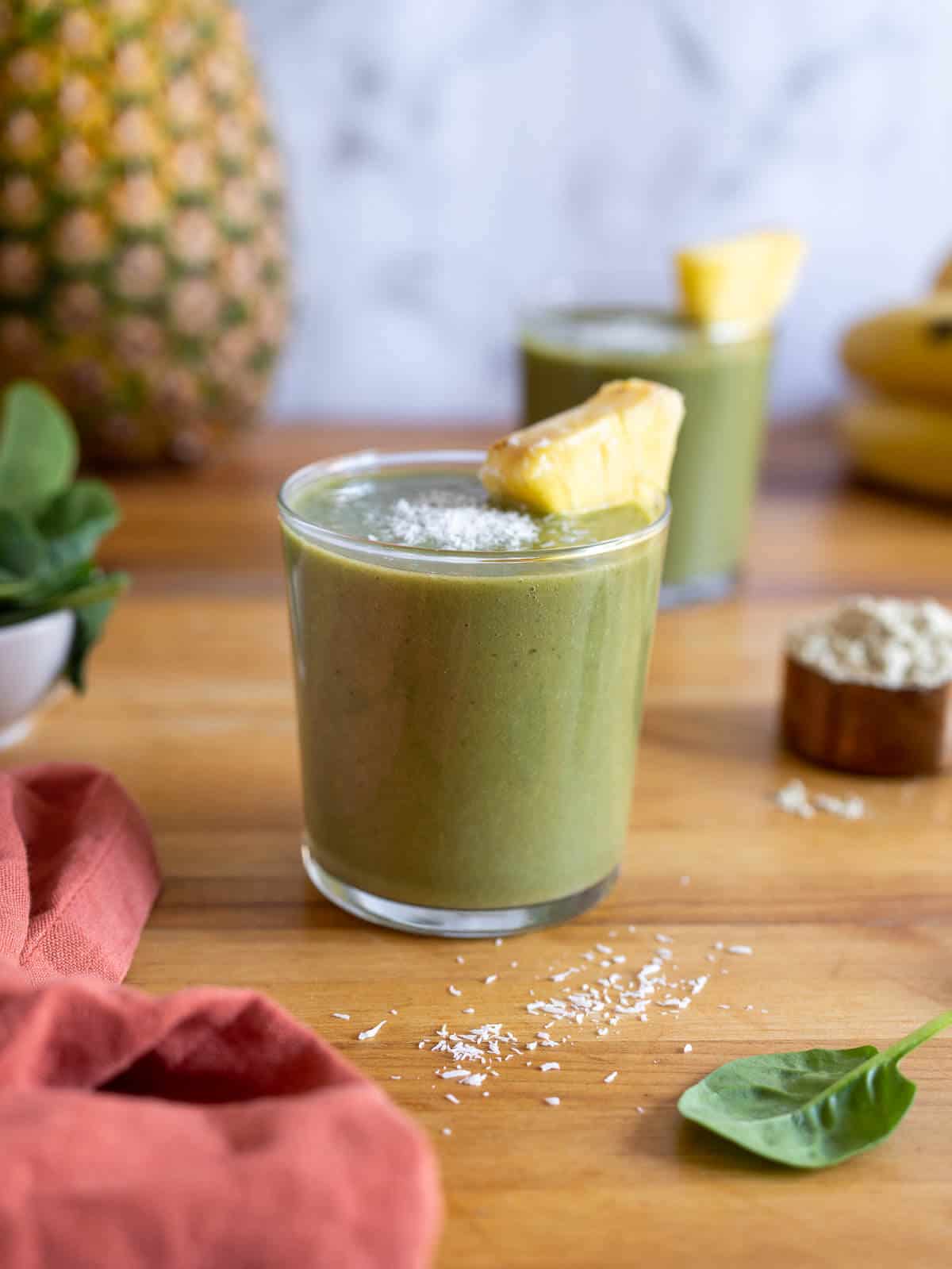 With this green smoothie, we have officially inaugurated the beach season! Southern Spain's warm months start 1-2 months before they do in the rest of Europe, meaning Easter by the beach!
We strive to create new functional smoothie recipes, and we made this protein smoothie as a beach mid-morning snack and breakfast smoothie to avoid leaving the beach in search of some hunger-alleviating meal.
This sweet pineapple spinach banana smoothie is filling but still light. Why? Well, spinach and pineapple pack lots of fiber, and bananas have a natural sweetness that blends as a nurturing beach-day treat.
It was inspired by our pineapple cucumber smoothie for weight loss, but we decided to mix in some tropical flavors.
Jump to:
🧾 Ingredients
This pineapple spinach smoothie is made with just a few delicious ingredients: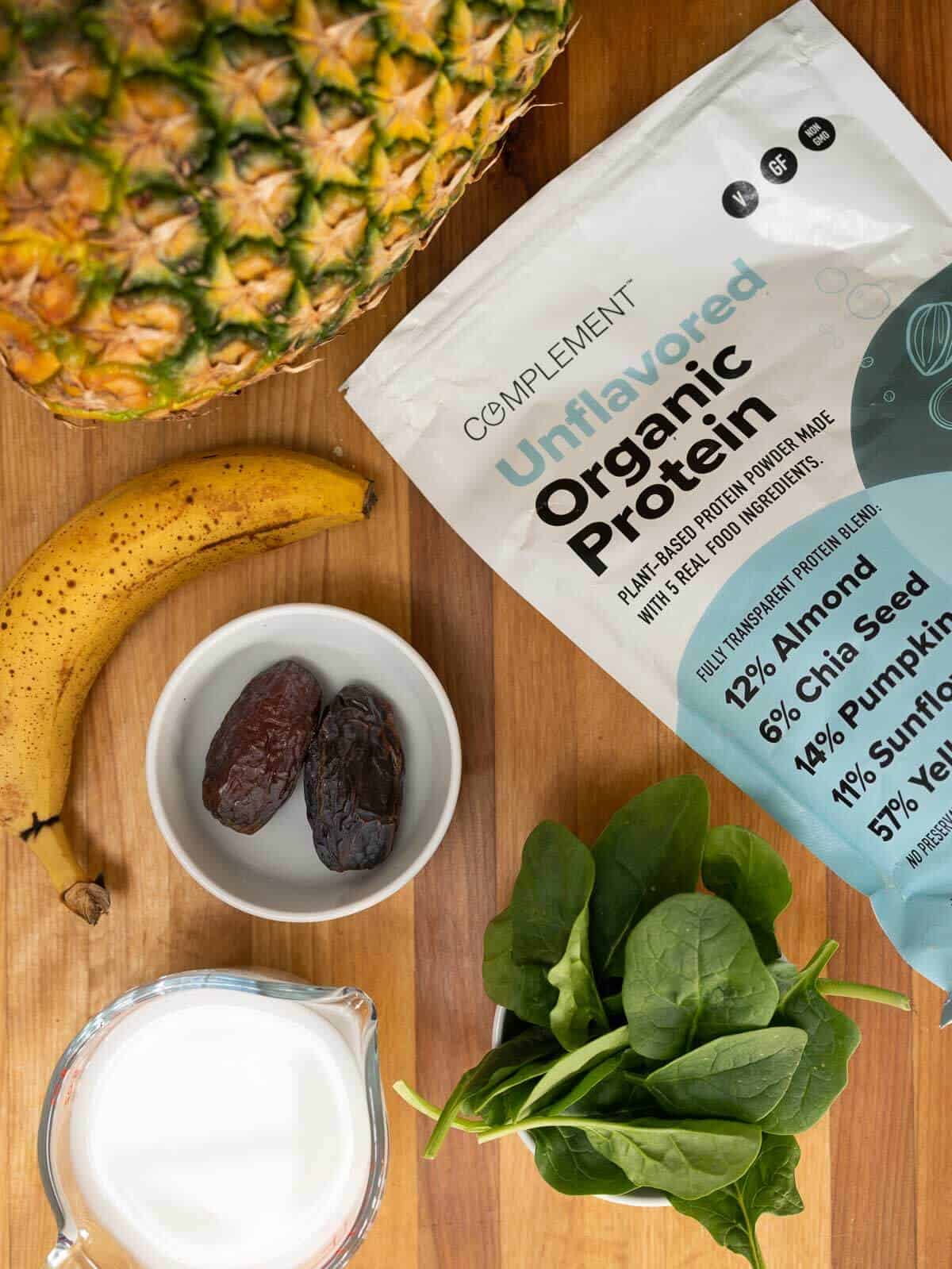 Frozen Pineapple adds sweetness, color, and all the Summer flavors. Fresh pineapple also works.
Fresh Spinach - adding spinach gives color to most green smoothies and adds lots of nutrients like vitamins A, C, K, folate, and potassium, and it is also a great source of fiber. Use baby spinach for a more delicate flavor and added creaminess. You may also use frozen spinach.
Frozen Banana - yum! Most smoothies use bananas for two reasons: creaminess and natural sweetness, but let's not forget that they also add more tropical notes!
Coconut milk - no tropical-inspired smoothie is complete without a coconut drink. Use light coconut milk to keep the calories low.
Meedjol Dates - completely optional. Only if your pineapple wasn't sweet enough or your bananas weren't completely ripe. You can also use maple syrup, agave nectar, or date paste.
Protein powder - since we are not using soy milk, a great source of protein for smoothies, we add unsweetened protein powder to have all the nutritional value we expect from a pre or post-workout smoothie to replenish our bodies after exercise fully.
See the recipe card for quantities.
We use Complement's Organic and 100% Naturally Sourced Unflavored Protein Powder (affiliate link) for these cookies and our smoothies. If you'd like to try it, use the promo code PBWORLD10 at check-out to enjoy a 10% discount.
🔪 Instructions
To make this pineapple green smoothie: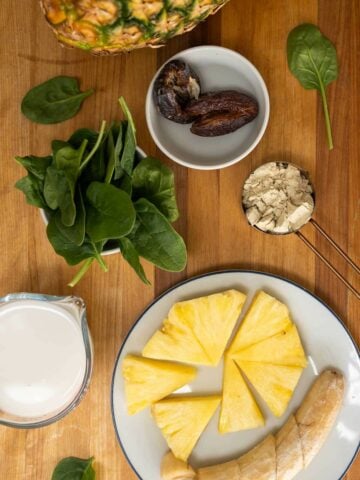 Step 1: If not using packed frozen fruit, prepare all the ingredients and cut them into chunks.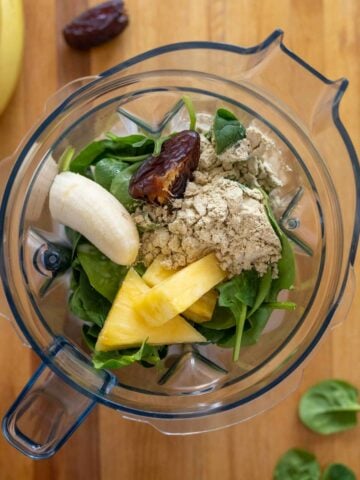 Step 2: Add all the ingredients into a high-speed blender's jar, starting with liquids.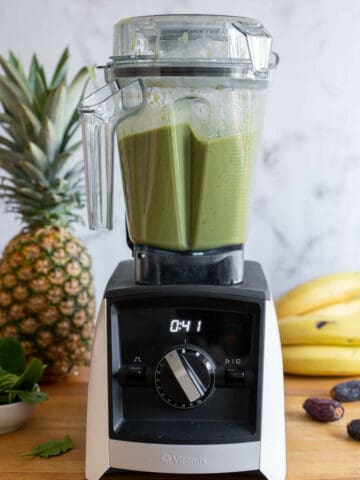 Step 3: blend until the smoothie is super creamy. Use the smoothie mode in your blender or liquefy for 40 seconds.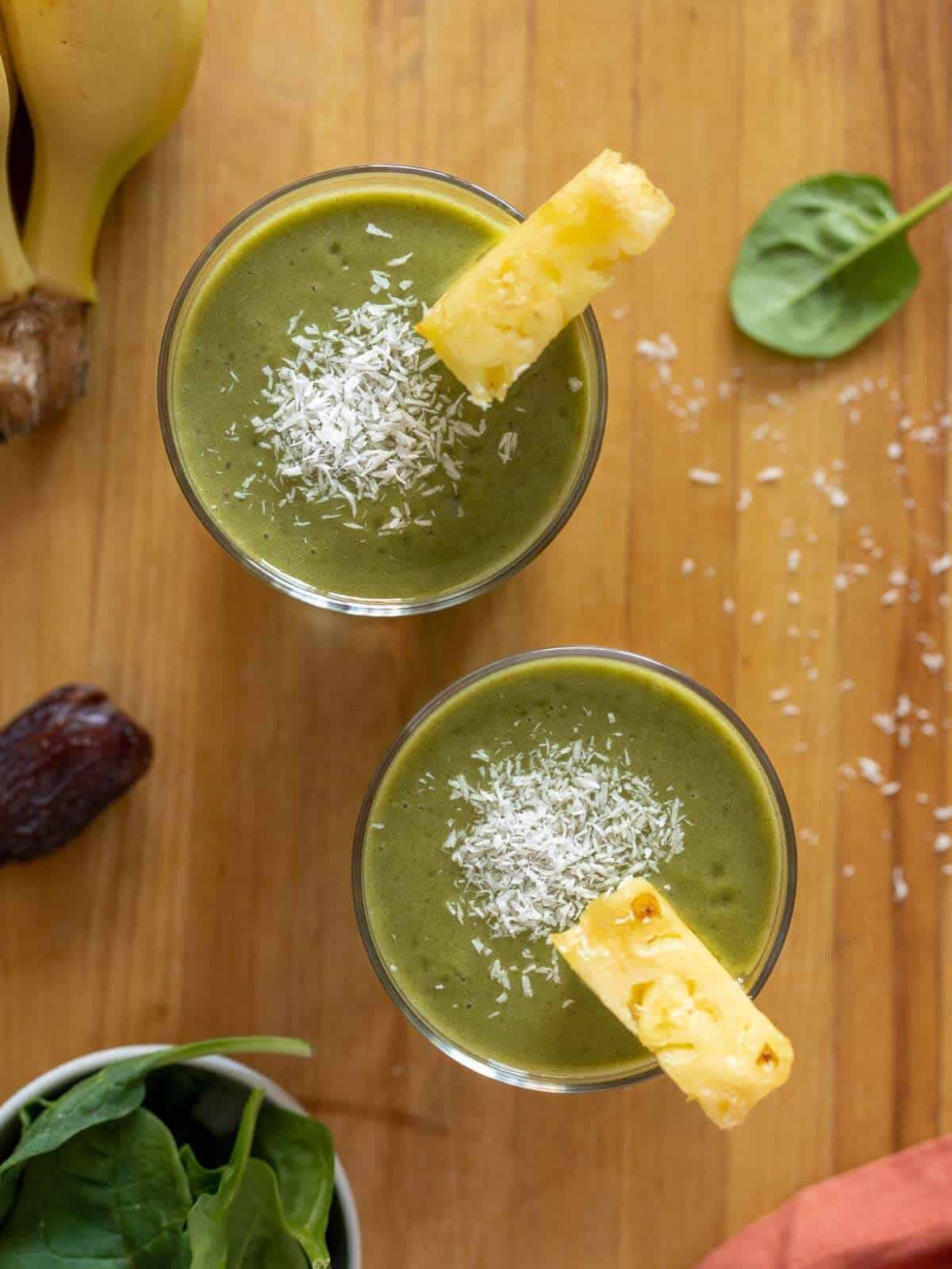 Step 4: Make it memorable, garnishing it with pineapple chunks and shredded coconut.
Hint: choose frozen fruit so you don't have to add ice cubes to the smoothie. If you use fresh fruit, add 4-6 ice cubes.
🍶 Substitutions
Coconut milk - use any other dairy-free milk instead. Our favorites are soy, oat, and unsweetened almond milk. You can also opt for coconut water for an even lighter spinach pineapple banana smoothie.
Frozen Banana - use frozen mango instead. Mangoes are great options for those who can't stand bananas' smell. Frozen peaches are also a great replacement.
Pineapple - well, although it wouldn't be a pineapple smoothie anymore, you can substitute it with orange juice, as it delivers the citrus notes we are looking for.
Spinach - you can use another green, like kale or collard greens, as a sub.
If you like oranges as part of your diet, you should try this Golden Fresh Pineapple Ginger Juice with an unexpected ingredient you probably have on the fridge!
📖 Variations
Hemp seeds - add a tablespoon of hulled hemp seeds (hearts) for an extra protein boost and healthy fats.
Chia seeds - if you want extra antioxidants, add one tablespoon of chia seeds or flax meal to this pineapple spinach smoothie recipe. They also add a little protein to this tasty smoothie.
Hint: Keep in mind that chia seeds and flax meal make liquids thicken when they come in contact, so if you plan to take your smoothie for later as a mid-morning snack, or not consume it immediately, the consistency will change; add an extra cup of liquid to keep the smoothie's consistency.
🍽 Equipment
Making this Pineapple spinach smoothie is incredibly easy. All you need to do is blend your ingredients together until they are smooth. While I prefer to use my Vitamix (affiliate link) high-speed blender, other brands like Nutribullet (affiliate link) and Blendtec (affiliate link) can work just as effectively.
👨🏻‍🍳 Meal prep option
To save time, consider preparing your Pineapple Green Smoothie ahead of time by separating the banana and pineapple into portioned freezer bags. When you're ready to make it, simply add the plant milk, frozen fruit, and spinach leaves to your blender.
🥡 Storage
Store this carrot juice in a BPA-free (affiliate link), tightly sealed container in the fridge for up to 3 days.
You can freeze your pineapple spinach smoothie in an airtight container, but it doesn't stand up well to freezing for more than 3 months. It will never reach the same nutrient density as fresh juice, but you will still enjoy its health benefits.
💡 Top tips
When making smoothies, using frozen fruit helps to avoid the use of ice cubes, which may dilute the smoothies' flavor, but using fresh fruit is OK; just taste and adjust for sweetness, adding your preferred natural sweetener as needed.
If using fresh pineapple, don't discard the rinds; instead, make delicious and non-caloric pineapple water, a perfect drink for those in a weight loss program.
✅ Benefits of pineapple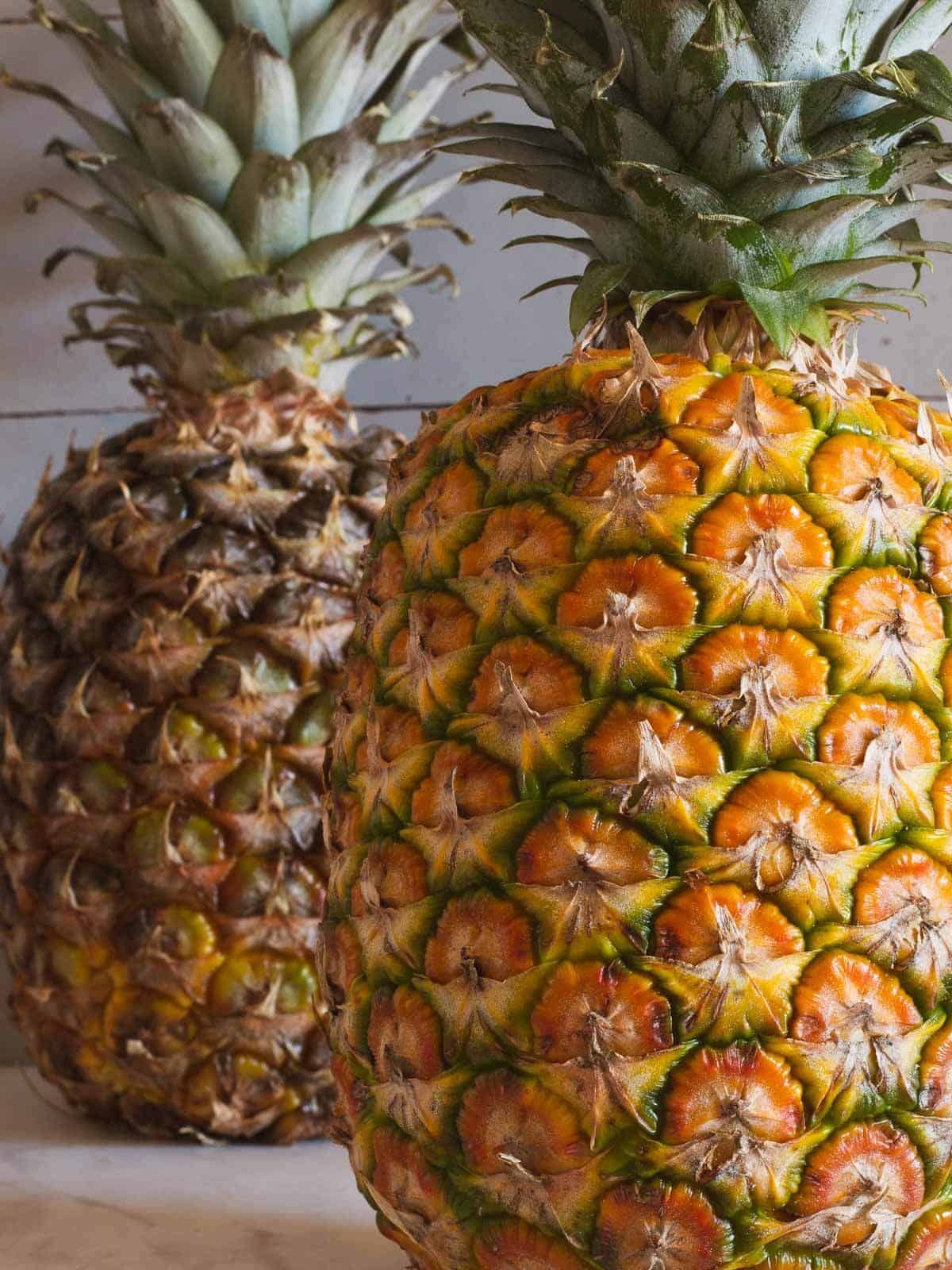 One of the most significant benefits of healthy pineapple is its high vitamin C content. Vitamin C is an essential nutrient that plays a crucial role in maintaining a healthy immune system, protecting against viruses and infections, and promoting the healing of wounds. One serving of pineapple provides more than 130% of the recommended daily vitamin C intake, making it an excellent choice for those looking to boost their immune system.
Another benefit of pineapple is its anti-inflammatory properties. Pineapple contains an enzyme called bromelain, which has been shown to reduce inflammation in the body.
This makes it a great food for people with conditions such as arthritis, where inflammation can lead to pain and stiffness.
In addition, the high fiber content in pineapple can help promote digestive health by regulating bowel movements and preventing constipation. Overall, adding pineapple to your diet can be an easy and tasty way to improve your health and well-being.
❓ FAQ
Is it OK to mix spinach with banana?
Yes, it is generally okay to mix spinach with banana. In fact, adding spinach to your banana smoothie can be a great way to increase your daily intake of leafy greens and add some extra nutrients to your diet. Spinach is rich in vitamins and minerals like iron, calcium, and vitamin C, while bananas are a good source of fiber, potassium, and vitamin B6.
You can try blending a handful of spinach with a ripe banana and some other fruits like berries or mango to make a delicious and healthy smoothie.
Some people may not enjoy the taste of spinach in their smoothie, so you can start by adding a small amount of spinach and gradually increasing the amount as you get used to the taste.
It's always a good idea to listen to your body and ensure you don't have any adverse reactions to new food combinations.
🥤 More spinach smoothies
Try our Strawberry Banana Spinach smoothie for weight loss, a delicious low-calorie green smoothie option.
This Frozen spinach smoothie with ginger is super light and great for fighting inflammation.
When all you have is apples or applesauce, kiwi leftovers, and greens, this Spinach Apple smoothie is a delicious answer for a quick breakfast.
Too many blueberries about to catch mold in the fridge? Make a Spinach blueberry banana smoothie.
Want to raise your nutrition game, have a try a this Superfoods detox smoothie made with pomegranate juice and leafy greens.
If you a crazy about pineapples, don't forget to check out our pineapple strawberry smoothie and the 3-ingredient pineapple coconut virgin colada.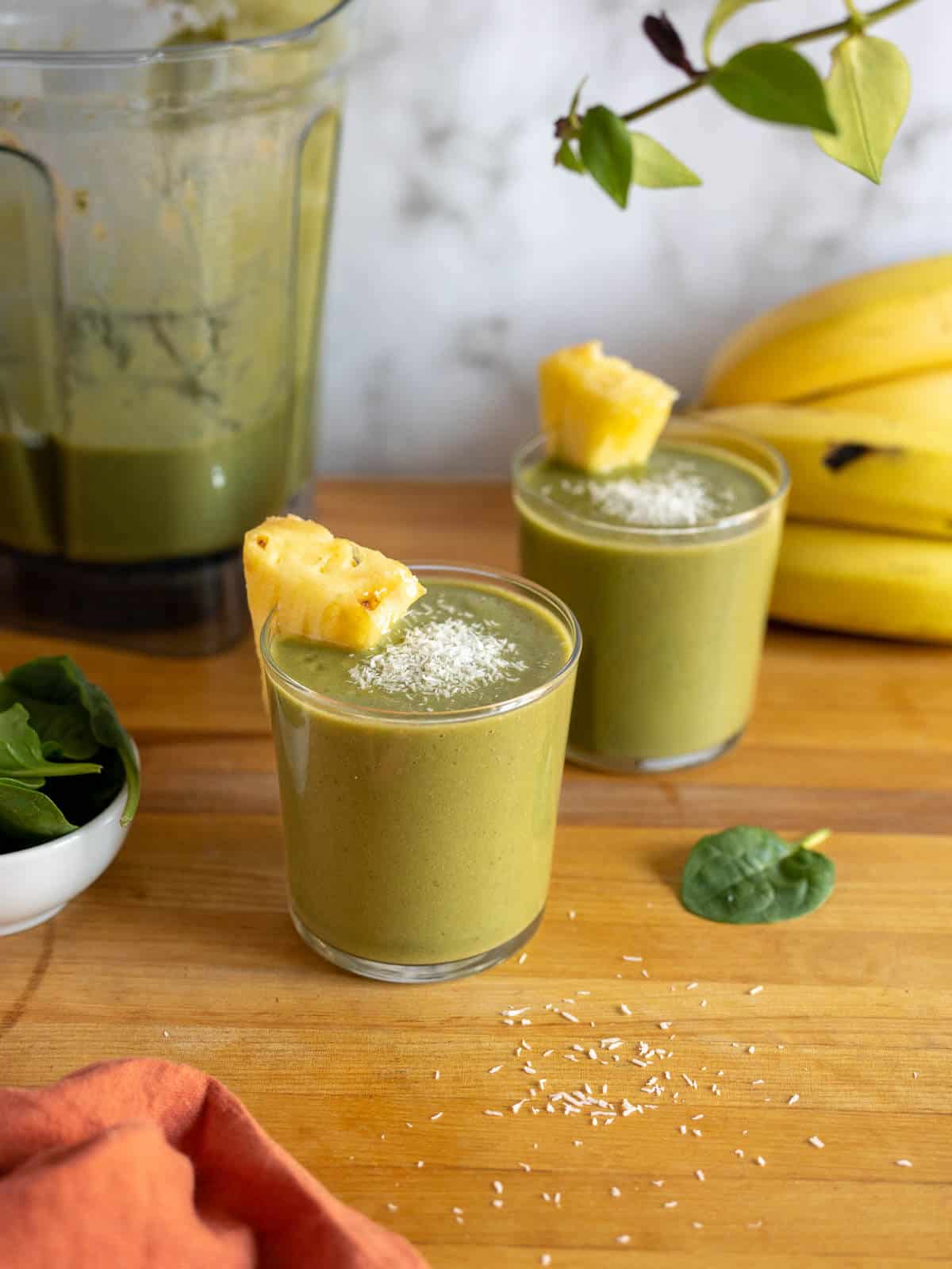 ⭐ If you try this pineapple green smoothie recipe, let us know! 💬 Leave a comment, rate it, and don't forget to tag us @ourplantbasedworld on Instagram. Cheers!
📋 Recipe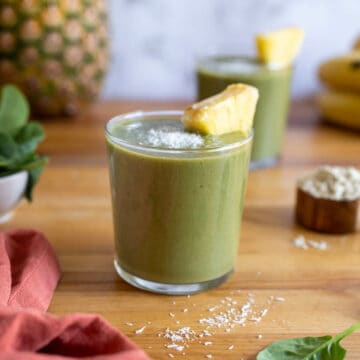 Pineapple Banana Spinach Smoothie
Looking for a healthy and delicious smoothie recipe? Try this Pineapple Banana Spinach Smoothie! Made with fresh spinach, sweet pineapple, and ripe bananas, this smoothie is packed with nutrients and flavor. It's the perfect way to start your day or refuel after a workout.
Equipment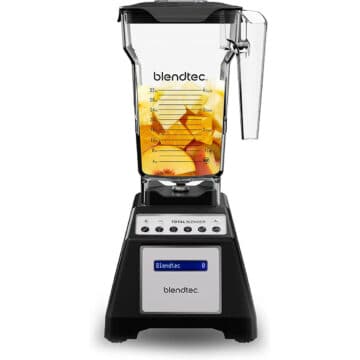 (affiliate link)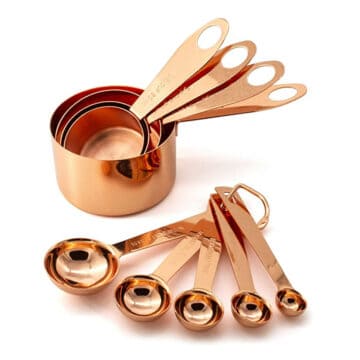 (affiliate link)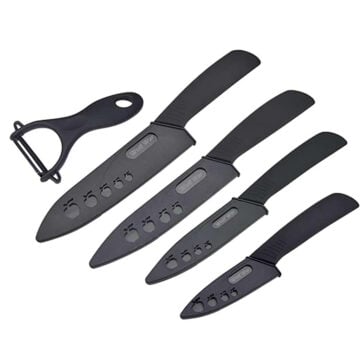 (affiliate link)
Ingredients
1

cup

pineapple

chunks, better if frozen

1

banana

frozen

2

cup

baby spinach

fresh or frozen

1

cup

coconut milk

or any other plant milk

2

dates

pitted, or date paste, maple syrup
Directions
Prepare ingredients and add frozen pineapple, coconut milk, water, bananas, dates, and baby spinach.

Add more frozen bananas for a thicker smoothie. For a thinner smoothie, add more plant milk or water (it will affect sweetness).

Taste and adjust flavor as needed, adding more pineapple for sweetness and more plant milk or optional spinach for creaminess.

Serve immediately. Smoothie leftovers will keep in a covered mason jar in the refrigerator for up to 1 day, though best when fresh.
Notes
Vegan Clean Protein: if using the clean protein powder, add our 10% discount code OURPBWORLD10 at check-out to enjoy the benefit. (affiliate)
Nutrition Facts
Calories:
155
kcal
Carbohydrates:
35
g
Protein:
2
g
Fat:
3
g
Saturated Fat:
2
g
Polyunsaturated Fat:
0.1
g
Monounsaturated Fat:
0.04
g
Sodium:
25
mg
Potassium:
515
mg
Fiber:
4
g
Sugar:
23
g
Vitamin A:
2899
IU
Vitamin C:
53
mg
Calcium:
95
mg
Iron:
1
mg
Nutrition Facts
Pineapple Banana Spinach Smoothie
Amount per Serving
% Daily Value*
* Percent Daily Values are based on a 2000 calorie diet.
Nutritional Disclaimer
The information shown is an estimate provided by an online nutrition calculator. It should not be considered a substitute for a professional nutritionist's advice. See our full Nutritional Disclosure here.
Affiliate Disclaimer
Please note that some of the links here are affiliate links, and I will earn a commission if you purchase through those links. I recommend all of the products listed because they are companies I have found helpful and trustworthy.