Are you looking for a weight-loss smoothie that is packed with nutrition? This spinach apple smoothie is perfect for you! Not only does it taste delicious, but it is also low in calories and packed with antioxidants. Start adding green smoothies to your daily routine today!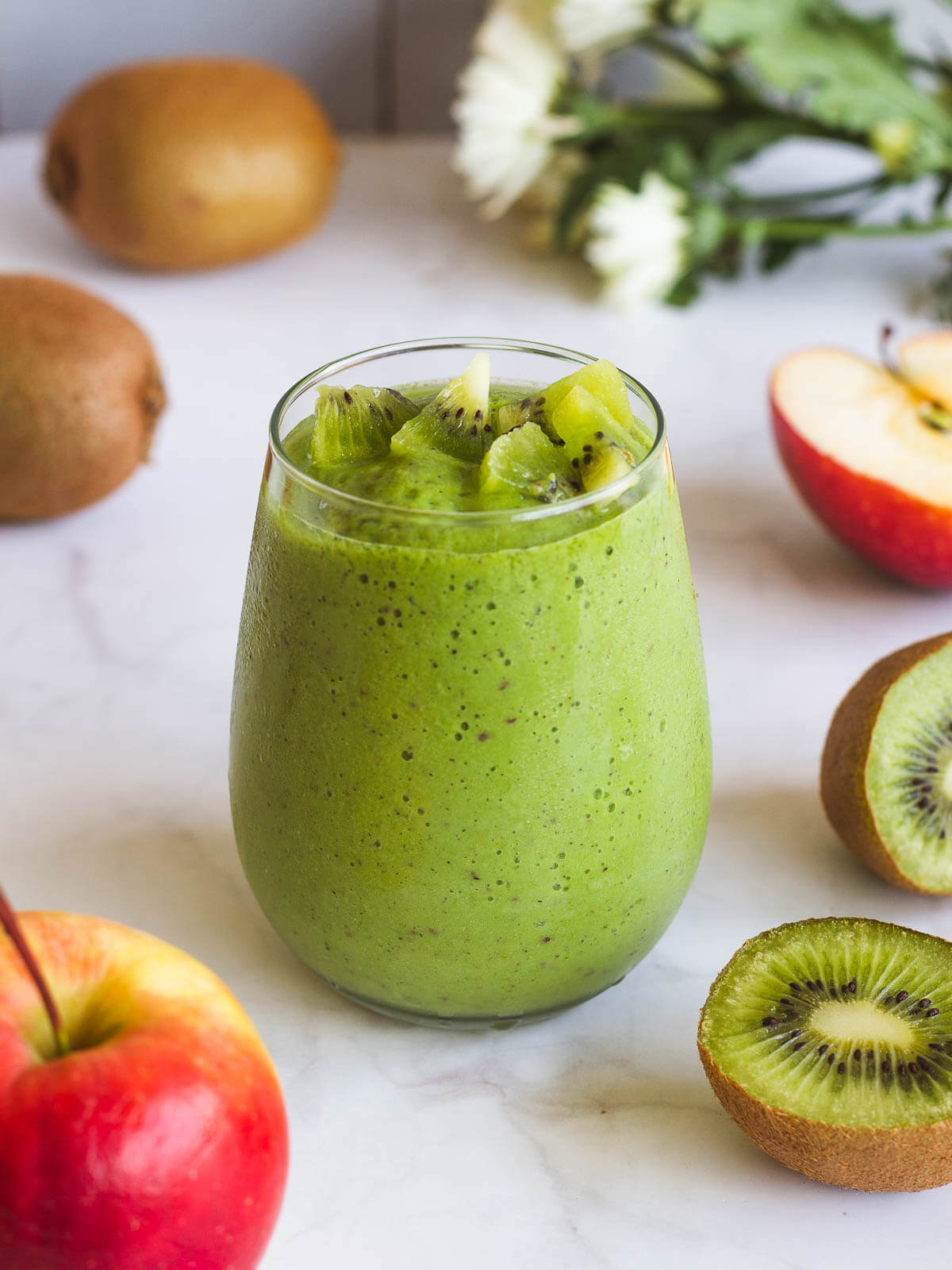 Smoothies are a great way to start your day by being packed with plant-powered nutrients. They are delicious and easy to make and digest, and you can include veggies and ingredients that you find to include in your regular diet.
This smoothie was created to make a delicious but low-calorie drink to help you lose weight, just like our pineapple and cucumber smoothie and the spinach ginger smoothie. That's why we excluded popular ingredients high in sugar, such as frozen bananas, and included those high in fiber to keep you fuller for longer.
That's how we created our pineapple and cucumber juice for weight loss and applied these principles to this smoothie.
Jump to:
🧾 Ingredients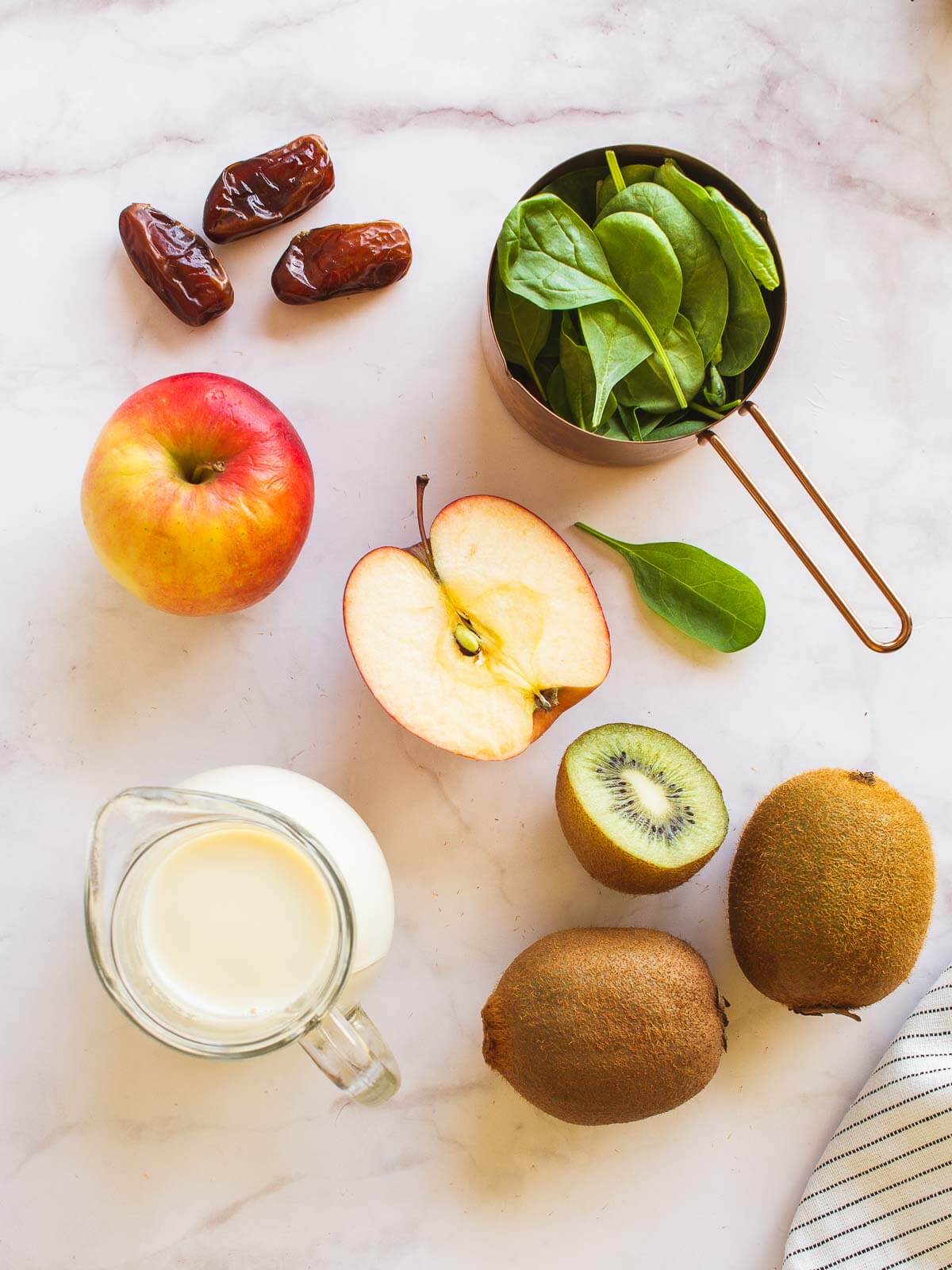 Apples - we like using red apples for extra sweetness and less acidity, as kiwi already adds acidity to the smoothie.
Kiwi - this fantastic fruit is packed with flavor, fiber, and sweetness.
Baby spinach - what are green smoothies without spinach? Spinach smoothies are popular because that's the easiest way to pack lots of greens, fiber, and antioxidants into one's diet.
Oat milk - since we are not using bananas, we chose oat milk over the regular unsweetened almond milk because oat milk tends to be silkier and has insoluble dietary fiber. Make sure you use gluten-free oats if you make your own oat milk or use almond milk.
Pitted dates - these beauties are an excellent way to add sweetness to your healthy smoothies and all kinds of sweets; they also add a delicious and mellow flavor that you will surely love.
See the recipe card for quantities.
💡 Top tip
Use frozen fruit and spinach when making a green smoothie so you don't have to add ice cubes to the smoothie; that way, your smoothie will be silkier.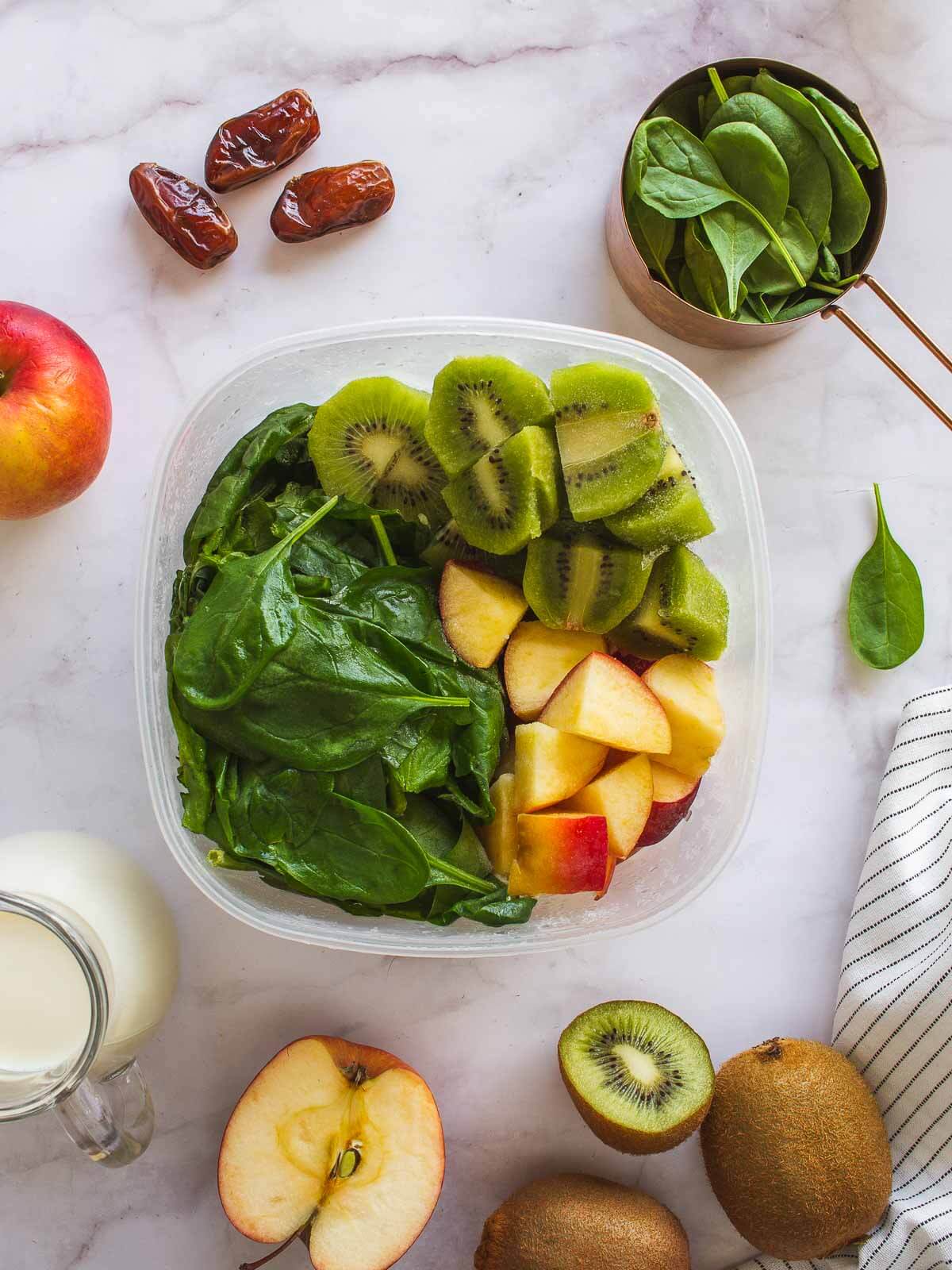 🔪 Instructions
To make this apple and spinach smoothie, start by chopping, peeling the kiwi, and then coring the apple. If you prepare your ingredients the day before, store them in the fridge using an airtight container or a BPA-free plastic bag.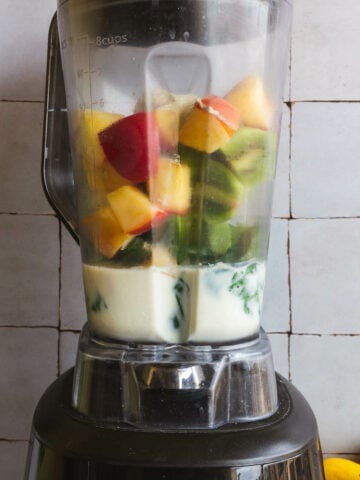 To a high-speed blender, add plant milk first, followed by the fruit chunks.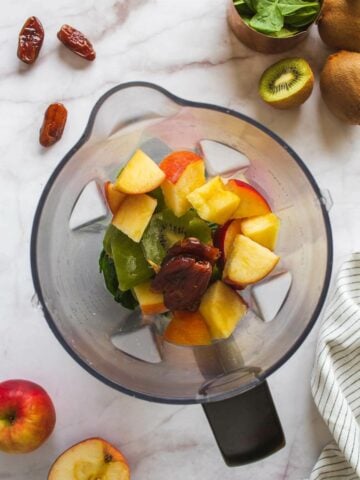 Add pitted dates.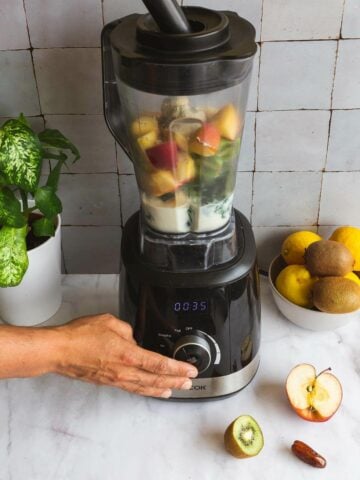 Blend until smooth (35-40 seconds).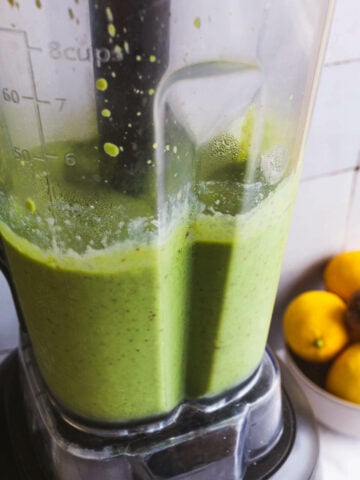 Check for the desired consistency and completely smooth.
Serve in two glasses, and enjoy immediately!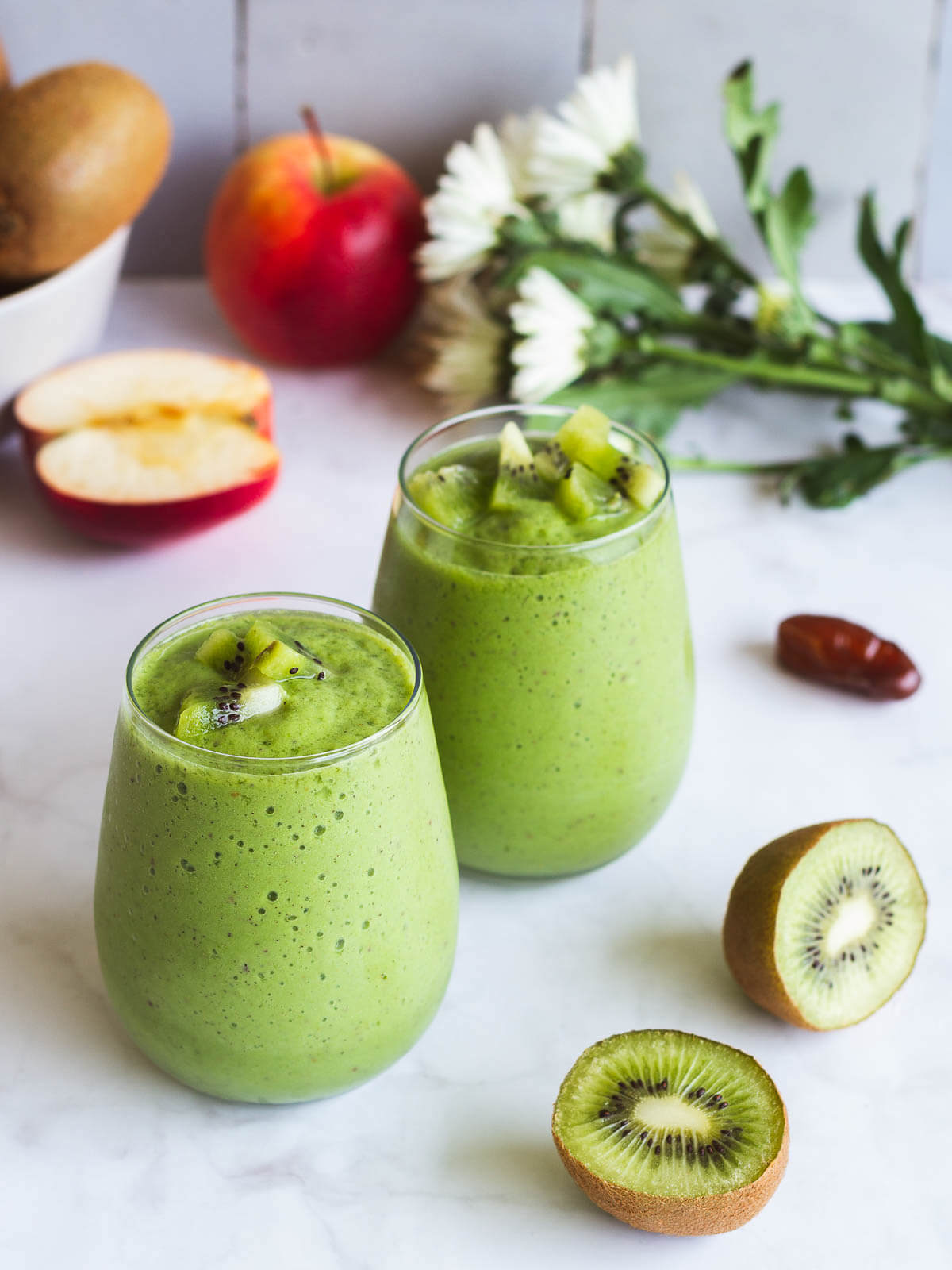 Hint: if you want to make your spinach and kiwi smoothie even more beautiful, reserve some fresh kiwi fruit in small chunks and use them to top your glass.
🍶 Substitutions
Dairy-free milk - this spinach smoothie recipe goes well with any plant milk, so feel free to use homemade almond milk, soy milk for extra protein, or light coconut milk to give it a tropical vibe!
Apples - we recommend using red or yellow apples as they are less acidic, but a green apple, such as a Granny Smith apple, also works on this apple kiwi smoothie for weight loss.
Kiwi fruit - you can use golden kiwis instead of green kiwis. Golden kiwis are generally larger, so instead of three small green kiwis, use two golden kiwis for a balanced spinach kiwi smoothie.
Raw spinach - we like freezing fresh spinach for our smoothies for thicker smoothies. Freezing spinach is a great way to avoid food waste when you cannot eat it fresh, or you are about to travel.
Dates - you can substitute for date paste, agave syrup, or maple syrup.
📖 Variations
Here are some suggestions to customize your apple kiwi spinach smoothie.
Creamier and richer - add frozen banana (preferably overripe bananas) to the mix, plus half a cup of plant milk.
Thicker smoothie - add half a cup of plant-based yogurts such as soy yogurt or coconut yogurt.
Tangy - add half lemon juice to this refreshing smoothie.
Extra antioxidants - add pumpkin, flax, poppy, or chia seeds to the mix.
Extra protein - you can use this vegan smoothie recipe as a post-workout smoothie, increasing its protein content. We like using a Click here without any conservatives or added flavors. (affiliate)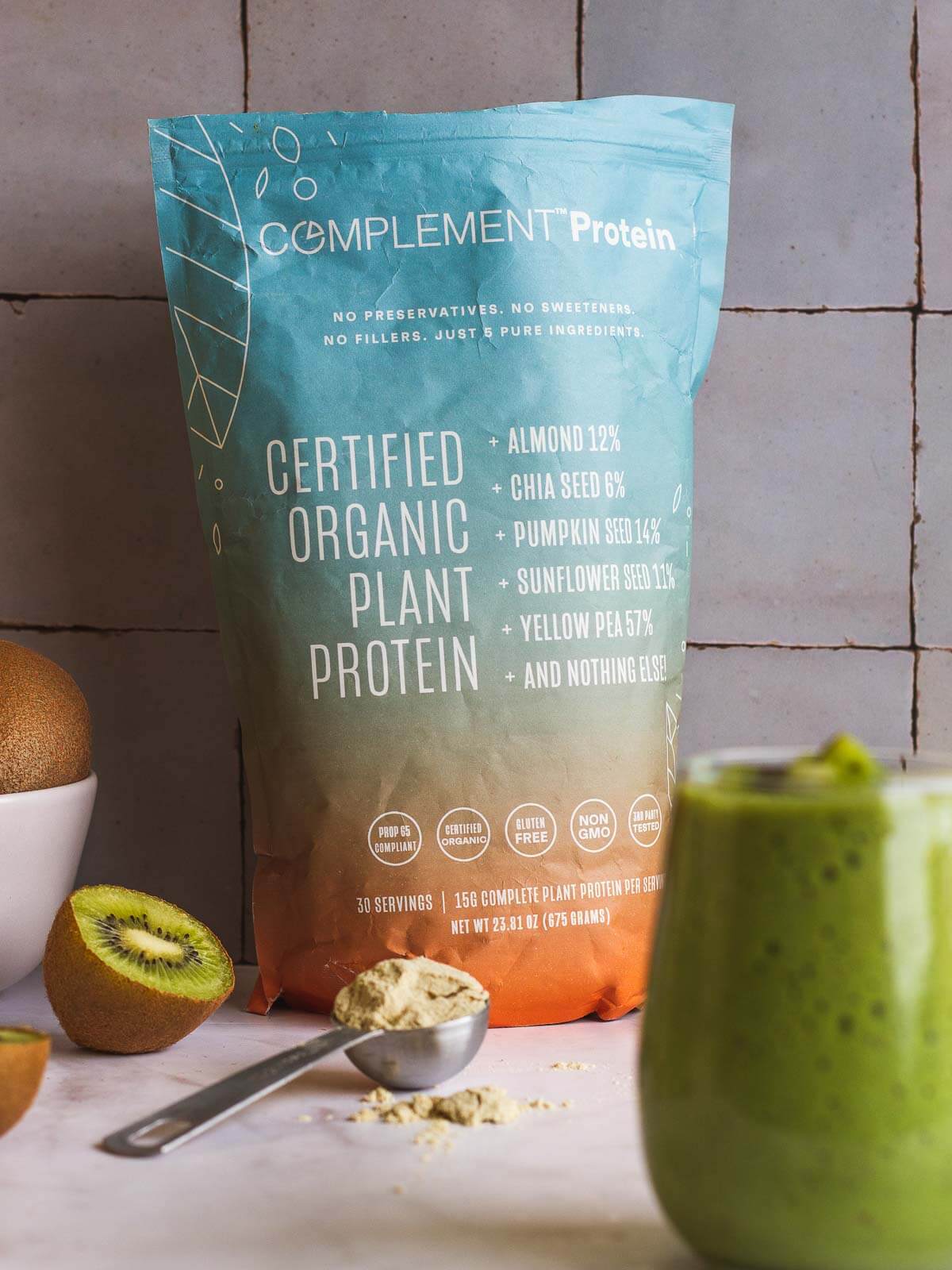 🍽 Equipment
Using a high-speed blender, such as Vitamix (affiliate link) or a nutribullet (affiliate link) (affiliate links), is essential when making smoothies.
🫙 Storage
Smoothies are best fresh, but you can store this Kiwi detox smoothie in a closed BPA-free reusable juice bottle (affiliate link) (affiliate).
The ingredients in this apple spinach smoothie don't stand up well in the refrigerator for more than two days. You can keep the smoothie in the freezer for up to a month.
❓ FAQ🥤
Do I need to peel apples for smoothies?
There's no need to peel the apples to make an apple smoothie. On the contrary, they add fiber, thus keeping you fuller for longer and contributing to your gut health.
Do you peel kiwi for smoothies?
There's no need to peel kiwis for smoothies - the skin is edible and packed with nutrients. Just give them a good wash, cut them into chunks, and chuck them in the blender.
However, we decided to peel them for this kiwi and spinach smoothie because we are not using bananas, the usual creamy ingredient, and kiwi peeling can make your smoothie sturdier.
Also, remember that some people are allergic to kiwi fruit and peeling.
Do spinach smoothies help you lose weight?
Yes, spinach smoothies can help you lose weight. Spinach is a low-calorie food, and it's also high in fiber, which makes it a good choice for weight loss. Fiber helps you feel full after eating, making you less likely to overeat.
Plus, spinach is loaded with antioxidants and other nutrients that are beneficial for health.
Adding spinach to your smoothie is a great way to get more of these nutrients into your diet. And since the smoothie will be packed with fiber and protein, it will also help keep you feeling full throughout the day. So if you're looking for a healthy way to lose weight, consider adding spinach to your next smoothie.
🥤 More smoothie recipes
Check out these simple smoothie recipes that you can include in your weekly rotation.
If you love your peanut butter, I recommend you check out our oatmeal and peanut butter smoothie; it makes a fantastic breakfast!
If you like blueberries as much as we do, you will also love this blueberry spinach smoothie, and for strawberry lovers, we have this spinach smoothie with pear and strawberries.
This smoothie for constipation made with apples can do all the work when things are not flowing!
Include more weight loss-promoting juices and smoothies to your diet by adding a carrot, cucumber, and celery juice, red cabbage juice, pineapple strawberry smoothie, and strawberry banana spinach smoothie to your weekly smoothies and juices weekly line-up for breakfast or pre-work-out snacks.
🥝 More kiwi recipes
kiwis are great because they pack lots of nutrients and flavor and are low in calories; that's why we love eating them raw or using them to make kiwi drink and adding them in our smoothies like this one, our strawberry kiwi smoothie, which so good!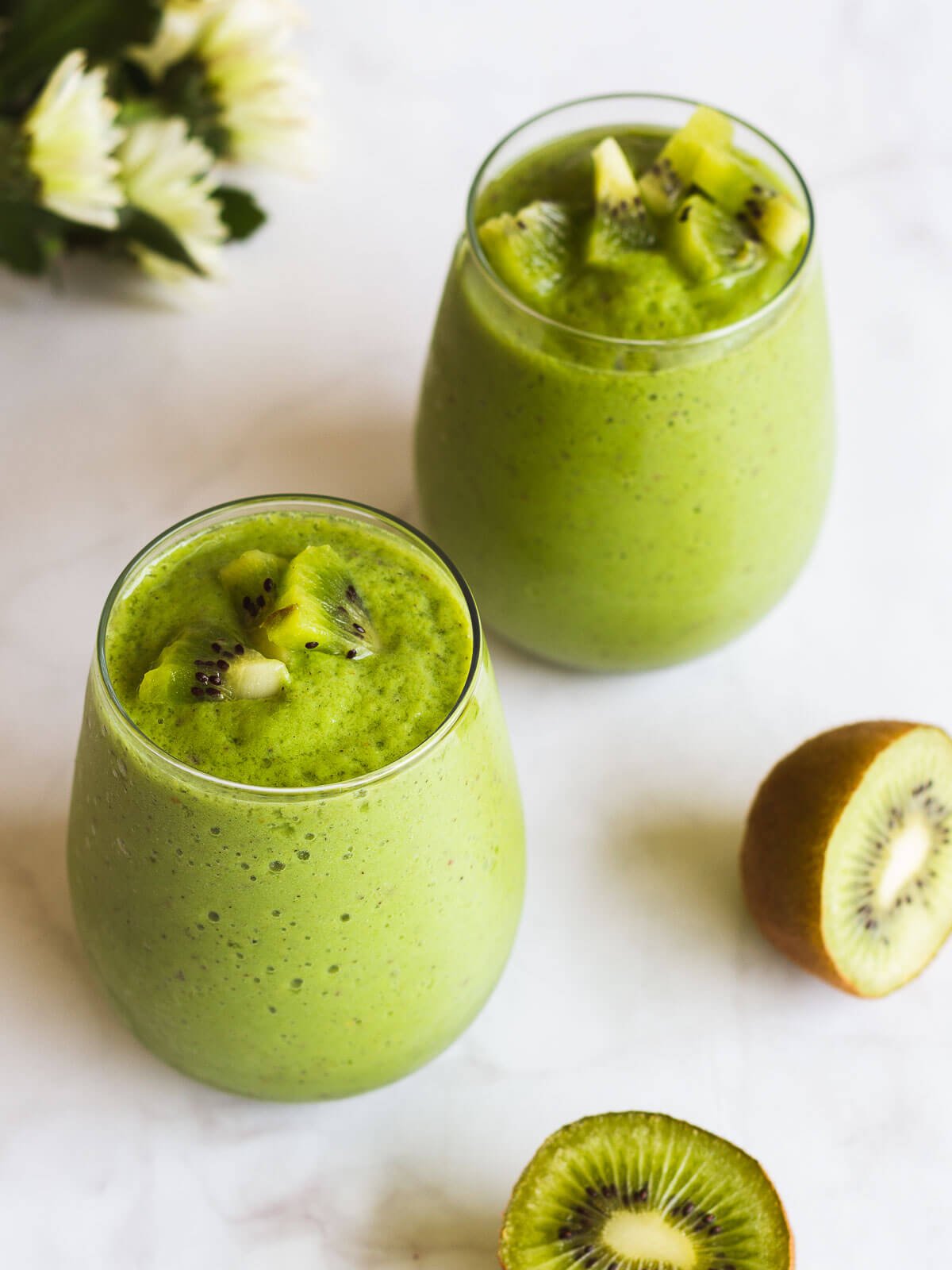 ⭐ If you try this recipe, let us know! 💬 Leave a comment, rate it, and don't forget to tag us @ourplantbasedworld on Instagram. Cheers!
📋 Recipe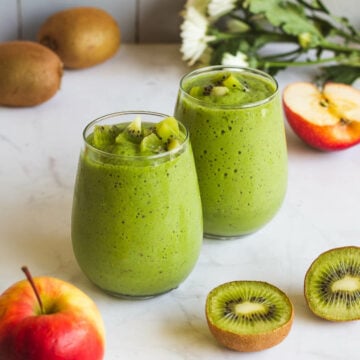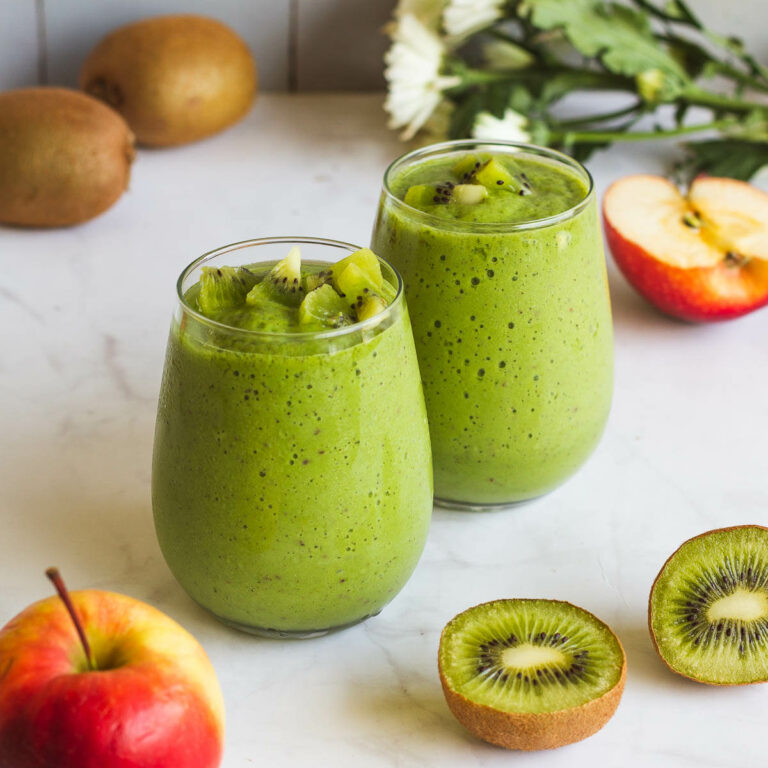 Spinach Apple Smoothie
Are you looking for a weight loss smoothie that is packed with nutrition? This spinach apple smoothie is perfect for you! Not only does it taste delicious, but it is also low in calories and packed with antioxidants.
Equipment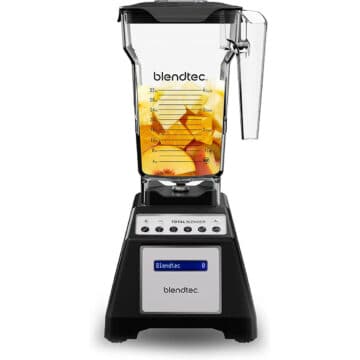 (affiliate link)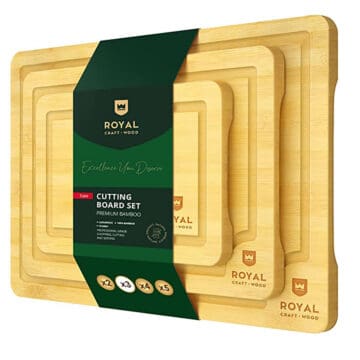 (affiliate link)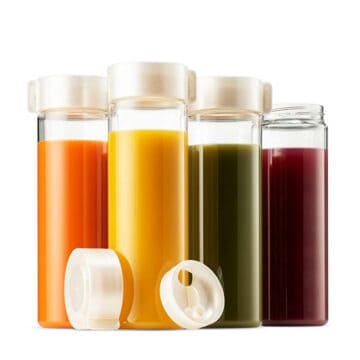 (affiliate link)
Ingredients
1

red apple

large, cored and chopped (keep the skins for extra fiber)

3

kiwi

ripe, peeled and cubed

1

cup

oat milk

2

cups

spinach

1

meedjol date
Directions
Wash, chop, and core the apple.

Peel and cube the kiwis.

Wash the spinach if it is packed and readily available to consume.

Pit the date.

Add all ingredients into the blender, starting with the oats and milk, then add the rest. Blend until creamy, usually about 40 seconds.
Notes
Nutrition facts are calculated without the protein powder.
The suggested protein powder adds 28 calories, 0 carbohydrates, and 5 grams of protein per serving.
My 1500 watts Hight Speed Blender has a Smoothie setting that mixes for 40 seconds.
Vegan Clean Protein: if using the clean protein powder, add our 10% discount code OURPBWORLD10 at check-out to enjoy the benefit. (affiliate)
Nutrition Facts
Calories:
231
kcal
Carbohydrates:
54
g
Protein:
5
g
Fat:
2
g
Saturated Fat:
0.1
g
Polyunsaturated Fat:
0.5
g
Monounsaturated Fat:
0.1
g
Sodium:
88
mg
Potassium:
678
mg
Fiber:
9
g
Sugar:
39
g
Vitamin A:
3245
IU
Vitamin C:
115
mg
Calcium:
263
mg
Iron:
2
mg
Nutrition Facts
Spinach Apple Smoothie
Amount per Serving
% Daily Value*
* Percent Daily Values are based on a 2000 calorie diet.
Nutritional Disclaimer
The information shown is an estimate provided by an online nutrition calculator. It should not be considered a substitute for a professional nutritionist's advice. See our full Nutritional Disclosure here.
Affiliate Disclaimer
Please note that some of the links here are affiliate links, and I will earn a commission if you purchase through those links. I recommend all of the products listed because they are companies I have found helpful and trustworthy.