If you want a delicious and nutritious smoothie that can help with weight loss, this Strawberry Banana Spinach Smoothie designed to meet your weight loss goals is the perfect recipe! This smoothie makes a perfect low-calorie breakfast or afternoon snack with its sweet and satisfying flavor. Plus, it's packed with healthy ingredients like spinach and bananas that will give you sustained energy throughout the day.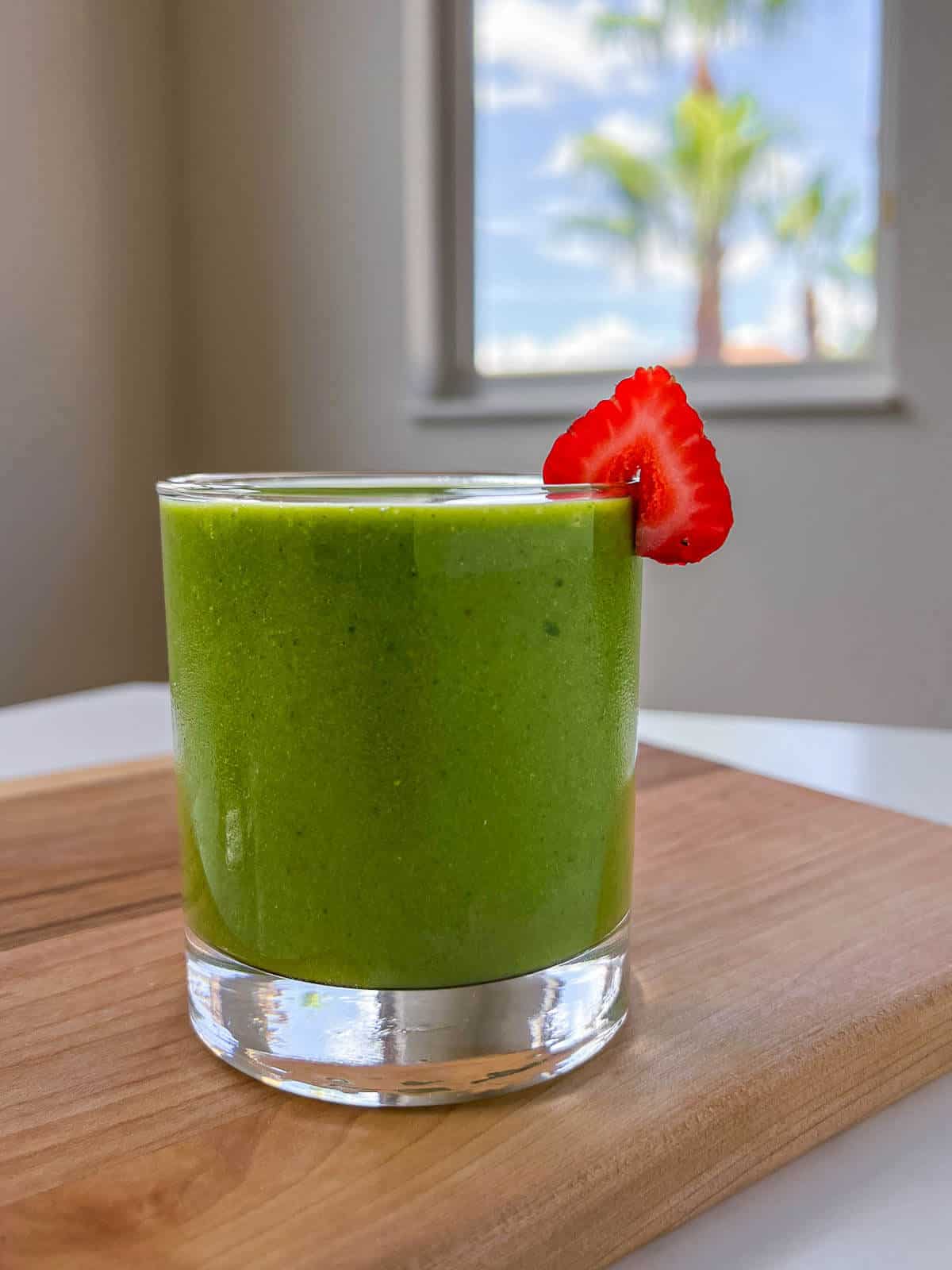 After continued vacations on business-traveling periods, we usually enter detox periods to flush out toxins and shed any unwanted gained pounds.
We use low-calorie smoothies and light juices to start the day with plenty of nutrients to nurture our bodies.
This was inspired by our pineapple and cucumber smoothie on this site and paired with a high-protein tofu scramble, making the perfect skinny breakfast to start the day off by going to the gym or hitting the mat for a yoga lesson.
Jump to:
🧾 Ingredients
With only 4 ingredients + water, this spinach strawberry smoothie packs a bunch of whole food ingredients with a significant amount of all the macronutrients you need, like healthy fats, carbohydrates, and protein - a perfectly nutritionally balanced breakfast.
This spinach smoothie also has a bunch of vitamins and minerals (micronutrients), helping your body replenish first thing in the morning.
Ingredients details
Strawberries - fresh or frozen strawberries work.
Raw spinach - we like using baby spinach in smoothies because its flavor is more delicate, and you can barely taste the spinach. Frozen spinach works perfectly as well. If you want less of a green-colored smoothie, reduce the spinach and replace it with extra strawberries.
Frozen bananas - the main sweetener on most green smoothies; see below for suggested substitutions.
Unsweetened almond milk - feel free to use a vanilla-flavored kind. We usually make our homemade almond milk as it is super cost-efficient and easy to make.
See the recipe card for quantities.
🔪 Instructions
Prepare and measure ingredients, add them into a high-speed blender, and blend on high until smooth.
For a thicker smoothie, add frozen fruit. Add more plant milk or water for a thinner strawberry spinach smoothie (it will affect sweetness). Taste and adjust flavor as needed.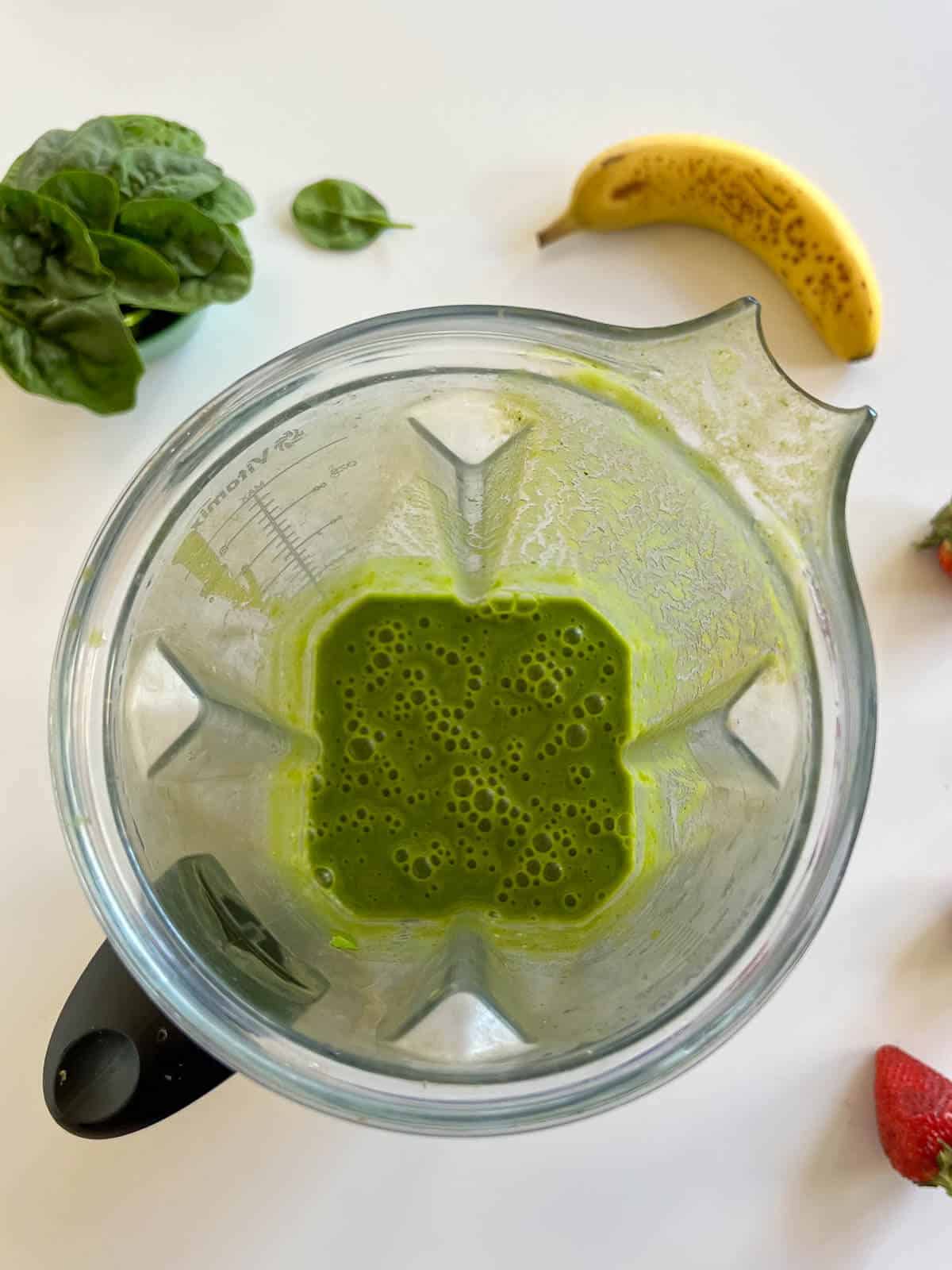 Add the almond milk and water, followed by frozen bananas and strawberries, and then add spinach. Blend until smooth.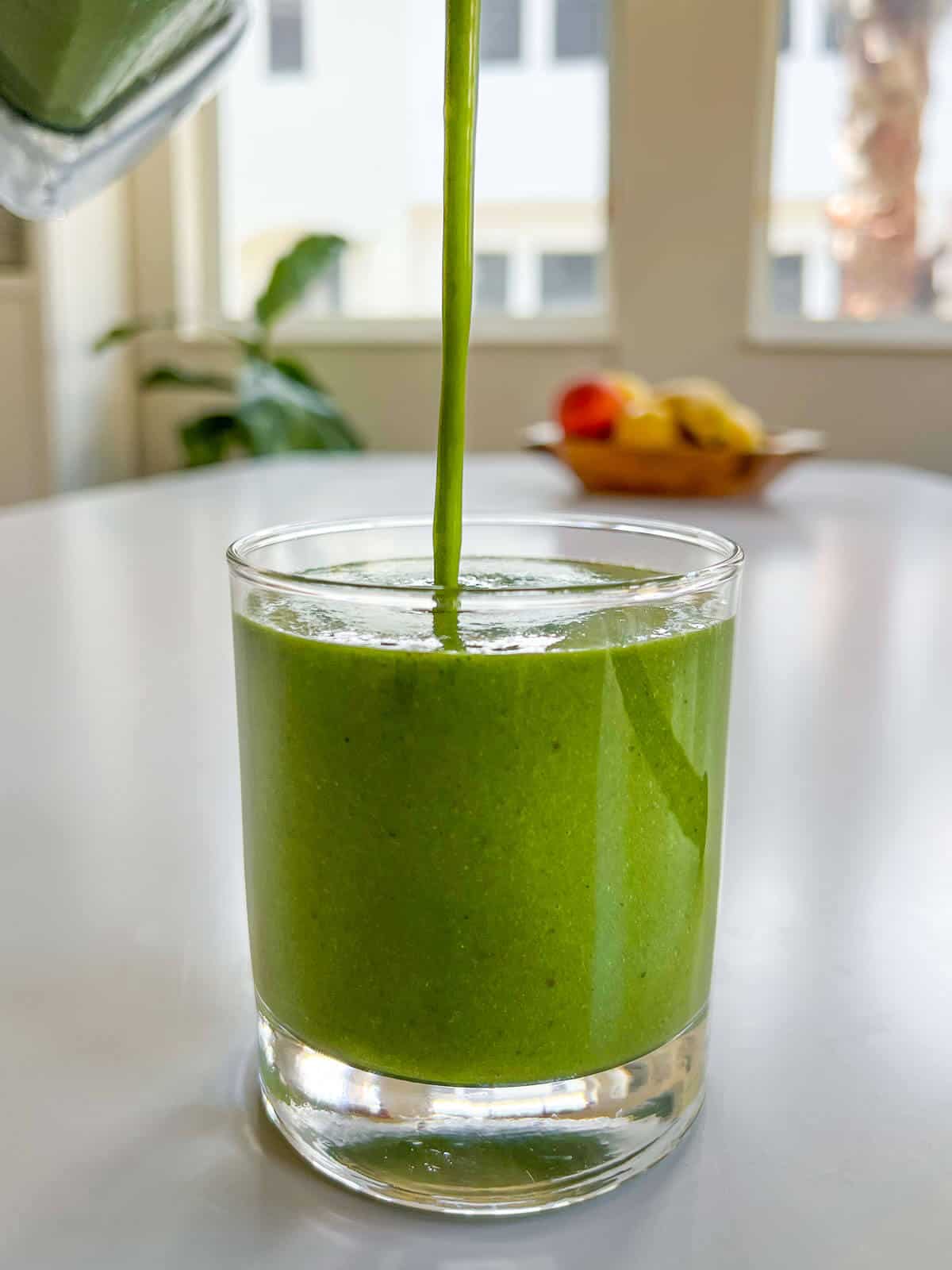 Adjust thickness with ice cubes. Serve and garnish with a slice of cut strawberry.
🍶 Substitutions
Banana - if you are not a fan of bananas, you can switch them for ripe peaches or pears.
Dairy-free milk - instead of almond milk, use soy milk to increase the protein content of your smoothie. Coconut milk and oat milk also work for this spinach smoothie.
📖 Variations
Chia seeds - add a tablespoon of chia or flax seeds to add an extra dose of antioxidants and protein.
Coconut water - sub water for coconut water if you want your
Sweetness - if the fresh fruit is not sufficiently ripe, you might want to sweeten this healthy smoothie with monk fruit to keep the calories low; otherwise, you can use maple syrup, date paste, or agave nectar. Changing a portion of water for orange juice is another excellent way to add sweetness, just don't overdo it; start with ¼ cup.
Maca powder - if you feel like you need an energy boost or are feeling down lately, adding 2 teaspoons of maca powder

(affiliate link)

to your healthy smoothie recipes might be a good idea.
Extra protein - you may want to add a scoop of your favorite protein powder (we like the clean plant-based one

(affiliate link)

), hemp seeds, or nut butter (such as almond butter) if you plan to use this strawberry banana spinach smoothie as a post-workout meal.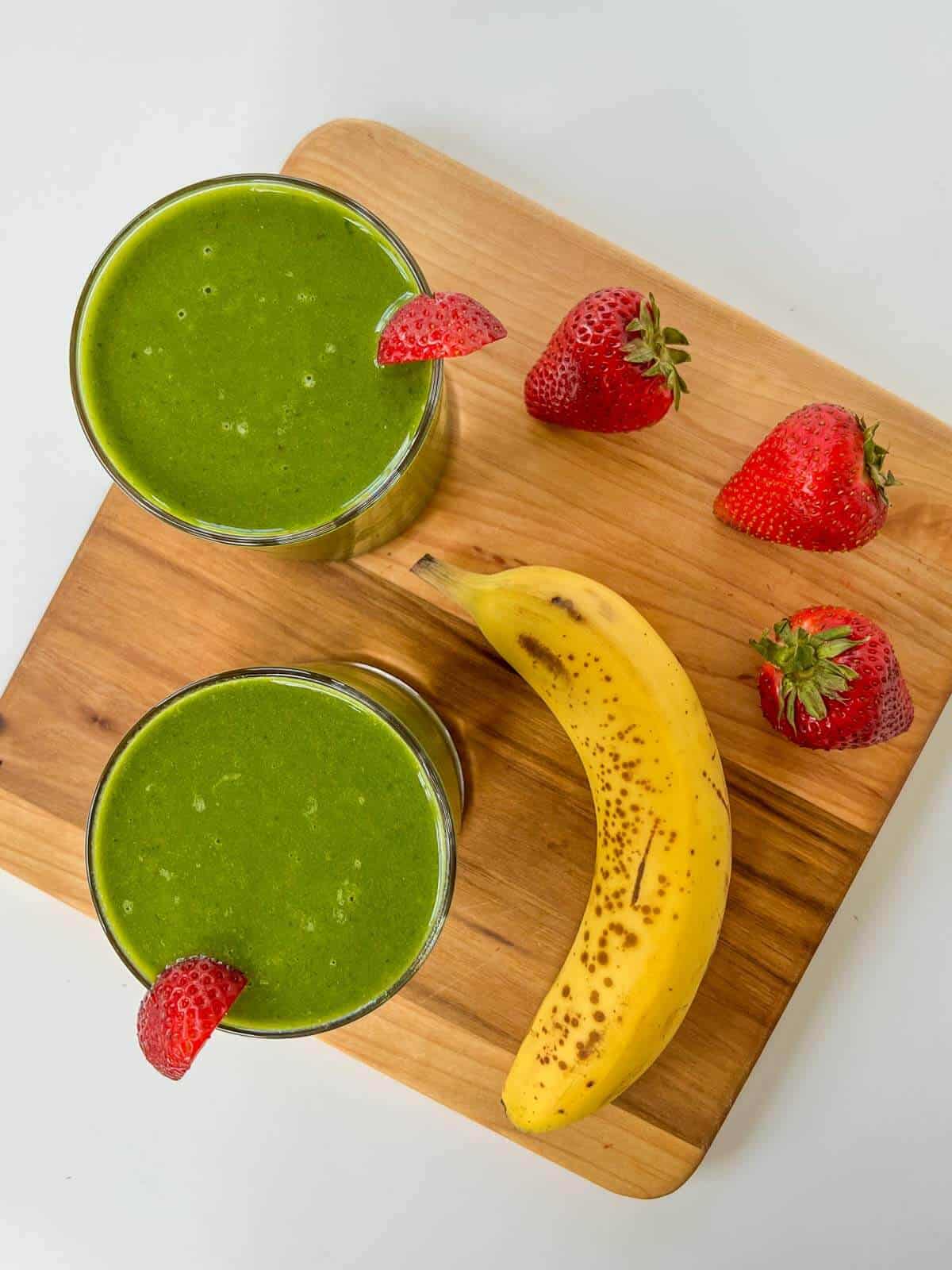 🍽 Equipment
Use a high-powered blender for the best results.
🫙 Storage
Spinach smoothie leftovers will keep in a covered mason jar in the refrigerator for up to one day, though best when fresh.
You can freeze leftovers into smoothie cubes and add them to other smoothies.
💡 Top tip
Add a tablespoon of lemon juice to highlight the strawberries. The magic of chemistry... thank me later!
If you freeze fresh strawberries, add lemon juice on top before turning them into the freezer.
Keep ripe, chopped frozen bananas in your freezer to make thicker smoothies. Freeze them spread over parchment paper to avoid forming clumps, which might be difficult for your blender if it is not high-powered.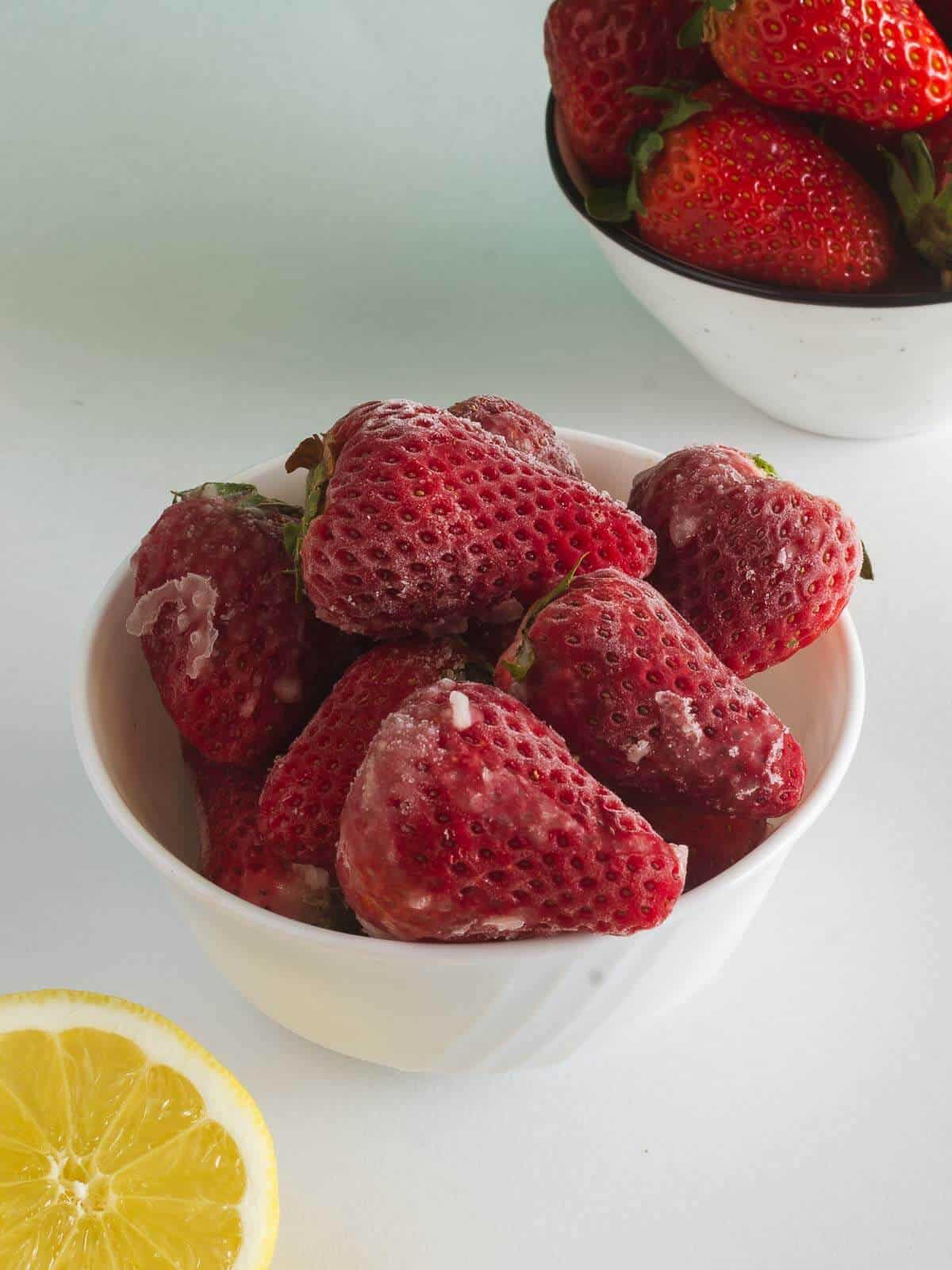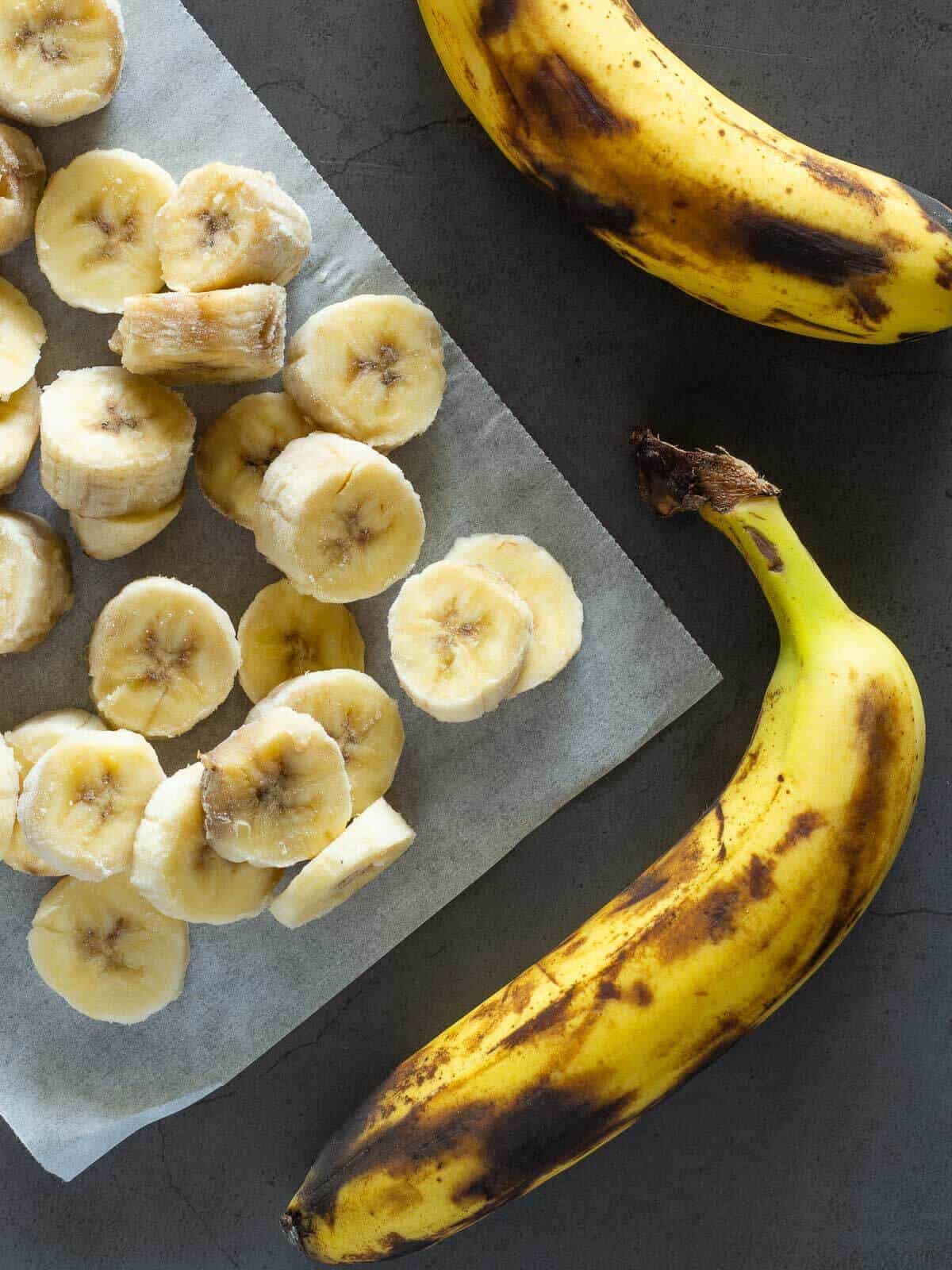 ✅ Health benefits
This strawberry banana green smoothie packs a ton of benefits in each of its simple ingredients.
Banana benefits
A banana a day can help keep the doctor away. Bananas are a good source of dietary potassium, vitamin C, dietary fiber, and vitamin B6. All of these nutrients are essential for maintaining good health. Here are some specific benefits of eating bananas:
Potassium: A medium-sized banana contains around 422 milligrams of potassium, which is 9 percent of the recommended daily intake.
Potassium is an essential mineral that helps maintain fluid balance in the body, regulates blood pressure, and assists in muscle contraction and nerve transmission. (1)
Vitamin C: Bananas are a good source of vitamin C, providing about 17 percent of the recommended daily intake per medium-sized banana. Vitamin C is water-soluble.
Strawberry benefits
Strawberries are a rich source of antioxidants that protect the body against cell damage and help keep us looking young and healthy. They are also a good source of vitamin C (2), folate, potassium, and manganese.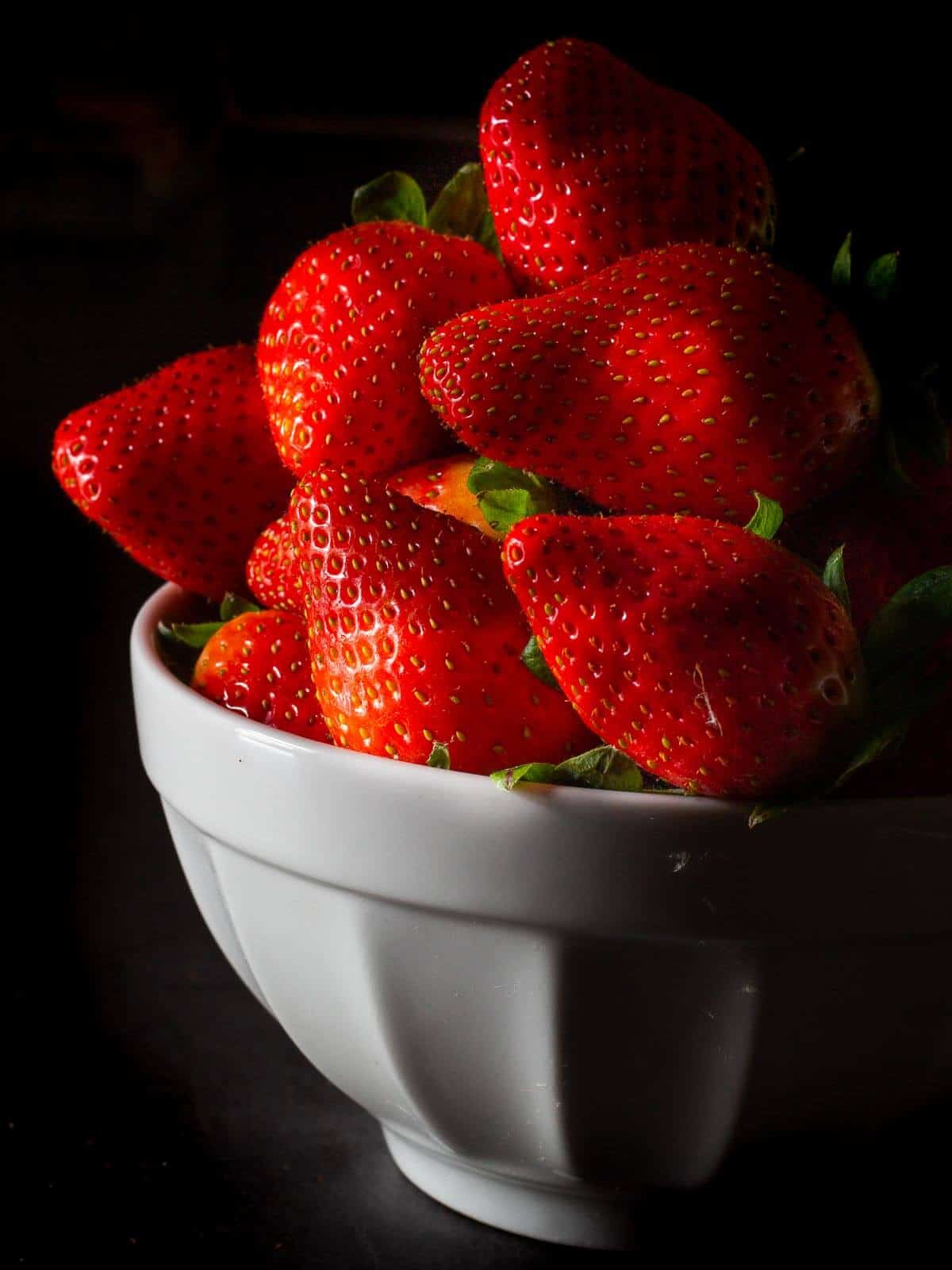 All that antioxidant goodness helps to keep our bodies functioning at their best by fighting off free radicals – unstable molecules that can cause all sorts of problems, from cancer to wrinkles.
Strawberries' anti-inflammatory effects may also help reduce the risk of chronic diseases such as heart disease and arthritis. Plus, the high levels of vitamin C in strawberries make them a great immune system booster – perfect for keeping winter colds at bay!
Spinach benefits
Eating spinach has many benefits, including improving heart health, increasing energy levels, and protecting against cancer.
Spinach is also a good source of fiber, vitamin A, vitamin C, vitamin K (3), thiamin, riboflavin, niacin, and magnesium. Additionally, it contains powerful antioxidants that can help protect the body against free radicals.
❓ FAQ
baby spinach vs spinach
Baby spinach is a type of spinach that has been harvested when it is small, which makes it more tender. It is usually eaten raw in salads, juices, and smoothies. Regular spinach has a larger leaf that is best cooked. It can be eaten raw in salads, but some people find the taste to be a little too strong.
Can you put raw spinach in a smoothie?
Yes, you can put raw spinach in a smoothie. It is a good way to add more nutrients, like vitamins A and C, to your diet. Raw spinach also contains antioxidants that may help protect your body against disease.
Ensure you wash the spinach thoroughly under running water or disinfect it if you see dirt on it, especially if you buy it unpacked.
Read outside the packaging if the spinach is washed or needs cleaning before consumption.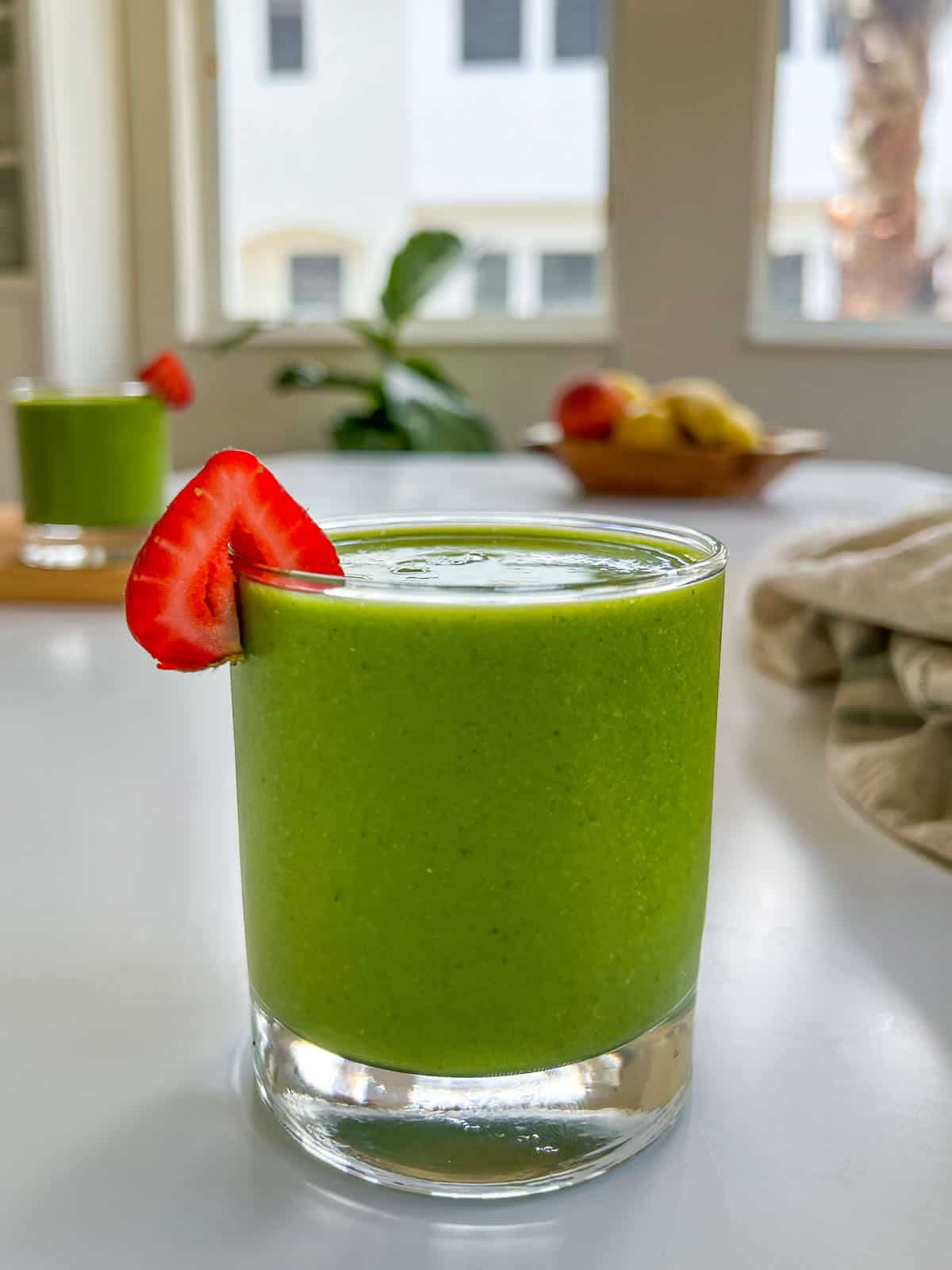 🥤 More spinach smoothie recipes
Try out these healthy smoothies to keep your smoothies' rotation dynamic.
This 3-ingredient pineapple coconut smoothie or the pineapple banana spinach smoothie, both great options for the Summer months; it is like a virgin piña colada!
Also, our latest creation is this delicious strawberry banana mango smoothie, made with almond milk, and you will love it!
⭐ If you try this strawberry banana smoothie recipe, let us know! 💬 Leave a comment, rate it, and don't forget to tag us @ourplantbasedworld on Instagram. Cheers!
📋 Recipe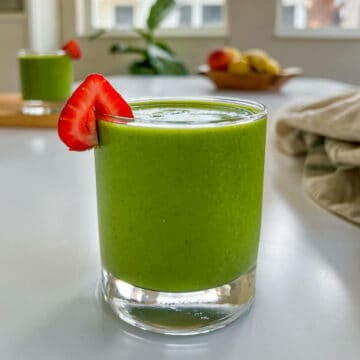 Strawberry Banana Spinach Smoothie for Weight Loss
With its sweet and satisfying flavor, this smoothie makes a perfect breakfast or afternoon snack. Plus, it's packed full of healthy ingredients like spinach and bananas that will give you sustained energy throughout the day. Give this smoothie a try today and start seeing results!
Equipment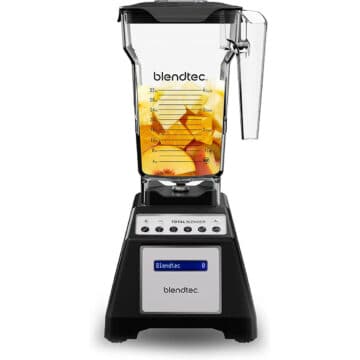 (affiliate link)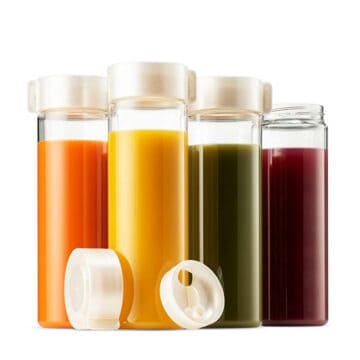 (affiliate link)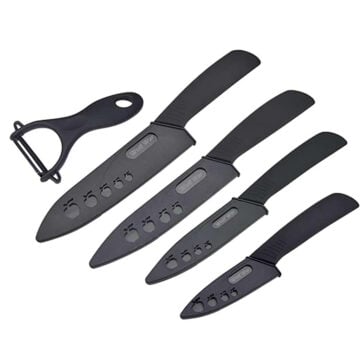 (affiliate link)
Ingredients
3

cups

spinach

1 ½

cup

strawberries

preferably frozen

1

ripe banana

preferably frozen

1

cup

almond milk

or soy milk to make it nut-free

1

cup

water
Directions
Wash and cut, the fruits and spinach.

Add the liquids to the blender, followed by the rest of the ingredients. Blend until creamy, usually about 40 seconds.

For a thicker smoothie, add more frozen bananas or ice cubes. For a thinner smoothie, add more plant milk or water (it will affect sweetness). Taste and adjust flavor as needed, adding more pineapple for sweetness and more plant milk or optional spinach for creaminess.

Serve immediately. Smoothie leftovers will keep in a covered mason jar in the refrigerator for up to 1 day, though best when fresh.
Notes
Nutrition facts are calculated without the protein powder.
The suggested protein powder adds 28 calories, 0 carbohydrates, and 5 grams of protein per serving.
My 1500 watts Hight Speed Blender has a Smoothie setting that mixes for 40 seconds.
Vegan Clean Protein: if using the clean protein powder, add our 10% discount code OURPBWORLD10 at check-out to enjoy the benefit. (affiliate)
Nutrition Facts
Calories:
115
kcal
Carbohydrates:
24
g
Protein:
3
g
Fat:
2
g
Saturated Fat:
0.1
g
Polyunsaturated Fat:
1
g
Monounsaturated Fat:
1
g
Sodium:
206
mg
Potassium:
628
mg
Fiber:
5
g
Sugar:
13
g
Vitamin A:
4270
IU
Vitamin C:
81
mg
Calcium:
218
mg
Iron:
2
mg
Nutrition Facts
Strawberry Banana Spinach Smoothie for Weight Loss
Amount per Serving
% Daily Value*
* Percent Daily Values are based on a 2000 calorie diet.
🌡️ Food safety
Cook to a minimum temperature of 165 °F (74 °C)
Do not use the same utensils on cooked food, that previously touched raw meat
Wash hands after touching raw meat
Don't leave food sitting out at room temperature for extended periods
Never leave cooking food unattended
Use oils with a high smoking point to avoid harmful compounds
Always have good ventilation when using a gas stove
See more guidelines at USDA.gov.
Nutritional Disclaimer
The information shown is an estimate provided by an online nutrition calculator. It should not be considered a substitute for a professional nutritionist's advice. See our full Nutritional Disclosure here.
Affiliate Disclaimer
Please note that some of the links here are affiliate links, and I will earn a commission if you purchase through those links. I recommend all of the products listed because they are companies I have found helpful and trustworthy.