Welcome to the vibrant world of red fruits! These colorful delights are not only pleasing to the eye but also packed with a myriad of health benefits. Red fruits encompass a wide range of fruits, from the everyday staples like apples and strawberries to the more exotic ones like pomegranates and red dragon fruits. Each of these fruits carries its unique flavor profile, texture, and nutrient composition, making them an exciting addition to our diets.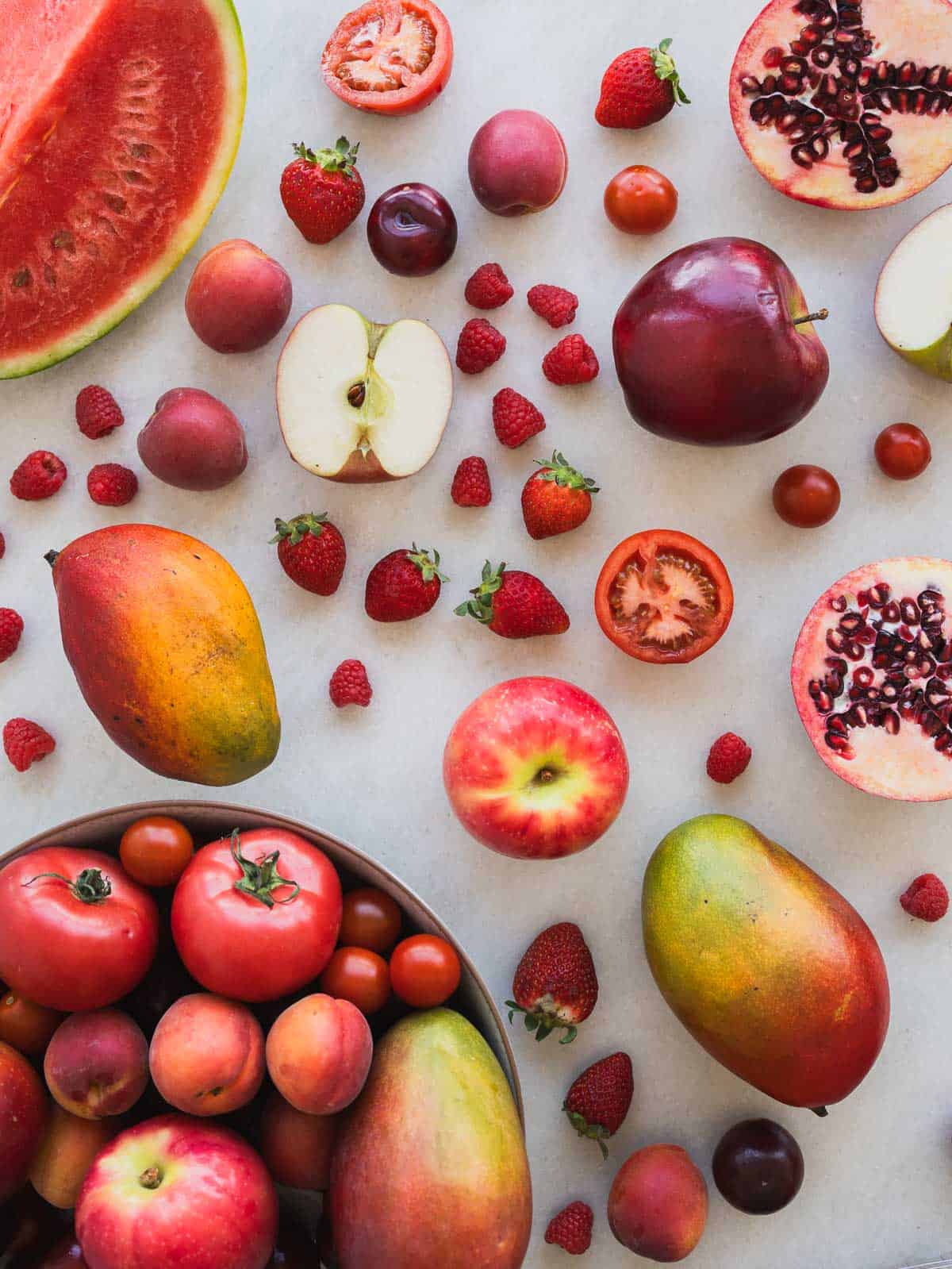 Importance of Color in Fruits
The color of fruits is not merely a visual treat. It's a hint from nature about the nutritional treasure hidden within. In the case of red fruits, their vivid color is a result of pigments such as lycopene and anthocyanins, which are powerful antioxidants.
These antioxidants help protect our bodies from damage by free radicals, unstable molecules that can cause harm to our cells.
Moreover, the color of fruits often indicates their ripeness and sweetness level, guiding us in selecting the perfect fruit to enjoy. For instance, a bright red apple or strawberry is usually ripe and has a sweet taste, ready to be savored.
In the following sections, we will delve deeper into the world of red fruits, exploring their health benefits, nutritional content, and even the science behind their red color. So, let's embark on this colorful journey together!
🍒 Popular Red fruits
Apples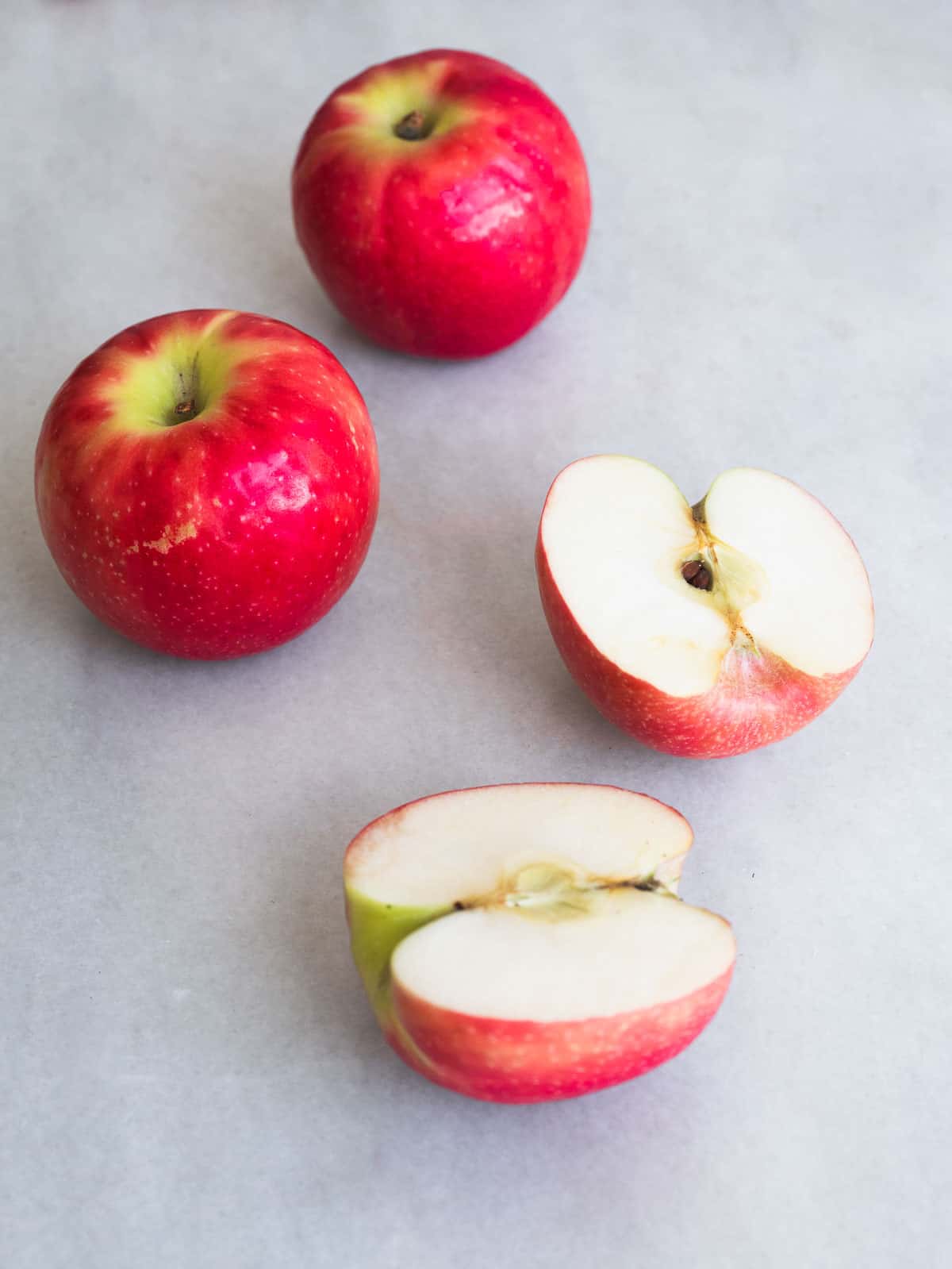 Round fruits with shiny red or red-green skin. The flesh is crisp and juicy. Known for their crisp texture and sweet-tart flavor, apples are one of the most popular red fruits worldwide. They are a great source of dietary fiber and vitamin C.
One of our favorites is pink lady apples, which have a bright red way skin and are super sweet with light acidity.
Use a red apple to make an apple smoothie, delicious cinnamon oatmeal, or a delicious sugar-less applesauce.
Strawberries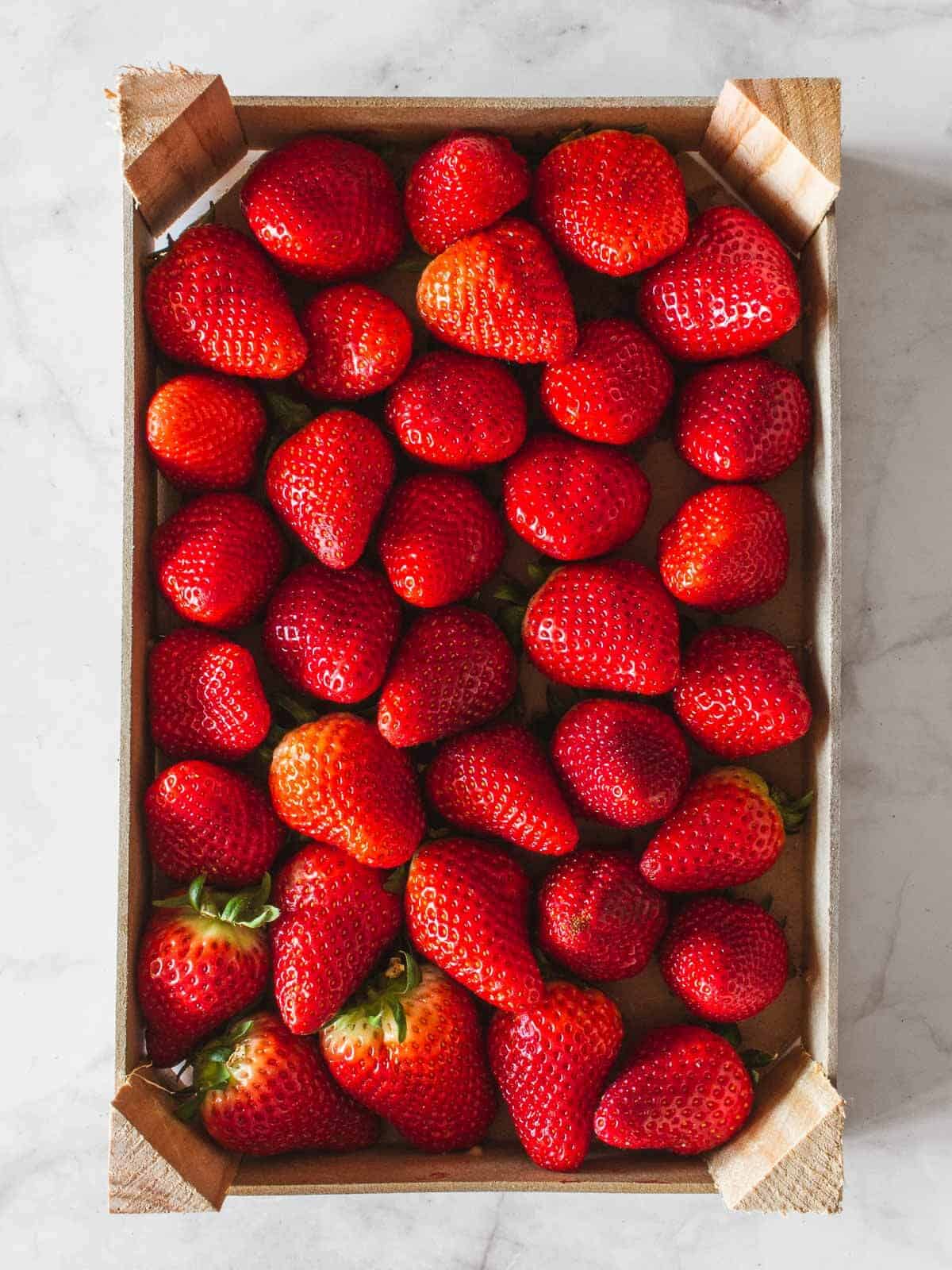 These heart-shaped berries are loved for their sweet, slightly tangy taste and juicy texture. They are packed with vitamin C, manganese, and beneficial plant compounds. Make this fantastic strawberry juice or strawberry vinaigrette for a punch of Vitamin C during spring and summer.
Cherries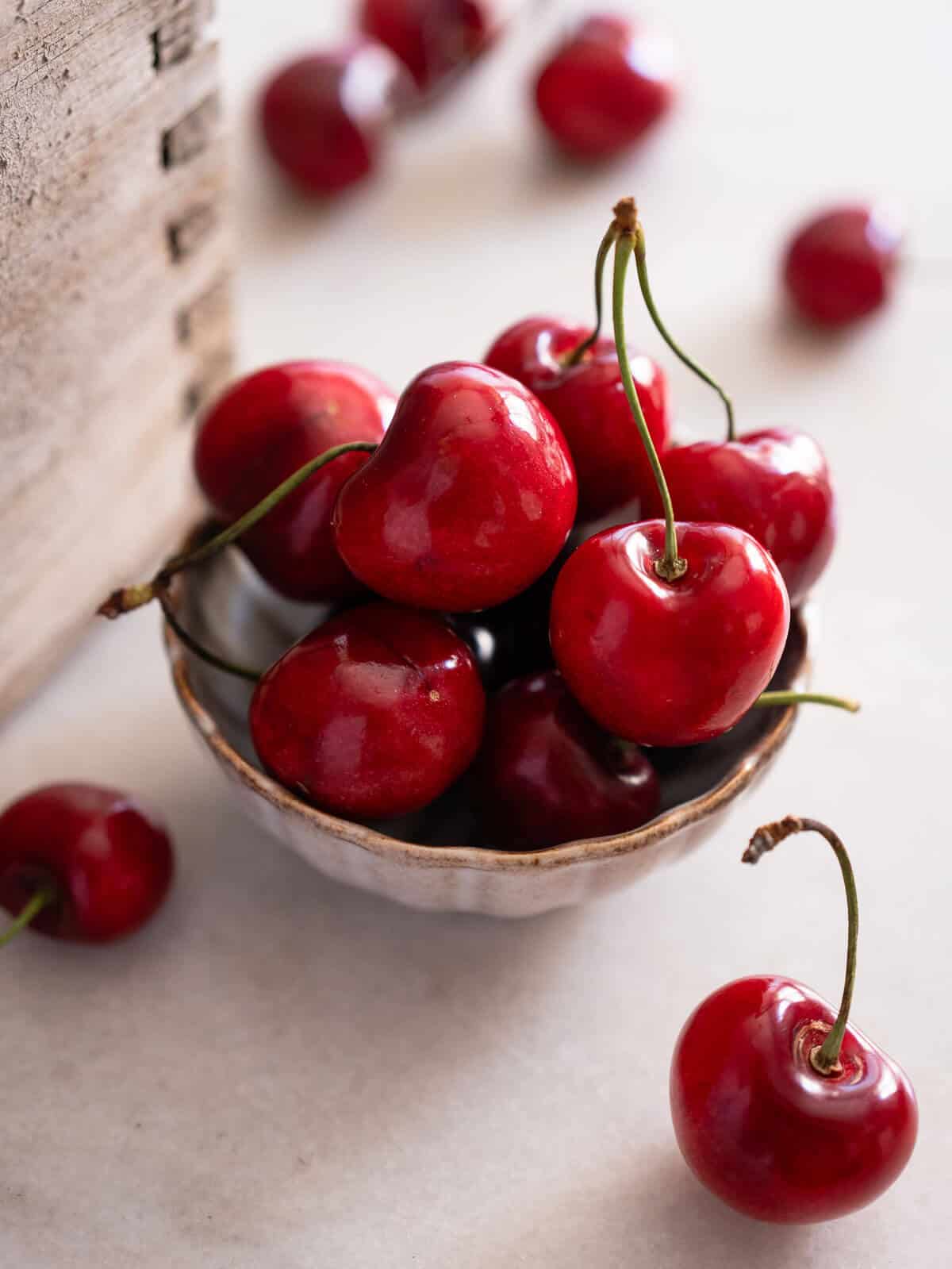 Both sweet and tart cherries are enjoyed fresh, in baking, or as a juice. Cherries are rich in antioxidants and anti-inflammatory compounds.
Raspberries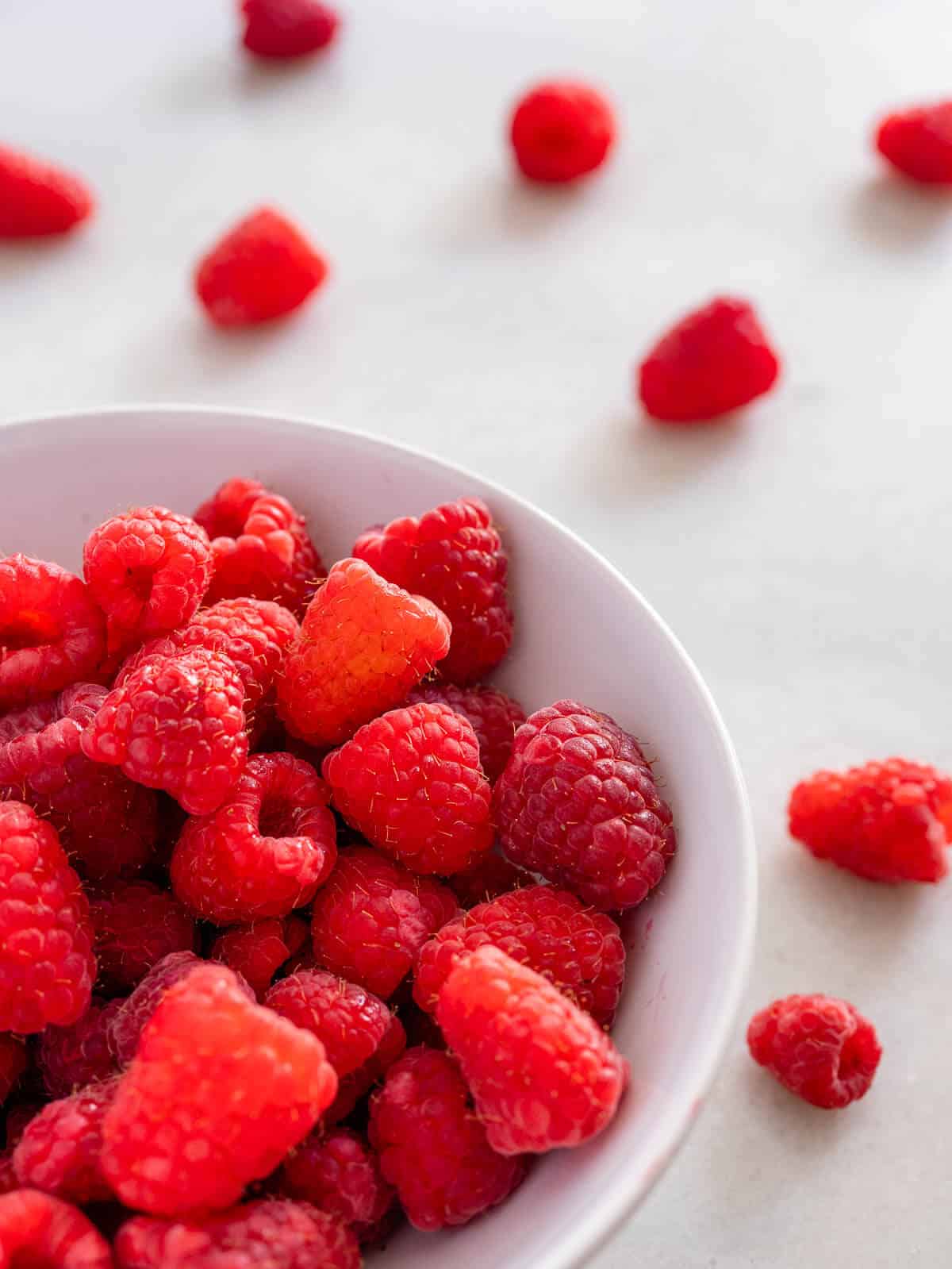 These delicate berries have a sweet-tart flavor and are high in fiber, vitamins, and antioxidants.
We love making a balsamic raspberry vinaigrette with spinach and walnut salad.
Pomegranates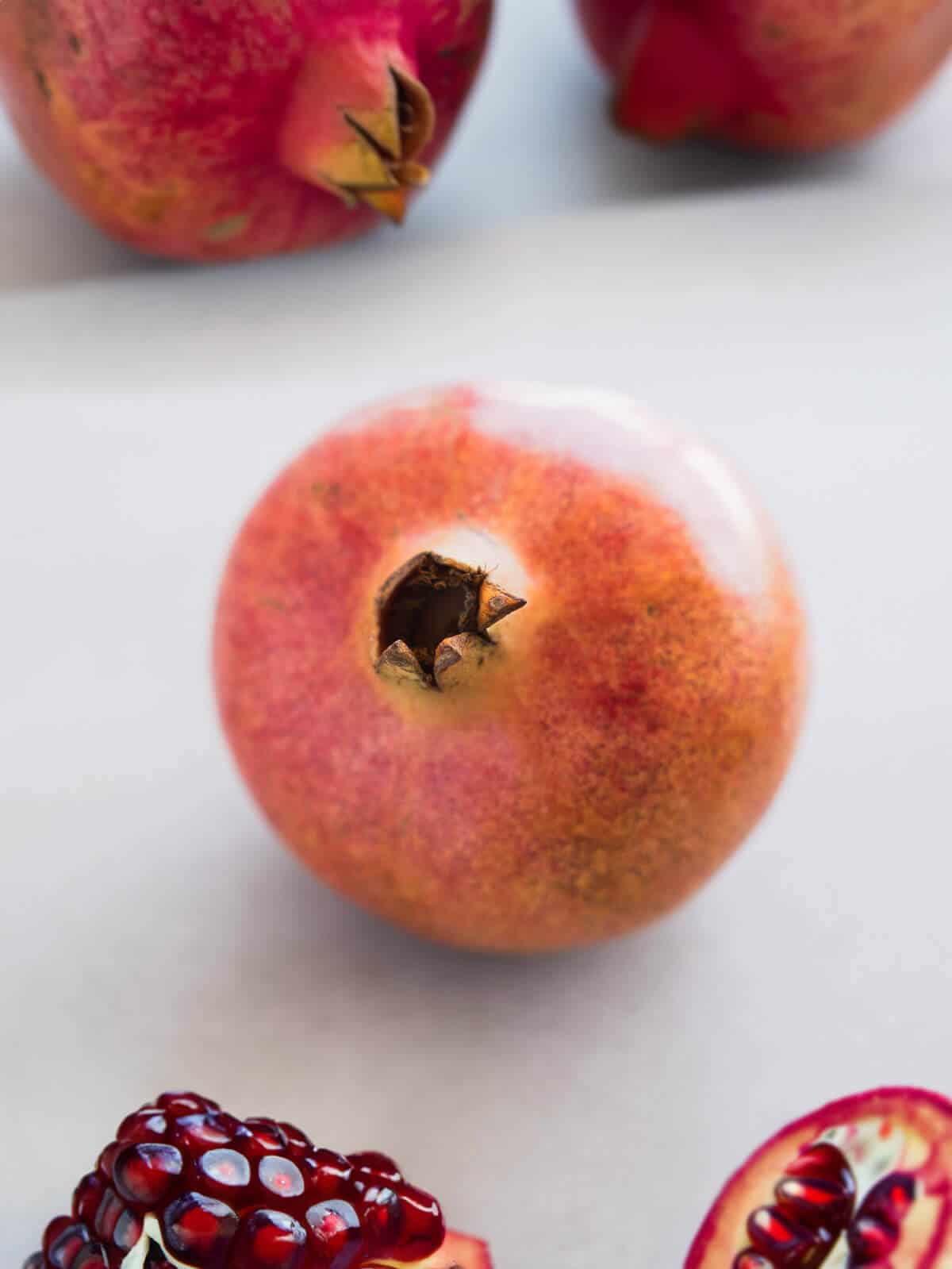 Known for their jewel-like seeds called arils, pomegranates have a sweet-tart taste and are loaded with fiber, vitamins, and a host of potent antioxidants. See how to make delicious homemade pomegranate juice.
Red Apricots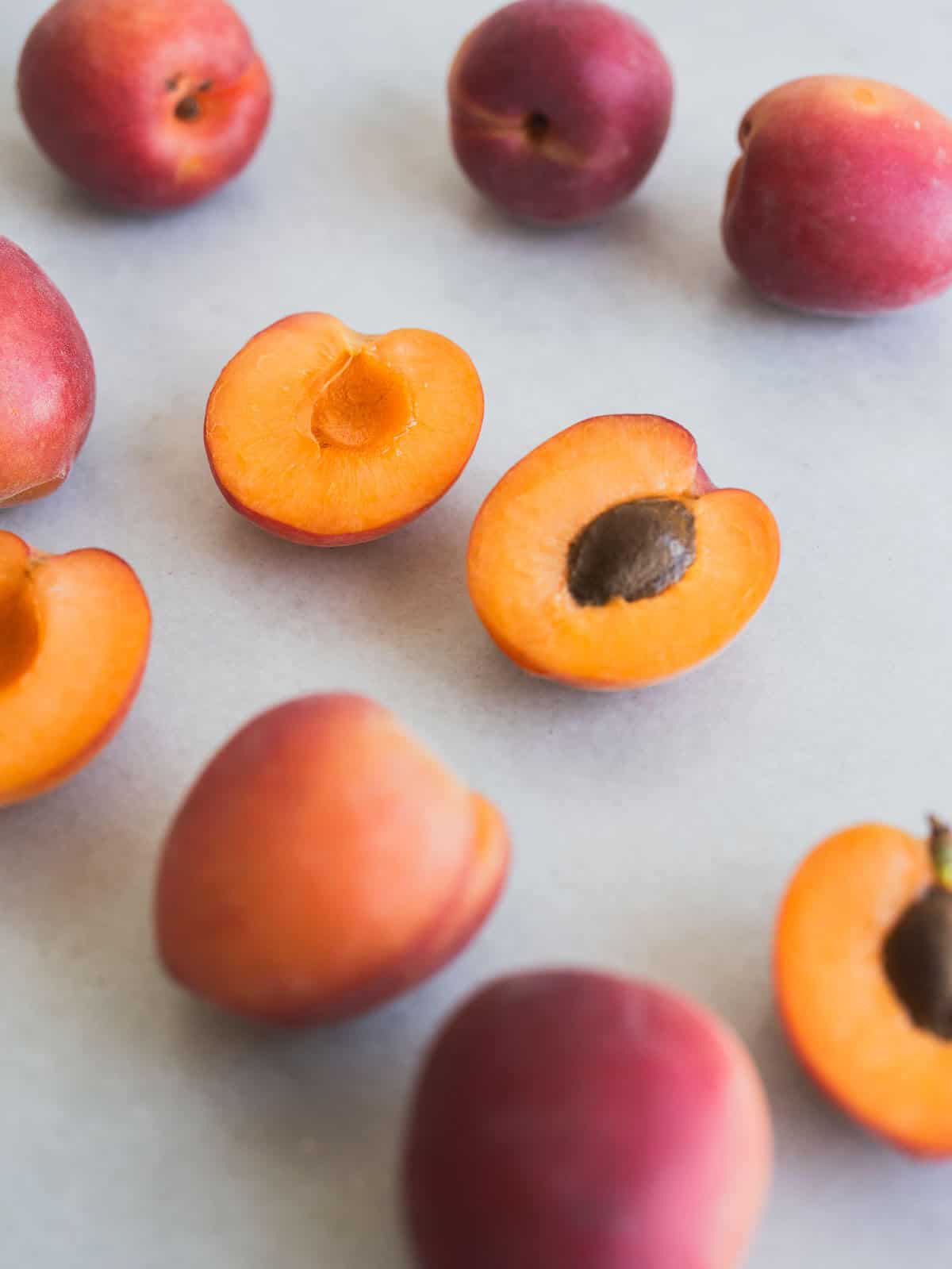 A variant of the traditional apricot, red apricots have a more vibrant color and a slightly sweeter taste. They are a good source of vitamins A and C and dietary fiber.
Red Peaches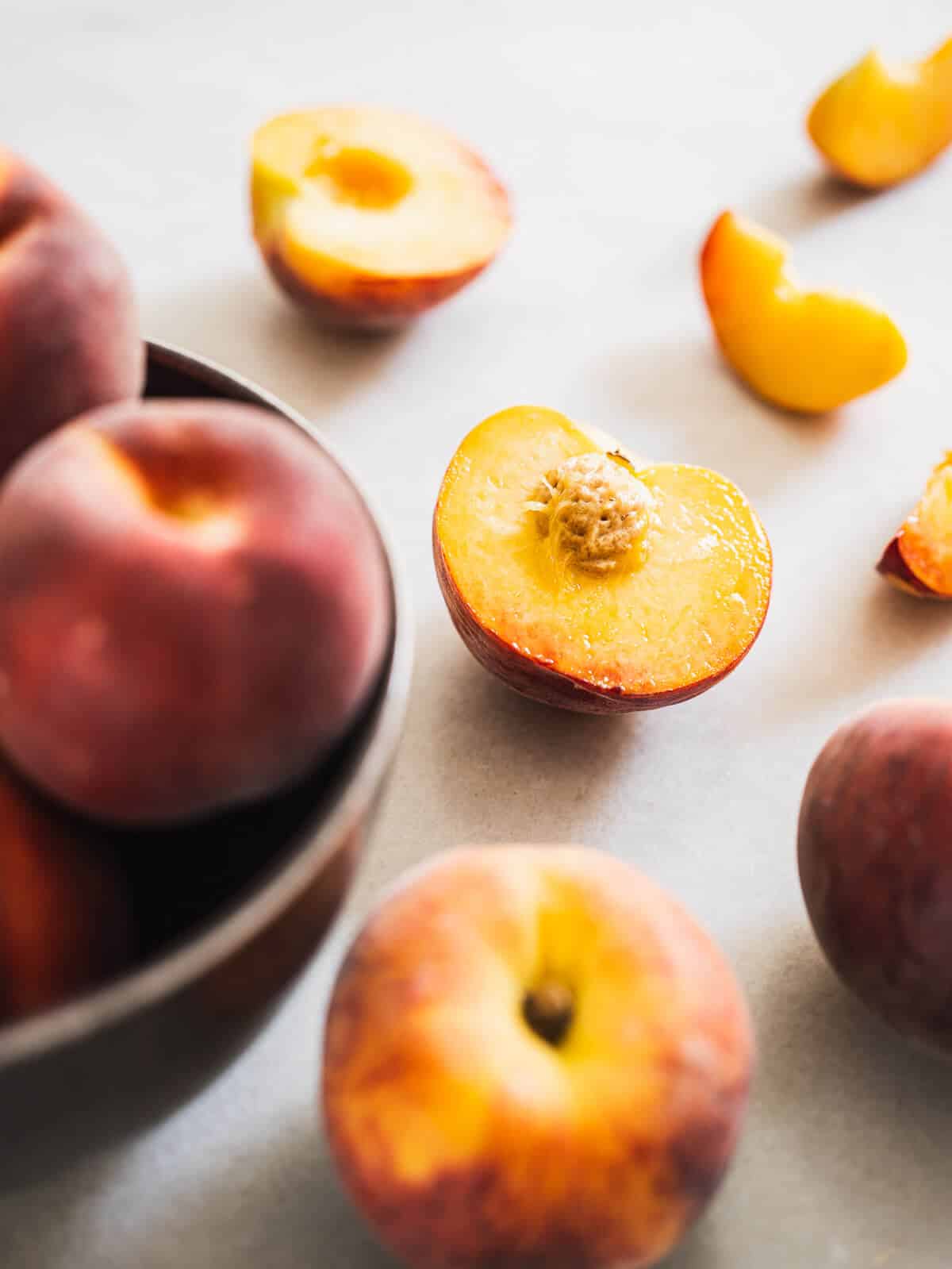 These stone fruits, known for their beautiful red skin and sweet, juicy flesh, red peaches are rich in vitamins A and C and provide beneficial plant compounds.
Try making a delicious and refreshing peach blueberry smoothie during the warm Summer months!
Tip: since they have smooth skin, you don't need to peel them to consume them.
Watermelon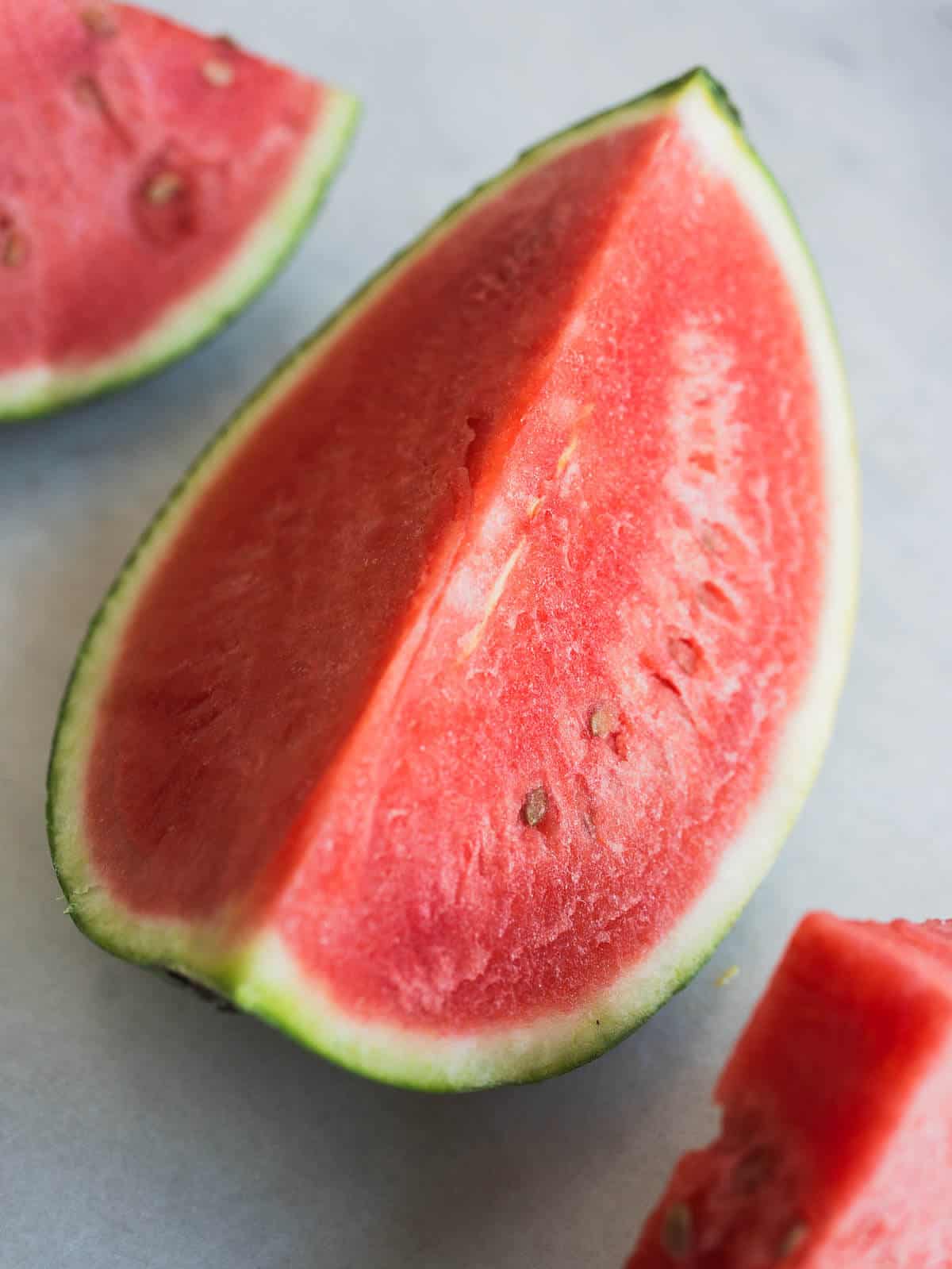 This quintessential summer fruit is loved for its sweet, hydrating juicy red flesh. Watermelon is packed with vitamins A and C, and is famous for its high lycopene content, a powerful antioxidant.
You can make a watermelon smoothie, make fruit salads, and even use the rind to make a refreshing watermelon rind gazpacho.
Tomatoes
While often treated as a vegetable in cooking, tomatoes are technically a fruit. They are a great source of vitamin C and potassium and are particularly high in lycopene.
Look for bright red tomatoes and use them to make juice, marinara sauce, and Andalusian gazpacho soup.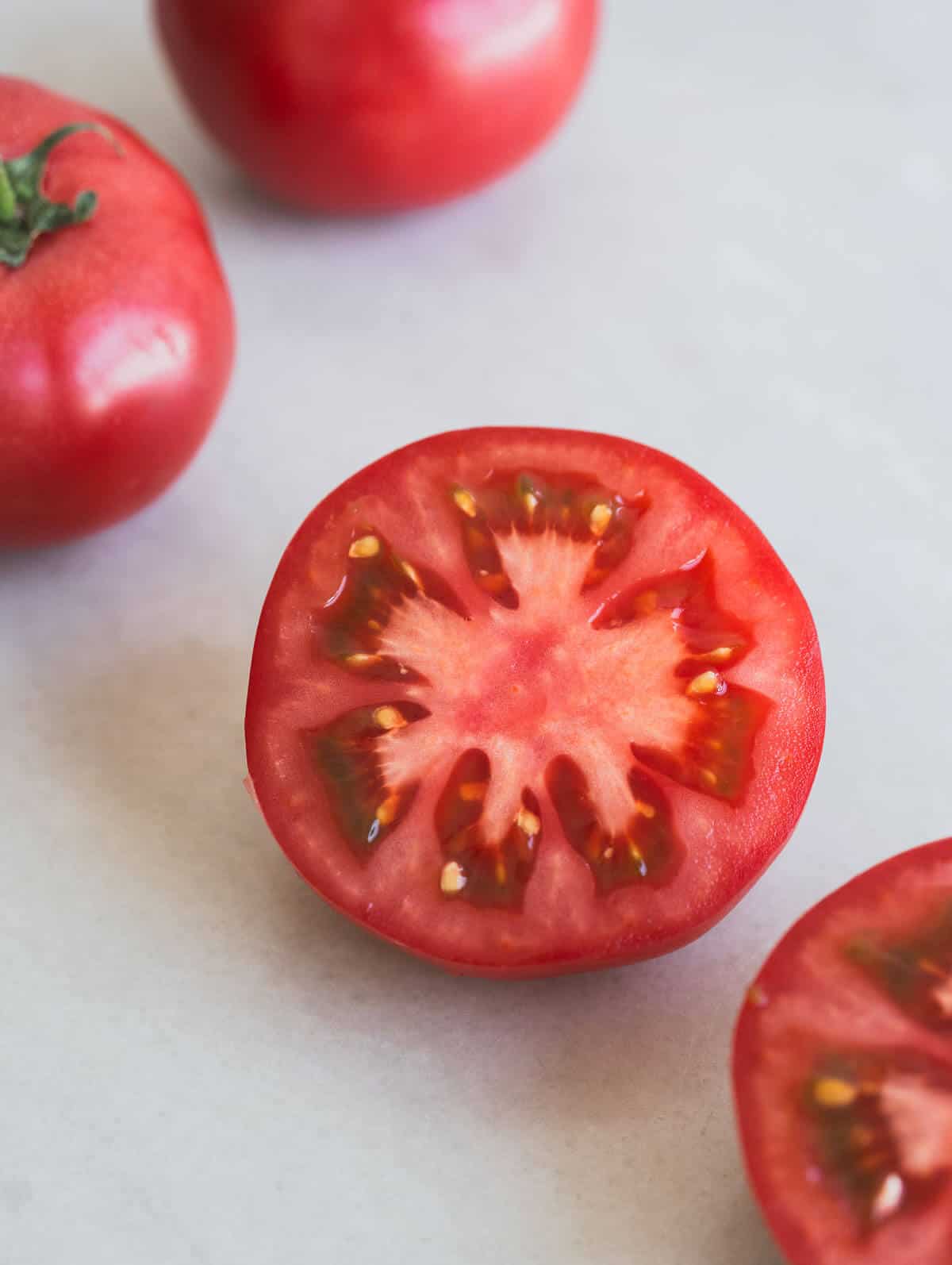 Cherry Tomatoes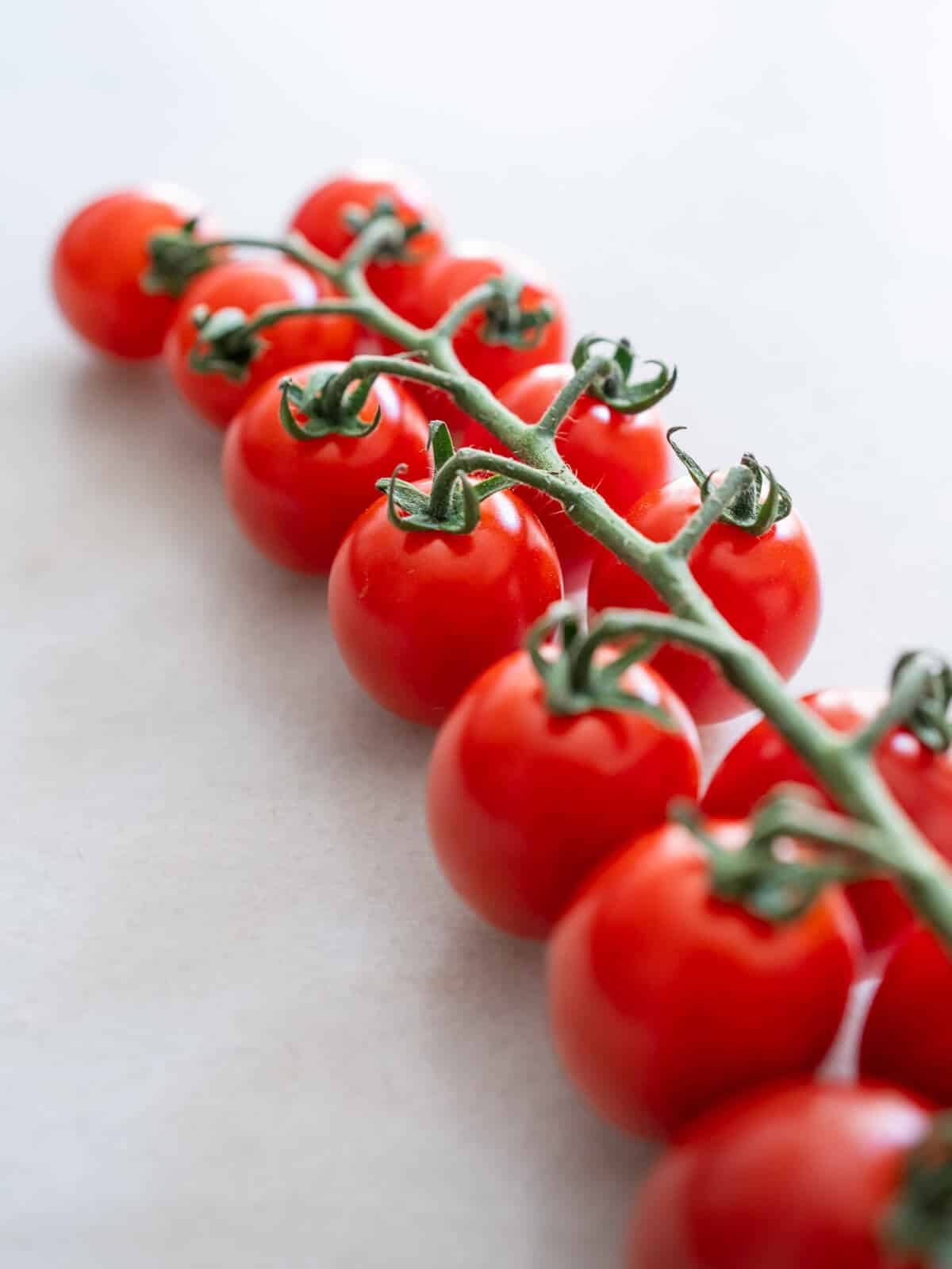 These bite-sized variants of tomatoes pack the same nutritional punch as their larger counterparts, with a sweeter taste.
Use seasonal cherry tomatoes to make a delicious cucumber salad, top your Buddha bowls, stuffed shell pasta, or make a lentil tabbouleh.
Red Plums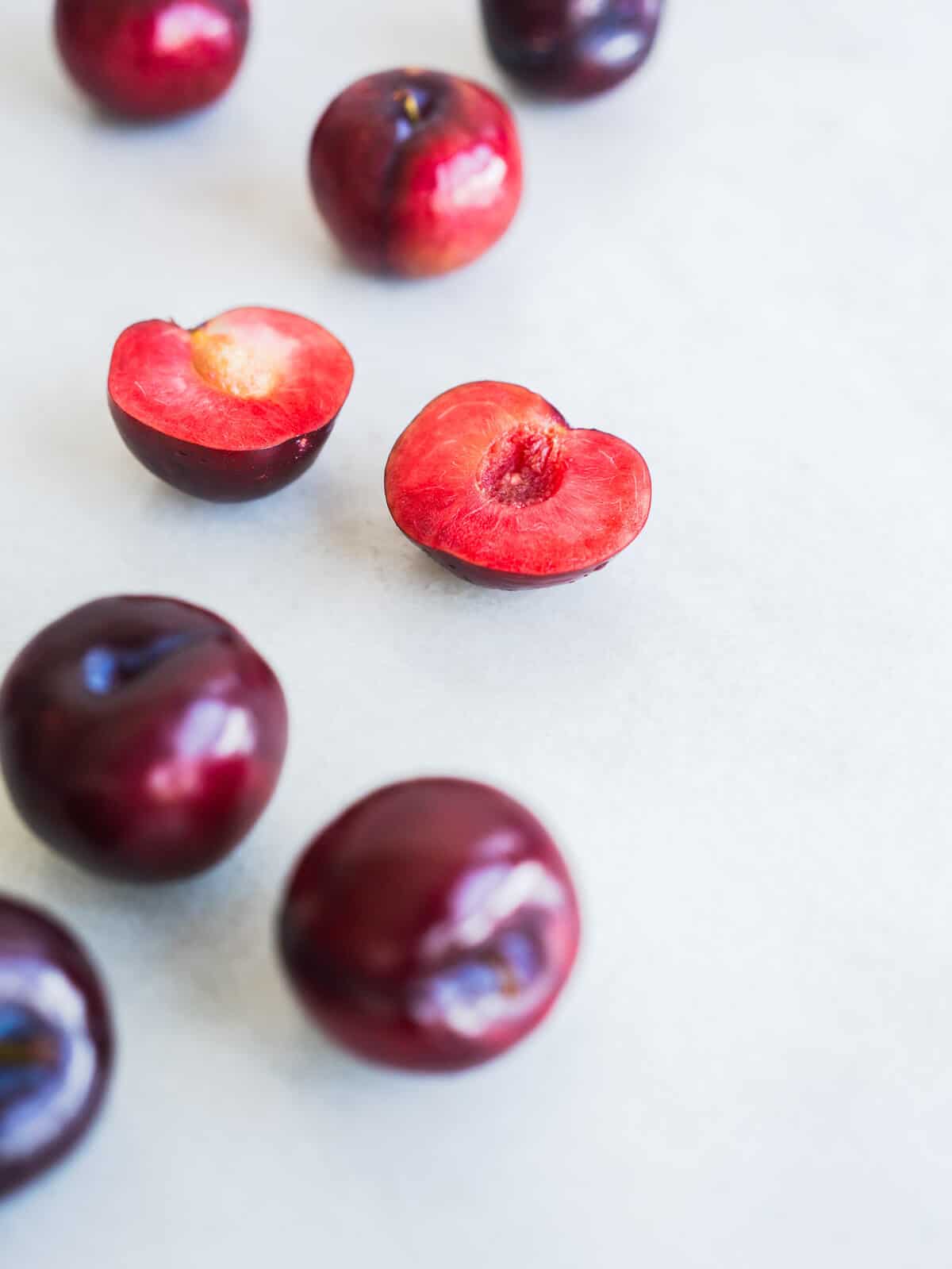 With their sweet and tart flavor, red plums are a treat to the taste buds. Their dark red flesh are high in vitamins A and C, fiber, and antioxidants.
Red Mango fruit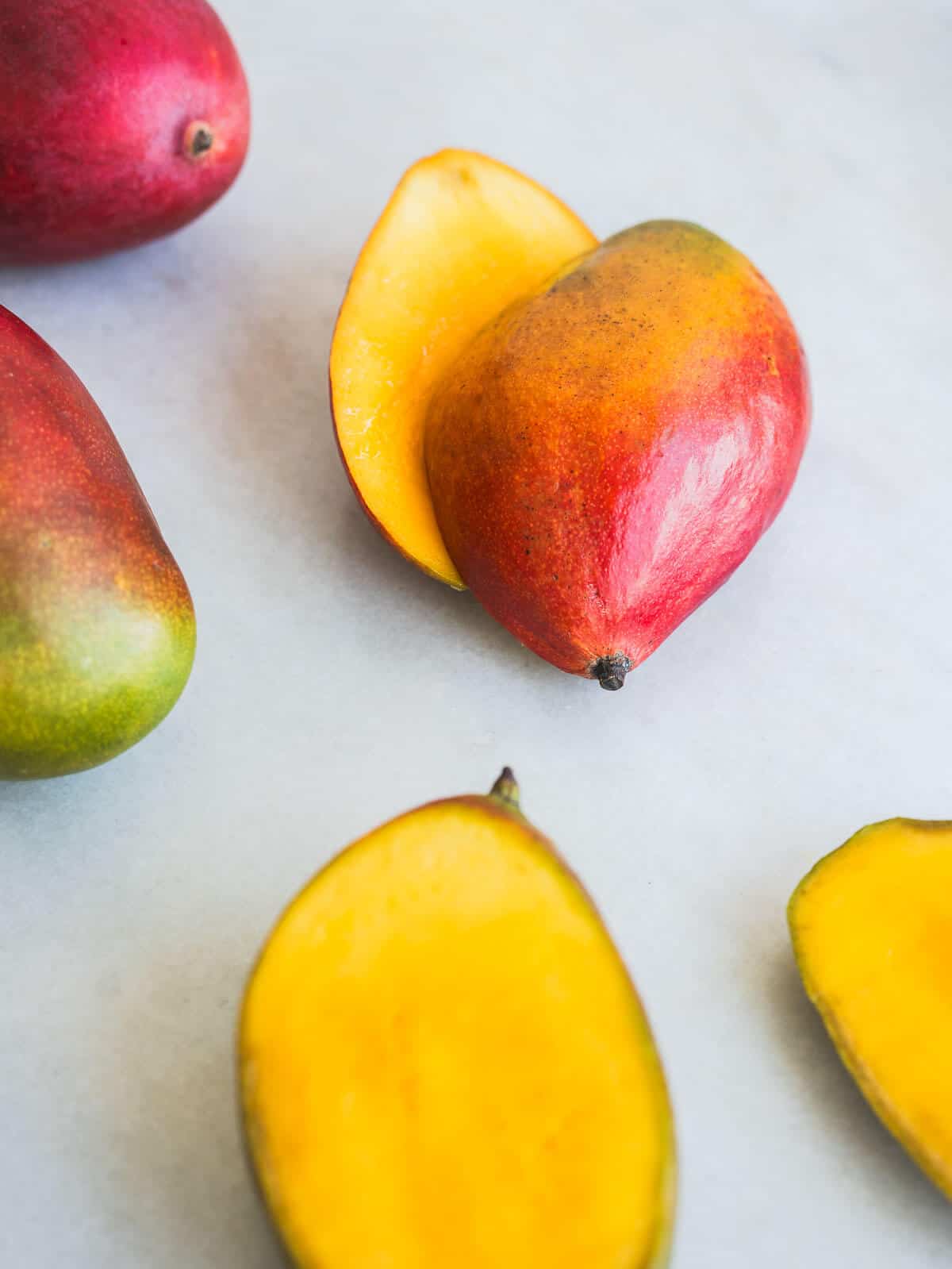 Red mangoes are known for their sweet, juicy flesh and high vitamin C content. They also provide a good amount of vitamin A and dietary fiber.
We love using these tropical fruits to make mango smoothies as a replacement for bananas or combining them with more red fruit to make a strawberry mango smoothie.
Red Grapes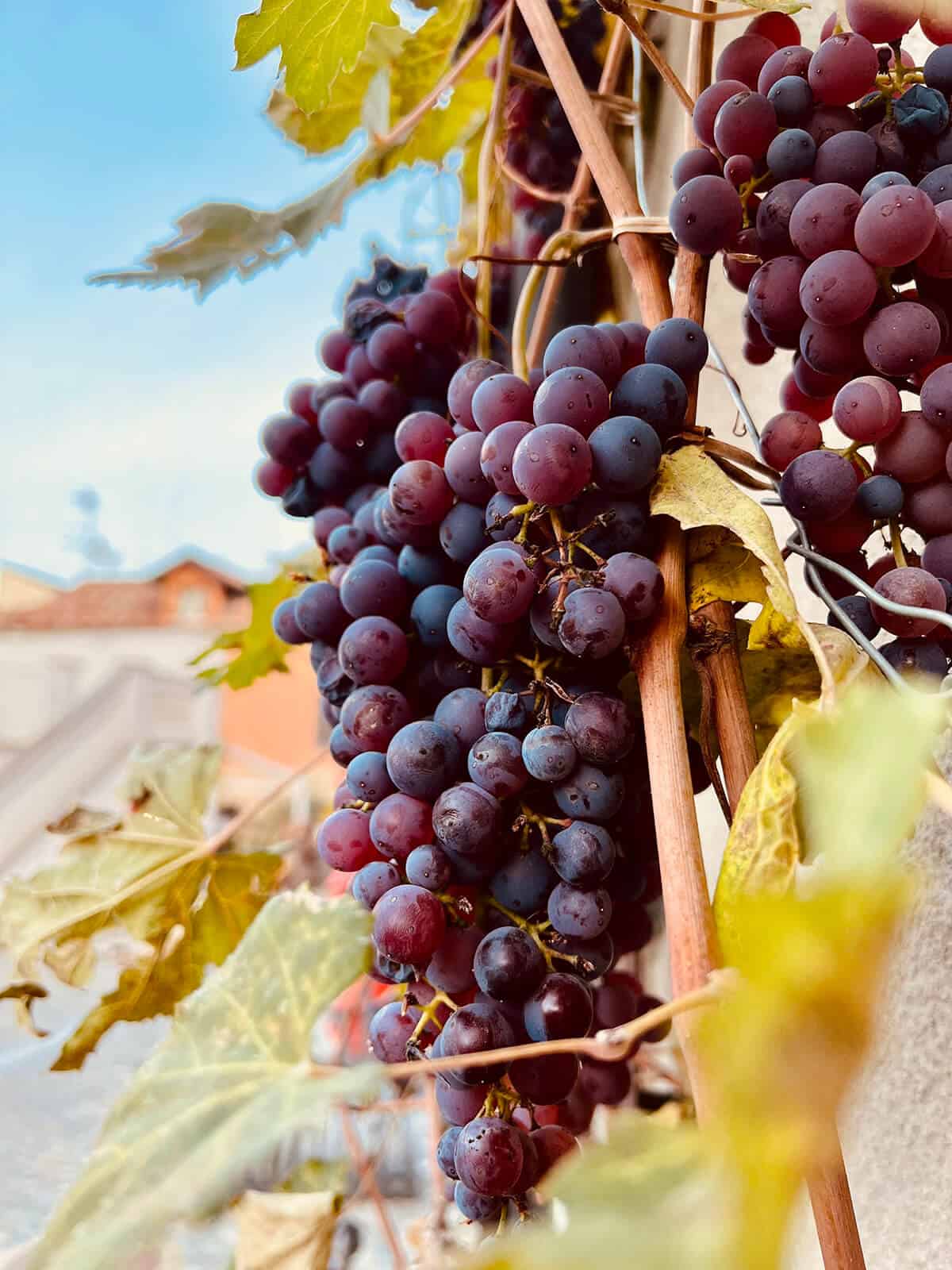 These sweet and juicy purple or red fruits are packed with antioxidants, including resveratrol, linked to heart health.
Red Currants: These tiny berries are known for their tart flavor. They're high in vitamin C, fiber, and antioxidants.
Red Prickly Pear (Red Pears): This cactus fruit has a sweet, melon-like flavor and is packed with fiber, vitamin C, and antioxidants.
Blood Orange: Known for their deep red flesh and distinct, raspberry-like flavor, blood oranges are packed with vitamin C and anthocyanins, a type of antioxidant. These citrus fruits are great for making smoothies, not only juices.
Red Berries: This category includes fruits like red raspberries, strawberries, and cranberries, all of which are high in fiber, vitamin C, and antioxidants. Use frozen berries to make highly antioxidant-content smoothies.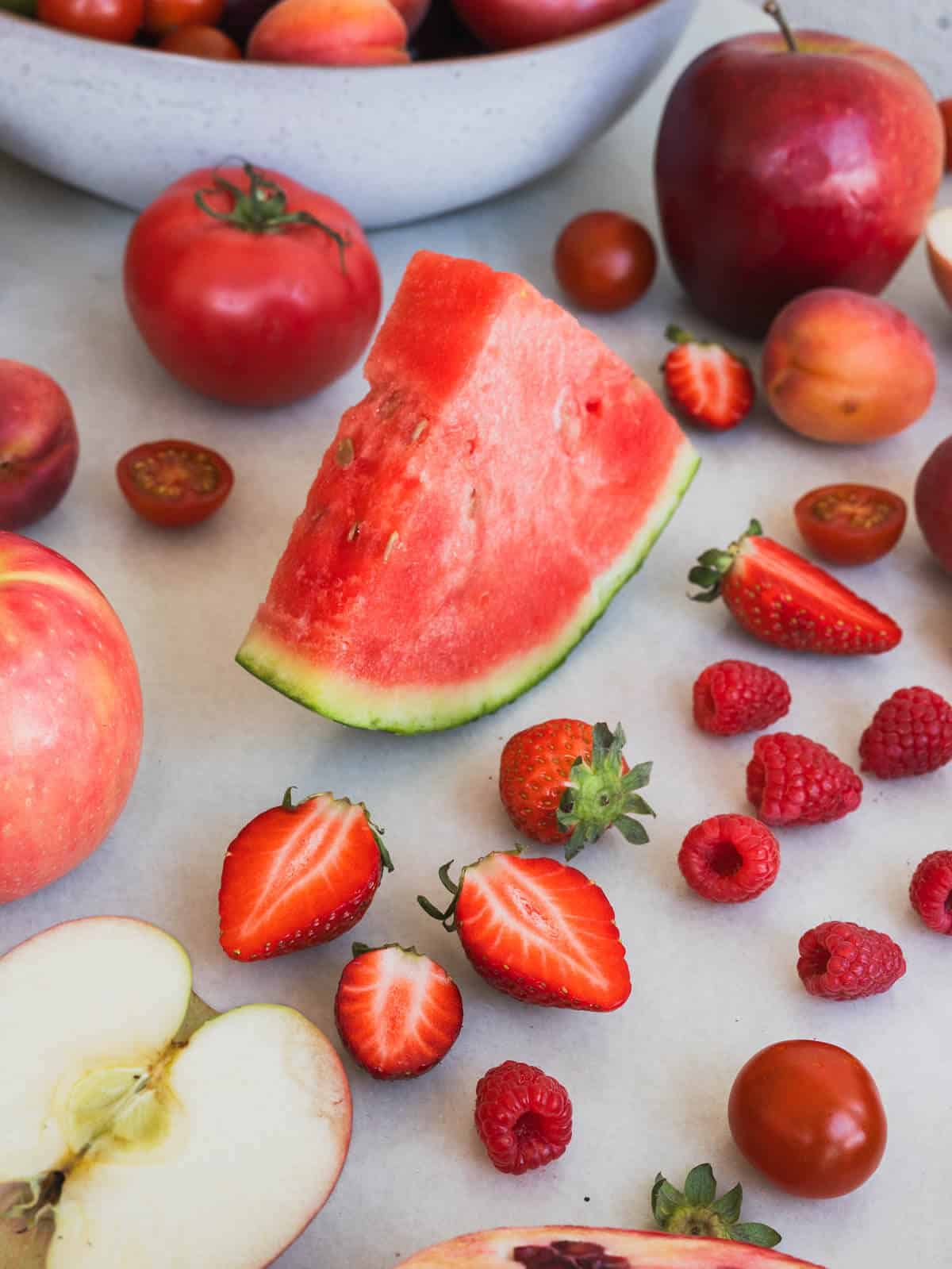 Red Grapefruit: This citrus fruit is known for its tart and tangy flavor with an underlying sweetness. It's a great source of vitamins A and C, fiber, and other nutrients. Try our green grapefruit smoothie to fight a cold!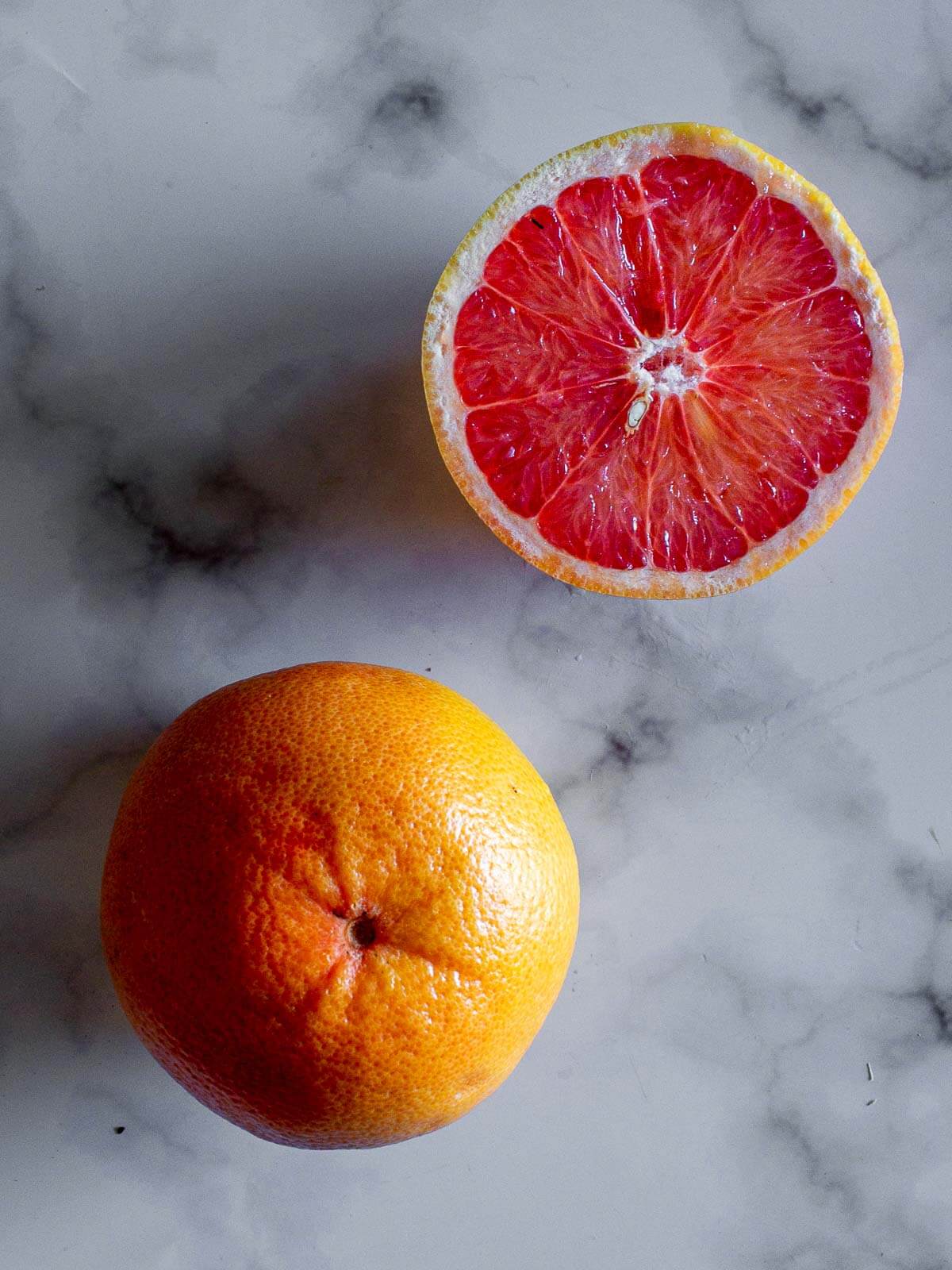 Red Cranberry Fruits: These tart fruits are famous for their benefits for urinary tract health. They're also high in vitamin C, fiber, and antioxidants.
Make a delicious cranberry sauce for Thanksgiving, or add them to cornbread stuffing or fig bars.
❤️ Exotic Red Fruits and Where to Find Them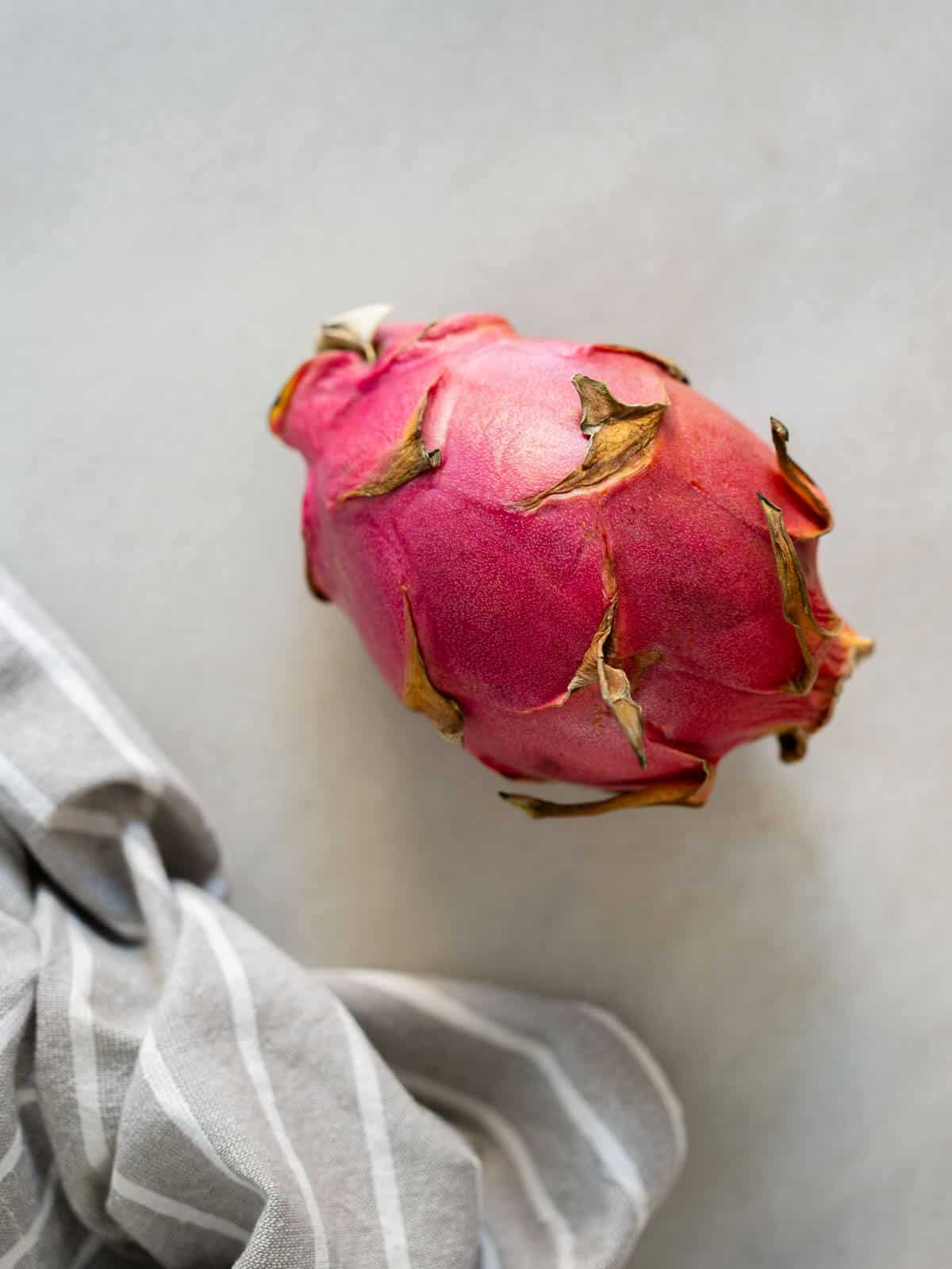 Red Dragon Fruit (Pitaya): This tropical fruit has a unique appearance with its bright red skin and white or red flesh speckled with small black seeds. It has a mildly sweet flavor and is rich in vitamin C, fiber, and antioxidants. They are a great addition to breakfast fruit bowls.
Lychee: Native to China, lychees have a sweet, floral flavor. They are an excellent source of vitamin C and offer several beneficial plant compounds.
Rambutan: This fruit, native to Southeast Asia, is similar to lychee but has a unique hairy shell. The flesh is sweet and creamy, and the fruit is a good vitamin C and fiber source.
Acerola Cherry: Native to Central and South America, this cherry is extremely high in vitamin C and has a sweet-tart flavor.
Red Guava: Native to Central and South America, red guava is known for its sweet and slightly tart flavor. It's packed with vitamin C, fiber, and antioxidants.
Red Passion Fruit: This tropical fruit is known for its vibrant red skin and sweet-tart seeds. It's a good source of dietary fiber, vitamin C, and beneficial plant compounds. They are great for making passion fruit smoothies.
Red Durian fruits: This variety of durian, also known as "Durian Merah," has a distinct red flesh. It's rich in dietary fiber, vitamin C, and several B vitamins.
Red Cactus Fruit: Also known as the prickly pear, this fruit has a unique, sweet flavor and is rich in fiber, vitamin C, and beneficial plant compounds.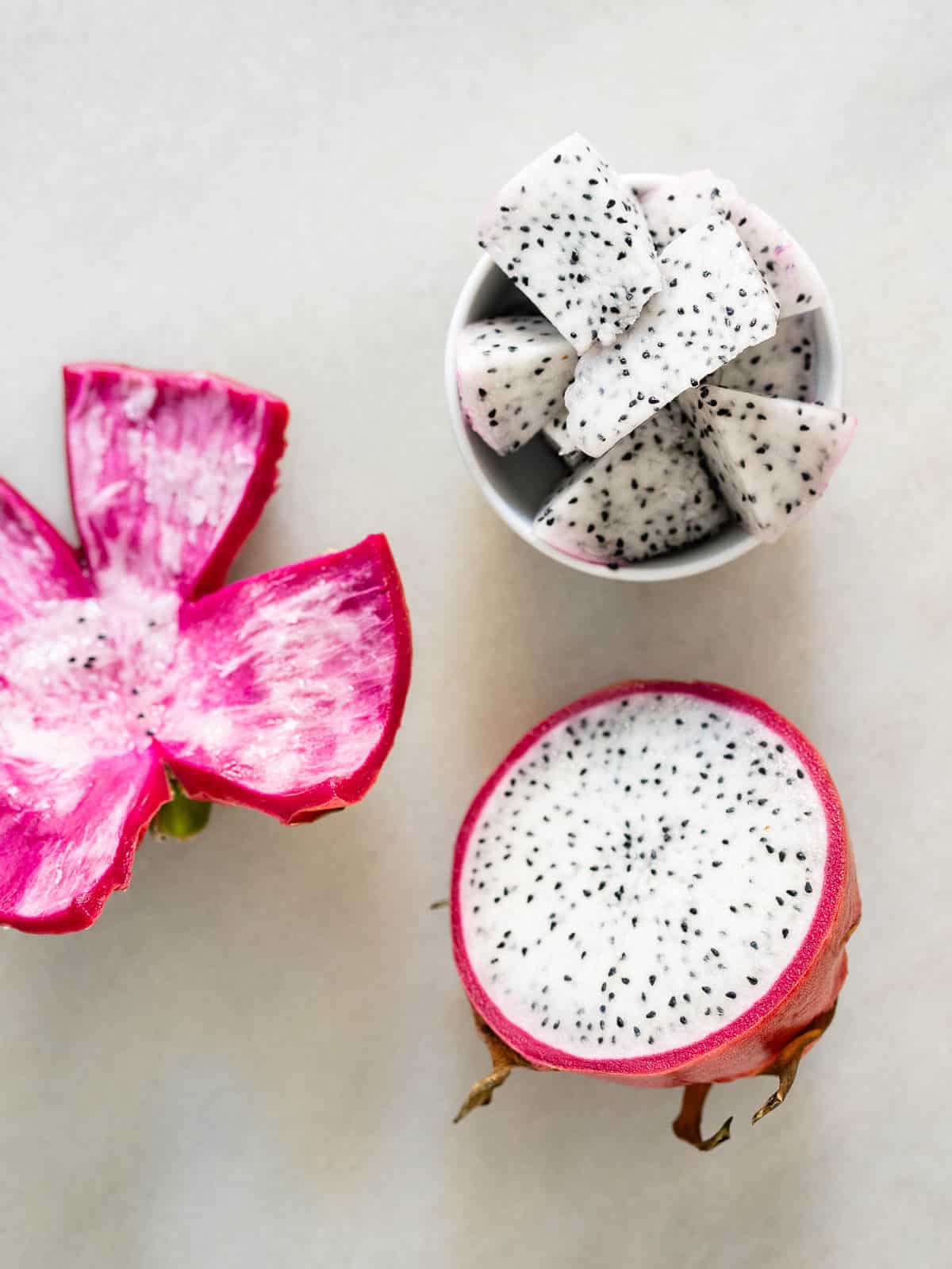 Remember, the color of these fruits is a hint of the nutritional benefits they hold. In the next section, we will explore the health benefits of these red fruits in more detail.
⭕️ Health Benefits of Red Fruits
Red fruits are a powerhouse of nutrition, offering a wealth of health benefits. They are rich in vitamins, minerals, and antioxidants, which can help boost your immune system, promote heart health, and protect against various diseases.
The antioxidants in red fruits, such as lycopene and anthocyanins, are particularly effective in fighting inflammation and oxidative stress, which are linked to many chronic diseases.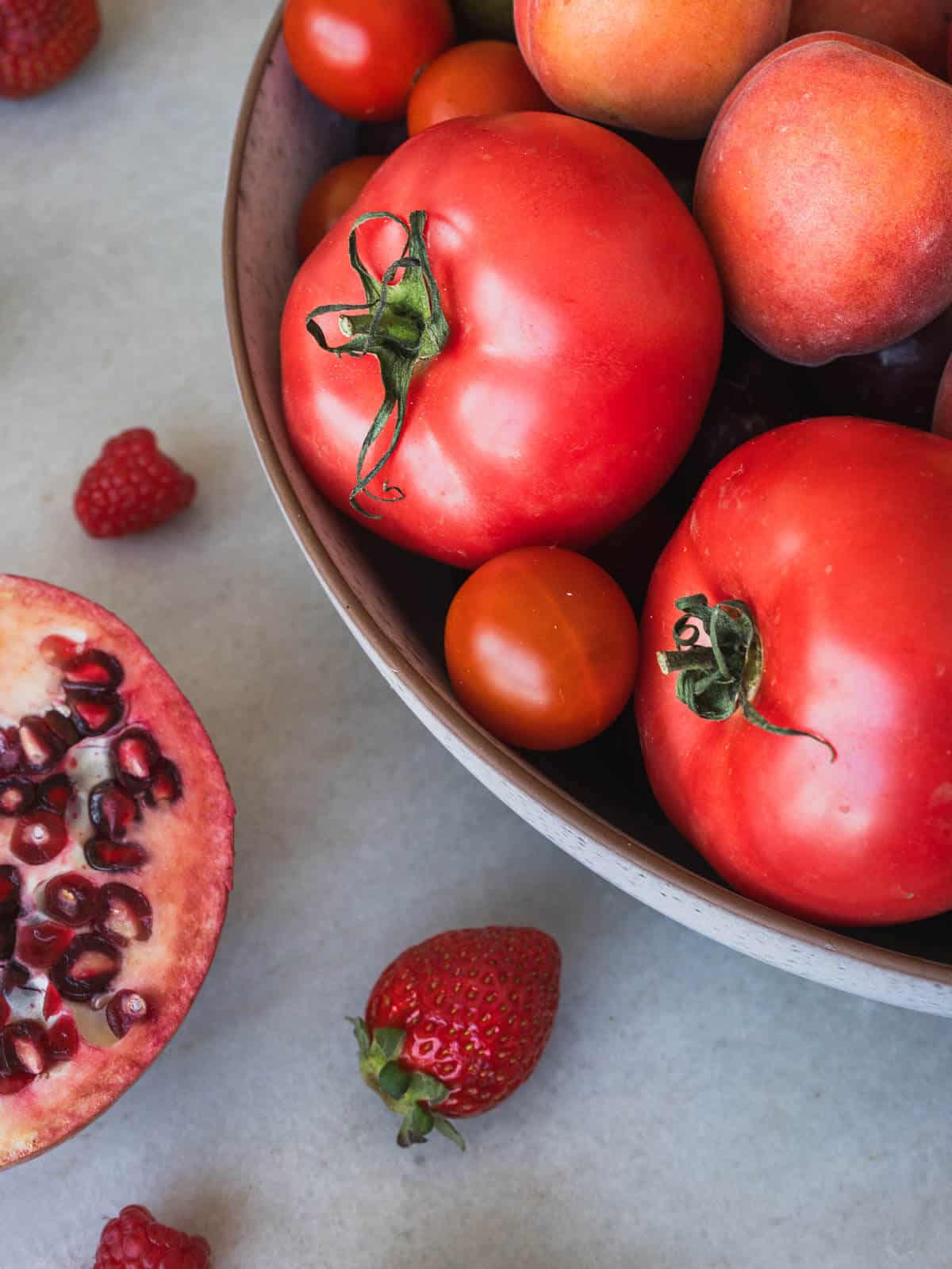 Benefits for Blood and Weight Loss
Red fruits can also play a significant role in maintaining healthy blood pressure and promoting weight loss. The potassium found in many red fruits, such as tomatoes and watermelon, can help regulate blood pressure by counteracting the effects of sodium.
Furthermore, the high fiber content in these fruits can aid in weight loss by promoting feelings of fullness and reducing overall calorie intake.
Advantages for Diet, Babies, and Pregnancy
Incorporating red fruits into your diet can provide a wide range of nutrients necessary for overall health. For babies, introducing red fruits like strawberries and raspberries can provide essential vitamins and minerals for their growth and development.
During pregnancy, the folic acid found in strawberries and the vitamin C in most red fruits can support the health of both the mother and the baby.
Scientific Studies Supporting These Benefits
Numerous scientific studies have supported the health benefits of red fruits. For instance, a study published in the American Journal of Clinical Nutrition found that the lycopene in tomatoes and watermelon could reduce the risk of heart disease.
Another study in the Journal of Nutrition and Metabolism highlighted the role of fiber in promoting weight loss, a nutrient abundant in many red fruits. Research in the British Journal of Nutrition also showed that the consumption of berries could improve markers of heart health.
In the next section, we will delve into the nutritional content of these vibrant red fruits, providing a clearer picture of what makes them so beneficial for our health.
🍅 Nutritional Content of Red Fruits
Each red fruit has a unique nutritional profile, but they all share a common trait: nutrient-dense. Let's take a closer look at some common red fruits: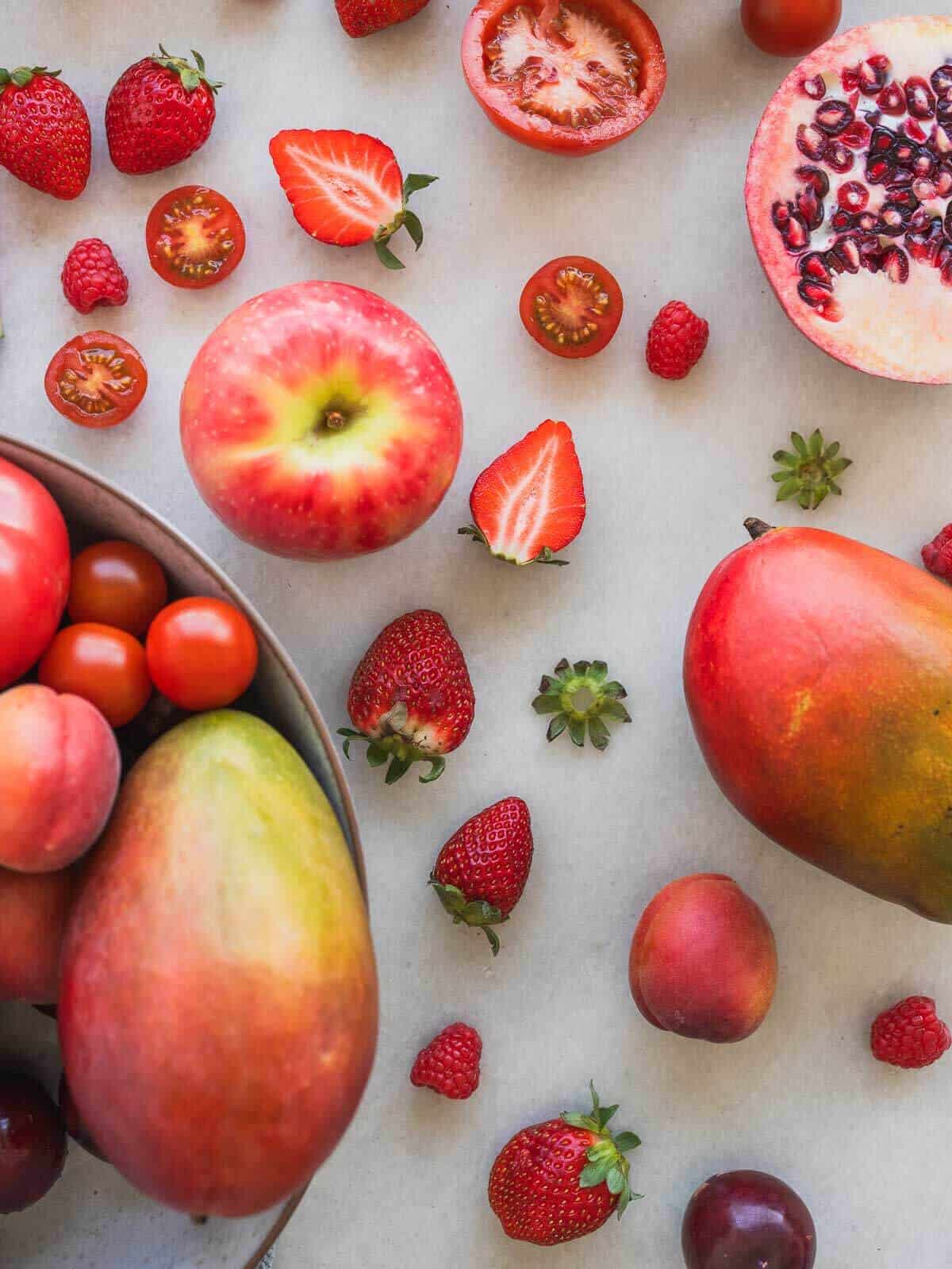 Apples: A medium-sized apple provides dietary fiber, vitamin C, potassium, and antioxidants. It's also low in calories and free of fat and sodium.
Strawberries: A cup of strawberries offers more than 100% of the daily recommended intake of vitamin C, along with a good amount of fiber, manganese, and folate.
Watermelon: This hydrating fruit is high in vitamins A and C, and it's one of the best dietary sources of lycopene.
Tomatoes: Tomatoes are rich in vitamin C, potassium, and lycopene. They also contain a small amount of vitamin A, vitamin E, and several B-vitamins.
Red Plums: These fruits are a good source of vitamins A and C, potassium, and dietary fiber.
🧮 Comparison with Other Color Fruits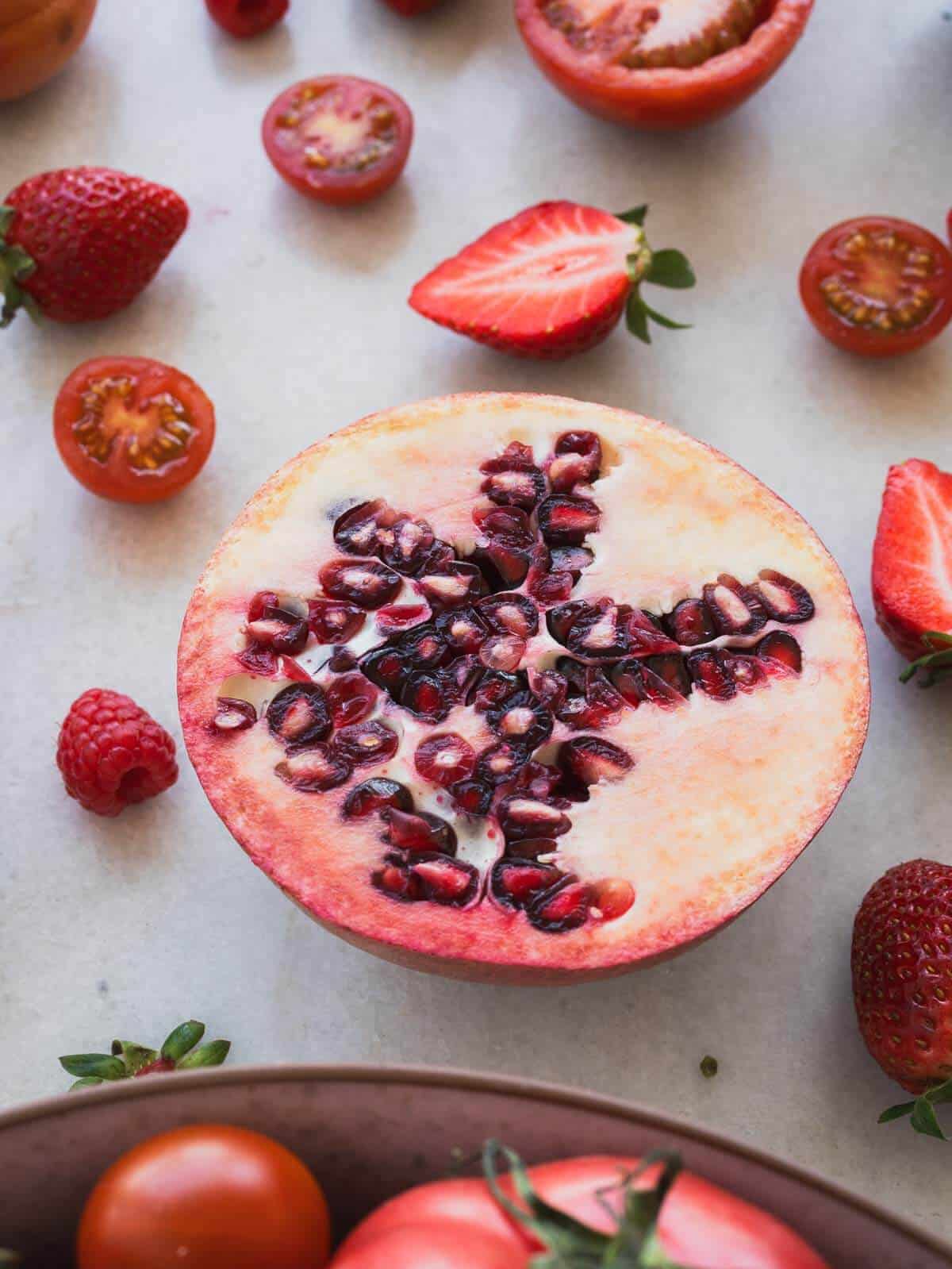 While all fruits are beneficial, red fruits stand out for their high content of certain nutrients. For instance, red fruits are typically higher in antioxidants like lycopene and anthocyanins compared to fruits of other colors.
Lycopene, found in watermelon and tomatoes, has been linked to heart health and cancer prevention. Anthocyanins, found in strawberries and cherries, have anti-inflammatory and anti-viral benefits.
However, it's important to eat a variety of fruits of all colors to ensure a wide range of nutrients. For example, orange fruits like oranges and mangoes are high in vitamin C and beta-carotene, while blue and purple fruits like blueberries and blackberries are packed with powerful antioxidants called anthocyanins.
🍉 How to Incorporate Them into a Balanced Diet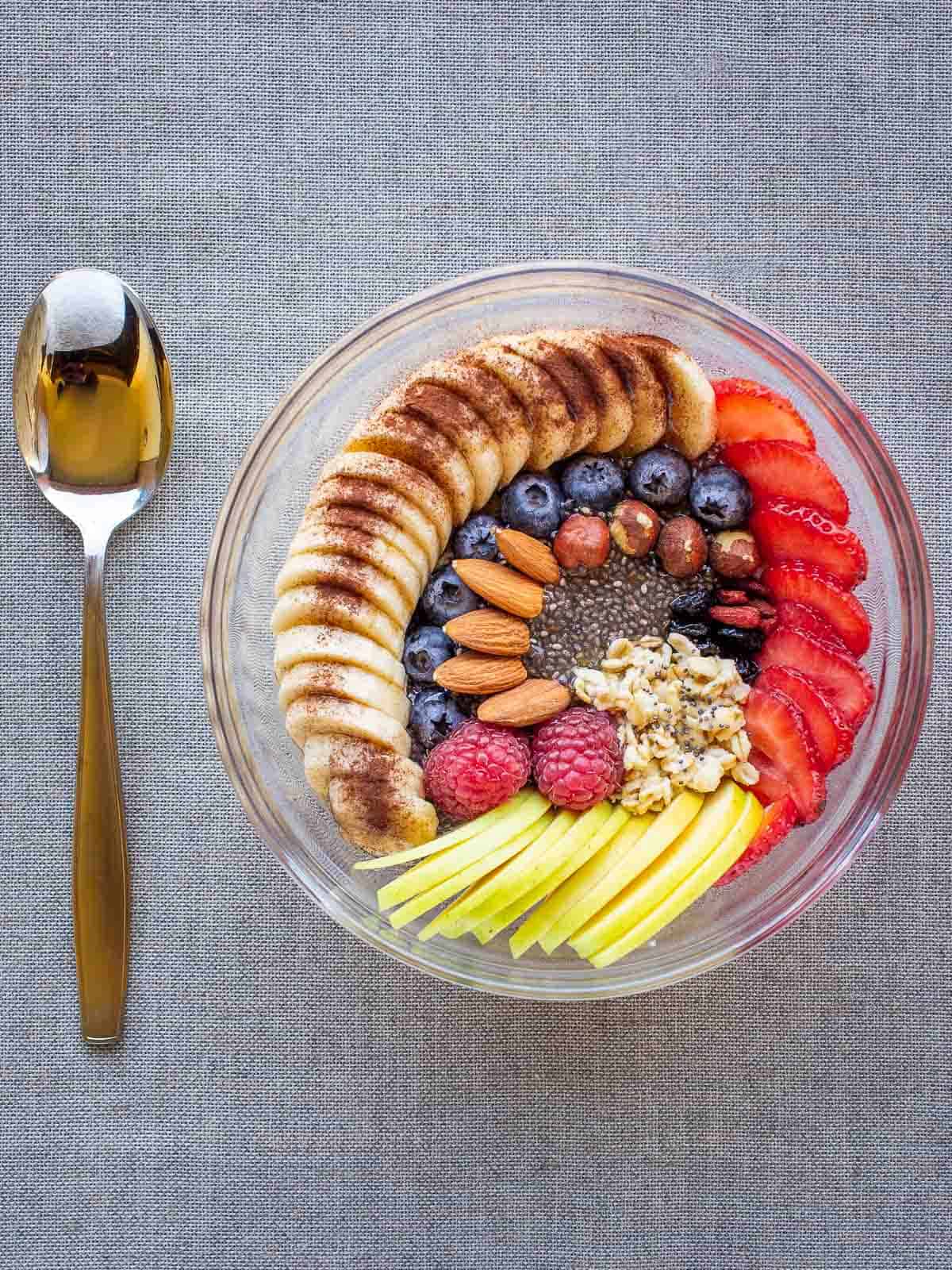 Incorporating red fruits into your diet is easy and delicious. Here are a few suggestions:
Breakfast: Add sliced strawberries or red plums to your cereal or yogurt. You can also blend them into a smoothie with a banana for added creaminess.
Lunch: Toss cherry tomatoes into your salad or use them in a wrap for a burst of freshness.
Snack: Enjoy an apple or a handful of cherries as a healthy snack. You can also make a fruit salad or smoothie with a mix of your favorite red fruits.
Dinner: Cooked tomatoes can be used in a variety of dishes, from pasta sauces to stews. You can also add diced red bell peppers to stir-fries or roasted dishes.
Remember, the key to a balanced diet is variety. So, while enjoying the benefits of red fruits, don't forget to include fruits of other colors in your diet as well.
❓ Why Are Some Fruits Red?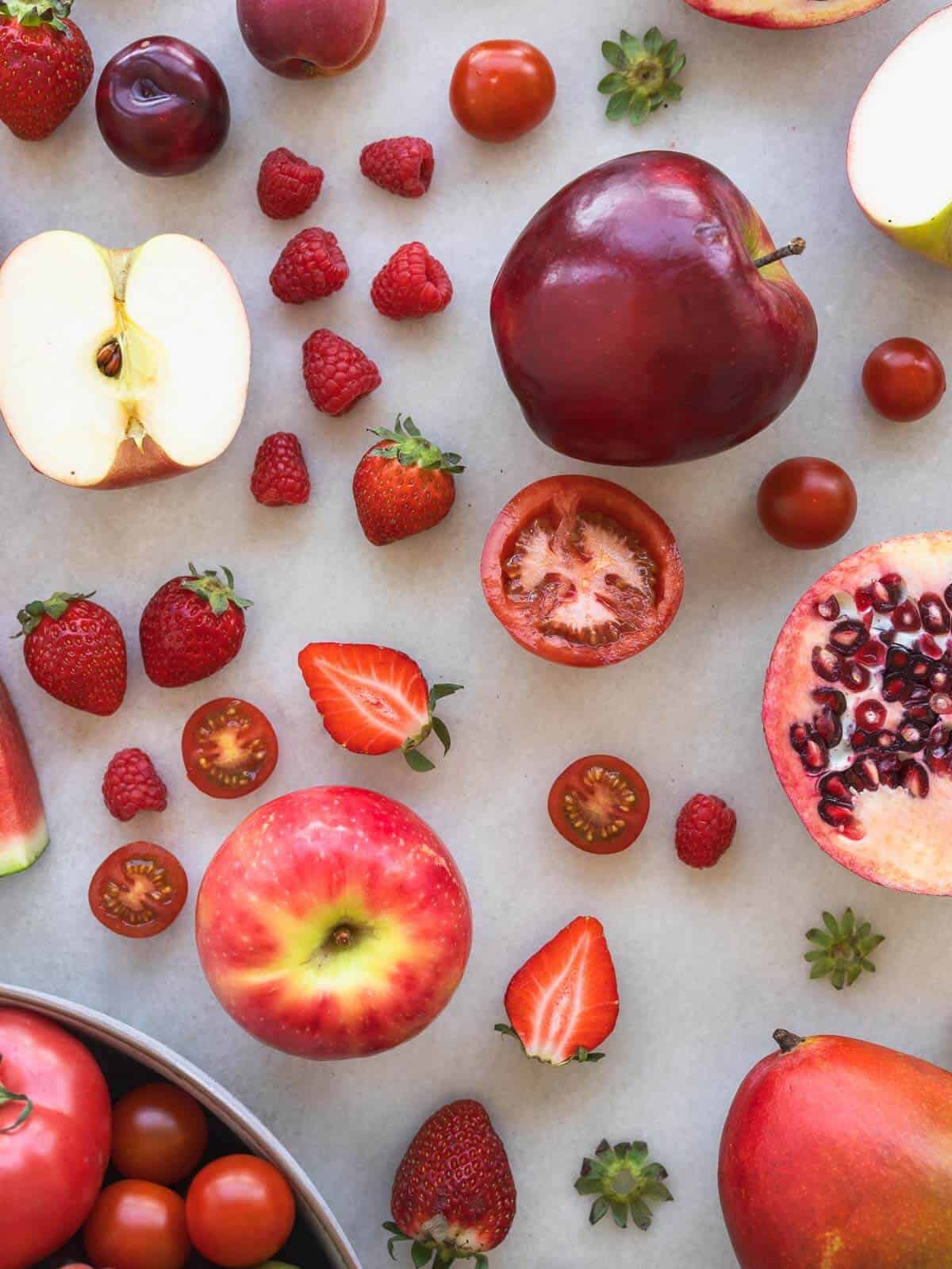 The color of fruits is a fascinating aspect of nature's bounty, and it's not just for show. The color of fruit results from specific compounds called pigments present in them.
These pigments develop as the fruit ripens, leading to a change in color. This color change is not just aesthetic; it also signals the fruit's ripeness and its nutritional content.
The Role of Pigments and Other Factors
Two primary pigments contribute to the red color in fruits: anthocyanins and lycopene.
Anthocyanins: These are water-soluble pigments that can appear red, purple, or blue depending on the pH. They are found in high amounts in fruits like strawberries, raspberries, and cherries. Anthocyanins are powerful antioxidants and have been linked to numerous health benefits.
Lycopene: This is a carotenoid pigment that gives fruits like tomatoes and watermelons their red color. Lycopene is a potent antioxidant and has been associated with a reduced risk of heart disease and certain types of cancer.
Other factors can also influence the color of fruits. For instance, the temperature and light conditions where the fruit grows can impact its color. Fruits grown in cooler temperatures tend to have more intense colors due to the higher concentration of pigments.
In conclusion, the red color in fruits is not just about looking attractive. It's a sign of the fruit's ripeness, nutritional value, and the presence of beneficial compounds like anthocyanins and lycopene. So next time you enjoy a red fruit, remember, you're enjoying its taste and reaping the benefits of these powerful pigments.