Hey there, nut milk enthusiasts! Ever wondered how to make walnut milk at home? You're in the right place because today, we're diving into a simple and delicious walnut milk recipe you'll absolutely love!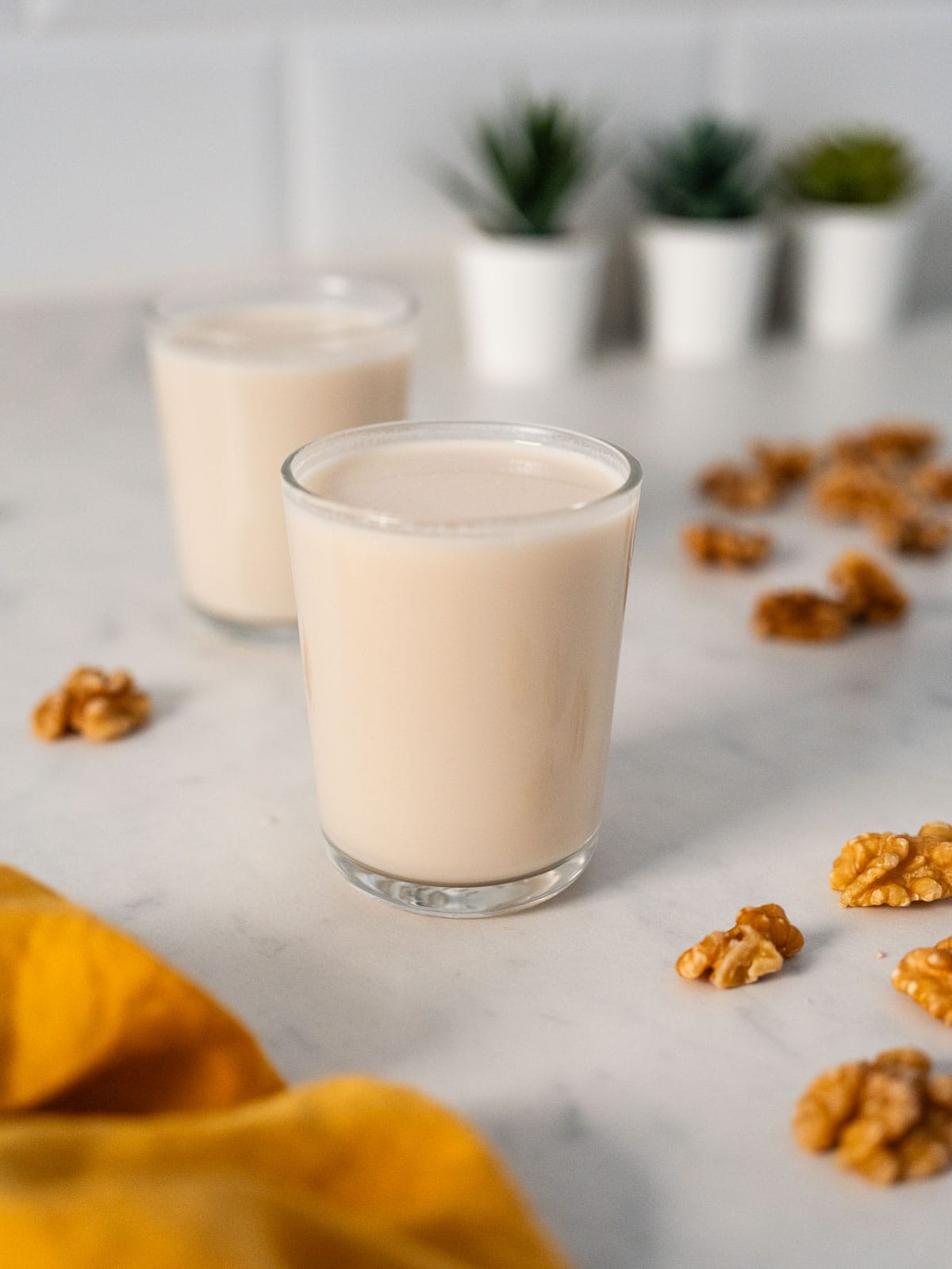 This beverage is super adjustable and perfect for your smoothies. You can make it creamier, sweeter, or flavor-infused. We love using the unsweetened version for recipes such as Vegan mashed potatoes and Vegan Bechamel Sauce.
💚 Why you will love it
Super Easy: Seriously, if you can operate a blender, you're golden. This recipe is beginner-friendly and takes just a few minutes to whip up.
Cost-Effective: Why shell out cash for store-bought versions when you can make walnut milk at home for a fraction of the cost? Your wallet will thank you.
Customizable: Want it sweeter? Add some maple syrup. Looking for a hint of vanilla? Toss in a vanilla pod. You're the chef, so make it your own!
Nutrient-Rich: Walnuts are a powerhouse of nutrients like omega-3 fatty acids and antioxidants. So, not only are you sipping on something delicious, but you're also making your body solid.
Zero Waste: Say goodbye to those pesky cartons and plastic bottles. Making walnut milk at home is an eco-friendly choice that helps you cut down on waste.
Jump to:
🧾 Ingredients
It requires 2 ingredients, 5 minutes, and a blender or cold-press juicer.
Raw walnuts: Main flavor, protein, healthy fats, and brain health partners.
Filtered water: Liquid medium and hydration.
Medjool dates: For natural sweetness and fiber.
Sea salt: Flavors enhancer and alkalizing, helps keep bacterial and viral infections at bay.
Note: keep your plant milk unsweetened if you are planning to make vegan buttermilk.
🔪 Instructions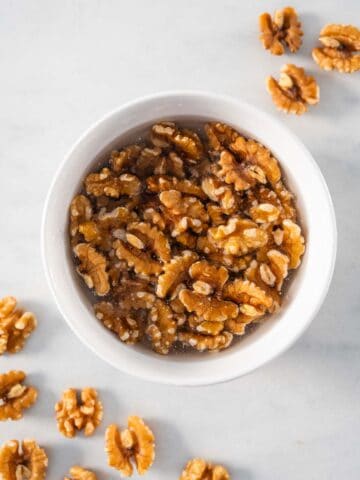 Step 1: You can either let the walnuts soak at room temperature or pop them in the fridge overnight.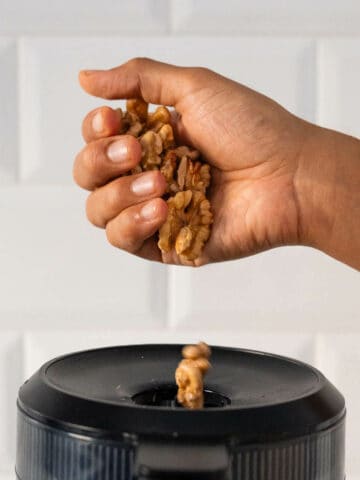 Step 2: You must then drain the walnuts and add them to your juicer or blender.
Hint: If you're short on time, just douse the walnuts in warm water to speed things up and let them soak for a quick 15 minutes.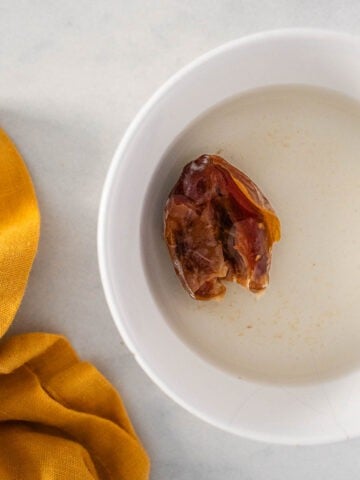 Step 3: If you want to sweeten the plant milk, you can add a pitted date; if it is hard, soak it in warm water before adding it to the juicer or blender.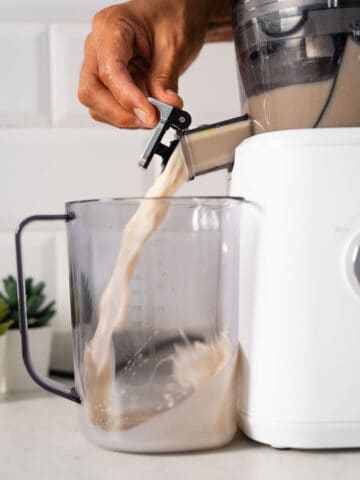 Step 4: Pour and enjoy or reserve in the fridge.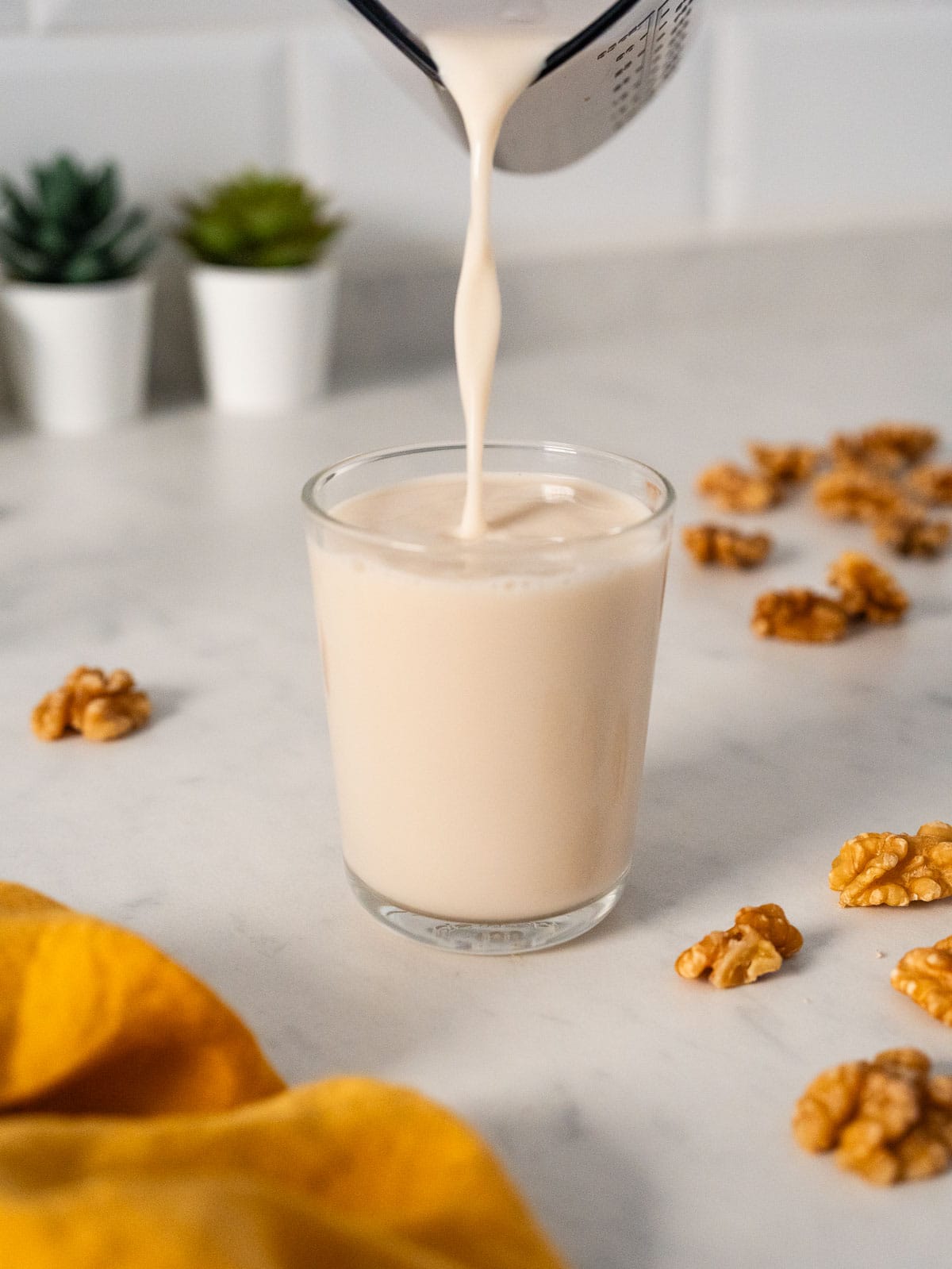 Sweeten or Spice It Up: You can add a touch of salt and your favorite sweeteners like maple syrup, dates, or date paste. If you're feeling adventurous, consider flavor enhancers like cocoa.
Straining Time: To strain the milk, you can use a nut milk bag or a fine-mesh sieve lined with cheesecloth. If you're in a bind, a clean t-shirt or canvas bag will do the trick. Just be sure to squeeze out as much liquid as you can.
Why Fabric Works for Me: I prefer using fabric for straining because it's thinner, which helps me get more pulp-free milk from the mixture.
Add in ideas: cocoa powder, vanilla extract, banana, strawberry, or hazelnuts.
🍽 Equipment
Blender

(affiliate link)

: A high-speed blender is essential for breaking down the walnuts into a smooth, creamy consistency. Just toss in the soaked walnuts and water and blend away. It's the quickest and most straightforward method for making walnut milk.
Cold-Press Juicer

(affiliate link)

: If you're looking for less frothy and more concentrated walnut milk, a cold-press juicer is your go-to. It slowly extracts the liquid, preserving more nutrients and producing a richer flavor. It's a bit more time-consuming, but it's worth it for the quality.
Both options have their merits, so choose based on your preference for texture and nutrient content.
🫙 Storing
Shelf Life Factors: The longevity of your walnut milk hinges on how well you've sterilized your gear and the freshness of your ingredients. In our experience, it usually lasts for about 2-3 days.
Sterilization Hacks: If your walnut milk spoils sooner than you'd like, you can easily sterilize your bottles by:
Fill them with boiling water (just make sure the jars aren't cold to prevent cracking).
Or, simply toss them in the dishwasher for a thorough clean.
Oops, Gotta Dash: If you have to leave home unexpectedly or didn't get around to using your milk, here's a tip to extend its life.
You can freeze it in ice cube trays and save them for your morning smoothies.
You can use this same trick with cashew milk, almond milk, oat milk, soy milk, and all dairy-free kinds of milk you can think of.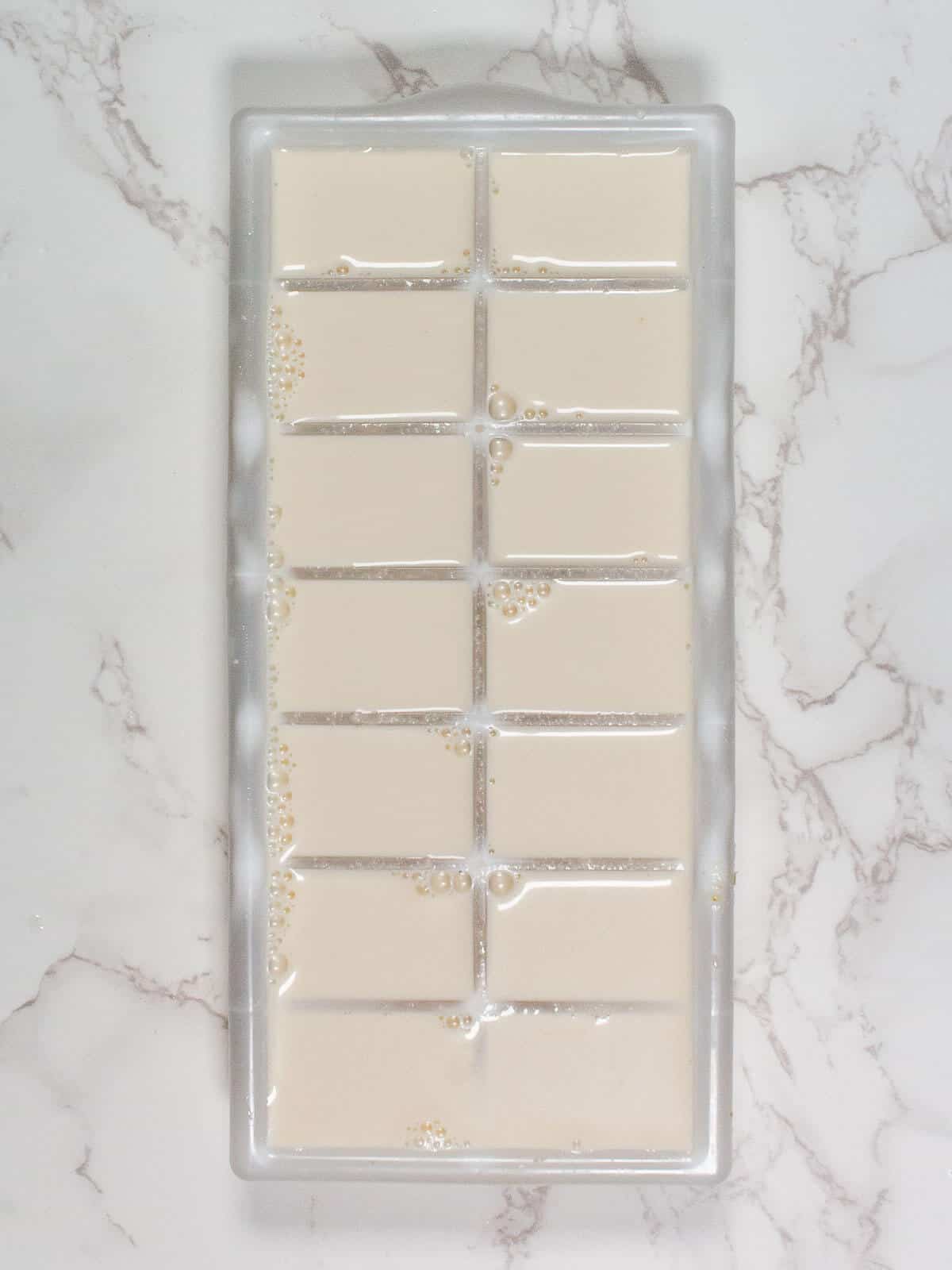 👨🏻‍🍳 How to use it
You can use it the same way you would use regular milk: in smoothies, in your morning granola or breakfast fruit bowl, in bechamel sauce, or baking.
Lastly, you can also make vegan chocolate milk and delicious pumpkin overnight oats with walnut milk.
✅ 5 Benefits of Walnut Milk
Walnut milk isn't just a tasty alternative to dairy; it's also a nutritional powerhouse. Here are five compelling reasons to make walnut milk a staple in your plant-based diet:
So, the next time you're sipping on that creamy walnut milk, know that you're doing your body a whole lot of good!
🥛 More plant milk recipes
Got a surplus of walnuts? Don't let them go to waste—try these awesome walnut-centric recipes: Whip up some Brown Sugar Candied Walnuts as a quick 10-minute Christmas delight, create your own homemade parmesan cheese in just 5 minutes, or toss together a scrumptious Spinach, Walnut Salad featuring Apple and Cranberries.
❓FAQ
How to thicken walnut milk?
We find the perfect thickness for our taste is 1 cup of walnut milk for 1 cup of water.
Suggested thicker milk options:
If you don't mind sacrificing the final volume, 1 cup of walnut milk / ¾ cup of water.
If you want thinner walnut milk, just add an extra cup of water.
⭐ If you try this recipe, let us know! 💬 Leave a comment, rate it, and don't forget to tag us @ourplantbasedworld on Instagram. Cheers!
📋 Recipe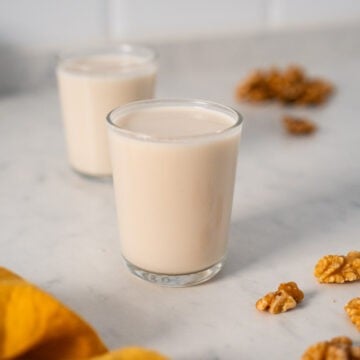 Homemade Walnut Milk Recipe and Benefits (with Slow Juicer or Blender)
Ready to make some walnut milk? This simple recipe is your ticket to creamy, delicious goodness. Let's get started!
Equipment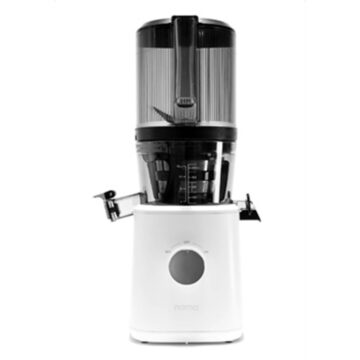 (affiliate link)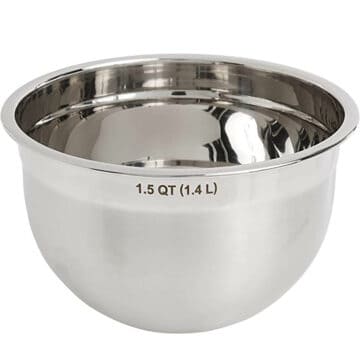 (affiliate link)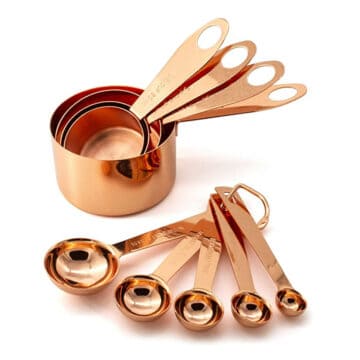 (affiliate link)
Ingredients
1

cup

walnuts

raw, Gluten-Free (if in a GF diet)

4

cups

water
Directions
Soak walnuts in water overnight or for 6-8 hours in a bowl. This makes the nuts softer for optimal juicing. We recommend juicing 2 cups of cashew nuts to make 3.5 cups of cashew milk (28 oz).

Soak dates with pits removed in warm water to soften for 20-30 mins. If using soft Meedjol dates, you can skip this step.

Pour out the water and rinse the walnuts. Add equal parts of fresh water into the bowl.

Turn on your slow juicer and add walnuts, dates, and equal parts fresh filtered water into the juicer. For best results, add ingredients through the hole in the hopped lid while in the closed position.

Keep going until you've put in all the walnuts and water.

Watch the nuts turn into milk and let it flow out.

Pour yourself a glass and enjoy!
Notes
Use the exact instructions for other plant products such as hazelnuts, almonds, walnuts, macadamia, and cooked soybeans. Adjust the amount of water to achieve your desired texture.
Nutrition Facts
Calories:
46
kcal
Carbohydrates:
9
g
Protein:
1
g
Fat:
1
g
Saturated Fat:
1
g
Sodium:
7
mg
Potassium:
54
mg
Fiber:
1
g
Sugar:
2
g
Vitamin A:
1
IU
Vitamin C:
1
mg
Calcium:
10
mg
Iron:
1
mg
Nutrition Facts
Homemade Walnut Milk Recipe and Benefits (with Slow Juicer or Blender)
Amount per Serving
% Daily Value*
* Percent Daily Values are based on a 2000 calorie diet.
Nutritional Disclaimer
The information shown is an estimate provided by an online nutrition calculator. It should not be considered a substitute for a professional nutritionist's advice. See our full Nutritional Disclosure here.
Affiliate Disclaimer
Please note that some of the links here are affiliate links, and I will earn a commission if you purchase through those links. I recommend all of the products listed because they are companies I have found helpful and trustworthy.