Apples and Cinnamon, that combination made in heaven, makes us think of apple pie! Our Cinnamon Apple Smoothie takes that fantastic combination to a glass! This low-calorie protein shake is packed with flavor and nutrients, making it the perfect breakfast or snack option. You can whip up this tasty smoothie with just a few simple ingredients in no time. Plus, it's a great way to satisfy your sweet tooth without sabotaging your diet.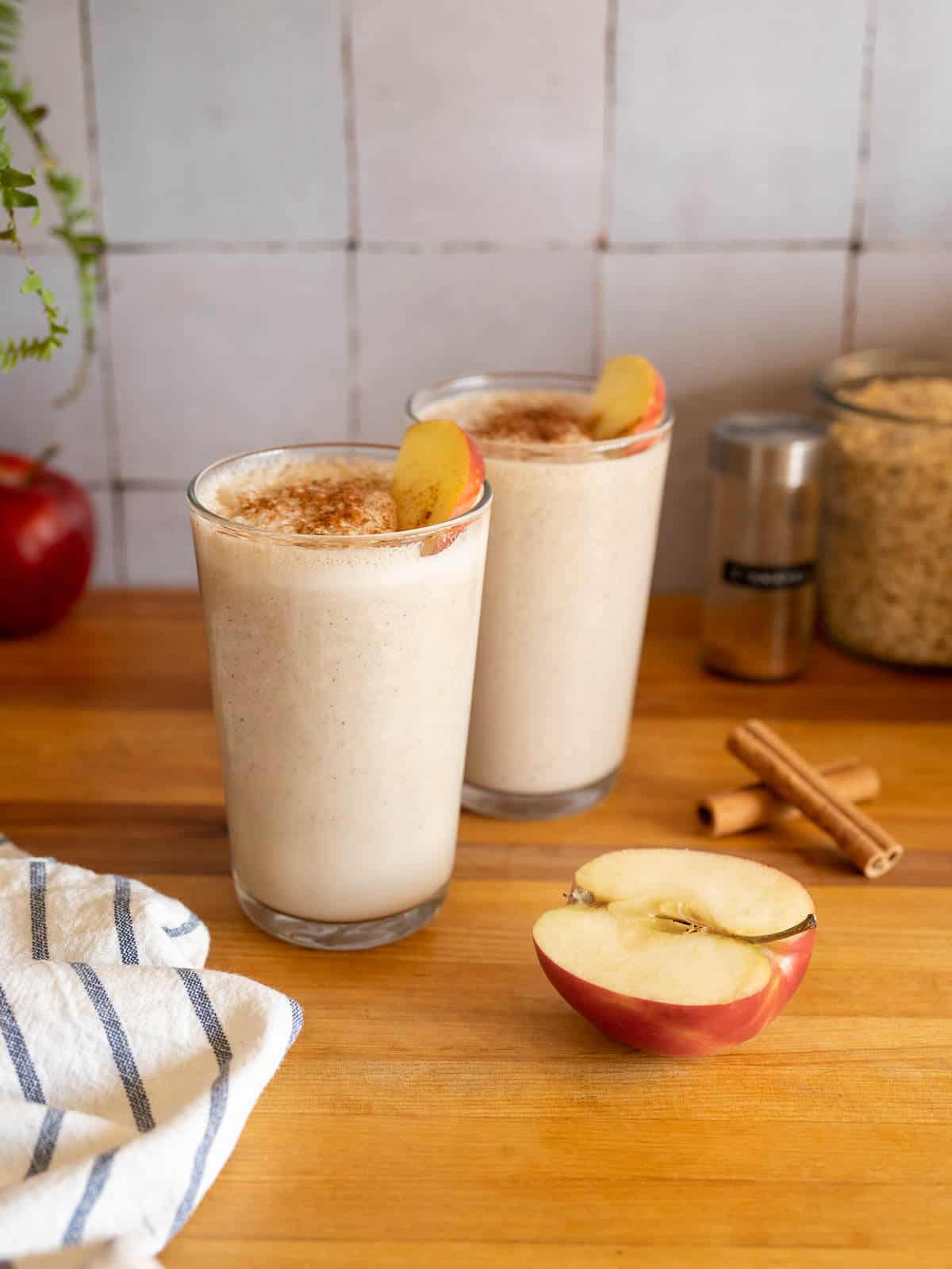 We strive to create new functional smoothies that taste delicious and provide various health benefits while we aim to use the freshest and most nutritious ingredients to craft unique flavor combinations that nourish the body and mind.
This time we bring apple cake to a glass of nurturing deliciousness.
Whether you're looking for a post-workout boost, a midday pick-me-up, or a refreshing treat, our smoothies are designed to meet your needs and exceed your expectations.
With each sip, you'll experience a burst of flavor and a surge of energy, knowing you're doing something good for yourself. Join us on this journey to optimal health and wellness, one sip at a time.
Jump to:
🧾 Ingredients
This apple cinnamon smoothie is made with just a few delicious ingredients:
Fresh Apples - add sweetness, flavor, fiber, and vitamins. Also, they may promote weight loss and improve brain and gut health. Use sweet apples like Fuji, Gala, Honey crisp, or red delicious to take advantage of their natural sweetness. You can also use frozen apples. If you prefer a tart flavor, go for Granny Smith green apples.
Cinnamon - brings warmth and delicious cinnamon-spiced dessert flavor to this apple shake.
Oatmeal - adding oatmeal to smoothies can increase their nutritional value and fiber and add a pleasant and creamy texture. You can use any oats, but we prefer quick or rolled oats, gluten-free options. Oatmeal pairs so well with apples that we always include it in our brown sugar cinnamon apple oatmeal.
Protein powder - Adding plant-based protein to smoothies can help increase satiety, build and repair muscle, and provide essential amino acids for overall health.
Soy milk - to make this apple smoothie vegan, soy is our choice of dairy-free milk to boost our smoothies ad protein. We enjoy making our own soy drink. You can substitute it for other plant milk, such as unsweetened almond milk.
Meedjol date - has a delicious taste and is high in fiber and antioxidants. It's an excellent choice for those looking to boost their health! Plus, it can be used as a substitute for regular sugar or honey when baking and cooking. It is a great addition to any post-workout smoothie because it helps to replenish your body faster after exercising.
Ice cubes - since we use fresh ingredients and not the usual frozen banana used to chill smoothie recipes, we throw a few ice cubes into the mix.
Optional ingredients
Seeds - add chia seeds or flax meal to increase the antioxidant and Omega 3 and 6 from their healthy fats.
See the recipe card for quantities.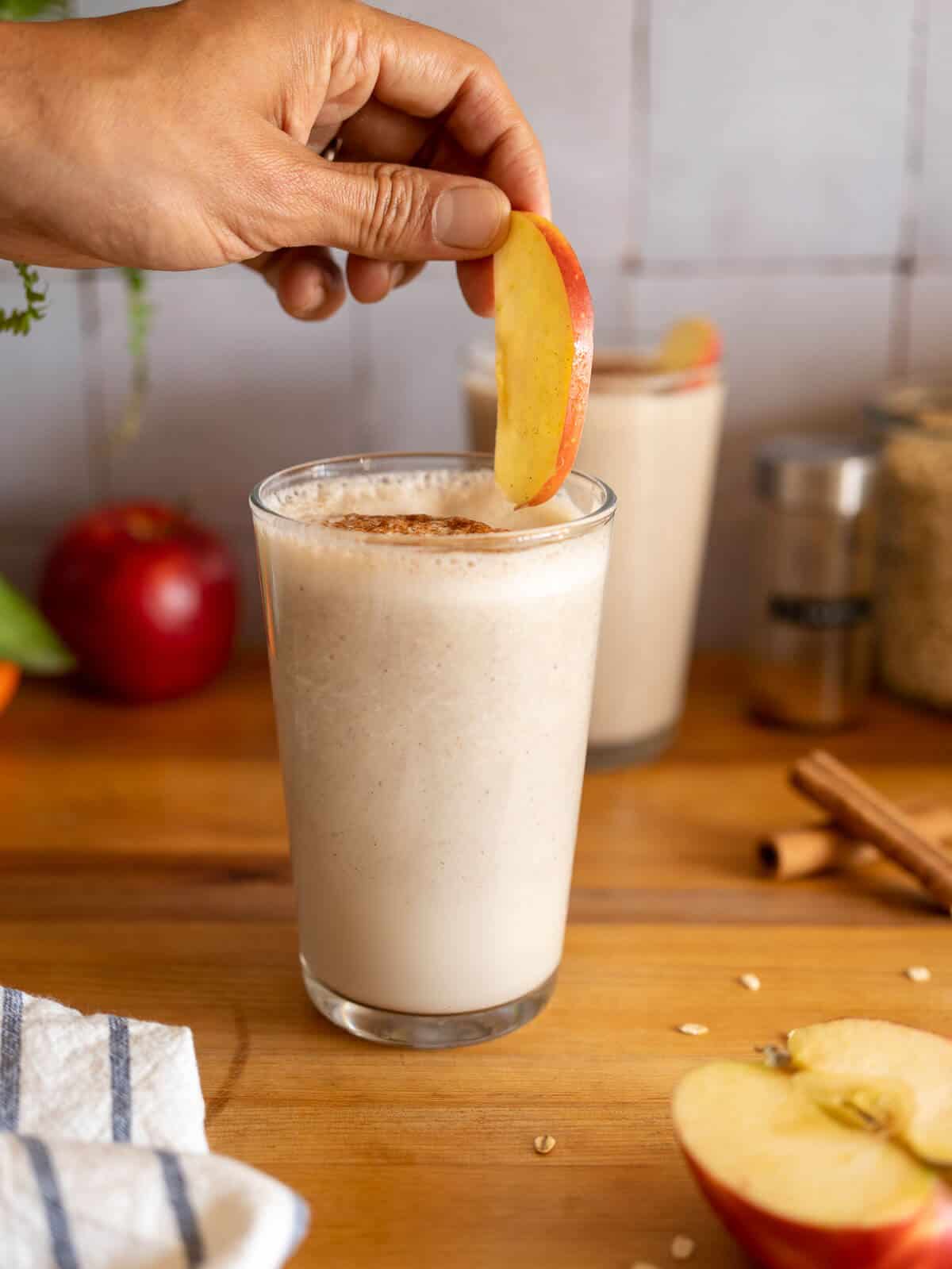 🔪 Instructions
To make the perfect apple smoothie follow these simple two steps.
Washing and chopping the apples.
Blending all the ingredients.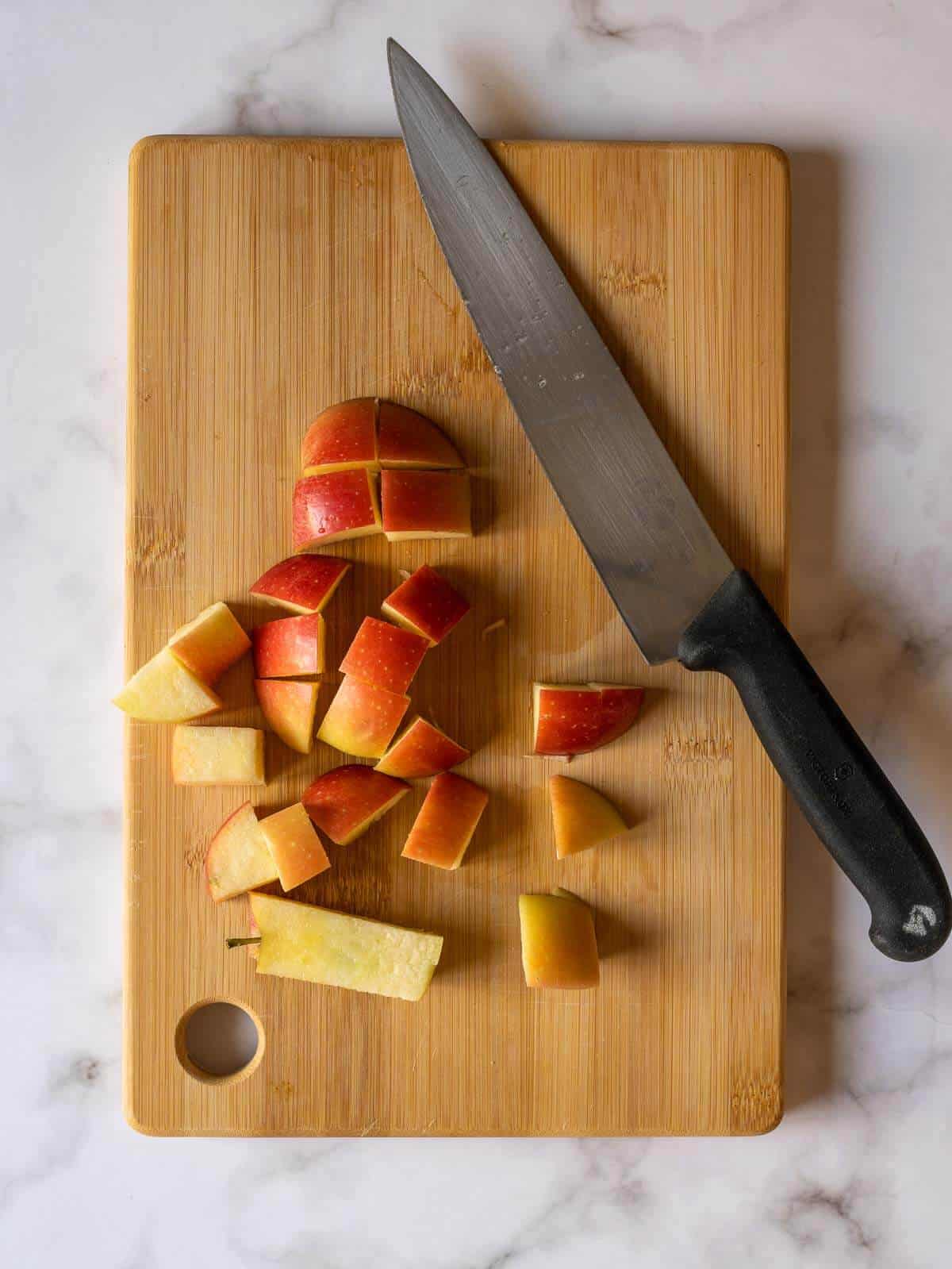 Chop and core the apple.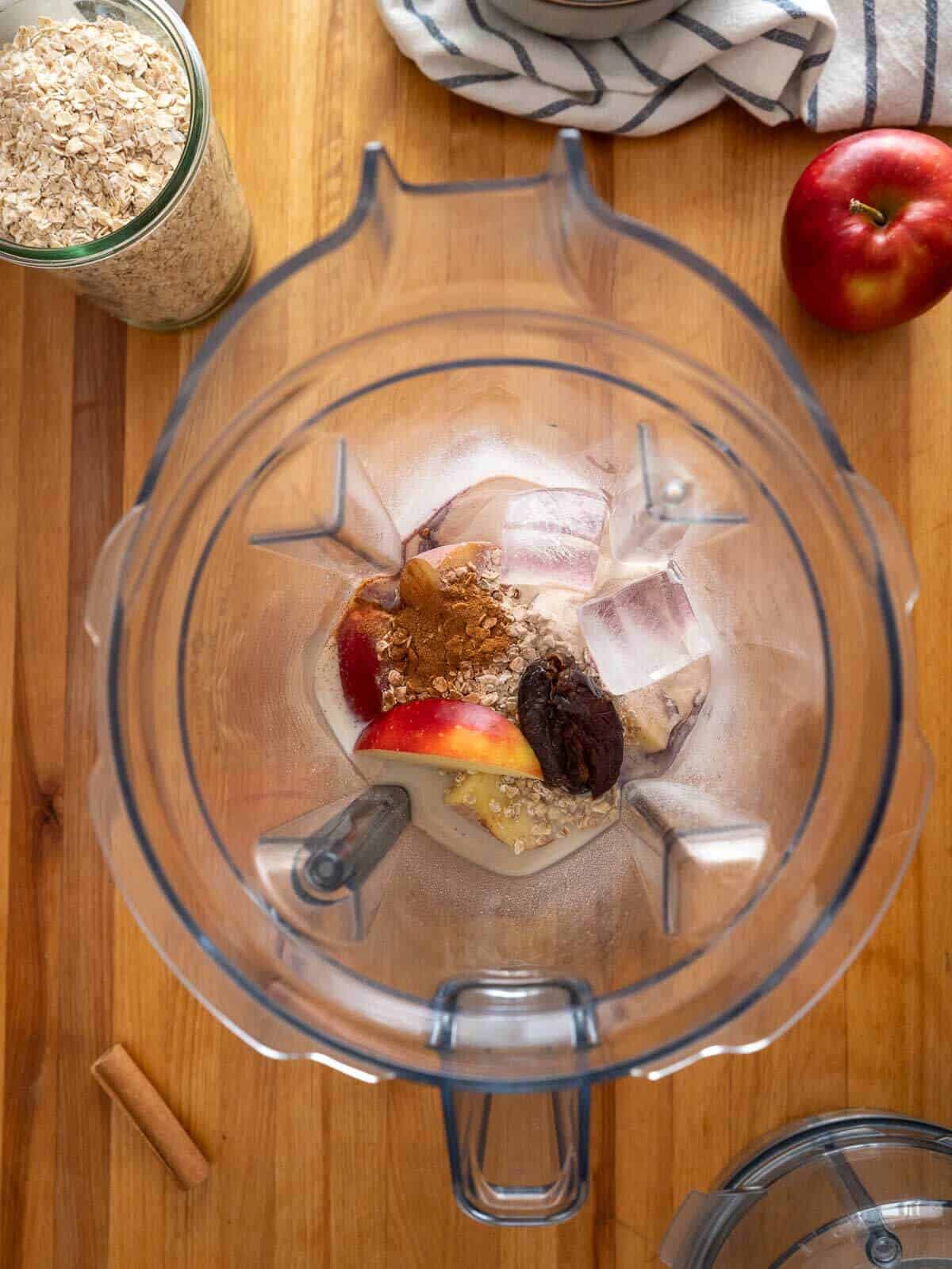 Add all the ingredients into a high-speed blender, and blend until smooth—about 40 seconds.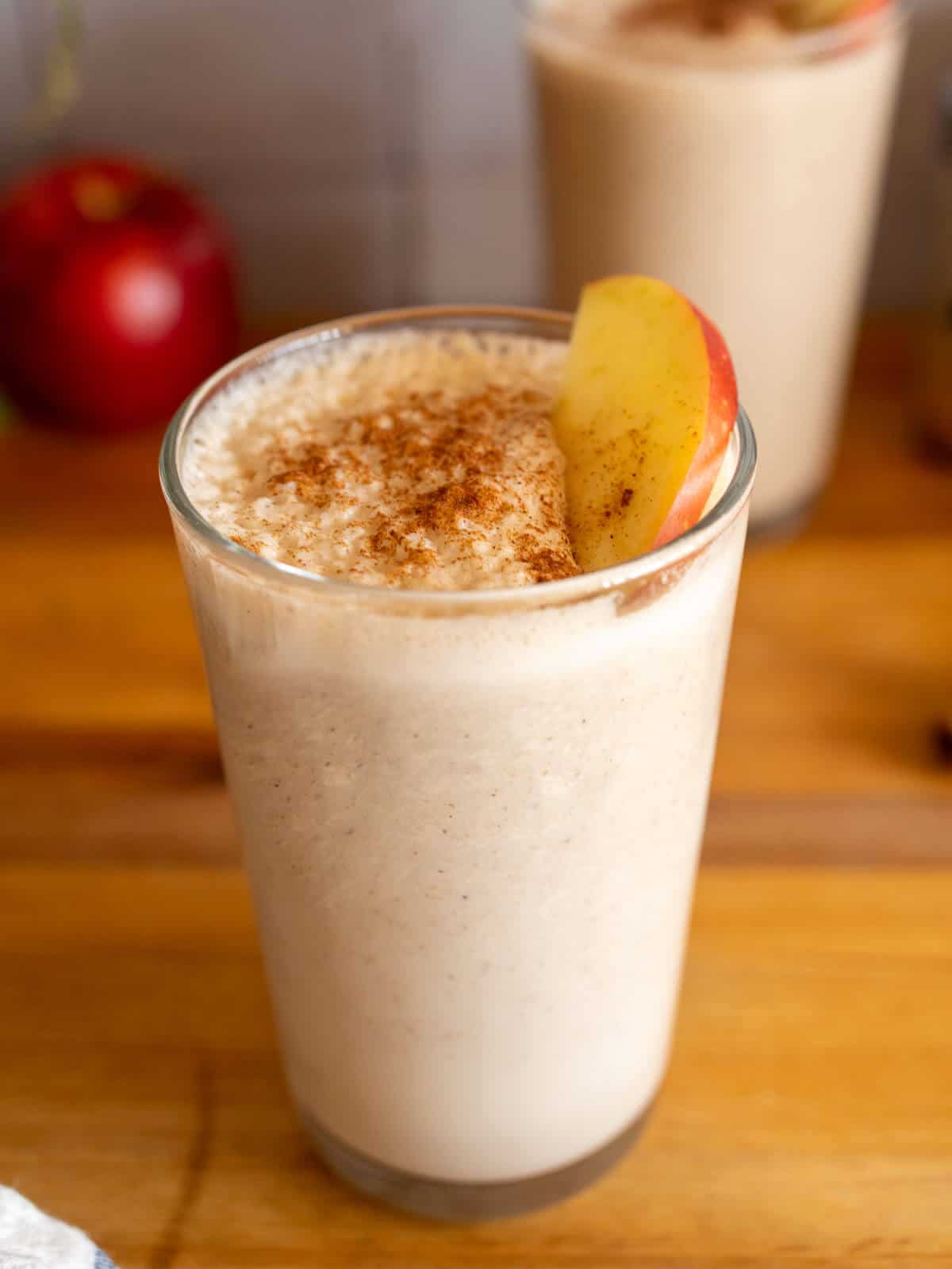 Garnish with ground cinnamon and an apple slice.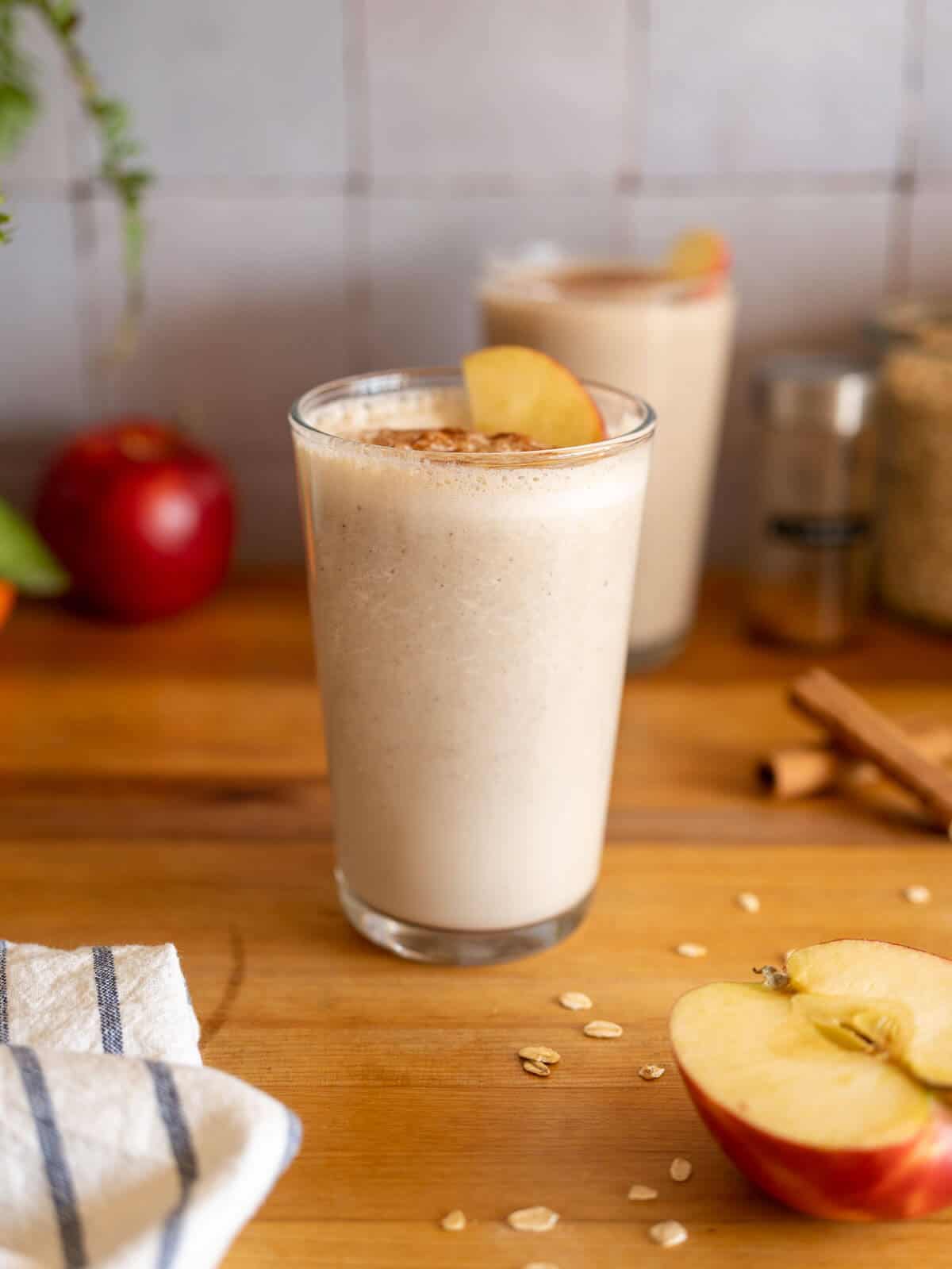 🍶 Substitutions
Soy milk - feel free to use other options such as cashew, unsweetened almond milk, or oat milk.
Sweetener - instead of dates, you can use date paste, maple syrup, agave nectar, sorbitol, or stevia.
Apples - yes, you can replace apples with store-bought or homemade applesauce.
💡 Adding protein to smoothie
If you want to add protein to your smoothie, here are some tips:
Plant-based yogurt: such as soy-based yogurt.
Protein powder: Adding a scoop of protein powder to your smoothie is a quick and easy way to add protein. Many different types of protein powders are available, such as whey, soy, and pea protein.
Nut butter: Nut kinds of butter like peanut butter, almond butter, or cashew butter are rich in protein and healthy fats. Add a spoonful or two to your smoothie for a protein boost.
Silken tofu: Silken tofu is a great source of plant-based protein. It has a neutral flavor so that it won't affect the taste of your smoothie.
Chia seeds: Chia seeds are a good source of protein and fiber. They also add a nice texture to the smoothie. Simply sprinkle a tablespoon or two into your smoothie and blend well.
Remember to start with a small amount of protein and gradually increase it as needed. Adding too much protein can make the smoothie thick and difficult to drink.
📖 Variations
Try out some carrot ginger juicer variations with the following: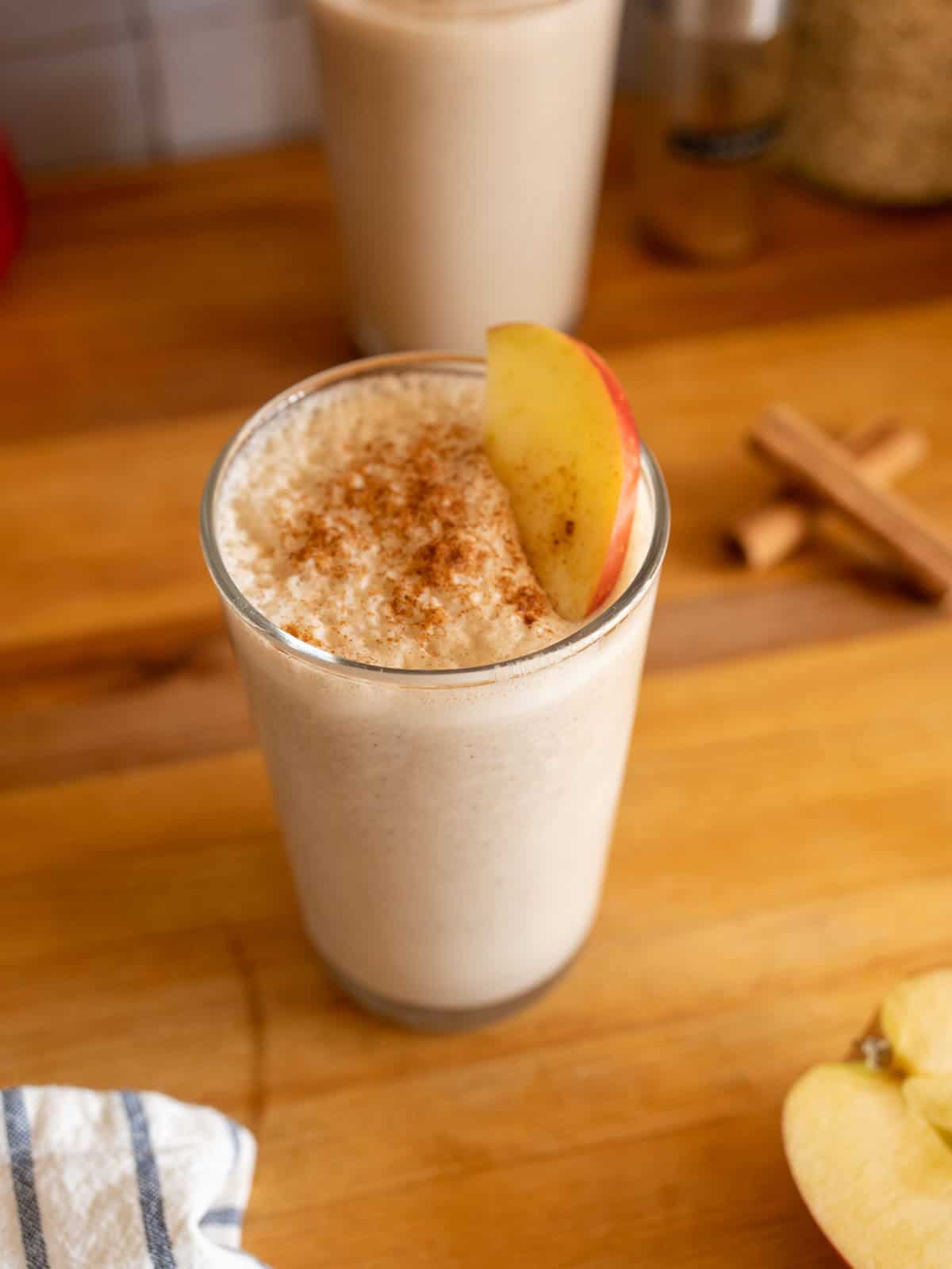 Nut butter - Add a tablespoon of peanut butter or almond butter to this delicious smoothie for those not interested in a low-calorie protein smoothie. I suggest cashew or almond because their flavor is less overpowering.
Turmeric - add a pinch of turmeric and black pepper to activate it. Why? Turmeric is great for fighting inflammation, so if you are making this apple oats smoothie after working out, this will help you to recover faster.
🍽 Equipment
Blender- if you don't have a juicer, you will need a high-speed blender (affiliate link).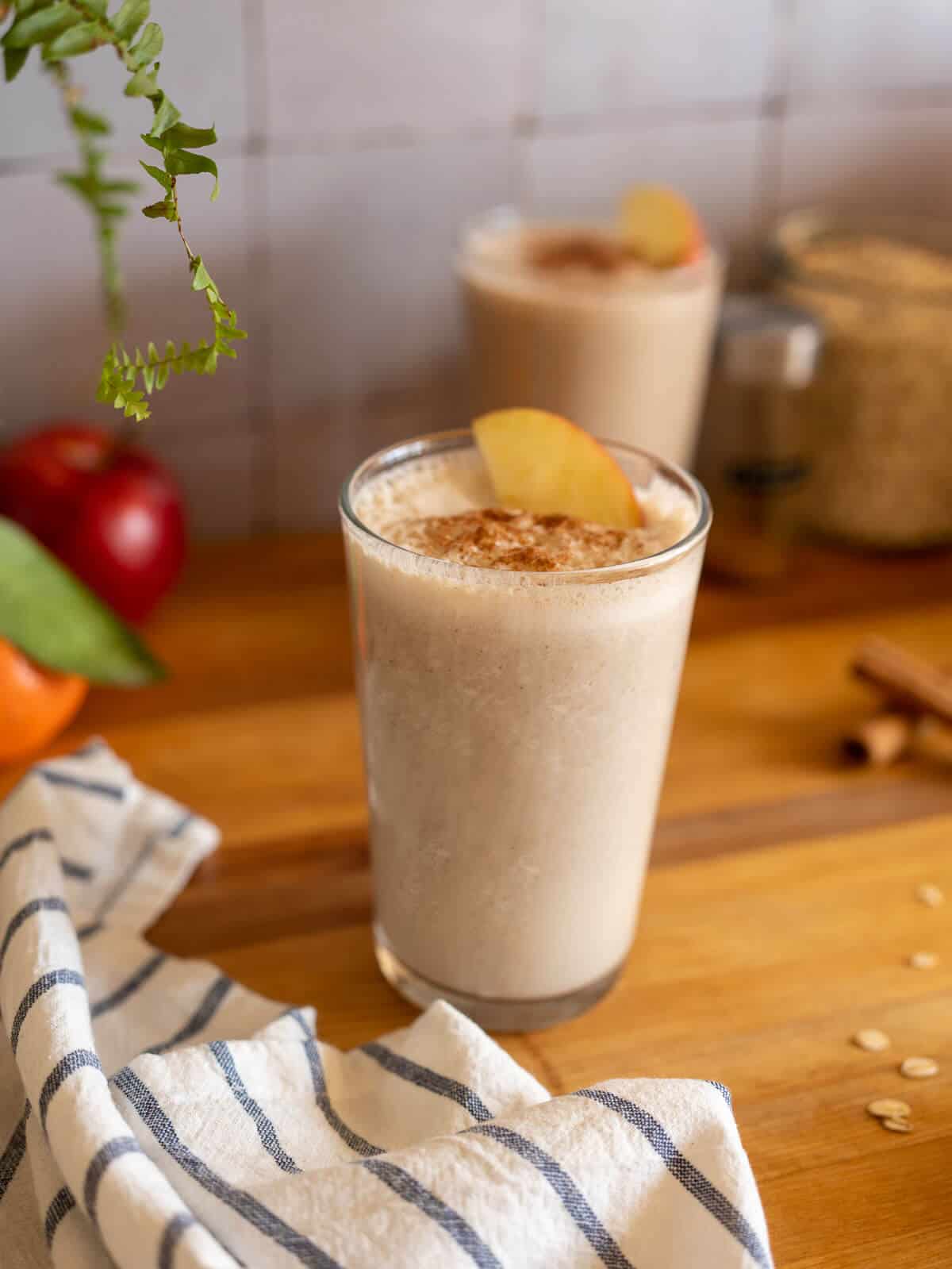 🥡 Storage
Store this apple oatmeal smoothie in a BPA-free (affiliate link), tightly sealed container in the fridge for up to 3 days.
You can store this apple shake in an airtight container, but it doesn't stand up well to freezing for more than 3 months. It will never reach the same nutrient density as fresh juice, but you will still enjoy its health benefits.
❓ FAQ
How to make an apple smoothie without yogurt?
To make an apple smoothie without yogurt, there are a few key ingredients you will need:
Apples: Apples are the star ingredient in this smoothie. They add natural sweetness, fiber, and antioxidants to the drink.
Liquid: You will need a liquid base for your smoothie. You can use milk, almond milk, coconut milk, or any other type you prefer. You can also use fruit juice or water.
Sweetener: If you want your smoothie to be sweeter, you can add a natural sweetener like honey, maple syrup, or agave nectar.
Ice: Ice is optional, but it helps to make the smoothie more refreshing and chilled.
Spices: Adding spices like cinnamon, nutmeg, or ginger can add a nice depth of flavor to the smoothie.
By using these key ingredients, you can create a delicious and healthy apple smoothie without yogurt.
What goes well with apples?
Apples and cinnamon – this is probably the most iconic apple combination! A sprinkle of ground cinnamon over apples, whether raw apple slices, applesauce, or baked into an apple pie, takes this classic flavor combo to the next level.
Nutmeg is another spice that pairs fantastically.
Nuts of all kinds are also great when using apples in smoothies and baked goods.
💪🏼 More high-protein smoothies
Try our banana oatmeal smoothie made with peanut butter, banana, and a splash of homemade oat milk. It's creamy and delicious—a perfect way to start the day!
Indulge in a delicious and healthy Strawberry Banana Blackberry Smoothie! This refreshing blend of juicy fruits packs a nutritional punch and is perfect for a quick and easy breakfast or a mid-day snack.
Indulge in a delicious and healthy treat with our Peanut Butter Strawberry Smoothie recipe. Made with simple and wholesome ingredients like frozen strawberries, creamy peanut butter, and almond milk, this smoothie is the perfect way to start your day or enjoy it as a snack.
Looking for an energizing and creamy smoothie recipe that combines the goodness of banana and matcha green tea? Try this delicious Banana Matcha Green Tea Smoothie recipe! Packed with antioxidants and nutrients, it's the perfect drink to kickstart your day or give you a mid-day boost.


⭐ If you try this absolutely delicious apple cinnamon smoothie recipe, let us know! 💬 Leave a comment, rate it, and don't forget to tag us @ourplantbasedworld on Instagram. Cheers!
📋 Recipe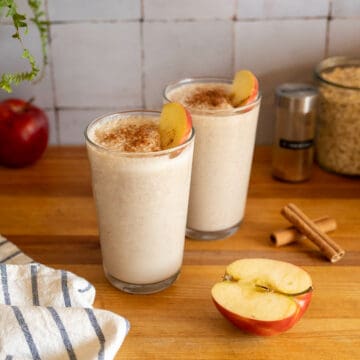 Cinnamon Apple Smoothie Recipe (Low Calorie Protein Shake)
Looking for a low-calorie protein smoothie to help you recover after a workout? Try this delicious Cinnamon Apple Smoothie recipe! Packed with protein and flavor, it's the perfect post-workout drink to help you refuel and recover. Plus, with only a few ingredients and a quick preparation time, it's easy to make and enjoy.
Equipment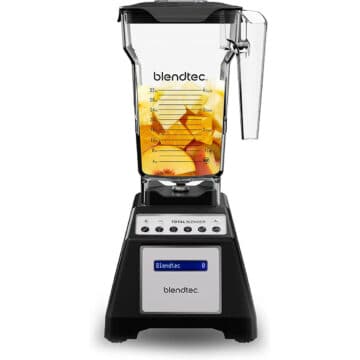 (affiliate link)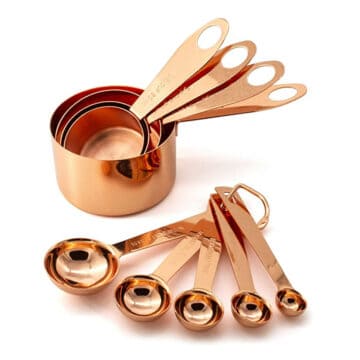 (affiliate link)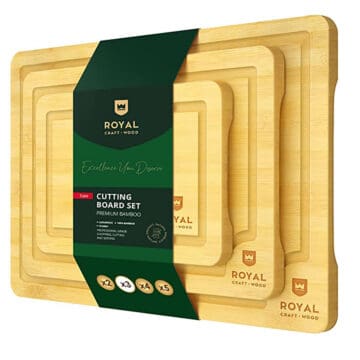 (affiliate link)
Ingredients
Optional
1

teaspoon

flaxmeal

or chia seeds
Directions
Measure ingredients, add them to a blender, and blend on high until smooth.

Grind rolled oats. If using old-fashioned rolled oats, optionally grind them in your blender, pulsing them for a few seconds. This will ensure you have an even creamier smoothie. If you like some grits in your smoothie, skip this step.

Add the rest of the ingredients.

For a thicker smoothie, add frozen bananas, peaches, or flaxmeal. For a thinner smoothie, add more plant milk or water (it will affect sweetness). Taste and adjust flavor as needed.

Serve immediately. Smoothie leftovers will keep in a covered mason jar in the refrigerator for up to 1 day, though best when fresh.
Notes
Oatmeal
If using rolled old-fashioned oats, start by blending them until they are powdered; this makes the smoothie texture better.
Nutrition facts are calculated without the protein powder.
Adding the suggested protein powder adds 28 calories, 0 carbohydrates, and 5 grams of protein per serving.
Add agave or maple syrup for extra sweetness or extra dates. We like using dates because they have a ton of beneficial post-workout benefits.
Vegan Clean Protein: if using the clean protein powder

(affiliate link)

, add our 10% discount code OURPBWORLD10 at check-out to enjoy the benefit. (affiliate)
Nutrition Facts
Calories:
244
kcal
Carbohydrates:
32
g
Protein:
22
g
Fat:
5
g
Saturated Fat:
1
g
Polyunsaturated Fat:
2
g
Monounsaturated Fat:
1
g
Cholesterol:
35
mg
Sodium:
95
mg
Potassium:
440
mg
Fiber:
4
g
Sugar:
22
g
Vitamin A:
588
IU
Vitamin C:
13
mg
Calcium:
256
mg
Iron:
3
mg
Nutrition Facts
Cinnamon Apple Smoothie Recipe (Low Calorie Protein Shake)
Amount per Serving
% Daily Value*
* Percent Daily Values are based on a 2000 calorie diet.
🌡️ Food safety
Cook to a minimum temperature of 165 °F (74 °C)
Do not use the same utensils on cooked food, that previously touched raw meat
Wash hands after touching raw meat
Don't leave food sitting out at room temperature for extended periods
Never leave cooking food unattended
Use oils with a high smoking point to avoid harmful compounds
Always have good ventilation when using a gas stove
See more guidelines at USDA.gov.
Nutritional Disclaimer
The information shown is an estimate provided by an online nutrition calculator. It should not be considered a substitute for a professional nutritionist's advice. See our full Nutritional Disclosure here.
Affiliate Disclaimer
Please note that some of the links here are affiliate links, and I will earn a commission if you purchase through those links. I recommend all of the products listed because they are companies I have found helpful and trustworthy.