Ready for the best cranberry sauce made from dried cranberries that is easy and healthy? We have tried this Spiced Cranberry Sauce with the Porcini Mushrooms Stuffing in warm Rosemary Christmas Bread Buns, and it is heaven! This gem is the best fresh cranberry sauce we have tried!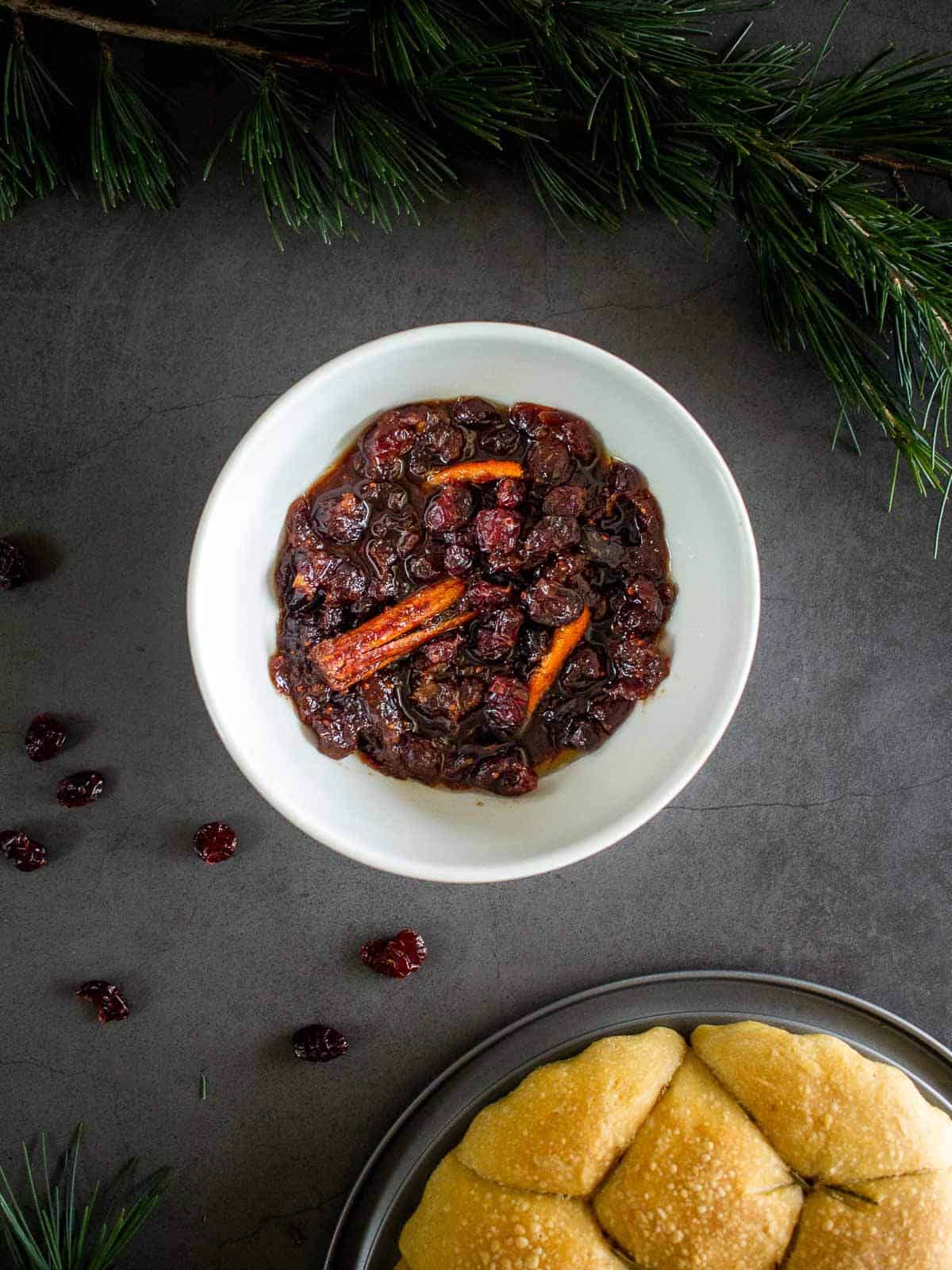 Although Cranberry Sauce is associated with Thanksgiving dinner and the holiday table, we crave them year-round. We use it for our breakfast fruit bowls and topping for porridge (warm oatmeal), just as we would use our applesauce.
It is also a staple on our Thanksgiving table. We love cranberry sauce and pairing it with our easy vegan buttermilk and gluten-free cornbread recipe with vegan chili and pumpkin pie, made with a 5-minute pumpkin spice mix and the no-roll vegan pie crust.
If you love the fall season and all its yummy produce recipes, you may love our compilation of fall season recipes.
Jump to:
🧾 Ingredients
This healthy cranberry sauce has the right and simple spiced to make it perfectly suitable for all your guests, with a couple of secrets to make it memorable.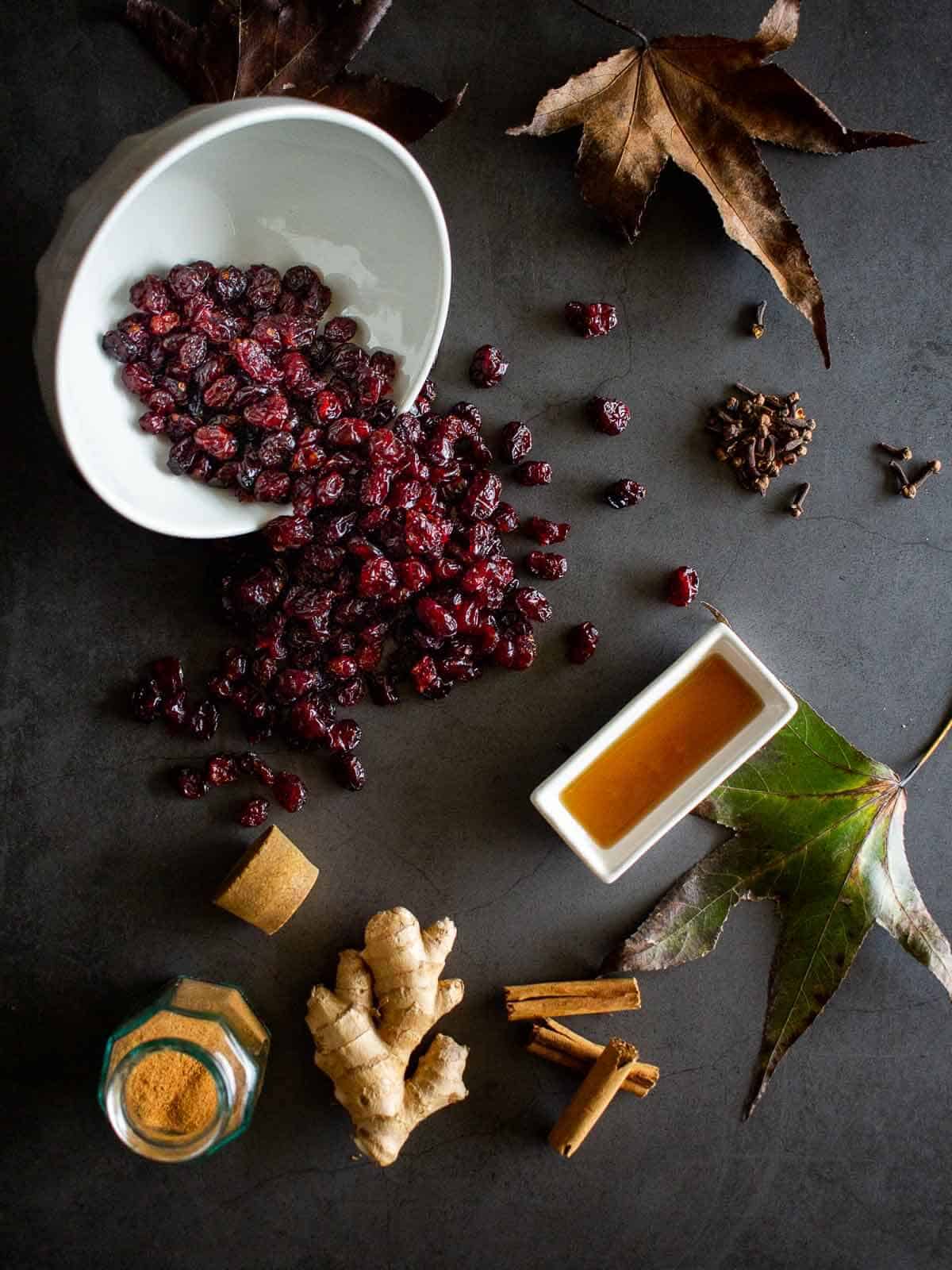 Dried cranberries: They provide a concentrated burst of tart and sweet flavor, adding a vibrant taste and chewy texture to the cranberry sauce.
Fresh ginger: It lends a warm and slightly spicy note to the sauce, balancing the sweetness and offering a subtle zing of flavor.
Cinnamon stick: It infuses the sauce with a comforting and aromatic taste, complementing the cranberries and adding a hint of warmth.
Nutmeg: It contributes a subtle and earthy flavor, enhancing the overall depth of the cranberry sauce without overpowering the other ingredients.
Maple syrup: It acts as a natural sweetener, adding a rich and caramel-like sweetness to the sauce, balancing the tartness of the cranberries.
Cloves: They provide a fragrant and slightly floral taste, adding complexity to the sauce and infusing it with warm and aromatic undertones.
Optionally, the two ingredients will take it to the NEXT LEVEL: English Breakfast Black tea and one clementine or one orange (use the orange juice and orange zest).
Making a healthy cranberry sauce is easy. We don't use white sugar or brown sugar. We replace it with maple syrup and use only spices, which a calorie-free. Then we use clementine or orange juice, more added natural sweetener power.
See quantities and complete instructions in the recipe card.
🔪 Instructions
Wondering how to make cranberry sauce from dried cranberries?
Suppose you don't have much time to make cranberry sauce; worry not! Making homemade cranberry sauce requires no experience to make an exceptional one. Start by:
Step 1. Hydrate the dried cranberries with a teabag of your preferred tea for five minutes (we like English breakfast tea). If not using tea, hydrate the cranberries using warm water.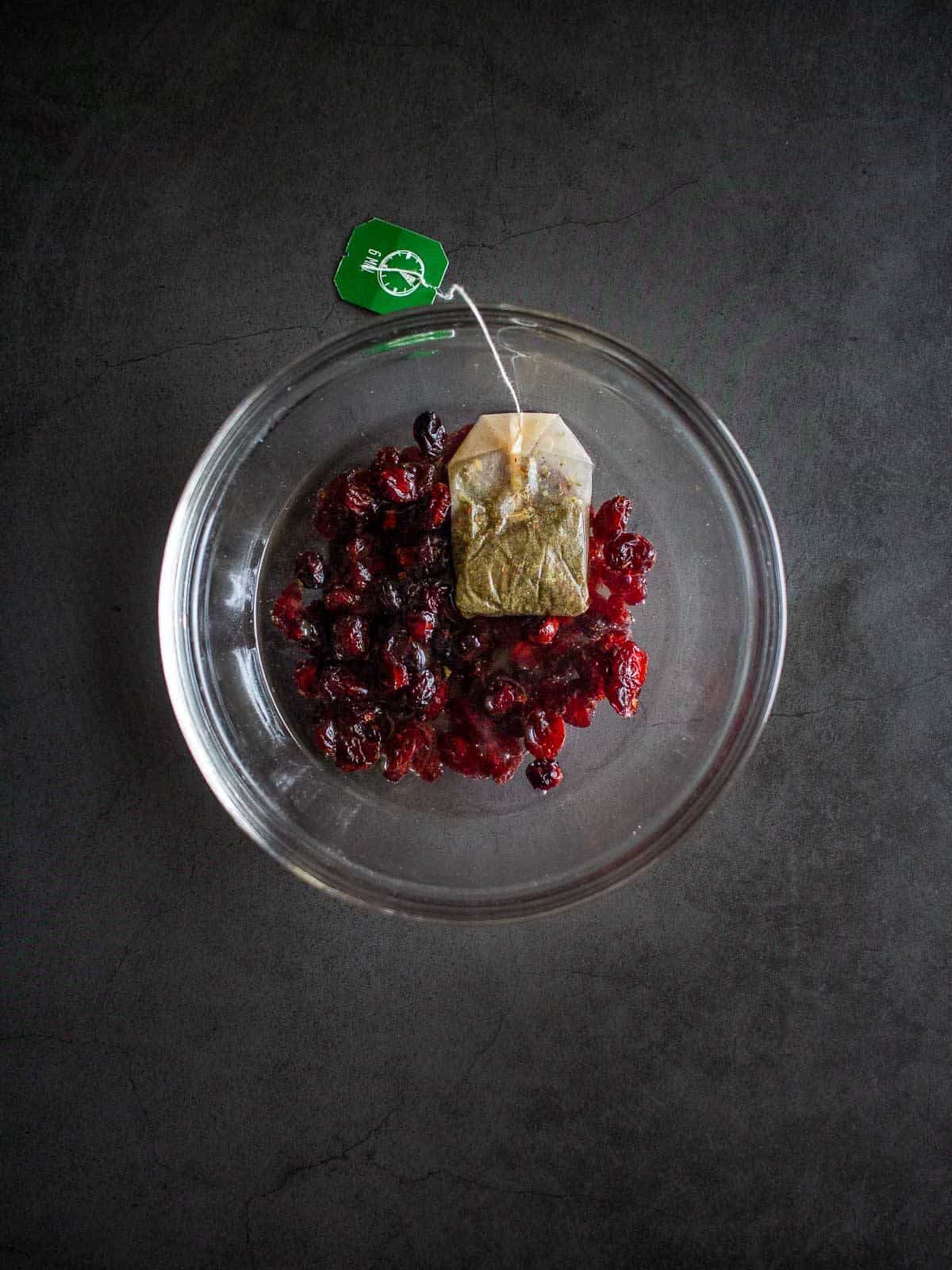 Step 2. Heat a medium saucepan and add the cranberries with its water. If using the clementine or orange, add the freshly squeezed juice and zest, the cinnamon, sticks, and cloves. Bring to a boil over medium heat, stirring occasionally.
Once the cranberries wilt, add the grated ginger and nutmeg and simmer further. You can add water if the cranberries are drying too much.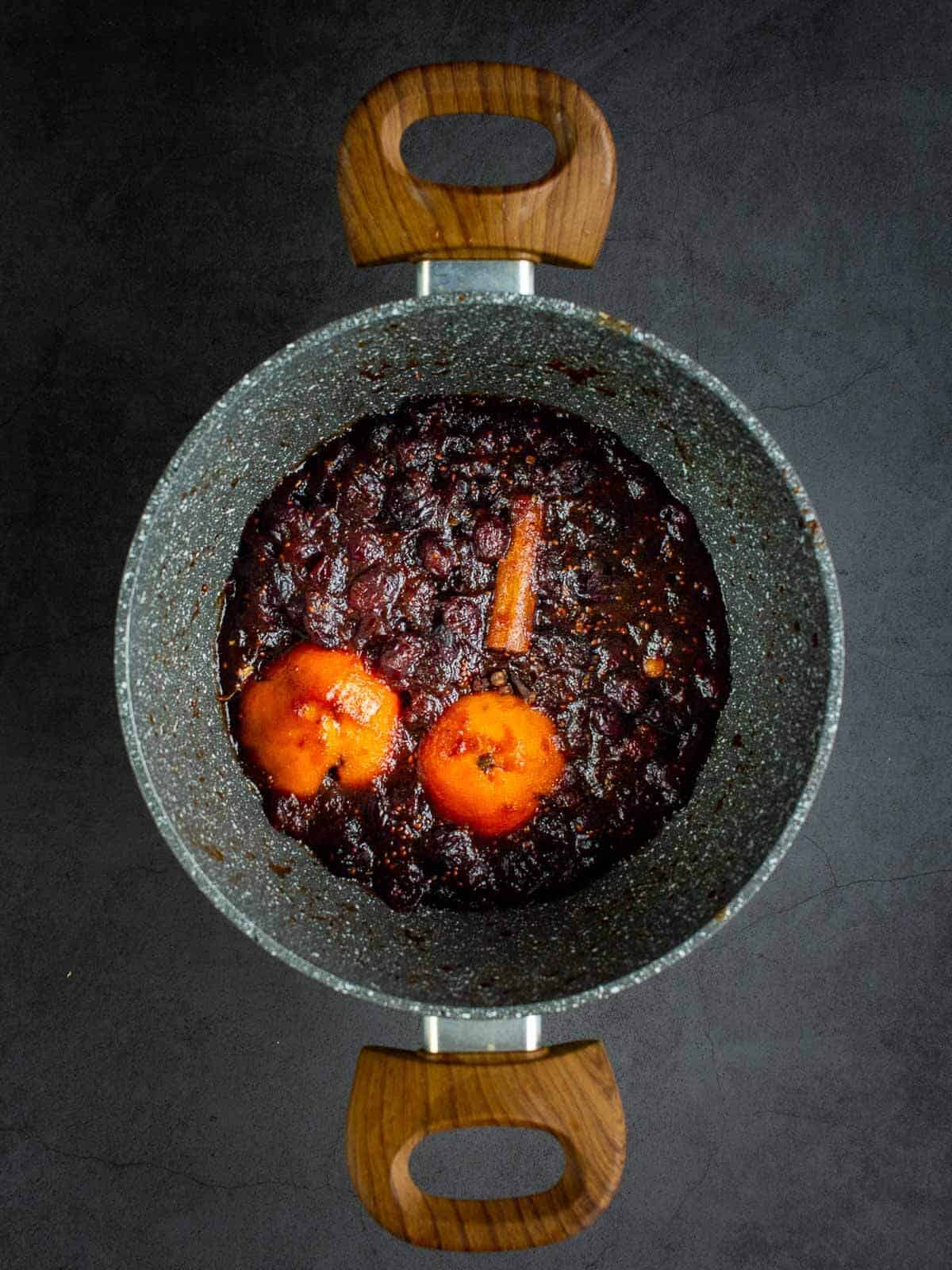 Step 3. Final touches. Add the maple syrup (or agave) and briefly simmer.
Remove the cinnamon stick and the cloves, and there you go; your cranberry sauce is healthy, delicious, and quickly done in minutes.
As you can see, making cranberry sauce is a breeze!
Substitution
So you're ready to whip up some spiced cranberry sauce but missing an ingredient or two? No worries! Here's a handy list of substitutions to keep the culinary magic going. And yes, this recipe is already vegan, but let's explore some alternative options, shall we?
Dried Cranberries:

Swap with: Fresh cranberries + a sprinkle of sugar
Why: Fresh cranberries will give you that tartness, and a little sugar can mimic the sweetness of dried ones.

Fresh Ginger:

Swap with: Ground ginger or ginger powder
Why: It'll still bring that warm zing to the party, just use it sparingly as it's more concentrated.

Cinnamon Stick:

Swap with: Ground cinnamon
Why: It's the same cozy flavor, just in a different form. Use about ¼ teaspoon for each cinnamon stick in the recipe.

Nutmeg:

Swap with: Allspice or mace
Why: These spices offer a similar earthy kick without stealing the limelight from your cranberries.

Maple Syrup:

Swap with: Agave nectar or coconut sugar
Why: They're also natural sweeteners that can balance out the tartness but offer slightly different flavor profiles.

Cloves:

Swap with: Allspice or cardamom
Why: They'll still add that fragrant complexity we're after, just with a different twist.
Feel free to mix and match these substitutions based on what you've got in your pantry. Happy cooking! 🍲🌟
Pro Tip: If you're using any of these substitutions, make sure to taste as you go. Spices and sweeteners can be potent, so start small and adjust as needed.
📖 Variations
Cranberries - instead of dried cranberries, you can use fresh or frozen cranberries or even canned stuff. You won't need to hydrate them before using them. I find fresh cranberries to be a little more acid, so you may need to adjust the sweetness.
Citrus - we love the citrusy notes that clementines provide, but you can use orange juice if you prefer making cranberry-orange sauce. You can even use lemon juice. The orange peel is excellent because the orange zest can add an even more complex and unique flavor. You can even use bottled orange juice—some people like adding orange liqueur or Grand Marnier, which adds an interesting note. If doing so, ensure you add it at the beginning of the simmering process so the alcohol evaporates.
Ginger - if you don't have fresh cranberries, you can use candied ginger and hydrate it along with the dried cranberries. You can even use ground ginger; adjust the seasoning accordingly to your liking.
Spices - you can play with the spices, and instead of using ginger and cinnamon sticks, use two teaspoons of pumpkin pie spice mix. If you do so, add them one at a time and taste them. Pumpkin pie spice has the four main spices present in this cranberry sauce recipe: cloves, cinnamon, ginger, and nutmeg.
Pro Tip: you can make cranberry sauce simply using cranberries, pumpkin spice, tea bag, and citrus. Voilà! That's the easiest way to make homemade cranberry sauce.
I like using fresh ingredients like freshly grated ginger, cinnamon sticks, and cloves for my cranberry sauce recipe, but sometimes you put convenience on top of nostalgia!
🫙 Storage
You can freeze cranberry sauce. This fresh cranberry sauce freezes and thaws perfectly well. Just leave it in the refrigerator overnight before using it.
If you have leftovers, you can add them to a sweet potato pudding, another great Thanksgiving recipe that will have everyone asking for more.
I like to use leftover cranberry sauce on top of my Homemade Granola Bowls and use it both on my Oats and Chia Pudding or Breakfast Fruit Bowl as an option when we run out of fresh fruit.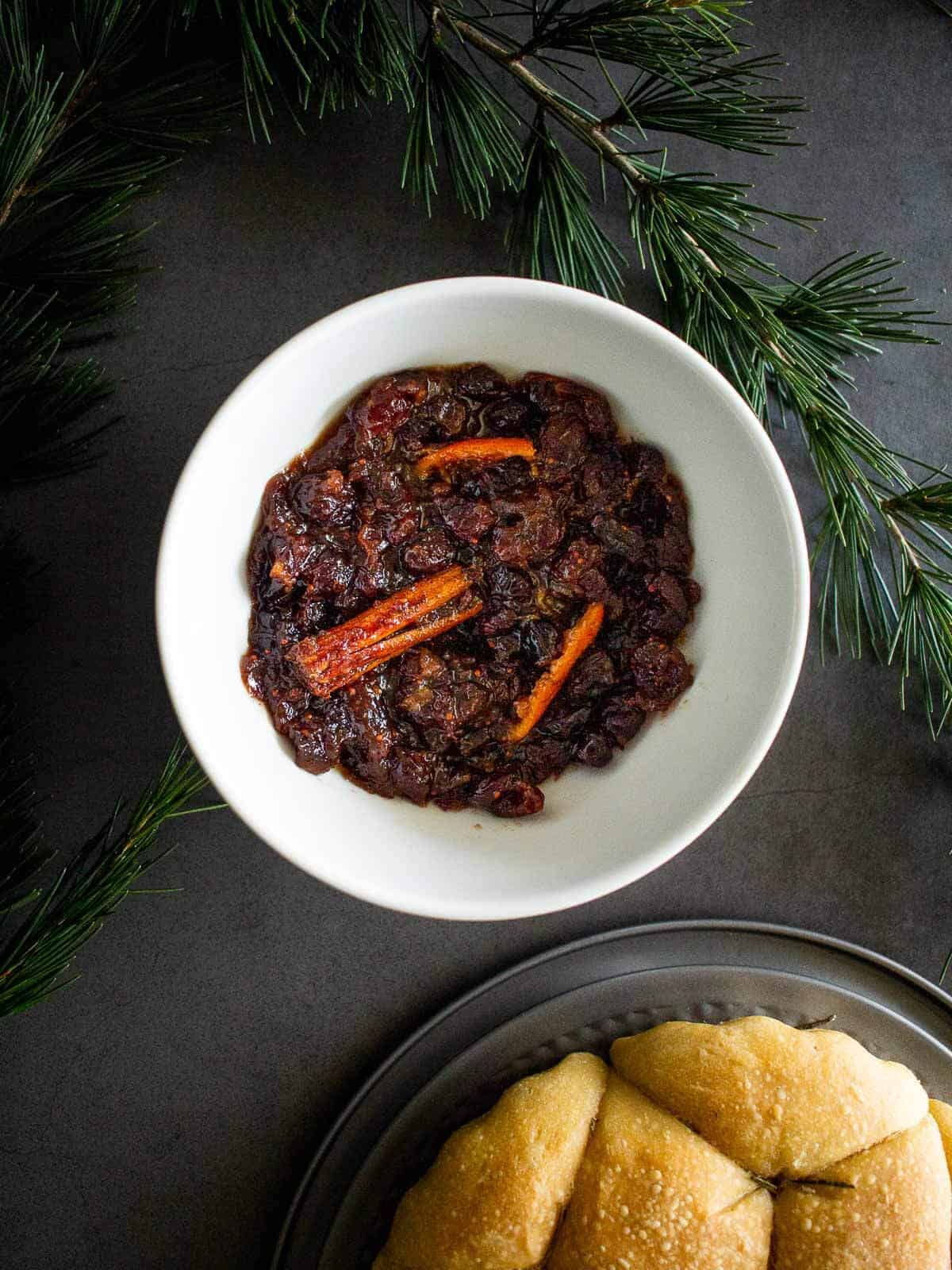 💡 Tips for using
Apart from enjoying this delicious sauce on Holidays, you can also enjoy it year-round.
Pair the Cranberry Sauce with some nice Vegan Bread Buns or in your morning breakfast fruit bowl.
Not only does it adds a beautiful flavor but some delicious spices to our mornings... and spices are great for our health!
🫐 Health benefits of cranberries
These bitter and sour fruits have some profound benefits. Cranberries are superfoods as they are high in antioxidants and have compounds that may have anti-inflammatory and anti-cancer effects.
They may also:
Help with gut and urinary tract health, keep your mouth healthy and improve eyesight and cardiovascular health.
More Vegan Sauce Recipes
Our suggested Vegan Christmas Menu Post
If you try this dried cranberry sauce recipe, let us know! Leave a comment, rate it, and don't forget to tag a photo #ourplantbasedworld on Instagram. Cheers!
📋 Recipe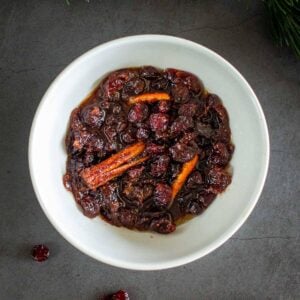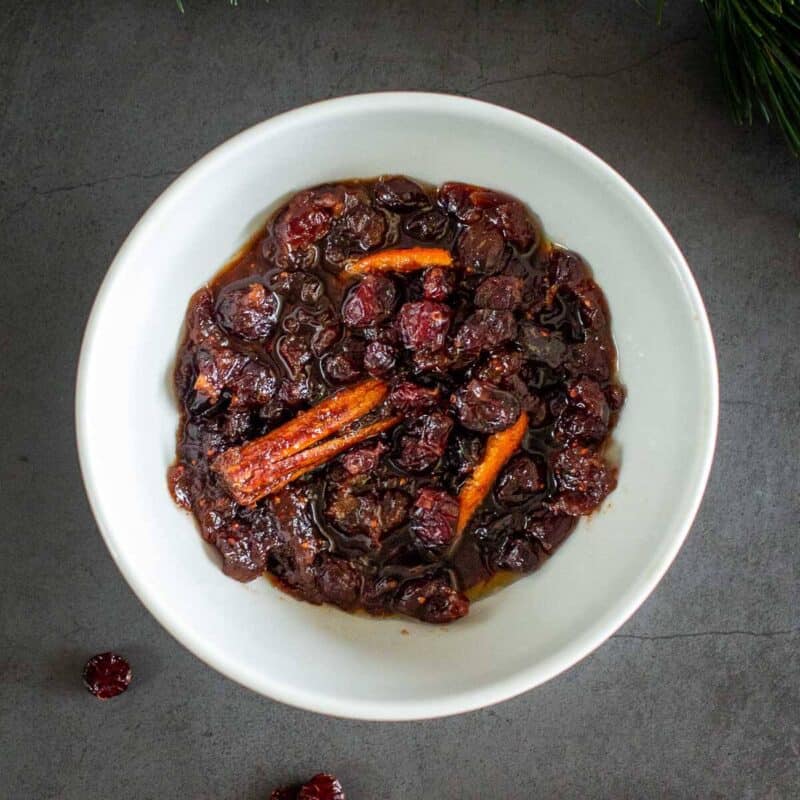 Spiced Cranberry Sauce made with dried Cranberries
We have tried this Spiced Cranberry Sauce with the Porcini Mushrooms Stuffing in warm rosemary Christmas bread buns, and it is heaven! This is the best cranberry sauce we have tried! Enjoy!
Equipment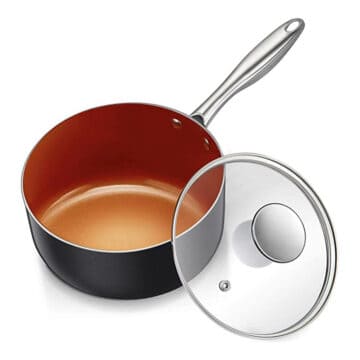 (affiliate link)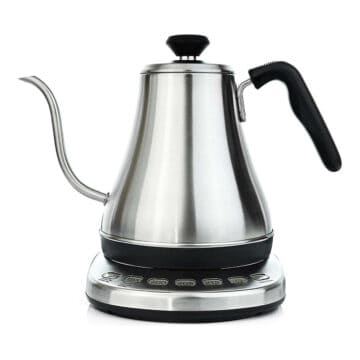 (affiliate link)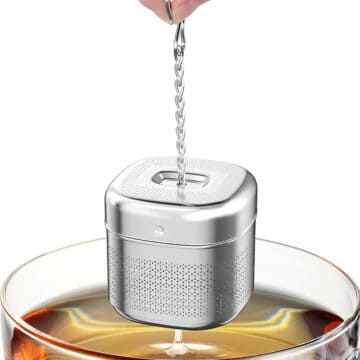 (affiliate link)
Ingredients
Optional (and recommended):
1

tea bag

ginger or cinnamon tea

1

clementine

or orange
Directions
Hydrate. Place the dry cranberries in a bowl with 1 cup of hot water and a teabag for 5 minutes.

Heat a pan and add the cranberries with its water.

Season. If using the clementine, add the freshly squeezed juice and cinnamon sticks, and cloves. Cook, stirring regularly for around 5 minutes.

Add the ginger. Once the cranberries start to wilt, add the nutmeg and simmer further. You can add water if the cranberries are drying too much.

Add sweetener. Next, add the maple syrup and taste. Cranberries are sour, and you want to get the sweet just right. You may want to add more syrup.

Simmer. Continue to simmer; at this stage, it should look more like a cranberry jam.

Remove the cinnamon sticks and the cloves.

Store. You can add to a jar, cool down, and store it in the fridge for later, or serve immediately.
Nutrition Facts
Calories:
78
kcal
Carbohydrates:
18
g
Protein:
1
g
Fat:
1
g
Saturated Fat:
1
g
Sodium:
3
mg
Potassium:
104
mg
Fiber:
3
g
Sugar:
12
g
Vitamin A:
23
IU
Vitamin C:
12
mg
Calcium:
52
mg
Iron:
1
mg
Nutrition Facts
Spiced Cranberry Sauce made with dried Cranberries
Amount per Serving
% Daily Value*
* Percent Daily Values are based on a 2000 calorie diet.
🌡️ Food safety
Cook to a minimum temperature of 165 °F (74 °C)
Do not use the same utensils on cooked food, that previously touched raw meat
Wash hands after touching raw meat
Don't leave food sitting out at room temperature for extended periods
Never leave cooking food unattended
Use oils with a high smoking point to avoid harmful compounds
Always have good ventilation when using a gas stove
See more guidelines at USDA.gov.
Nutritional Disclaimer
The information shown is an estimate provided by an online nutrition calculator. It should not be considered a substitute for a professional nutritionist's advice. See our full Nutritional Disclosure here.
Affiliate Disclaimer
Please note that some of the links here are affiliate links, and I will earn a commission if you purchase through those links. I recommend all of the products listed because they are companies I have found helpful and trustworthy.