It is time to prepare for those holiday gatherings with the chilly fall season. What about an all-time favorite with a delicious fall twist for your Thanksgiving dinner table appetizer? This Seasonal Pumpkin hummus recipe may be your answer!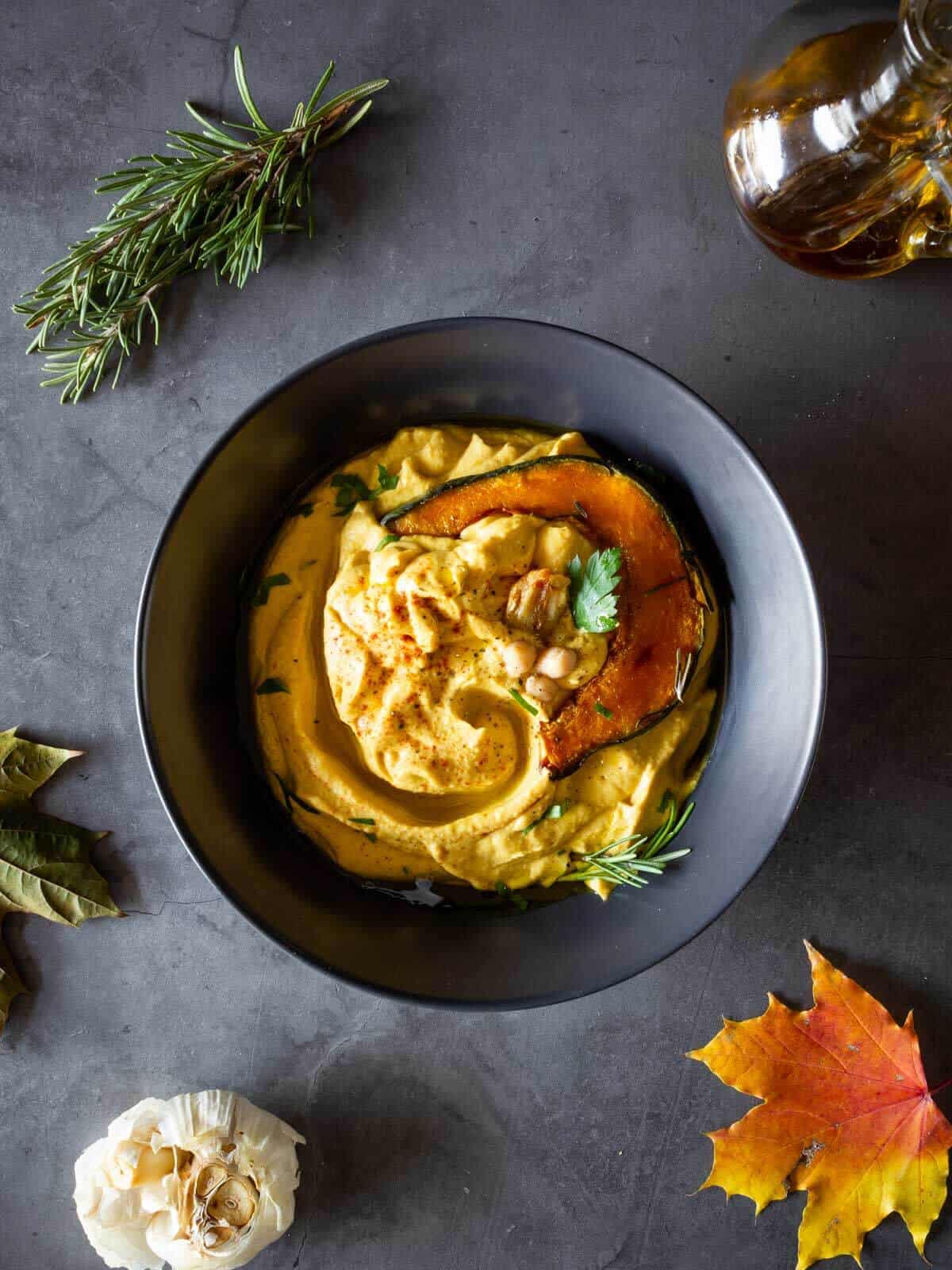 This fantastic recipe takes only 10 minutes to prepare and can be made in bulk if you expect a larger gathering. And the best part? It tastes so good no one will believe how easy it was to make!
This pumpkin hummus recipe is the perfect dip to use your pumpkin puree leftovers from your Thanksgiving Table Vegan Pumpkin Pie or if you have leftovers from a roasted pumpkin or roasted butternut squash fall recipes side dish.
Jump to:
🧾 Ingredients
This creamy pumpkin hummus recipe calls for all the usual ingredients for traditional homemade hummus plus pure pumpkin and spices. What about curry and smoked paprika?
I wrote a detailed post about creating an authentic classic hummus, so please check it out. If you like roasted red peppers, you might also like our red peppers hummus. Also, check out our avocado hummus for guacamole lovers and our chickpea-less pink beet hummus and edamame hummus.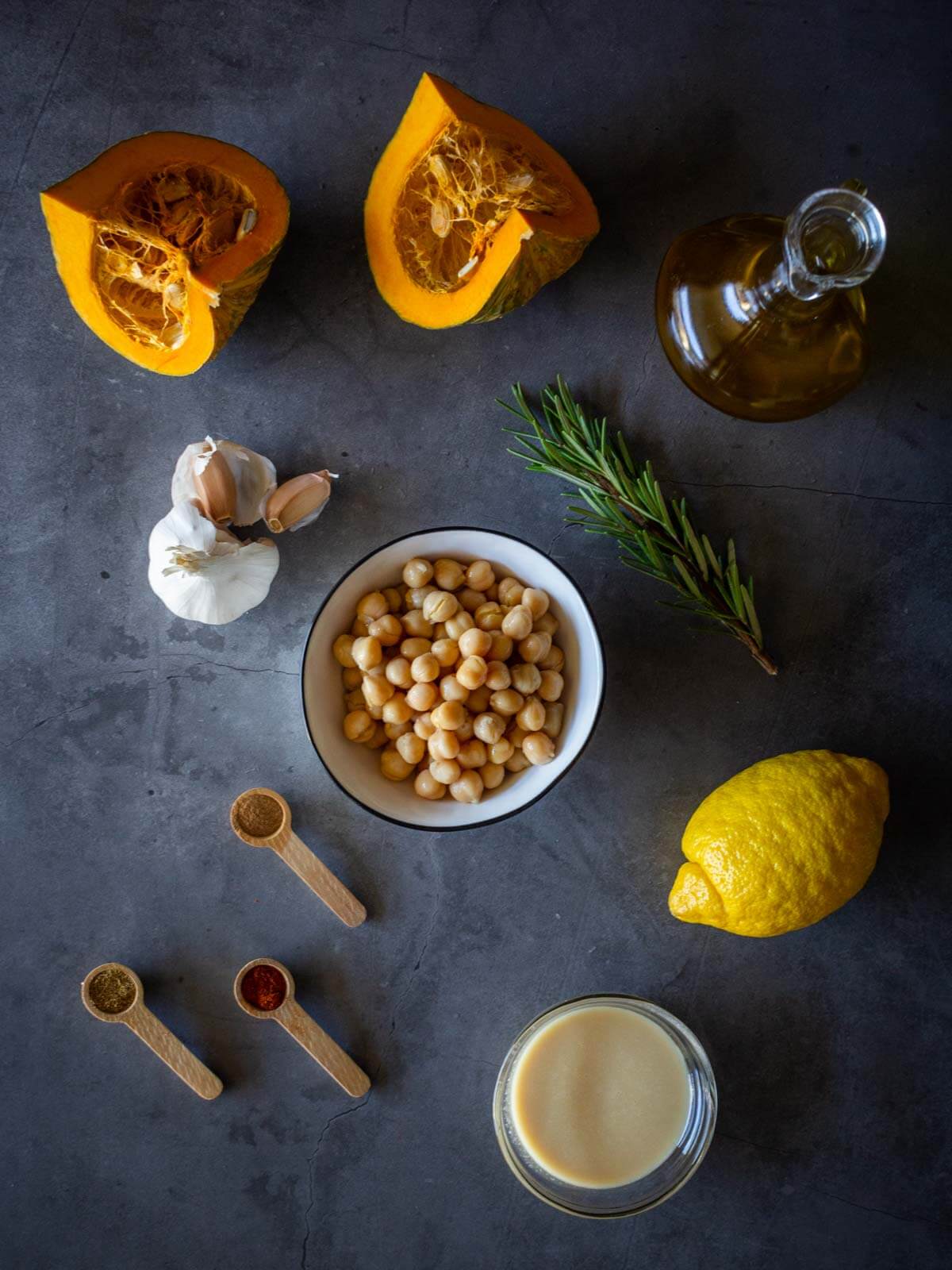 Sure, here's why each ingredient is important in a recipe for roasted pumpkin hummus:
Cooked chickpeas: Chickpeas form the base for this hummus recipe; they are the main ingredient that provides the signature creamy texture and subtly nutty flavor.
Roasted fresh pumpkin or canned pumpkin puree (unsweetened): Pumpkin gives this hummus a unique, seasonally-appropriate flavor and contributes to its smooth consistency.
Lemon juice: The acidity of lemon juice helps to balance the richness of the other ingredients, adding a tangy note that enhances the overall flavor profile.
Tahini paste: Made from toasted sesame seeds, tahini paste adds a rich, nutty flavor to the hummus and contributes to its creamy texture.
Garlic: Garlic adds a punch of aromatic flavor, a classic ingredient in hummus that offers depth and complexity.
Olive oil: Olive oil is used for its rich, fruity flavor; it also helps to create a smooth, velvety texture when blended with the other ingredients.
Curry powder (or ground cumin): These spices introduce warmth and depth of flavor to the hummus; curry for a complex flavor profile, and cumin for a more traditional, earthy taste.
Smoked paprika: The smoked paprika offers a slightly sweet, smoky flavor that complements the earthiness of the pumpkin and chickpeas.
Optional ingredients
Cinnamon: This spice may be used to introduce a hint of warmth and sweetness, enhancing the natural flavor of the pumpkin.
Rosemary: Rosemary can add a fragrant, herbaceous note that pairs well with the other flavors in this dish, creating a more complex, layered flavor profile.
See quantities and complete instructions in the recipe card.
🔪 Instructions
To make pumpkin hummus, You'll need a food processor and a blender. We like making hummus in large batches because we always make good use of leftovers on sandwiches (like you would with a chickpea-baed vegan "tuna" salad, or buddha bowls), so we like using a large food processor or blender if you are planning to make a small portion you can easily make it on a nutribullet or immersion blender.
I do not frequently use canned pumpkin puree (leave that for pumpkin pie filling). I usually use fresh pumpkins to eat fresh or freeze. To make the pumpkin puree, either roast the pumpkin, steam it, or boil it. Here is a detailed pumpkin post on how to cook with pumpkin puree.
If you choose to use freshly roasted pumpkin, I recommend roasting it with a garlic head, olive oil, and rosemary sprigs so the flavors get even more complex.
I personally prefer to use roasted garlic instead of raw garlic to avoid the garlic flavor taking over the nice pumpkin flavor and nutty tahini notes.
Step 1. Optionally roast the pumpkin wedges and garlic head in the oven or use air-fryer acorn squash; otherwise, use unsweetened pumpkin purée.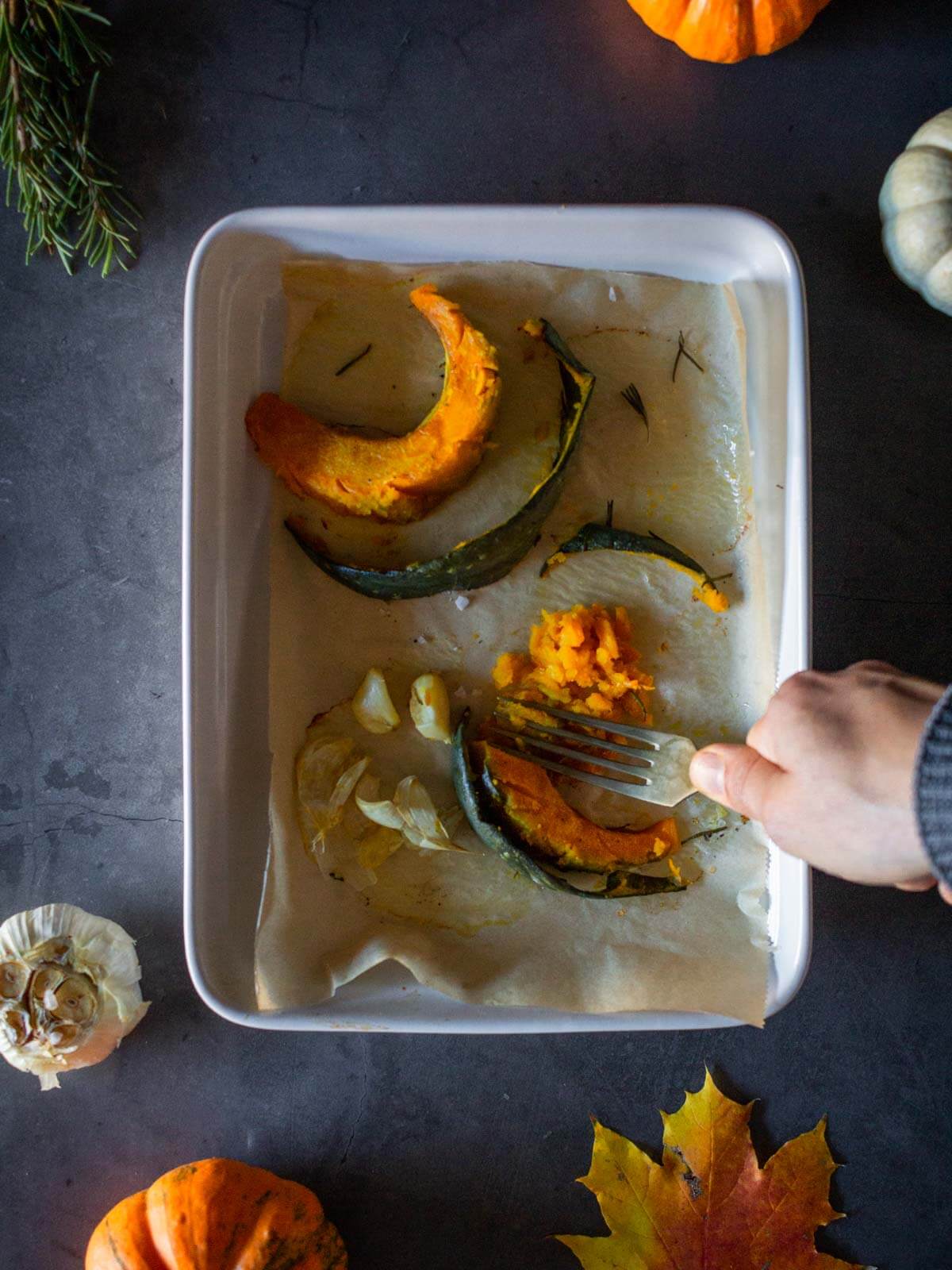 A faster option is simply to heat the olive oil in a small saucepan over medium heat. Add garlic, rosemary sprig (whole), and sauté for 1-2 minutes until slightly brown and allow the flavors to infuse the oil.
Tip: you can also use the puréed squash to make a creamy vegan butternut squash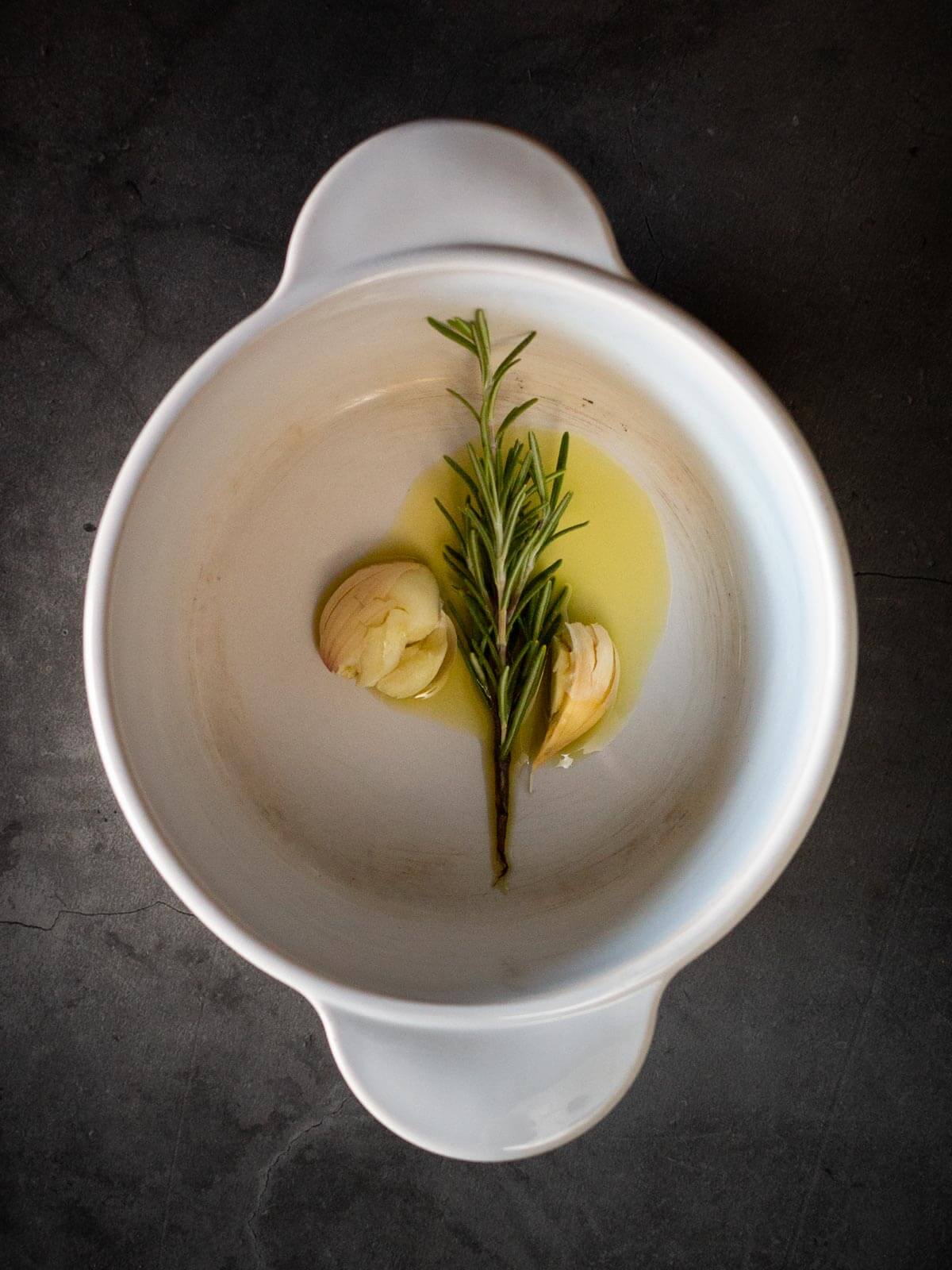 Infuse rosemary with garlic in olive oil.
Step 2. Blend all the ingredients in a food processor.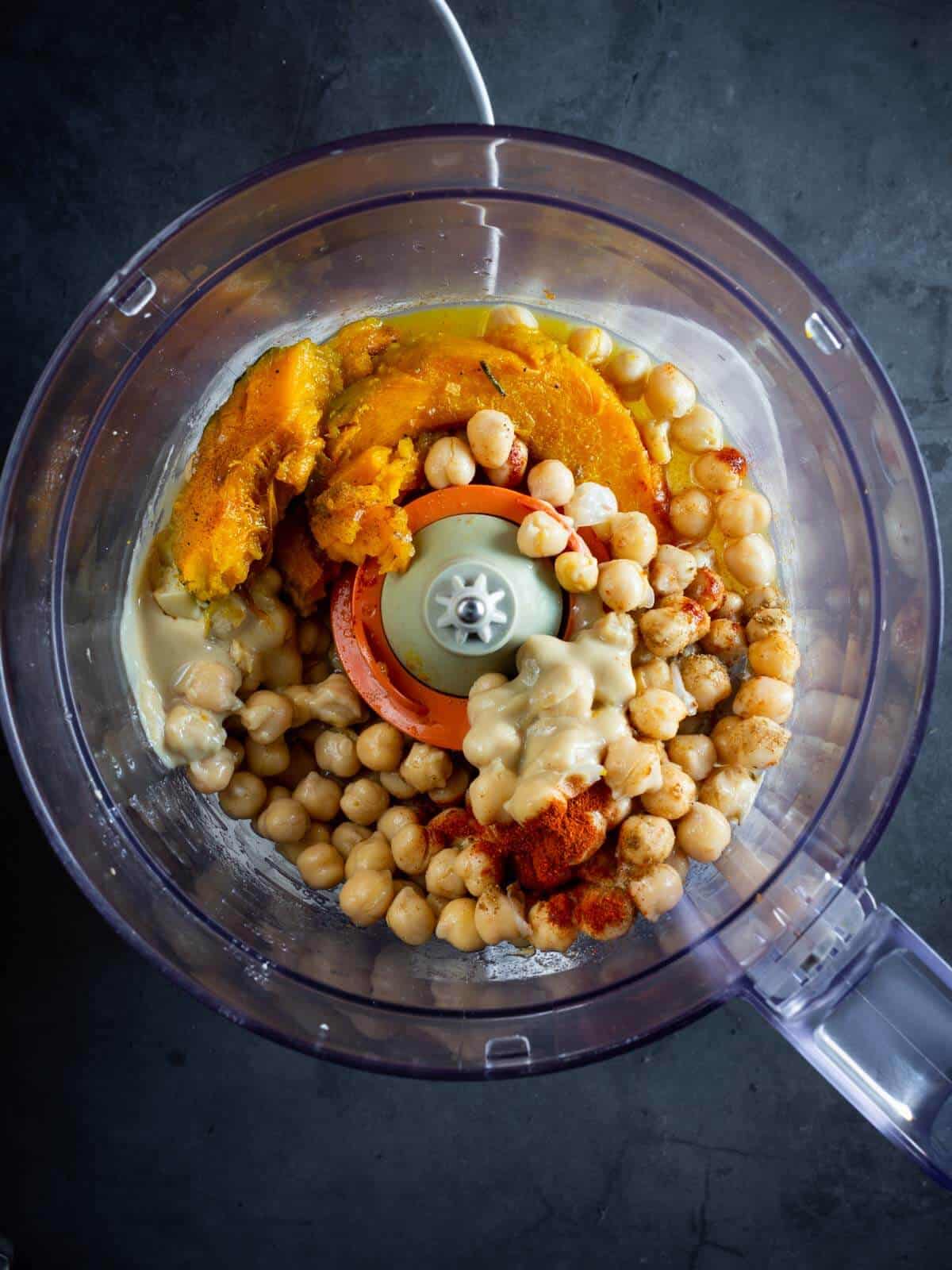 Step 3. Adjust the seasonings and liquids to ensure you have creamy pumpkin hummus until you reach the desired consistency. You might have to scrape down the sides of the food processor.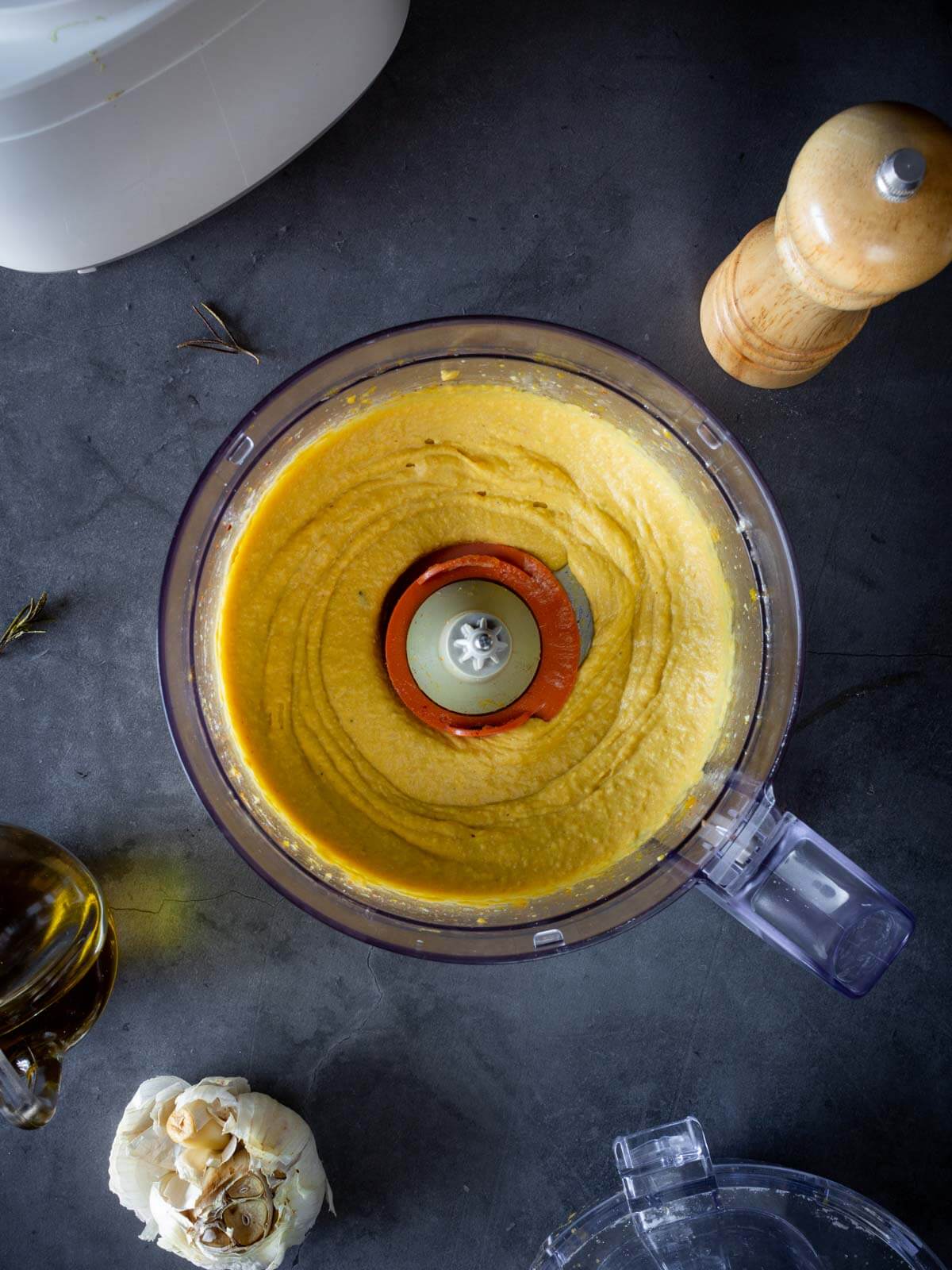 Step 4. Garnish and serve with toasted pita bread or pita chips.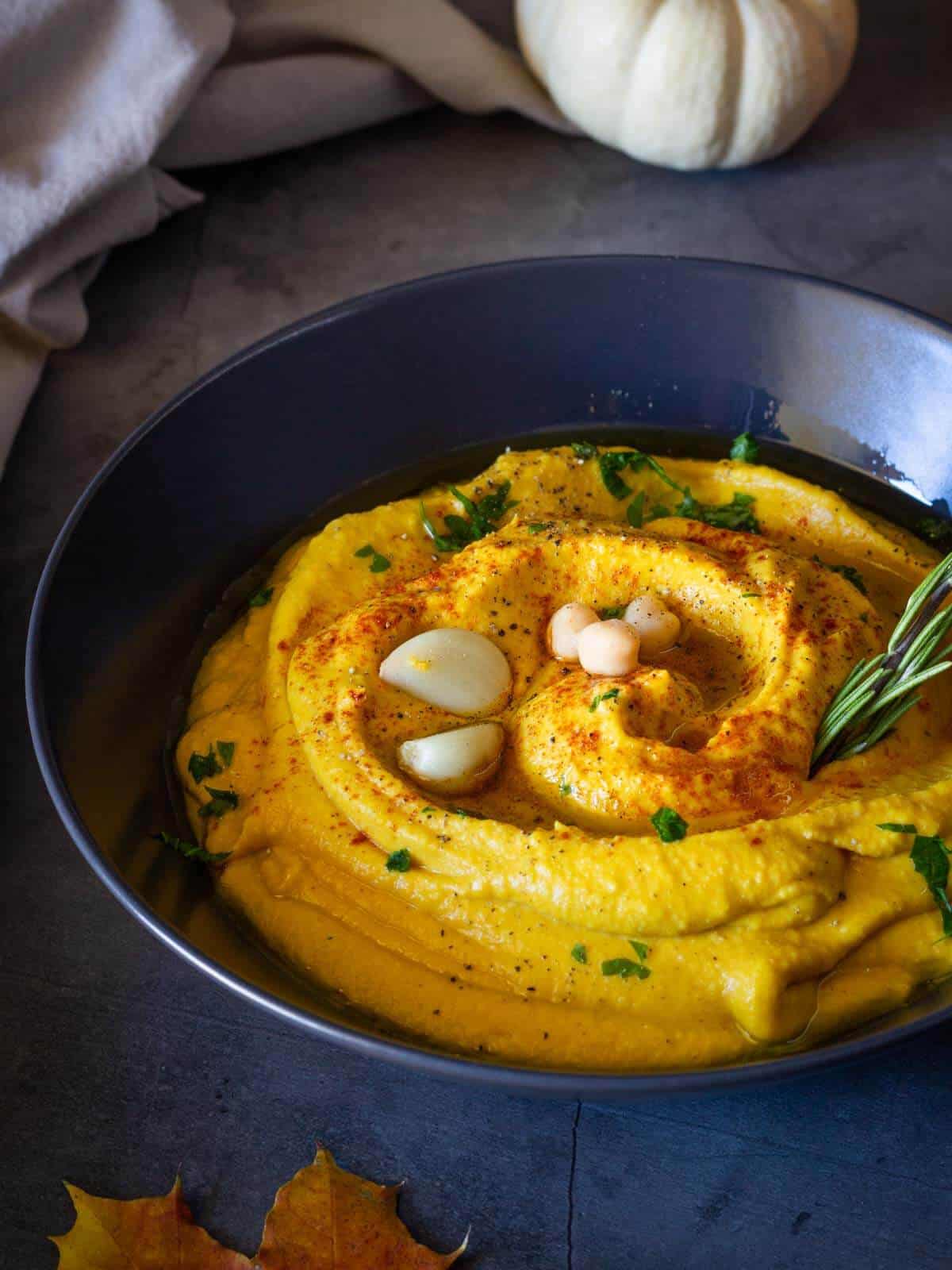 Pro tip: whether you are using canned chickpeas or you choose to boil dried chickpeas, reserve some of the liquid to adjust the creaminess to your liking without adding more olive oil or lemon juice, which can affect the final taste.
💡Top Tip to make it super creamy
Adding iced water to hummus helps to emulsify the ingredients and create a creamy texture. When you blend chickpeas, tahini, lemon juice, garlic, and olive oil in a food processor, the mixture can become thick and clumpy.
The addition of iced water helps to loosen up the mixture and create a smoother consistency by breaking down the chickpea fibers and creating a more homogenous mixture. The cold temperature of the water also helps to prevent the mixture from becoming too warm during blending, which can cause the oil in the tahini and olive oil to separate and result in a less smooth texture.
Furthermore, the iced water helps to aerate the mixture, adding more air bubbles that give it a light, fluffy texture. This results in a creamy hummus that is easier to dip and spread.
👨🏻‍🍳 Garnishing ideas
Garnishing your Savory Pumpkin Hummus recipe is optional, but I think it should be a must! Otherwise, no matter how delicious it tastes, it just looks like a purée.
My favorite toppings include black and white sesame seeds, pumpkin seeds, fresh herbs (chopped parsley or rosemary sprig), olive oil, smoked paprika or cayenne pepper, freshly ground black pepper, a couple of cooked garbanzo beans, roasted garlic cloves, roasted pumpkin wedges or dice.
As you can see, you have plenty of ideas to play with, don't overdo it, just pick three or four and make your pumpkin hummus look beautiful.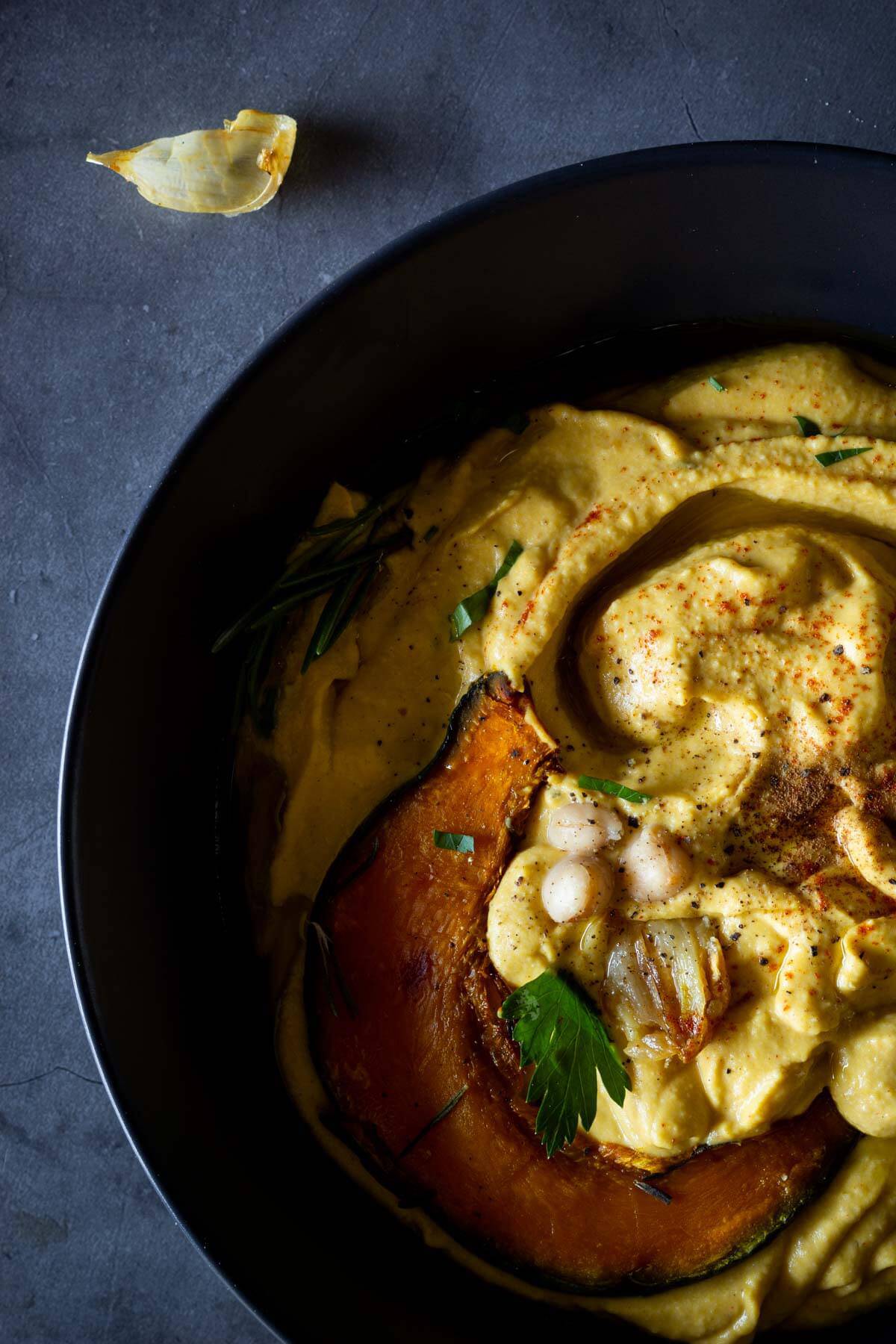 Pro tip: after you transfer the pumpkin hummus to a serving bowl, make some pockets with the back of a spoon. Then add a drizzle of olive oil and then add any other of your chosen toppings.
🥢 How to serve
What to eat with pumpkin hummus?
Use this pumpkin hummus recipe as a delicious snack for warm pita bread, crackers, pita chips, or sliced raw veggies like cucumber, bell pepper, carrots, and celery sticks. Veggie sticks are a great option if you want to keep the appetizer gluten-free.
We also like serving it with focaccia bread, our toasted sliced bread loaf, and spiced pearl onions.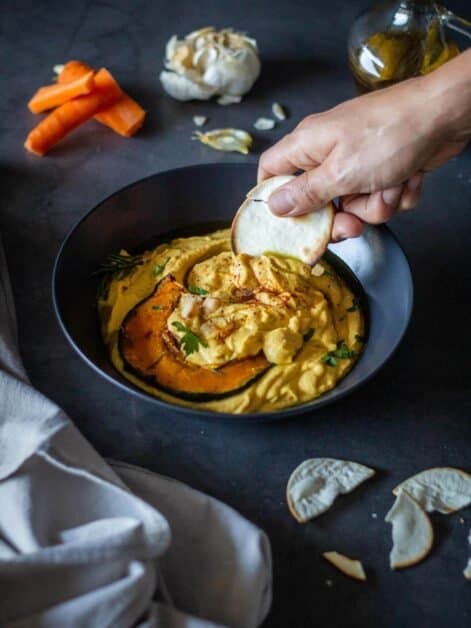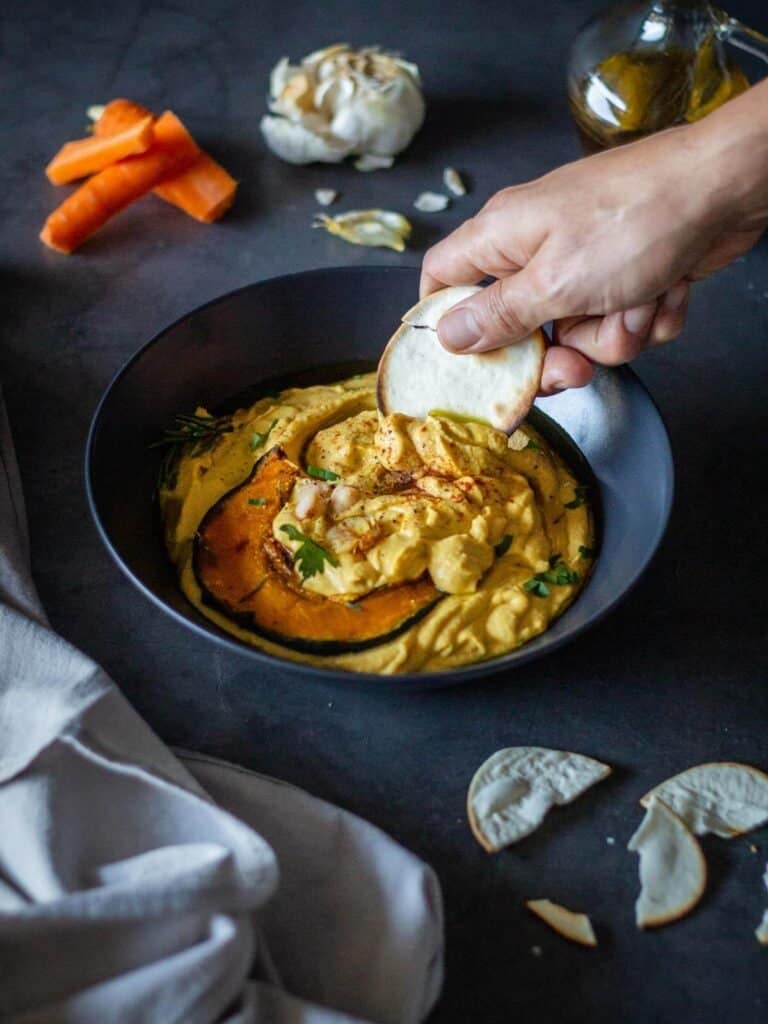 You can add a bit of pumpkin hummus over plain boiled quinoa, millet, baked potatoes, roasted potatoes, poke or buddha bowls, pasta salads, and flatbreads.
Serve them in vegetable sandwiches for extra protein and flavor. It is delicious with sourdough bread or classic Italian Pagnotta bread (bread loaf)!
Check our comprehensive guide on What to eat with hummus!
🍶 Substitutions
You might wonder, what's the point of substituting pumpkin on pumpkin hummus? Well, the thing is that many members of the squash family can do the job just fine because they have a very similar flavor and nutritional profile.
You can use butternut squash, regular green pumpkin, sugar pumpkin, Hokkaido pumpkin, acorn squash, and delicata pumpkins without drastically affecting the outcome.
📖 Variations
Celiac - hummus is naturally gluten-free, so there is nothing to worry about there. Just make sure to enjoy it with raw veggie sticks instead of the suggested pita bread or pita chips.
Oil-free - you can safely omit the use of extra virgin olive oil, but you decidedly need a fatty component like tahini paste or nut paste; otherwise, you will have just a dip, which I can assure you, will taste good but will be further from reaching the hummus flavor profile.
🥡 Storage
This easy savory pumpkin hummus recipe tastes even better with a couple of hours in the refrigerator giving the flavors some time to sit, although it is unnecessary.
I strongly encourage people to prepare it a couple of hours in advance before serving.
It is definitely not my choice as nothing beats freshly made pumpkin hummus, but if you are in for meal prep or simply have lots of leftovers, you can freeze the pumpkin hummus in an airtight container and freeze for up to three months (adding a tablespoon extra olive oil over the top).
Your season pumpkin hummus may lose its scent when it freezes, so feel free to add spices and flavorings after thawing, then blend until smooth and creamy.
❓FAQ
Can I make pumpkin hummus without chickpeas?
Yes, you can. There are a lot of people whose tummies' don't tolerate garbanzo beans well or simply you ran out of chickpeas.
To avoid changing the flavor profile of the dish or its beautiful color drastically, I have successfully switched the garbanzo beans for white beans (cannellini beans), which have a similar color and slightly blander taste, which you can easily adjust with some extra tahini paste, roasted or raw garlic and/or seasonings.
Tell me the best substitute for tahini
Hummus is a simple, healthful appetizer. I strongly recommend using good-quality tahini for hummus since it adds a decisive and particular flavor. If you struggle to find tahini or just want to make your pumpkin hummus, have everything but the tahini, don't allow that to stop you from making it.
Replace the butter with soft peanut butter, almond butter, or any other nut butter you have handy.
🫕 More hummus and dip recipes
If you try the pumpkin hummus and like it, or you are looking for more ways delicious recipes to make your hummus, check out our Lebanese hummus post, which outlines the basics of making a classic hummus recipe, a staple of the middle eastern diet, and vegan recipes.
We love Middle-Eastern cuisine; if you do as well, you will love our classic Eggplant Babaganoush recipe, this tahini-free fantastic roasted bell peppers Muhammara dip, and our Crispy Falafels recipe, and pair it with a flavourful Tabbouleh Salad.
If you're seeking chickpea-free hummus, consider trying our beet and white bean hummus, edamame hummus, or black-eyed peas hummus. Each offers a delightful twist on the classic recipe and is sure to please your palate.
Creamy Pumpkin Hummus is a favorite recipe for Thanksgiving dinners and everyday meal planning during the fall season.
If you feel adventurous and are in for a mindblowing idea, try our dessert, dark chocolate hummus, a dessert hummus, made with chocolate and enjoyed with fresh fruit. Curious?
🎃 More pumpkin Recipes
⭐ If you try this recipe, let us know! 💬 Leave a comment, rate it, and don't forget to tag us @ourplantbasedworld on Instagram. Cheers!
📋 Recipe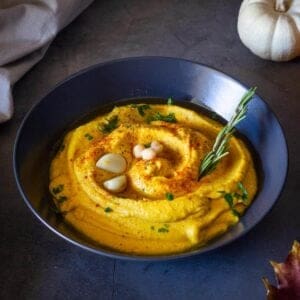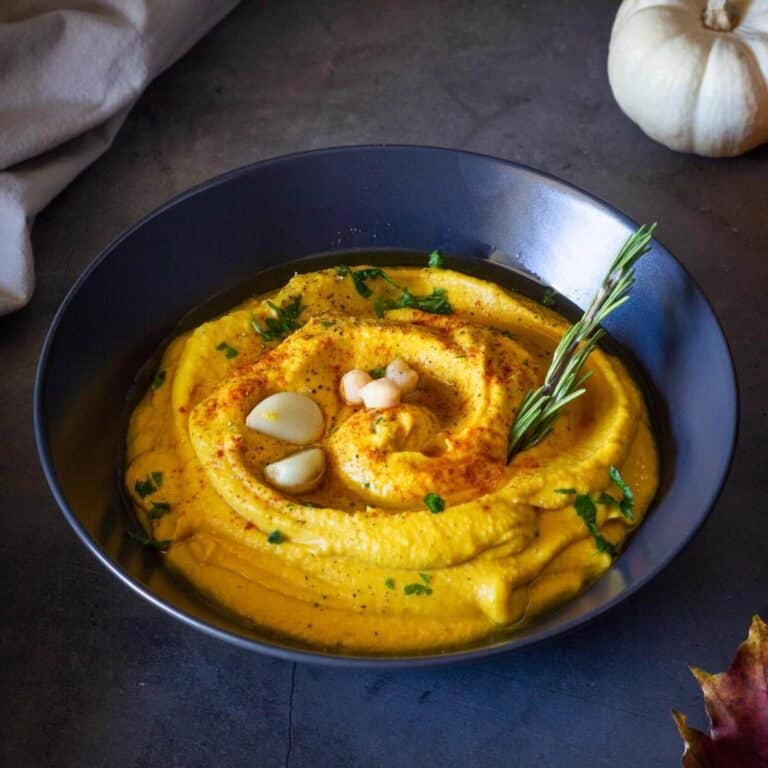 Easy Pumpkin Hummus Recipe
This easy savory pumpkin hummus recipe is vegan, gluten-free, and made with real pumpkin—no canola oil here! Make this for your next fall gathering or Thanksgiving menu.
Equipment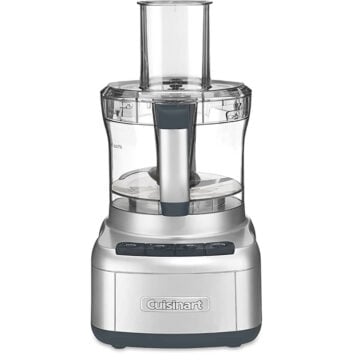 (affiliate link)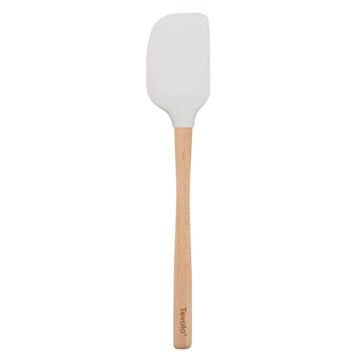 (affiliate link)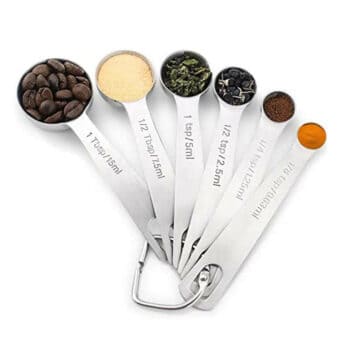 (affiliate link)
Ingredients
Optional Garlic and Rosemary preparation (see notes)
FOR SERVING (optional)
Pita chips or toasted pita bread
Directions
Rinse and drain chickpeas. Then add to a food processor or blender along with pumpkin, tahini, garlic cloves, lemon juice, salt, smoked paprika, curry or cumin, and cinnamon. Blend until the pumpkin hummus is creamy and smooth, scraping down sides as needed. See notes below.

Add iced water little by little until you reach the desired texture.

Taste and adjust seasonings as needed, adding extra lemon juice for acidity, cumin or paprika for smokiness, tahini for nuttiness, more garlic for intensity, pumpkin puree for sweetness and added pumpkin flavor, salt to make it savorier and extra virgin olive oil or garbanzo beans liquid for creaminess.

Transfer hummus to a serving bowl and garnish (suggestions in notes).
Notes
If you are in a rush, you can. Use unsweetened pumpkin puree, raw garlic cloves, and omit the rosemary.
To achieve the perfect flavors complexity, either:
Stovetop: Heat the oil in a small skillet or saucepan over medium heat. Add garlic and rosemary sprig (whole) and sauté for 1-2 minutes until slightly brown to allow the flavor to infuse the oil.
Oven: roast the pumpkin wedges for 20-30 minutes, along with a garlic head and rosemary sprigs.
Then add the mix to the food processor and pulse until smooth and creamy (you can save some garbanzo beans for garnish).
Adjusting seasonings:
The leftover liquid from the canned or boiled chickpeas is a great resource to adjust the thickness and creaminess of your creamy pumpkin hummus without altering the flavor.
Garnishing options:
Our favorite garnishes for homemade hummus are sesame seeds, pumpkin seeds, chopped parsley, extra virgin olive oil, smoked paprika (or cayenne pepper), a couple of cooked garbanzo beans, roasted garlic cloves, and roasted pumpkin chunks.
Nutrition Facts
Serving:
150
g
Calories:
321
kcal
Carbohydrates:
21
g
Protein:
13
g
Fat:
23
g
Saturated Fat:
3
g
Polyunsaturated Fat:
7
g
Monounsaturated Fat:
10
g
Trans Fat:
1
g
Sodium:
640
mg
Potassium:
369
mg
Fiber:
7
g
Sugar:
1
g
Vitamin A:
147
IU
Vitamin C:
5
mg
Calcium:
66
mg
Iron:
3
mg
Nutrition Facts
Easy Pumpkin Hummus Recipe
Amount per Serving
% Daily Value*
* Percent Daily Values are based on a 2000 calorie diet.
🌡️ Food safety
Cook to a minimum temperature of 165 °F (74 °C)
Do not use the same utensils on cooked food, that previously touched raw meat
Wash hands after touching raw meat
Don't leave food sitting out at room temperature for extended periods
Never leave cooking food unattended
Use oils with a high smoking point to avoid harmful compounds
Always have good ventilation when using a gas stove
See more guidelines at USDA.gov.
Nutritional Disclaimer
The information shown is an estimate provided by an online nutrition calculator. It should not be considered a substitute for a professional nutritionist's advice. See our full Nutritional Disclosure here.
Affiliate Disclaimer
Please note that some of the links here are affiliate links, and I will earn a commission if you purchase through those links. I recommend all of the products listed because they are companies I have found helpful and trustworthy.