Vegan pie crusts are a little bit tricky to make, but this recipe is the best out there. No-Roll Vegan Pie Crust is an excellent alternative to traditional pie crust. It's easy, it's delicious, and it only takes 10 minutes to prepare! If you're vegan, dairy-free, or if you just want to eat healthier this Thanksgiving - this recipe is for you.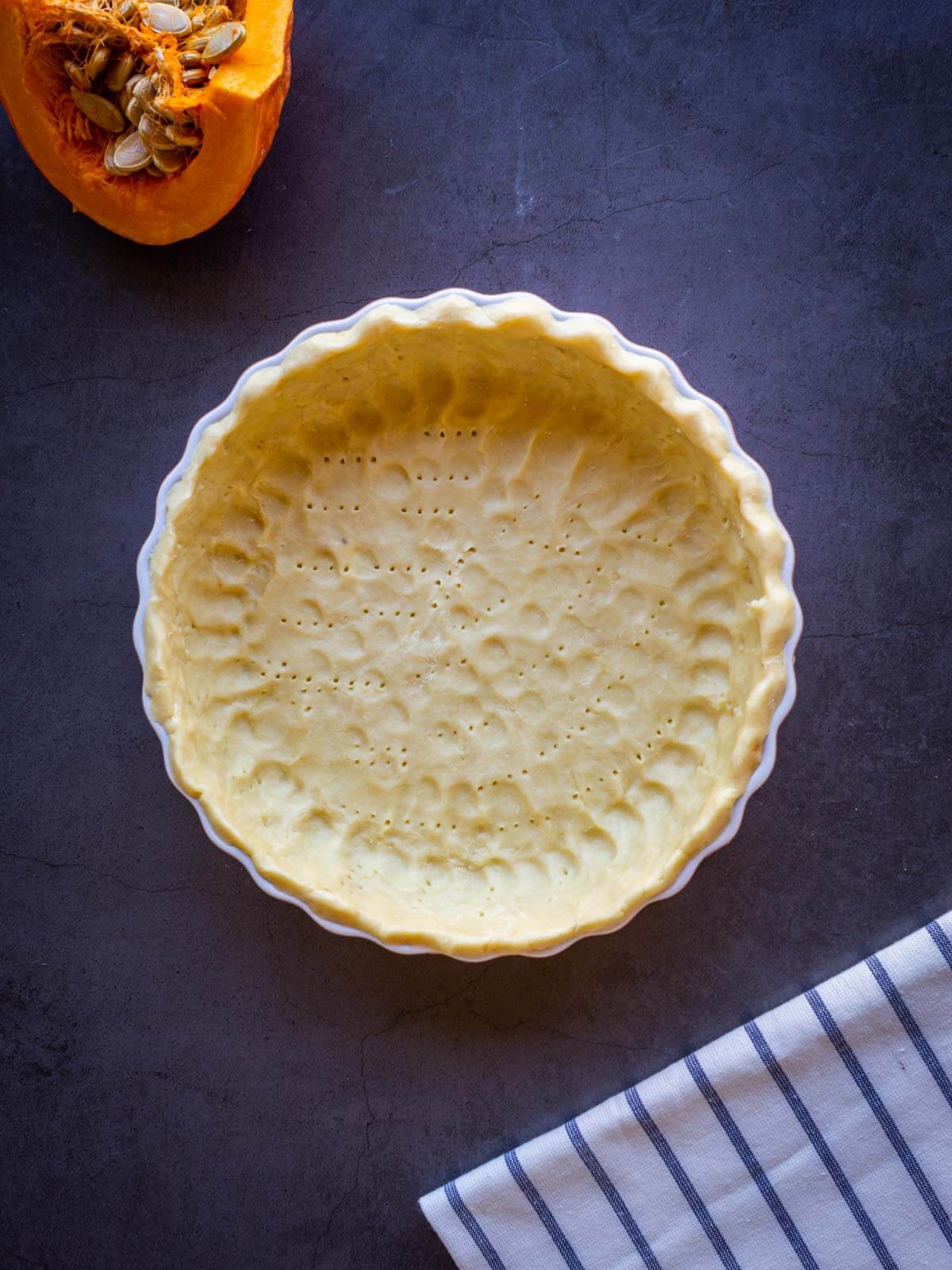 Ready to raise the bar of your plant-based cooking? This vegan no-roll pie crust is also dairy-free and egg-free, so vegans, vegetarians, or those with an allergy can still enjoy baking pies! The best part about this crust is how easy it comes together without adding extra flour for rolling out because it is a no-roll vegan pie crust.
This recipe for the easy vegan pie crust works every time, only follow the tricks and tips included in this post to ensure it turns out right!
You can use this vegan no-roll pie dough for sweet or savory vegan pies, tarts, and even quiches! This recipe is perfect for vegans who want to enjoy a slice of the classic pumpkin pie during the fall season, or why not, an apple pie!
We use this recipe for quiches. For savory tarts, we actually like them less, flaky and manageable, but it's a matter of taste. To make tarts, we recommend our Vegan Empanada dough, which works wonderfully for savory tarts, like our Eggplant tart or Carrot savory tart.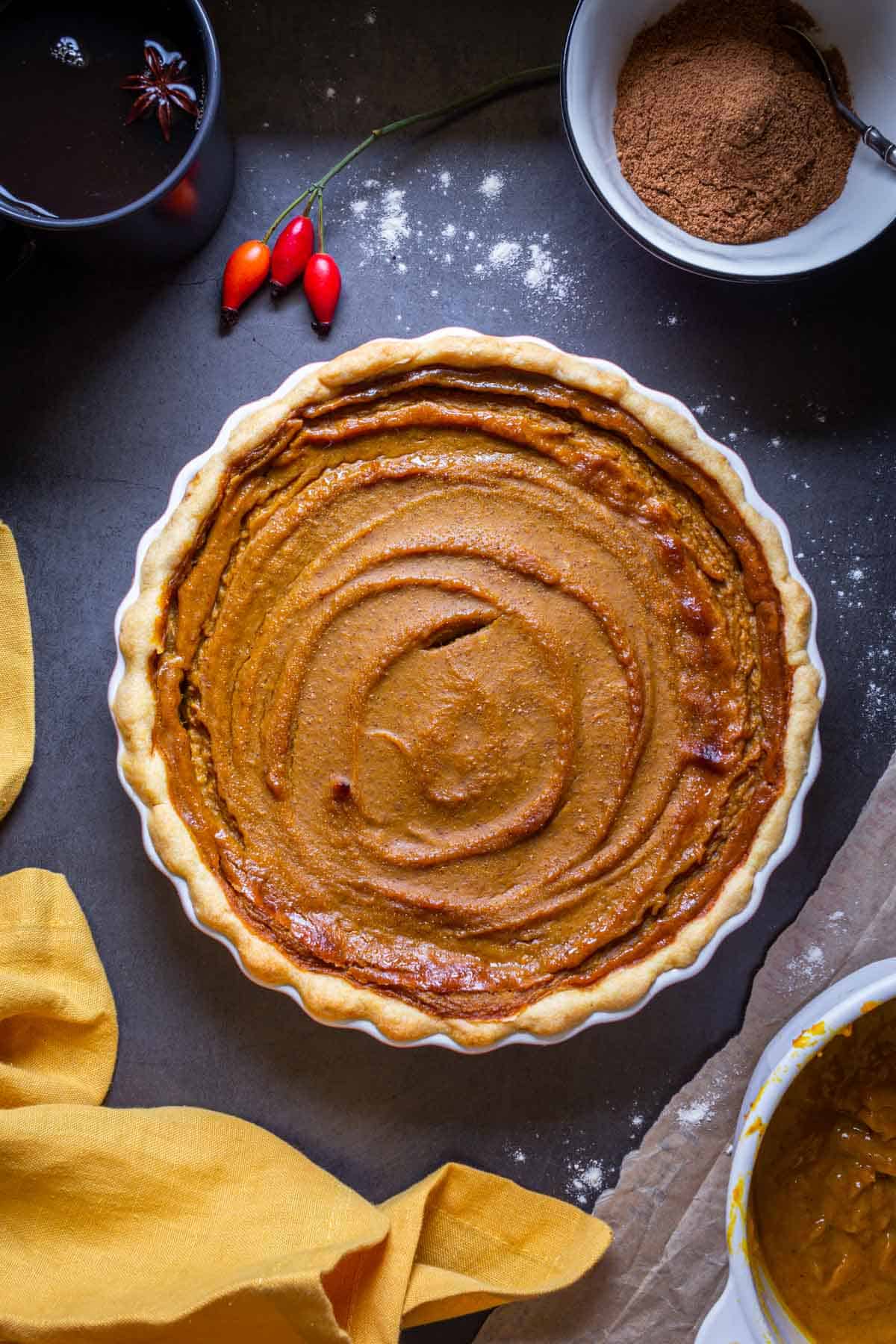 Why No-Roll Pie Crust
The vegan no-roll pie dough can make both sweet and savory pies.
This easy vegan pie crust is very easy to make as it is a no-roll crust and takes minimal time and effort to make.
To make a vegan pie, you will, of course, need vegan ingredients! There are some substitutes for dairy products that work better than others.
Also, you don't need to get into rolling pins, stretching, or parchment paper. You just need to work the dough on top of your baking pan.
Savory or Sweet Crust?
This flaky vegan pie crust can work for both sweet or savory pies because of its fantastic balanced flavors, which makes it a vegan pie crust recipe that everyone will enjoy.
We are using an equal amount of salt and sugar here, but it can be changed to suit your preferences or dietary needs.
You can add some more sugar or salt to adapt to your tasting or recipe needs. Adding only ½ teaspoon of either salt or sugar will turn the needle.
For savory pies, use more salt than sugar and vice-versa.
Ingredients
All-purpose flour (can be replaced with Gluten-Free, see notes)
Cold cubed vegan butter (we like earth balance)
Salt
Sugar
Ice Water
Quantities in the recipe card.
Instructions
Step 1: Chill your ingredients
Ensure your vegan butter is in the freezer for at least 30 minutes before beginning.
I like placing a couple of ice cubes on the water I will use or simply leaving some ice cubes to thaw as I prepare the rest of the ingredients.
Step 2: Make the vegan perfect pie crust
Place the plastic spinner of the food processor inside it. If working by hand, use a large bowl (also chilled).
Mix the flour, sugar, and salt in a food processor using the plastic spinner; it works better for pastry.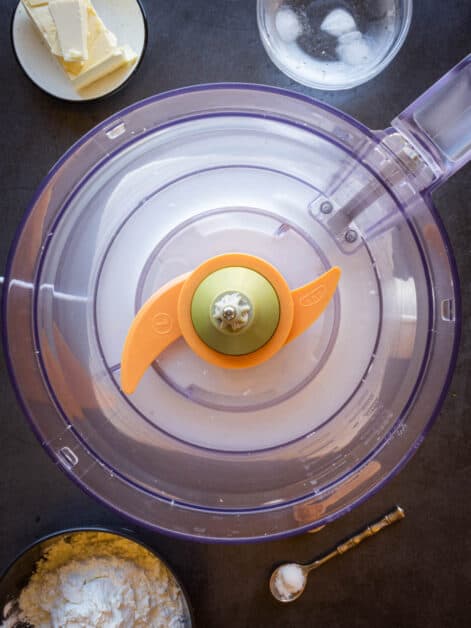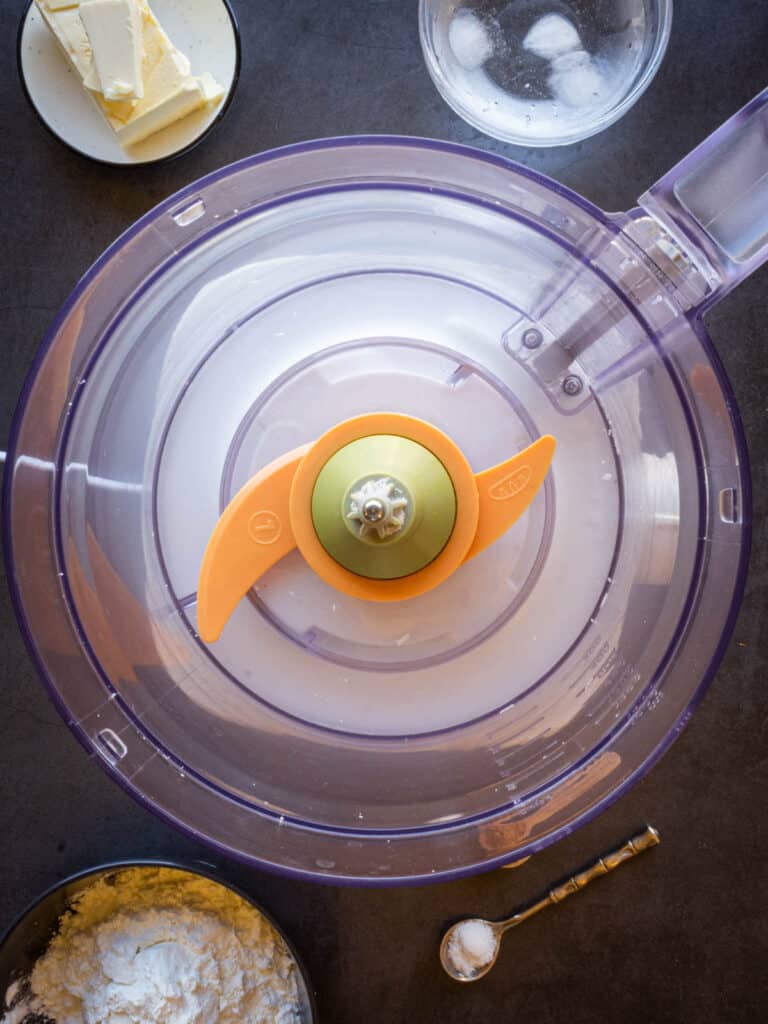 Continue adding the butter, beginning with half of it and the ice water, and then rest after a couple of pulses. Do not overmix; it raises the temperature, and we want to keep the butter temperature.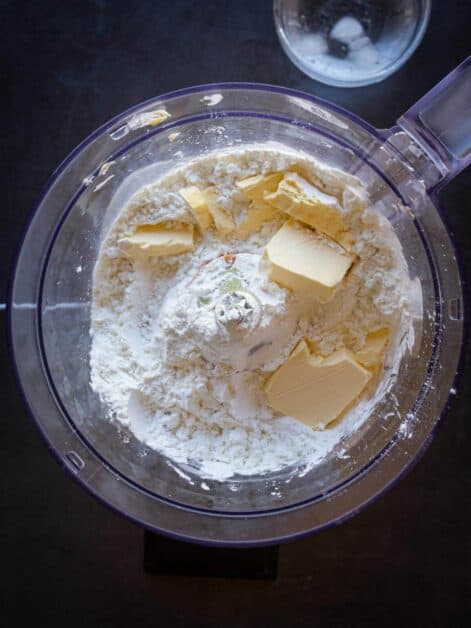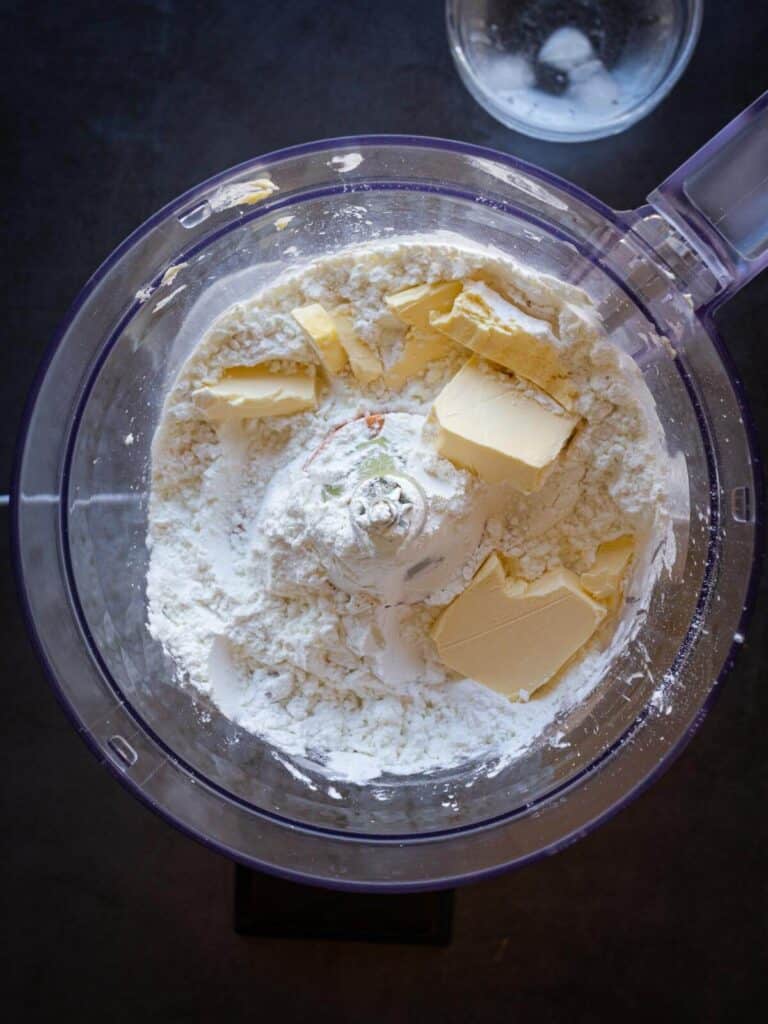 Note: you can choose to skip the food processor and do everything by hand. I find that using the food processor ensures all the ingredients are well mixed while not working the dough with your hand, making the butter starts melting and lose the consistency we are looking for.
Use a large bowl and mix all the ingredients with a spatula first and then with your hands.
You can also use a kitchen machine with a dough hook, miming the hands' movement without warming the shortcrust pastry.
Both food processor with plastic spinner and kitchen machine with a dough hook allows for working on your crust, worrying less about warming the mix.
Step 3: Briefly knead with your hands
It is perfect when the mix looks crumbly inside the food processor. Knead the vegan dough for a few seconds to make it homogeneous, and make a ball.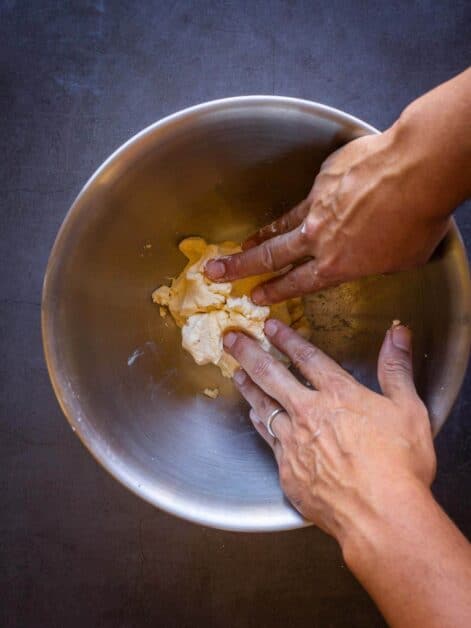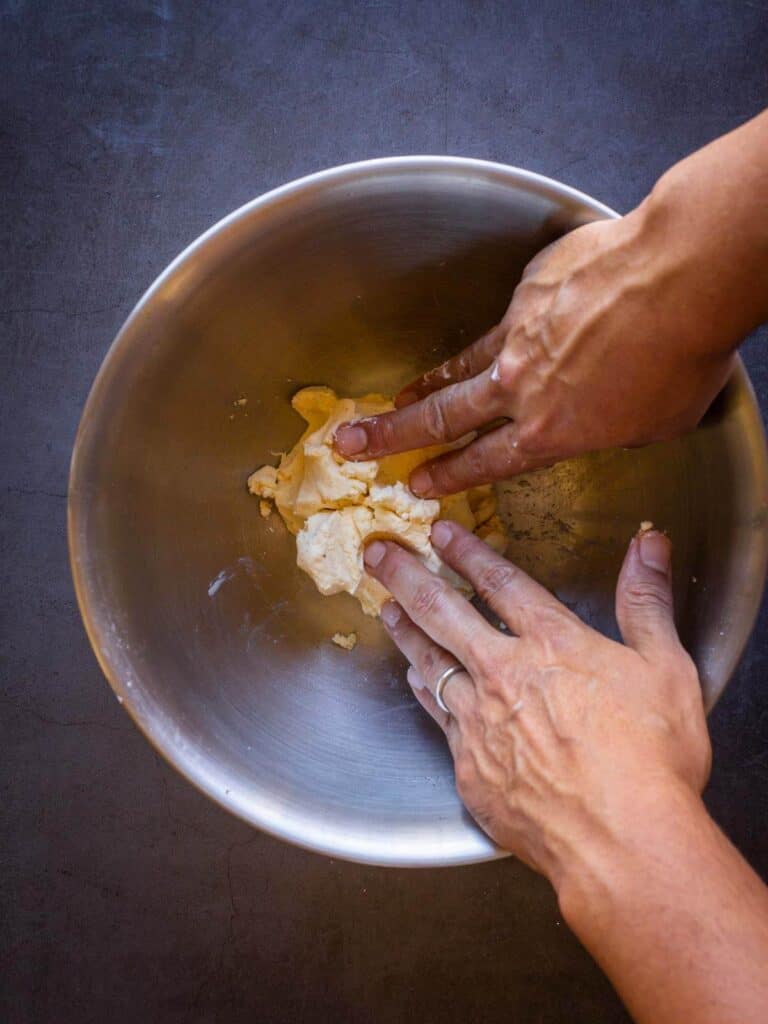 Step 4: Place in the fridge
Leave the pie dough ball wrapped in plastic foil, then leave it to chill in the refrigerator before using as desired. Chill for at least 60 minutes before going ahead with your pie recipe.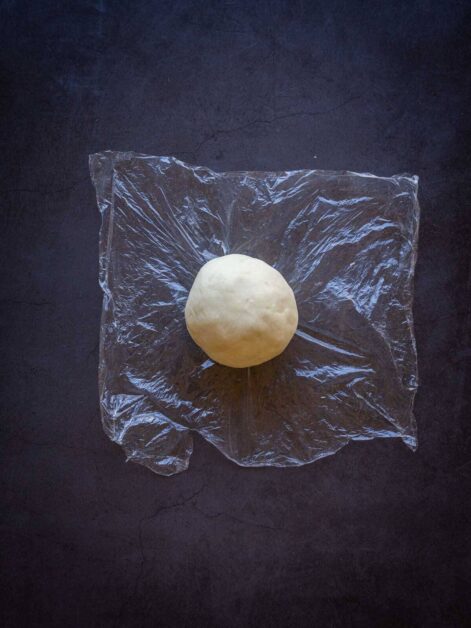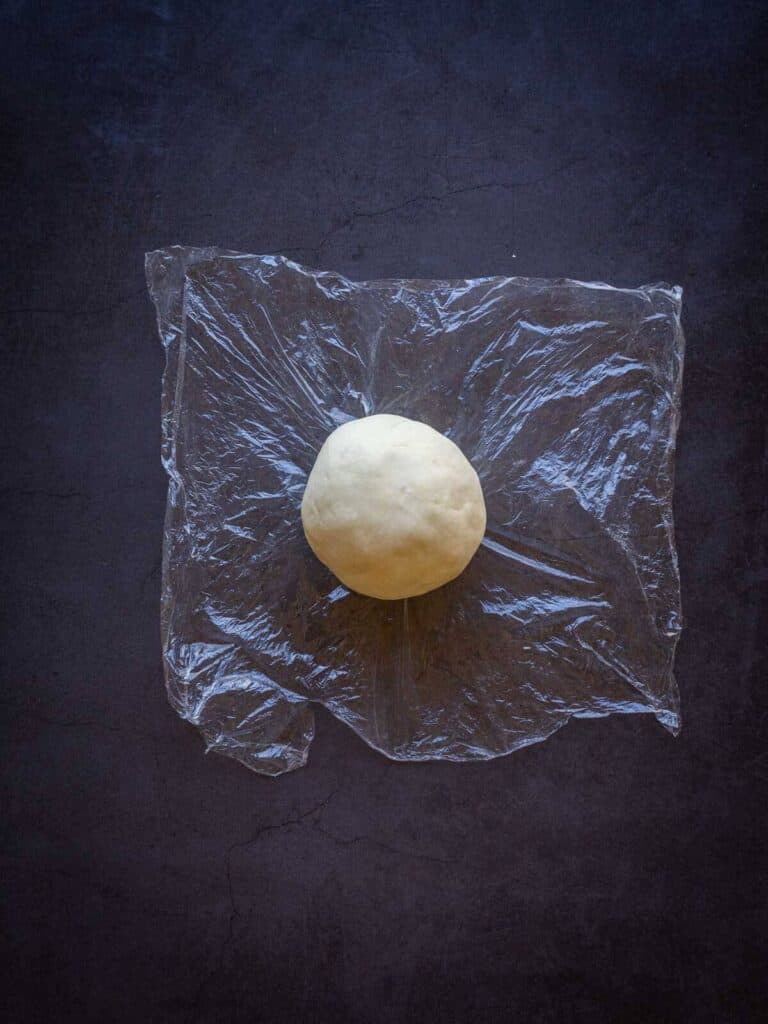 Allow the crust to chill in the refrigerator for one hour or up to three days.
When ready for use, allow the dough to rest on the counter for about 15 minutes before using it to make it simpler to handle. Note that this is unnecessary if you use this easy pie crust immediately after the minimum chilling time.
Step 5: Stretch the chilled vegan pie crust.
Directly stretch the dough into the pie pan with your hands. Ensuring the pie dough is evenly distributed, and there are no large clumps may turn out undercooked.
Now that you've made the crust with all your favorite ingredients, it's time to fill! Check our Vegan Pumpkin Pie, and why not? Make your own pumpkin spice mix in 5 minutes.
Step 6: Pinch with a fork.
Pinching the pie crust with a fork ensures that it is baked evenly. Both in the bottom corners and the edges.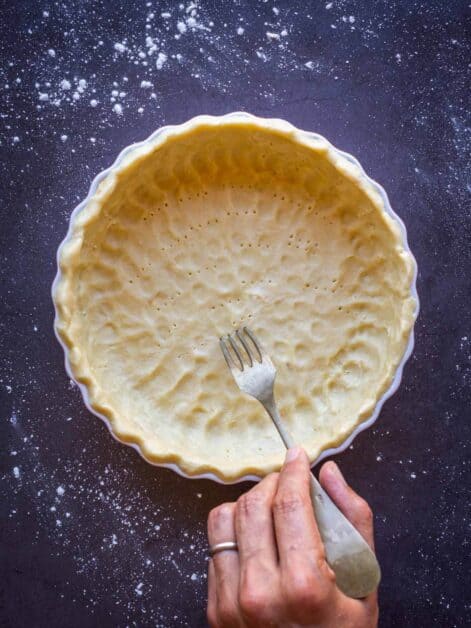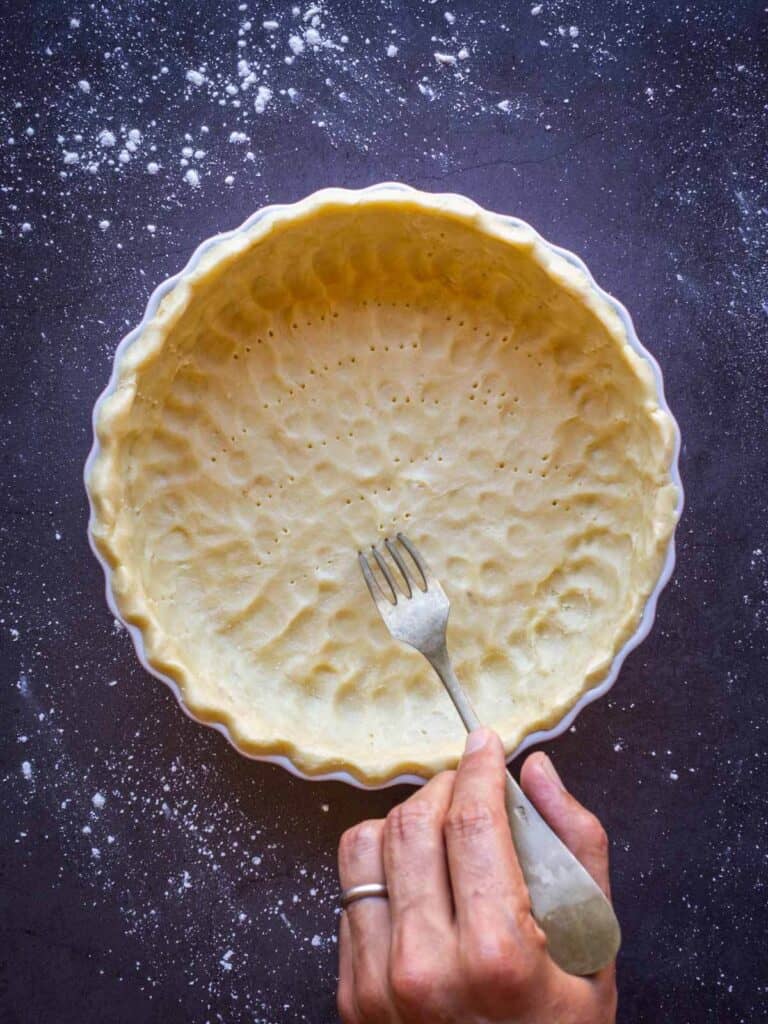 Step 7: Bake
You may choose to pre-bake (blind bake) the dough or use it directly. It depends on the recipe you will be making. This dough doesn't need pre-baking for our Pumpkin pie, as the filling needs to be bake at the same temperature as this pie crust (350 F degrees - 175 C). So you can pour the mix directly.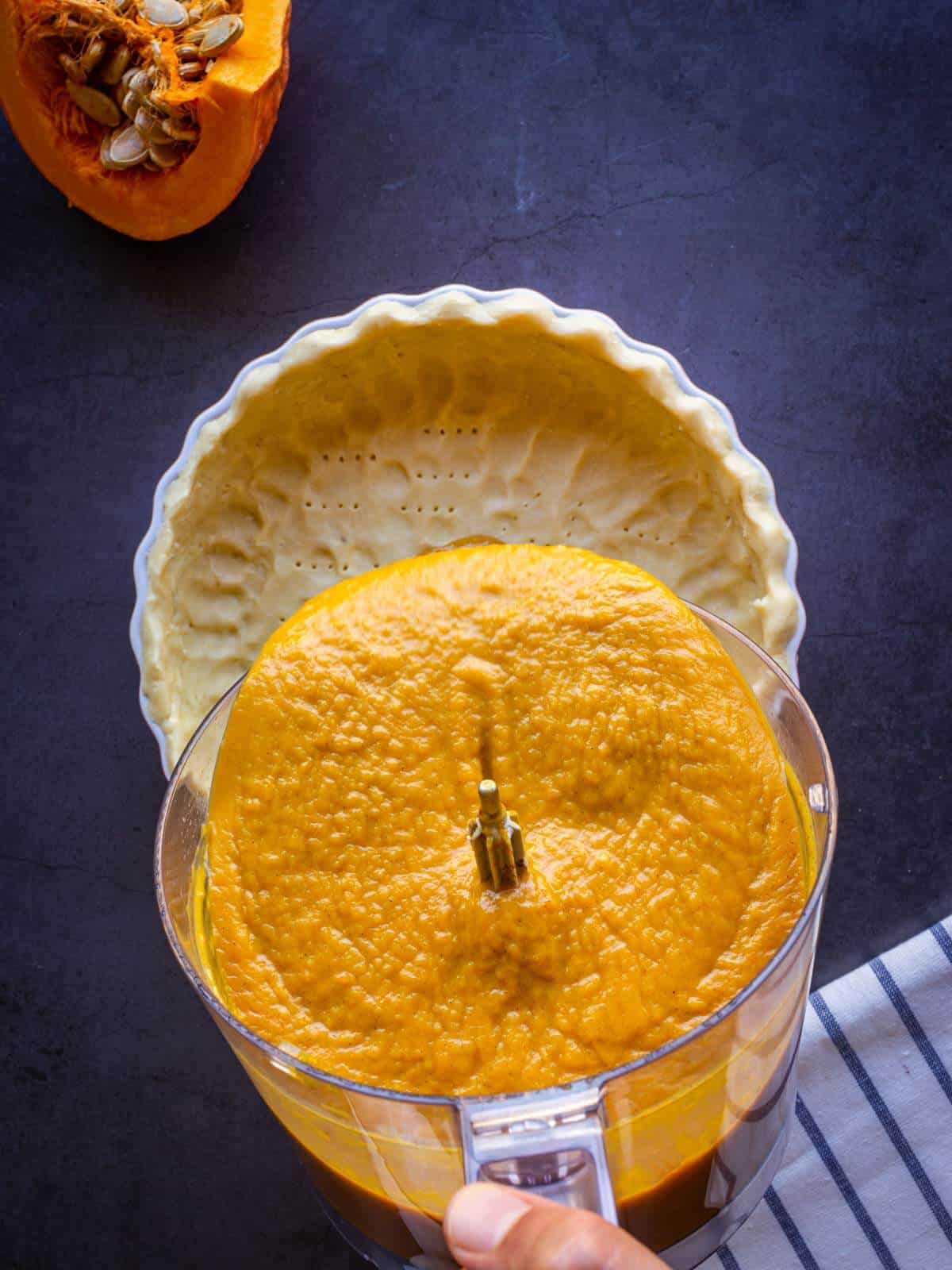 What is your favorite vegan baked good to make for Thanksgiving? Let us know in the comments below, and we will share it on our website!
See below for more details on how to pre-bake (blind bake).
Tips
To make the perfect vegan pie crust read these tips specially put together for vegan bakers and their friends and family, so this vegan pie crust recipe delivers the best results every time.
Use plant milk
To make a dairy-free pie crust, use almond, cashew, and soy milk, as they tend to be thicker. Replace dairy vs. non-dairy milk is the easy part. It is a 1-1 conversion.
Use chilled ingredients
This ensures the crust keeps its consistency and that the sugar can mix evenly with the rest of the ingredients and don't fall out crumbly. This also applies to regular pie crust with butter and cow's milk.
Let it sit and chill before using
This way, the crust will become more stable and manageable.
Go easy on the kneading
If you overwork the pastry, the vegan pie crust will get tough.
If you accidentally overwork vegan pastry dough and it breaks apart, just add more chilled plant milk to bring it back together again (or some extra vegan butter).
Making the vegan pie crust Gluten-free
Replace the regular flour with a gluten-free flour blend; if you get a vegan baking mix, it will be even better. Some gluten-free mixes work better than others, just like regular flour mix. Look for one that clearly states that it is ideal for baking; we like Bob's mill.
Use a 1-1 ratio. I would also consider adding a flax egg, which you can make simply by adding one tablespoon of flax meal to three tablespoons of water, letting it sit, and making a gel in 5-10 minutes.
Use vegan butter
Instead of vegan butter, you could use margarine, coconut oil, or vegetable shortening. Vegan butter will taste better, be more buttery, be easier to roll and achieve a better consistency. We like using Earth Balance. Also, check the labeling of vegan butters; some explicitly say "ideal for baking or shortening."
Quantity
This recipe makes one pie crust, the bottom one! Double the quantities if you plan to make a pie with a top crust. The quantity here in this recipe works well for a 10-inch (22 cm) tart or a 9-inch (25 cm) pie crust that is taller.
Blind Bake
Blind baking is a baking method to cook a pie crust without any filling inside, in case it is necessary for pies and tarts which's fillings don't need to be cooked.
The pre-bake is done by placing the pie dough on the pie pan, setting a piece of baking paper on top, and filling it with weight, such as raw rice or pulses, like lentils or beans.
Only cook the crust until it is lightly browned.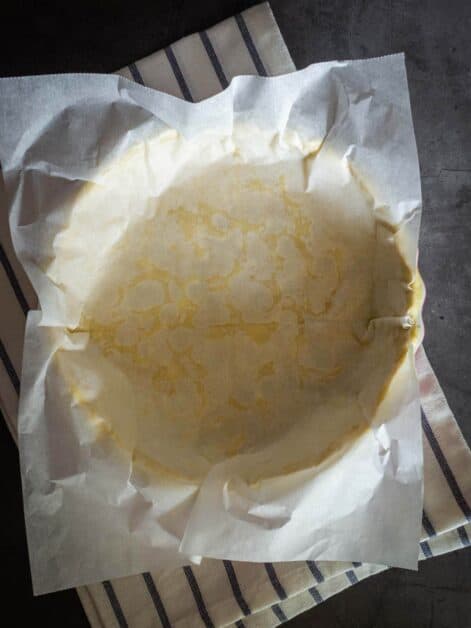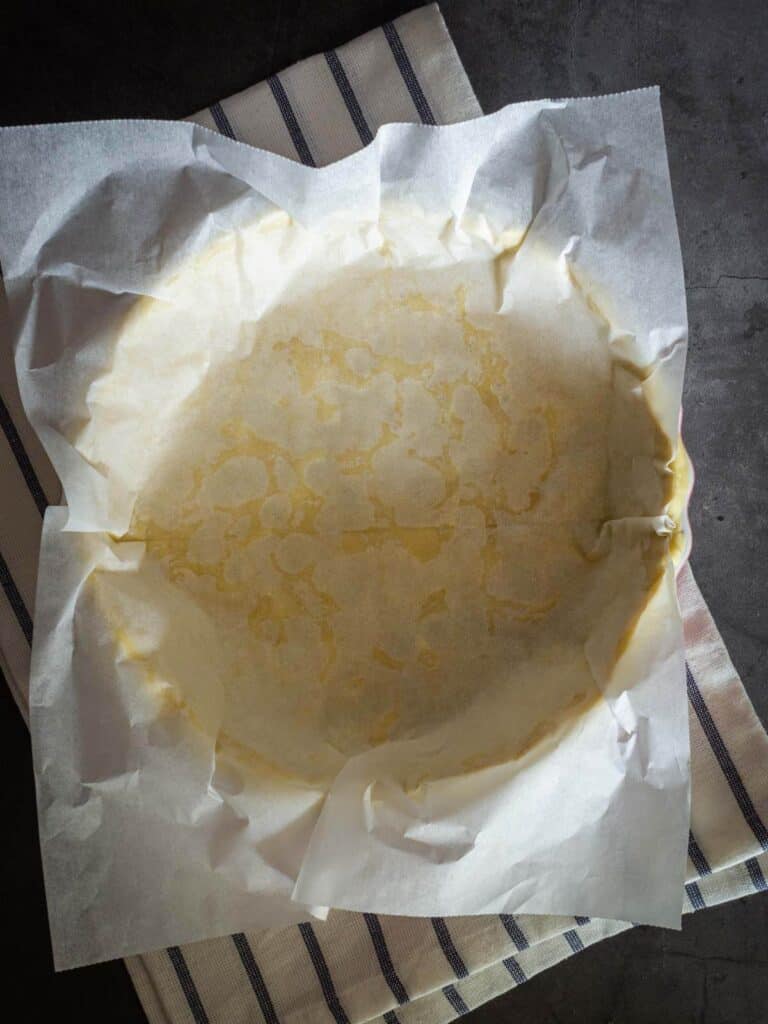 Substitutions
Vegan Butters: you can use vegetable shortening or coconut oil, but in my experience, vegan butter such as earth balance works better and tastes better. You can also use regular butter if you are not following a vegan diet.
Sugar: you can use white sugar to have a perfectly white dough; I use natural, organic sugar can, as the amount is minimal, and I can barely notice it is there; we want the dough to be golden drown once cooked. Don't we? Brown sugar contributes to that, but feel free to use regular sugar.
Milk: all kinds of plant milk are welcomed and work well.
Flour: you can use gluten-free flour. It will just be more crumbly. Here's a great guide on how to use Gluten-Free flours.
If you follow these tips, your vegan pie will be perfect every time! Use this great recipe to get creative with fillings to make sweet pies or a savory pie dish.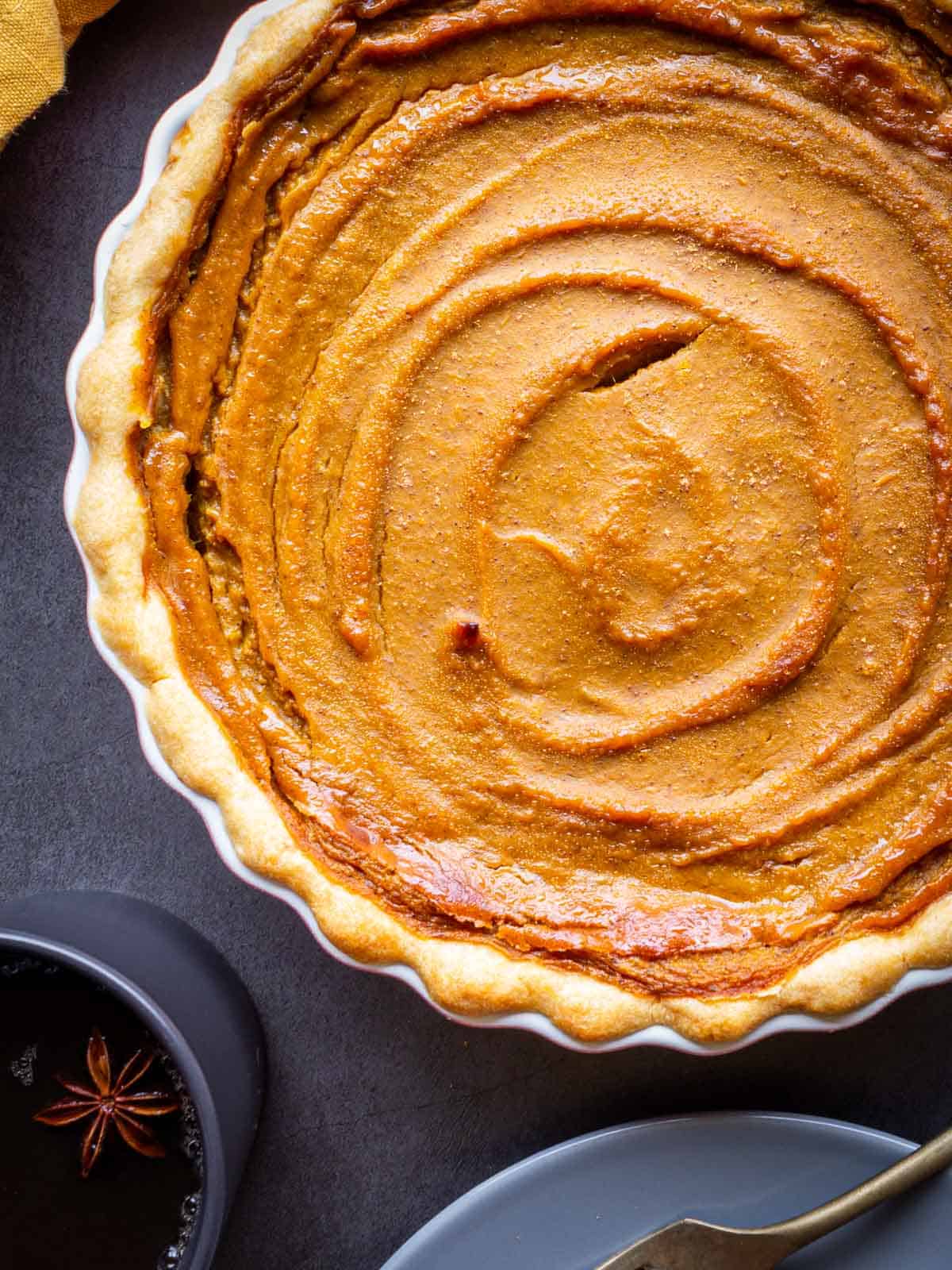 To Roll or Not to roll
You can choose to roll out the dough between two pieces of parchment paper with a rolling pin or a clean wine bottle. The parchment paper prevents the dough from sticking to the counters or rolling pin.
Rolling the dough over the counter is also an option; just ensure you work on a lightly floured surface with a floured rolling pin. Use almond flour or gluten-free flour if you are making a GF flour version.
I recommend you try this quickly, as you want to keep the temperature low for as much time as possible. Once you have placed the shortening crust inside the pan, you may leave it in the fridge while you work on anything else before proceeding with your pie or tart recipe.
Storing
If you have an excess crust, you can store it in the fridge for up to 3 days. Maybe even more, but it just hasn't survived so many days, as you can use it for all pie sizes and tastes.
Make it a ball and use plastic wrap (cling foil) to keep it chilled.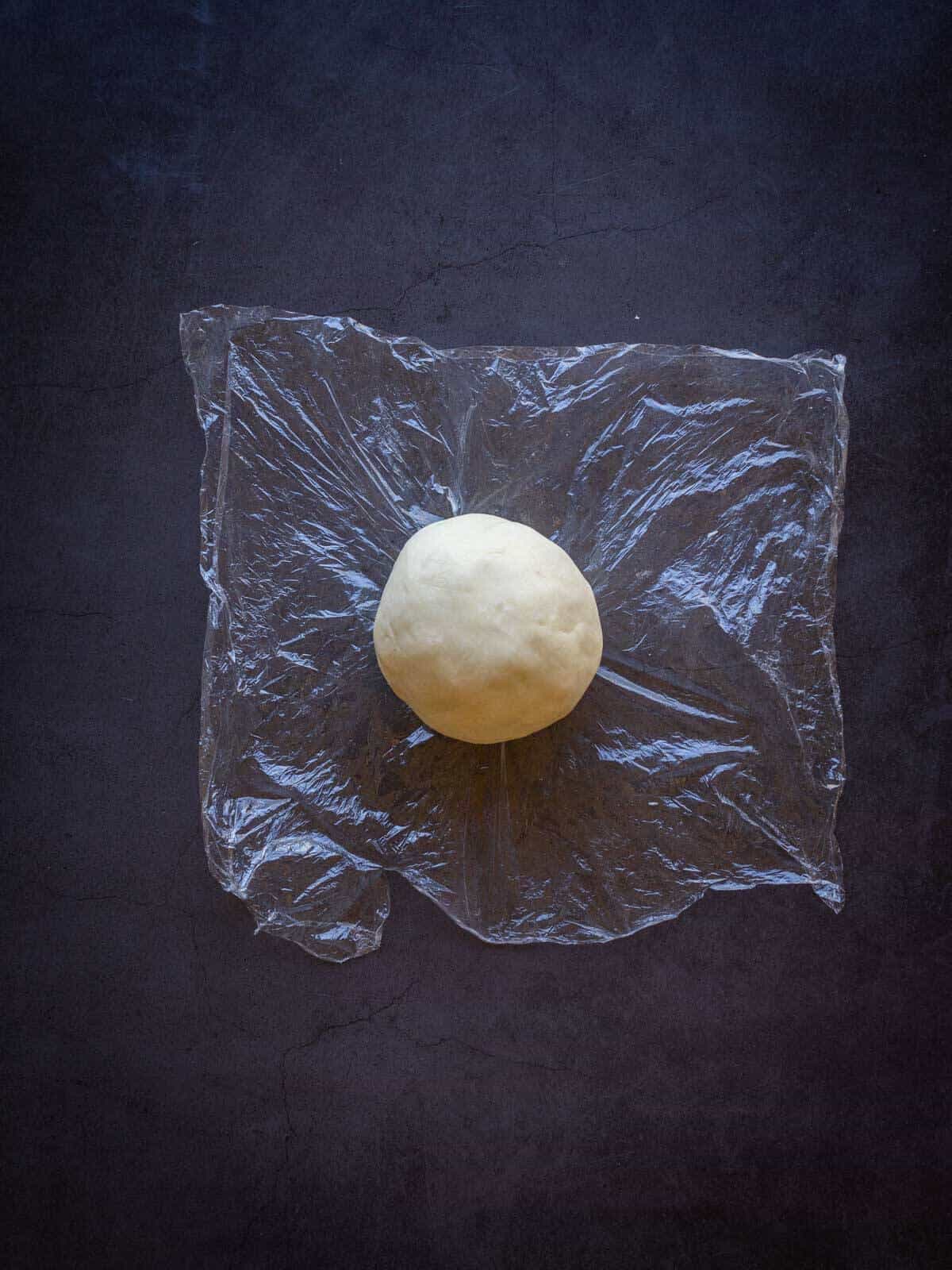 Can you freeze it? YES! That's one of the things I love about this easy vegan pie crust; you can simply place the wrapped dough in the freezer for up to 6 months. When ready to use it, remember to leave it in the refrigerator overnight or for 8 hours. Do not use the microwave. The butter or shortening will melt.
Happy baking, friends!
Make sure you try our Pumpkin pie-inspired recipes such as pumpkin pie spice mix and overnight oats.
⭐ If you try this recipe, let us know! 💬 Leave a comment, rate it, and don't forget to tag us @ourplantbasedworld on Instagram. Cheers!
If you like kneading and making your own bread and pizza, check out our traditional Italian Pagnotta Bread Loaf, Focaccia bread, simple Margherita Pizza, and cheese-less Marinara pizza.
Recipe
📋 Recipe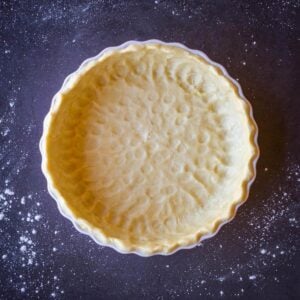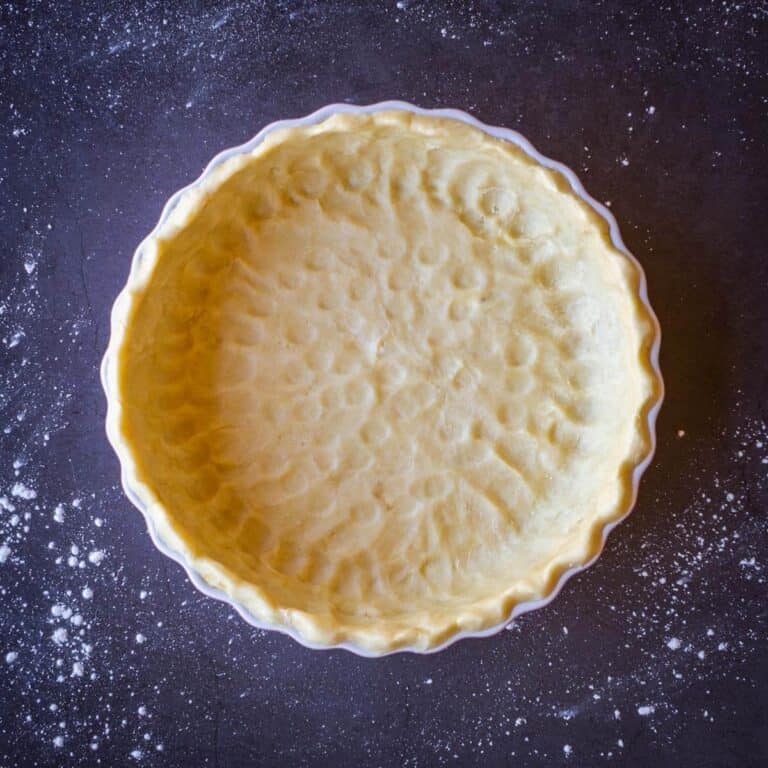 Vegan Pie Crust (No-Roll)
This is a must-have vegan pie crust recipe! It's so easy to make, and it works both for sweet and savory recipes. I use this all the time with my baking projects.
Equipment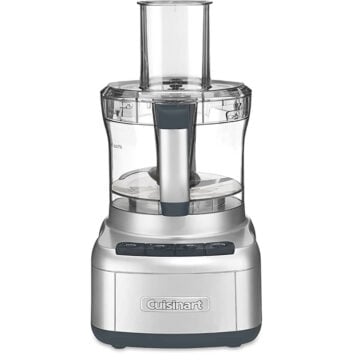 (affiliate link)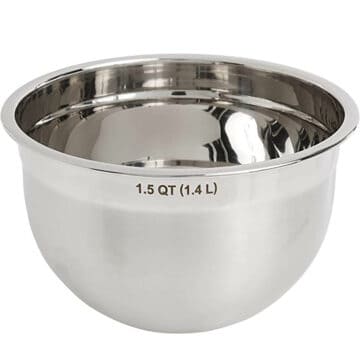 (affiliate link)
Directions
Choose the food processor's plastic spinner (not the blade, which works best with dough).
Make the Dough
Combine dry ingredients. the flour, salt, and sugar in a food processor. Pulse briefly to combine.

1 ¼ cups all-purpose flour,

½ teaspoon fine sea salt,

½ teaspoon brown sugar cane

Add the cold vegan butter (or margarine) cubes with 2 tablespoons of ice water and turn on at a low speed.

3.5 oz vegan butter,

2 tablespoons ice water

Add the remaining butter through the shut and pulse until it is crumbly.

Test the dough with your fingertips. If it holds together, it's ready. Add another 1 tablespoon of water if necessary. With 2 total tablespoons, mine is always spot-on; it's up to you.

Knead. Take the dough out, knead it for a few seconds with your hands, and no more than 30 seconds because the heat from your hands may cause the vegan butter to melt.
Chill in the fridge
Wrap. If it starts to get sticky, immediately wrap it with plastic wrap.

Allow chilling for one hour or up to three days.
Stretch in pie pan and Bake
Use. When you're ready to use the dough, let it sit on the counter for about 15 minutes to make it easier to handle.

In case you are also using a top crust for your pie, I like to begin with the bottom crust and leave the second one in the fridge while I work on the first one on the pie pan if I'm making a double-crust pie.

Simply drop the dough, without stretching it out on a plate or tray first, into the pie dish. It will most likely be crumbly at first, but it will soften and easily stretch in seconds.

Continue to stretch until you have draped the entire dish with the dough. The pie plate does not need to be greased or dusted. Follow the video and drawing instructions for details on how to make it.

Pinch. I also like to pinch the dough all over with a fork to ensure that the heat is distributed throughout it.

Bake. Proceed with your pie recipe. Bake for 55-60 mins, or until it looks lightly golden brown. Turn off the oven and you can let it sit in the oven for 10 minutes with the door slightly open, ensuring your chosen mix sits and you have a fully cooked crust.
Notes
Note: If you're making a double-crust pie, double the quantities.
Nutrition Facts
Calories:
144
kcal
Carbohydrates:
15
g
Protein:
2
g
Fat:
8
g
Saturated Fat:
2
g
Polyunsaturated Fat:
2
g
Monounsaturated Fat:
3
g
Trans Fat:
1
g
Sodium:
226
mg
Potassium:
24
mg
Fiber:
1
g
Sugar:
1
g
Vitamin A:
474
IU
Calcium:
3
mg
Iron:
1
mg
Nutrition Facts
Vegan Pie Crust (No-Roll)
Amount per Serving
% Daily Value*
* Percent Daily Values are based on a 2000 calorie diet.
🌡️ Food safety
Cook to a minimum temperature of 165 °F (74 °C)
Do not use the same utensils on cooked food that previously touched raw meat
Wash hands after touching raw meat
Don't leave food sitting out at room temperature for extended periods
Never leave cooking food unattended
Use oils with high smoking points to avoid harmful compounds
Always have good ventilation when using a gas stove
See more guidelines at USDA.gov.
The information shown is an estimate provided by an online nutrition calculator. It should not be considered a substitute for a professional nutritionist's advice. See our full Nutritional Disclosure here.
Please note that some of the links here are affiliate links, and I will earn a commission if you purchase through those links. I recommend all of the products listed because they are companies I have found helpful and trustworthy.