Summer is a time for enjoying the outdoors, cookouts with friends and family, and lots of delicious fruit. One of my favorite things to enjoy during the summer is this refreshing Watermelon Smoothie Recipe. This recipe is super easy to make and just requires three ingredients: watermelon, ginger, and mint. Give it a try!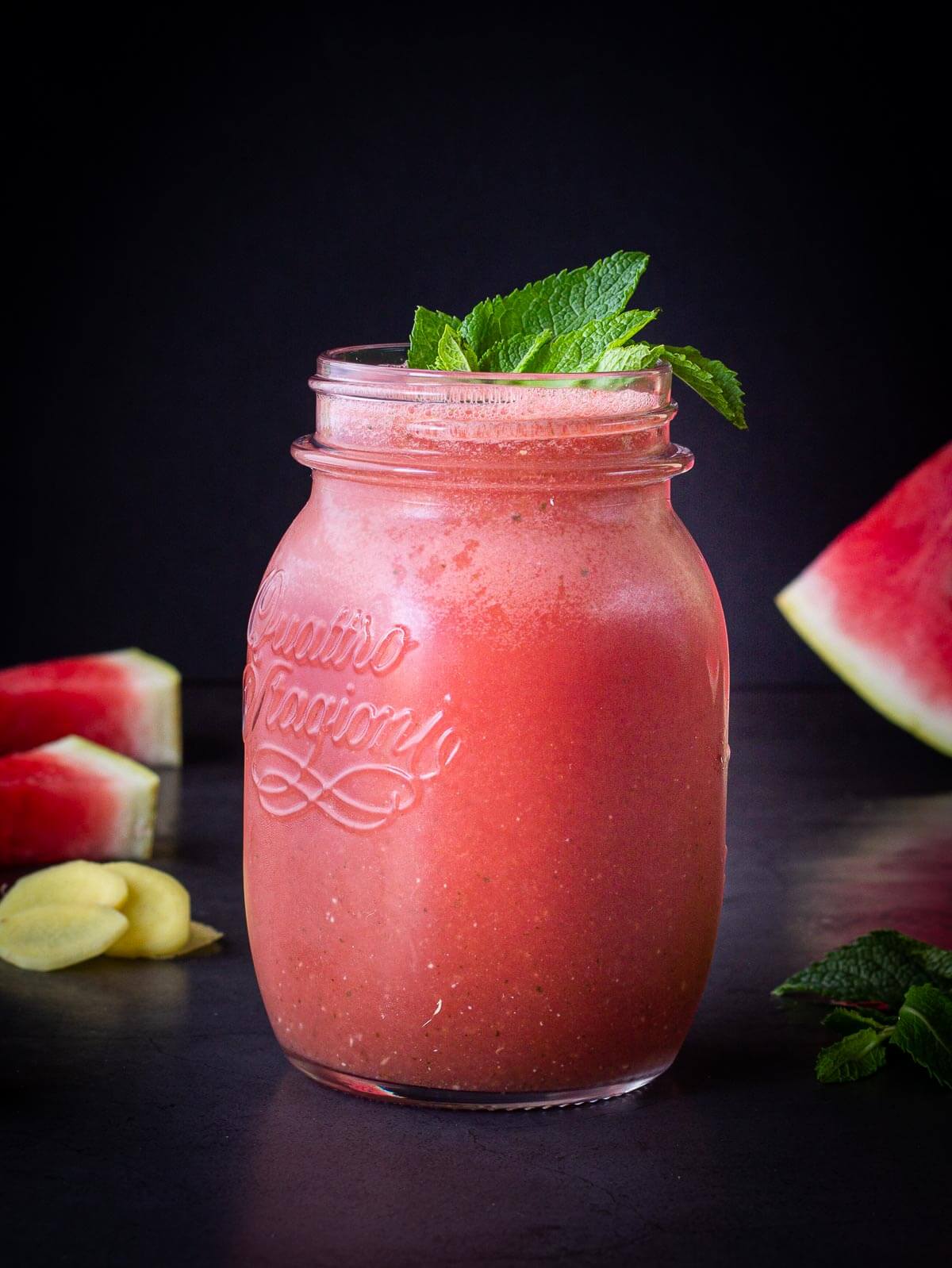 If you are looking for an excellent summer idea, or simply watermelon recipes to use that big chunk of fruit you just bought, this healthy watermelon smoothie recipe is your ally.
If you are thinking... pff! I first need to get rid of the watermelon seeds, I have news for you! You can not only safely consume watermelon seeds but they have a high nutritional value.
As a cherry on top, you will enjoy all the benefits of watermelon seeds. and great for blood pressure. You won't even taste them!
This is a sister recipe of another fabulous watermelon drink favorite in the house, which features nothing less than passion fruit!
Jump to:
🧾 Ingredients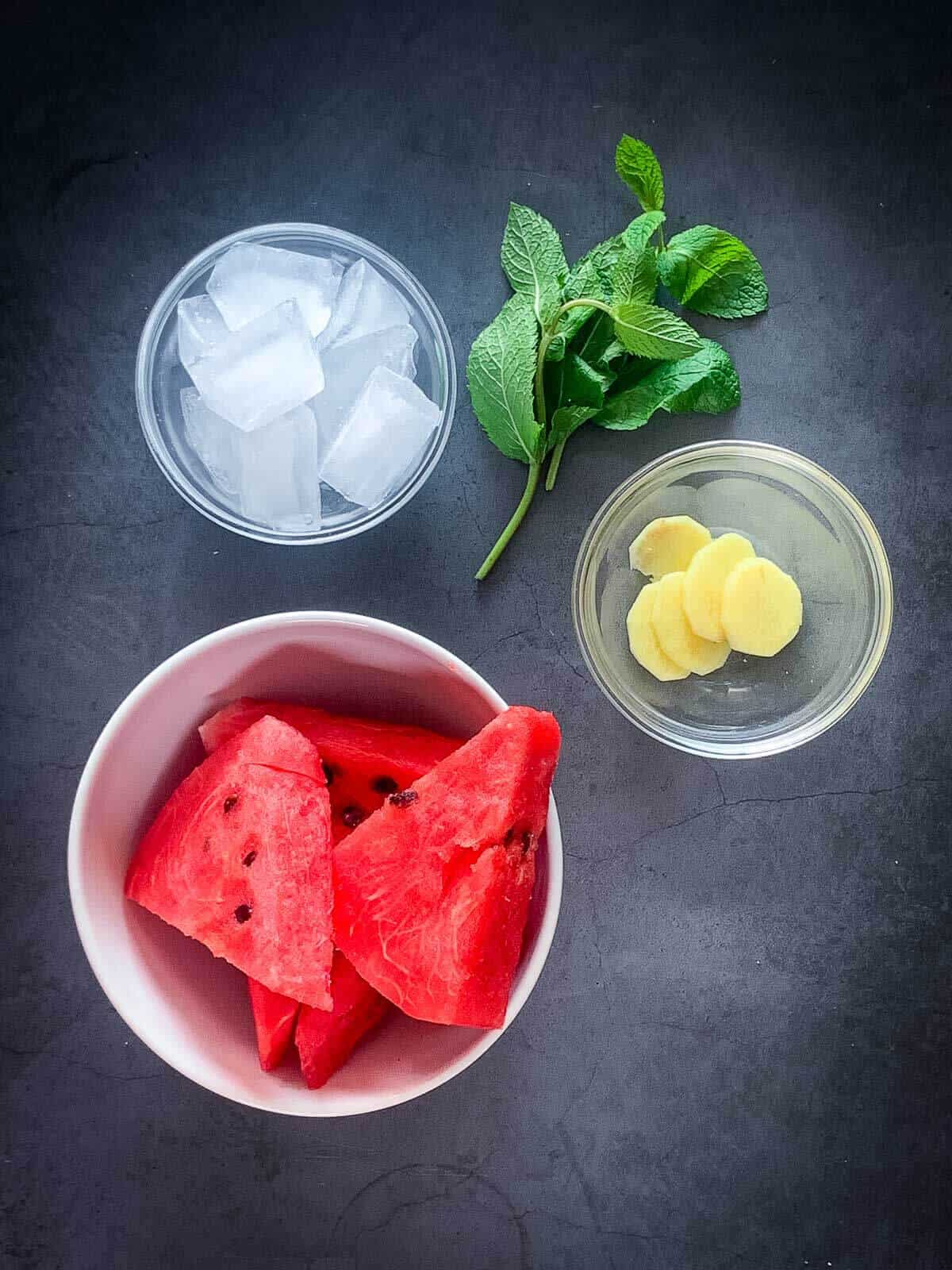 This Watermelon Smoothie Recipe is made with only two real food ingredients plus one optional. My favorite fresh fruit smoothies are made with fresh produce and are ready in less than 5 minutes.
Watermelon
Ginger
Ice
Mint (optional)
We make large quantities and store them in the refrigerator. With hot weather, it flies!
🔪 Instructions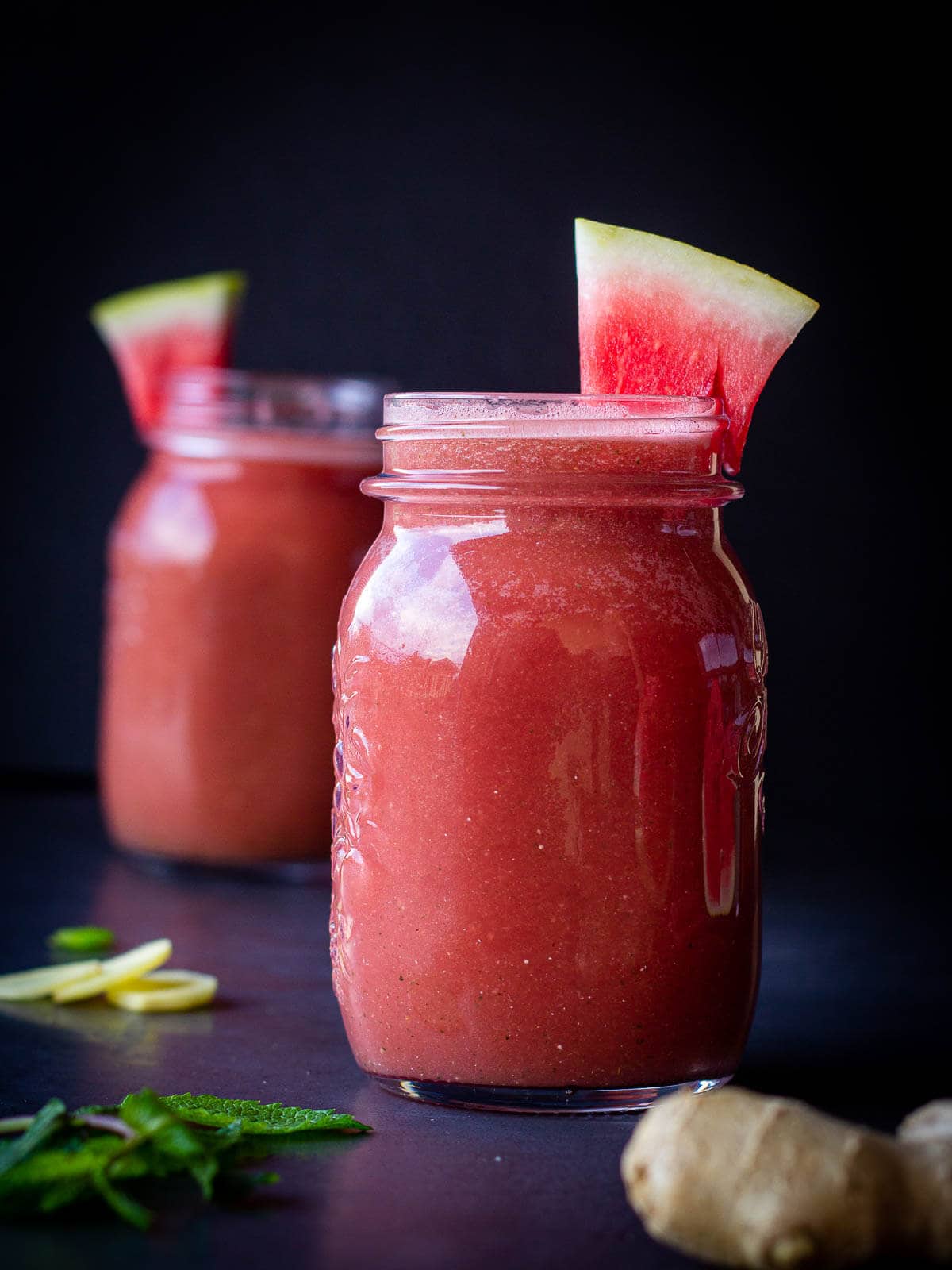 To make this super easy smoothie recipe follow these simple steps:
Step 1: wash and rinse your produce
Cut the edges of the watermelon. Only keep the red fruit flesh. There is no need to de-seed it (to eat watermelon seeds is safe and excellent for your skin health). Peel the ginger and coarsely chop it. You can optionally add fresh mint for extra freshness; if so, wash it and remove the stems.
Step 2: blend your ingredients
Add the ginger, watermelon and optional mint leave to a high-speed blender, along with ice and water.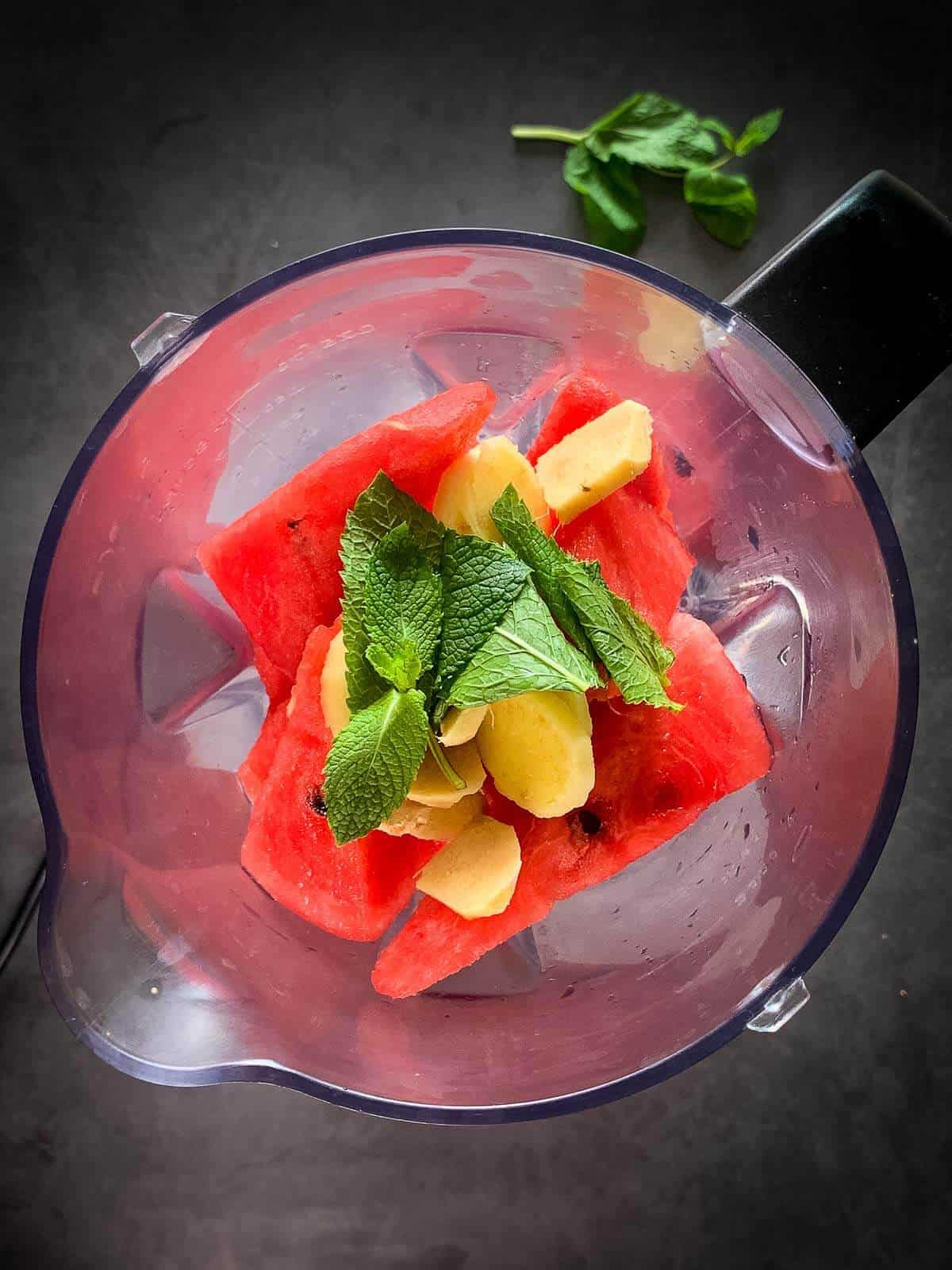 Step 3: store (if not drinking immediately)
You can reserve the juice for up to 2 days in a mason jar or closed bottle.
Hint: do not through away the watermelon rinds! Use them to make a delicious Spanish Gazpacho!
💡 Tips, replacements and suggestions
Ginger - We like the ginger flavor to be prominent. Feel free to adjust the quantity to your liking. We find that ginger is what makes this juice truly different.
Sweetness - we find that the sweetness from watermelon is enough. However, when we first drank this in Barcelona, as they added tons of ice, they also added a lot of sugar. That makes it unhealthy.
If you want to add some sweetness, we recommend adding maple syrup or agave syrup. These are natural sweeteners and have a lower glycemic index than sugar.
Mint - I started adding mint because I love it, and it is a way to add more freshness in the summertime and also a little colorful, which is very healthy. Find how to make a delicious mint pesto.
Cucumber - when we want to change things up, we replace some of the watermelon cubes with cucumber, which is equally hydrating and adds additional flavor notes, vitamins, and minerals. Look at this Hangover juice using cucumber, the best recovery juice.
Lime juice - if you like some acidity in your juicy fruit, plus adding some extra Vitamin C, you can squeeze some lime juice or lemon juice in.
📝 Notes on color
Ice. The more ice you add, the less pink it will look, as ice adds white notes to the smoothie. As soon as it melts, you will see that it becomes pinker.
Mint. The only downside of adding mint is that it may change a bit the smoothie's color. Your smoothie will be less pink. If you are all about the looks, you can simply top the glass with some mint leaves. It will still make you smell it and taste it.
Remember, without smell, there is no taste. Garnishing is always a way to add flavor to your meals.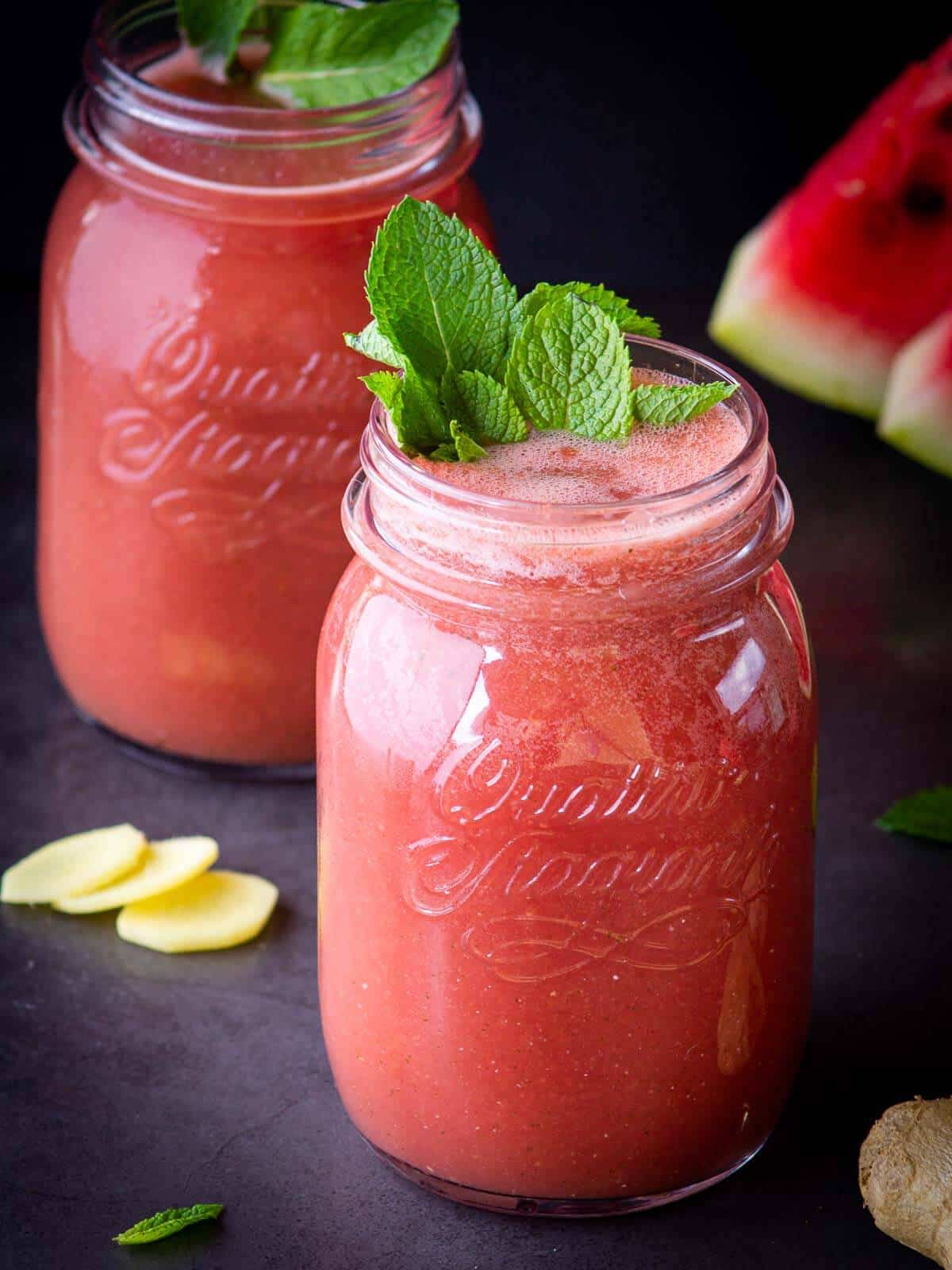 💚 Health benefits of watermelon juice
This Watermelon Smoothie or Juice (depending on how much ice, you blend in) has a vast array of benefits. Let's dig into the details!
Health benefits of watermelon
These are 7 Benefits of Watermelon that make it one of the best fruit smoothies as it has a High-Reward/ Low-Calorie Ratio.
Helps You Hydrate
This is the most apparent benefit of watermelon, as we know this watery masterpiece of nature is 92% water. Pretty close to water itself!
May Lower Oxidative Stress and Inflammation
Now things start to get more interesting, as so many things cause inflammation in our bodies. Unhealthy food and even exercising are some of the reasons. Inflammation is natural, as it is part of the regeneration mechanism of our bodies.
Nevertheless, we need to keep it in line, as a continued state of inflammation is not healthy nor comfortable, especially when summer arrives! Our celery juice recipe is also a great resource to fight inflammation.
May Prevent Macular Degeneration
A common eye problem that can lead to blindness in older adults, and watermelon have healthy lycopene compounds that may help keep our eyes healthy.
May Help Relieve Muscle Soreness
We all should work out, less or more, depending on our goals. After exercising, especially if we do for long periods, or lift heavyweight, our body feels sore after a couple of days. Watermelon is here to help, as it has Citrulline, an amino acid that may reduce muscle soreness.
Also, watermelon juice enhances the absorption of this amino acid commonly used in supplements, making it particularly helpful in the area.
Suitable for Hair and Skin
Watermelon benefits for skin and hair derive from their rich content of Vitamin A and C, which help repair skin cells and help your body create collagen, respectively. As watermelon contain both beta-carotene and lycopene, it can also help protect your skin from sunburn.
All great benefits come in very handy in the summertime.
It may help Improve Digestion
A large amount of water present in watermelon, along with its less prominent fiber, makes it a good partner for our digestive health.
Packed with vitamins
Lastly, if you are wondering which vitamins are present in watermelon? Great news, this low-calorie count fruit is an excellent source of Vitamin C, Vitamin A, Potassium, Magnesium, and in lower amounts, Vitamins B1, B5, and B6.
Watermelon also has many healthy Antioxidants, like Cucurbitan C and the previously mentioned lycopene, and Vitamin C.
Immune system booster
According to a study, watermelon is a rich source of citrulline, these amino acids can be turned into arginine. Arginine is important for human health because it helps make nitric oxide. Nitric oxide helps keep our hearts and immune systems working well.
Those are a lot of benefits packed in your watermelon shake!
Read on: Drinks to boost the immune system »
Additional health benefits of mint and ginger
Additionally, the Ginger in this recipe is a great anti-inflammatory and immune system, partner.
Finally, guess what? Mint is also an anti-inflammatory and digestion aiding. Mint is are rich in calcium, phosphorus, and vitamins A, C, D, and E helping improve our body's immune system.
Is it ok to blend watermelon seeds? Yes!
Benefits of watermelon seeds
Eat watermelon seeds blending them into your watermelon smoothie to get some serious perks!
Benefits for hair. These seeds are great sources of copper, iron, and magnesium. Copper helps to boos melanin production keeping your hair silky and promoting hair growth. Magnesium and iron help with hair loss and problems with thinning hair.
Boosting energy. The essential fatty acids present in watermelon seeds are a great source of essential nutrients that help to boost your metabolism.
Benefits for your skin. The nutrients present in these little friends moisturize your skin and prevent acne, dry skin, dullness, and signs of aging. Also, these nutrient-dense chicks are packed with antioxidants that help fight free radicals and make your skin looks bright.
Heart health. Watermelon seeds also provide a good source of polyunsaturated fatty acids. As per the American Heart Association, these good fats are useful to protect us from heart attack, stroke, and heart disease and help lower "bad" cholesterol levels and keep our blood vessels healthy.
Blood Sugar Control. Watermelon seeds help reduces insulin resistance and maintains blood sugar levels.
Read on:
Vegetable Juice for Diabetics »
Pomegranate Juice (diabetic-friendly juice) »
I don't know about you, but this summer, I want to ensure:
My body's immune system is powered up
I want to keep inflammation inline
My skin and hair to be well nurtured
Make sure I have no digestion issues while
keeping myself hydrated with a
low caloric drink packed with antioxidants and made in minutes.
This watermelon smoothie seems to be the answer!
❓ FAQ
Does watermelon cause inflammation?
Watermelon contains a chemical called "citrulline" which essentially is an amino acid that gets converted into another chemical called "arginine".
Arginine is needed for the smooth working of our body in many ways. however, excessive citrulline can cause inflammation in some people. this usually happens when watermelon is consumed in large quantities.
🥤 More refreshing smoothie recipes
If you are into working out, make sure you take a look at our ultimate Post Work Out Smoothie, with all the tips to making it perfect with variations, and also our Beetroot and Celery Juice, the ultimate Pre work out Juice.
Thinking about growing your own Watermelon and some cool tips on Juicing and Freezing it, check out the Minnetonkaorchards helpful post!
⭐ If you try this recipe, let us know! 💬 Leave a comment, rate it, and don't forget to tag us @ourplantbasedworld on Instagram. Cheers!
📋 Recipe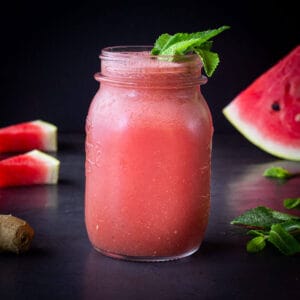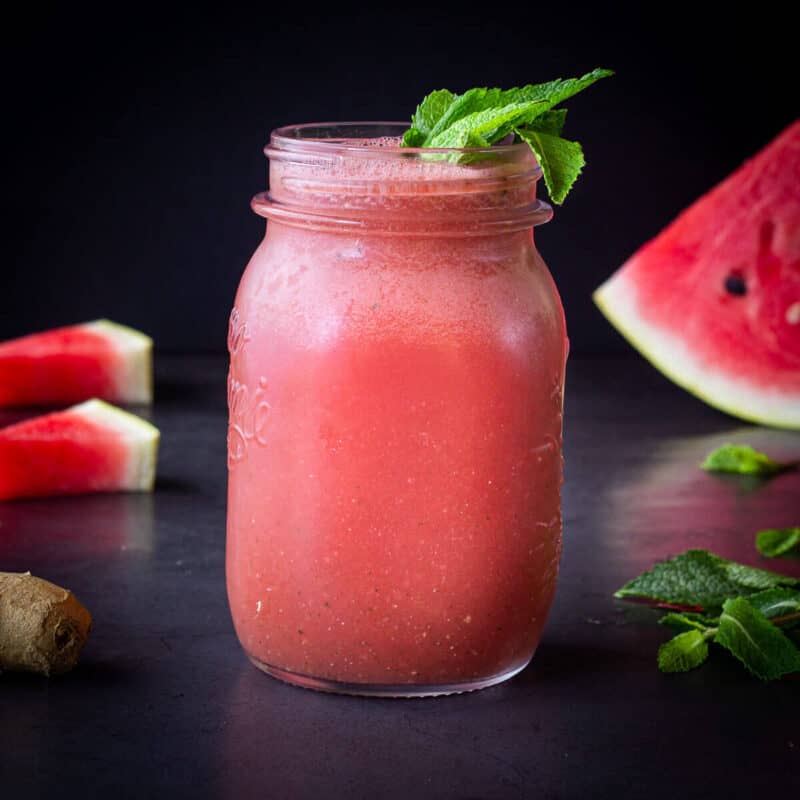 Watermelon Smoothie Recipe
This 3-ingredient Summer Watermelon Smoothie is Refreshing and your smart bet to fight inflammation, hydrate, and relieve muscle soreness after a beach run.
Equipment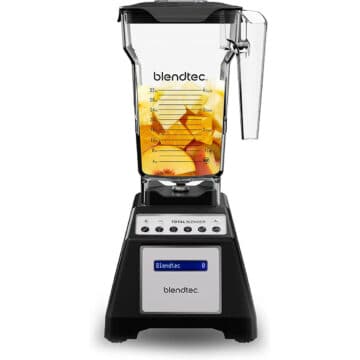 (affiliate link)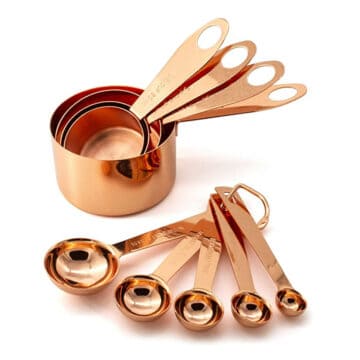 (affiliate link)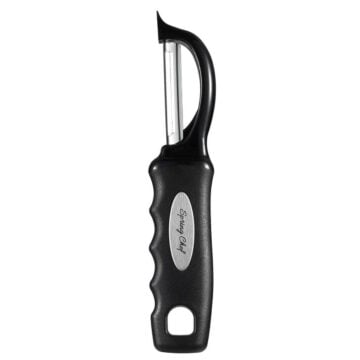 (affiliate link)
Ingredients
30

oz

watermelon

cubed, fresh or frozen

4

oz

ginger

fresh, see notes.

15

oz

ice cubs

10

oz

water
Directions
Cut the watermelon chunks; then cut and peel the ginger knob and measure water.

In a blender, add all the ingredients.

Blend until smooth, about 30 seconds.

For a thicker smoothie, add more watermelon or ice. For a thinner smoothie, add more water (it will affect sweetness). Taste and adjust flavor as needed, adding more watermelon or agave syrup for sweetness.For a thicker smoothie, add more ripe pear, frozen banana, or peac

Serve immediately. Smoothie leftovers will keep in a covered mason jar in the refrigerator for up to 2 days, though best when fresh.
Notes
You can use frozen watermelon as well.
There is no need to de-seed the watermelon. The seeds will decant on their own. Also, watermelon seeds have great health benefits.
Ginger: some ginger roots are stronger and more pungent than others. If using strong ginger, start using half the recommended quantity.
Nutrition Facts
Calories:
59
kcal
Carbohydrates:
14
g
Protein:
1
g
Fat:
1
g
Saturated Fat:
1
g
Polyunsaturated Fat:
1
g
Monounsaturated Fat:
1
g
Sodium:
11
mg
Potassium:
251
mg
Fiber:
1
g
Sugar:
9
g
Vitamin A:
913
IU
Vitamin C:
13
mg
Calcium:
23
mg
Iron:
1
mg
Nutrition Facts
Watermelon Smoothie Recipe
Amount per Serving
% Daily Value*
* Percent Daily Values are based on a 2000 calorie diet.
Nutritional Disclaimer
The information shown is an estimate provided by an online nutrition calculator. It should not be considered a substitute for a professional nutritionist's advice. See our full Nutritional Disclosure here.
Affiliate Disclaimer
Please note that some of the links here are affiliate links, and I will earn a commission if you purchase through those links. I recommend all of the products listed because they are companies I have found helpful and trustworthy.