Did you have a few too many drinks last night? We all know that feeling, and it's best to avoid the hangover symptoms by drinking plenty of water before bed and having this hangover juice as soon as you wake up.
If you are experiencing symptoms in the morning, then try this hangover juice recipe that contains ingredients like lemon, ginger root, cucumber and pineapple. This will help with your dehydration as well as make sure you are getting enough vitamins throughout the day!
What juice is good for a hangover?
Hangovers are frequently caused by dehydration, fast Liver Detoxification, electrolyte imbalances, and a sick gastrointestinal tract, after having too much alcohol.
If you know what these symptoms are then it's easier to fix them. We'll discuss how this recipe will help with that!
It's always a good idea to make sure you're well-hydrated before drinking alcohol. If you know that you're going to drink, then it's important to drink lots of water beforehand and take care not to mix your drinks with other beverages like juice or soda (unless they're made with seltzer).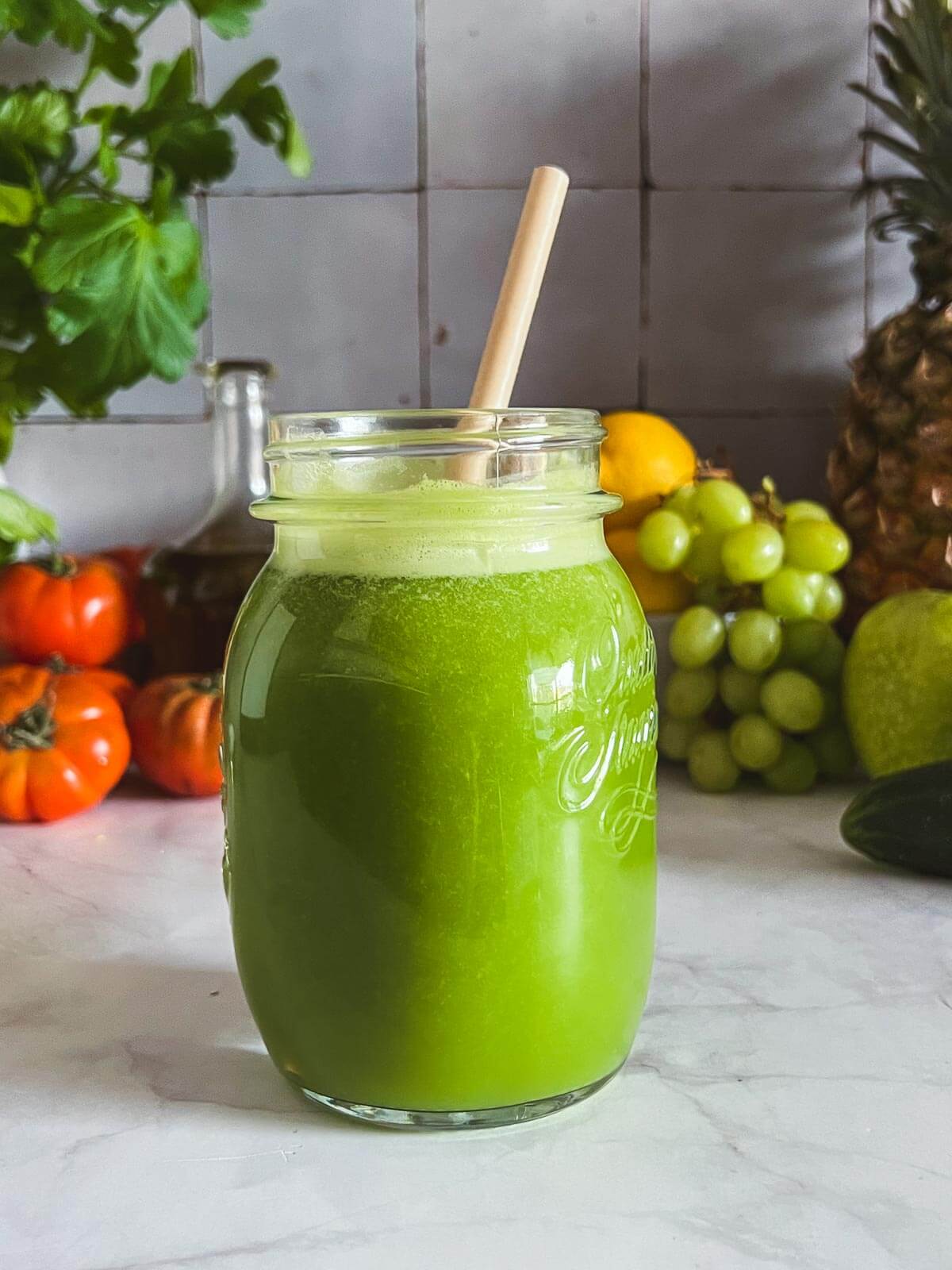 Drinking plenty of fluids throughout the night is also key because alcohol will dehydrate your body - so if possible, try and alternate between alcoholic and non-alcoholic drinks.
The last thing you want is for your liver detoxification system to be overactive frequently leading to symptoms like nausea and vomiting!
If you have problems with digestion or need to detox after over-indulging on foods and alcohol, juices can also offer great help!
Does Juicing help hangovers?
Juicing helps to get a lot of nutrients, vitamins, and minerals in your body right away, without stressing your body with tough digestion. Also, it is easier to get it into your body than solids, which might still cause nausea.
If you are still asking yourself: is juicing good? We recommend reading our article which uncovers all the details you should know, unbiased!
Ingredients
How to make the perfect hangover juice
This hangover juice will help feel and instant relief since it is packed with a great selection of needed antioxidants to replenish your body.
Pineapple
Cucumber (or equivalent quantity in watermelon rinds)
Green apple
Lemon (or an orange)
Parsley
Green grapes, seedless
Optional: fresh ginger
See quantities and full instructions in the recipe card.
Instructions
Chop all the ingredients to pass them through the juicer in small to medium pieces as shown.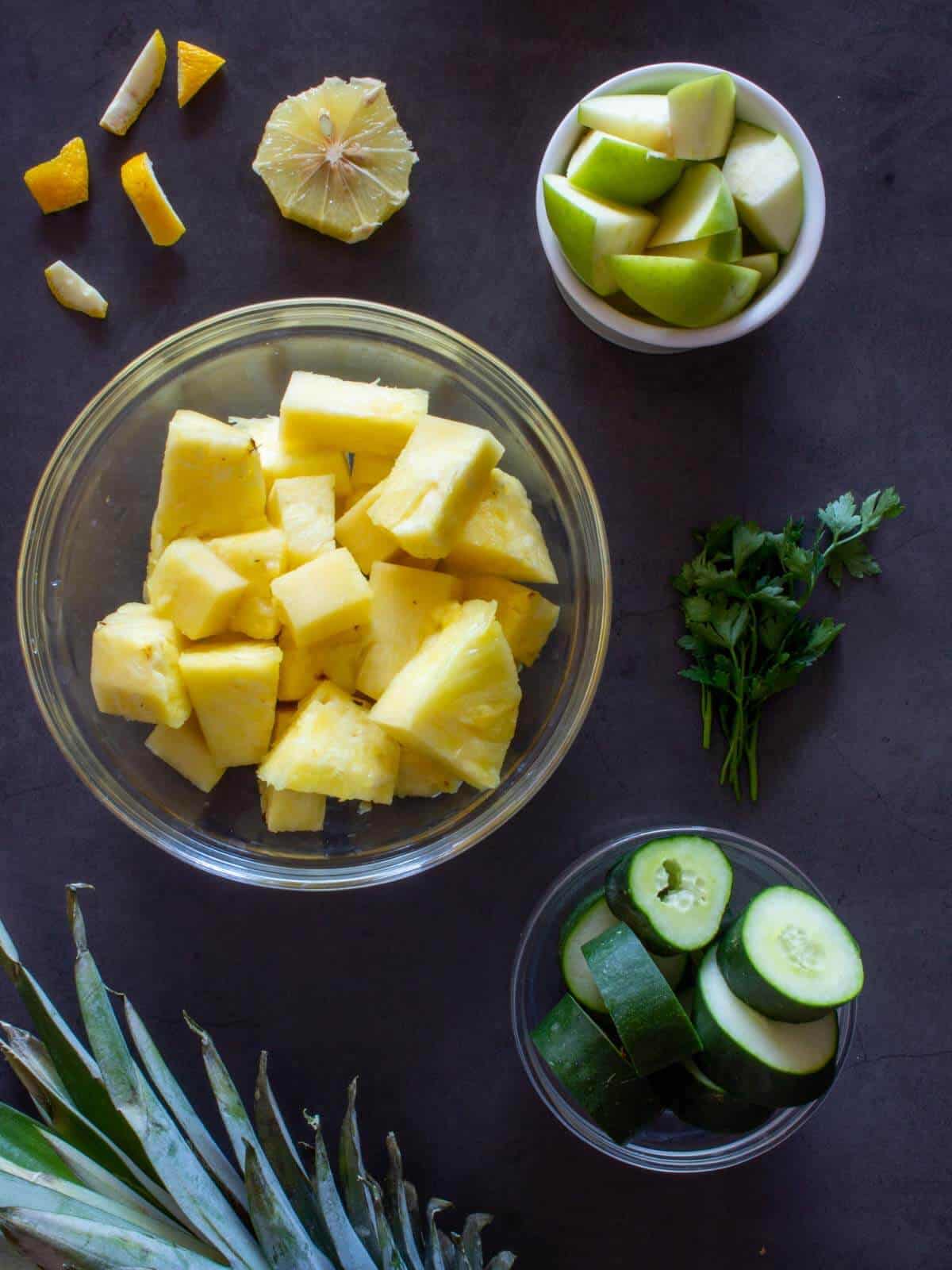 Get an excellent Cold-Pressed juicer; it will be one of the best investments you have made in the year! Trust me! Make sure you check the juicer's instructions before starting, as many juicers have different working mechanisms.
If you don't have a juicer, you can also make juices, following these simple tips on juicing without a juicer plus three delicious recipes.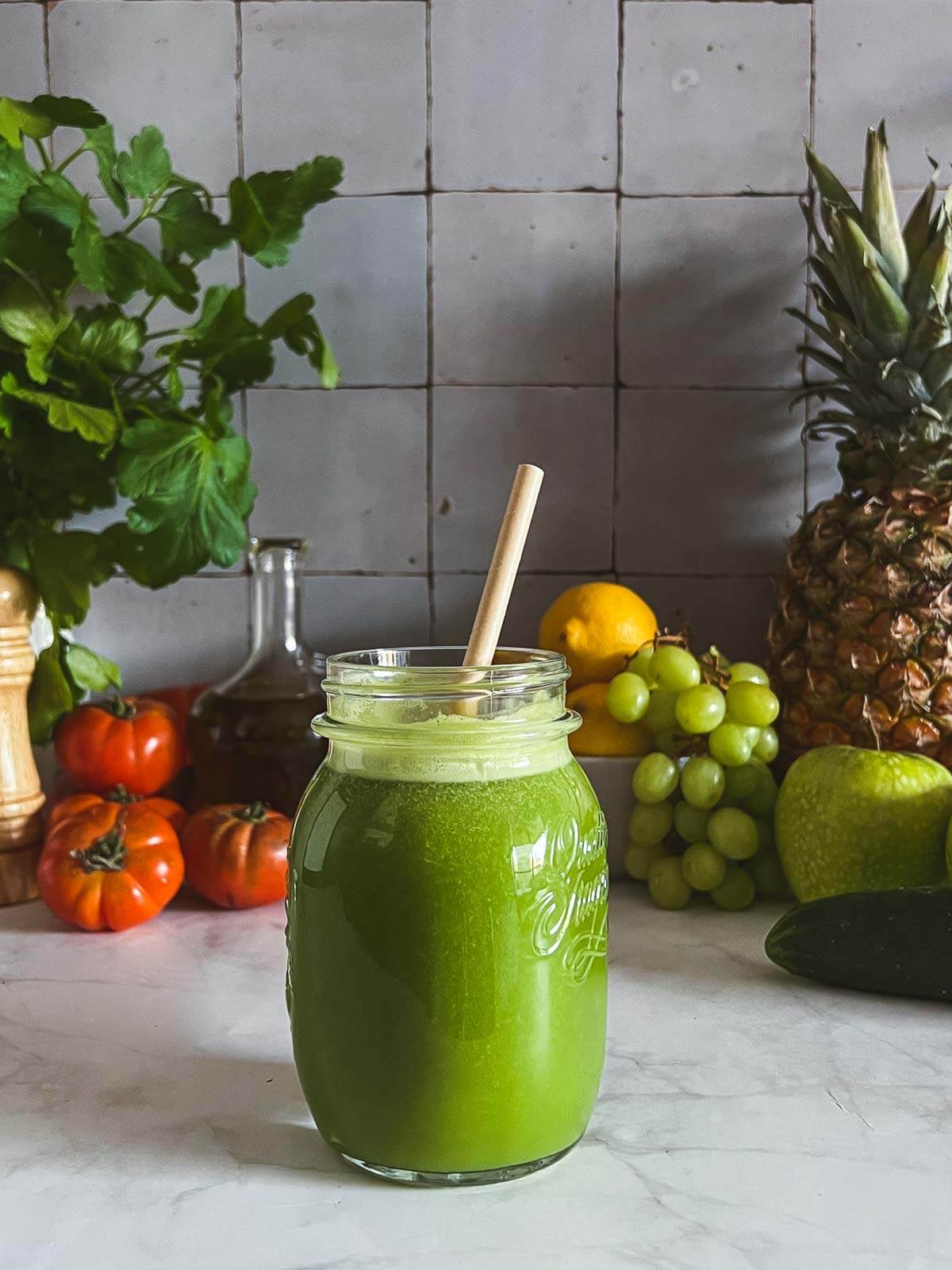 21 ingredients that help to cure a hangover
To prevent overdrinking , it's crucial to eat while consuming alcohol and keep appropriately supplied hydrated. There are suggestions for reducing the severity or stopping it from happening with the right tools and additions and making excellent natural detoxification pathways.
So if you choose to juice as a natural recovery tool, you need this particular hangover juice containing vitamins and vital nutrients.
Evidently water.
Alcohol has notoriously destroyed the water in your body as well as essential nutrients. After a night of sleeping, Dehydration is dangerous and may cause dizziness, fatigue, vomiting, fever. Make sure you drink a glass of 8oz water between tequila shots the following day, and then put the tequila out.
Coconut water.
Alcohol-induced dehydration can be quite severe , so being hydrated is key. Coconut water contains electrolytes and when added to this juice recipe, it makes a perfect hangover treatment.
Pineapple or fresh fruit in any form is great for your body! A natural energy source containing vitamins that treat deficiencies in the morning after a night of drinking.
Miso soup
Our body requires a little sodium for nerve and muscle function, as well as fluid balance. Fermented soybeans contain plenty of salt and probiotics, and antioxidants that help soothe digestion and fight illness. An intense boozing reduces another important electrolyte: sodium.
Grapes
Grapes are a wonderful source of potassium that will help your body recover. They contain high levels of antioxidants to reduce cell damage and slow down aging! Also hydrating the cells with essential fluids is crucial after drinking alcohol excessively for many hours.
Ginger
Ginger's antioxidants will help treat nausea as well as an ingredient that will help to reduce your symptoms.
Lemon juice
Lemons are a great source of vitamin C, which can help your body get rid of alcohol's toxic byproducts more efficiently. Lemon works incredibly well for storing your liver, helping it metabolize this ethanol in your system.
Apple juice
Apple juice is filled with Vitamin C and potassium. Drinking apple juice the morning after a night of drinking will help you to recover from dehydration as well as aid in your recovery! Here's a great juice including apples and carrots.
Carrots
Carrot's beta-carotene in carrots helps with hangovers, and their natural sweetness makes them less like dressings. Carrots are high in carotenoids that are believed to exhibit anti-inflammatory benefits along with providing natural sweetness.
Beets
Beet juice contains betaine containing a substance that reduces inflammation. Beet juice by itself is gross but is an excellent way to get the required vitamin C and good taste of life, adding pineapple makes it delicious. The liver faces a lot of physical stress. Here's a great detox juice including beets and pineapples.
Ginger
This extraordinary root helps alleviate nausea, and Take some water and add slices of fresh ginger and water / lime. Ginger is another good idea that helps with nausea and will make this drink taste amazing!
Cucumber
Cucumber is excellent for rehydration, so it will help you stay hydrated. Cucumbers also contain magnesium which is a muscle relaxer that can be helpful with the aches and pains of hangovers as well as a watermelon! Here's a delicious cucumber juice recipe.
Watermelon Juice
The high water content in this summertime favorite makes it a great source of antioxidants and hydration. It also offers natural sugar to boost blood sugar levels. Watermelon contains an enzyme called citrulline that helps reduce inflammation, which can help to reduce hangover symptoms. Try this delicious watermelon and ginger smoothie, or watermelon and passion fruit juice.
Strawberry
Strawberries are full of vitamin C, which can help your body get rid of alcohol's toxic byproducts more efficiently.
Pineapple
Along with the sweetness it offers to help relieve low blood sugar levels, the bromelain found in pineapples may aid in lowering high levels of inflammation.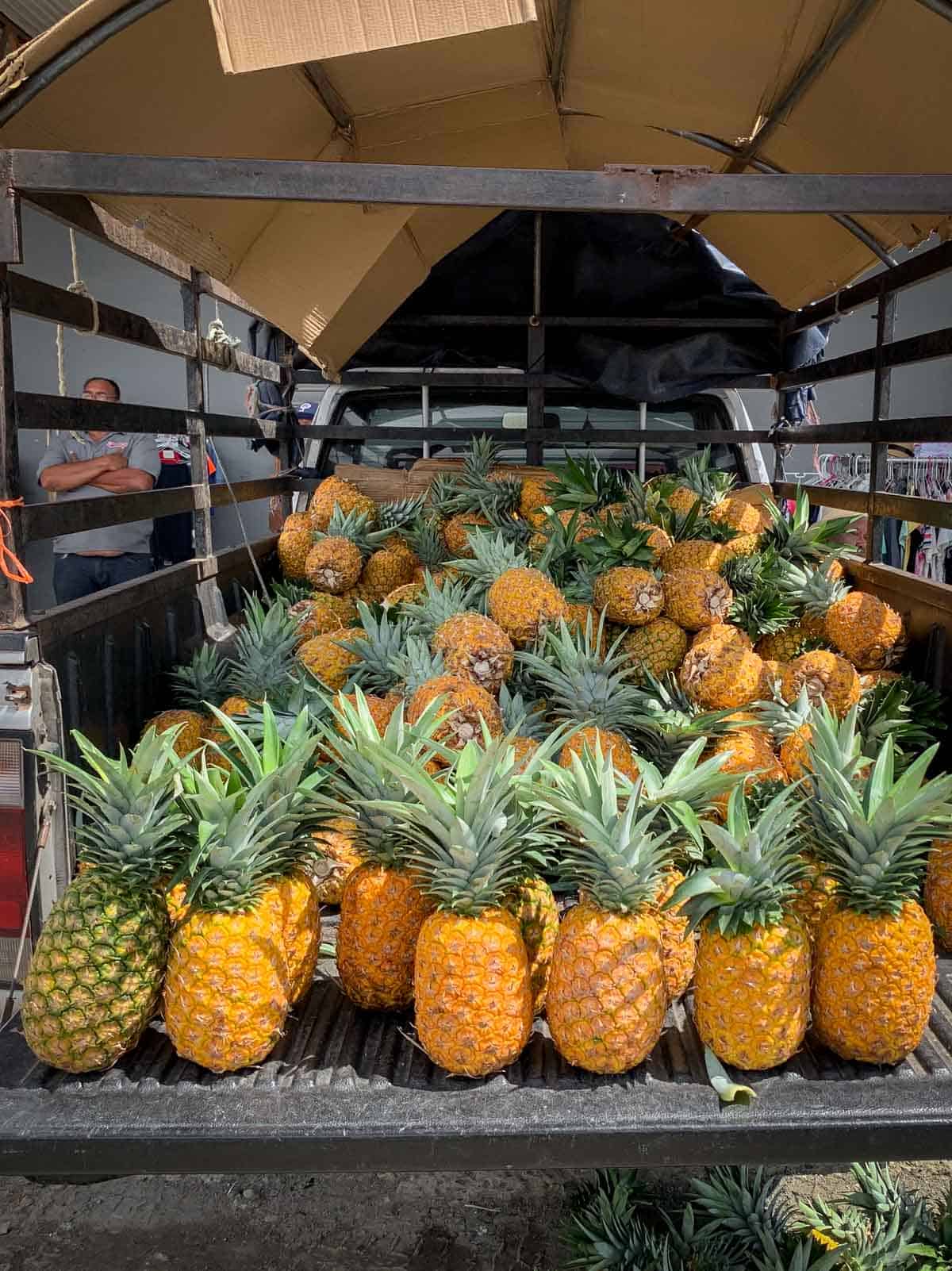 Dark Leafy Greens
Spinach and other leafy greens, like kale, include minerals and especially B vitamins that can assist with hangover prevention and treatment by promoting the synthesis of various neurotransmitters in your brain. This simple kale green juice will surely help.
Tomato
For a reason, Bloody Marys are such a popular brunch beverage! Tasty tomato juice with salt may also help to alleviate a hangover. Tomato juice helps your body metabolize and break down alcohol more efficiently meaning it will not stay within your body as much longer. Also having a drink the next morning may lessen hangover symptoms.
Turmeric
This healthy root promotes liver detoxification and has a powerful anti-inflammatory effect. It is also beneficial for reducing pain and inflammation. It contains curcumin, which has been shown in studies to protect liver cells against alcohol damage and prevent them from being damaged by other harmful chemicals. Golden Milk is a great way to drink your turmeric.
Fennel Juice ot tea
It has a soothing effect on the digestive tract with its anti-inflammatory properties. It also is said to reduce inflammation in your liver due to alcohol consumption.
Celery
Celery, like coconut water, supports electrolyte replenishment including sodium and hydration. Drink your morning celery juice to benefit from all celery's detox properties.
Parsley Juice or tea
It can help to prevent further intoxication and reduce some irritated gastrointestinal system discomfort symptoms. Parsley contains compounds that act as antioxidants. It also helps detoxify any chemicals leftover from alcohol consumption in your liver!
Cabbage
Cabbage juice helps flush any leftover toxins out of your liver and helps to restore its normal condition. Pineapple juice also restores your blood sugar levels to normal functions.
Orange
Is Orange Juice Good for hangover? Because orange juice has an acid-neutralizing effect when it's metabolized and delivers potassium, Strang says, it's an A+ hangover hydrator.
When you wake up the next day after a night of drinking, it's not uncommon to feel dehydrated and sluggish.
To avoid these hangover symptoms, drink plenty of water before bed and have this easy recipe for hangover juice first thing in the morning. After all, your body needs fuel too!
Give this healthy juice a try today and see if it helps make your stomach ache go away faster than usual!
Also, try a Detox juice or a Juice for an upset stomach if your tummy needs some help!
If you try this recipe, let us know! Leave a comment, rate it, and don't forget to tag a photo #ourplantbasedworld on Instagram. Cheers!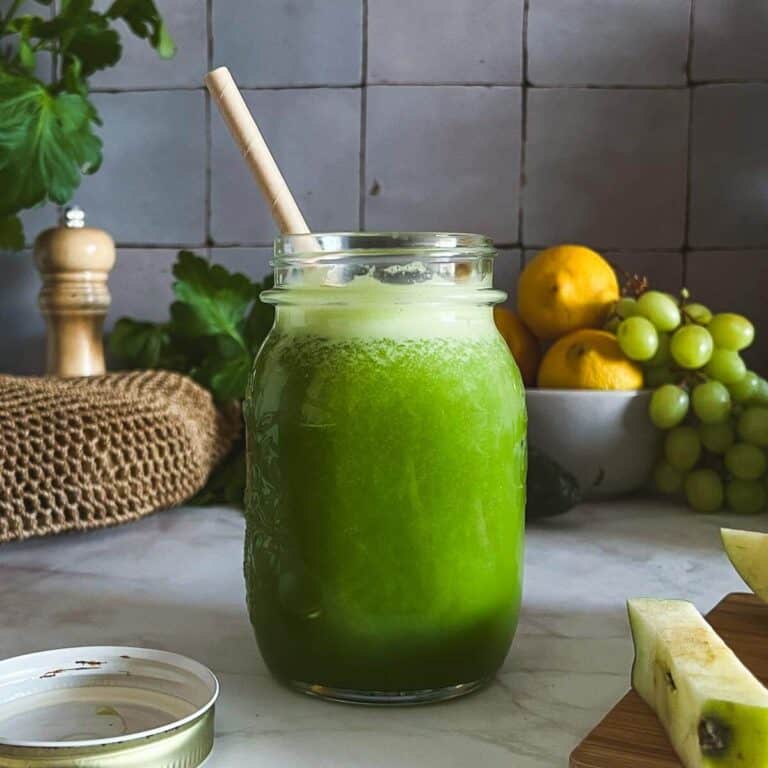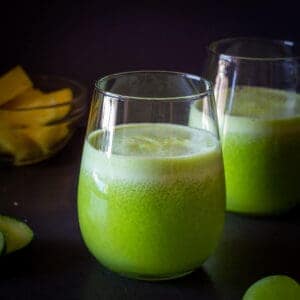 Recipe:The Best Hangover Juice Recipe to Make itGo Away Fast & Why
When you wake up the next day after a night of drinking, it's not uncommon to feel dehydrated and sluggish. To avoid these hangover symptoms, drink plenty of water before bed and have this easy recipe for hangover juice first thing in the morning.
Equipment
Ingredients
1

cup

pineapple

1

cucumber

or equivalent in watermelon rinds

1

green apple

½

lemon

or an orange

1

bunch parsley

1

cup

green grapes

seedless
Directions
PREPARE THE VEGETABLES and FRUITS
Wash all your vegetables and fruits thoroughly.

Coarsley chop the spinach and spinach leaves.

Chop the cucumber, pineapple, and ginger into thin pieces small enough to go through the juicer easily.

1 cup pineapple,

1 cucumber,

1 ginger

Cutaway the peel from the lime or lemon, leaving most of the white pith and lemon flesh. Cut into slices.
MAKE JUICE
Reserve about half of the lime.

Turn the juicer on and push everything through, alternating between the pineapple chunks and the firmer cucumbers pieces, grapes, and lemon.

1 cup pineapple,

1 cucumber,

1 green apple,

½ lemon,

1 bunch parsley

When everything but the reserved lemon has been juiced, stir the juice and taste for tartness. Add the remaining lemon if you feel it can take it.
Notes
Gus TIPS
Make-ahead: Fresh fruit and vegetable juice is best enjoyed soon after juicing, but you can make it a day or two in advance. Make sure to store in glass, airtight containers. In case you have used a cold-pressed juicer, you are cashing up the expense! It should last a little longer.
Nutrition Facts
Calories:
90
kcal
Carbohydrates:
23
g
Protein:
2
g
Fat:
1
g
Saturated Fat:
1
g
Polyunsaturated Fat:
1
g
Monounsaturated Fat:
1
g
Sodium:
12
mg
Potassium:
377
mg
Fiber:
3
g
Sugar:
16
g
Vitamin A:
1394
IU
Vitamin C:
53
mg
Calcium:
47
mg
Iron:
1
mg
Nutrition Facts
Recipe:The Best Hangover Juice Recipe to Make itGo Away Fast & Why
Amount per Serving
% Daily Value*
* Percent Daily Values are based on a 2000 calorie diet.
Pin for Later!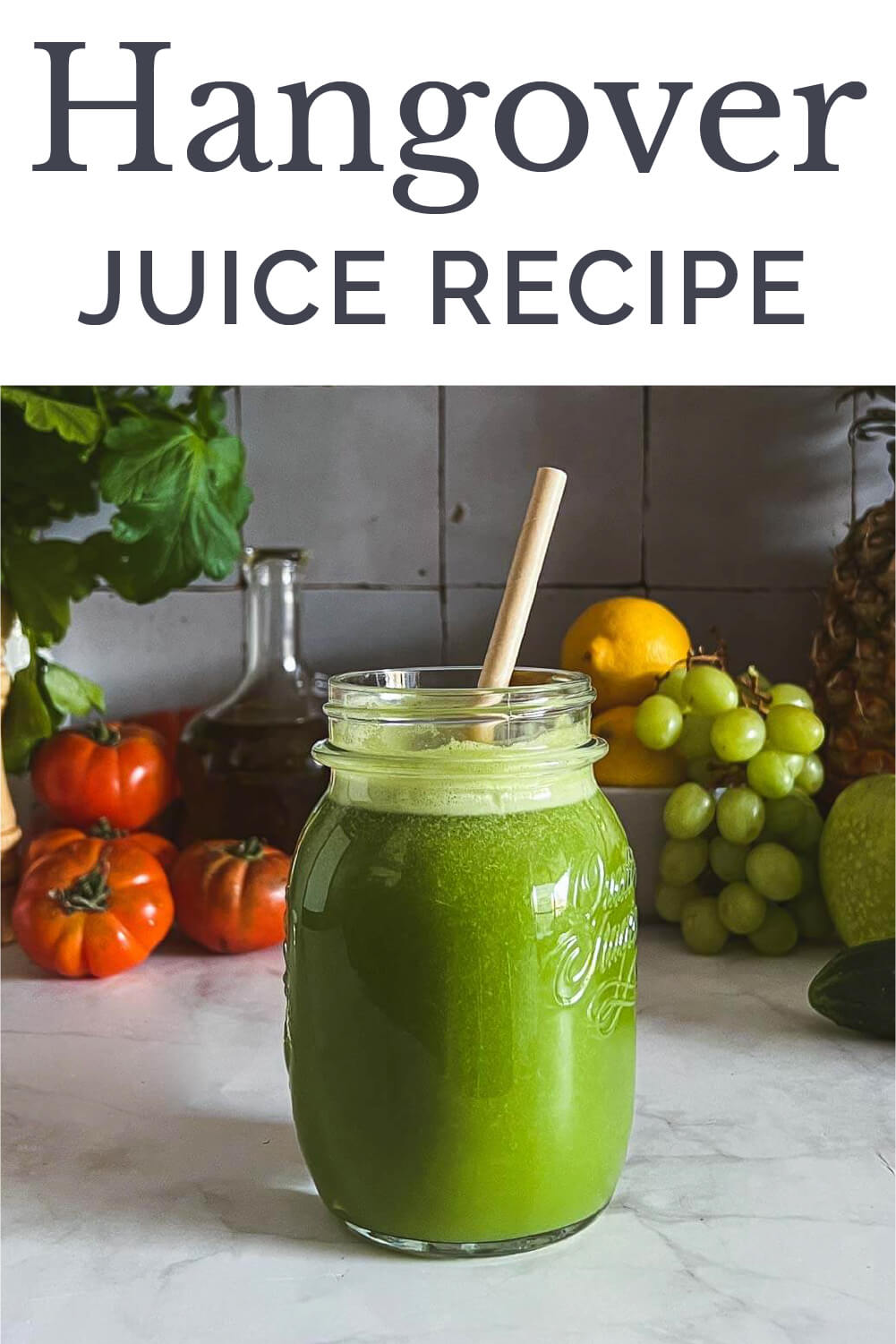 The information shown is an estimate provided by an online nutrition calculator. It should not be considered a substitute for a professional nutritionist's advice. See our full Nutritional Disclosure here.
Please note that some of the links here are affiliate links and I will earn a commission if you purchase through those links. I use all of the products listed and recommend them because they are companies that I have found helpful and trustworthy.