Have you ever wondered what watermelon and passion fruit juice can do for your health? Looking for passion fruit juice recipes? Come and learn about all the Health Benefits of Watermelon Juice and Passion Fruit. In this recipe, they come together as a Watermelon and Passion Fruit Smoothie, a fantastic flavor bomb!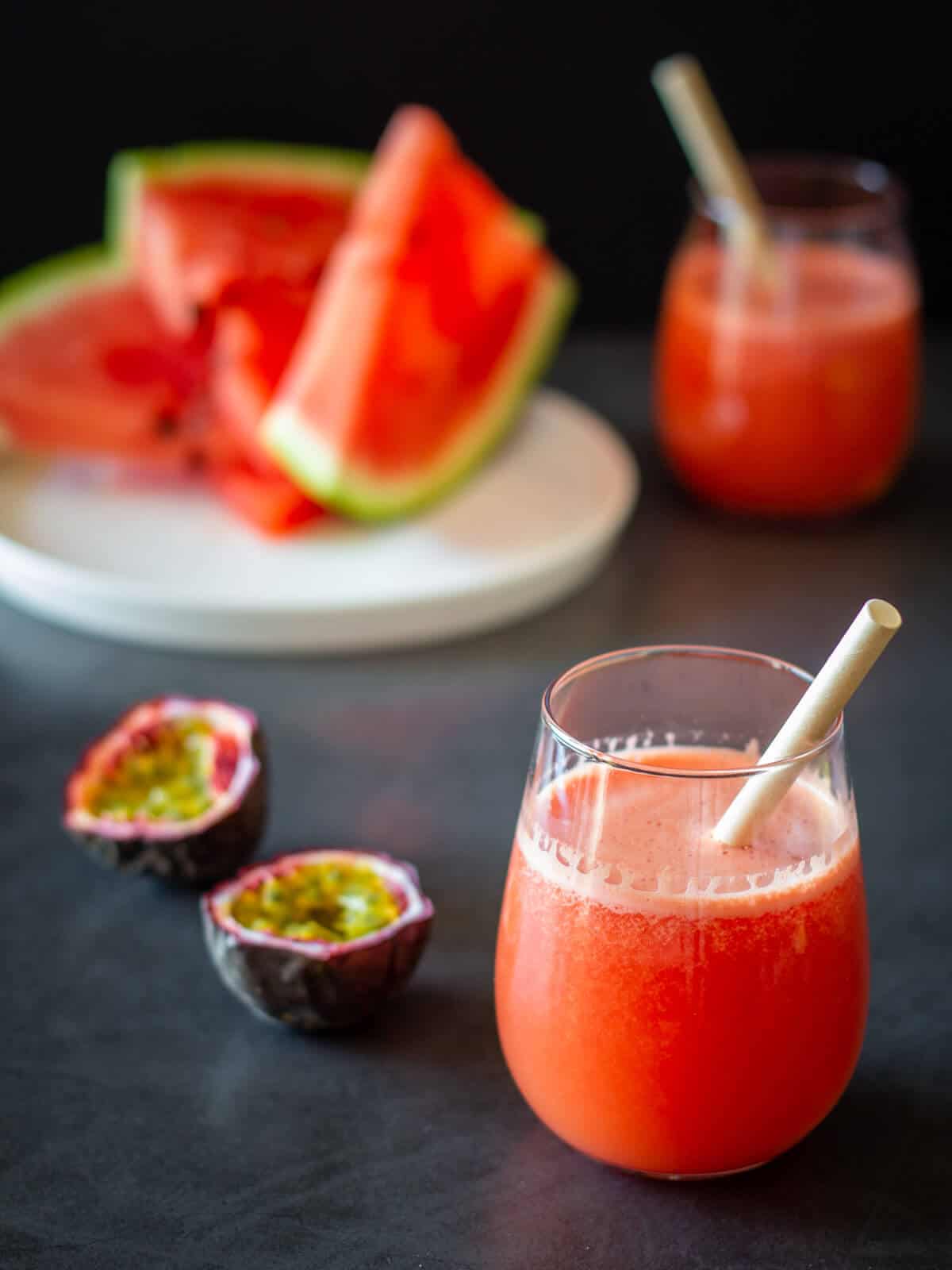 We love recipes, including this fantastic fruit, and although the end of the season is approaching, it is still available in supermarkets and can be found at your local farmer's market.  So go ahead and get the last ones before they are gone!
This watermelon and passion fruit mocktail recipe is a refreshing drink that will cool you down on a hot summer day. It takes about 10 minutes to make, so it's perfect for those lazy days when you want to sip something cold by the pool.
The recipe has only two ingredients, including fresh fruits and filtered water- making it easy to put together at home!
The health advantages of watermelon juice are numerous, including lowering blood pressure and aiding weight reduction. It can also help you avoid cancer by reducing inflammation in the body.
Passion fruit juice is sweet but great for your health - it prevents stroke and kidney disease.
On this site, you can find various Juice and smoothies recipes. They are a great way to start the day with a great vitamin and mineral intake. Don't forget to check or pineapple and cucumber juices for detox, hangover recovery, and weight loss.
Jump to:
🧾 Ingredients
Ideally, use fresh fruits, but you can also use frozen passionfruit pulp and watermelon chunks.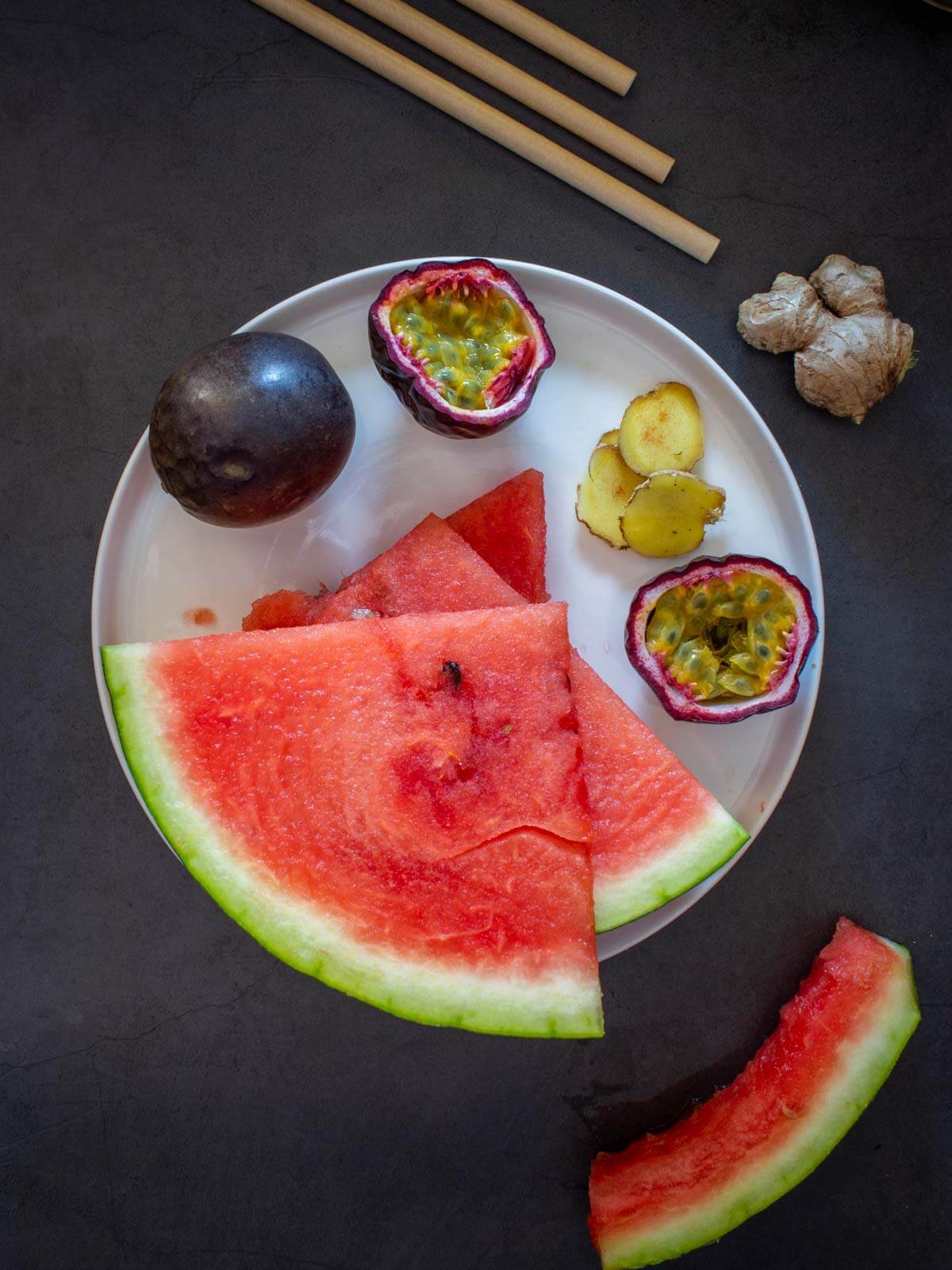 Optionally add ginger and ice cubes to have a smoothie consistency. Add mint to garnish or give it an even more refreshing flavor.
🔪 Instructions to make a Tropical Watermelon Smoothie or Juice
Put the chopped watermelon and the passion fruit pulp in a blender and blend until completely smooth. Ensure that you have cold water because it won't taste all that great anymore if it's too warm.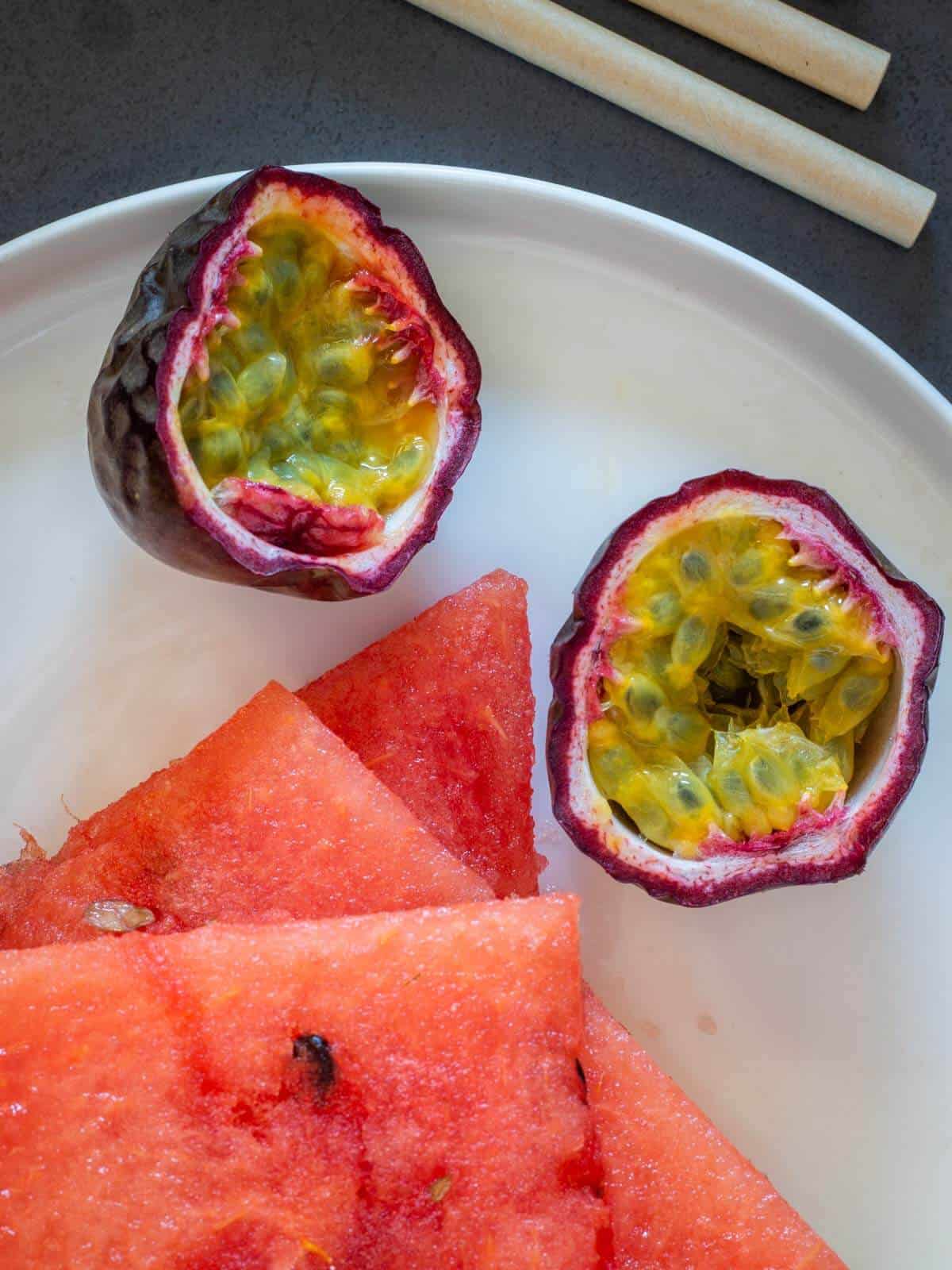 We like adding ice to the blender when we are aiming for a smoothie-like texture. That's the way to easily turn your drink into a watermelon passion fruit smoothie.
You may need to add a tablespoon of your favorite sweeteners like maple syrup, homemade date paste, or agave syrup to keep your drink's sweetness.
We use our high-speed blender for all our fruit smoothies recipes and several other preparations. It is an excellent investment in your health. And that was an Amazon affiliate link!
Blend the fruit and water with ice to make it a smoothie.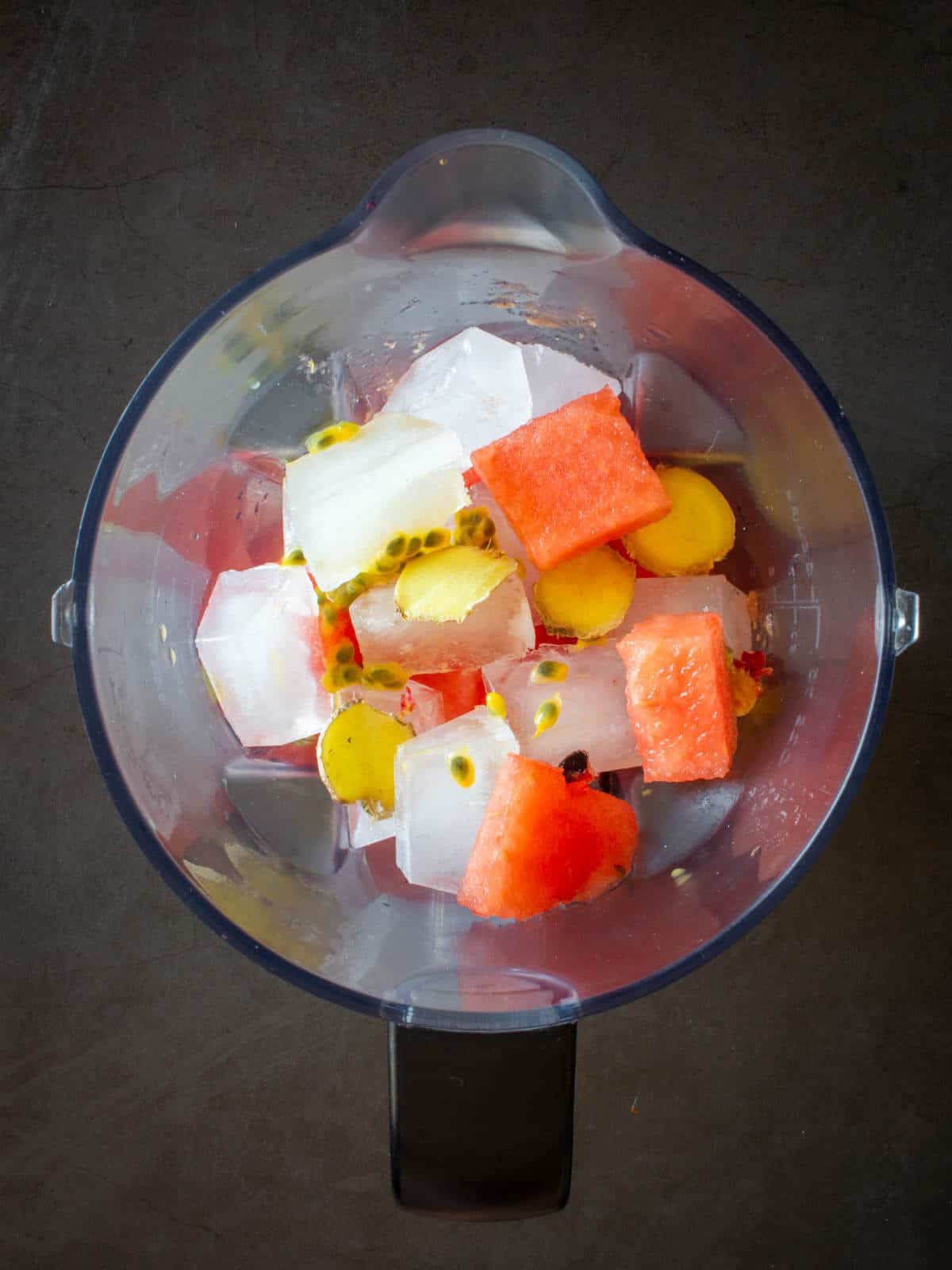 Optionally add water to get a thinner texture.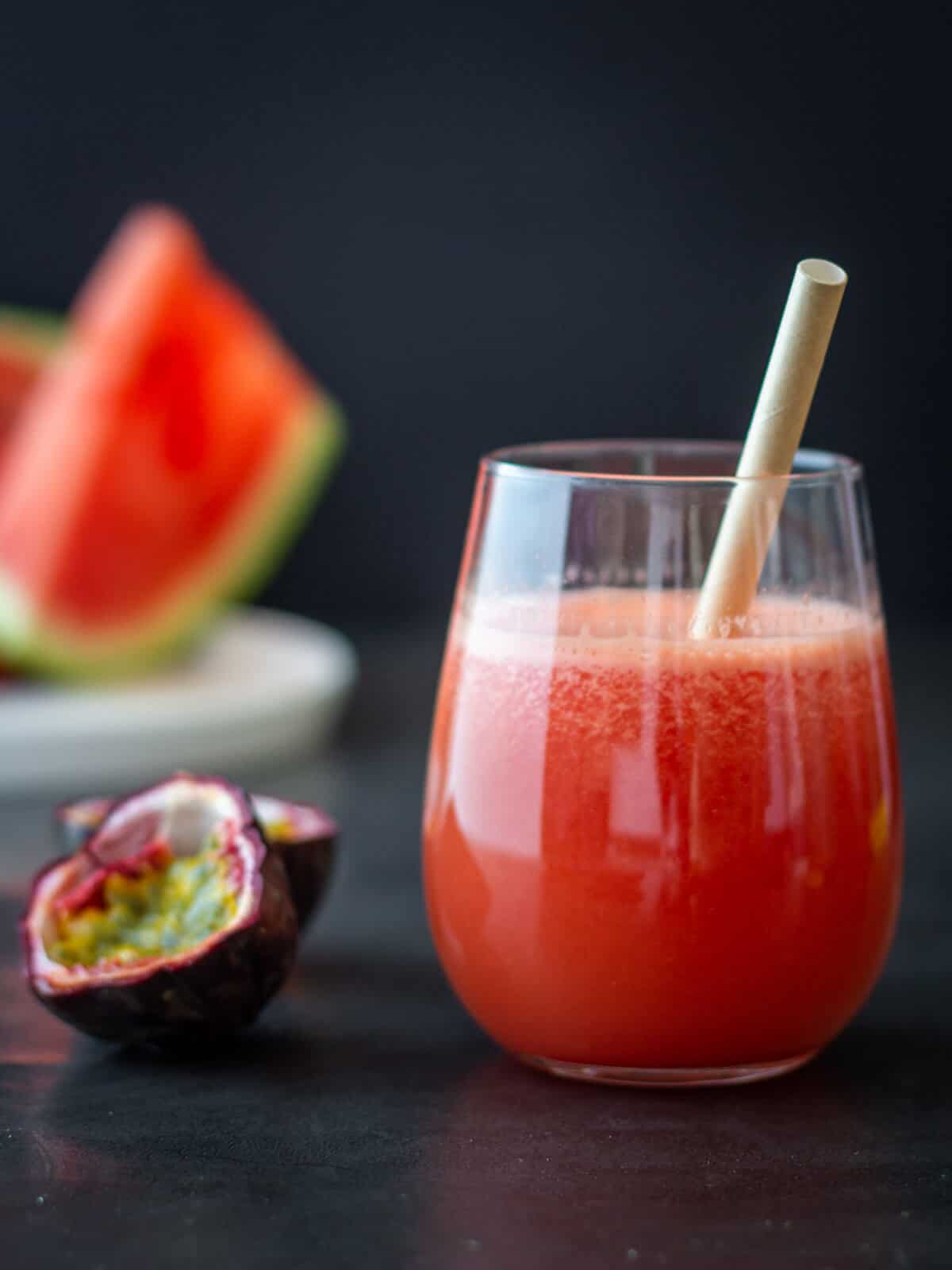 Pour your tasty smoothie or juice into your favorite glass. Serve immediately and garnish with some passionfruit pulp or mint leaves. Enjoy!
It is unnecessary to strain the crushed seeds, as they will decant on the bottom of the smoothie; also, both sources have significant health benefits, so they are safe to drink in your watermelon smoothies if you choose to.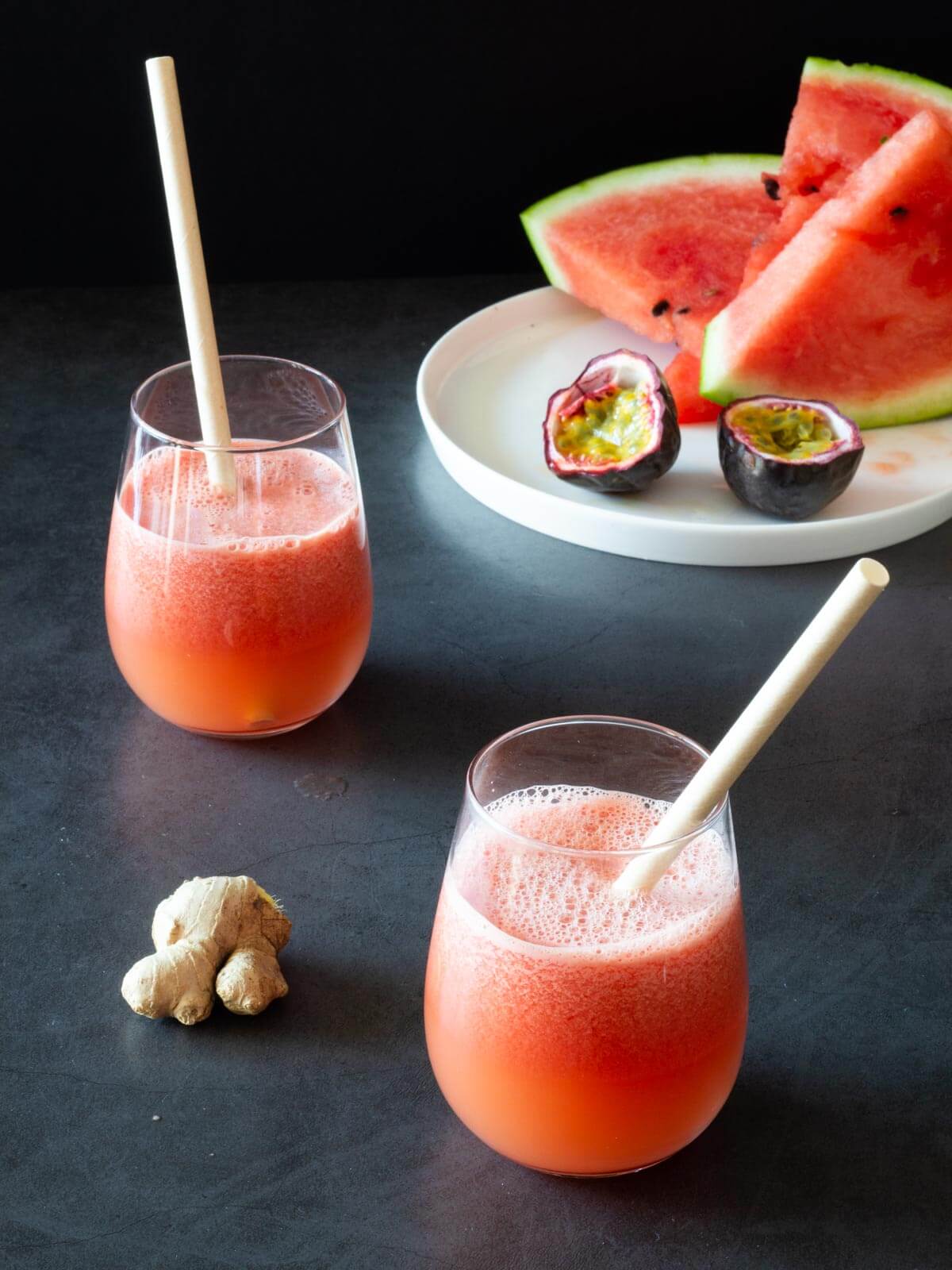 Now that we know how to make the juice properly let us talk about some other amazing things that happen when drinking them.
If you don't have a juicer, you can also make juices like this one, following these simple tips on juicing without a juicer, plus three delicious recipes.
Alright, guys, it's time to raise the bar on our summer sips with this zesty and refreshing spin on the classic cocktail. I'm going to let you in on the secret recipe for Malibu Watermelon Splash - a game-changing combo that's going to turn up the heat at your pool parties and barbecues!
Picture this: the tropical vibe of Malibu rum mixed with a duo of vibrant passion fruit and juicy watermelon juice, creating an explosion of flavors. Think sweet, tangy, with a hint of Caribbean love. And the best part? It's incredibly easy to whip up! So, if you've got a love for everything juicy and a knack for serving up Instagram-worthy cocktails, this recipe is your new go-to.
✅ 7 Benefits of passion fruit juice
Passion fruit is a sweet and tasty fruit that comes from specific varieties of passionflower. Seeds or passiflora incarnata seeds are a typical food in Africa, Asia, and South America. These seeds also have water content and nutrients, much like watermelon does!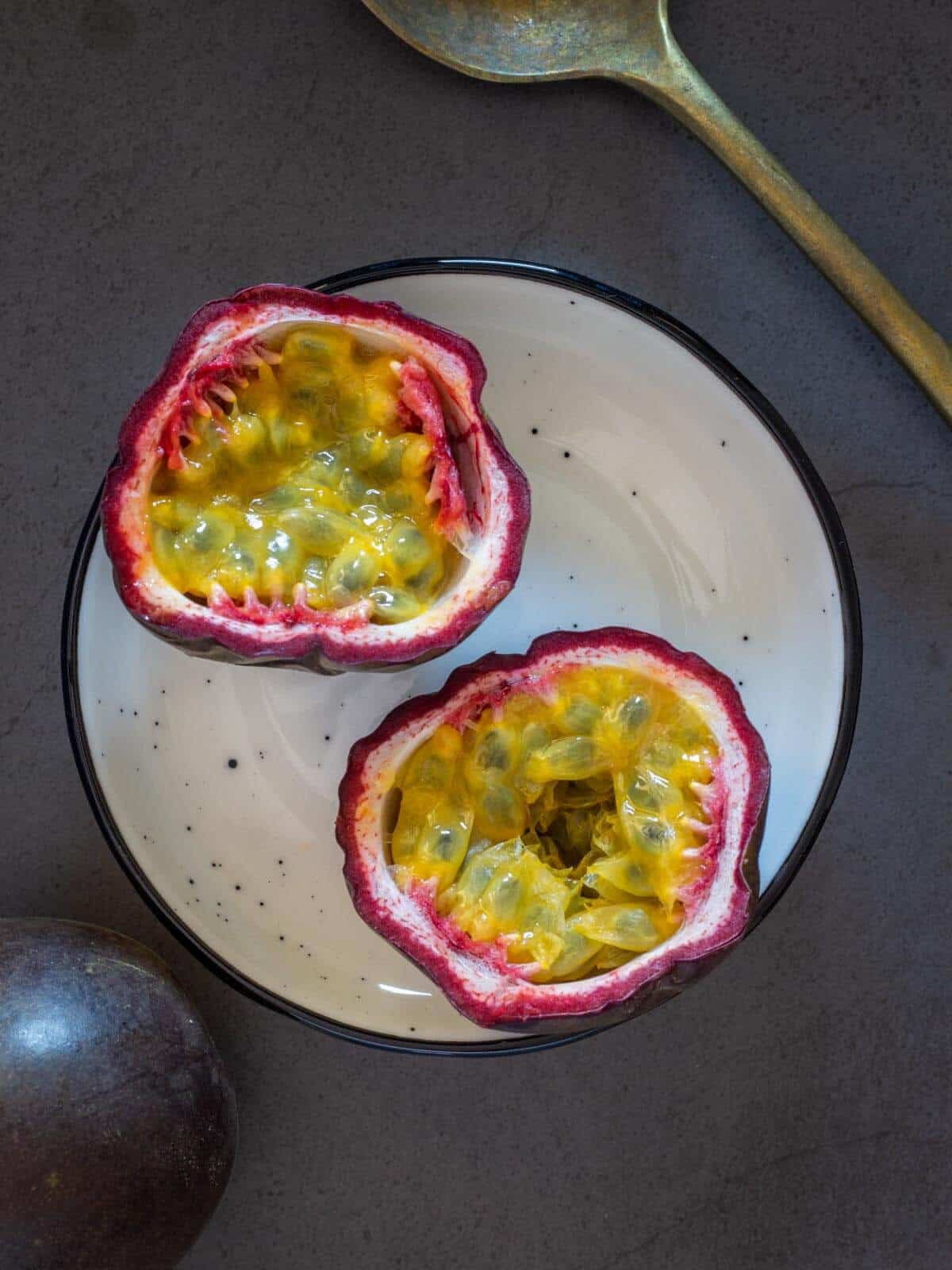 It prevents stroke and has a lower risk of heart disease.
Helps with weight loss.
Fights depression and insomnia.
It prevents kidney disease and cancer.
Relieves asthma and bronchitis.
It promotes healthy and smooth digestion, and it also prevents ulcers of the stomach.
Boosts immune system function.
⭐ 10 Benefits of watermelon juice
Let's talk about the key health benefits of watermelon juice.
Regulates blood pressure.
Helps with weight loss

: This juice also contains amino acids that promote weight loss by suppressing cravings for carbohydrates, while passion fruit juice has calcium that strengthens bones.

Prevents cancer: They also have glutathione, a detoxifier that helps remove toxins and carcinogens (cancer-causing substances) from the body.  And they also reduce inflammation. Chronic inflammation is a common precursor of cancer.
Keeps skin young and healthy-looking
It slows the aging process in general
Prevent congenital disabilities during pregnancy
Boosts the immune system. See our immune system booster drink.
Help against PMS symptoms like breast tenderness, irritability, fatigue, mood swings, depression, and fluid retention. It also enhances fertility in women by promoting regular menstruation.
Hydrating - they treat dehydration very well because it is 92% water, which makes you feel full faster and eat less food overall.
They are associated with urine production to reduce edema caused by poor kidney function or disease.
This beautiful fruit is a diuretic, thus preventing water retention and swelling (edema) due to fluid retention.
Drinking a Watermelon smoothie or juice in the early morning upon waking up for best results is recommended. This pink fruit contains 92 percent water by weight. They are also rich in vitamins A, C, and B6, niacin, thiamine, riboflavin, and beta carotene - antioxidants that help strengthen immunity to disease.
Read on: Most Hydrating Drinks and Juices for Detox »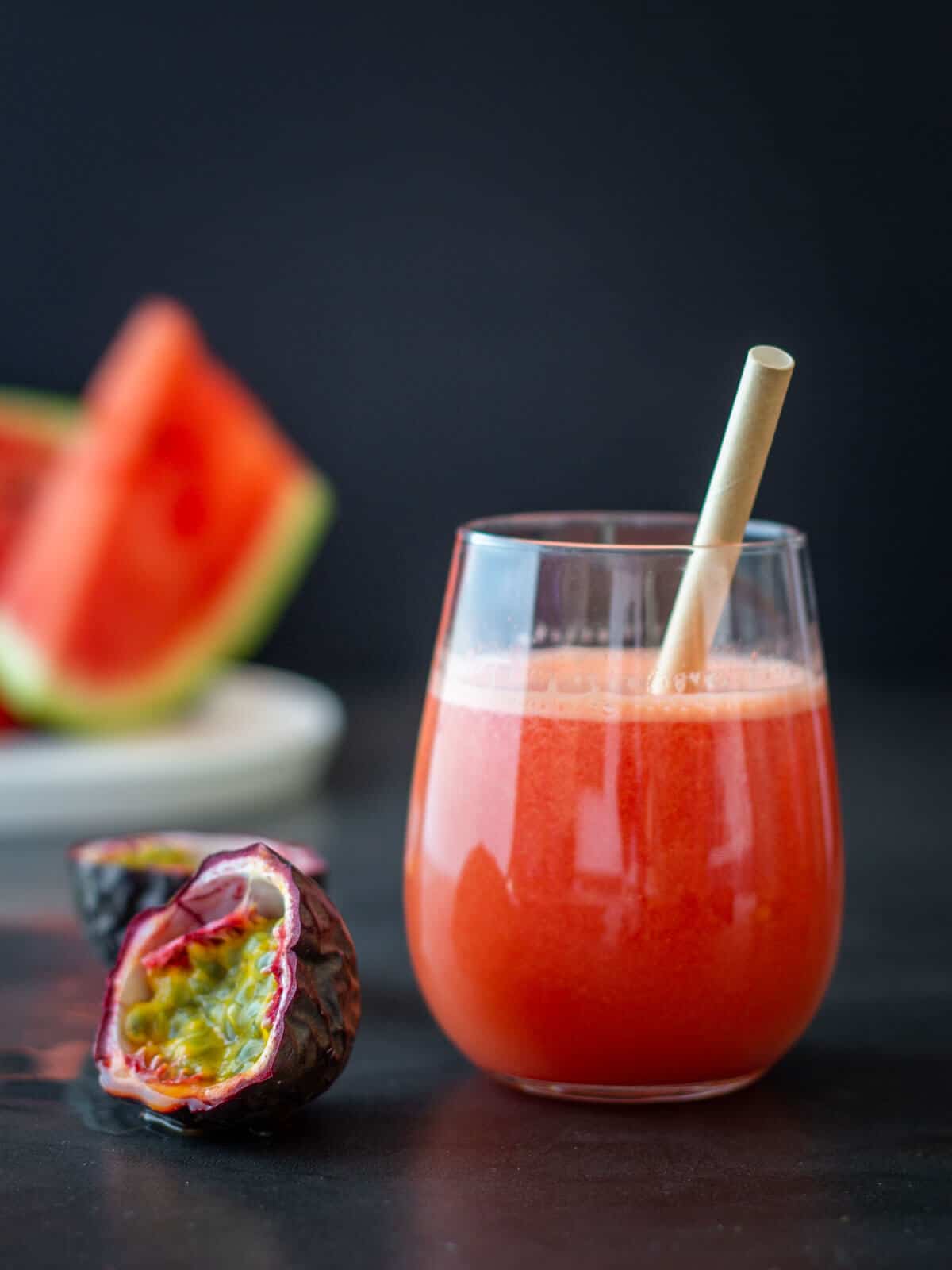 When watermelon and passion fruit are combined, they have high water content to stave off hunger, plus this juice gives you energy. In contrast, passion fruit relaxes you - watermelon makes you more alert, while passion fruit calms the nerves!
As you can see, the Health benefits of watermelon juice are fantastic, and enjoying it during the morning, is a true way to nurture our bodies and pamper ourselves.
🌴 How to use these tropical fruits
Passion fruit juice is refreshing and delicious, with a meltingly smooth texture. It can be used as a substitute for water, poured over cereal, diluted with water and served as a sports drink. A slice or 1 cup of chunks serves as a healthy snack.
Passion fruit is exceptionally versatile. Passionfruit can be diluted with water and serve as a sports drink. However, it also can make delicious cocktails, desserts, cakes, and marinades.
Consuming passion fruit seeds is safe; they are edible and contain fiber and antioxidants. Great for relieving constipation.
You can even eat passion fruit on its own. If it is too acidic, you can add a drop of agave nectar, organic coconut sugar, or maple syrup too. Making it a healthy dessert after a copious meal.
Eating passion fruit this way is a typical, healthy, and delicious dessert in Latin America. Serve chilled.
You can consume passion fruit also on top of a fruit salad and even add it to your favorite homemade salad vinaigrette.
How to juice passion fruit?
Simply add all the passion fruit pulp into a blender, including the seeds; then add a glass of water for every small-sized passion fruit or two glasses for large passion fruit.
Then blend and sweeten if desired. You will note that the black seeds will remain at the bottom, so can choose to consume them, leave them decanted, or pass them through a colander before consuming them.
🍉 More about Watermelon
Watermelons come in different colors (pink on the outside but white where the pulp is exposed); however, orange watermelons inside are sweeter than white watermelons.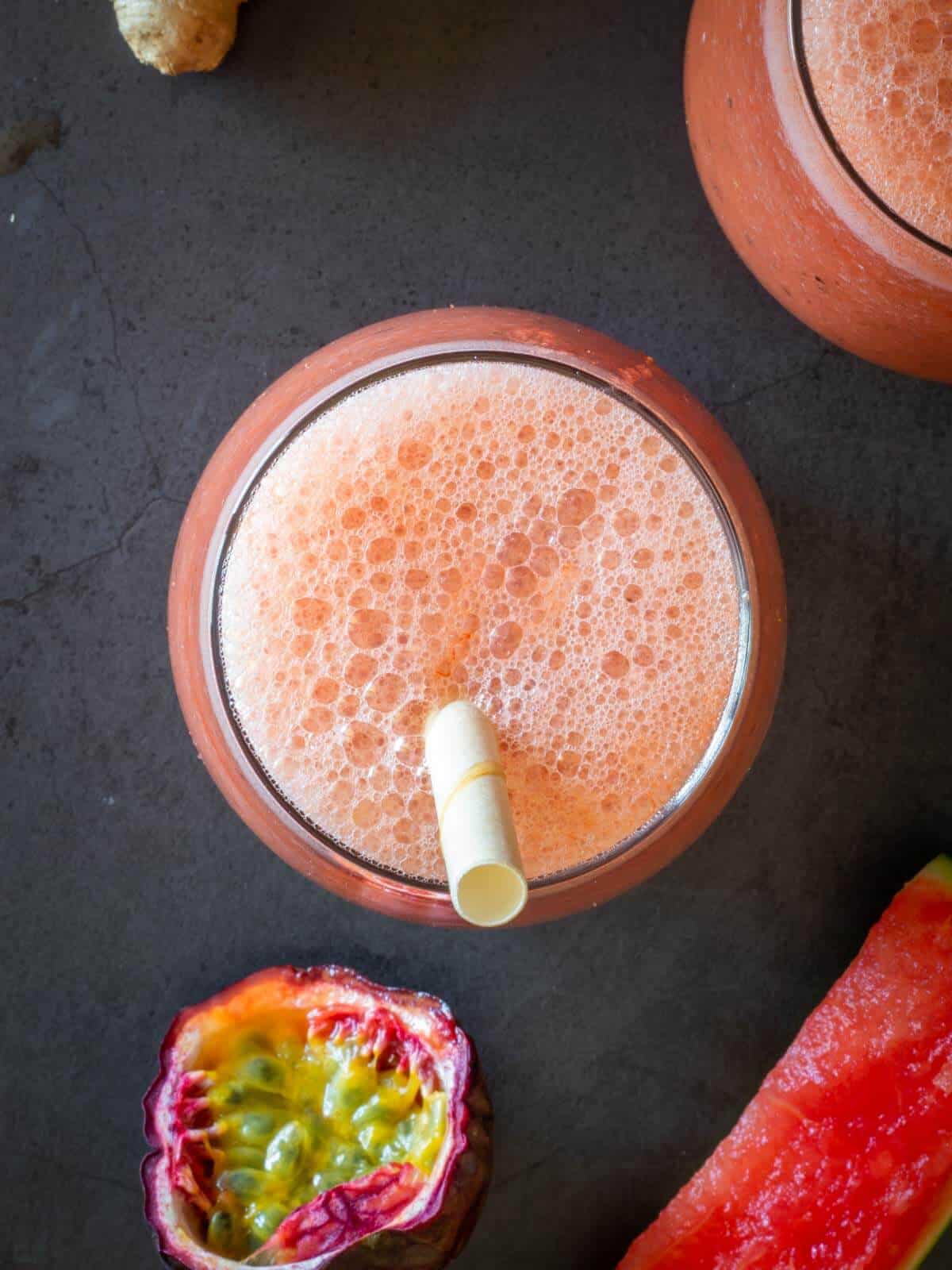 They are grown in countries with hot summers and tend to taste more watery than those grown in colder climates because of their higher water content. Watermelons tend to become watery when the plants are exposed to drought.
Watermelon juice is its watery part. Watermelons are mostly water but are also filled with vitamins and minerals that make them healthy to eat or drink. For example, it is full of vitamin A, vitamin C, and potassium.
Can you freeze watermelon juice?
Freezing watermelon juice leftovers is easy and convenient, simply place them in an airtight container, leaving some space, about 2 cm or an inch at the top to allow for expansion. The frozen watermelon juice should keep for about 2 months and can be flavored, sweetened, or enjoyed on its own.
You can do exactly the same with this passion fruit smoothie recipe.
What to do with Watermelon rinds?
There are good things in the rind of a watermelon. The rind has fiber and minerals that you can use for other things. A watermelon's rind contains carotenoids like zeaxanthin and lutein, which prevent eye diseases.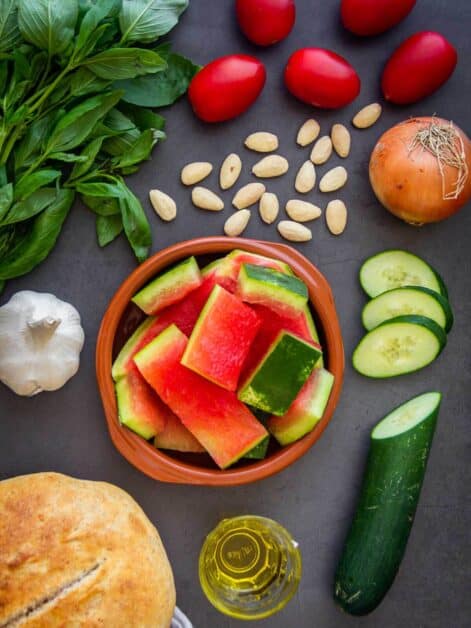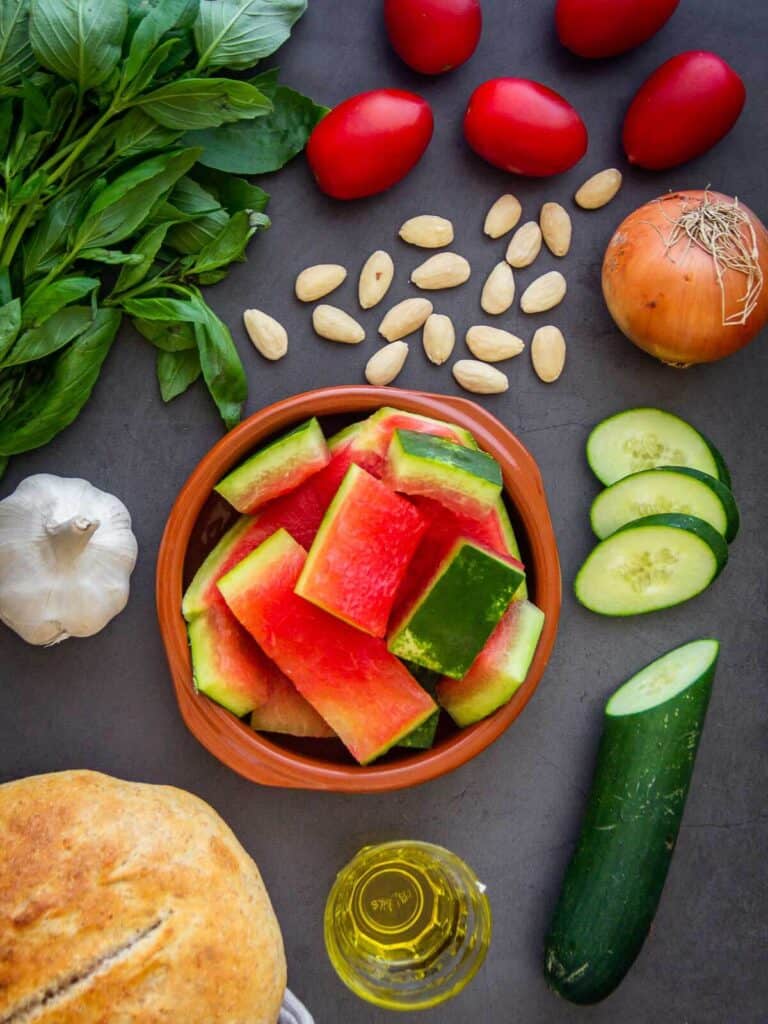 Use the fruit rinds in a variety of recipes, including our Gazpacho recipe. You can also pickle them.
Alternatively, use them for compost.
If you love making the best out of your food leftovers, remember not to throw away your pineapple peels and make a delicious Pineapple Water.
🤔 Using passion fruit
Passion fruits are sweet and tart at the same time. Their flesh is chock-full of oblong seeds that taste like nutty vanilla. This fruit has edible skin with mild toxicity; however, we advise against eating passion fruit skin if it's been sprayed with pesticides or fertilizers (a warning to be extra aware of what you buy.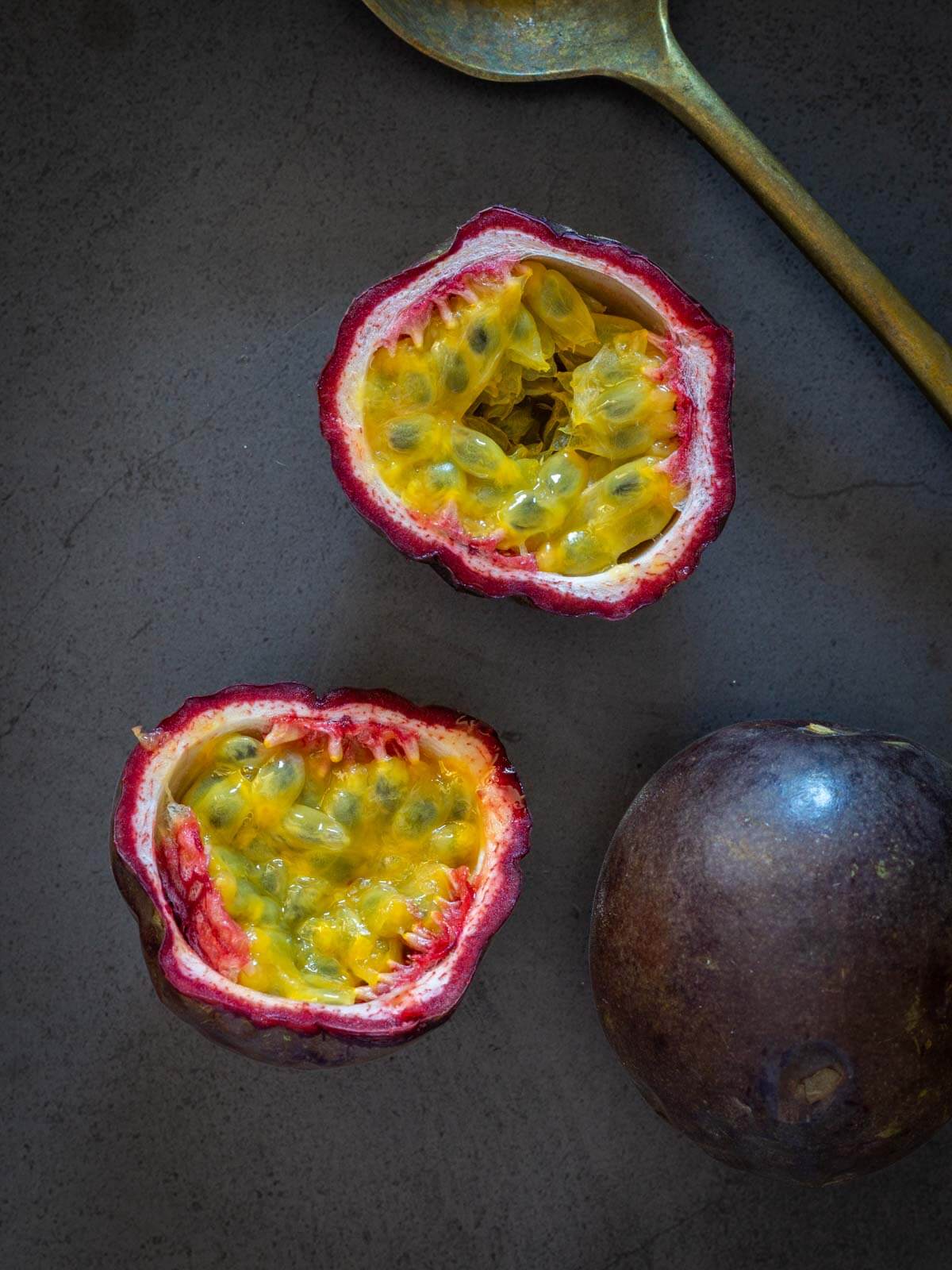 📖 Variations
Now here are some tips for adjusting to your liking or if you want to twist it. You can easily make it a tropical watermelon smoothie by merely adding 10 ice cubes. We also like adding fresh ginger.
Acidity - If you like to make this passion fruit recipe tangy, squeeze some lime and stir before pouring the smoothie. You can also augment the passion fruit ratio per glass of water.
This is something we've been enjoying in our kitchen! It's partly due to the simplicity with which it comes together and how wonderful it tastes once combined. It's satisfying and thirst-quenching, which is why we like to taste things in our smoothies.
This mix fruit juice recipe is everything refreshing, delicious, and naturally sweetened.
This delicious smoothie recipe is sugar-free, gluten-free, and full of antioxidants. Fresh fruit exclusively provides sugar content.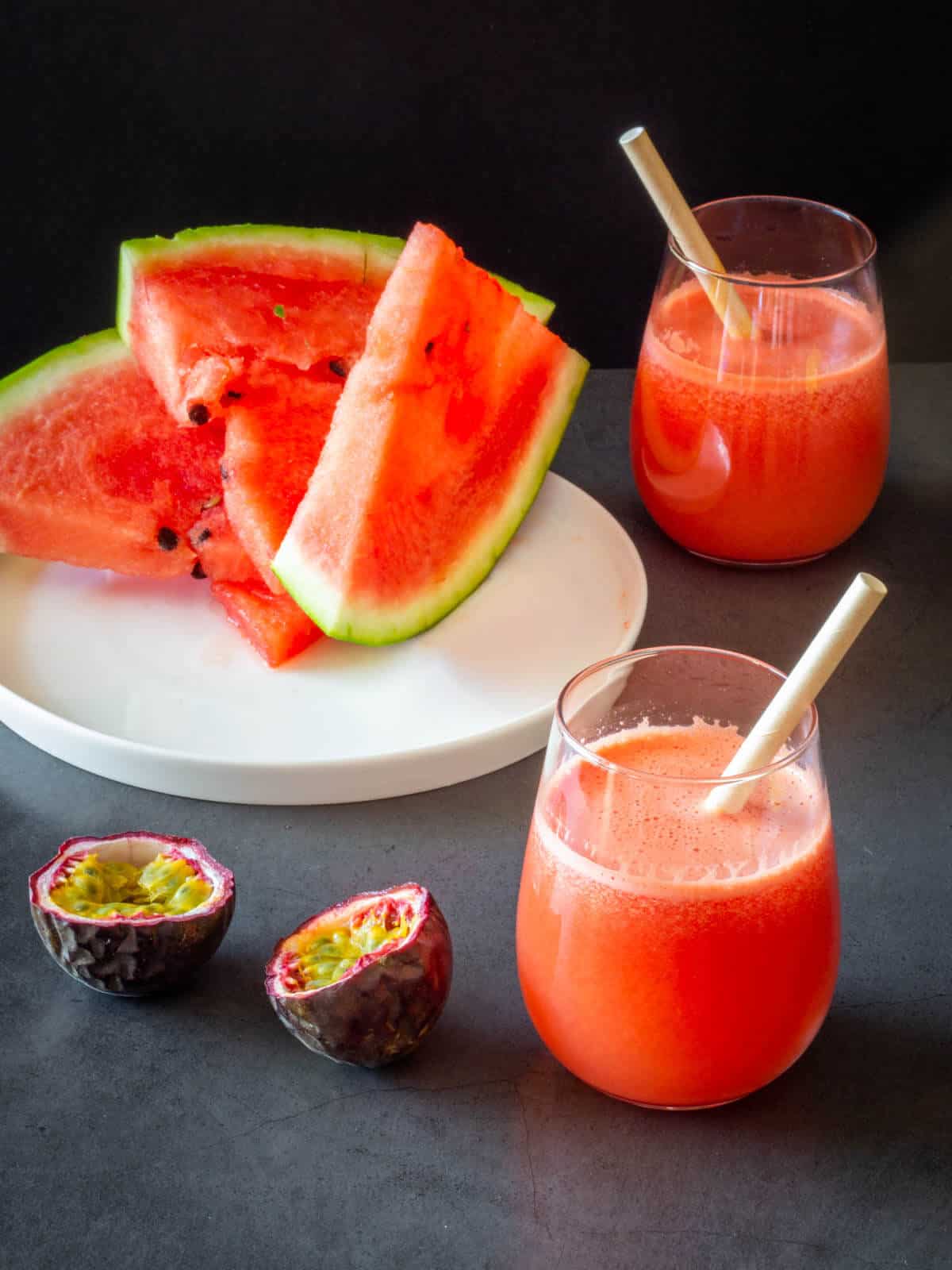 If you don't have passion fruit pulp or fresh fruit available, you can also use pineapple, thus providing the tropical notes we want to achieve on the smoothie. Add 1 cup of water if you want it to be more liquid.
You can also use half the quantity of watermelon and replace it with pineapple to make the ultimate tropical watermelon smoothie.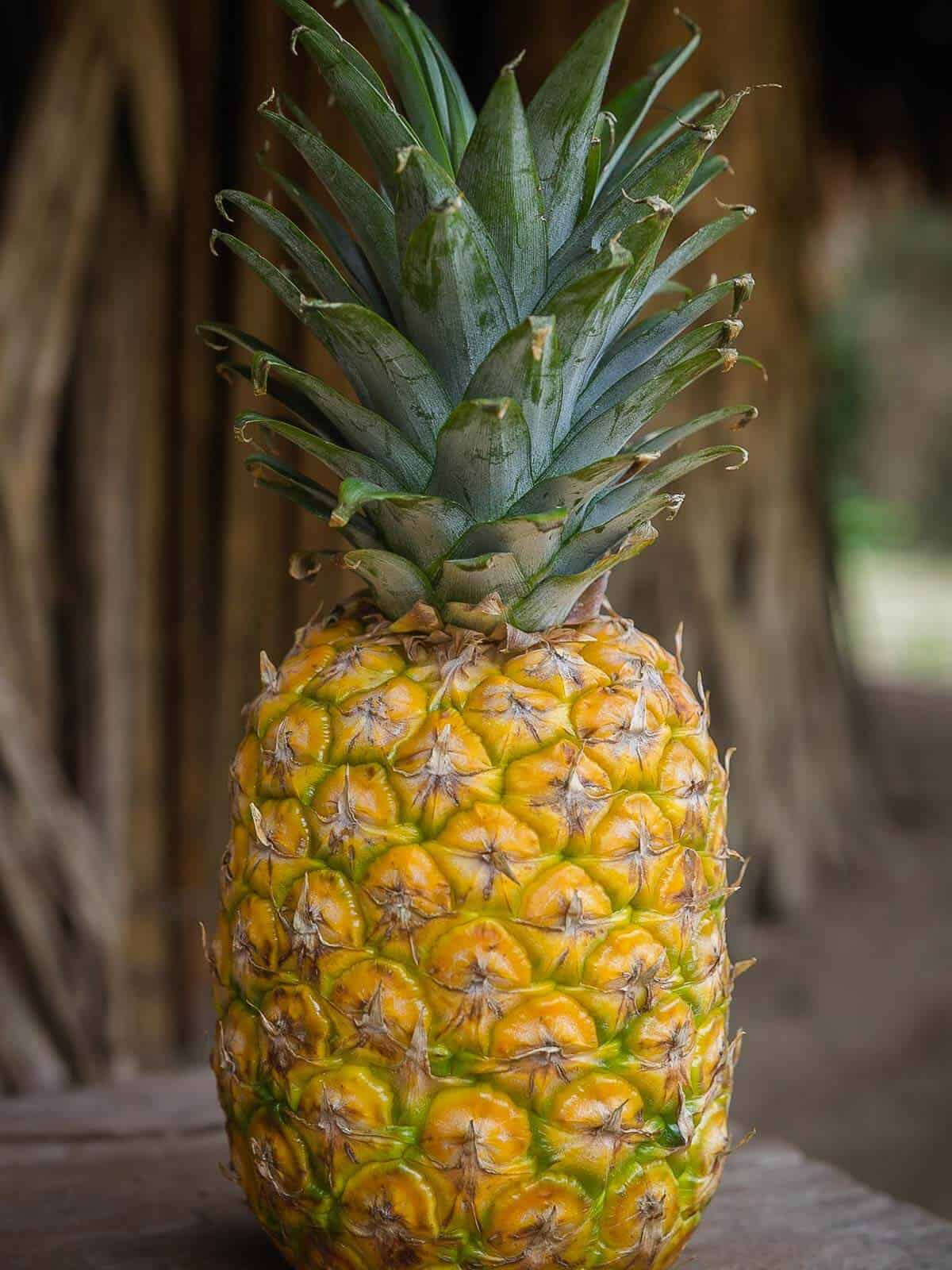 Pineapples are also great for your health, such as they contain the enzyme bromelain, which helps control blood pressure and soothe inflammation in your body.
Look for pineapple recipes, as they are rich in vitamin C, which is useful when you have colds because it helps boost the immune system and prevents infections and illnesses.
Pineapples work great for smoothies and cocktails like the Piña Colada.
As you can see, plenty of recipe variations exist to make the best out of the health benefits of watermelon juice.
🫙 Storing
Storing the juice in the fridge for a long time is not recommended because it oxidizes and turns brown quickly. If you need to keep it, make sure you consume it within 24 hours in a large jug and close it.
If you store it, make sure to stir it before serving.
Passion fruit juice on its own can keep for up to five days when refrigerated, but watermelon can't. That's why, when they are together in a recipe, you should try to consume it early.
We hope that you found this article to be informative and delicious. If it was, we'd love for you to share it with your friends on social media or in person so they can benefit from the health benefits of watermelon and passion fruit juice as well!
🧃 More Juices and Smoothies Recipes
Include more weight loss-promoting juices and smoothies to your diet by adding a carrot, cucumber, and celery juice, red cabbage juice, pineapple strawberry smoothie, and strawberry banana spinach smoothie to your weekly smoothies and juices weekly line-up for breakfast or pre-work-out snacks.
⭐ If you try this recipe, let us know! 💬 Leave a comment, rate it, and don't forget to tag us @ourplantbasedworld on Instagram. Cheers!
📋 Recipe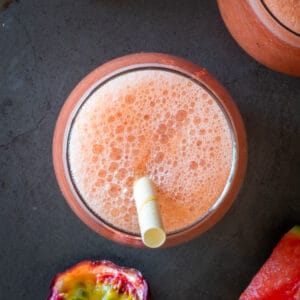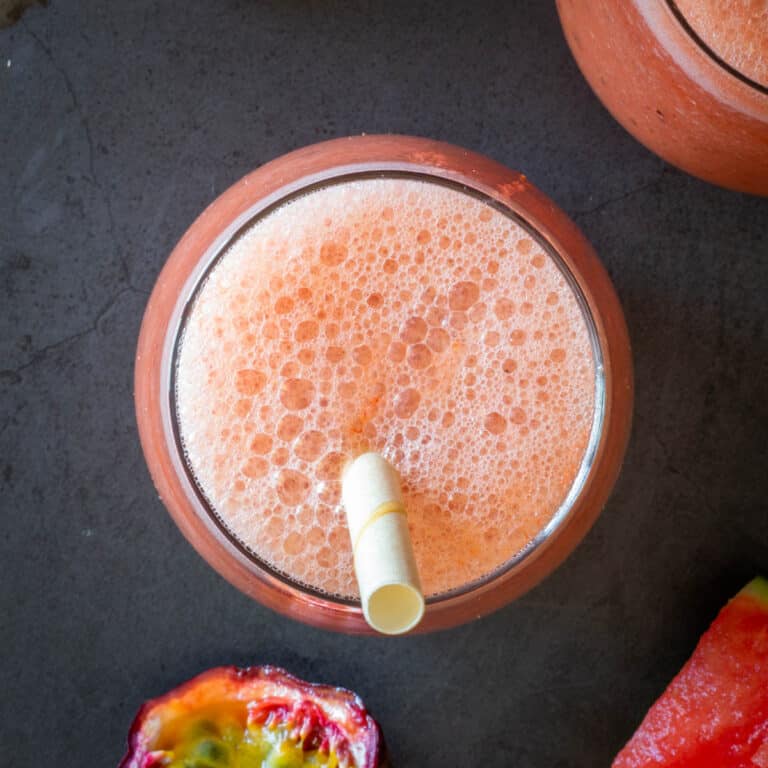 Passion Fruit and Watermelon Juice
Have you ever wondered what watermelon and passion fruit juice can do for your health? Come and learn about all the Health Benefits of Watermelon Juice and Passion Fruit. Together, they are a flavor bomb!
Equipment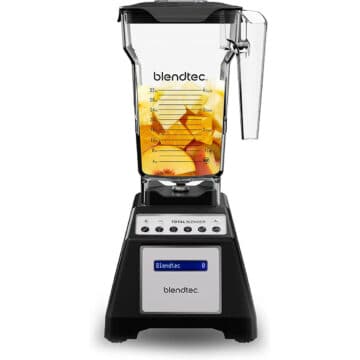 (affiliate link)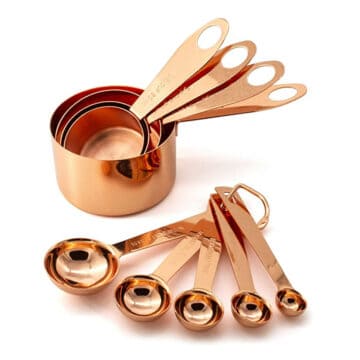 (affiliate link)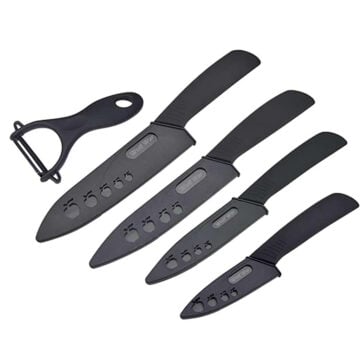 (affiliate link)
Ingredients
30

oz

watermelon

cubed, fresh or frozen

2

passion fruits

small

2

oz

ginger

fresh, see notes.

15

oz

ice cubs

10

oz

water
Directions
In a blender, add the watermelon chunks, the passion fruit pulp, water, and ice if you want to give it a smoothie texture.

30 oz watermelon,

2 oz ginger,

15 oz ice cubs,

10 oz water,

2 passion fruits

Blend until smooth, about 30 seconds.
Notes
You can use frozen watermelon as well.
There is no need to de-seed the watermelon. The seeds will decant on their own. Also, watermelon seeds have great health benefits.
Nutrition Facts
Calories:
70
kcal
Carbohydrates:
17
g
Protein:
1
g
Fat:
1
g
Saturated Fat:
1
g
Polyunsaturated Fat:
1
g
Monounsaturated Fat:
1
g
Sodium:
15
mg
Potassium:
257
mg
Fiber:
4
g
Sugar:
12
g
Vitamin A:
1167
IU
Vitamin C:
20
mg
Calcium:
17
mg
Iron:
1
mg
Nutrition Facts
Passion Fruit and Watermelon Juice
Amount per Serving
% Daily Value*
* Percent Daily Values are based on a 2000 calorie diet.
🌡️ Food safety
Cook to a minimum temperature of 165 °F (74 °C)
Do not use the same utensils on cooked food, that previously touched raw meat
Wash hands after touching raw meat
Don't leave food sitting out at room temperature for extended periods
Never leave cooking food unattended
Use oils with a high smoking point to avoid harmful compounds
Always have good ventilation when using a gas stove
See more guidelines at USDA.gov.
Nutritional Disclaimer
The information shown is an estimate provided by an online nutrition calculator. It should not be considered a substitute for a professional nutritionist's advice. See our full Nutritional Disclosure here.
Affiliate Disclaimer
Please note that some of the links here are affiliate links, and I will earn a commission if you purchase through those links. I recommend all of the products listed because they are companies I have found helpful and trustworthy.