Summer is the perfect time for smoothies. Not only are they a refreshing treat, but they're also a great way to pack lots of healthy fruits and vegetables. This strawberry banana blackberry smoothie is a summertime must but can be easily made year-round as the ingredients are always available on the grocery frozen produce aisle. Plus, it's loaded with antioxidants and vitamins that are good for you.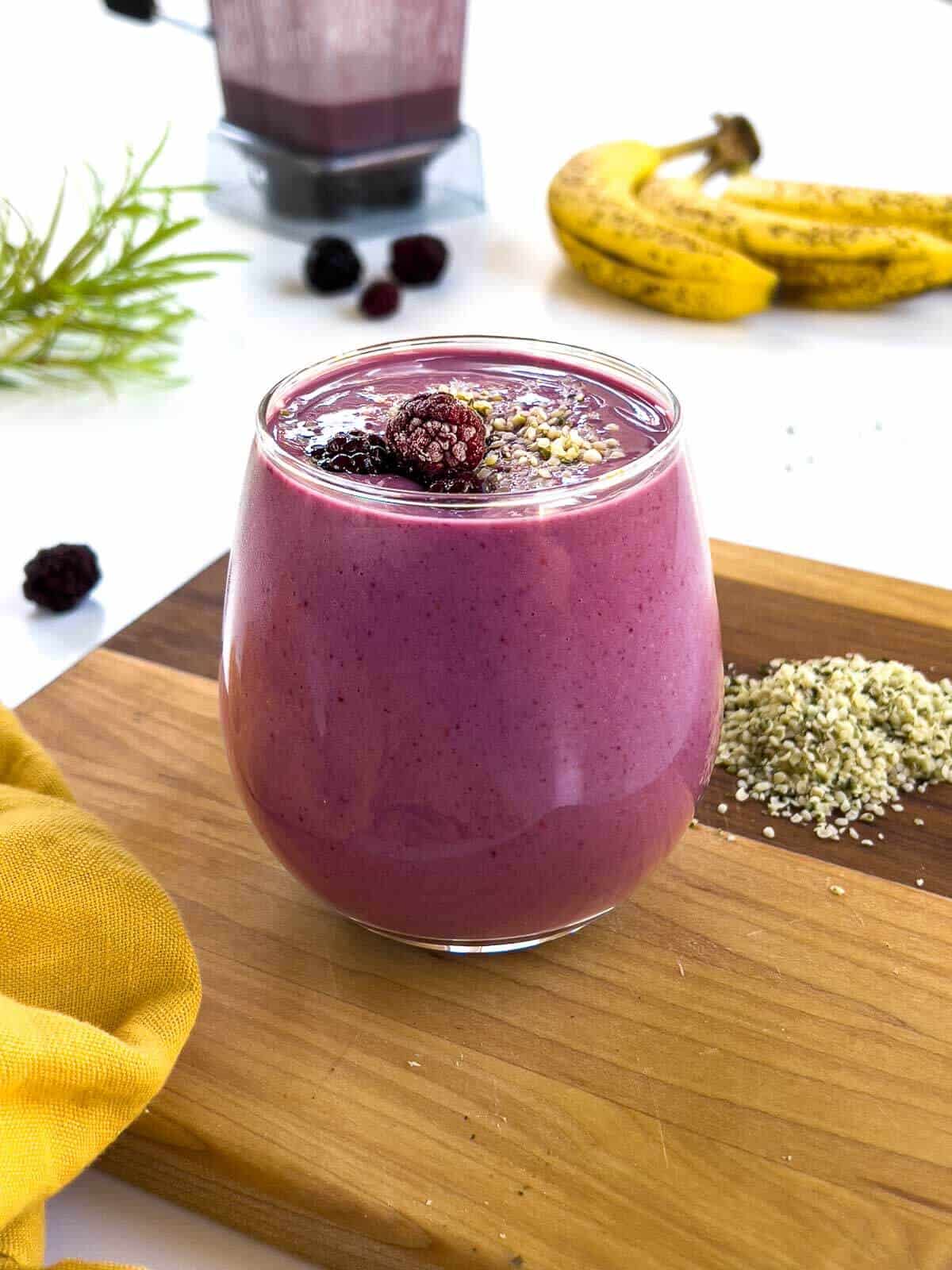 We love zipping smoothies for breakfast, as they are the perfect way to pack as many veggies and fruits nutrients as you like in a meal in less than 5 minutes. You can build them to adapt to any season and are as functional as you want them to be.
Berries, pineapples, and cucumbers are often present in our summer recipes; while chocolate, oats, and pumpkin make their way to our blenders when the fall season brings the cozy vibes. There is always a smoothie that you can build to satisfy your needs.
This was inspired by our strawberry kiwi smoothie recipe and can be made with your own homemade almond milk. Contextual, in-content links are far more valuable than a group listed at the bottom of the post.
Jump to:
🧾 Ingredients
Make this healthy smoothie without yogurt with a few staple ingredients. We use frozen fruit to make this yummy treat fast and extra creamy, but fresh or frozen is the same. Simply add some ice cubes if using fresh fruit.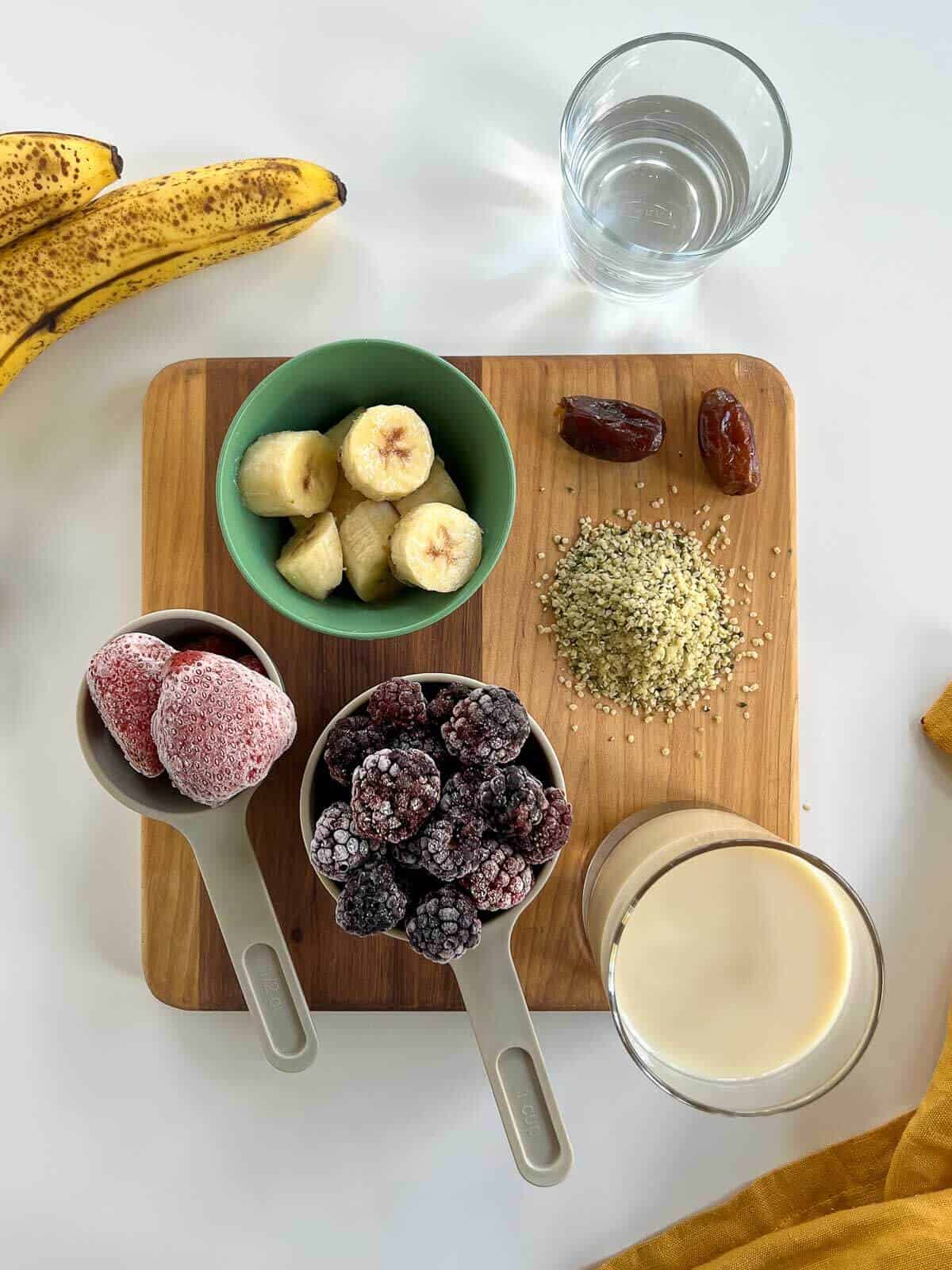 Frozen blackberries
Unsweetened almond milk
Frozen strawberries
Pitted dates
Frozen banana
Water
Hemp hearts (optional)
See the recipe card for quantities.
🔪 Instructions
Make this frozen fruit blackberry banana smoothie in one go; you don't even need a chopping board.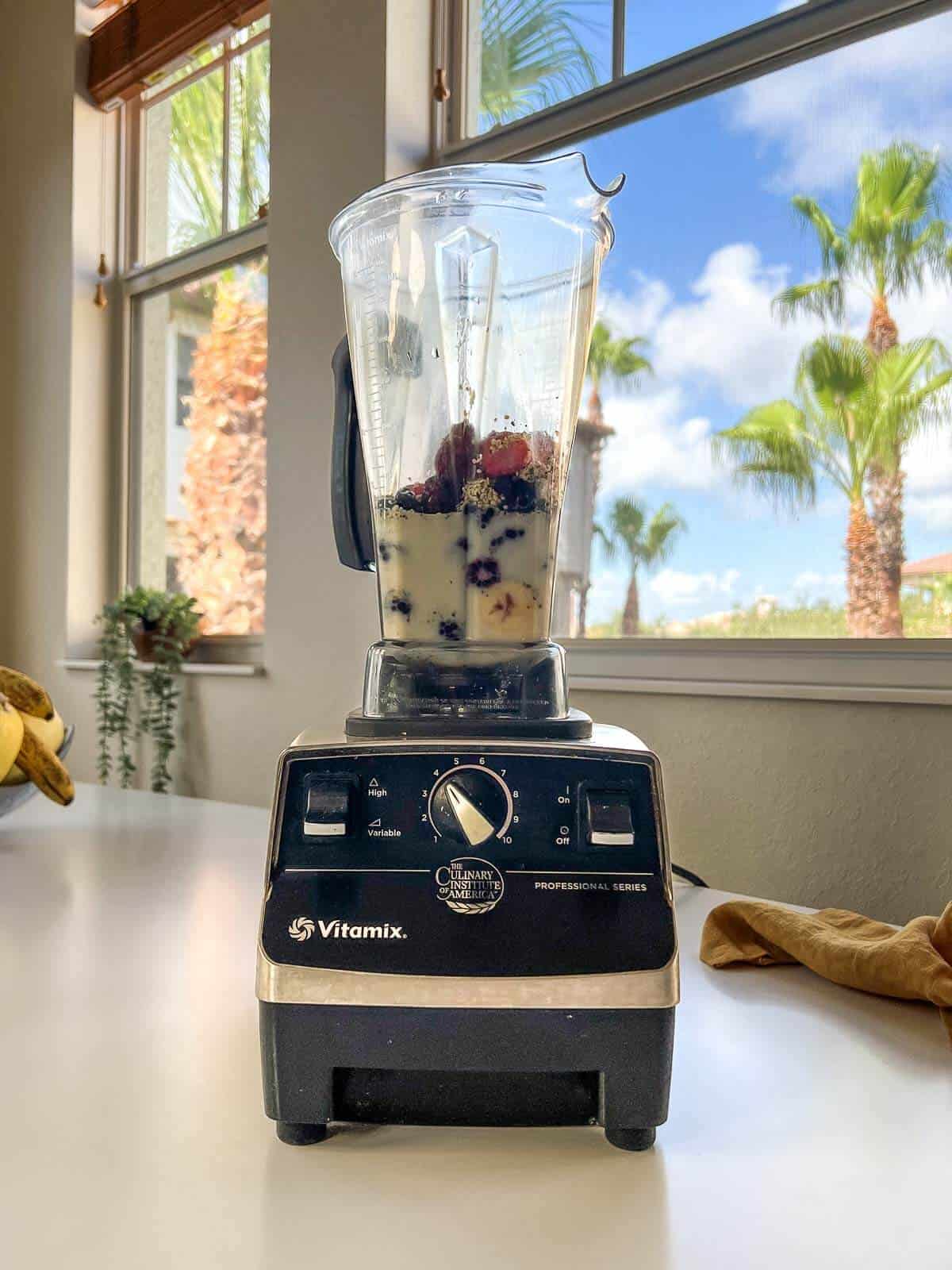 Add the frozen banana chunks and berries to the blender, starting with the plant-based milk.
Top with frozen fruit and hemp seeds, or your seeds or protein of choice.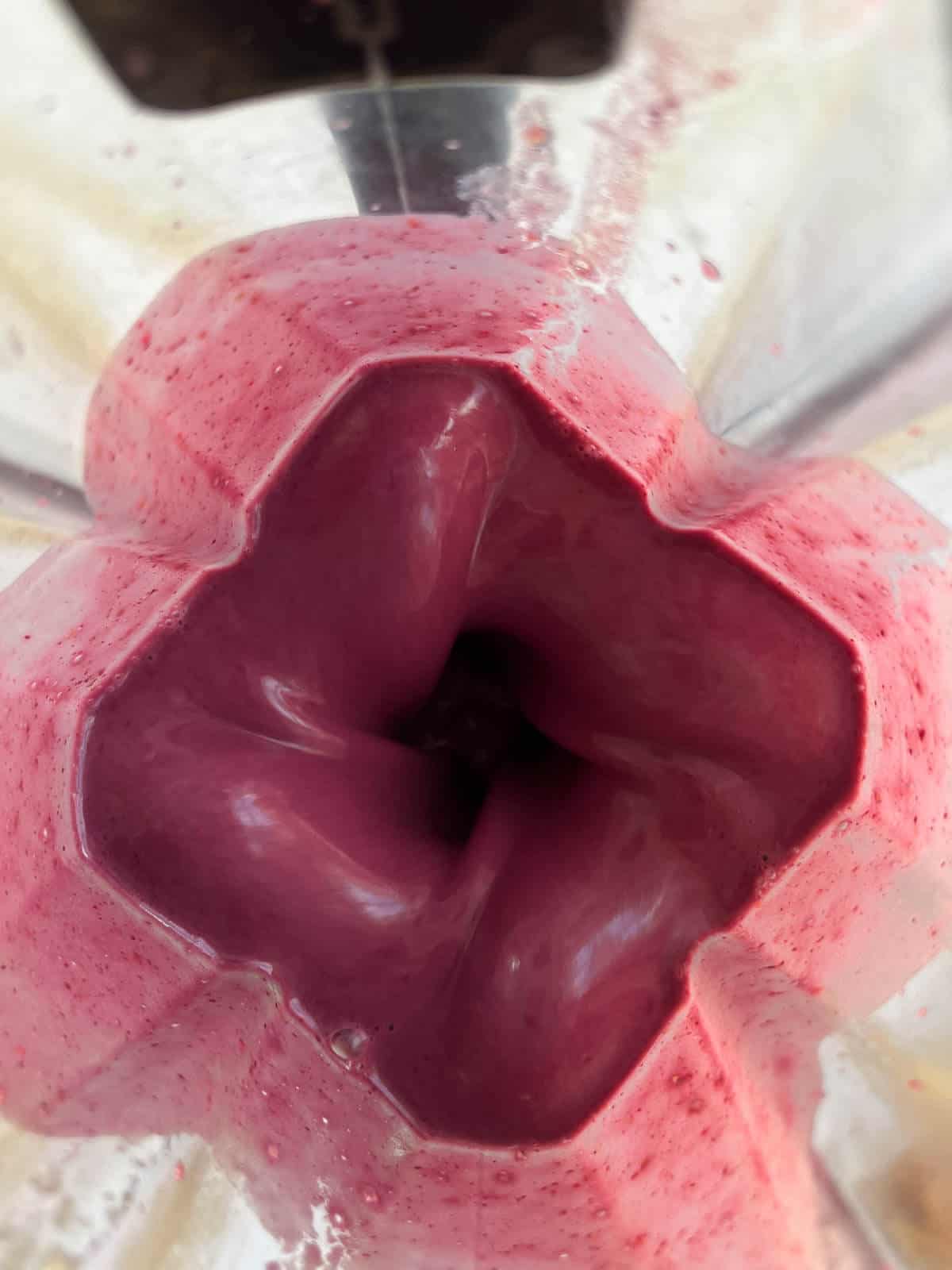 Blend on high speed until you reach the desired consistency. About 40 seconds.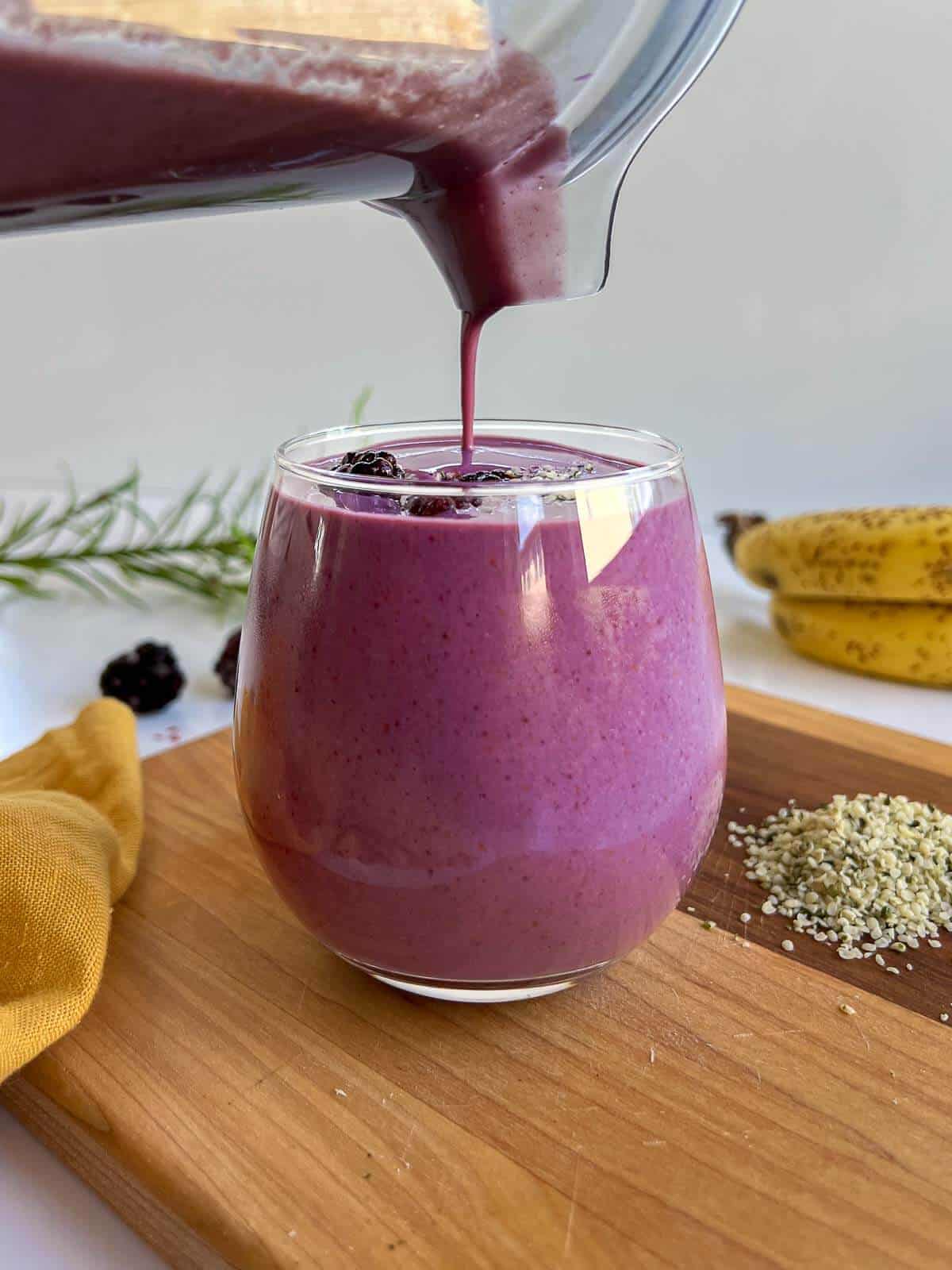 Serve and top with fresh fruit or hemp seeds, or chia seeds.
Hint: if you use a fresh banana, fresh berries, fresh blackberries, or strawberries, instead of frozen berries, add 4-6 ice cubes per portion. You can also add almond yogurt or mix fresh and frozen fruit to make up for the creamy texture.
🍶 Substitutions
Hemp hearts - instead of these creamy protein-packed buddies, you can use chia seeds or flax meal for a smoothie containing healthy fats.
Bananas - are easily replaced with creamy peaches.
Blackberries - can be replaced with blueberries.
Strawberries - go with raspberries for a change.
Almond milk - use any non-dairy milk, such as oat milk or coconut milk which pairs beautifully with berries. Homemade soy milk is our dairy-free milk of choice to elevate the protein content of our smoothies.
Pitted dates - we always have a pack of pitted dates in the fridge, but we also use homemade date paste, maple syrup, or agave nectar to add some natural sweetness.
📖 Variations
More protein - add your favorite protein powder to your smoothie. We like complement clean protein-powder

(affiliate link)

made with organic plant-based ingredients. You can also add a tablespoon of almond butter or nut butter of your choice.
No banana - use peaches instead for an equally creamy version.
Green smoothie - add a bunch of leafy greens like baby spinach or kale.
Extra heart health - add a scoop of gluten-free rolled oats.
🍽 Equipment
Using a high-speed blender such as a nutribullet (affiliate) is essential to make a creamy smoothie every time.
🫙 Storage
These strawberry blackberry banana smoothie leftovers will keep in a covered mason jar in the refrigerator for up to two days, though best when fresh.
❓ FAQ
Blackberry glycemic index
Blackberries are low on the glycemic index, meaning they won't cause wild blood sugar spikes like some other fruits. This is because their fiber content slows down the absorption of their natural sugars. Plus, they've got a pleasant tart taste that makes them perfect for snacking on or adding to vegan yogurt or cereal.
That makes this smoothie perfect for people with diabetes; combine alternate it with our diabetic-friendly juice.
Season for blackberries?
The best time to pick blackberries is from late June through early August. However, some cultivars are available earlier or later in the season. The taste of blackberry can vary depending on the cultivar, but they are generally tart and juicy. They can also be eaten fresh or frozen for later use.
When to pick blackberries?
The best time to pick blackberries is when they are ripe and have a dark color. You can tell if a blackberry is ripe by tasting it. If it is sweet and juicy, it is ready to be picked! Check the bushes for ripeness before picking, as there can be ripe and unripe berries on the same bush.
Also, try to avoid picking any berries that look moldy or have been eaten by insects.
Once you have collected your berries, store them in a cool, dry place until you are ready to eat them!
How to wash blackberries?
To wash freshly picked blackberries, place them in a large colander and rinse them with cold water. Make sure to remove any debris or stems. Gently pat the berries dry with a paper towel.
How to freeze blackberries?
When freezing blackberries, it's important to note that they will not retain their taste or texture as well as when fresh. That said, if you want to extend your blackberries' shelf life for a later date, freezing them is possible.
 
To freeze blackberries, rinse them under cool water and then pat them dry. Next, place them in a single layer on a baking sheet and freeze them for about two hours. Once they are frozen solid, you can transfer them to a zip-log bag and store them in the freezer for up to six months.
Mulberries vs Blackberries
Mulberries and blackberries are both delicious fruits with their unique flavors. While mulberries tend to be tart and slightly sweet, blackberries are often sweeter with a hint of bitterness.
Both fruits are great in pies, cobblers, and jams, but Mulberry pie is typically made with just the berries and no added sugar, while Blackberry pie generally has a little sugar added.
And finally, if you're looking for antioxidants, vitamins, and minerals, both fruits are excellent sources - but blackberries have more vitamin C and B.
Can cats have blackberries?
The answer is yes; cats can eat blackberries.
Blackberries are high in various essential vitamins and minerals like iron, vitamin C, calcium, magnesium, potassium, and dietary fiber, making them an excellent snack choice for cats. For safety reasons, owners should limit intake to only occasional treats given as rewards or snacks no more than four times per week due to the high sugar content found in Blackberries. However, occasionally snacking on small amounts shouldn't be a problem overall.
🥤 More smoothie recipes
Learn how to make a thick smoothie bowl, and try our refreshing Banana Strawberry Apple Smoothie and peanut butter strawberry smoothie.
This 3-ingredient pineapple coconut smoothie is a great option for the Summer months; it is like a virgin piña colada!
Also, our latest creation is this delicious strawberry banana mango smoothie, made with almond milk; you will love it!
We also love this simple green smoothie made with spinach, pear, and bananas, because it is packed with protein making it the perfect smoothie to drink after exercising.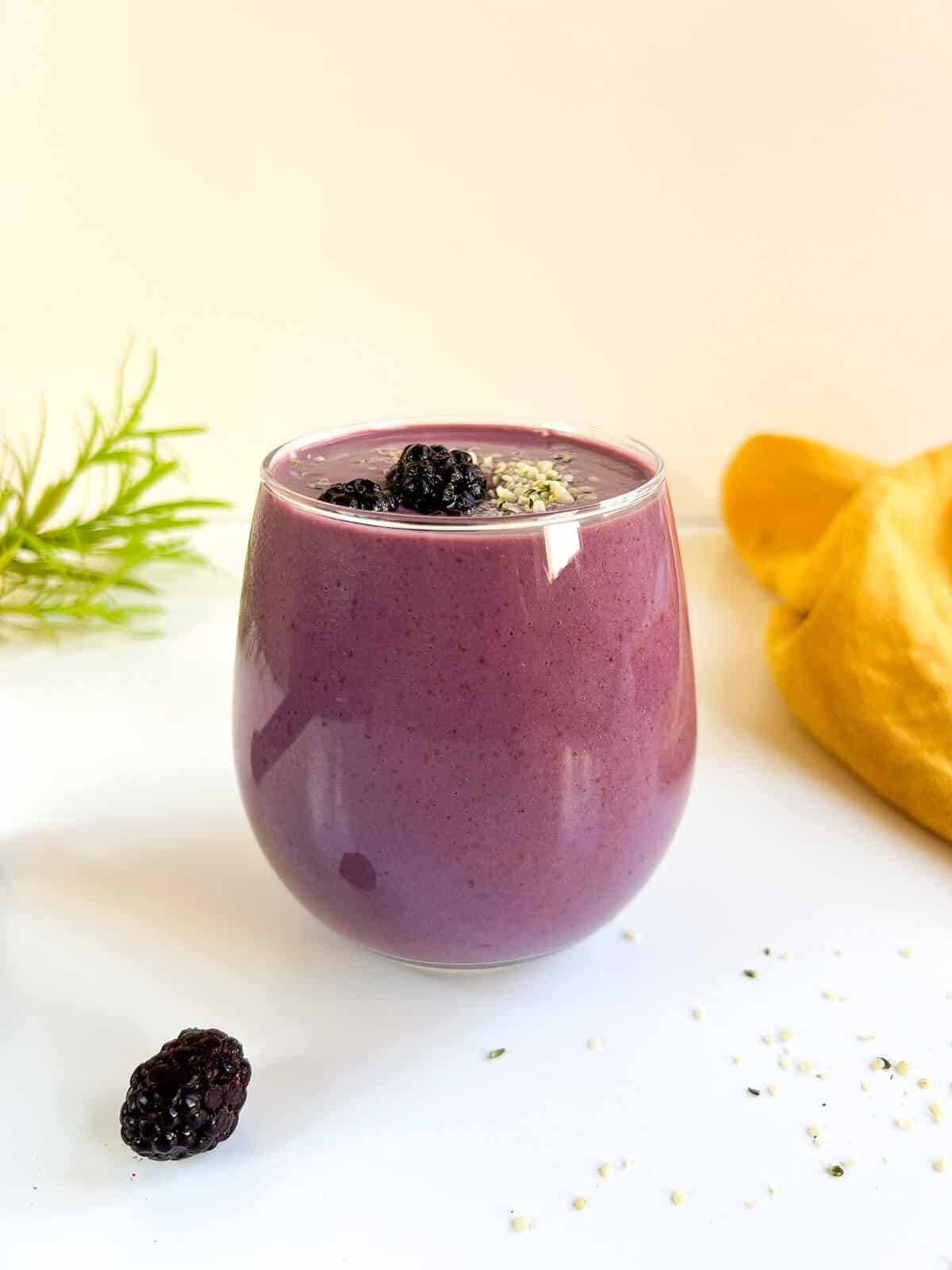 If you try this strawberry blackberry banana smoothie recipe, let us know! Leave a comment, rate it, and don't forget to tag a photo #ourplantbasedworld on Instagram. Cheers!
📋 Recipe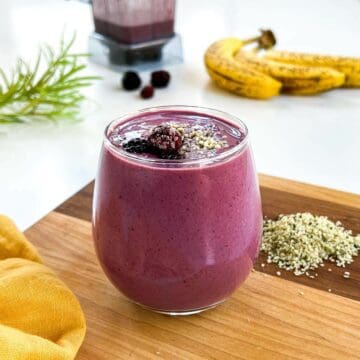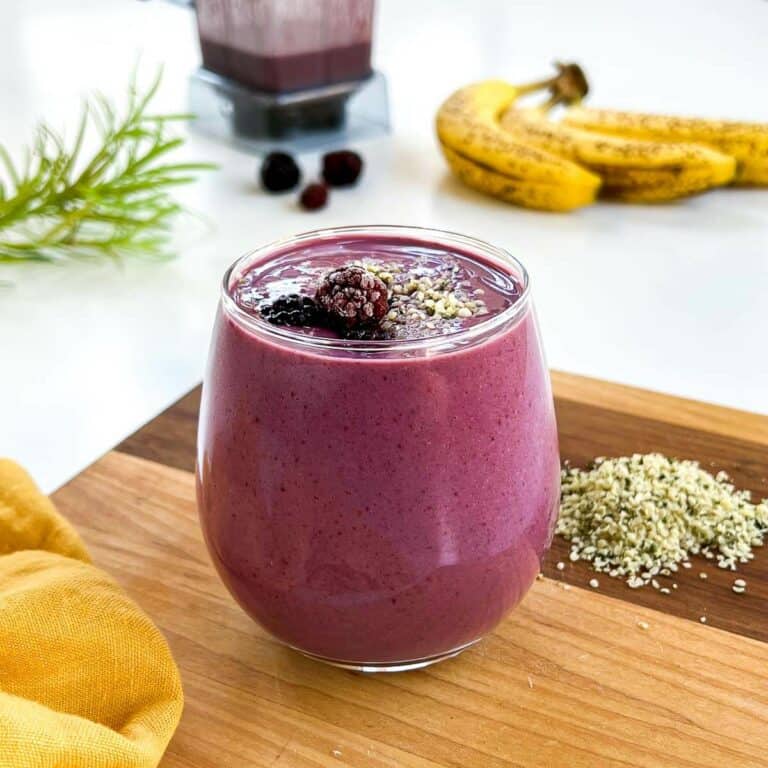 Strawberry Banana Blackberry Smoothie
This healthy and simple smoothie recipe is sure to be a hit with your family; it is creamy, delicious, and made in 5 mins.
Equipment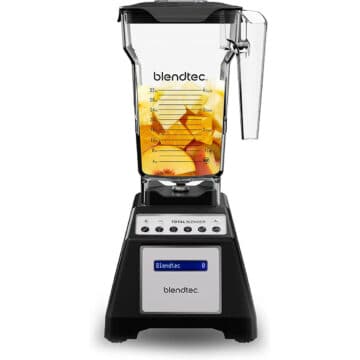 (affiliate link)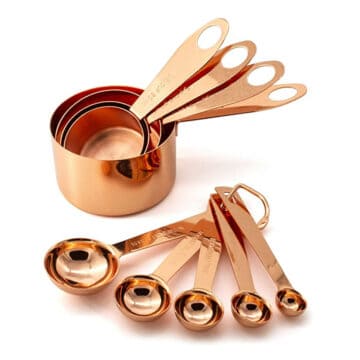 (affiliate link)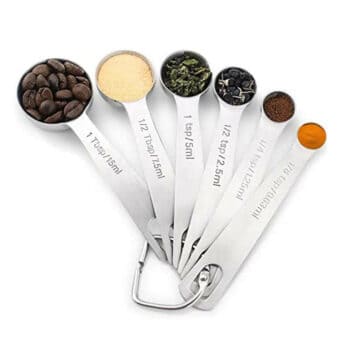 (affiliate link)
Ingredients
1

cup

blackberry

frozen

1

cup

strawberries

frozen

1

cup

banana

~ 4 oz, frozen

1

cup

almond milk

unsweetened, use other plant milk to make it nut-free

½

cup

water

3

tablespoons

hemp hearts

shelled

2

dates

pitted
Directions
Prepare and measure your ingredients, then add them into a blender, and blend on high until smooth.

Adjust. For a thicker smoothie, frozen banana and blackberries. For a thinner smoothie, add more plant milk or water (it will affect sweetness). Taste and adjust flavor as needed.

Serve immediately. Smoothie leftovers will keep in a covered mason jar in the refrigerator for up to 1 day, though best when fresh.
Notes
Nutrition facts are calculated without the protein powder.
Adding the suggested protein powder adds 28 calories, 0 carbohydrates, and 5 grams of protein per serving.
Add agave or maple syrup for extra sweetness or extra dates. We like using dates because they have a ton of beneficial post-workout benefits.
Vegan Clean Protein: if using the clean protein powder

(affiliate link)

, add our 10% discount code OURPBWORLD10 at check-out to enjoy the benefit. (affiliate)
Nutrition Facts
Calories:
288
kcal
Carbohydrates:
37
g
Protein:
11
g
Fat:
12
g
Saturated Fat:
1
g
Polyunsaturated Fat:
9
g
Monounsaturated Fat:
2
g
Sodium:
165
mg
Potassium:
541
mg
Fiber:
9
g
Sugar:
21
g
Vitamin A:
328
IU
Vitamin C:
64
mg
Calcium:
220
mg
Iron:
4
mg
Nutrition Facts
Strawberry Banana Blackberry Smoothie
Amount per Serving
% Daily Value*
* Percent Daily Values are based on a 2000 calorie diet.
🌡️ Food safety
Cook to a minimum temperature of 165 °F (74 °C)
Do not use the same utensils on cooked food, that previously touched raw meat
Wash hands after touching raw meat
Don't leave food sitting out at room temperature for extended periods
Never leave cooking food unattended
Use oils with a high smoking point to avoid harmful compounds
Always have good ventilation when using a gas stove
See more guidelines at USDA.gov.
Nutritional Disclaimer
The information shown is an estimate provided by an online nutrition calculator. It should not be considered a substitute for a professional nutritionist's advice. See our full Nutritional Disclosure here.
Affiliate Disclaimer
Please note that some of the links here are affiliate links, and I will earn a commission if you purchase through those links. I recommend all of the products listed because they are companies I have found helpful and trustworthy.