Hello, everyone! Spring is here, so it's time to start cooking up some fresh and seasonal recipes. This roundup of Spring Vegan Recipes has everything from appetizers to main courses to desserts, so there's something for everyone. Enjoy grilled asparagus to delicious Artichokes with dipping sauce. These vegan spring meals are sure to make your taste buds happy. So get inspired and get cooking!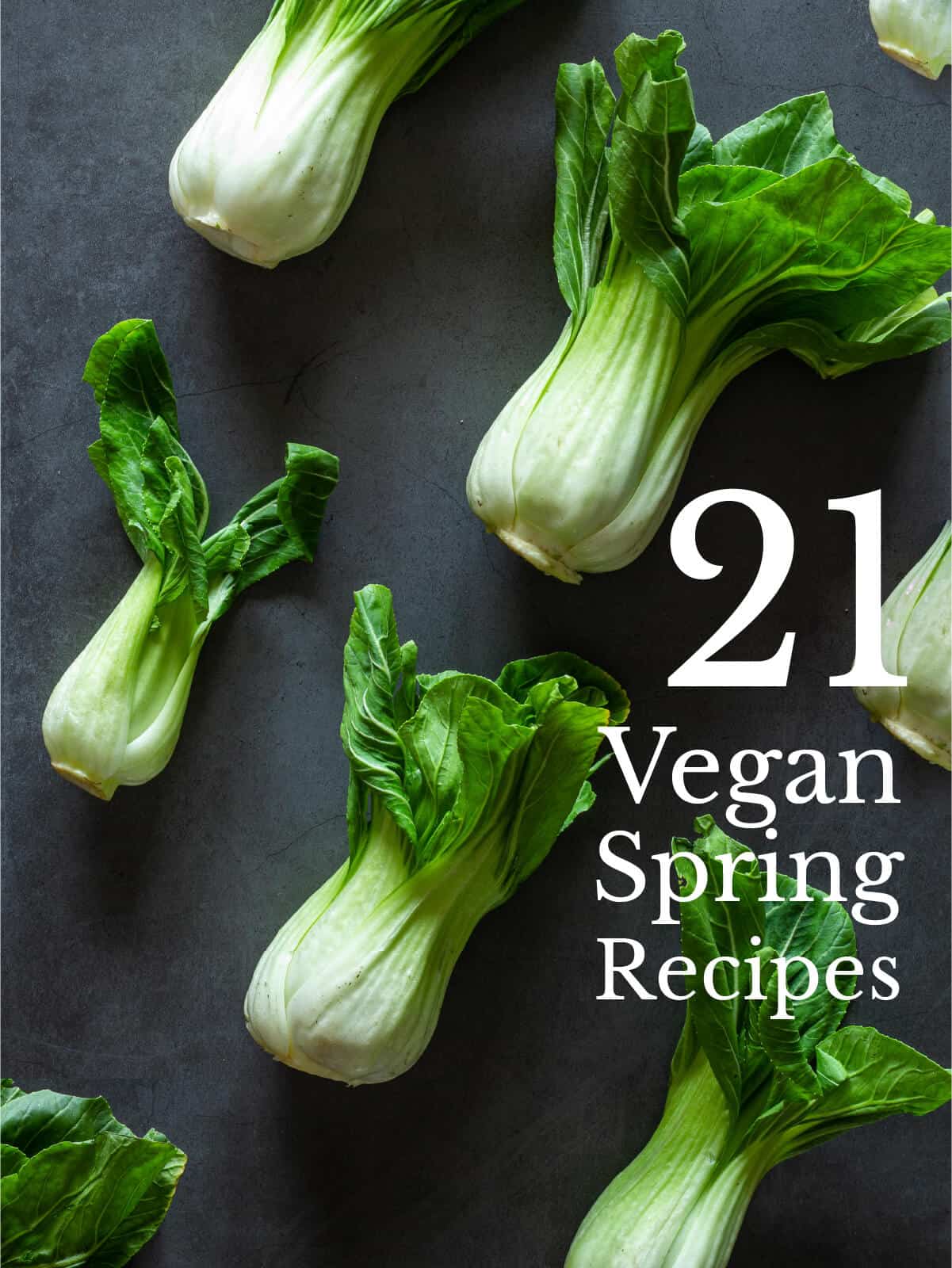 We are in the middle of the Spring Season! It marks a season of fantastic fresh vegetables packing delicious bold flavors such as fresh asparagus, eggplants, berries, carrots, cauliflowers, collard greens, spinach, fresh herbs, and more.
Spring vegetables are some of the most versatile and delicious around. They can be used in so many different dishes, from salads to soups to pasta to stir-fries. And they're all relatively easy to find at your local grocery store or farmers' market.
Our favorite spring vegetables include asparagus, peas, artichokes, and ramps. But really, all fresh vegetables in season during the spring months are going to pack delicious flavor.
They make it super easy to make delicious vegetarian recipes with gluten-free options to please everyone!
It is also a great season to make your own sprouts, which can be used in multiple dishes like arepa sandwiches, poke bowls, sprouts soups, and salads.
So we have gathered our favorite Spring Vegan Recipes to celebrate the season, including dips, salads, sprouts, main dishes, juices, and smoothies!
Jump to:
🍳 Breakfast
Try out this delicious and refreshing vegan pineapple and strawberry smoothie recipe! It's perfect for a summer snack or breakfast on the go.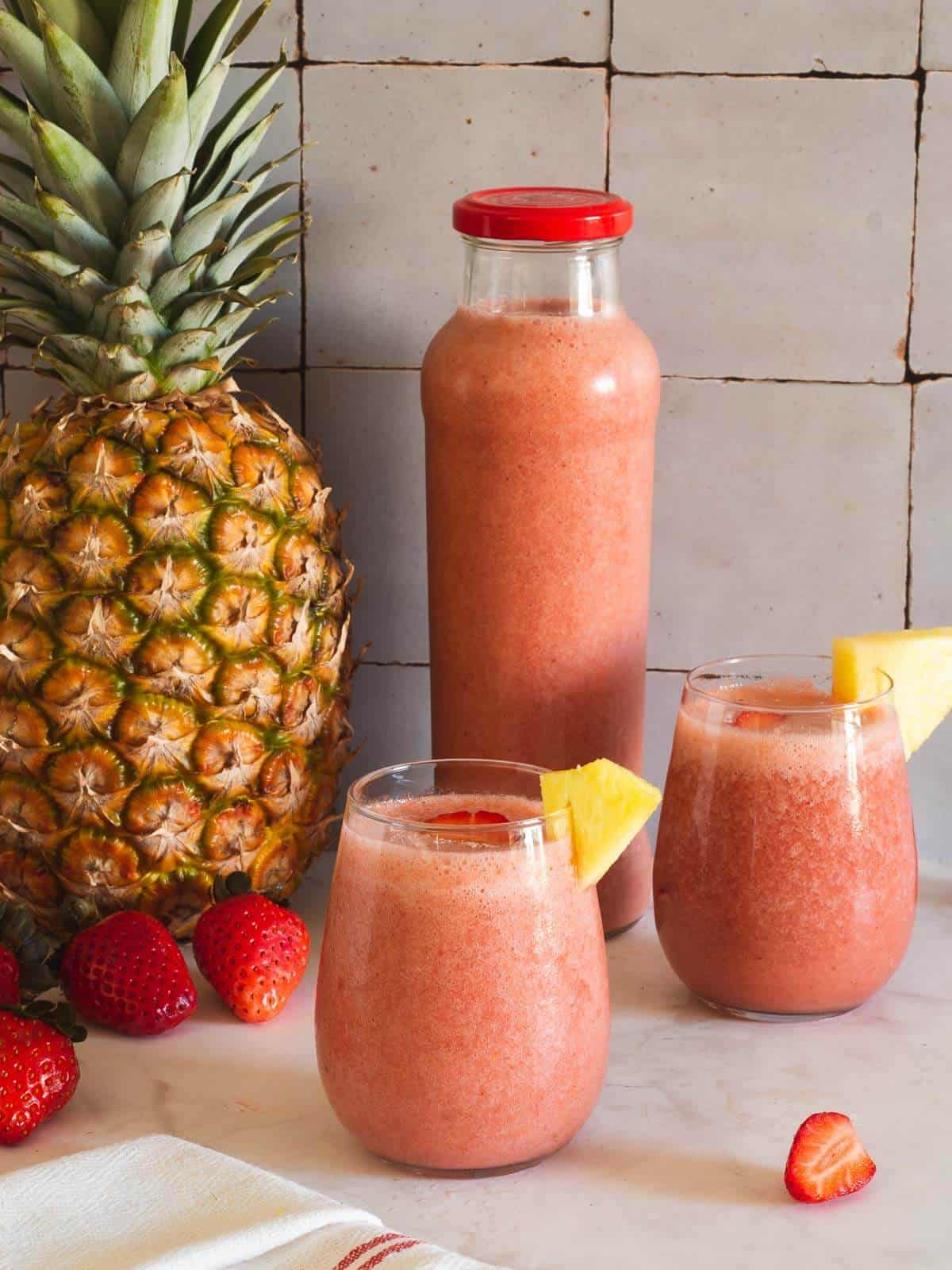 There's nothing like a good smoothie bowl to start your day off right. This particular recipe is packed with healthy ingredients like berries and creamy frozen fruit, making it the perfect way to fuel your body for the day ahead. Plus, it's really easy to customize based on your own preferences.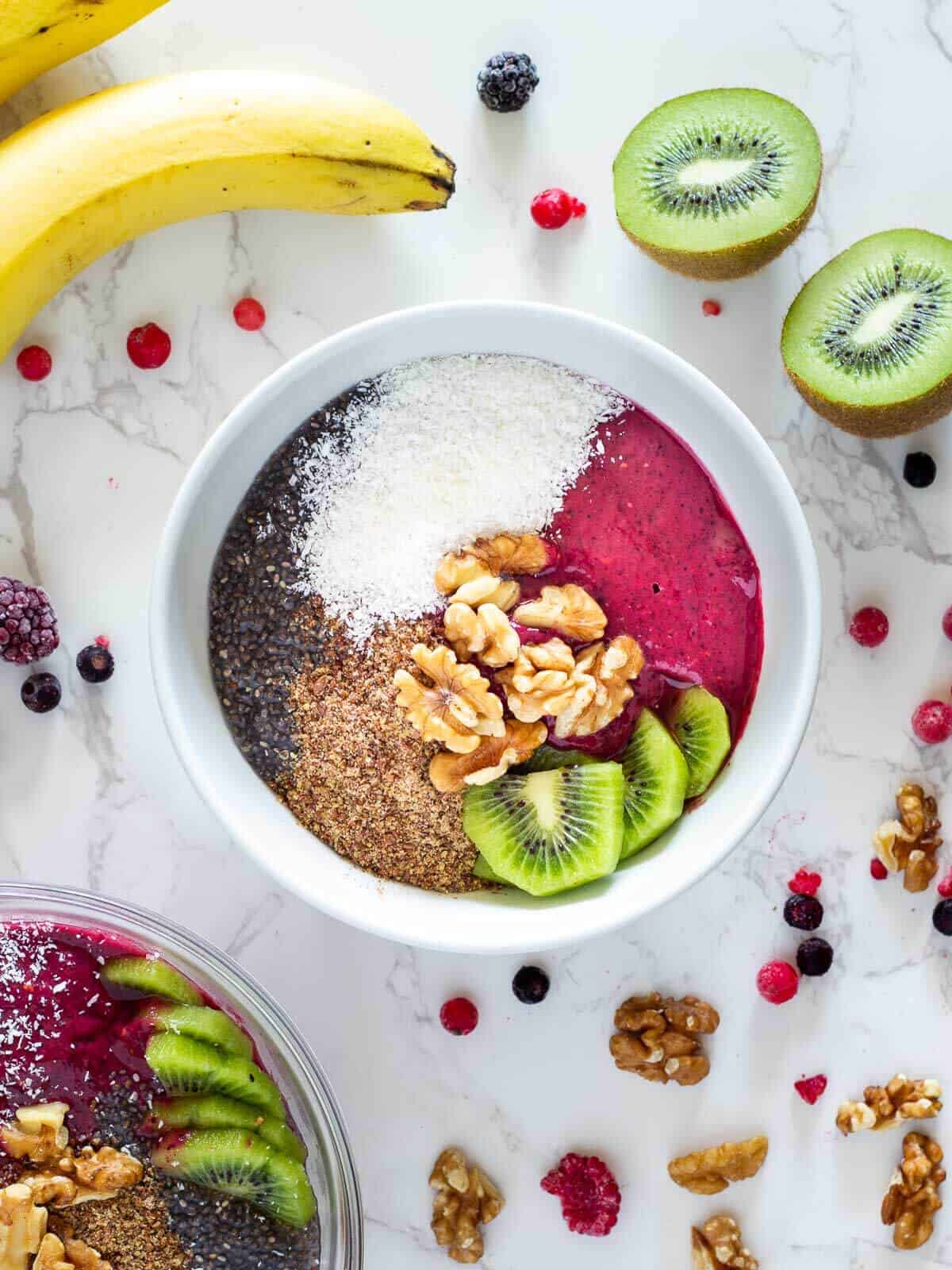 Are you feeling sluggish and in need of a detox? This green smoothie is perfect for giving your body the nutrients it needs to cleanse and rejuvenate. Filled with leafy greens, healthy fats, and plenty of fiber, this smoothie will help you feel lighter and more energized in no time!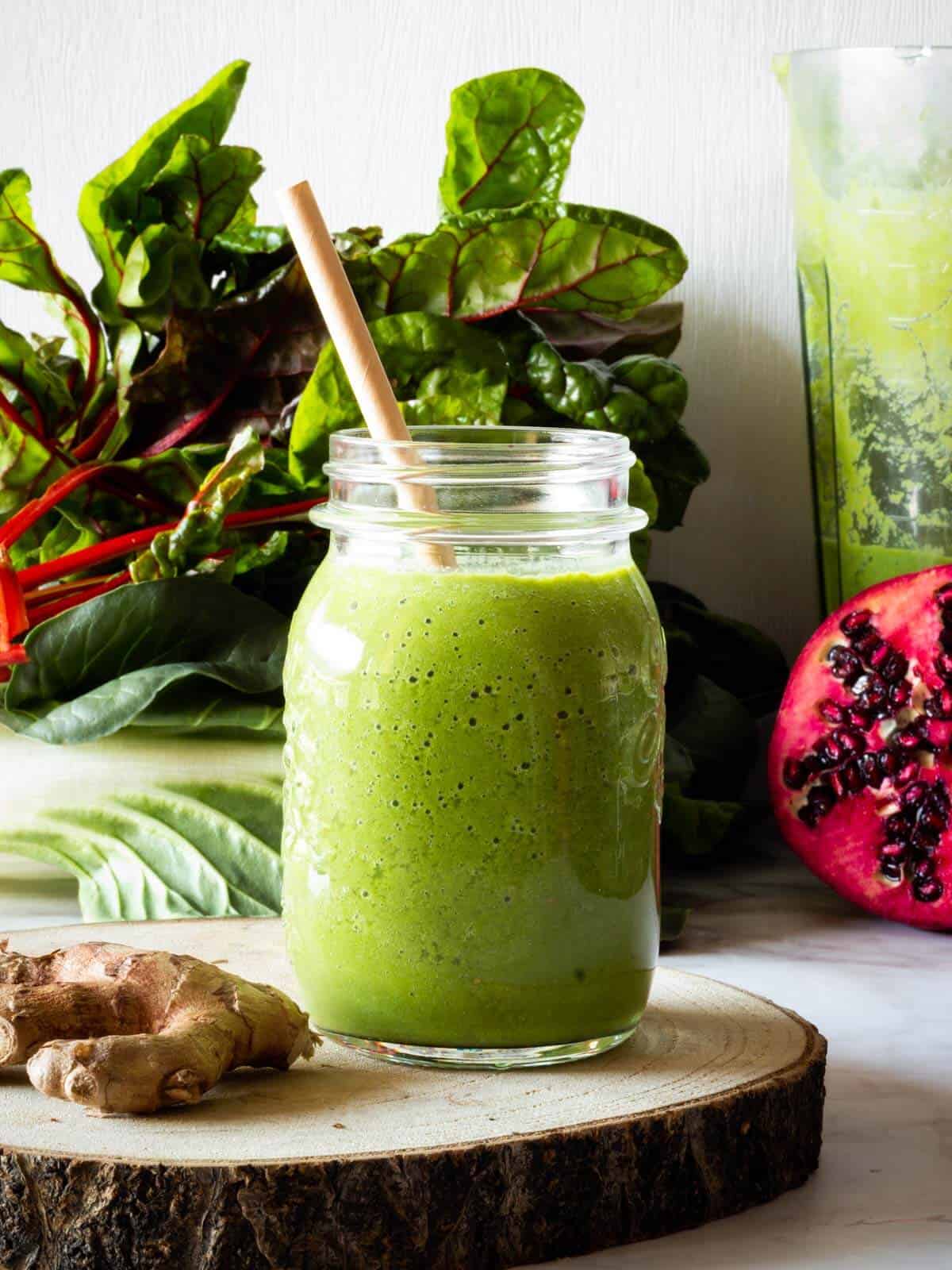 Springtime is the perfect season to start getting ready for summertime, start shedding some of those pounds we might have gained over wintertime and make sure our skin gets to its better shape. Hellow carrots! This is how to make a juice that's perfect for your skin. This juice is packed with antioxidants and vitamins, which will help to keep your skin looking healthy and radiant.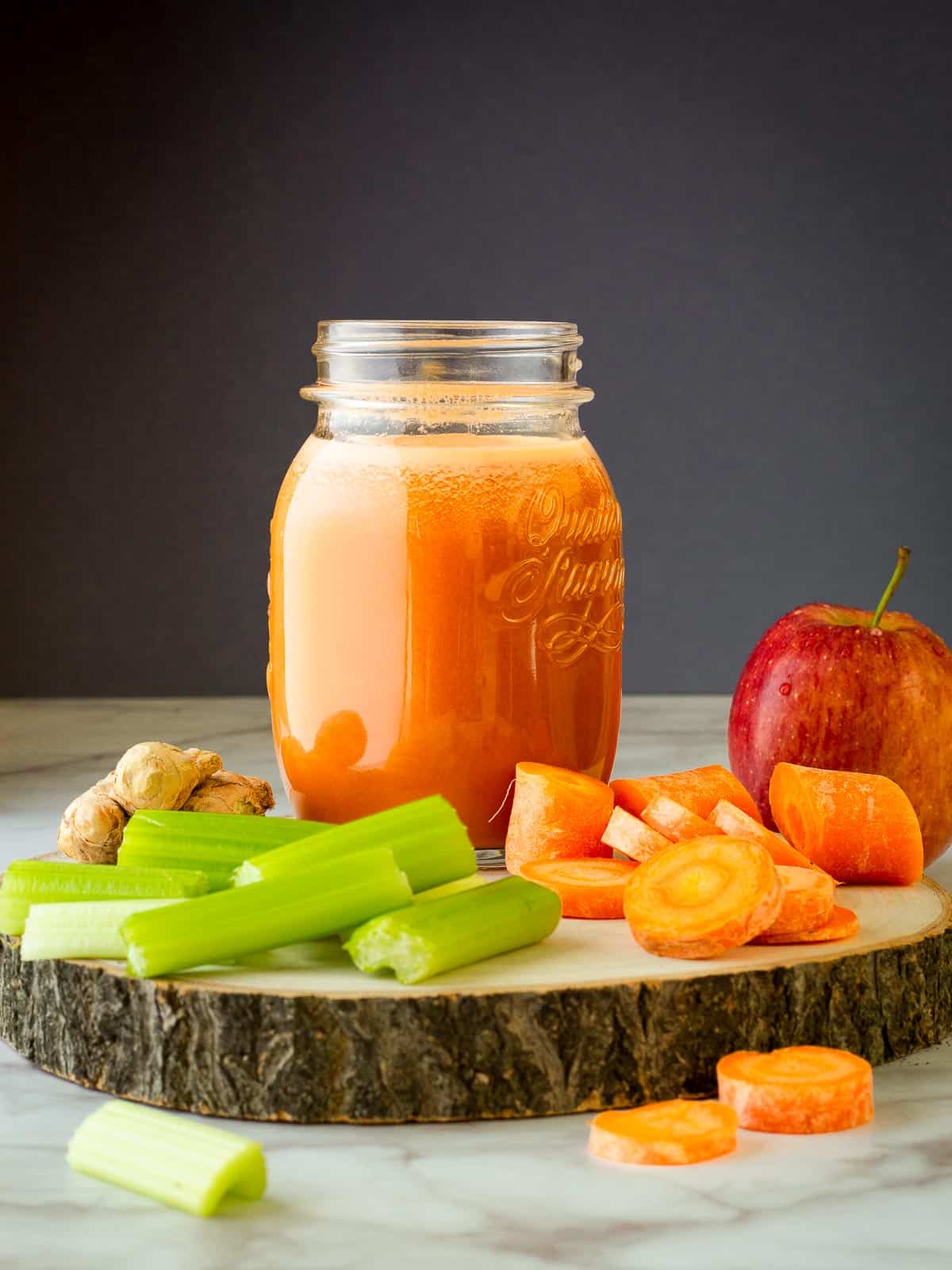 I have the perfect recipe for a frozen berry smoothie that the whole family can enjoy. This smoothie is packed with antioxidants and other nutrients that are good for your health.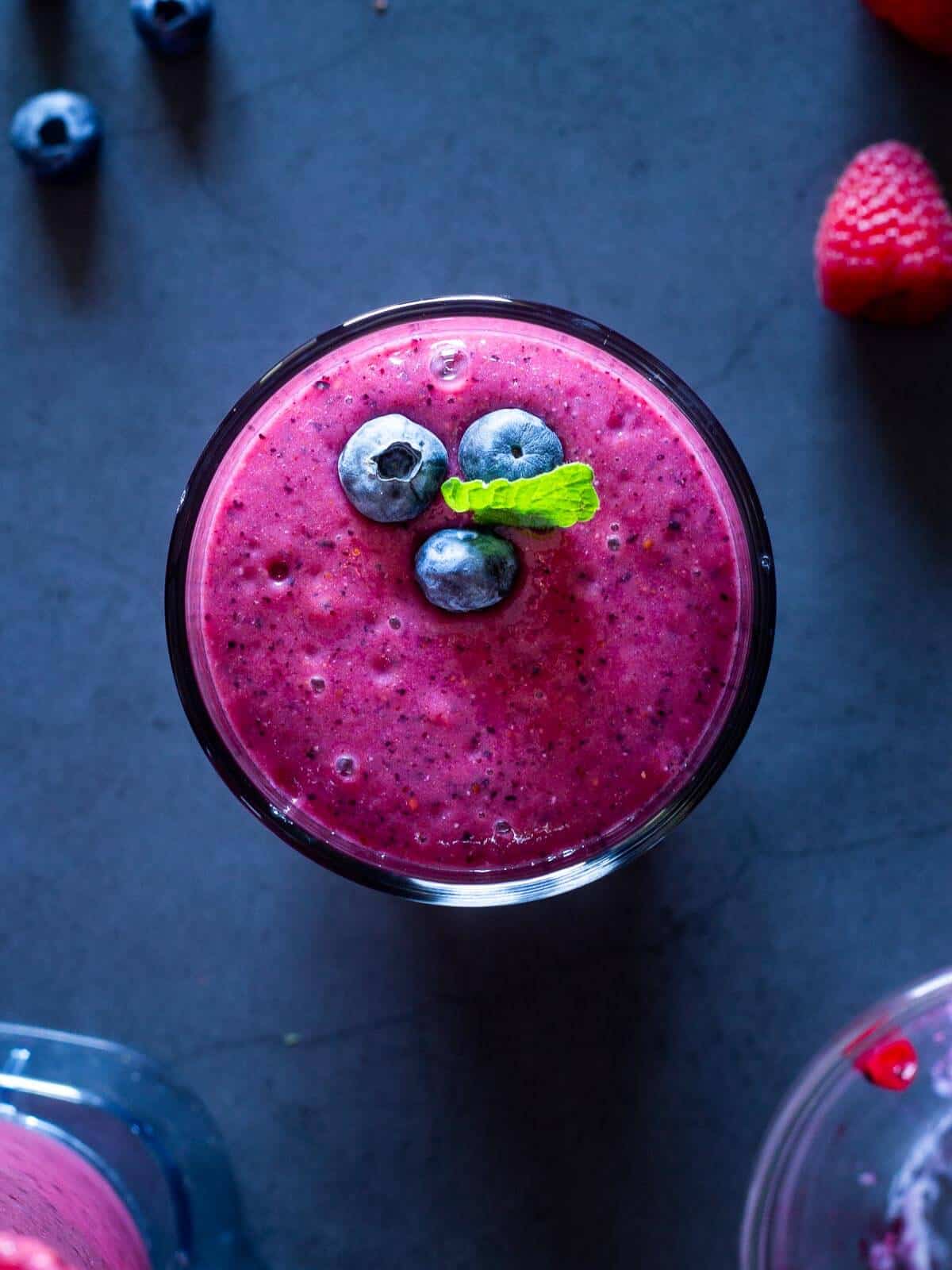 This healthy and delicious oat and chia pudding is the perfect breakfast or snack! It's packed with nutrients and will keep you feeling full all morning. Plus, it's so easy to make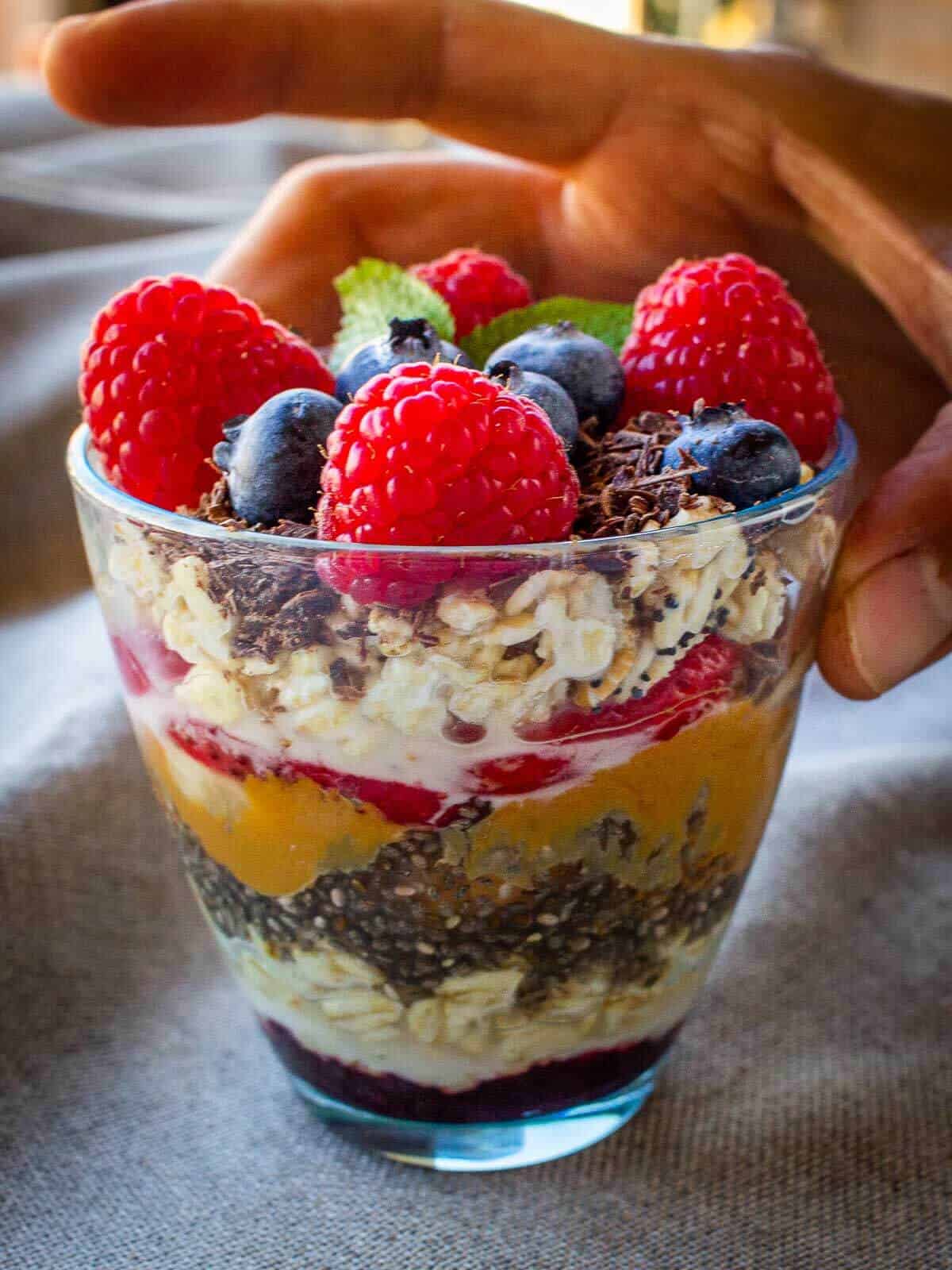 🥑 Vegan appetizers and side dishes
Find some vegan appetizers and side recipes for spring! I have gathered some of my favorite recipes that are perfect for your next gathering. Whether you are hosting a potluck or just need some healthy vegetarian meal prep ideas using fresh produce, these recipes are sure to please.
Cooking can be a form of art. It's taking ingredients and turning them into something delicious that can bring people together. And when it comes to food, there are few things as impressive as a well-made Roman-style artichoke. These creatures might look intimidating, but they're actually quite simple to make - and taste fantastic.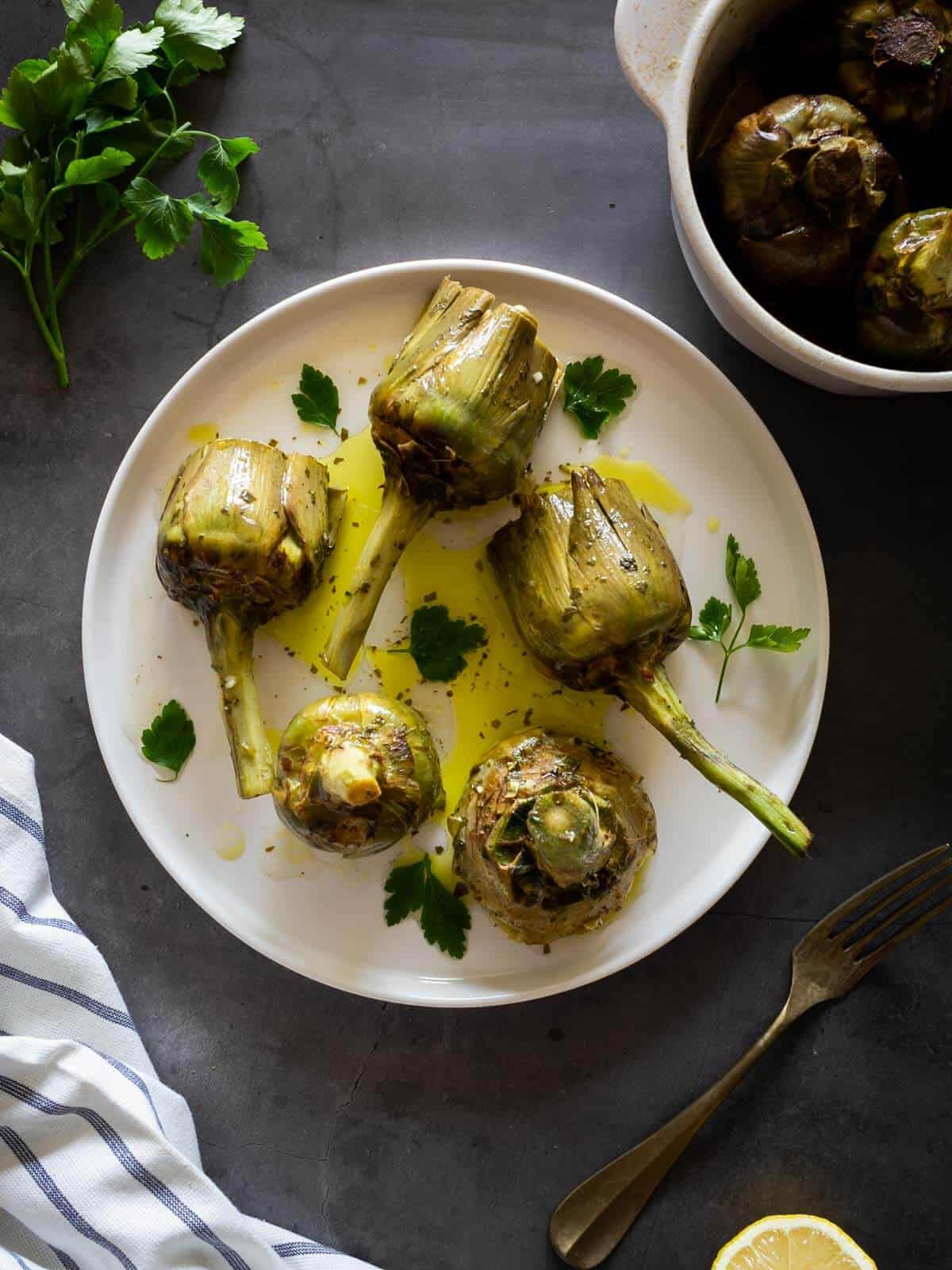 Asparagus is a delicious and healthy vegetable that can be cooked in many different ways. In this recipe, I will show you how to make easy and healthy white asparagus. White asparagus is a bit more difficult to find than green asparagus, but it is definitely worth seeking out. The taste is milder and the texture is firmer than green asparagus. This recipe is perfect for a quick and easy weeknight dinner.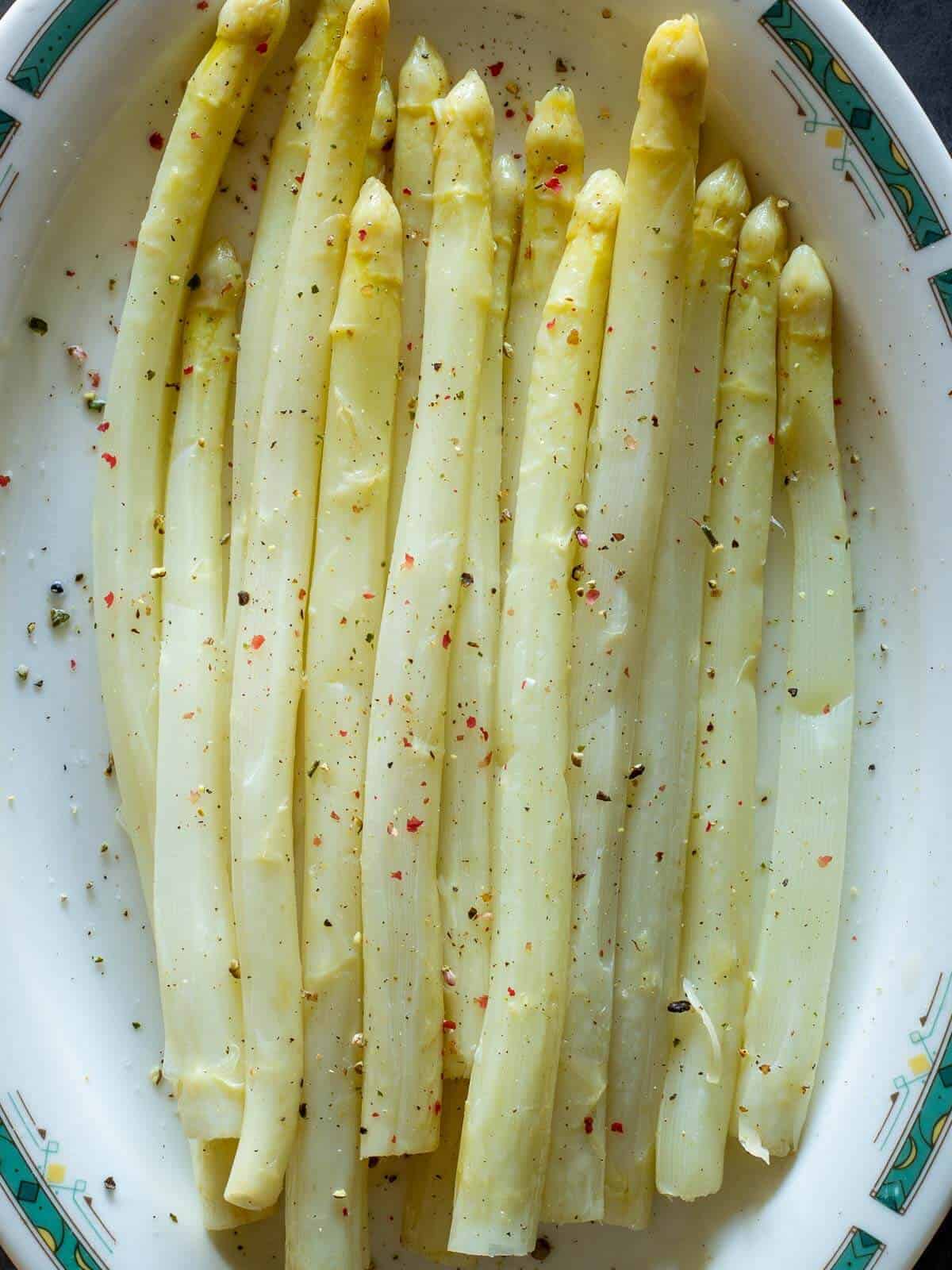 Looking for a fun and easy appetizer to make for your next party? Look no further than these baked artichokes with dipping sauce! These crispy, flavorful bites are sure to be a hit with your guests. Plus, the dipping sauce is so good that you'll want to use it on everything!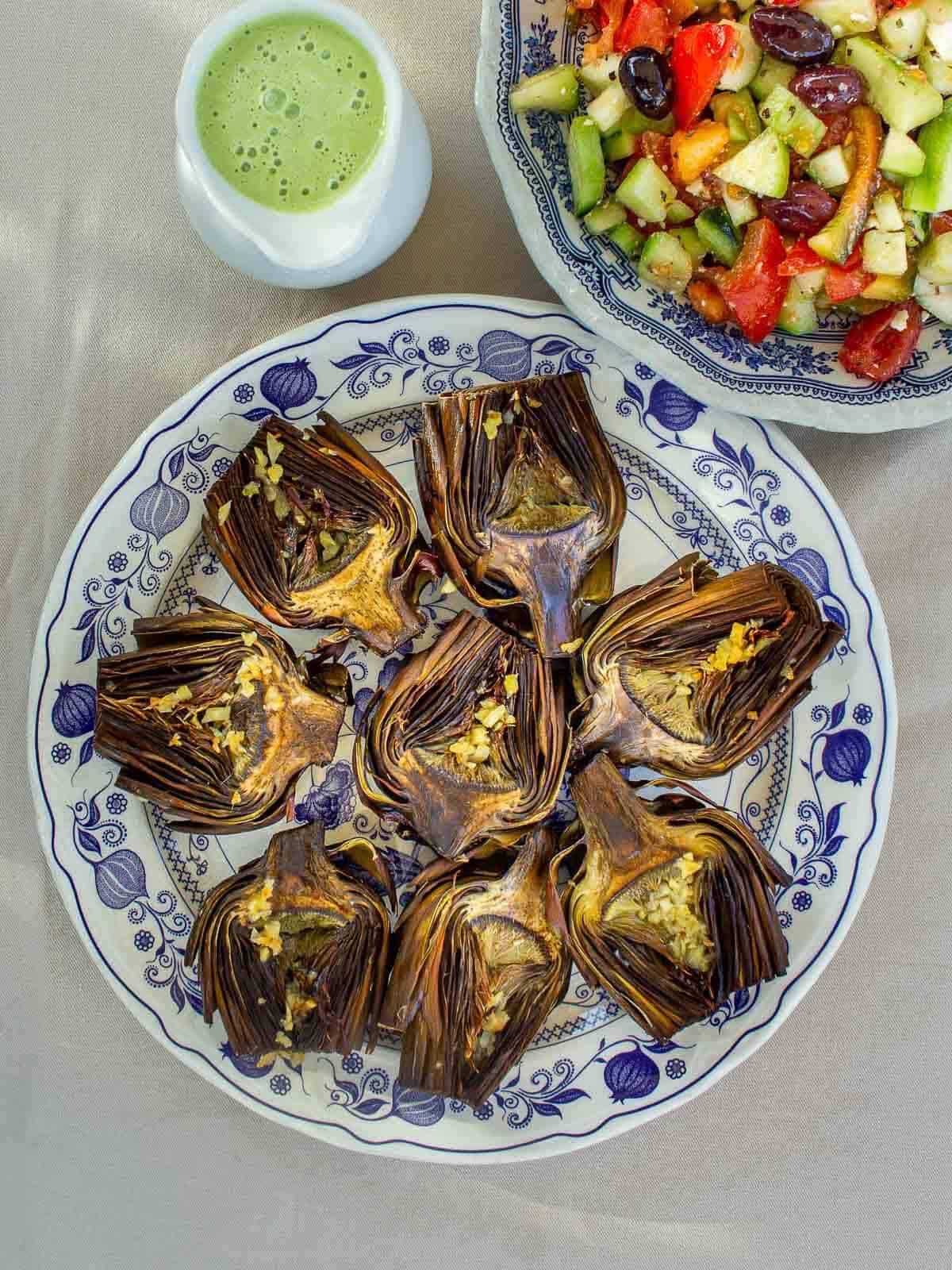 Perfectly grilled crisp asparagus
Sharing my perfectly grilled asparagus recipe. This dish is perfect for a springtime cookout or anytime you're looking for a healthy and flavorful side dish. Asparagus is one of my favorite vegetables, and I'm excited to share this easy and delicious recipe with all of you.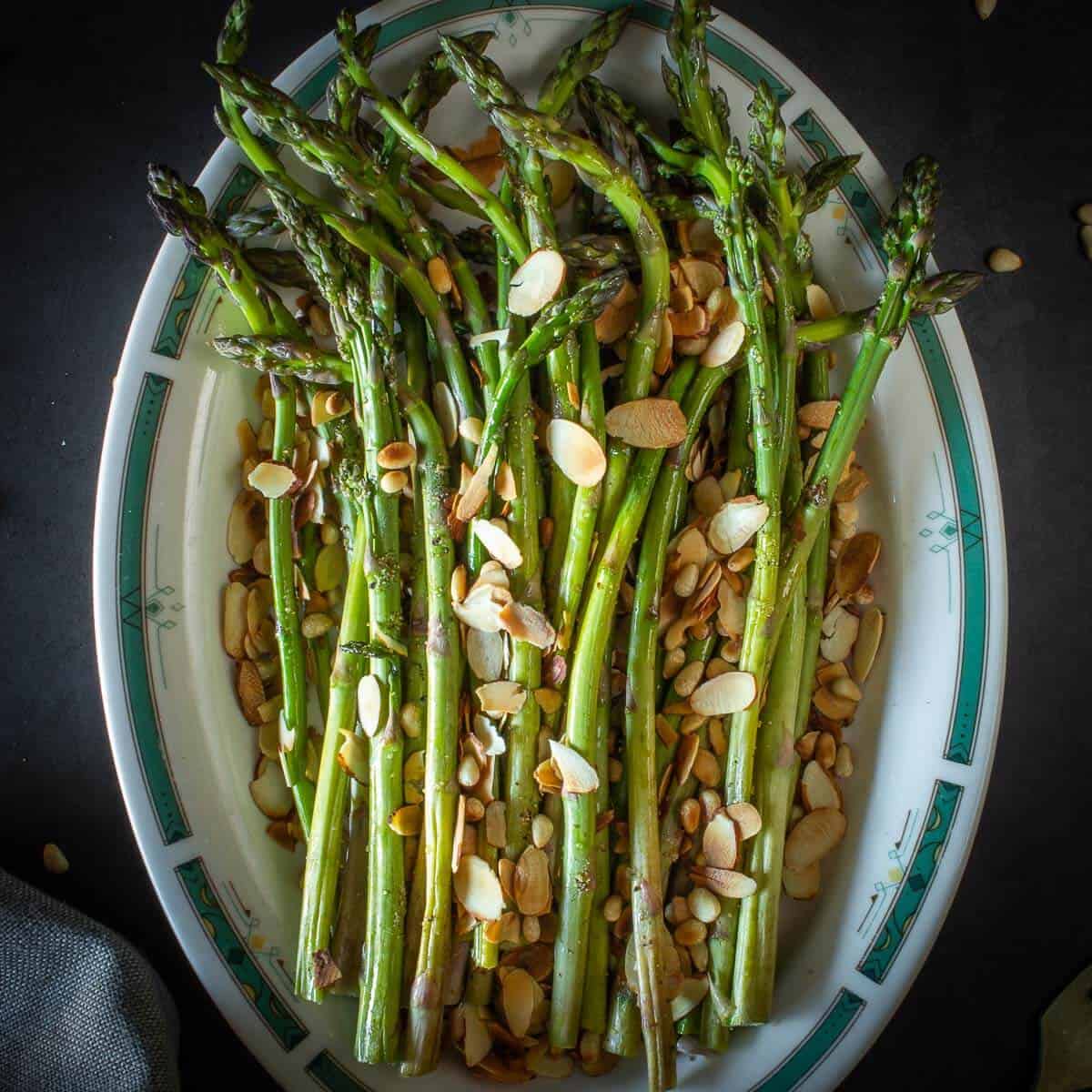 Looking for a delicious and healthy side dish? Try green beans with flaked toasted almonds! This recipe is easy to make and can be tailored to your taste. I guarantee your family will love it!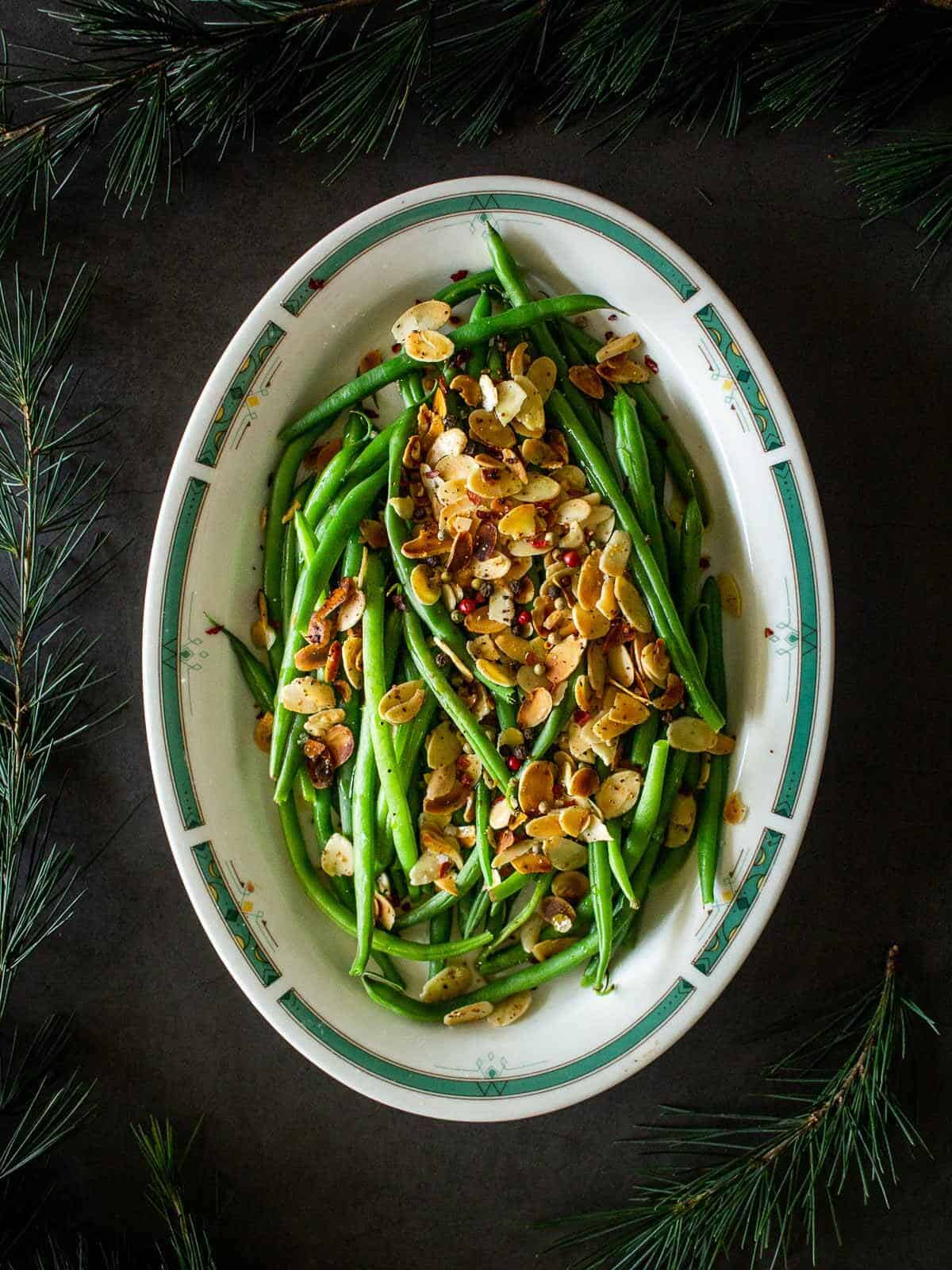 Beets are an unexpected and delicious addition to hummus! This beet hummus is made with white beans and lemon juice and has a beautiful pink color. It's perfect for a party or as a healthy snack. Garnish with some sliced radishes or your favorite sprouts. Give it a try!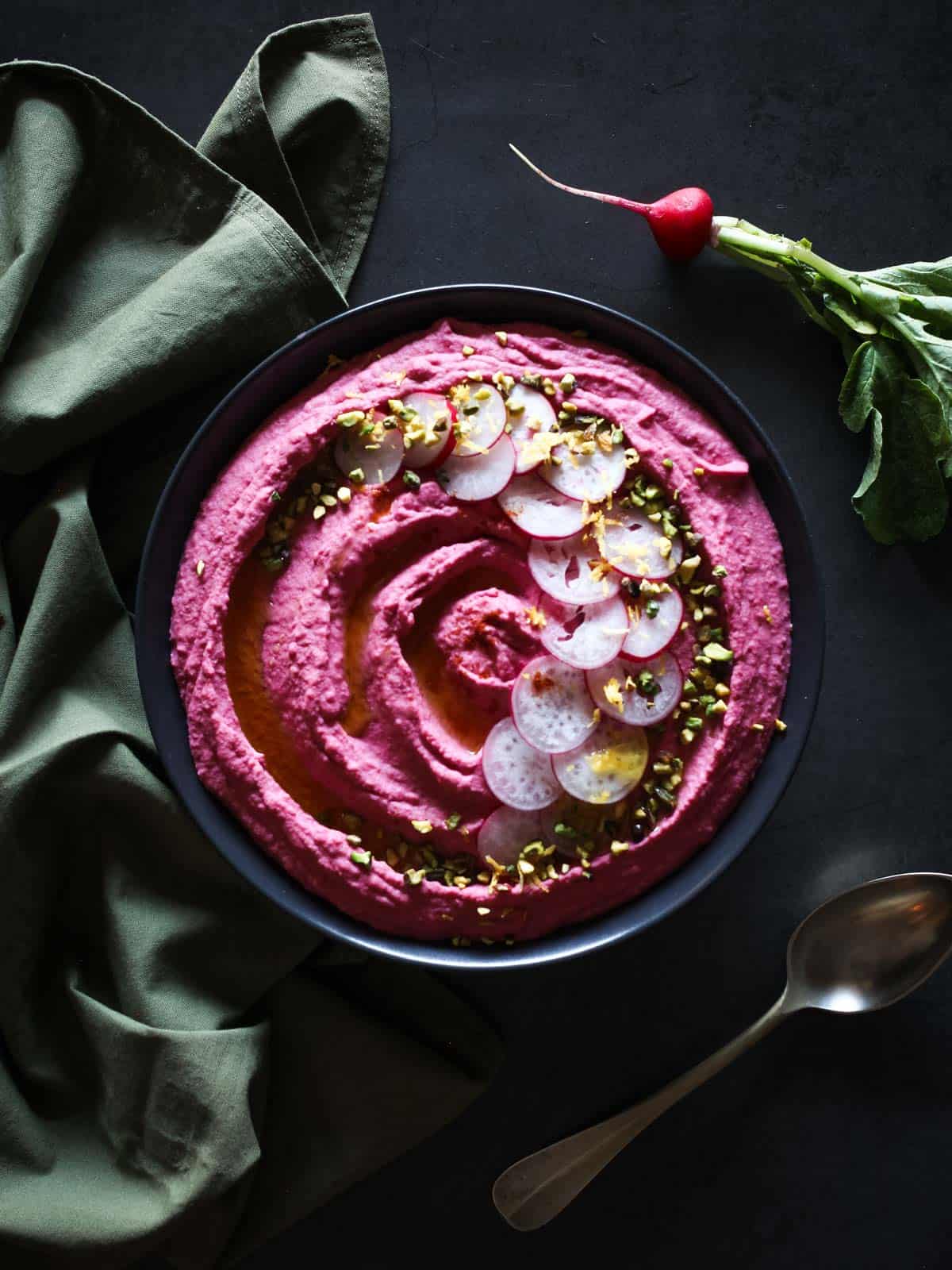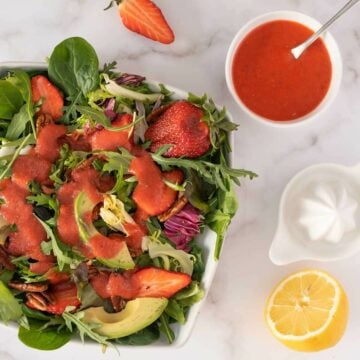 Creamy Strawberry Balsamic Dressing
Looking for a delicious and healthy dressing to add to your salads? Try this Vegan Strawberry Balsamic Dressing recipe! Made with fresh strawberries, balsamic vinegar, and a few other simple ingredients, this dressing is not only tasty but also vegan and packed with nutrients. Give it a try and take your salad game to the next level!
Make this Recipe
🥬 Vegan meals
Our favorite spring vegan recipes for main courses. Our picks include filling soups, 15-minutes pasta dishes, and lunch bowls.
As we slowly transition into the warmer months, I can't help but crave lighter and fresher dishes. This vegan lemon asparagus risotto is perfect for early spring, when asparagus is in season and lemons are starting to show up at the grocery store. The recipe is simple to make and comes together in just over 25 minutes. Plus, it's a great way to sneak in some extra veggies! Hope you enjoy it.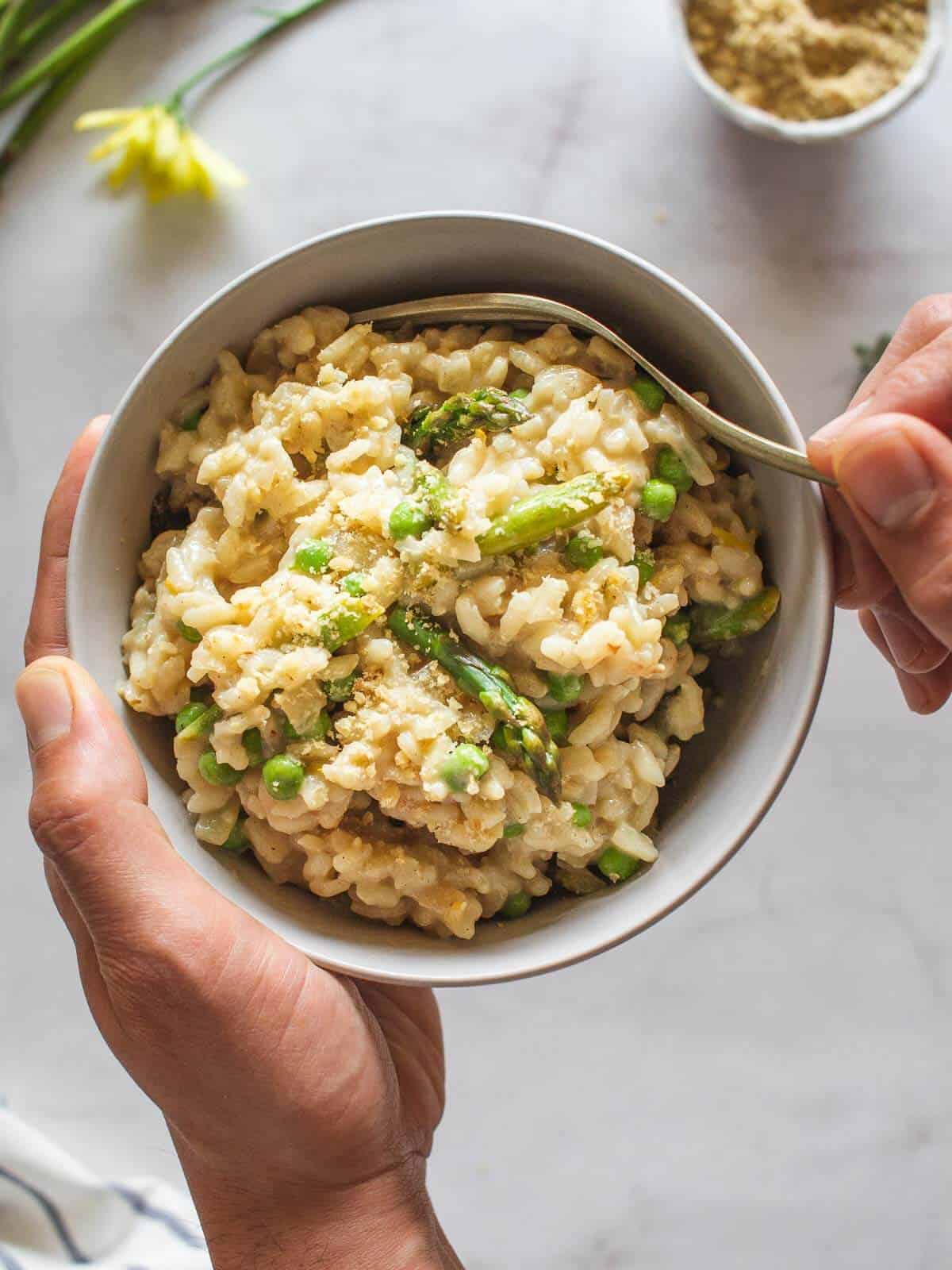 Got frozen green peas, garlic, and pasta? You are on your way to a no-fuzz dinner!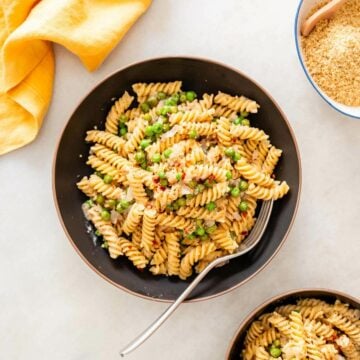 One-Pot Italian Peas and Pasta Recipe (Pasta e Piselli, Quick & Easy)
Discover the joys of plant-based cooking with our Pasta and Pea Recipe. Packed with fresh ingredients, it's a speedy, flavorful vegan delight! Oil-Free and Gluten-Free!
Make this Recipe
This zesty lemon asparagus pasta is one of the easiest healthy vegetarian recipes for spring. It's light and refreshing, but still satisfying and filling. Plus, it's super easy to make, just stir-fry your asparagus, boil your pasta, and assemble!
So if you're looking for a quick and tasty weeknight dinner option, grab some asparagus, pasta, and lemon zest and make dinner in less than 15 minutes.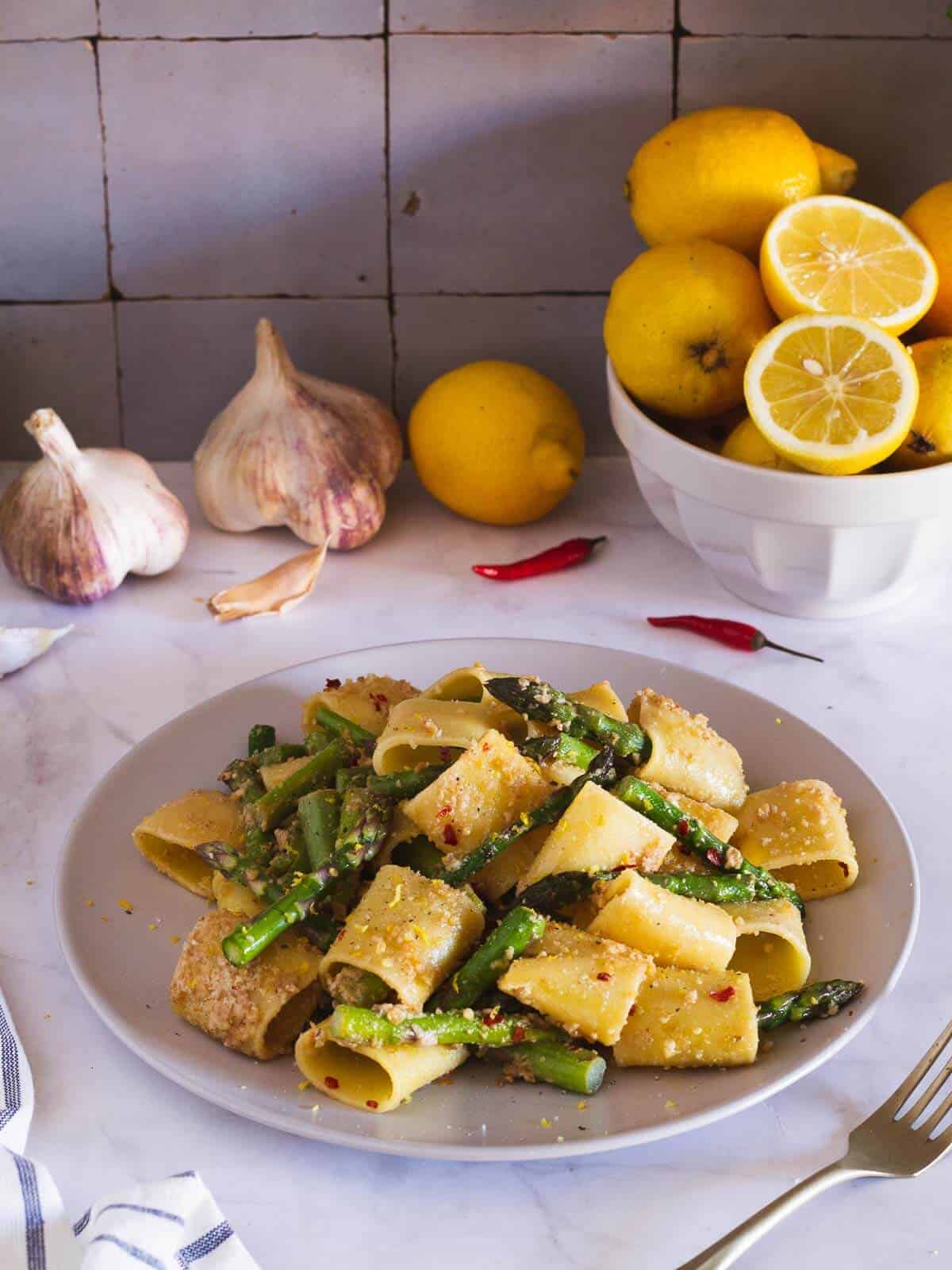 This recipe for spiced roasted cauliflower with tahini sauce is perfect for any occasion. The dish is easy to make and tastes delicious. Best of all, it's healthy and nutritious.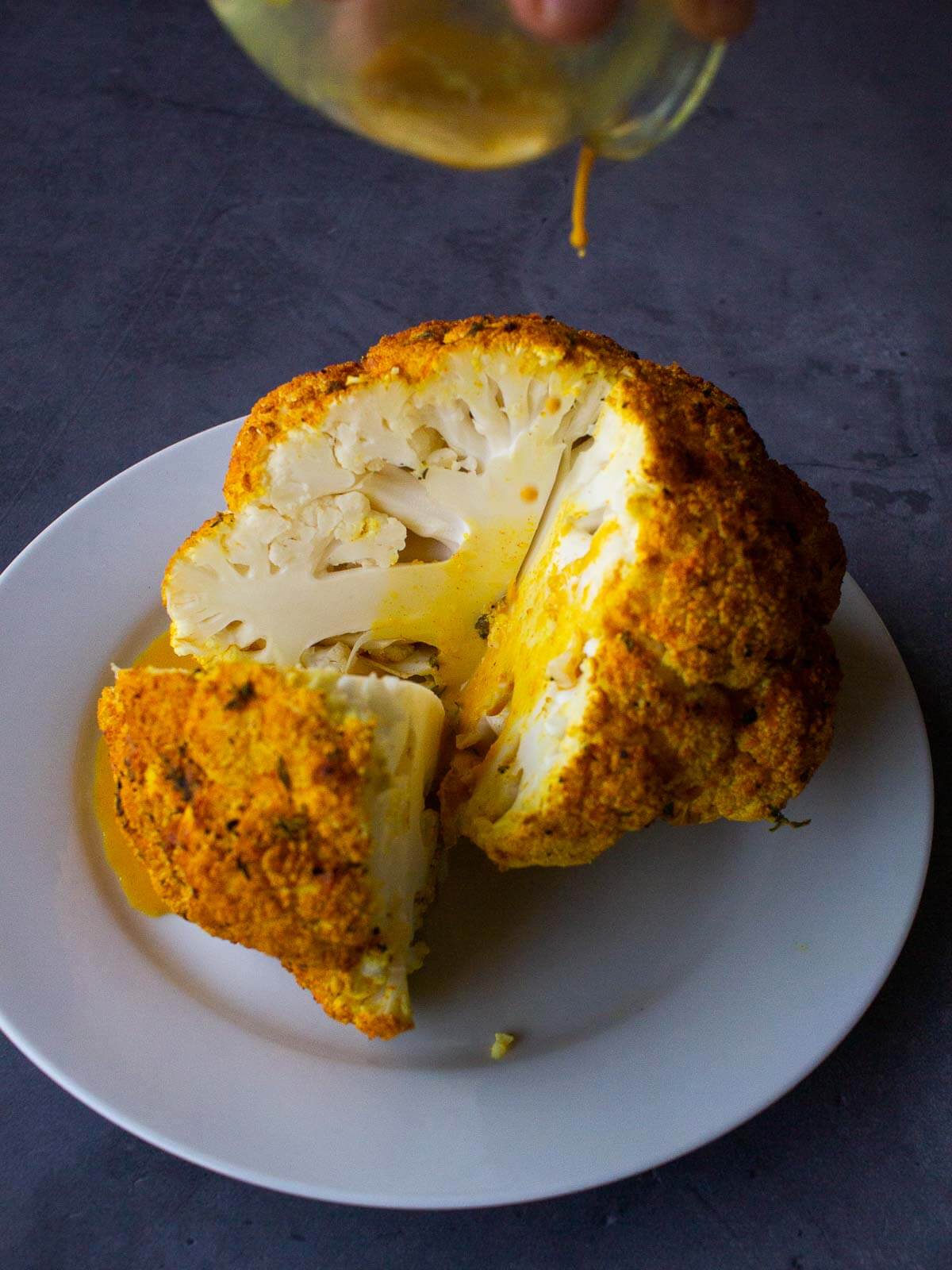 Do you love soup? I certainly do, and today I'm sharing a delicious recipe for creamy carrot and ginger soup. This soup is easy to make and perfect for a chilly spring evening. It's also vegan and gluten-free, so it's perfect for anyone with dietary restrictions. A great way to use leftover carrots; I promise you won't be disappointed!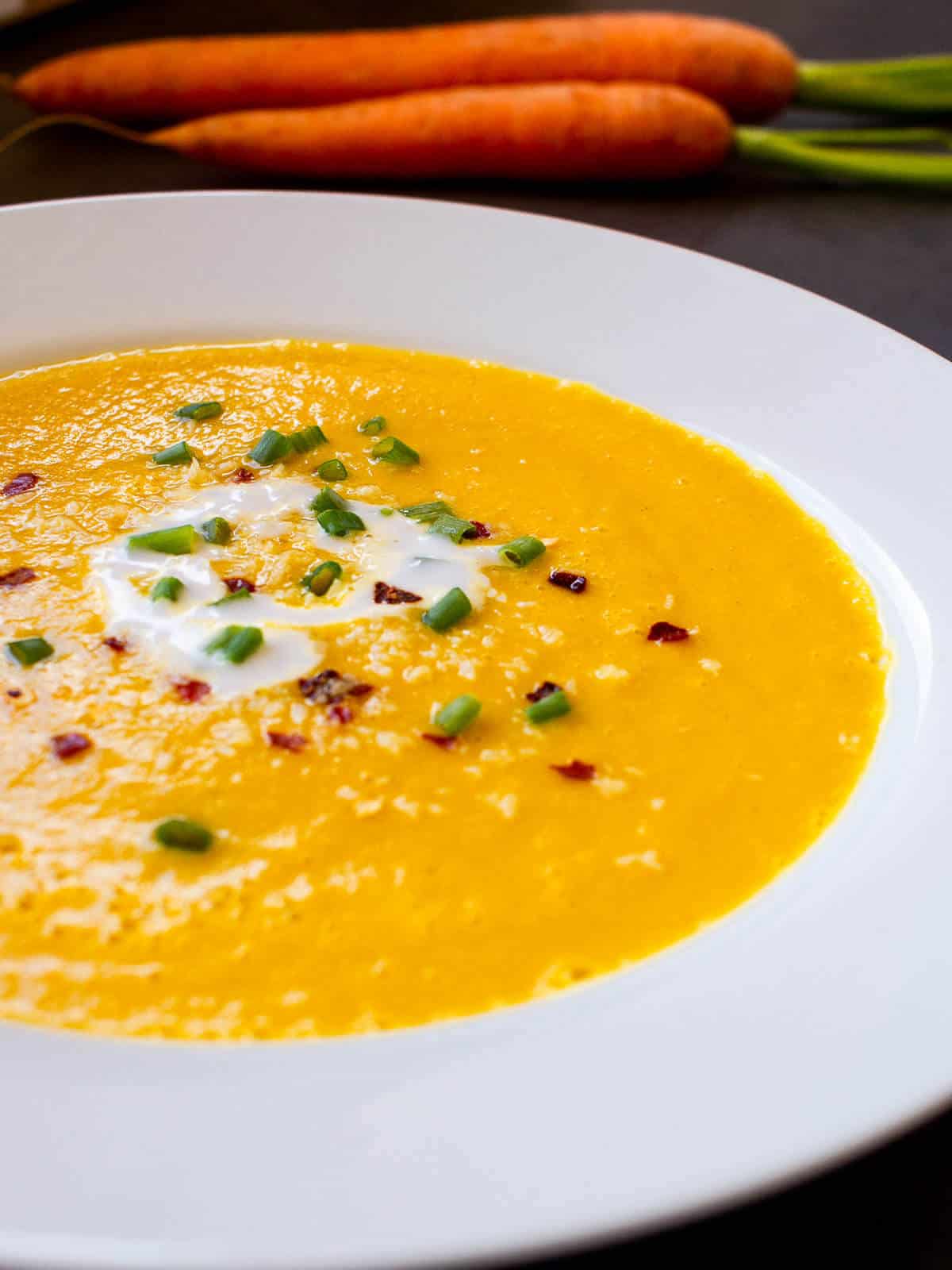 This savory carrot tart is the perfect recipe for a fun and easy weekday meal. The crust can be made from scratch or you can use store-bought. The filling is simple and can be tailored to your taste. Whether you're in the mood for something sweet or savory, this tart has it all!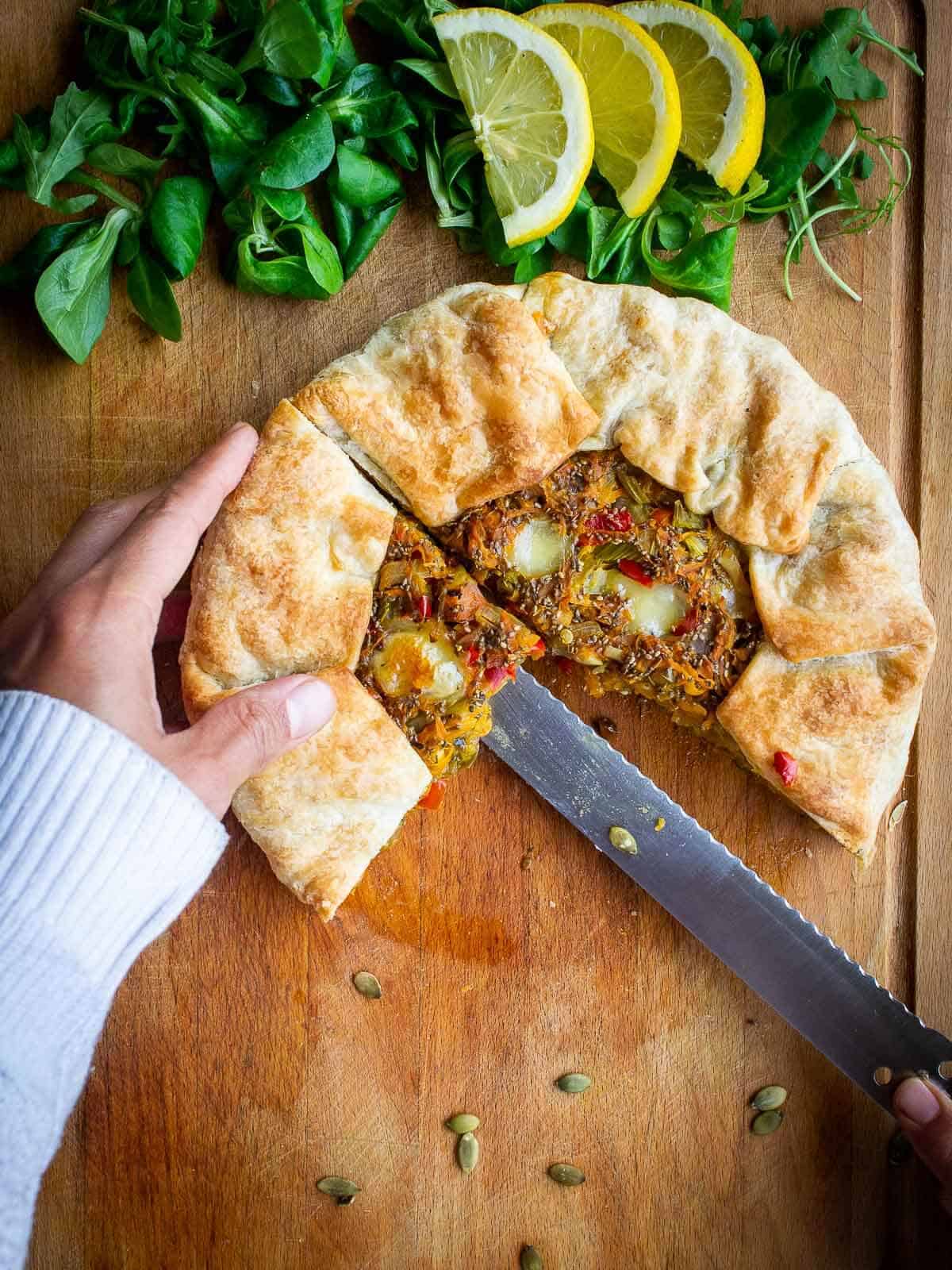 I'm not sure about you, but when I'm in the mood for Thai food, I want something with a bit of a kick. This curry has just the right amount of spice to keep things interesting, while fresh spring vegetables like sweet potatoes, spring onions, and green beans give it a bright and refreshing flavor, serve with crispy tofu for extra protein! If you're looking for something new and exciting to try, this is definitely it!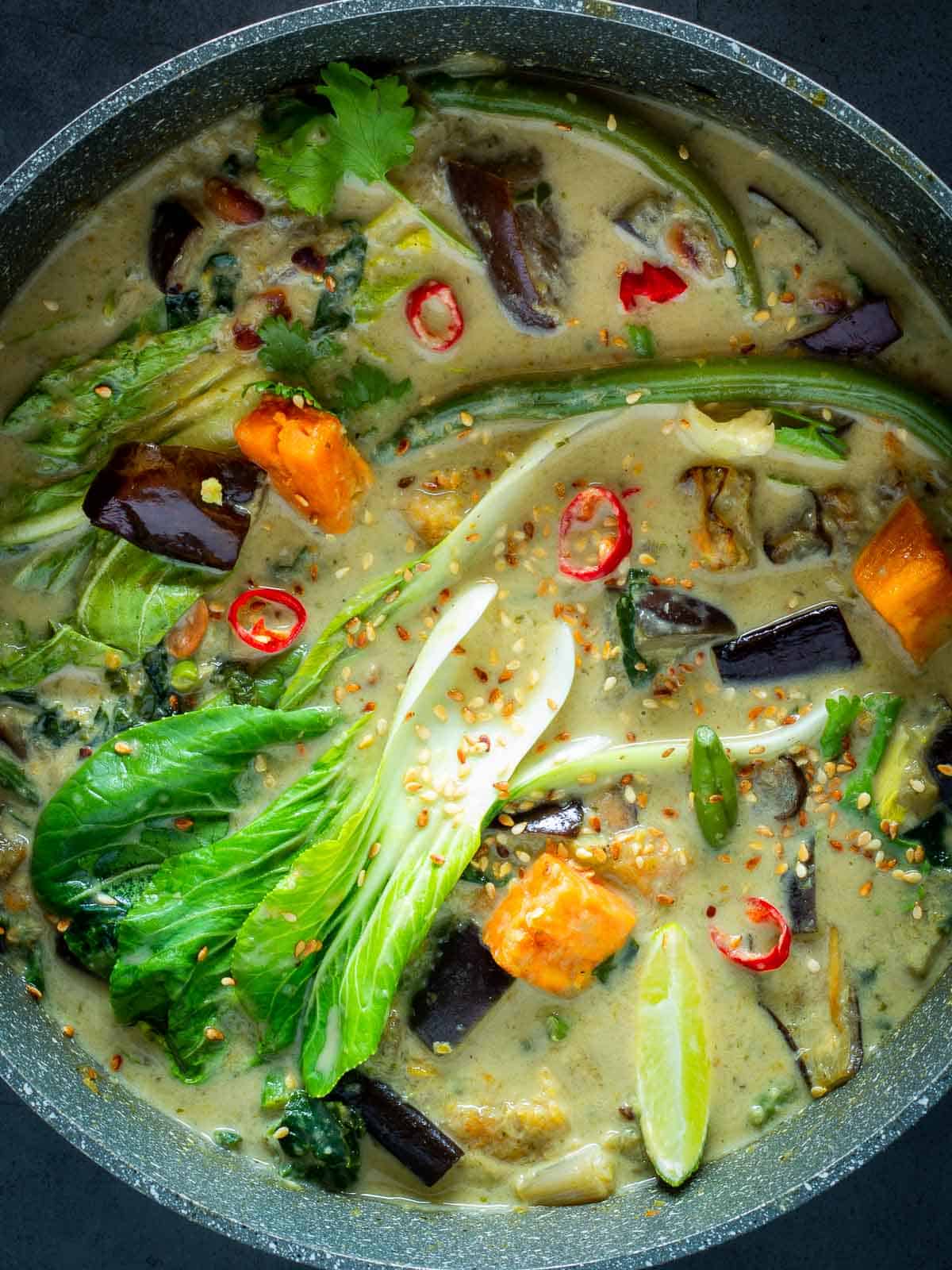 Springtime is the perfect time to enjoy light, healthy meals like poke bowls. This vegan version features a refreshing mint sauce along with quinoa, edamame beans, eggplant, and avocado. Plus, it's easy to customize with your favorite toppings, such as peanut sauce and siracha sauce. Get creative and use whatever pulses you have available, think fava beans, fresh peas, and lentil sprouts.
This vegan poke bowl recipe is a great choice for meal prep. Poke bowls are all the rage right now, and they're so easy to customize with your favorite ingredients. Plus, this recipe is vegan, gluten-free, and budget-friendly so it's the perfect balance for everyone.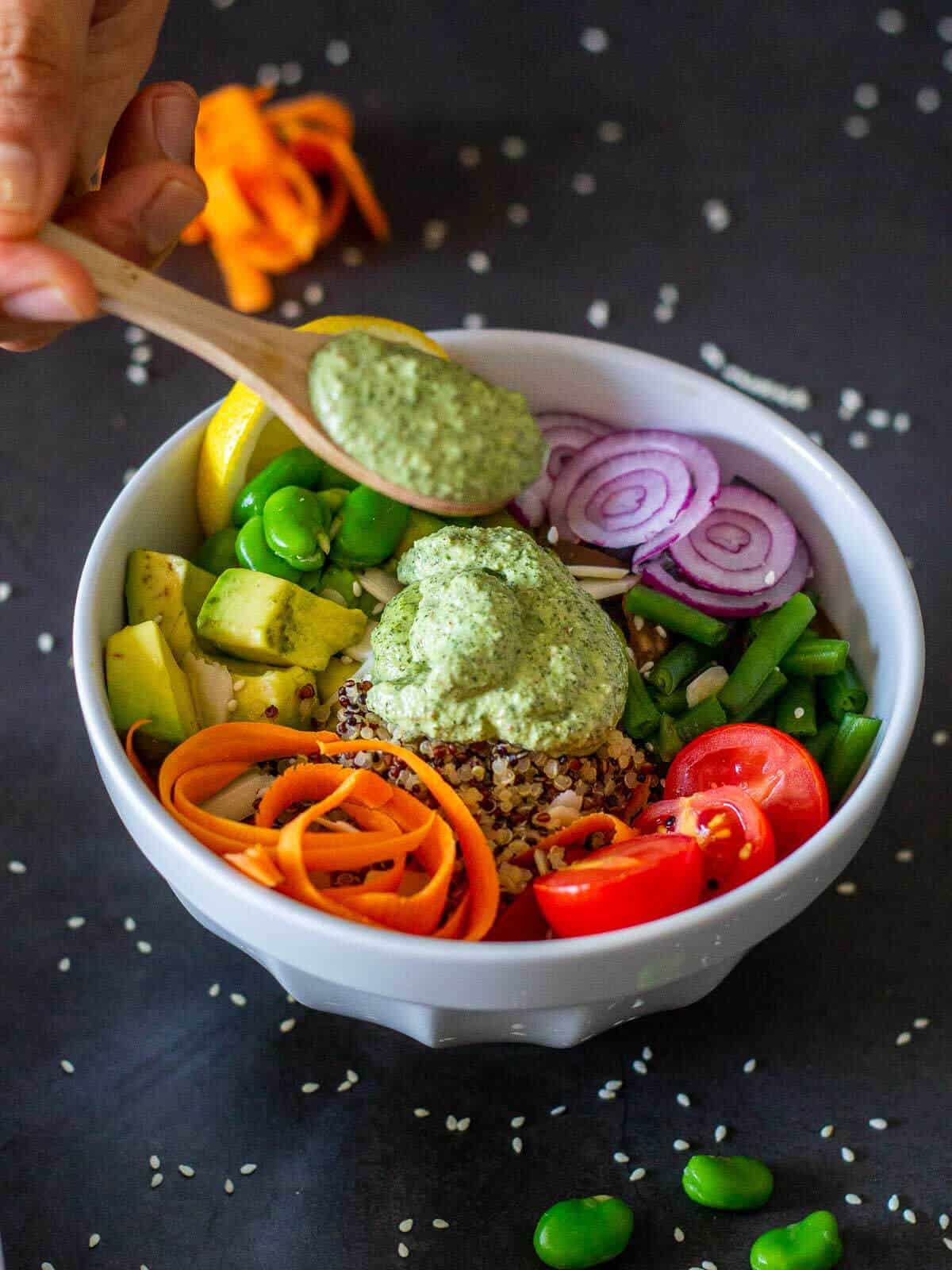 This Lentil sprouts and Couscous salad are perfect for a light and healthy lunch or dinner. It's easy to make, with just a few simple ingredients, and it's loaded with flavor. The lentils add protein and fiber, while the couscous provides complex carbs and minerals. Plus, the spring greens give the salad a crisp texture and fresh flavor.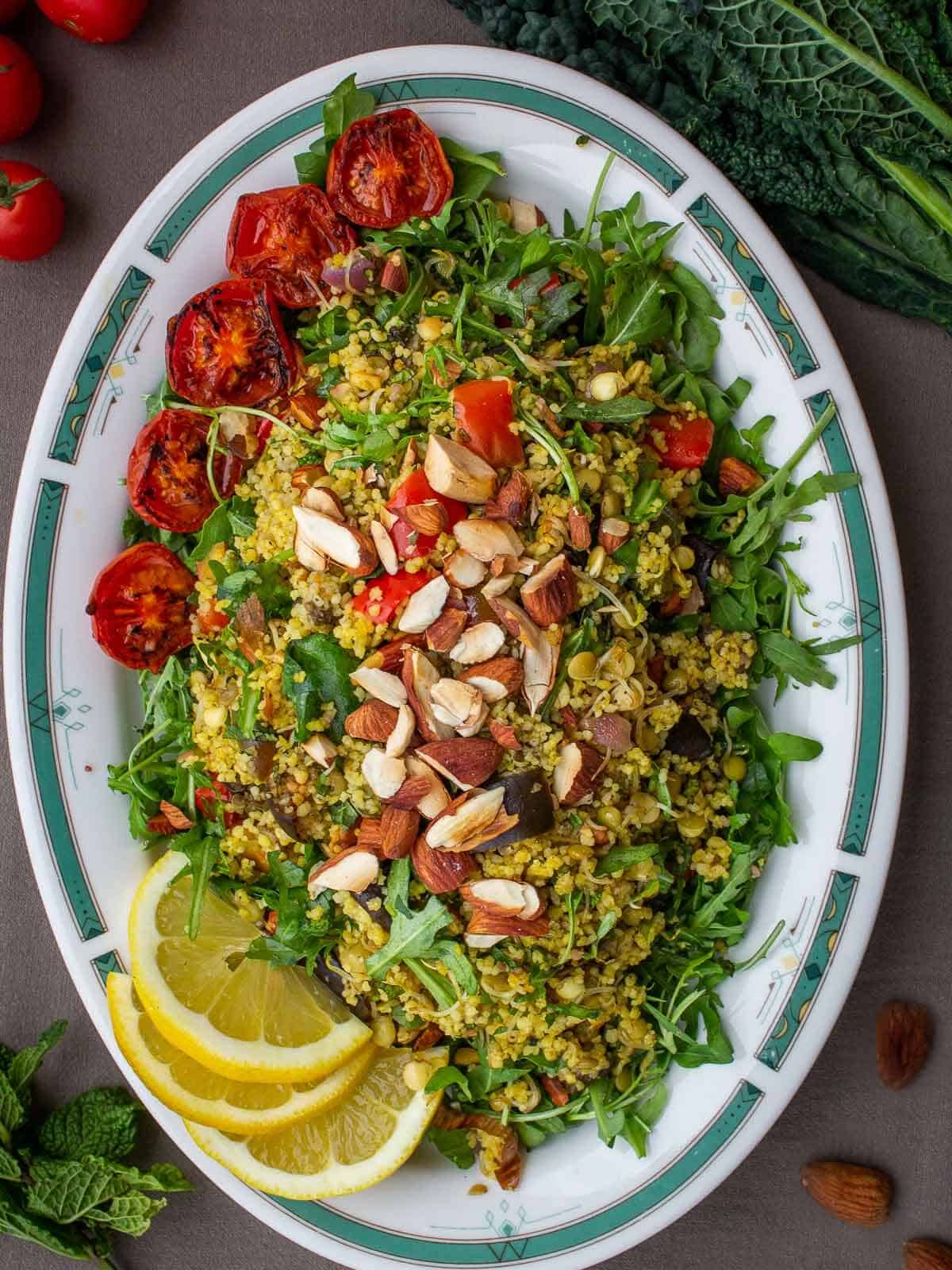 Looking for a delicious and healthy vegan meal? Look no further than this sautéed tofu Buddha bowl with quinoa! This dish is packed with protein, fiber, and flavor, and it's perfect for a busy weeknight dinner. Plus, it's easy to customize according to your own taste preferences.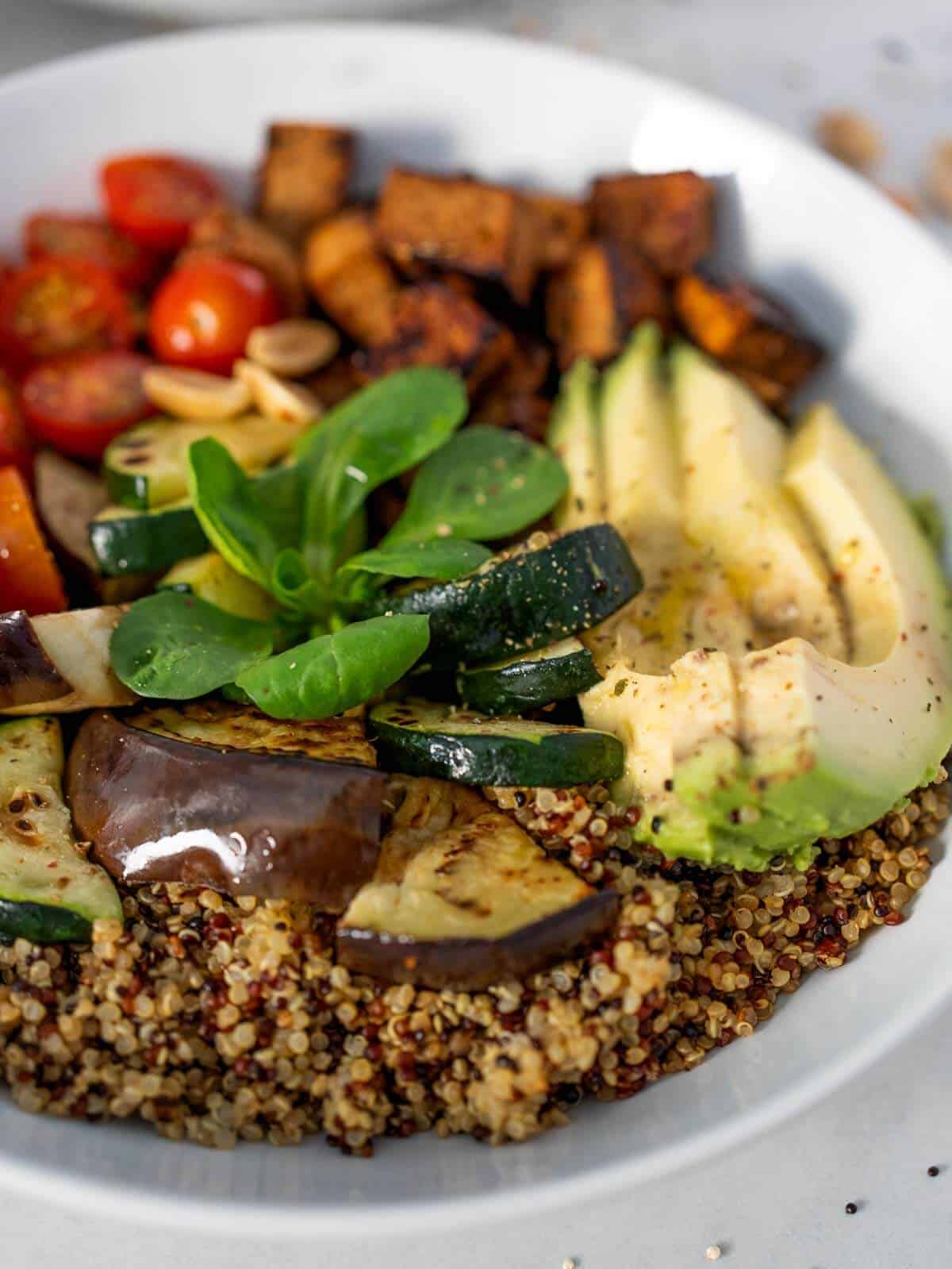 🧂 Seasonings
The arrival of spring means it's time to freshen up your salad game! This 5-minute homemade vinaigrette with fresh dill is the perfect way to do just that. It's light and bright, and the dill gives it a lovely subtle flavor that will have you coming back for more. Best of all, it takes just minutes to make, so you can enjoy all the flavors of spring without spending hours in the kitchen.
We love having it with our kale salad to take it to the next level!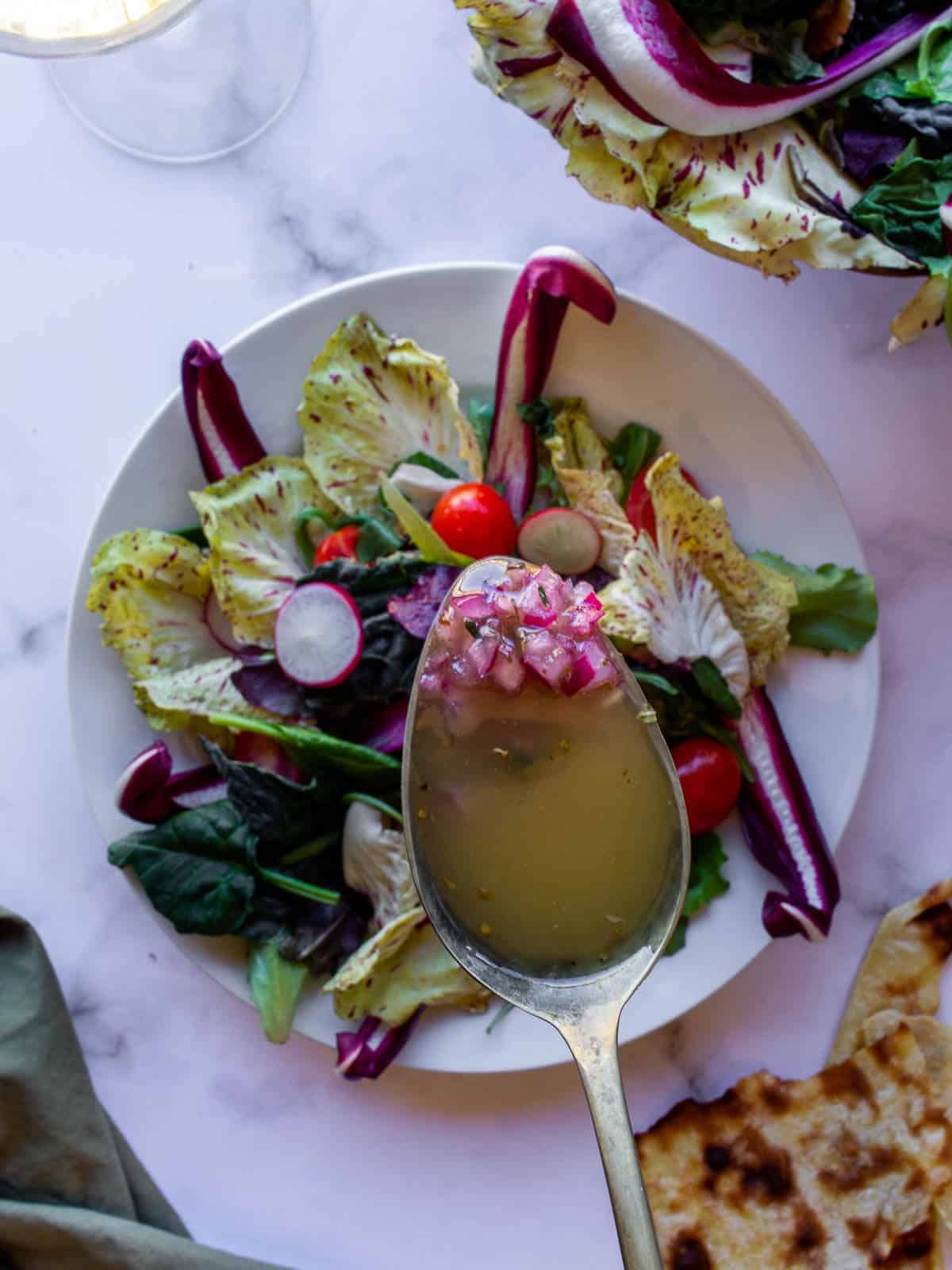 Fresh mint pesto is a wonderfully fresh and flavorful addition to your repertoire of sauces and seasonings. This herby condiment is perfect for summer dishes like grilled buddha bowls, poke bowls, ravioli, or tossed with pasta or potatoes. Pesto is traditionally made with basil, but this mint version will surely become a new favorite.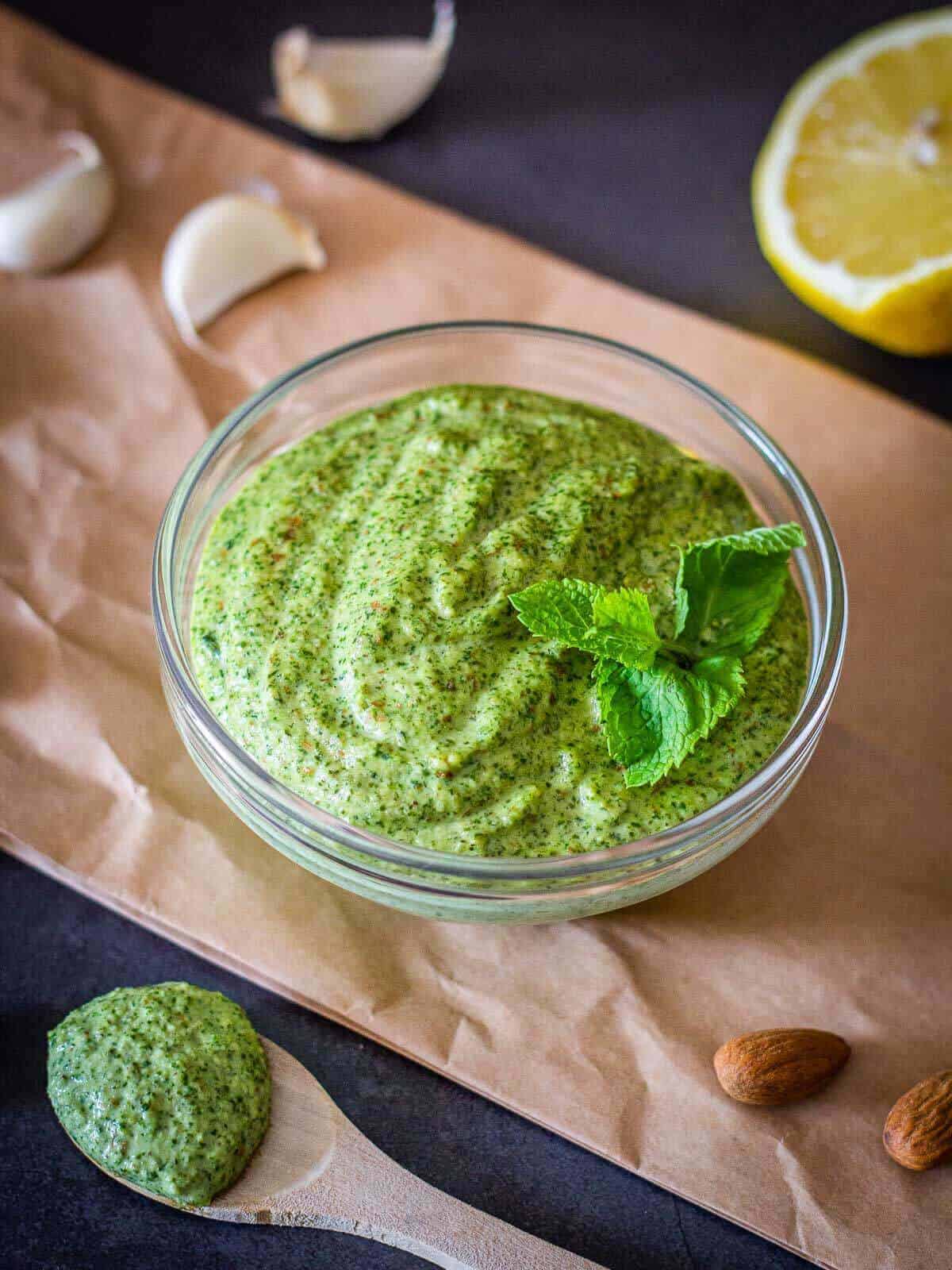 Springtime is the perfect season to enjoy fresh, local produce. What could be more satisfying than cooking up a delicious vegan meal with plant-based ingredients straight from your garden or farmers' market?
In this post, we've collected some of our favorite spring vegan recipes for you to try. So what are you waiting for? Grab your spring produce, pick your seasonal favorites, and get cooking!
Made from a perfect blend of savory soy sauce, sweet mirin, tangy ginger, and a hint of garlic, our teriyaki sauce adds a burst of umami to your favorite dishes. Whether you're marinating succulent grilled meats, stir-frying vibrant vegetables, or glazing mouthwatering salmon, our homemade teriyaki sauce is the secret ingredient that elevates your culinary creations to new heights.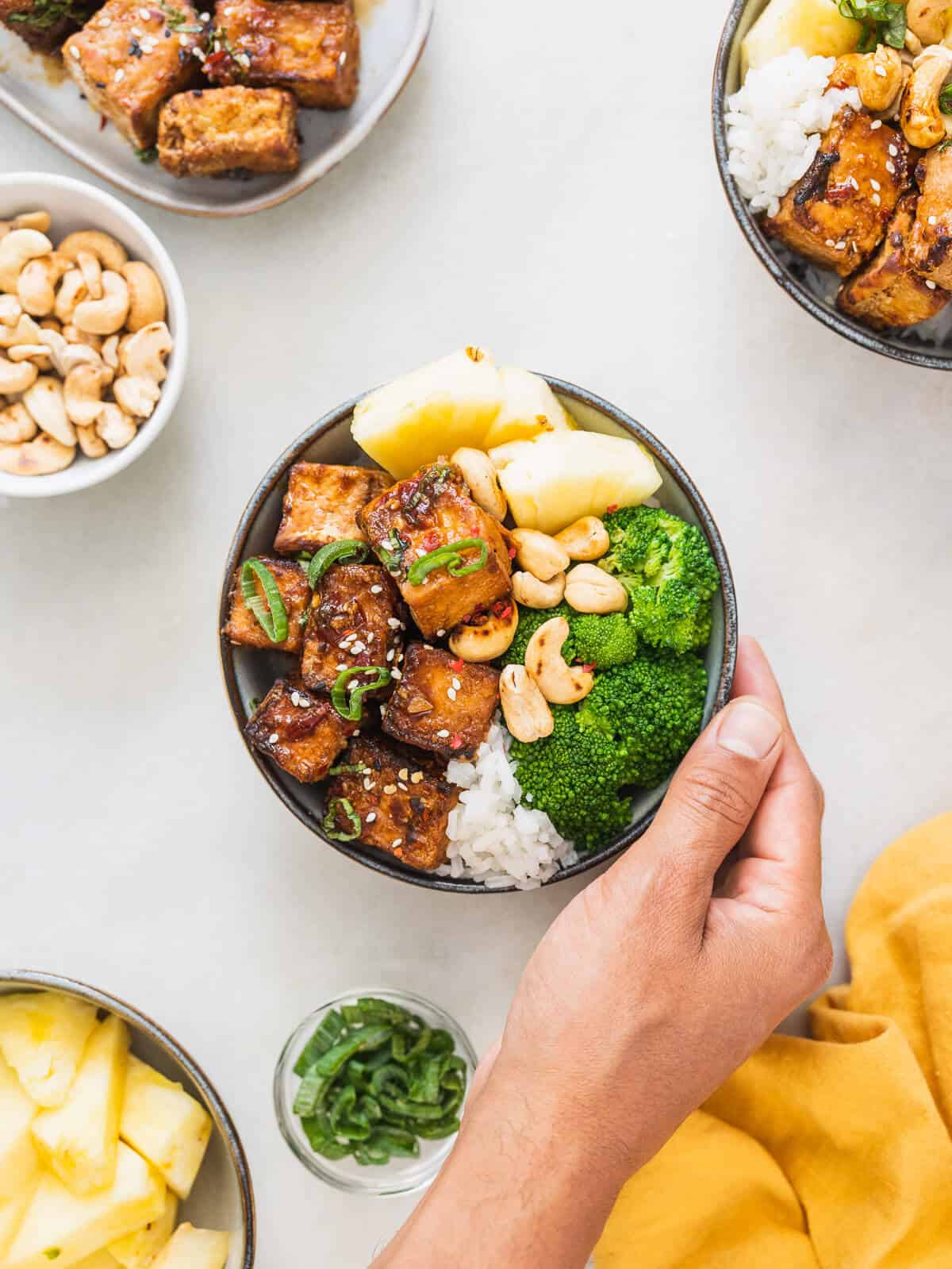 You may also be interested: what fruit and vegetables are in season in April.
March guide produce guides for fruits and vegetables
🌡️ Food safety
Cook to a minimum temperature of 165 °F (74 °C)
Do not use the same utensils on cooked food that previously touched raw meat
Wash hands after touching raw meat
Don't leave food sitting out at room temperature for extended periods
Never leave cooking food unattended
Use oils with high smoking points to avoid harmful compounds
Always have good ventilation when using a gas stove
See more guidelines at USDA.gov.
The information shown is an estimate provided by an online nutrition calculator. It should not be considered a substitute for a professional nutritionist's advice. See our full Nutritional Disclosure here.
Please note that some of the links here are affiliate links, and I will earn a commission if you purchase through those links. I recommend all of the products listed because they are companies I have found helpful and trustworthy.