Hey, all you tofu lovers! Do you want to know how to make baked tofu marinade that's perfect for the holidays? The best-baked tofu recipe is this Maple Glazed Baked Tofu Marinade Recipe. It's super easy and involves just a few ingredients.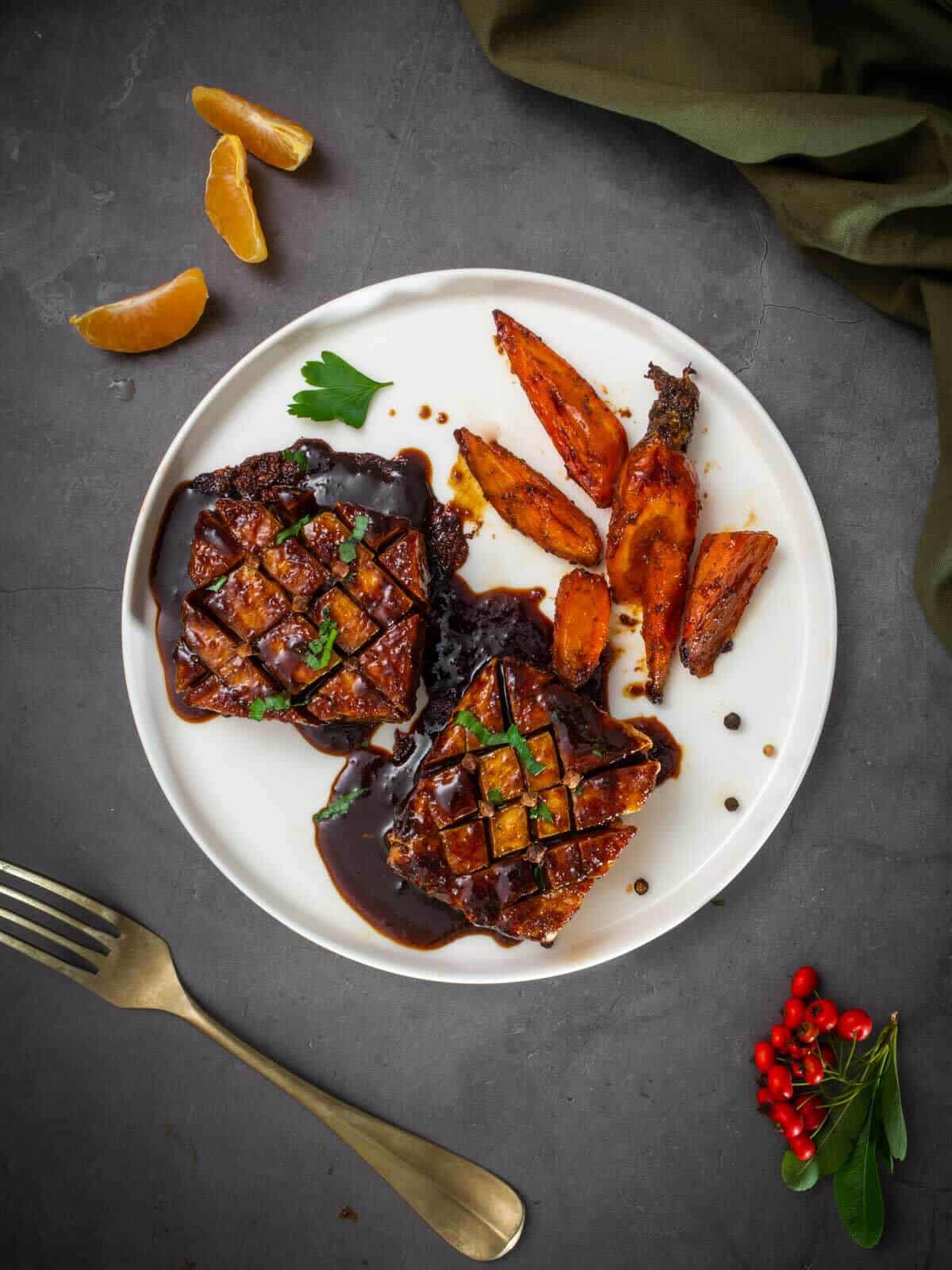 You will need maple syrup, dijon mustard, onion powder, pumpkin spice, balsamic vinegar, and a clementine or orange if you have it on hand.
Marinated tofu is one of the staples of our delicious vegan recipes repertoire because we use it so much!
We all know baked tofu is the best – it's a healthier, vegan alternative to chicken. But have you ever tried baked tofu marinade? It makes this dish so much more flavorful and delicious!
This pretty and delicious recipe is perfect for a Christmas table as a vegan ham, but it is much easier to make and doesn't require all that planning!
Happy cooking!
Jump to:
🧾 Ingredients
Extra firm tofu: Provides a sturdy base and absorbs the flavors of the marinade, resulting in a firm and satisfying texture after baking.
Maple syrup: Adds a delightful sweetness and caramelization to the tofu, enhancing its overall taste and contributing to a beautiful glaze.
Molasses: Offers a rich and deep flavor, complementing the sweetness of the maple syrup and adding complexity to the marinade.
Dijon mustard: Adds a tangy and slightly spicy note, balancing the sweetness of the maple syrup and providing a subtle zing to the tofu.
Pumpkin spice: Infuses warm and aromatic flavors into the marinade, evoking the essence of autumn and creating a delightful seasoning for the tofu.
Garlic or onion powder: Adds a savory depth to the marinade, enhancing the overall flavor profile of the tofu with a touch of umami.
Ginger powder: Introduces a hint of warmth and earthiness to the marinade, complementing the sweetness and enhancing the overall complexity of flavors.
Balsamic vinegar: Brings a tangy and slightly acidic taste, helping to balance the sweetness of the maple syrup and adding a subtle tang to the tofu.
Clementine juice (or Lemon juice): Provides a citrusy brightness, adding a refreshing element to the marinade and enhancing the overall flavor profile of the baked tofu.
See quantities and complete instructions in the recipe card.
🔪 Instructions
Step 1. Press the tofu blocks for at least 15 minutes, but preferably 30.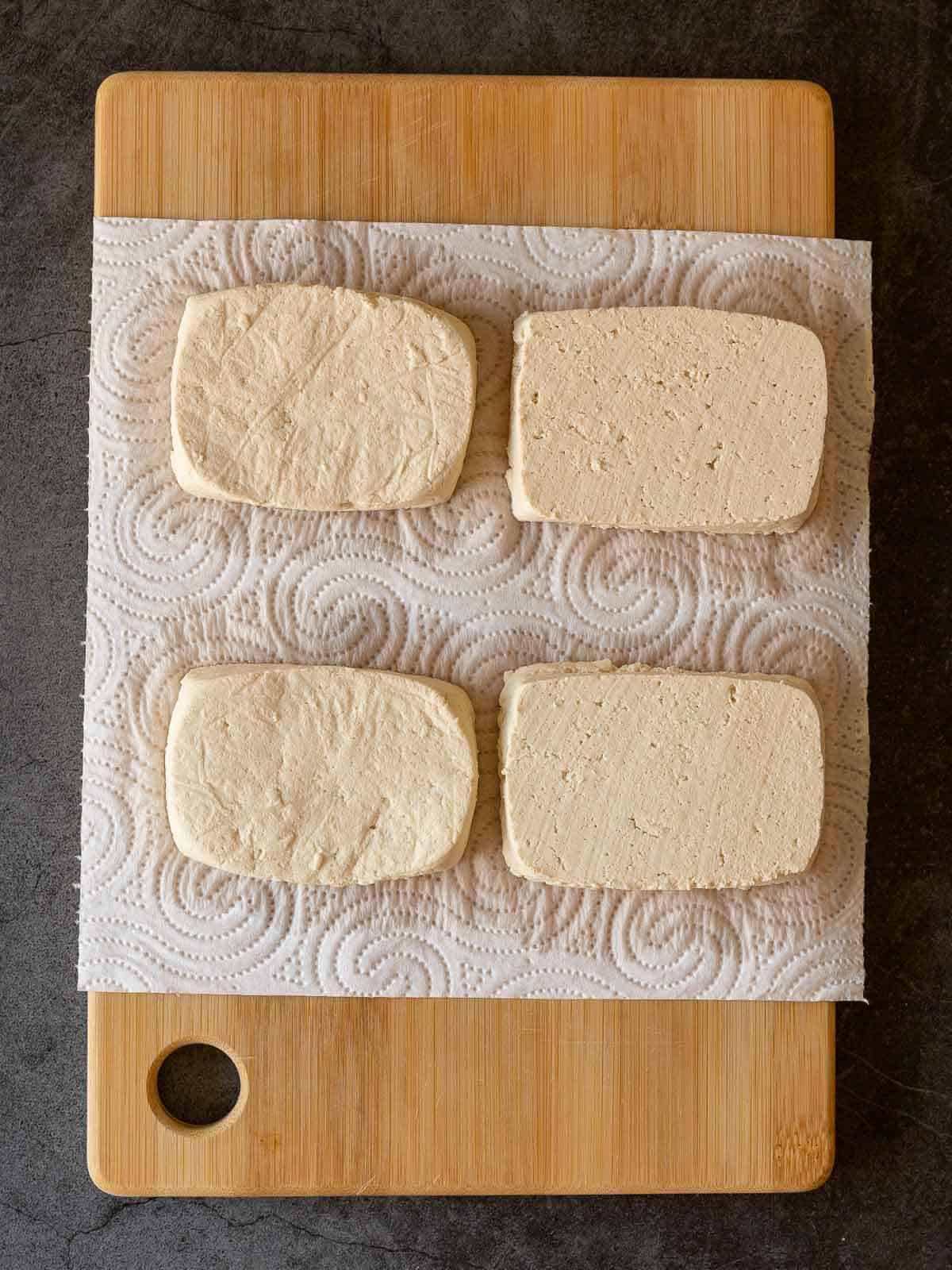 Press the sliced tofu on top of the paper towels.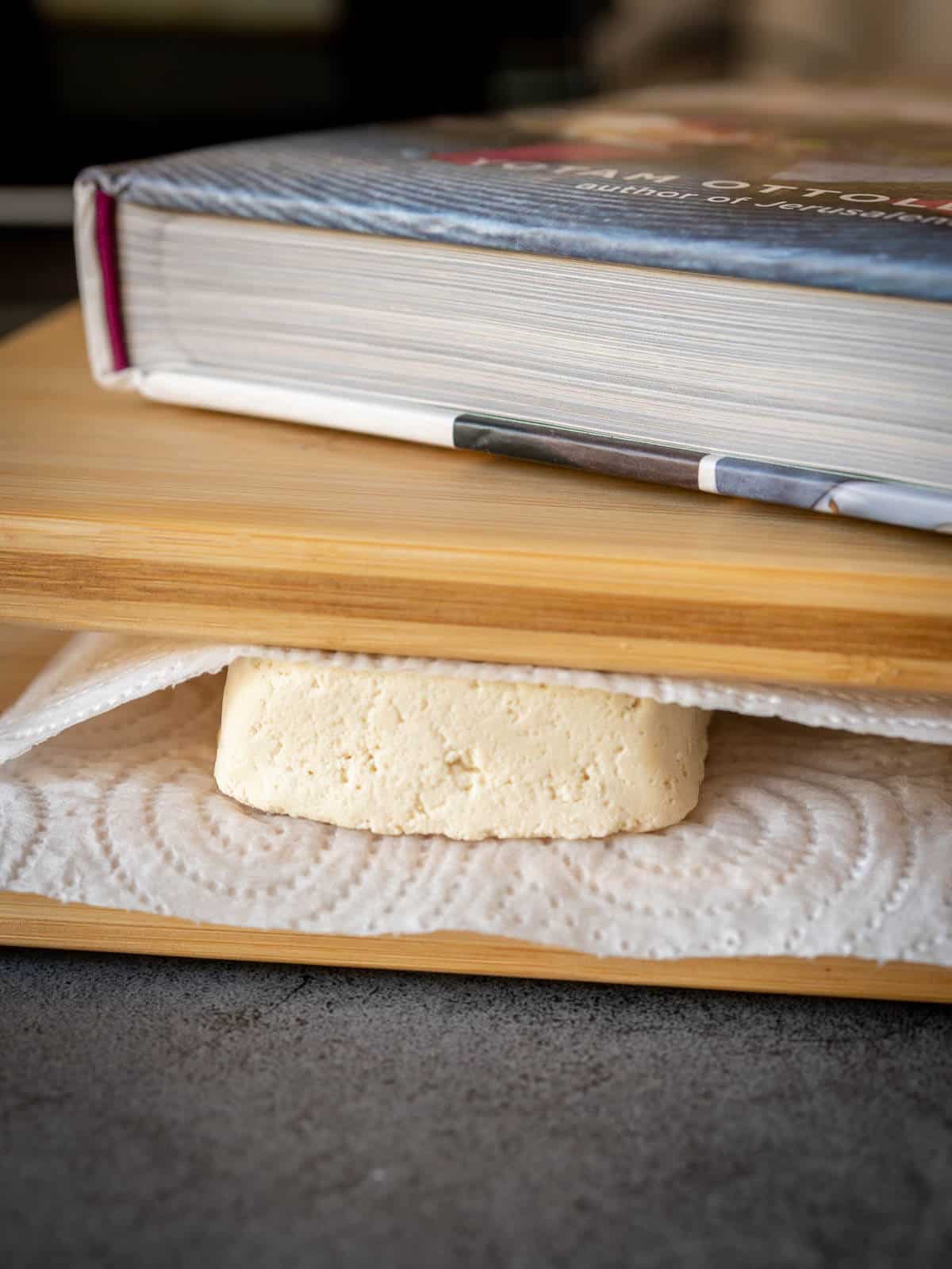 Put another layer of paper towels and something heavy on top.
Step 2. (only if you are handling large tofu blocks). Cut the block of tofu into 3-inch (8 cm) and 1-inch (2.5 cm) thick blocks.
Step 3. Crisscross the blocks of tofu without going all the way through.
Step 4. Mix the marinade ingredients and simmer them to turn the tofu marinade into a glaze.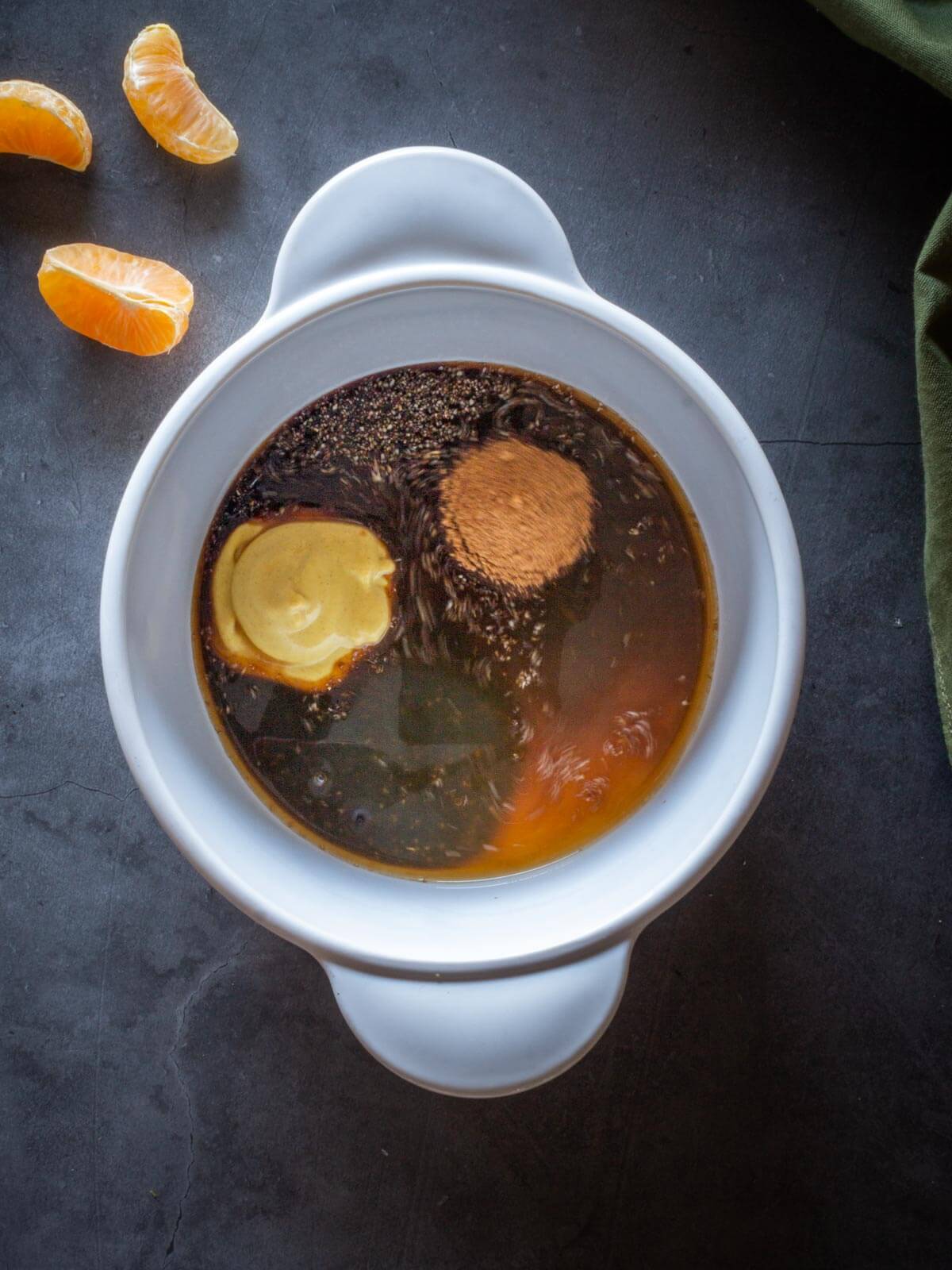 Mix tofu marinade ingredients.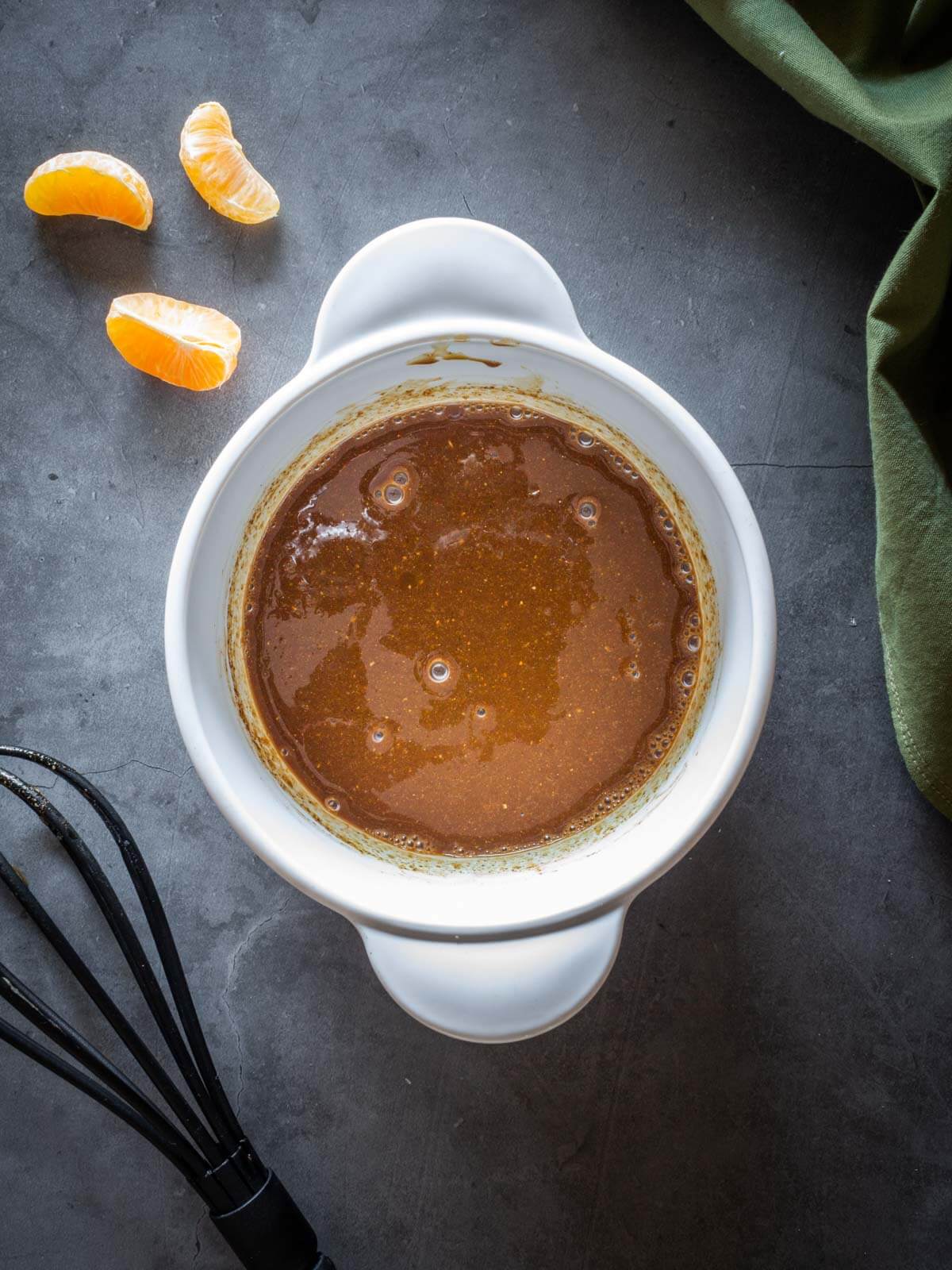 Simmer the tofu marinade ingredients on low-medium heat.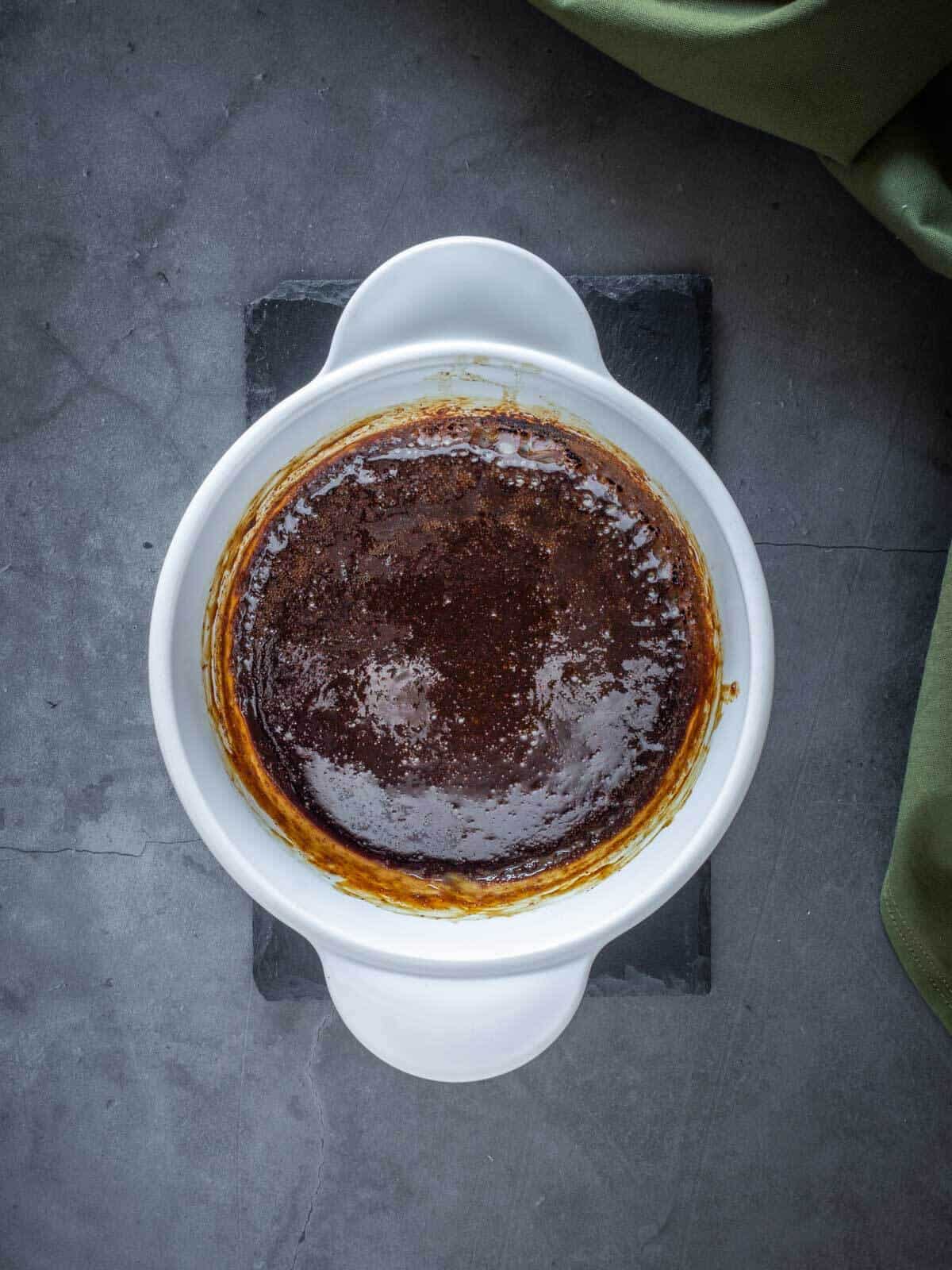 Step 5. Submerge the cut tofu block into the glaze. Then bake the tofu block cut side up for 35 minutes, flipping the tofu blocks halfway through to add extra marinade on the bottom part. After 15 minutes, flip them again to add leftover marinade to the cut part and bake for 5 minutes until crispy and golden brown.
Step 5 Recap:
Bake for 15 minutes crisscrossed face-up.
Flip and continue baking for 15 minutes, crisscrossed face down.
Turn and bake for 5 minutes crisscrossed face-up.
Total baking time: 35 minutes. Brush or pour extra glaze on each of the three baking phases.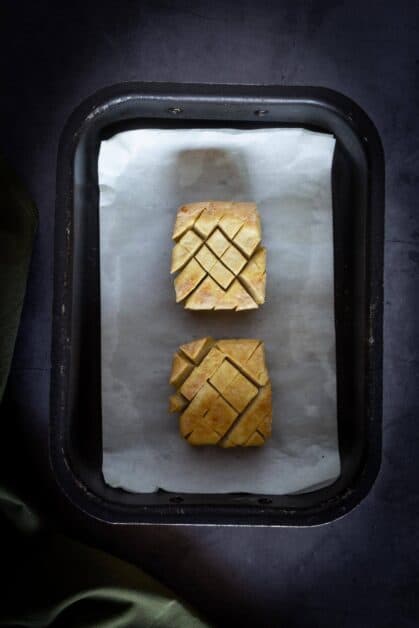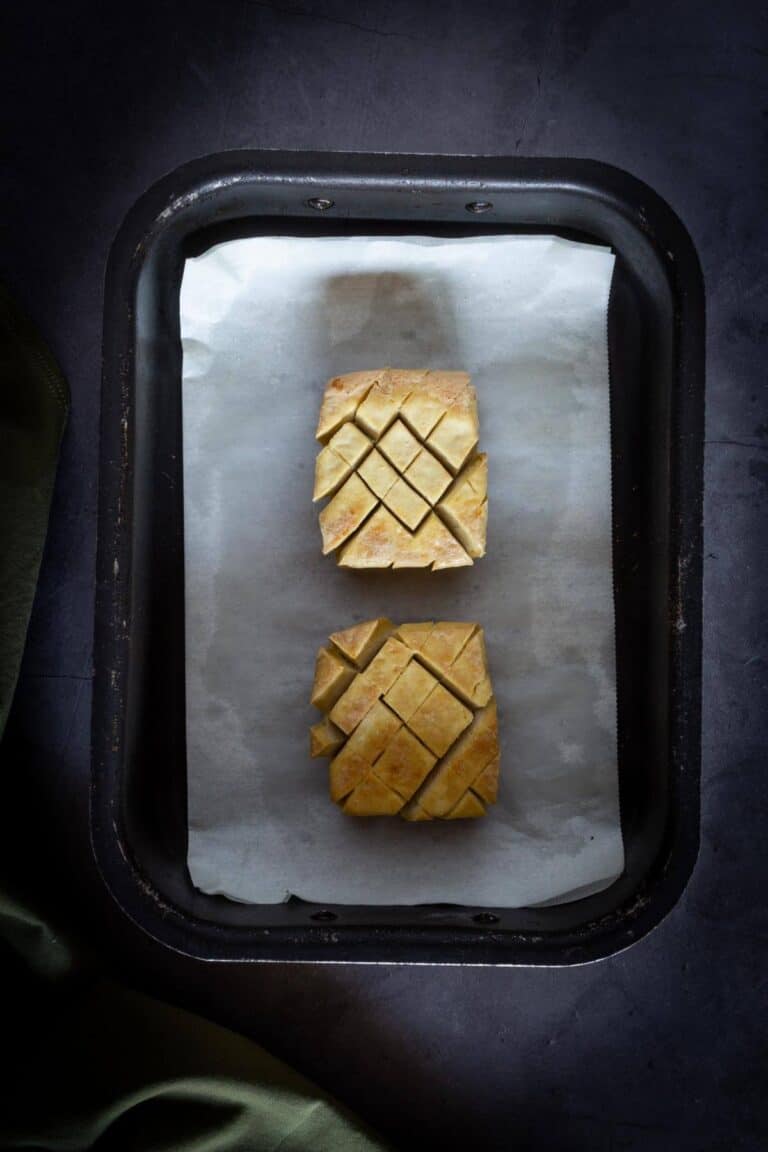 Step 6. Carefully remove the tofu blocks from the parchment paper with a spatula and plate them.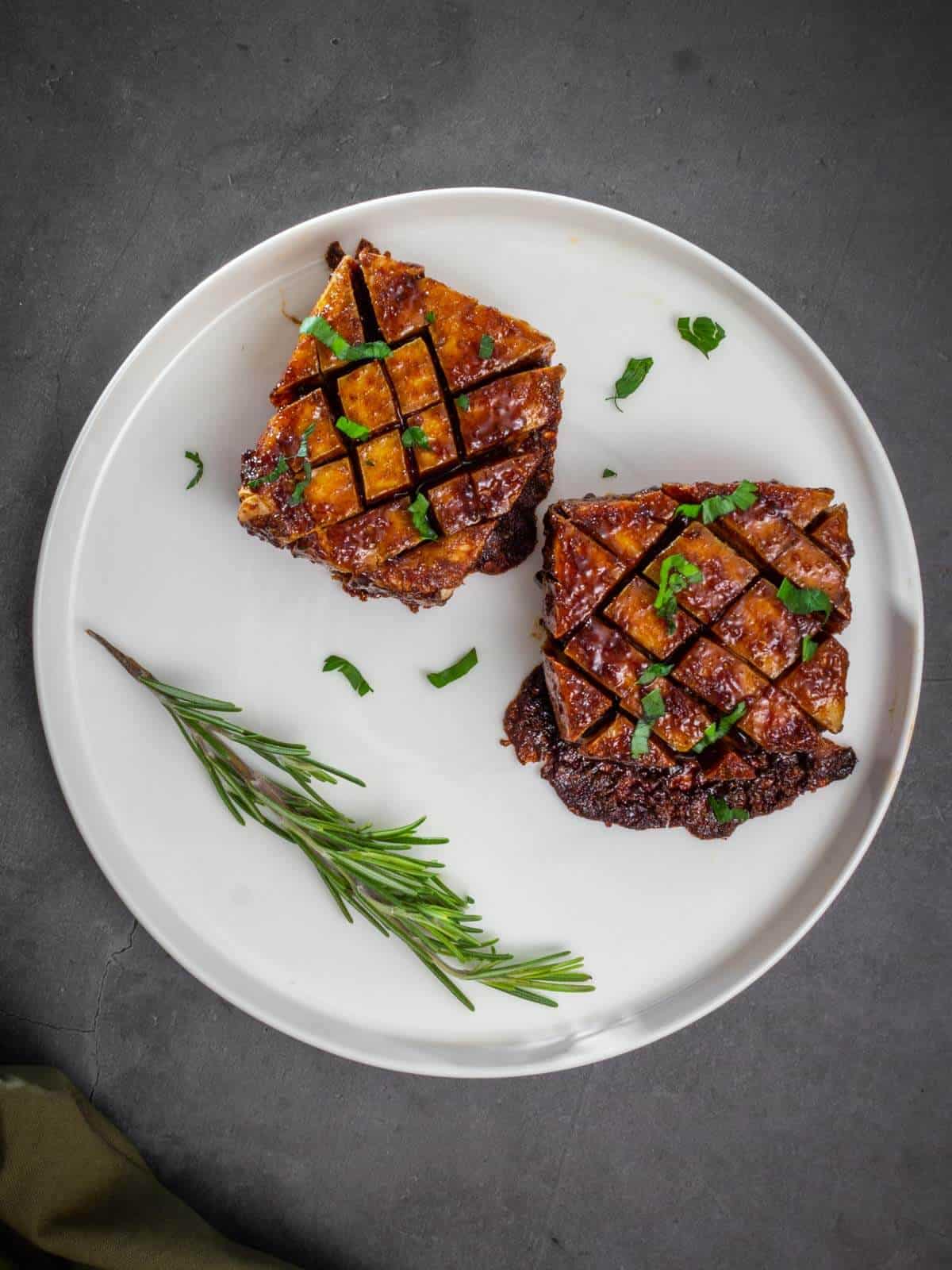 You can serve this marinated tofu recipe with maple glazed carrots, white steamed Jasmin rice, and garnish with toasted sesame seeds, chopped chives, cilantro, or parsley leaves.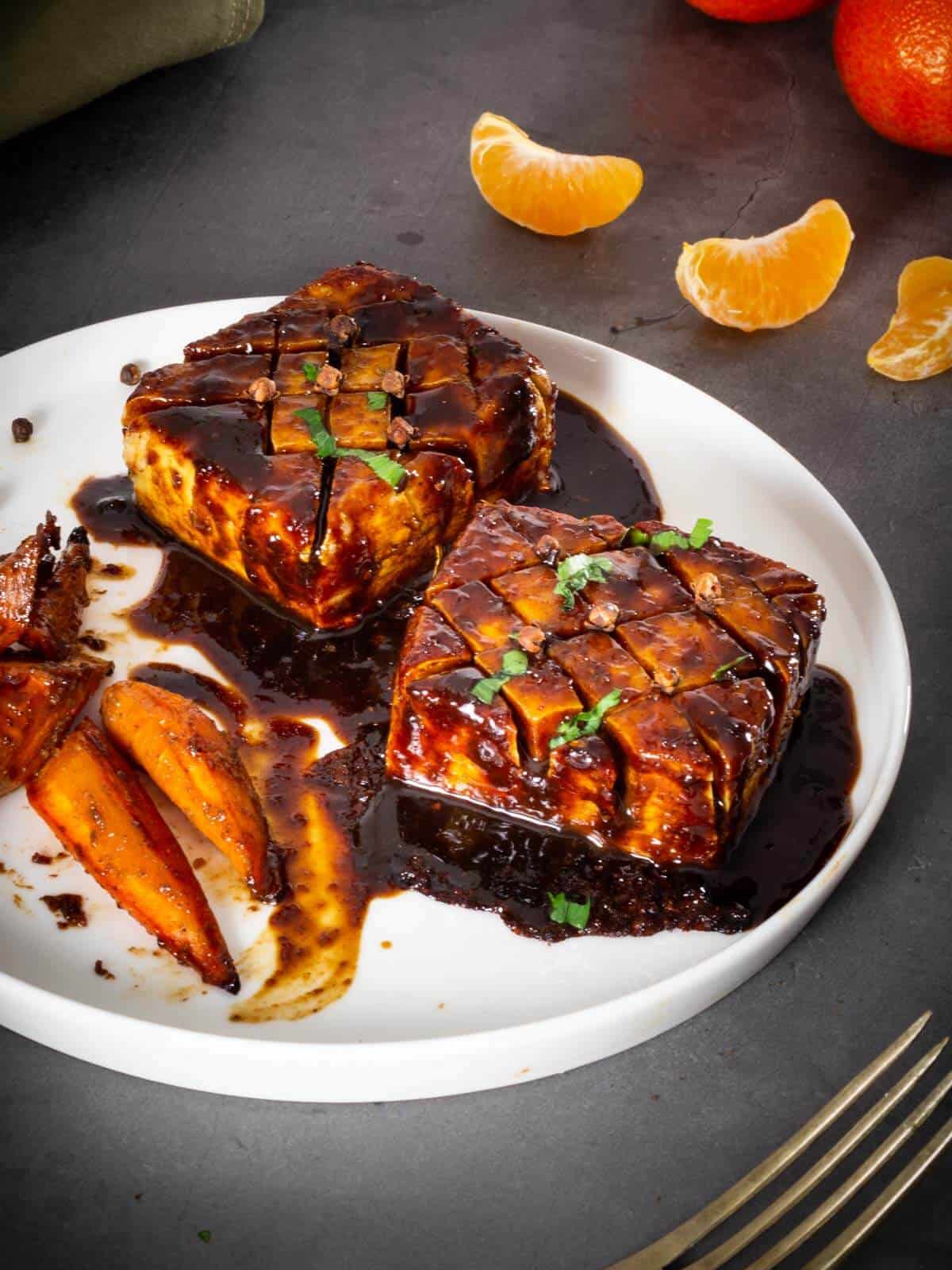 👨🏻‍🍳 What goes into a good marinade?
Tofu marinades should have some umami flavors like balsamic vinegar (rice wine vinegar or even apple cider vinegar work well), regular soy sauce (you can use coconut aminos or tamari sauce for a gluten-free option), and onion powder, then you need spices (like pumpkin spice, cinnamon, or ginger), something sweet (like maple syrup, or molasses), and something acid like lime juice! Voila! Tofu Marinade!
You can also choose to add some oil like toasted sesame oil into your marinated tofu; this will make it crispy.
I like making different marinades for my tofu; one of my favorite and easy daily has a base of ginger, soy sauce, and fresh garlic. See recipe. If you are looking into perfectly crispy cubes without a tofu marinade that can be added to Thai yellow curry, red curry, or green curry, use our crispy tofu cubes recipe.
We wanted to make something extra festive for this holiday roasted tofu, so we use maple syrup and pumpkin spice mix, to add that holiday note we are looking for.
🤔 What kind of tofu should I use?
When marinating tofu, using extra-firm tofu is your best bet. You want the tofu to be able to hold its shape and not fall apart when baked. If you have firm tofu (instead of extra firm tofu), you should allow some extra pressing time (about 10 minutes on top of the recommended 10 minutes).
⏲️ How to marinate tofu?
Marinated tofu is delicious because you allow the block of tofu to absorb whatever flavors you want to infuse into it.
Combine ingredients for the marinade in a bowl. Marinate the tofu pouring the marinade over a block of pressed tofu in a sealable container. Let the tofu marinate for at least 10 minutes, flipping the blocks halfway through. Leaving it for longer will give you more flavorful tofu.
Use leftover marinade to pour on top during the final minutes while cooking tofu.
You can choose to marinate your tofu for even 24 hours, and it will indeed absorb much more flavor. You just need some planning.
Note: Keep your tofu refrigerated throughout your marinating period. Tofu will soon deteriorate if not refrigerated.
💭 How to cook marinated tofu?
If you have some extra minutes, it is best to press the tofu before marinating or cooking tofu. Pressing tofu will release some of its water, leave some room to be occupied by the marinade, and fully absorb the flavors.
To press the tofu you can use a tofu press or simply put the tofu blocks between two pieces of parchment paper or paper towels and put something heavy, like books, on top of the tofu blocks. Press for at least 15 minutes.
Some people like freezing their tofu overnight and then letting it thaw. This makes the tofu acquire a different texture that is meatier. Freeze tofu with its original unused package in an air-tight container for frozen tofu.
In this recipe, we are baking the tofu, so we don't marinate it before going into the oven, and the tofu absorbs the marinade sauce flavor while we bake it.
When you are grilling tofu (or stir fry), the grilling time is minimal, so the time is insufficient for the flavors to permeate into the tofu. This is why it is better to pour the marinade into a sealable container and let it absorb the flavors for a minimum of 10 minutes and up to 24 hours, flipping it halfway.
To turn the marinade into a glaze
When putting over the tofu, the sauce should be thin. You can reduce it by simmering it or add one teaspoon of cornstarch dissolved in water and then boil for another 5-10 minutes for a thicker glaze.
When simmered, it is thick and becomes a creamy glaze for your tofu to enhance its flavor. So these work well along with the more liquid marinades, like teriyaki tofu.
⏱️ How to make this recipe ahead of time?
I know that making recipes for a special occasion can be stressing and saving some time here and there can be convenient.
Here's the deal, you can do two things to save some time:
Pressing and freezing the tofu.
Have the marinade ingredients already mixed ahead of time.
Freezing tofu is a great way to save some time. Freezing helps to remove excess moisture from the tofu, allowing it to absorb marinade more effectively. Here's how you can freeze tofu:
Drain and press the tofu: Open the tofu package and drain the water. Place the tofu block on a plate lined with paper towels or a clean kitchen towel. Cover the tofu with more paper towels or another towel, then place a heavy object, like a cutting board or a plate with a few cans on top. This helps to remove excess water from the tofu. Press for about 20-30 minutes.
Slice the tofu: Once the tofu has been pressed, you can slice it according to the recipe pictures.
Arrange on a baking sheet: Line a baking sheet with parchment paper or plastic wrap. Place the tofu pieces in a single layer on the sheet, making sure they are not touching each other. This prevents them from sticking together as they freeze.
Freeze the tofu: Put the baking sheet with the tofu in the freezer. Allow the tofu to freeze for at least 4-6 hours, or until it becomes solid.
Transfer to a container or bag: Once the tofu is frozen, remove the baking sheet from the freezer. Carefully transfer the frozen tofu pieces into a freezer-safe container or a sealable plastic bag. Make sure to squeeze out any excess air from the bag before sealing it.
When you're ready to use the frozen tofu, thaw it in the refrigerator overnight with the marinade so it absorbs the flavor, or defrost it in the microwave if you need it quickly. Once thawed, the tofu will have a denser and chewier texture.
Then you can oven-bake as per the recipe instructions when ready to make. I hope it was helpful!
📚 More Tofu Recipes
Indulge in the irresistible crunch of Crispy Oven Baked Tofu, with its golden exterior and tender center that will leave you craving for more!
Elevate your tofu game with the delectable flavors of Ginger and Soy Sauce Marinated Tofu, where each bite is an explosion of savory and aromatic bliss."
Get ready to tantalize your taste buds with these heavenly Stuffed Pasta Shells, filled with mouthwatering tofu-based stuffing that will take your pasta night to a whole new level!"
If you are interested in tofu recipes, I bet you will like our article on high protein vegan meals.
Check out our collection of 25+ Vegan Chinese Tofu Recipes!
🎄 More holiday recipes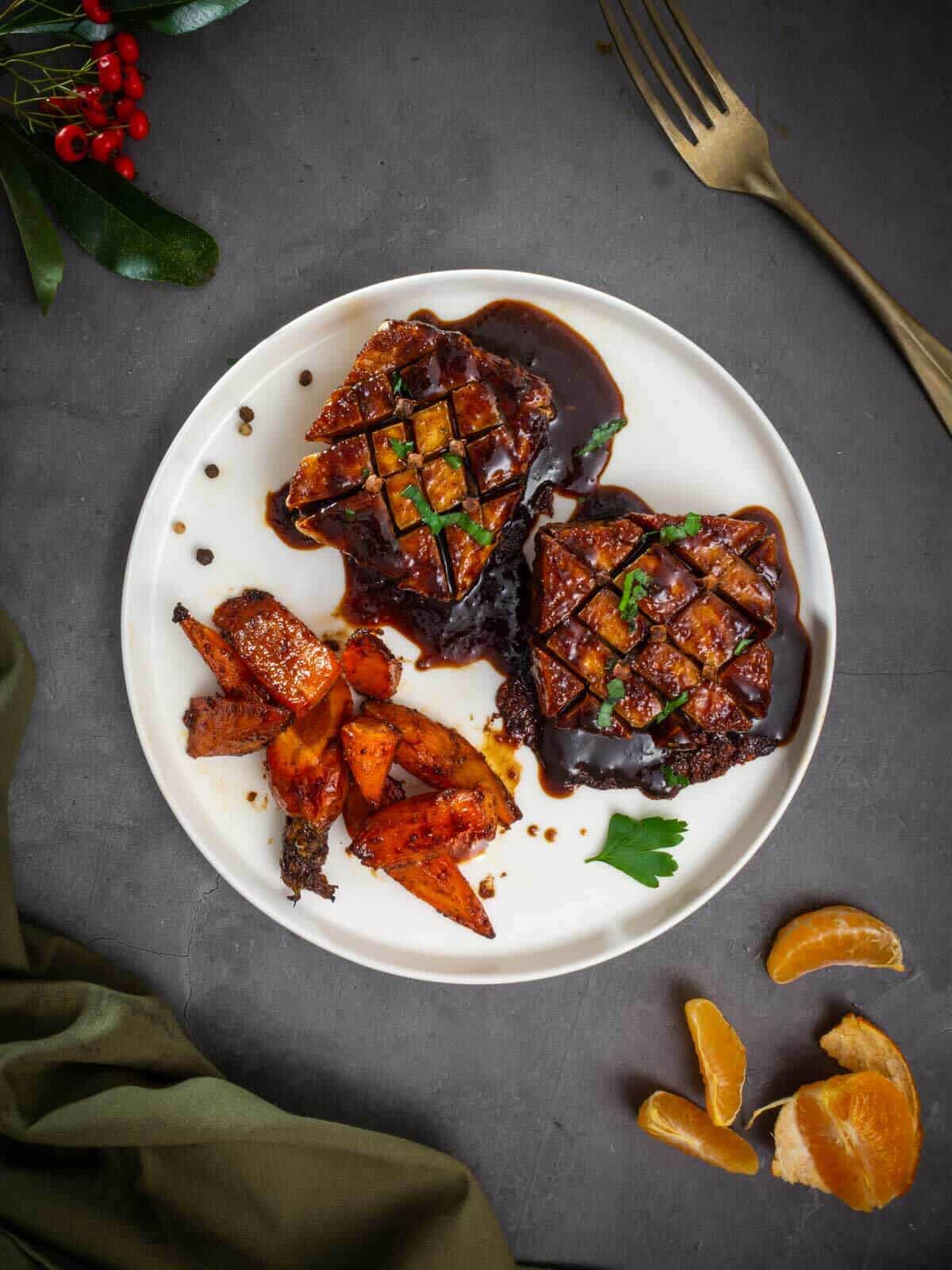 ⭐ If you try this recipe, let us know! 💬 Leave a comment, rate it, and don't forget to tag us @ourplantbasedworld on Instagram. Cheers!
📋 Recipe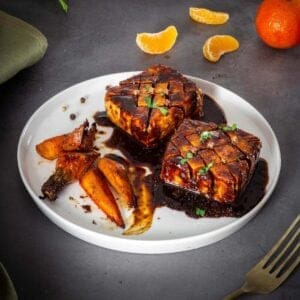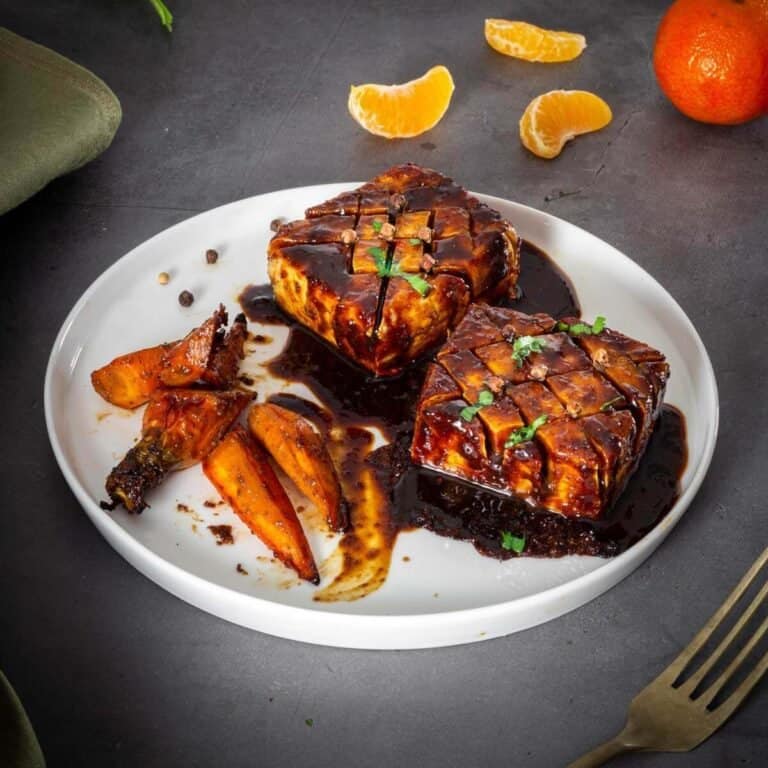 Maple Glazed Baked Tofu Marinade Recipe
The best-baked tofu recipe is this Maple Glazed Baked Tofu Marinade Recipe. It's super easy and involves just a few ingredients.
Equipment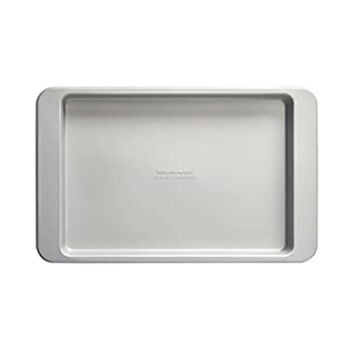 (affiliate link)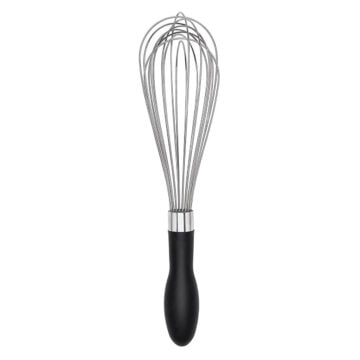 (affiliate link)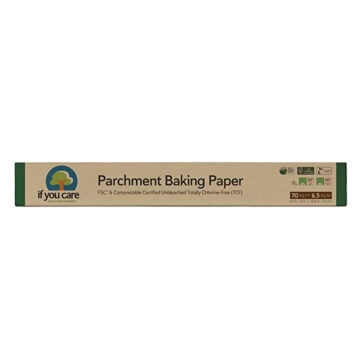 (affiliate link)
Directions
Preheat the oven to 375 ºF (190ºC).

Press the Extra Firm Tofu thoroughly – at least 15 minutes.

Juice the clementine and pass it through a colander.

Mix the marinade ingredients in a small saucepan.

Cut cross-hatched diagonal strips only on one side. Slice deep enough for the marinade to get in but don't go all the way through.

Bring to a simmer the marinade ingredients in a small saucepan. Cook until it looks slightly "syrupy," often stirring – about 3 minutes in low-medium heat.

Submerge the crisscrossed part briefly into the glaze.

Place the tofu blocks onto a baking sheet with lined parchment paper, with the scored side up.

After 15 minutes, remove the tofu blocks from the oven and brush with the glazing, ensuring the marinade gets deeply in. Flip the blocks and brush the bottom part of the block. Bake for another 15 minutes (bottom part up).

Take the blocks out of the oven, flip them (crisscross part up), and brush some of the marinade again. At this point, the baked tofu is ready.

Bake for 5 more minutes, with the oven grill mode on, to make the edges extra crispy.

Remove from oven, brush glaze once more, and let the tofu sit.

Optional: For an extra festive touch, the last time the tofu goes into the oven, you can place some cloves on the upper part, which will add some extra flavor and make it look prettier. Don't overdo it, as cloves have a strong flavor.
Notes
Baking steps recap:
Bake for 15 minutes crisscrossed face up.
Bake 15 minutes crisscrossed face down.
Bake 5 minutes crisscrossed face up.
Nutrition Facts
Calories:
198
kcal
Carbohydrates:
31
g
Protein:
11
g
Fat:
3
g
Saturated Fat:
1
g
Polyunsaturated Fat:
2
g
Monounsaturated Fat:
1
g
Sodium:
227
mg
Potassium:
516
mg
Fiber:
1
g
Sugar:
25
g
Vitamin A:
11
IU
Vitamin C:
19
mg
Calcium:
115
mg
Iron:
3
mg
Nutrition Facts
Maple Glazed Baked Tofu Marinade Recipe
Amount per Serving
% Daily Value*
* Percent Daily Values are based on a 2000 calorie diet.
Nutritional Disclaimer
The information shown is an estimate provided by an online nutrition calculator. It should not be considered a substitute for a professional nutritionist's advice. See our full Nutritional Disclosure here.
Affiliate Disclaimer
Please note that some of the links here are affiliate links, and I will earn a commission if you purchase through those links. I recommend all of the products listed because they are companies I have found helpful and trustworthy.