It's no secret that juice for digestion can be a great way to help with an upset stomach. There are many different types of juice, but one, in particular, stands out from the rest. One of the best juice recipes for gut health, you will find, made with beets, apples, celery, ginger, and apple vinegar will help your stomach feel better and is delicious too!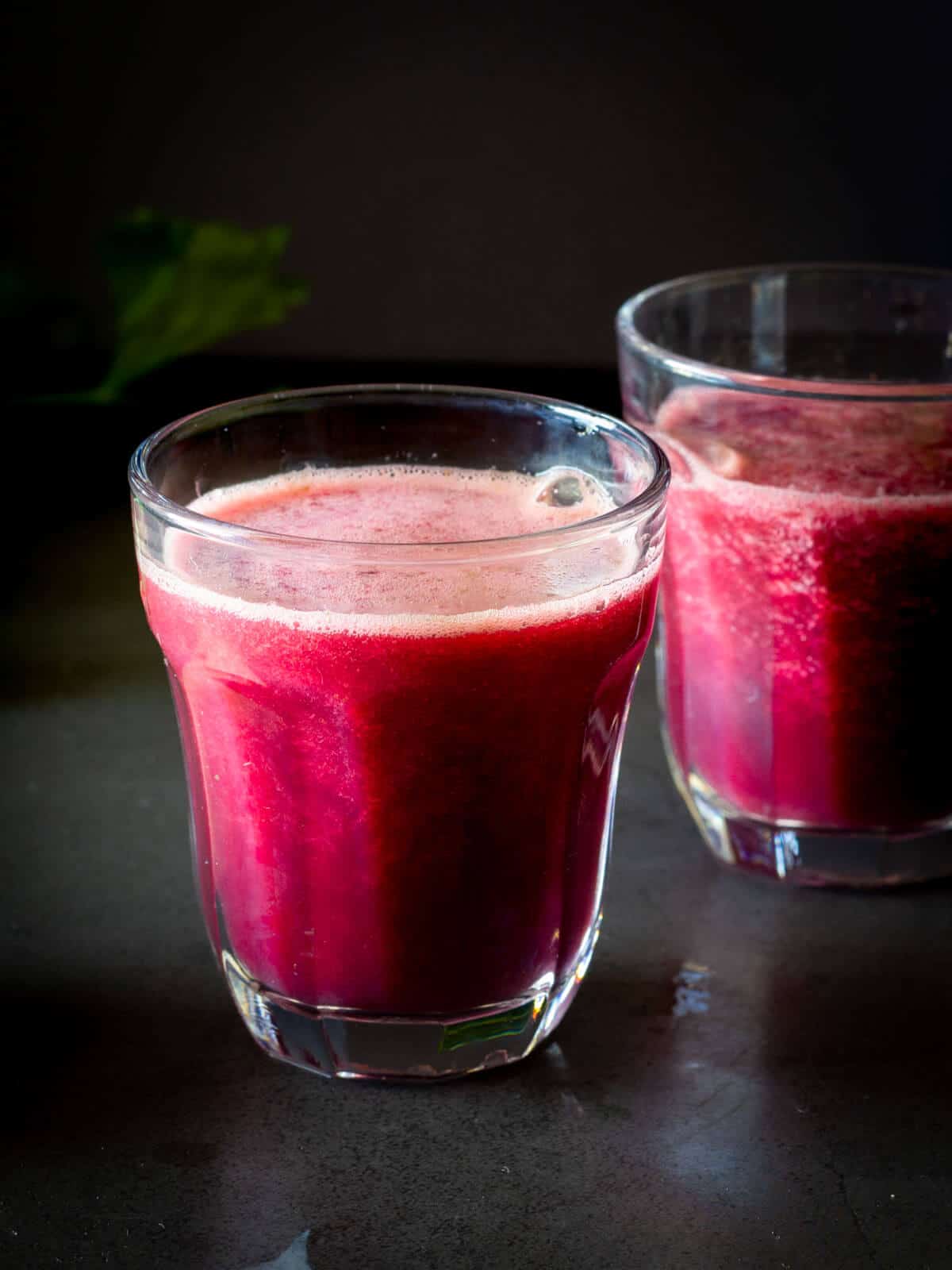 🧐 Can juicing heal your gut?
Drinking juice for an upset stomach can help calm your stomach and promote better digestion.
When we have stomach problems, we need to rest our digestive tract. This means we need to reduce the amount of work we are giving it. This is why a juice diet and having soups are great ways to aid digestive disorders.
Juicing promotes a diet rich in vitamins and minerals, helping our body get back on track. There are many reasons why adding juicing to your routine makes perfect sense.
Make sure you check on celery juice, as you are sure to find lots of eye-opening facts about this underrated vegetable. Add the morning celery juice to your healthy gut routine and the cabbage juice which has been used since ancient times for stomach ulcers.
Jump to:
🧾 Ingredients
Always use fresh fruits and vegetables when juicing.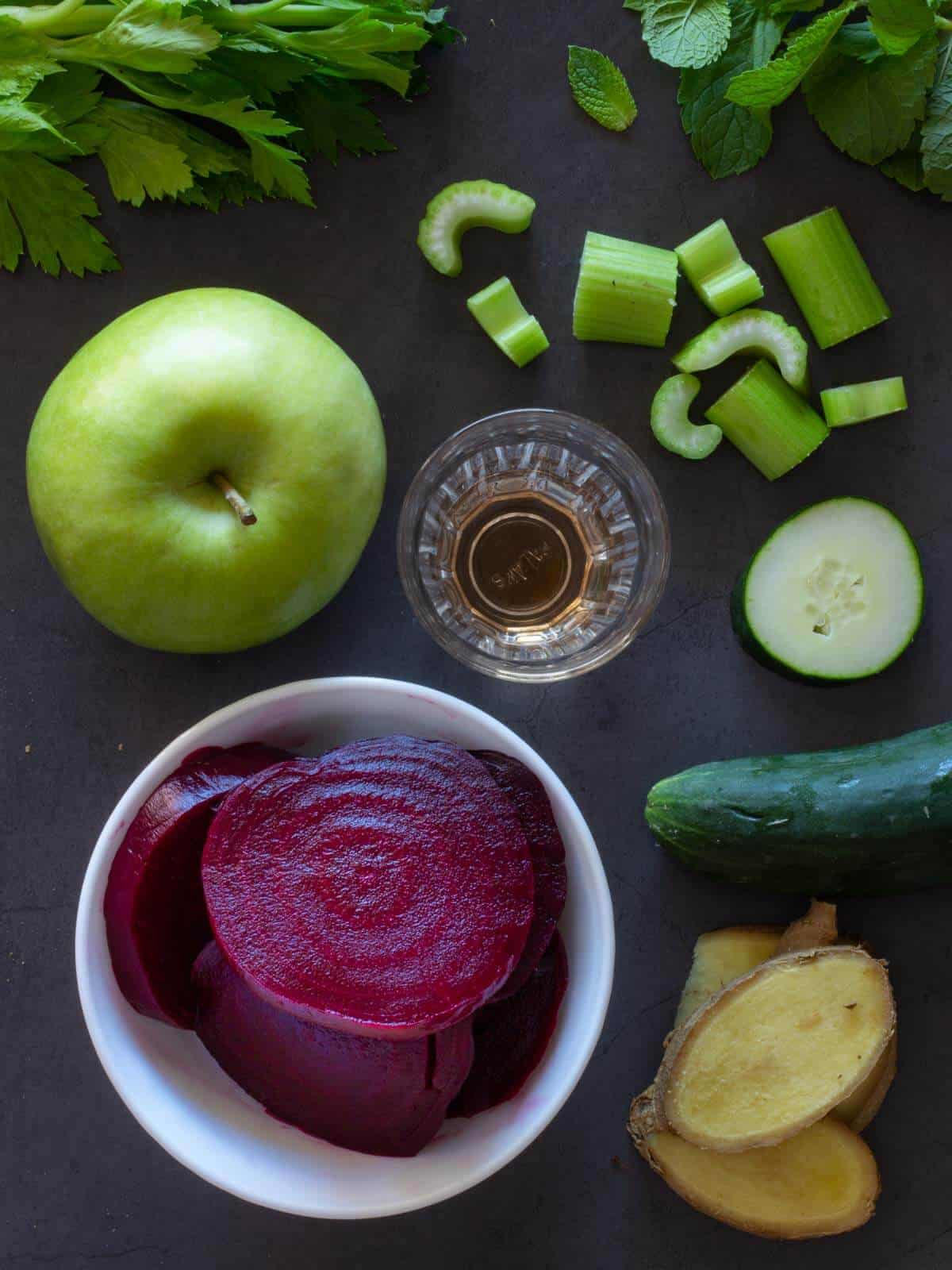 Fresh ginger root
Organic apples
Cucumber
Celery
Apple cider vinegar
Beets
Mint leaves
See quantities and complete instructions in the recipe card.
Read below how each of these ingredients can contribute to getting rid of stomach discomfort and constipation.
🔪 Instructions
To make this simple digestive juice recipe and fight gut issues and bad bacteria, simply follow these steps:
Wash your peppermint leaves, green apples, and celery stalks thoroughly.
Peel the beets and ginger roots. You can also add ginger without pealing it.
Chop all the ingredients into small to medium chunks.
Juice. Pass everything through the juicer shut. The juicing process will take about 3-5 minutes.
Stir in a tablespoon of vinegar and mix. Feel free to skip the vinegar if it is not of your liking, but it is a keeper for gut issues.
Tip: I recommend starting easy with half a cup of juice. Wait a few minutes before drinking a glass. When you have tummy issues, the stomach tends to be over-sensitive.
This simple recipe will help you kick-start your day and replenish your body with soluble fiber and vitamins.
This digestive juice recipe is also weight-loss friendly because it only has 44 calories per serving, so no worries about weight gain!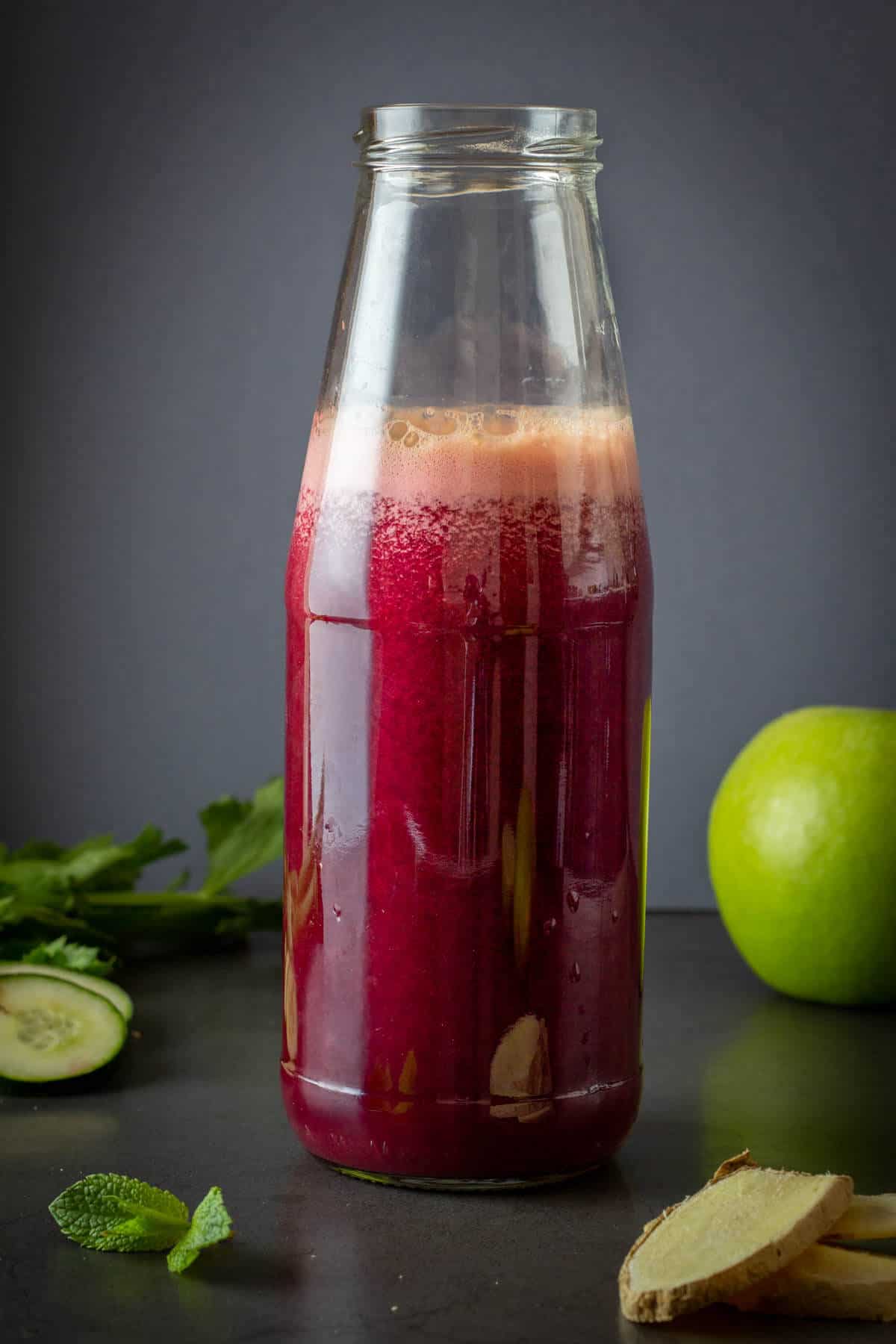 🧐 Which foods are best for digestion?
Many different types of fruit and vegetable juices can help with digestive health, but purple juice made from beets, apples, celery, ginger, peppermint, and apple vinegar is amongst the best. Celery juice is amongst the most popular ones.
Apple juice
Apples juice is excellent for digestion because it contains pectin. Pectin is a type of soluble fiber that can help to soothe an upset stomach.
As apples are rich in Vitamin C, you might hear that it can lead to adverse side effects like stomachache, but most doctors agree that it is nearly impossible to get too much vitamin C from food sources. Just watch out for your supplements.
Celery juice
Celery juice is excellent for stomach aches because it is light and easy to digest. It also helps with detoxification and reducing inflammation. Celery juice on its own has a variety of health benefits and outstanding properties, and you should consider drinking it on an empty stomach if you have recurrent digestion issues, acid reflux, and inflammatory problems.
We like to have our morning celery juice during detox and cleanse periods.
Eating celery is also remarkable for relieving constipation, given its high fiber content.
Beetroot juice
Beets contain a lot of fiber, which helps keep you regular, preventing constipation and inflammatory bowel disease. Thus, it is a good idea to eat beetroot in its solid form rather than beetroot celery juice.
You can also try beets in savory dishes like this delicious lemon beet hummus, which is also on this site.
Cucumber juice
Cucumber juice is a good digestion partner because it is a mild diuretic and helps flush out toxins and bad bacteria.
Ginger
Juiced ginger also helps ease stomach discomfort; it reduces nausea. This fantastic root also helps boost our immune system and fight any exogenous bacteria helping our digestive enzymes and juices re-establish good digestion.
Apple cider vinegar
This vinegar is also an excellent option for upset stomachs, and it contains acetic acid, which has been shown to help with nausea. Apple cider vinegar is great for an upset stomach because it alkalizes the body and restores pH balance. It also kills harmful bacteria, supports gut health, and aids in digestion.
If you're feeling nauseous, try drinking a cup of water with two teaspoons of apple cider vinegar mixed in - the alkaline properties will calm an agitated stomach.
Together, these ingredients make the perfect juice for stomachache. If you are still experiencing discomfort after drinking this juice, speaking with a healthcare professional might be a good idea.
Lemon juice
Lemons are a highly acidic food, which can cause stomach cramps and ulcers. Despite its high acidity, lemon can raise the body's pH. Lemon may also assist the absorption of aluminum hydroxide, an antacid ingredient used to treat acid reflux.
Juice half a lemon in warm water on an empty stomach to improve gut health.
Oat milk
Oat milk is an excellent choice for people with upset stomachs. It is high in fiber and contains beta-glucans, which can help to soothe the stomach lining. Oat milk is also low in acid, making it a good choice for people who are struggling with an acidic stomach.
Coconut water
Coconut water helps relieve constipation, prevent digestive disorders, reduce acidity in the stomach, and promote gut health.
Infusions for digestive health
Three great infusions to aid healthy digestion are chamomile tea and mint.
Chamomile - has a soothing effect on our bodies, and luckily, that includes our gut health and reducing abdominal pain.
Mint - calming peppermint relaxes your stomach and may help with the pain.
Ginger - delaying the stomach emptying may cause indigestion. In a clinical study, it was found that consuming it significantly accelerated the emptying of the stomach. We always add it to our green juice since it provides flavor and is full of immune system-supporting properties.
Solids for gut health
That doesn't mean that we cannot consume solids. They help relieve constipation, but they should be as plain as possible, and you should avoid large quantities as they can have harmful effects. Think white rice, like steamed Jasmine rice, or simple baked, boiled, or mashed potatoes without butter.
A baked sweet potato is also a healthy, yummy, and gluten-free option.
Bananas are also great because they are full of potassium. Potassium can help balance electrolyte levels in your body, which may help with an upset stomach and other symptoms associated with low blood sugar or dehydration.
Read also: See most hydrating drinks.
Eating a banana is also an excellent choice for people who have trouble keeping down solid foods when they have an upset stomach because bananas do not require much chewing, are very soft, and help relieve constipation, and promote bowel movements.
Applesauce - pectin present in apples, and its fiber content can act as a thickener that aids in the formation of firm stool and prevents recurring diarrhea. Apples also help regulate bowel movements, as apples are natural laxatives of the large intestine.
It is essential to consume less sugar when facing stomach discomfort, so it is good to have unsweetened applesauce as a solid food option.
Saltine crackers may also help to calm your stomach. They are bland and will not irritate your stomach as some other foods may.
🤔 Which is the best juicer to use?
Get an excellent Cold-Pressed juicer, also known as a slow-masticating juicer.
It will be one of the best investments you have made this year! Trust me! Make sure you check the juicer's instructions before starting, as many juicers have different working mechanisms.
Use our Discount Code OPBW10 for 10% off (affiliate link)
If you don't have a juicer, you can also make juices, following these simple tips on juicing without a juicer, plus three delicious recipes.
❓ Frequently asked questions
Which drink is best for digestion?
The best drink for digestion is the one proposed below. Not only does it have a great combination of gut health-promoting ingredients, but it also tastes fabulous.
But if you don't feel like juicing and want some quicker options, sometimes all that will help naturally is some good old-fashioned fruit juices to keep nausea at bay!
Other juices that are good for tummy troubles and gut good health include:
Filtered water
Cranberry juice
Orange juice
Pineapple juice
Celery juice
Coconut water
These juices all contain natural enzymes and acids, which help break down food in the digestive tract, making it easier to digest. Drinking these juices regularly can help keep your digestive system functioning at its best!
How can I heal my digestive system naturally?
There are many ways that you can heal your digestive tract naturally. Drink plenty of fluids, eat a balanced diet, and drink detox juice regularly.
One great way to help improve your tummy troubles is to drink detox juice regularly. Detox juice helps cleanse your system and remove toxins from your body. This allows your digestive system to function more efficiently.
What are the best fruits and vegetables for juice detox?

The best fruits and vegetables for juice detox vary depending on your personal preferences. However, some great choices include apples, beets, carrots, ginger, grapefruit, kale, lemon, lime, and spinach. These foods are packed with antioxidants and nutrients that are optimal for body detoxification.
Can juice cause stomach problems?
While juicing is excellent for your health, it's important to note that drinking too much juice can sometimes cause stomach problems. When you juice fruits and vegetables, you are removing the fiber from them.
While this makes the juices easier to digest, it also means that they move through your digestive system more quickly, leading to diarrhea or constipation.
Drinking juice in moderation is the best way to avoid these problems and enjoy all the health benefits that juicing has to offer!
So, if you're looking for a drink that can help improve gut health, reach for some delicious juice instead of soda or alcohol (since alcohol promotes stomach ulcers, leaky gut and is a leading cause for irritable bowel syndrome).
🫄🏽 More recipes for gut health
Happy juicing!
If you try this digestive juice recipe, let us know! Leave a comment, rate it, and don't forget to tag a photo #ourplantbasedworld on Instagram. Cheers!
📋 Recipe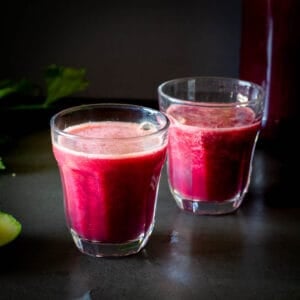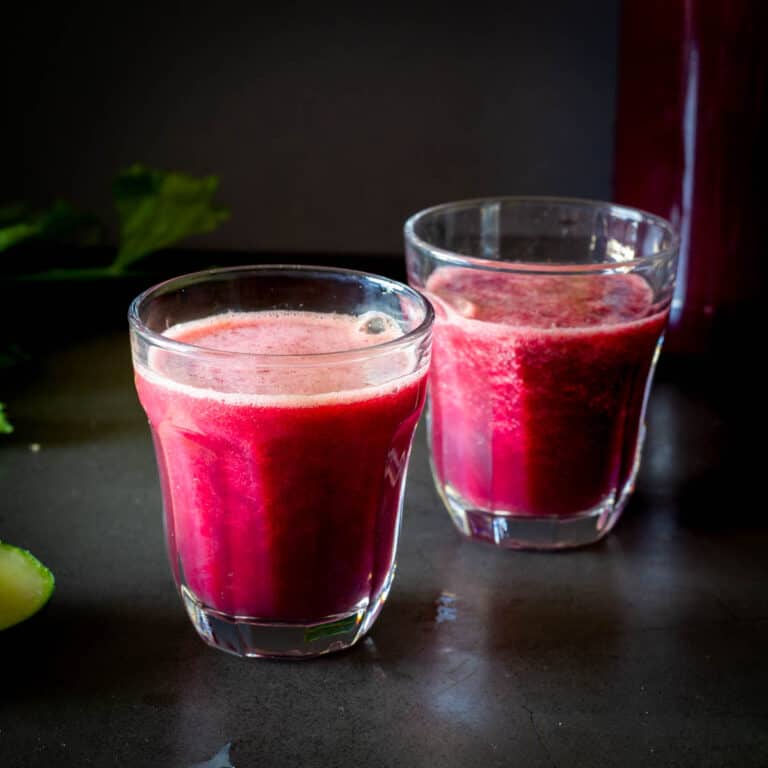 Juice for Digestion: the Best Juice for Upset Stomach
Find out the best juice recipe to make when your digestion is in need of a pick me up. Get back to your routine with a cleared stomach now!
Equipment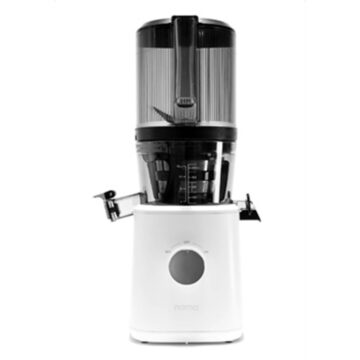 (affiliate link)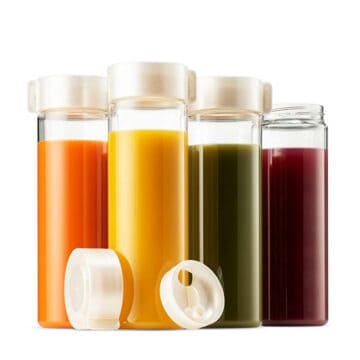 (affiliate link)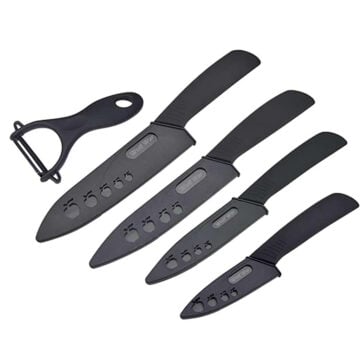 (affiliate link)
Directions
PREPARE THE VEGETABLES and FRUITS
Wash the mint, and all your vegetables and fruits thoroughly.

Coarsely chop the celery, beets, cucumber, ginger, and apple.
MAKE JUICE
Reserve about half of the lime.

Turn the juicer on and push everything through, alternating between the chunks and mint leaves.

Serve and stir in the vinegar. Add water if you feel the juice is too strong.
Notes
Gus TIPS
Make-ahead: Fresh fruit and vegetable juice is best enjoyed soon after juicing, but you can make it a day or two in advance. Make sure to store in glass, airtight containers. In case you have used a cold-pressed juicer, you are cashing up the expense! It should last a little longer.
Nutrition Facts
Calories:
44
kcal
Carbohydrates:
10
g
Protein:
1
g
Fat:
1
g
Saturated Fat:
1
g
Polyunsaturated Fat:
1
g
Monounsaturated Fat:
1
g
Sodium:
19
mg
Potassium:
231
mg
Fiber:
2
g
Sugar:
7
g
Vitamin A:
100
IU
Vitamin C:
6
mg
Calcium:
18
mg
Iron:
1
mg
Nutritional Disclaimer
The information shown is an estimate provided by an online nutrition calculator. It should not be considered a substitute for a professional nutritionist's advice. See our full Nutritional Disclosure here.
Affiliate Disclaimer
Please note that some of the links here are affiliate links, and I will earn a commission if you purchase through those links. I recommend all of the products listed because they are companies I have found helpful and trustworthy.