Do you want to start your day with a delicious and nutritious breakfast? A smoothie is a great option! This banana strawberry apple smoothie recipe is perfect for busy mornings. It's healthy, and filling and only takes five minutes to make. Plus, it's packed with antioxidants and other health benefits. You'll love the taste and the health benefits!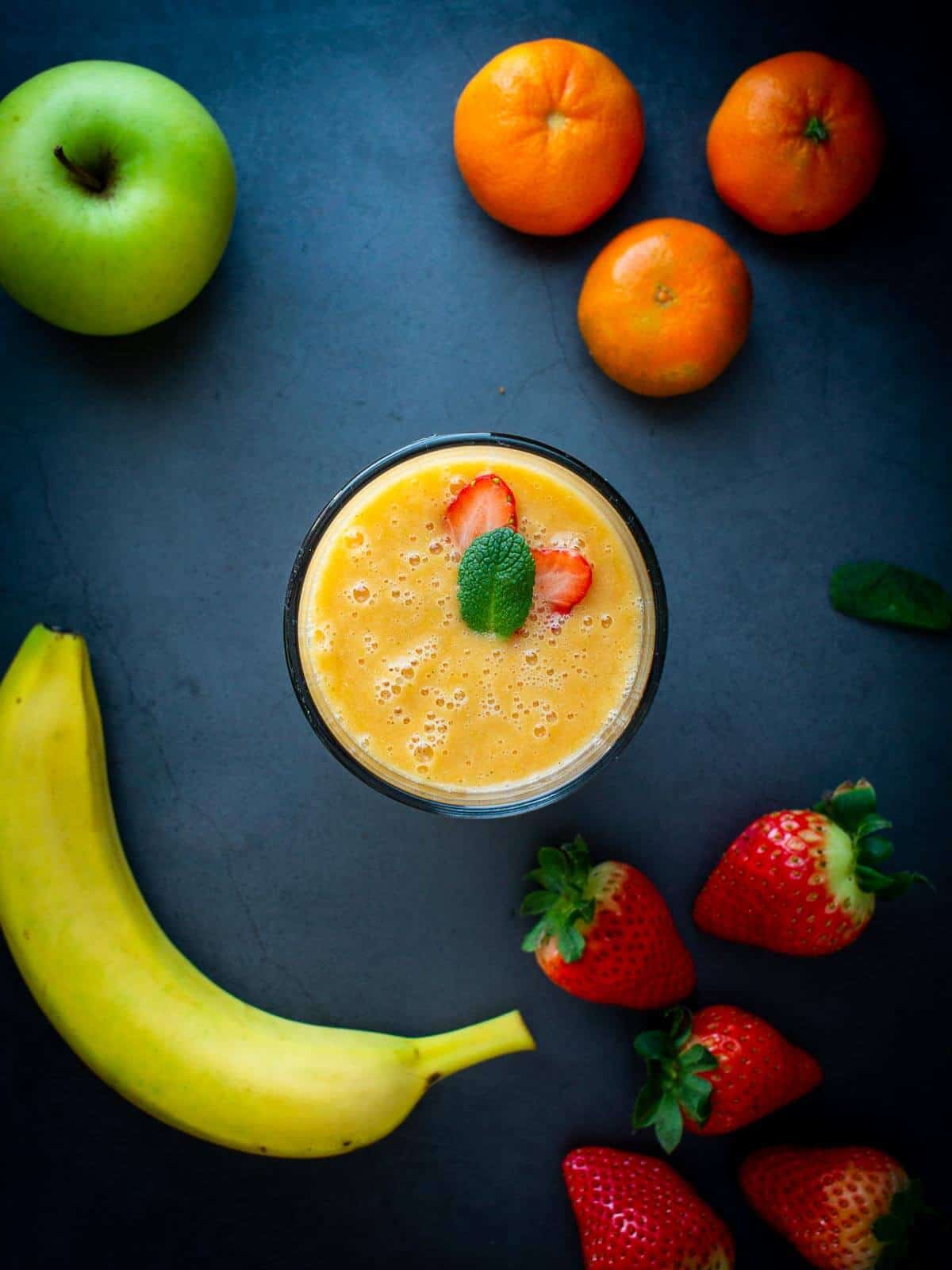 This strawberry apple banana smoothie is a simply delicious and nutritious smoothie with health benefits, including reduced cholesterol, blood pressure, inflammation, and oxidative stress. Try juicing your leftover strawberries before they get moldy for a delicious and low-calorie juice.
We like this thick smoothie with the sweet and citric notes of apples and clementines, making them different from your regular shake.
When creating this healthy strawberry banana smoothie recipe, we wanted to make it delicious and create a nutrition powerhouse with no added sugar and many positive effects.
Strawberries make great smoothies; we also love this pineapple version without banana, or our protein-packed frozen blackberry version.
Try our Superfood Green Detox Smoothie, Spinach Blueberry Smoothie, and strawberry kiwi smoothie on this site to complement your weekly breakfast meal plan.
Jump to:
🧾 Ingredients
We like trying new flavors, so we use some mandarine oranges to make this banana strawberry apple smoothie, plus optional fresh ginger. These add-ons make the smoothie truly unique.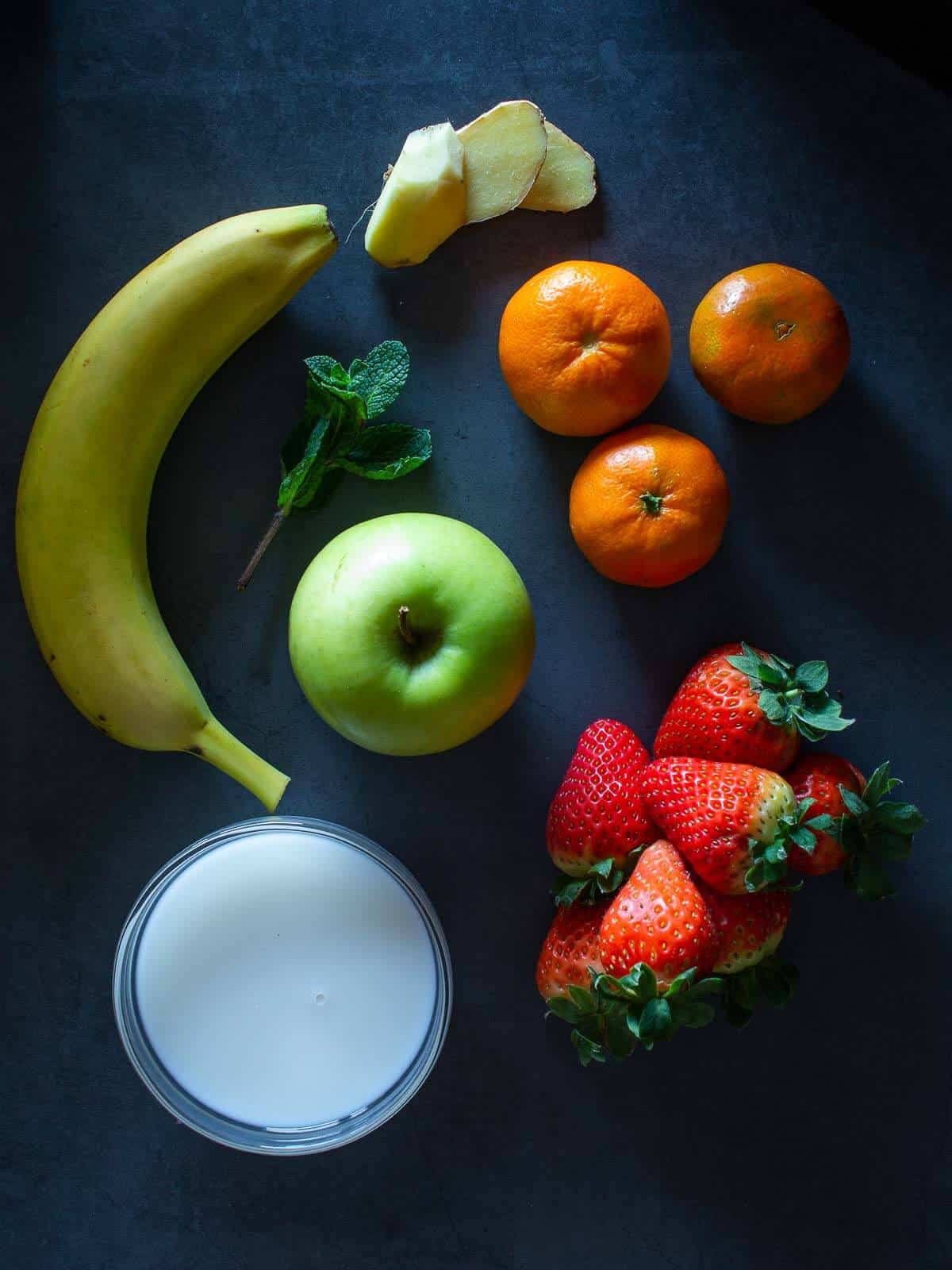 Frozen or fresh strawberries
Frozen Banana
Apple
Clementine
Plant milk (such as rice milk, coconut milk, or our simple almond milk, oat milk, or homemade soy milk)
Optional: mint and ginger
See quantities and complete instructions in the recipe card.
🔪 Instructions
How to make a strawberry banana smoothie without yogurt?
It is important to use frozen bananas because that's what will make a thick strawberry banana smoothie very creamy without the need for yogurt.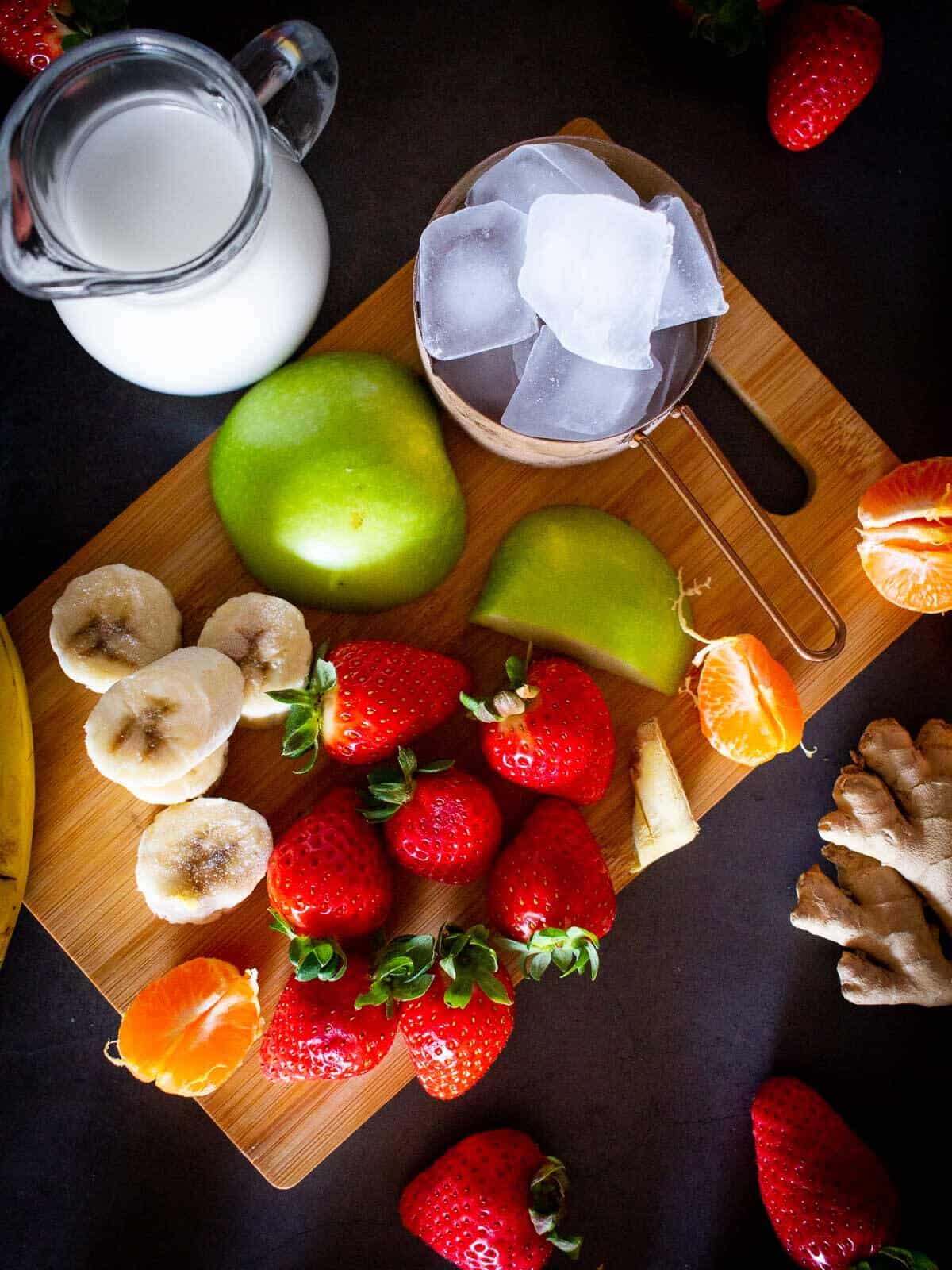 Step 1: Pick, chop, and measure your frozen and fresh produce, and plant milk.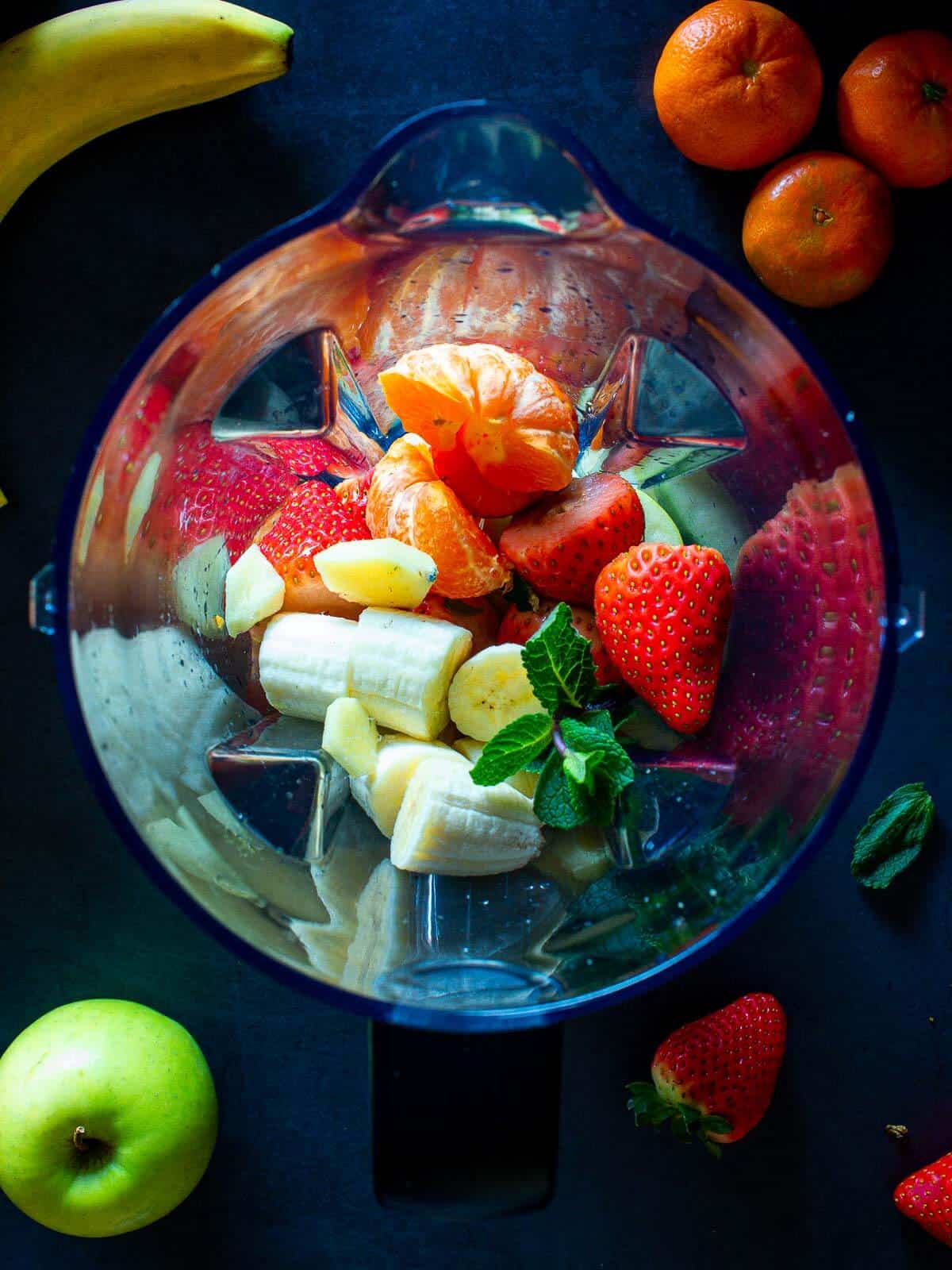 Step 2: Blend all the ingredients and ice cubes for about 40 seconds or your recommended blender setting for smoothies.
Hints: always keep frozen bananas and berries in your fridge to make your morning smoothie faster and thicker. Otherwise, add more ice! Always use ripe bananas when making smoothies to make your smoothie sweeter with its natural sugar.
📖 Variations
Making a vegan strawberry banana smoothie is easy, be creative and use a base of creamy fruits like bananas or peaches and your choice of dairy-free milk. You can also thicken the smoothie using oats. That's the true secret of a thick and creamy smoothie.
Protein powder: If you want to make a protein banana strawberry smoothie without yogurt, simply add a scoop of your favorite clean protein powder

(affiliate link)

(affiliate), chia seeds, hemp hearts, or hemp seeds. A strawberry banana smoothie protein is anything beyond 10 grams per serving, so give your smoothie a protein boost simply with any of the suggested add-ons.
More berries: Making a strawberry blueberry banana smoothie is delicious and adds extra antioxidants to a heart-healthy diet. A new study suggests that eating a cup of blueberries daily reduces risk factors for heart disease by up to 15%. Use frozen berries like frozen raspberries for a thicker smoothie.
Citrus: Tangerines, clementines, or oranges? Yes, you can use any! I have made this rich smoothie with freshly squeezed orange juice, blood oranges, tangerines, and clementines; all fresh fruit work. The idea here was to add some extra citrus and Vitamin C plus sweetness without adding artificial sweeteners, so oranges work well for both purposes.
Dark chocolate: We all have seen delicious strawberries covered in chocolate. They are a great match! Not only is this combination delightful, but for those looking to reduce high blood pressure, eating dark chocolate can help control high blood pressure. The flavonoids in cacao produce nitric oxide, causing blood vessels to relax, lower high blood pressure, and keep it in a normal range. Isn't that great? Check our Strawberry banana Chocolate Smoothie» for stress relief.
Oats: Add ¼ cup oat to increase your smoothie's fiber and protein content. Use gluten-free oats, if needed.
Seeds: Scoop in a tablespoon of flax seeds as such placement is a very strategic one as the alpha-linolenic acid present in flaxseeds has a positive effect and helps reduce your blood pressure and avoid it surging up.
Dairy-free milk: You can also choose soy milk over rice milk, which has a higher protein content. We also like using homemade oat milk, and almond milk. Another great option is cashew milk, as it is super creamy.
🍓 Health benefits of strawberry banana smoothie
This smoothie is super healthy and has all the benefits of apples, bananas, and strawberries. So, let's dig into the benefits of this beautiful fruit.
The beautiful fruit's heart-shaped silhouette is the first clue that this fruit is good for your heart. These potent packages protect your heart, lower your blood pressure, increase HDL (good) cholesterol (source), and have anti-cancer properties.
Do strawberries lower blood pressure?
Strawberries may lower blood pressure, the equivalent of about 3 mmHg for systolic blood pressure (the upper number) and 2 mmHg for diastolic blood pressure (the lower number), suggests a study published (source). So you may benefit from reduced blood pressure by including more strawberries as part of your heart health, along with other lifestyle modifications.
Banana and blood pressure
Also, banana is good for blood pressure because they are low in sodium and rich in potassium. According to the FDA, scientific evidence suggests that diets rich in potassium and low in sodium may help decrease our risk of having high blood pressure and heart disease.
So, the benefits of strawberry banana smoothies are great for people who need to reduce blood pressure levels and care about their heart health.
It is a great idea to include both bananas and strawberries as part of a healthy diet, as they greatly impact lowering blood pressure and relaxing our blood vessels.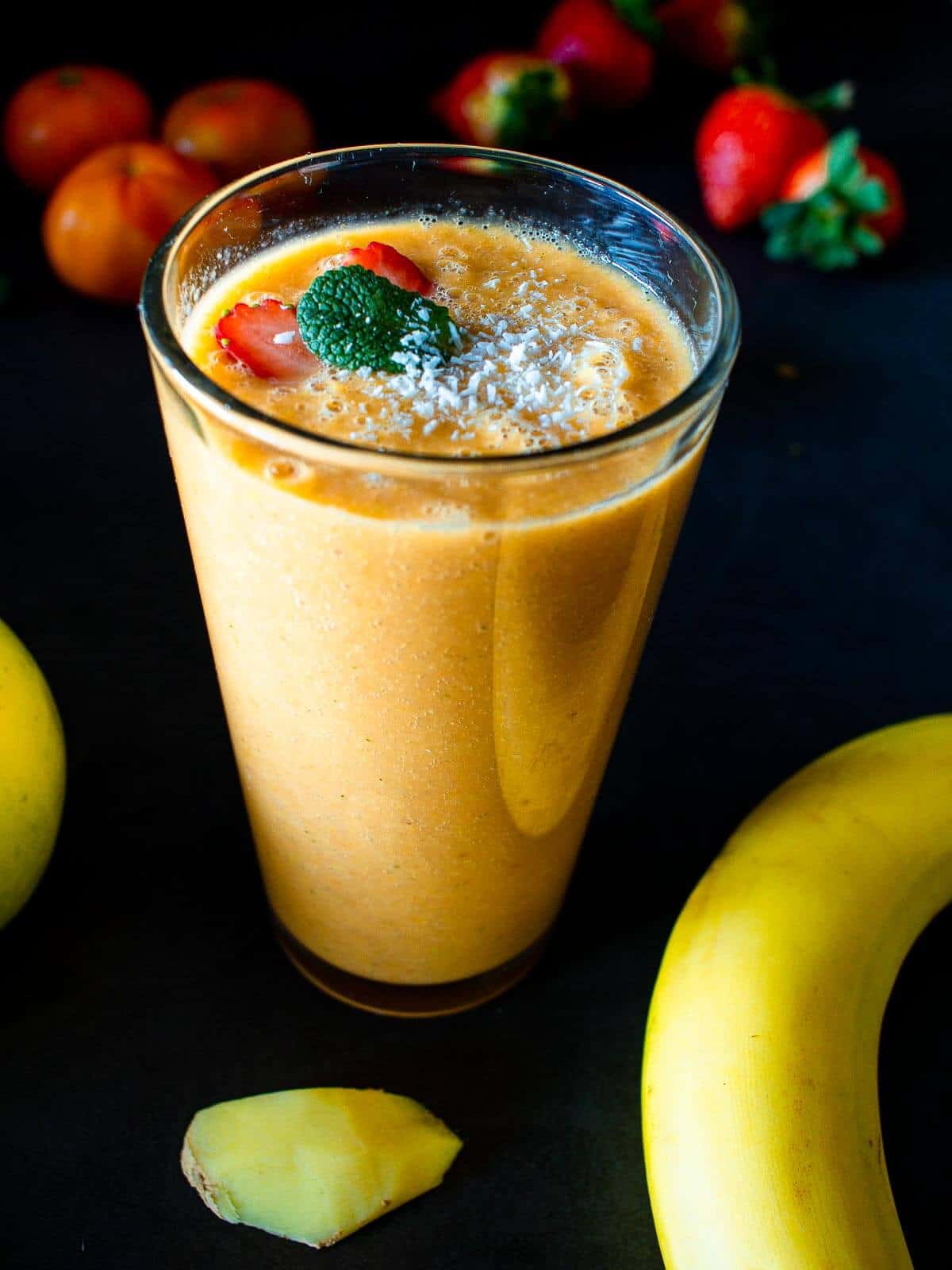 Bananas are easily enjoyed in many different recipes. They constitute the main ingredient but dairy-free ice creams like peanut nice cream, berry nicecreams, or baked goods like banana bread.
Beet juice also has positive effects on helping reduce blood pressure (source). Check our beetroot juice and carrots and beets detox juice, to learn more.
Great antioxidants
We need antioxidants to replenish our bodies from the effects of free radicals produced by stress and bad habits.
Most of our antioxidants come from beverages. It seems obvious that Apple juice, tomato juice, pomegranate juice, and pink grapefruit juice are at the top of the list. Green tea has become very popular as a source, but coffee, black tea, and plain tea also have high levels.
It is essential to take into consideration that adding regular milk to coffee or tea blocks antioxidants.
Both apples and strawberries are among the top 20 fruits in antioxidant capacity, meaning this apple banana and strawberry smoothie will put you at the top of your game.
📚 More smoothie recipes
If you don't have a good blender, we think it is a great investment; we use it at least twice a day, and it's really worth it. Try some of our favorite smoothies:
If you know us, you know we love our juicing rituals, functional juices, and smoothies; that's why this Post Work Out Smoothie is a great recipe if you like training.
If you are into berries, their health benefits, and want an antioxidant boost, give the Frozen Mixed Berries Smoothie and peanut butter strawberry smoothie a try.
This 3-ingredient pineapple coconut smoothie is a great option for the Summer months; it is like a virgin piña colada!
Also, our latest creation is this delicious strawberry banana mango smoothie, made with almond milk; you will love it!
Not a smoothie, but a great resource when things have gone wild last night, is our hangover juice, packed with hydrating and natural hangover cure ingredients.
⭐ If you try this recipe, let us know! 💬 Leave a comment, rate it, and don't forget to tag us @ourplantbasedworld on Instagram. Cheers!
📋 Recipe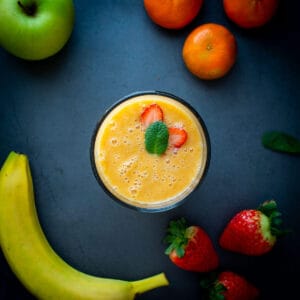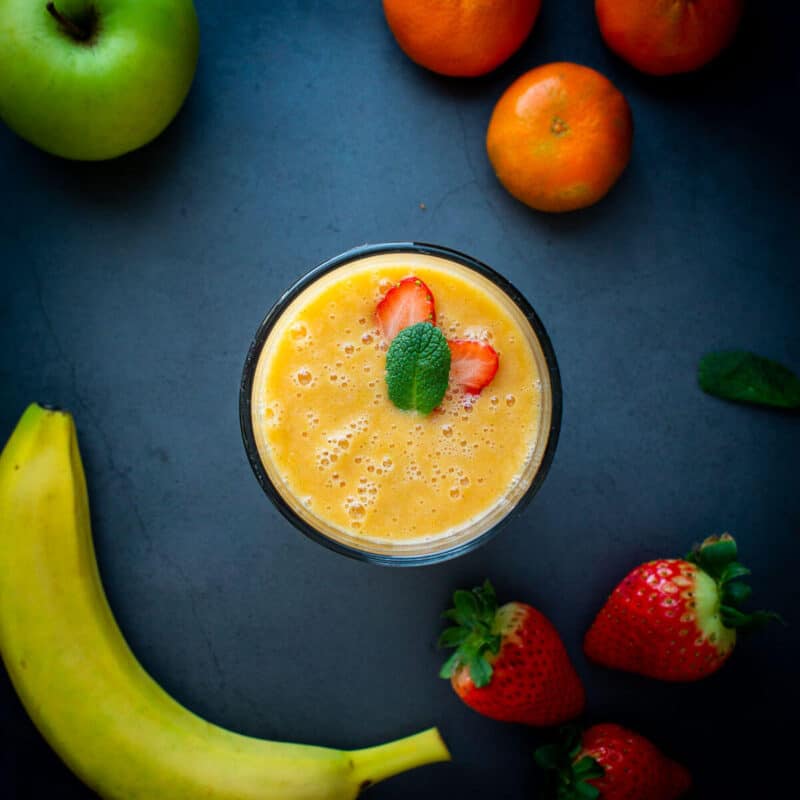 Banana Strawberry Apple Smoothie
A simply delicious and nutritious smoothie with health benefits including reduced cholesterol, blood pressure, inflammation, and oxidative stress.
Equipment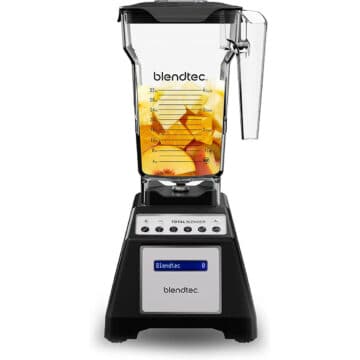 (affiliate link)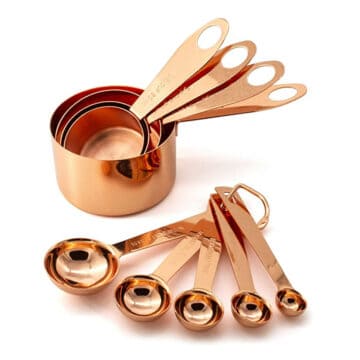 (affiliate link)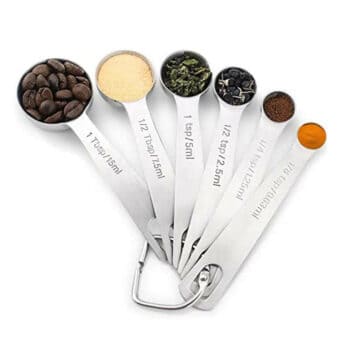 (affiliate link)
Ingredients
9

strawberries

leaves cut or removed

1

green apple

cored (other apple types also work well)

3

clementines

small, or mandarine organges

1

ripe banana

large, previously sliced and frozen, or use extra ice if using fresh banana

½

cup

rice milk

unsweetened, or coconut milk, or other plant-milk
Optional: (if using fresh fruit instead of frozen)
Directions
Wash and prepare the ingredients.

Add all ingredients to a blender and blend until creamy and smooth.

Add more liquid if too thick and ice or frozen fruit to thicken.
Notes
Nutrition facts are calculated without the protein powder.
Adding the suggested protein powder adds 28 calories, 0 carbohydrates, and 5 grams of protein per serving.
Add agave or maple syrup for extra sweetness or extra dates. We like using dates because they have a ton of beneficial post-workout benefits.
Vegan Clean Protein: if using the clean protein powder

(affiliate link)

, add our 10% discount code OURPBWORLD10 at check-out to enjoy the benefit. (affiliate)
Nutrition Facts
Calories:
201
kcal
Carbohydrates:
50
g
Protein:
2
g
Fat:
1
g
Saturated Fat:
1
g
Polyunsaturated Fat:
1
g
Monounsaturated Fat:
1
g
Sodium:
29
mg
Potassium:
595
mg
Fiber:
7
g
Sugar:
32
g
Vitamin A:
93
IU
Vitamin C:
95
mg
Calcium:
58
mg
Iron:
1
mg
Nutrition Facts
Banana Strawberry Apple Smoothie
Amount per Serving
% Daily Value*
* Percent Daily Values are based on a 2000 calorie diet.
Nutritional Disclaimer
The information shown is an estimate provided by an online nutrition calculator. It should not be considered a substitute for a professional nutritionist's advice. See our full Nutritional Disclosure here.
Affiliate Disclaimer
Please note that some of the links here are affiliate links, and I will earn a commission if you purchase through those links. I recommend all of the products listed because they are companies I have found helpful and trustworthy.