There's nothing like a delicious and refreshing smoothie to help you cool down on a hot day. This kiwi strawberry banana smoothie is the perfect drink for summer. It's packed full of flavor and will leave you feeling refreshed and satisfied and can also be a great healthy drink if you have a cold. Plus, it's super easy to make! You only need a few simple ingredients and a blender. You'll love it!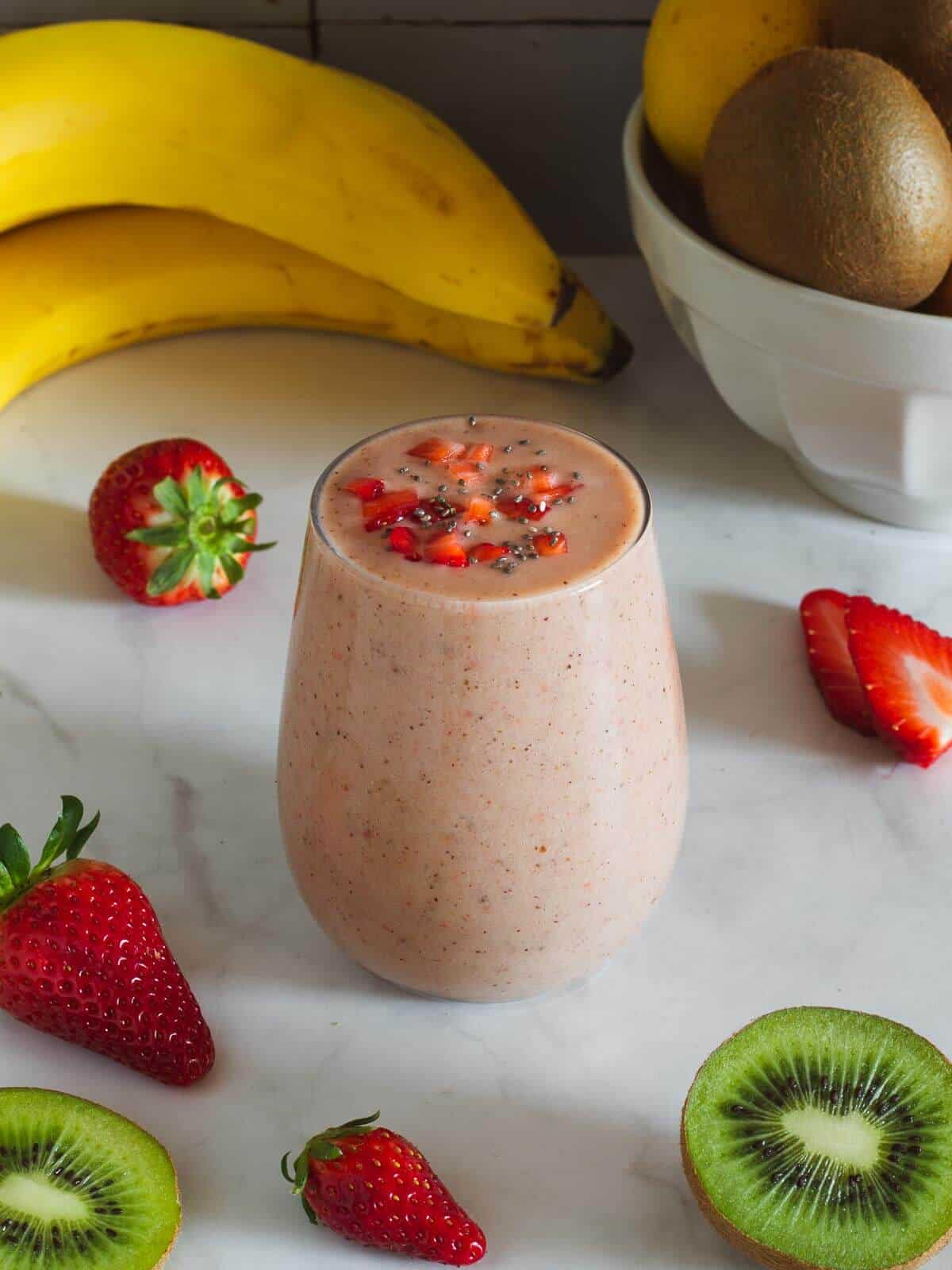 Strawberries are a great source of low-calorie antioxidants, vitamin c, fiber, and healthy nutrients. Kiwis are also high in fiber and have many great health benefits; combine them with spinach for a smoothie fiber bomb!
A kiwi strawberry smoothie can also help to fight a cold due to its high concentration of Vitamin C, and it is a very easy way to pack other cold-fighting nutrients like Vitamin D and Zinc if you have a sweet tooth.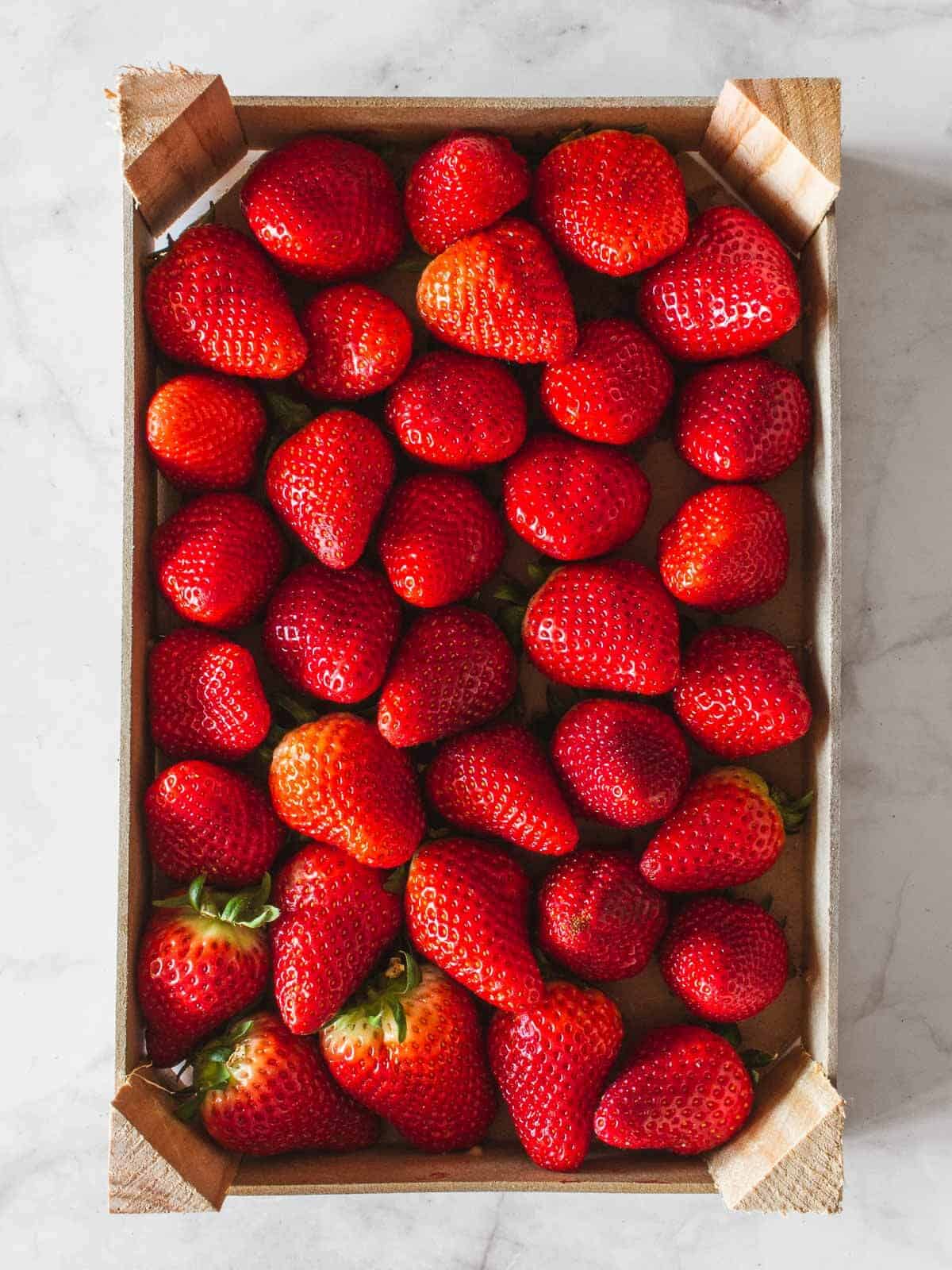 When it comes to our beautiful green friends, we always liked kiwifruit, but some time ago, I had to deal with lots of anxiety related to our big change! Starting this food blog and leaving my comfort zone... the secure paycheck... every single month.
As a result, I was dealing with insomnia and read that kiwi juice was a great way to overcome sleeping disorders. Since then, I have started experimenting with kiwi fruit in many ways, and this kiwi smoothie was one of them!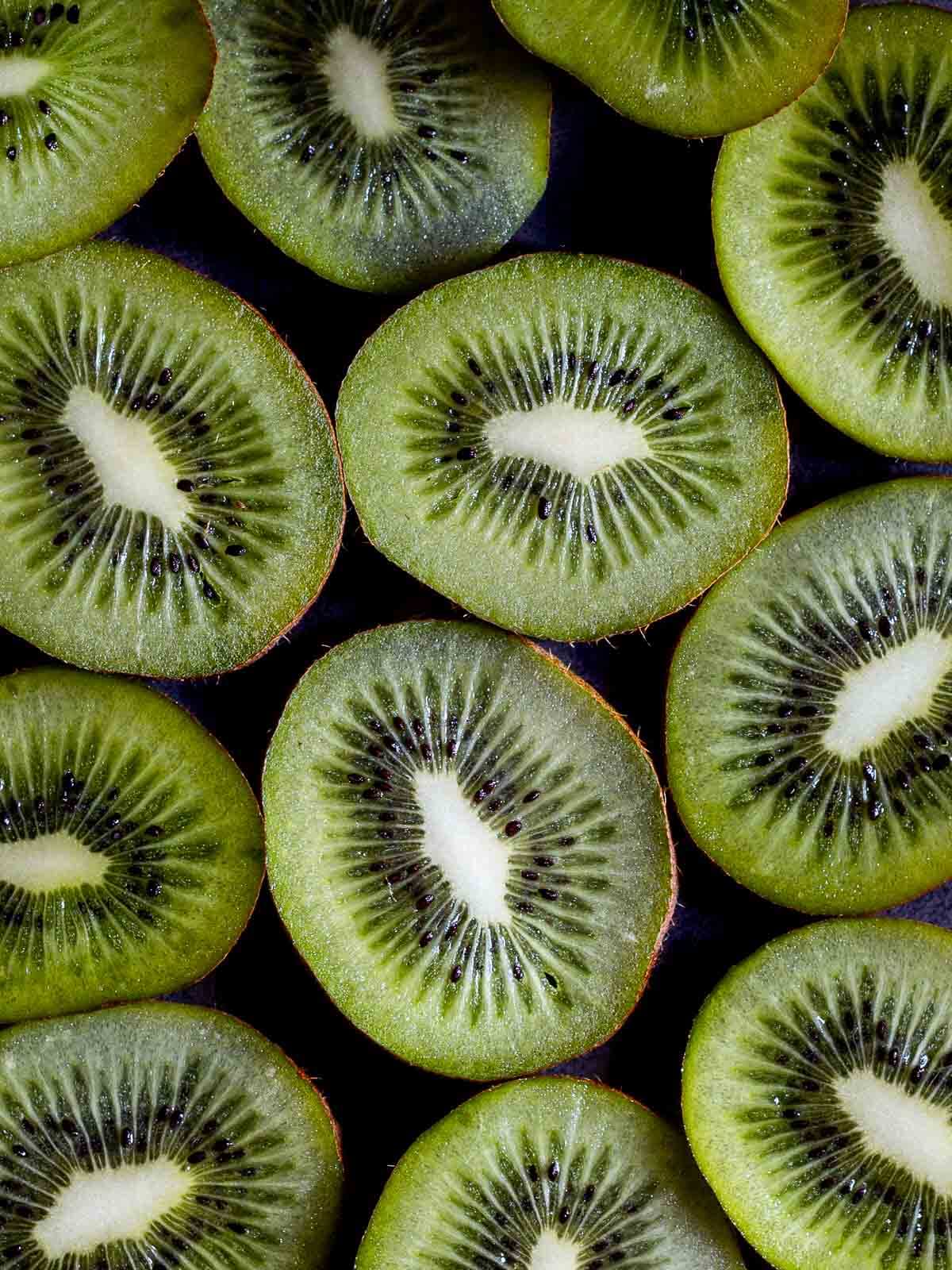 On the other hand, strawberries make great smoothies, as they are sweet, red, and tasty! We love our strawberry and pineapple smoothie, pineapple coconut smoothie, banana strawberry apple smoothie, strawberry and chocolate smoothie; lately, we even experimented with making a strawberry smoothie with peanut butter which was a hit!
When we have leftover strawberries, we juice them and either drink fresh strawberry juice or freeze it in ice cube trays to make smoothies.
Jump to:
🧾 Ingredients
We love using fresh ingredients for juicing and making a smoothie, but we tend to buy more fresh produce than what we can consume, and often freezing strawberries and bananas are the best way to go.
Strawberries can be hard to keep, so we either eat them as a healthy snack, juice them, freeze them, or make smoothies.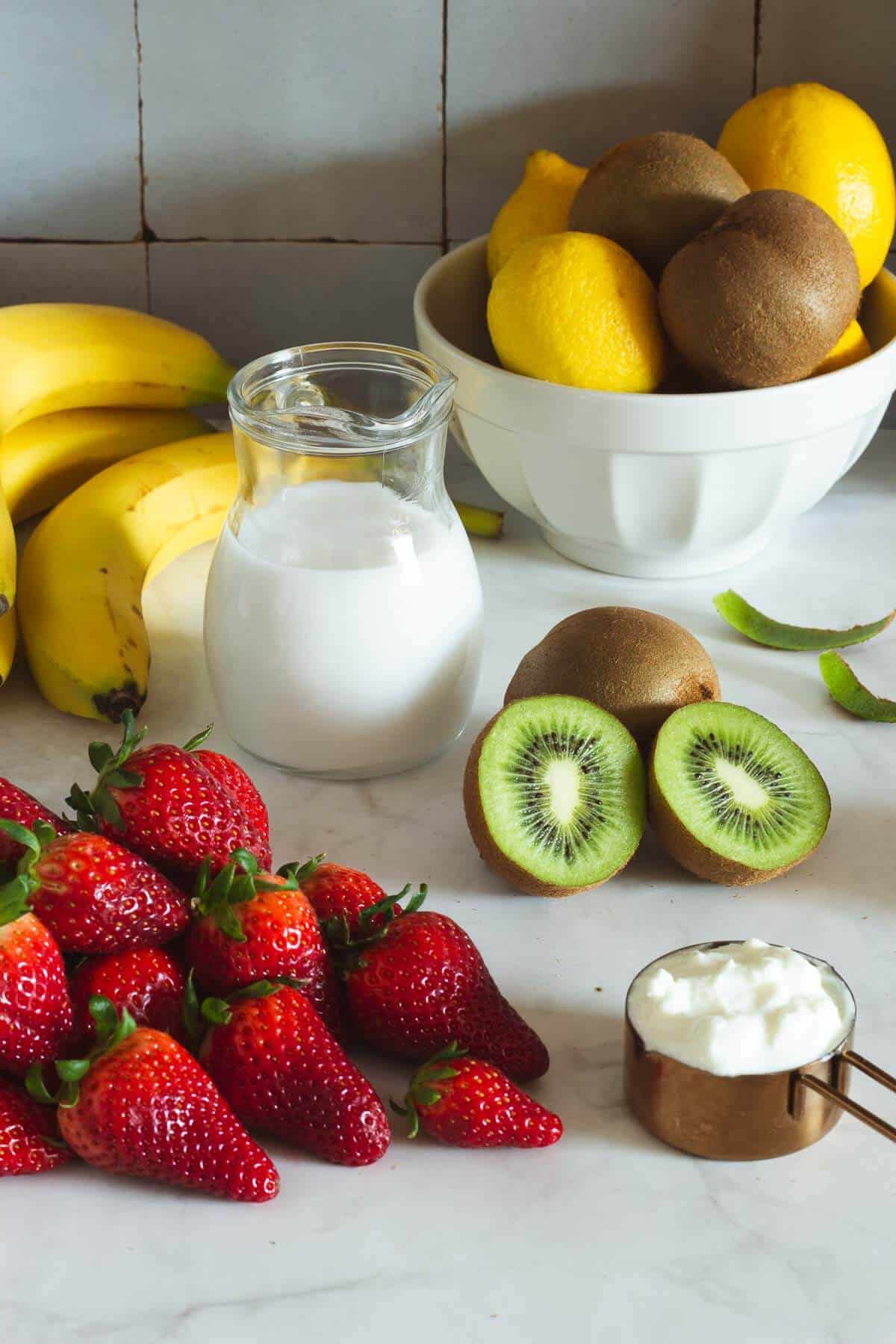 Fresh kiwis
Frozen ripe banana
Frozen strawberries
Almond milk (or other plant milk such as coconut milk, oat milk, or soy milk)
Plant-based plain yogurt
Lemon juice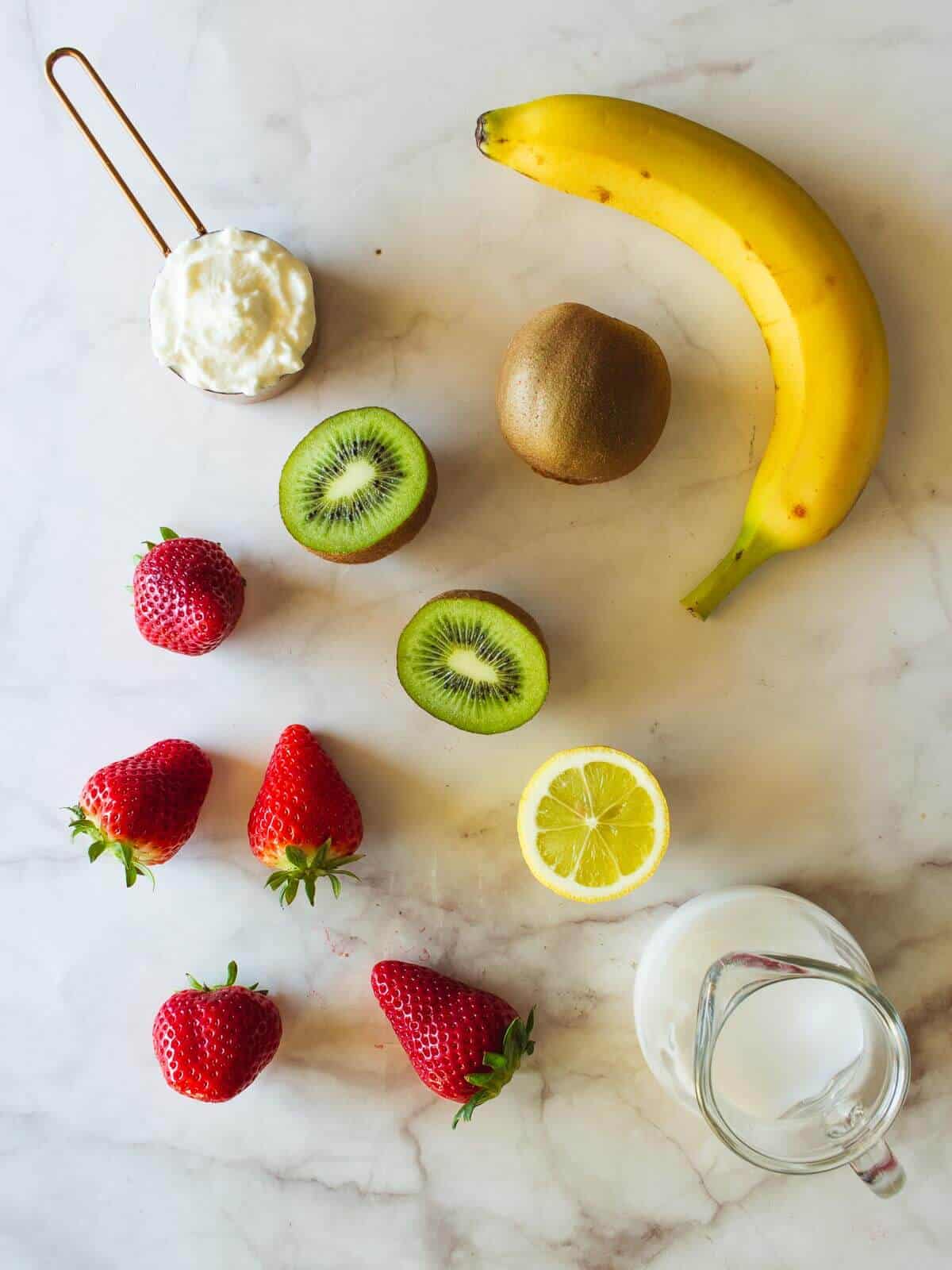 See quantities and complete instructions in the recipe card.
🔪 Instructions
Making this strawberry kiwi smoothie recipe is an easy peasy job!
The night before
Ideally, freeze the fresh strawberries and sliced fresh ripe bananas, overnight. If not, simply plan to add some ice cubes to your smoothie.
Frozen ingredients help make your smoothie creamier without adding any unhealthy fats, which are the regular creamy components of an unhealthy kiwi smoothie.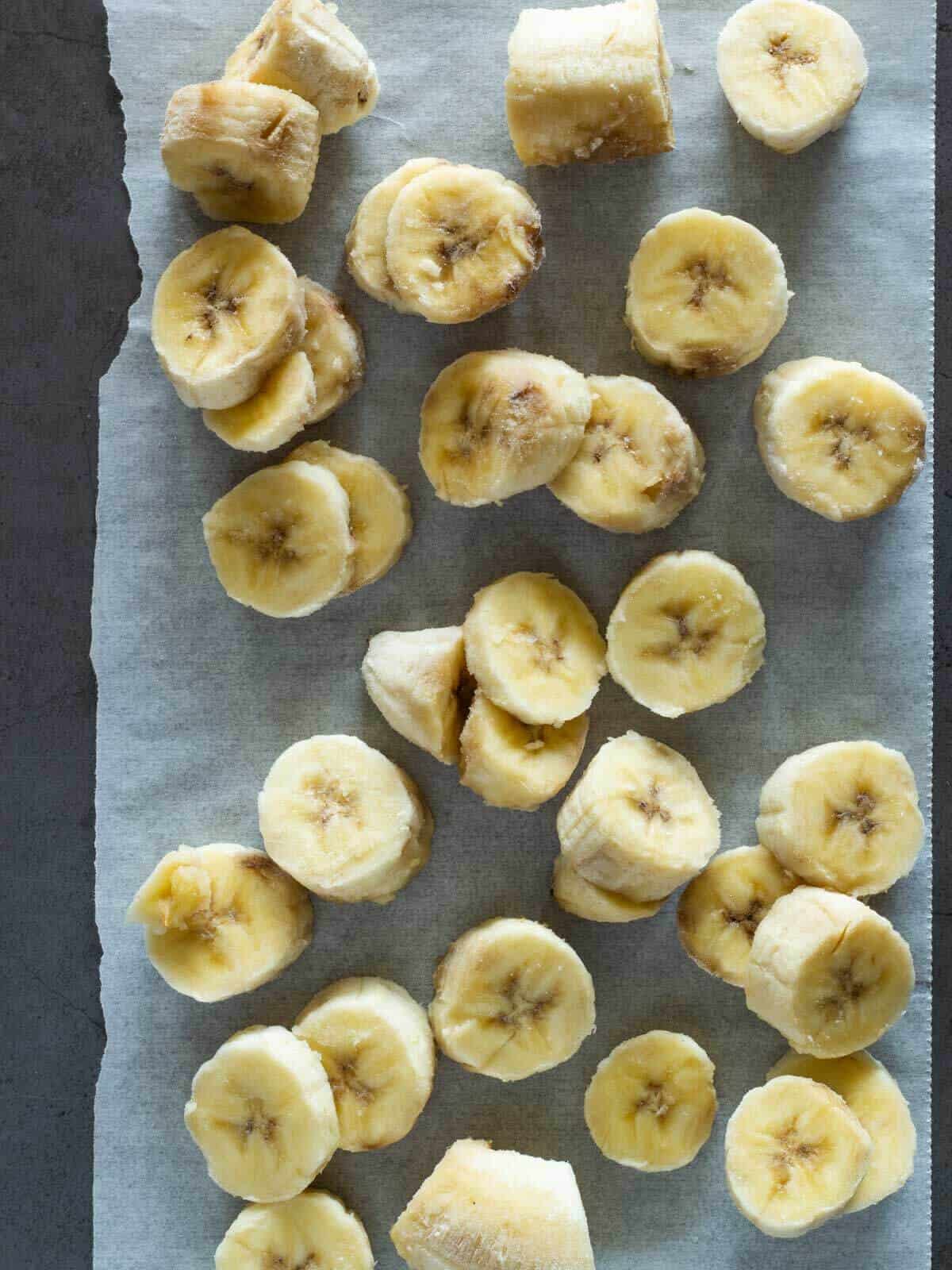 Before blending
Place the fresh kiwi, frozen strawberries, half of a frozen banana, almond milk, yogurt, and lemon juice together in the blender jar.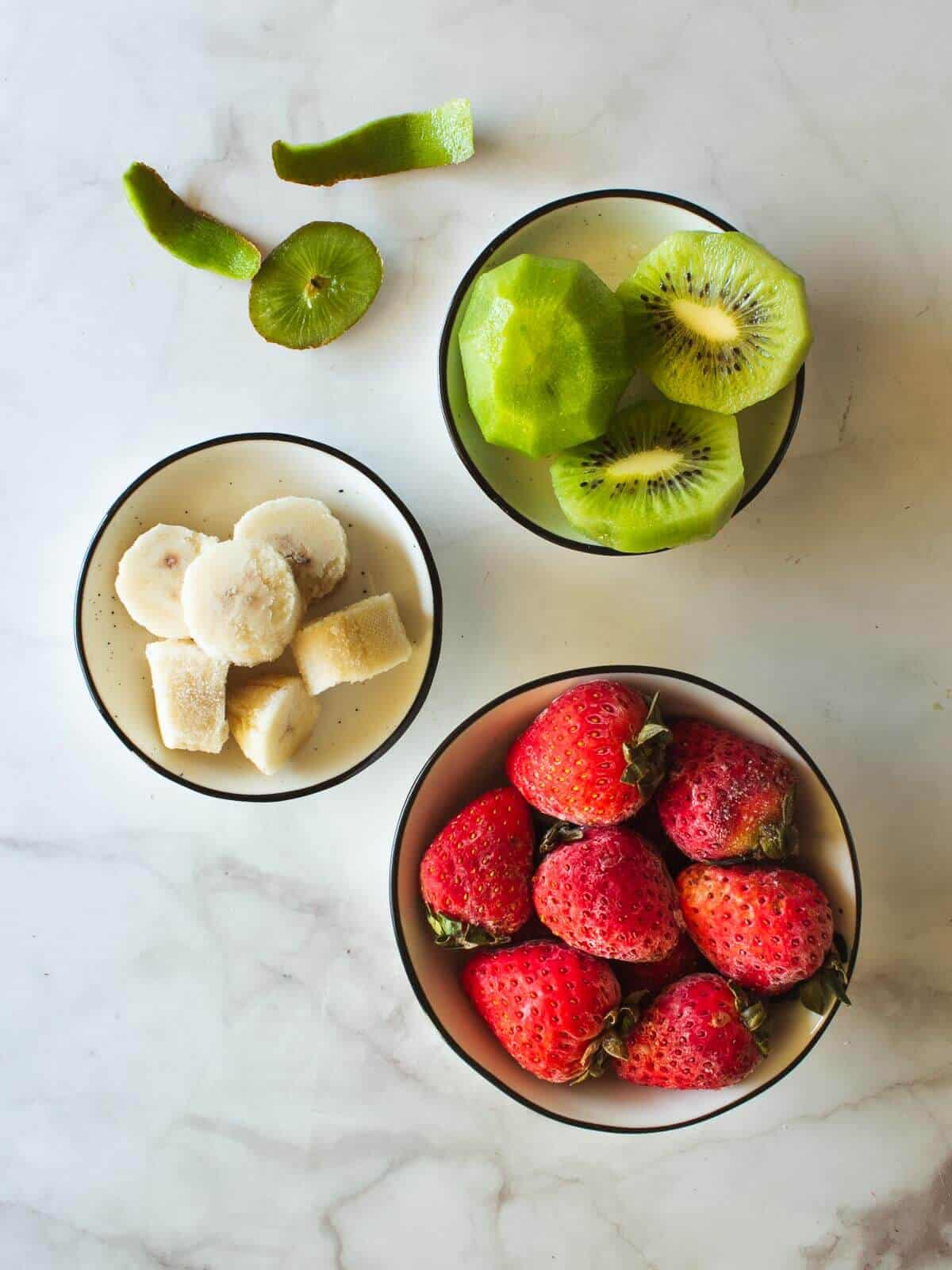 When making a smoothie, it is a good idea to place the softer ingredients and liquids on the bottom of the blender, close to the blades, so that the blender doesn't get stuck.
Tip: If your fruit is not frozen or they were not ripe, make sure you have handy some ice cubes, and your preferred healthy sweetener, such as agave syrup or maple syrup.
Blend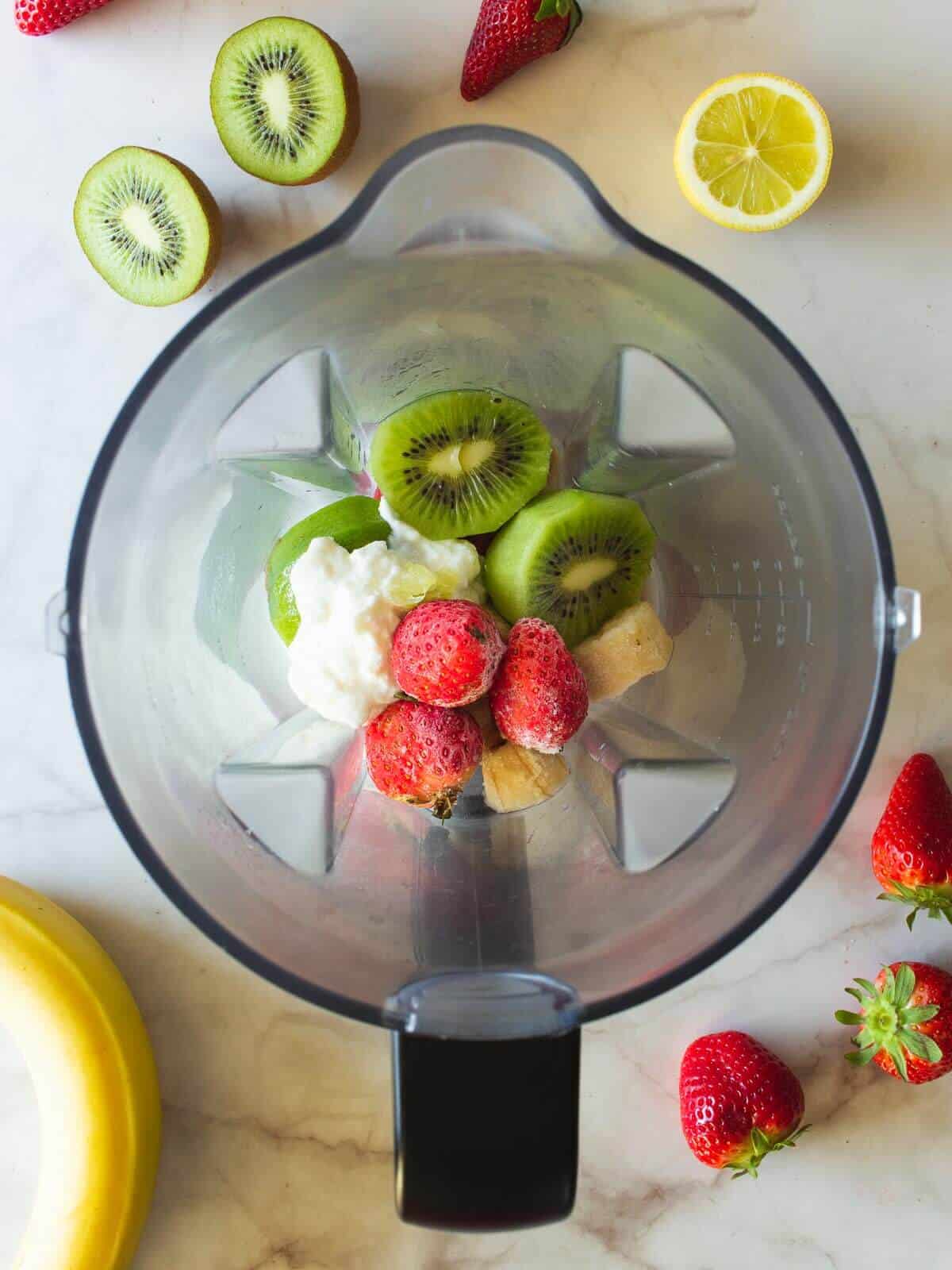 Using the smoothie function of your blender, blend your ingredients for about 40 seconds or until it has the desired consistency.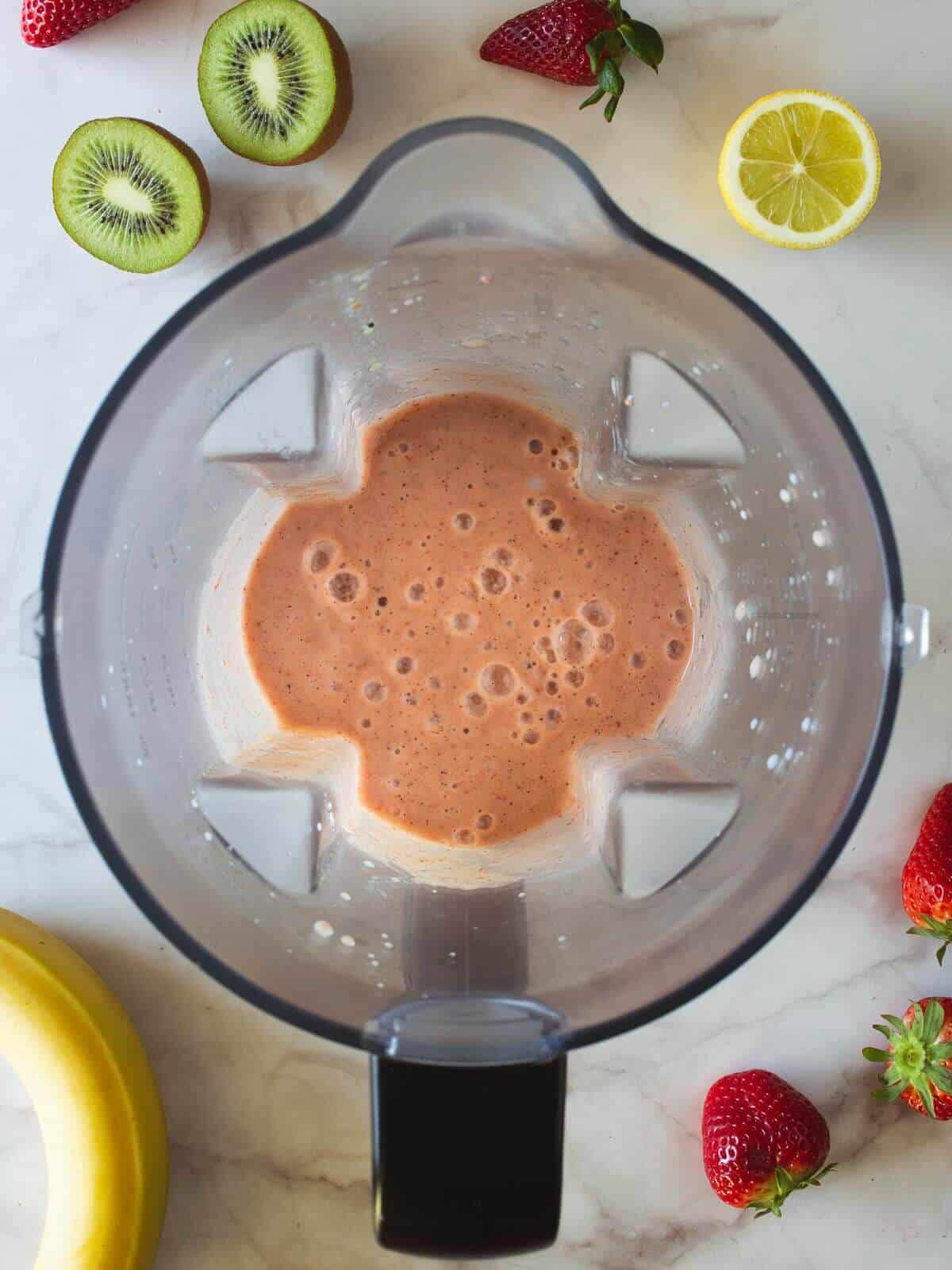 Use the tamper, in case your blender has one, to help your blender "grab" all the ingredients well.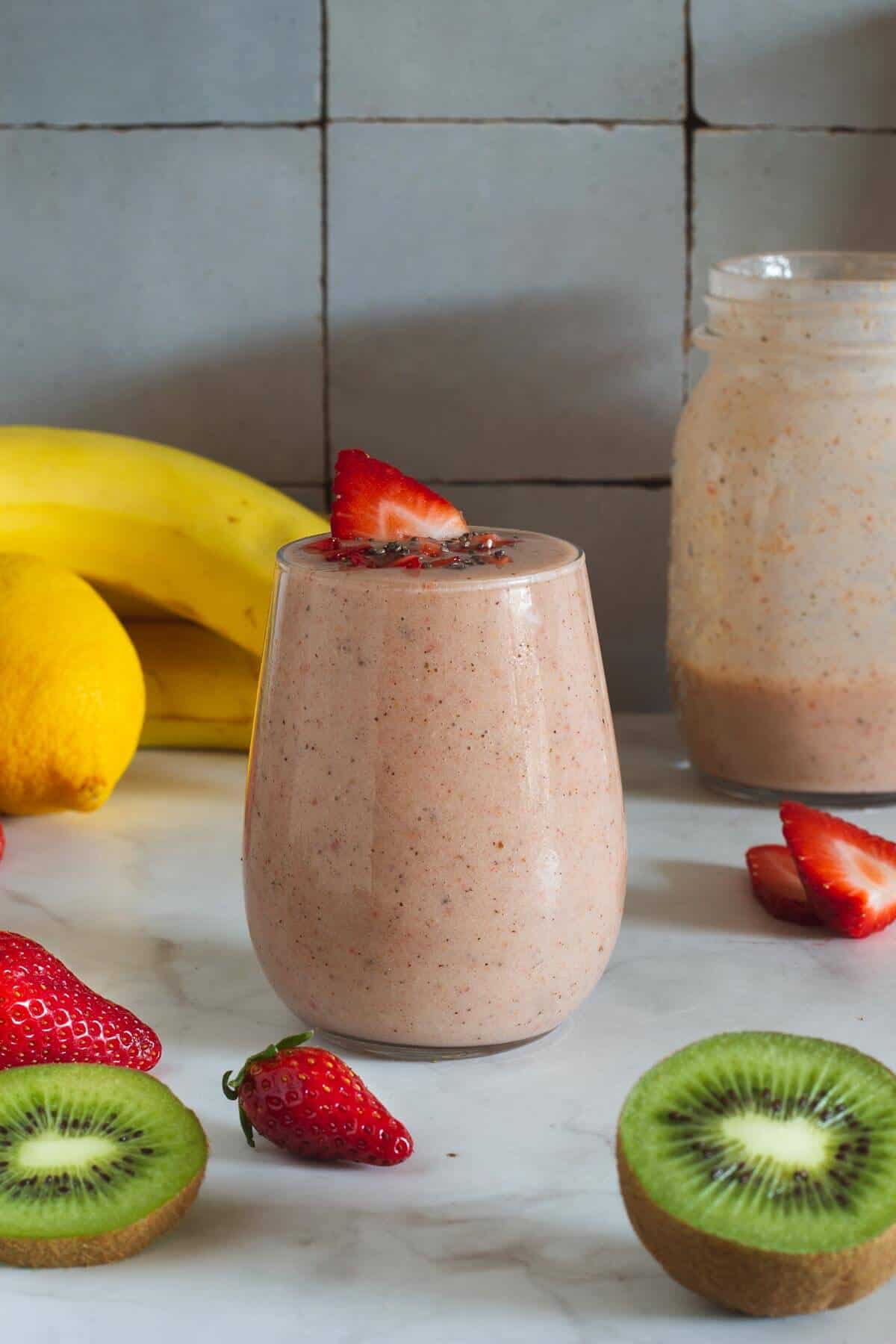 Garnish your banana strawberry kiwi smoothie with slices of fresh strawberries or kiwi fruit dice.
📖 Variations
Banana
If you are not a fan of bananas or simply want to try something different but still keep the banana's creamy texture, go for fresh peaches. They are one of the best substitutions as they are both sweet and have a creamy texture.
Remember to core them before adding them to your blender, as they can easily break. Their seeds are really hard; I wonder why they are called stone fruits!
Strawberry banana smoothie protein
Adding protein powder to this banana strawberry kiwi smoothie recipe is an easy way to make any healthy drink a workout partner. It is a great idea to have some extra protein intake 30 minutes before working out or 90 minutes after working out.
Use a scoop of clean protein (affiliate link) powder to bring up the protein content in the smoothie if you are drinking this strawberry kiwi smoothie as a pre or post-workout smoothie.
Also, try out beet juice before working out to increase your endurance and stamina.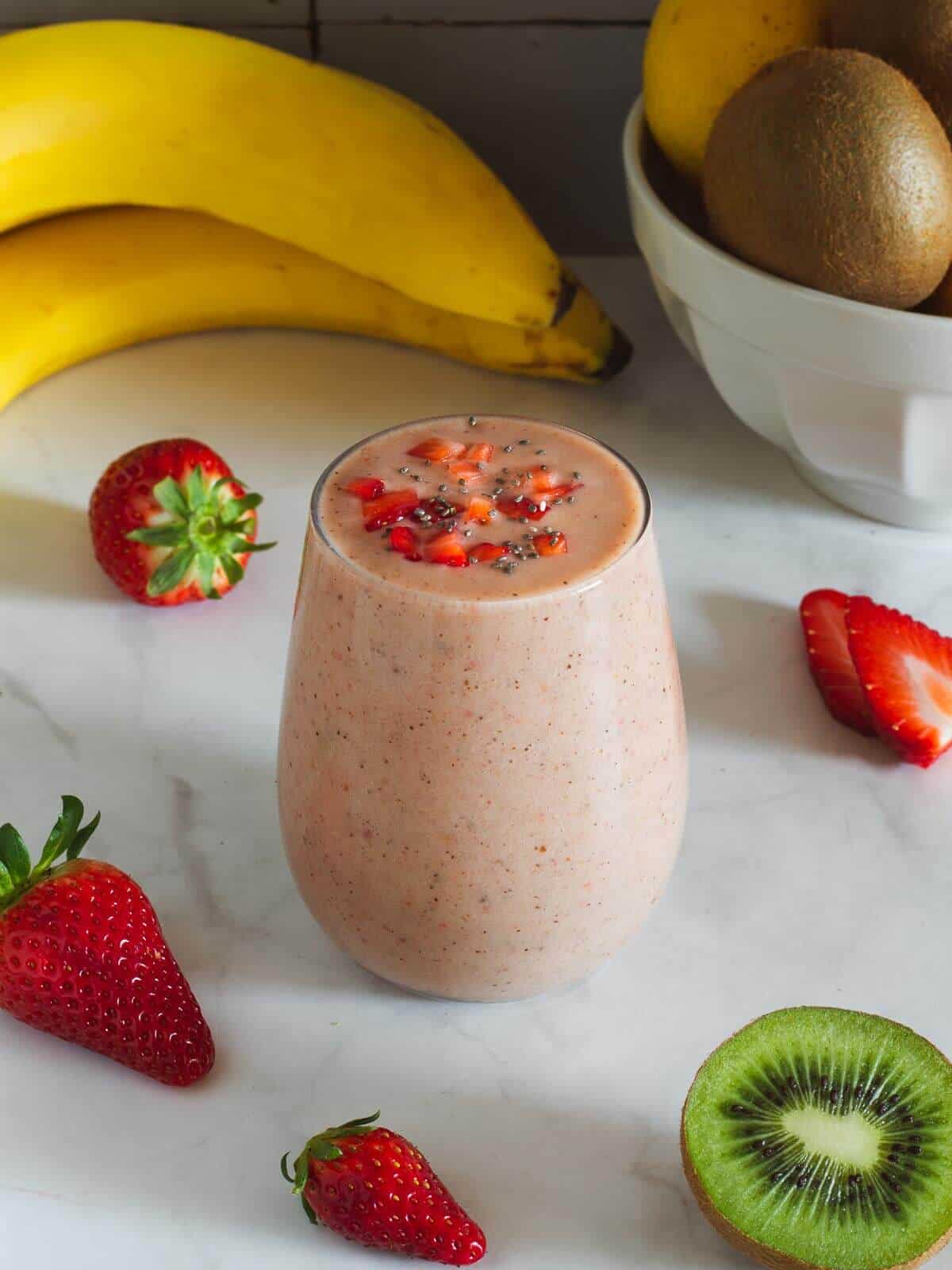 Extra fiber
Add oatmeal extra insoluble fiber to raise your smoothie health game. This is great for improving your gut health.
If adding rolled oats or old-fashioned oats, grind them dry in the blender, so it becomes oats flour and doesn't affect the texture of your smooth and creamy drink.
You can add tropical fruit like fresh or frozen pineapple to your smoothie. The acidity elevates strawberry flavor and adds natural sweetness to your kiwi smoothie.
Read on: Drinks to boost the immune system »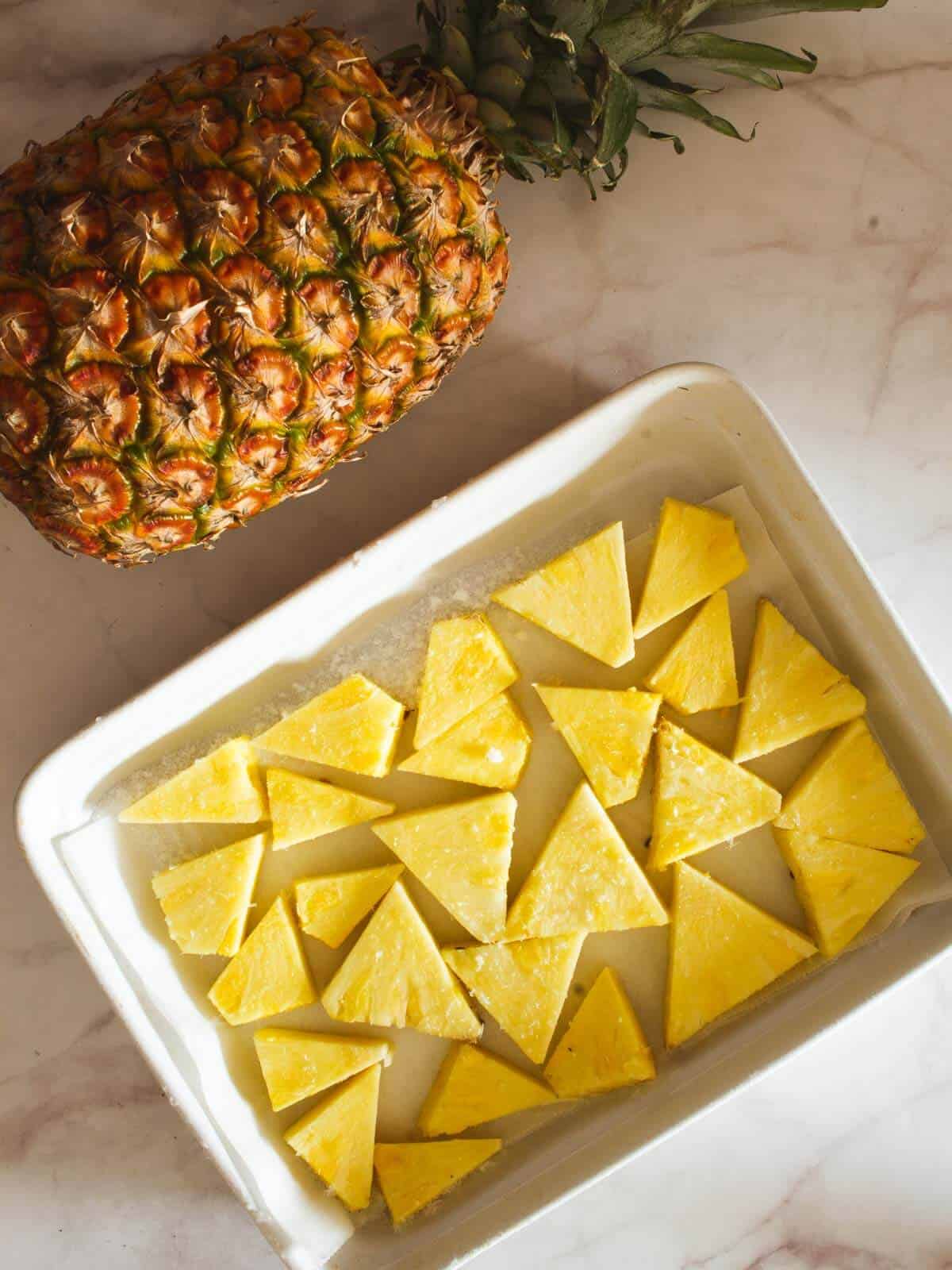 Healthy fats
Feel free to add some walnuts, almonds, chia seeds, and flax seeds to your healthy strawberry kiwi smoothie, to add some serious Omega 3 and Omega 6 healthy fatty acids to your breakfast fix.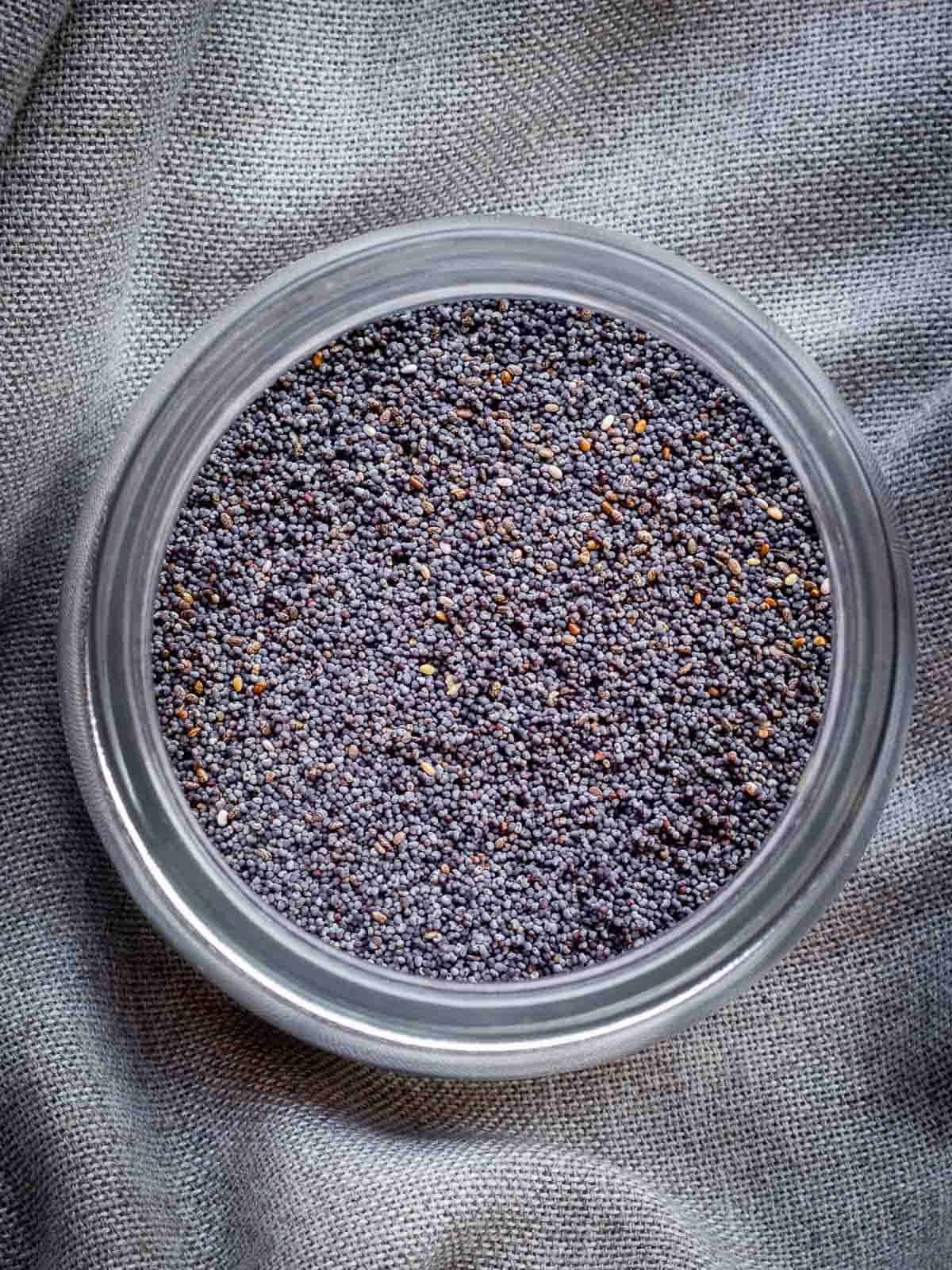 Milk
This easy recipe can be made with any kind of milk. I love having our plant milk the fresh way! So we make our own dairy-free milk at home. We find that almond milk and coconut milk, are the ones that accentuate the most strawberries, so that's why we chose almond milk for this strawberry kiwi smoothie.
Oat milk is particularly creamy if you are after some extra creaminess, and homemade soy milk is the best option if you want to increase the protein content of your kiwi smoothie.
Sweeteners
If you want to avoid using added sugar, always choose ripe fruit; you can always add a tablespoon of maple syrup, agave syrup, stevia, or monk fruit sweetener.
Remember that, except for stevia leaves, they will add calories to your smoothie.
🫙 Storage
Fruit smoothies are best when freshly made, but also make a great healthy snack on the go. If there are leftovers, they can be stored in the fridge in an airtight container for an additional day or two.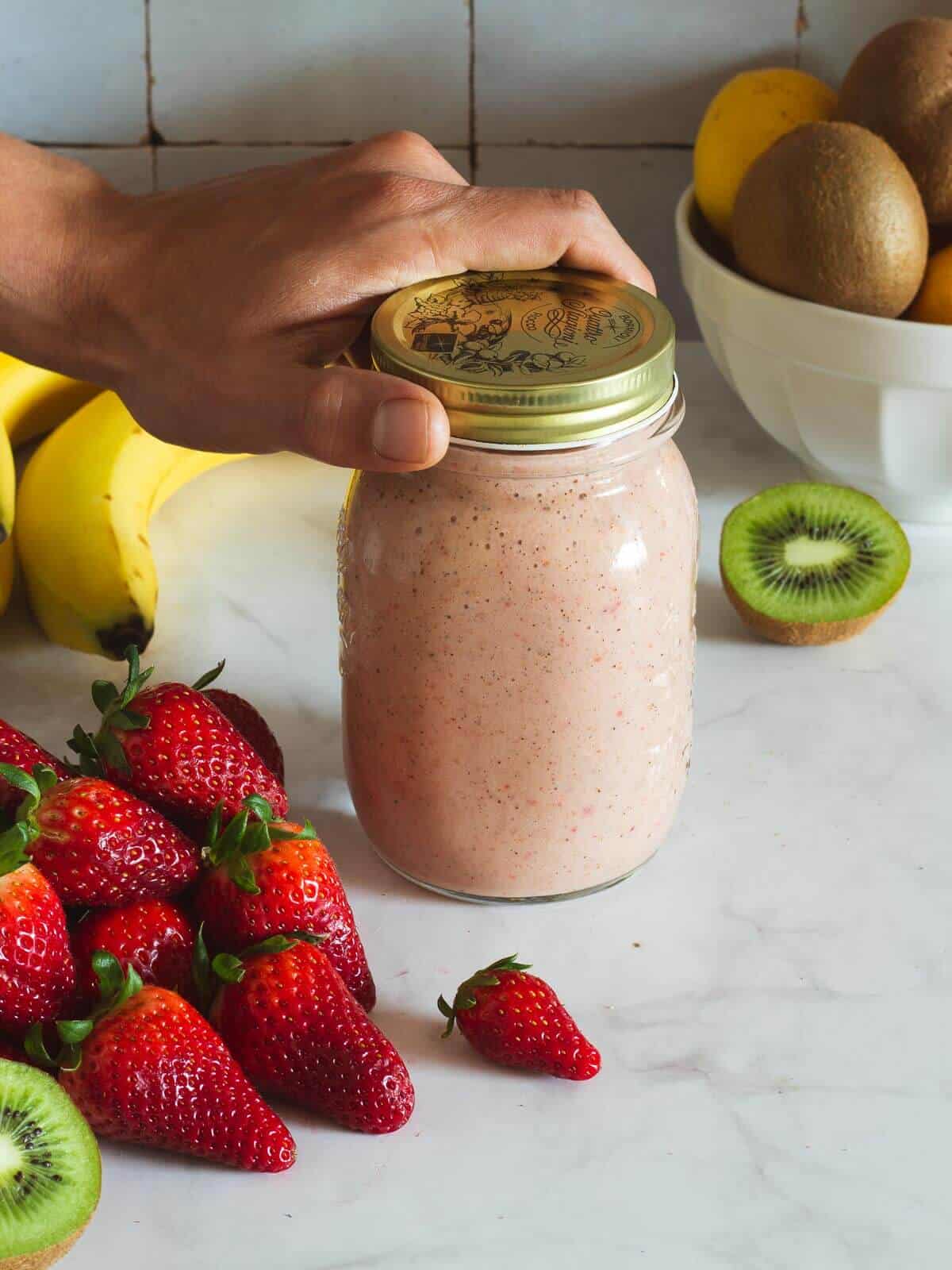 🍽 Equipment
You can blend this strawberry kiwi smoothie using a nutribullet (affiliate link), an immersion blender (affiliate link), or a high-speed blender (affiliate link). They all work, but we find it particularly helpful for smoothies, using a powerful blender as it crushes ice in seconds, achieving a perfect consistency.
🥤 More smoothie recipes
If you want a smoothie that will keep you full for hours and packs lots of protein, we recommend you try out our post-workout smoothie or a Banana Oatmeal Smoothie Recipe , our Spinach Blueberry Banana Smoothie, and blackberry strawberry banana smoothie.
Also, our latest creation is this delicious strawberry banana mango smoothie, made with almond milk, and you will love it!
Looking for a detox or cleanse smoothie? Try our Superfoods Detox Smoothie and our favorite 10 Drinks for Hydration and Detoxification.
Want some summery vibes? The Watermelon Smoothie or Pineapple Coconut Smoothie, are both strong bets!
If you try this strawberry yogurt banana smoothie recipe, let us know! Leave a comment, rate it, and don't forget to tag a photo #ourplantbasedworld on Instagram. Cheers!
📋 Recipe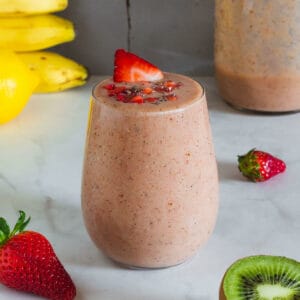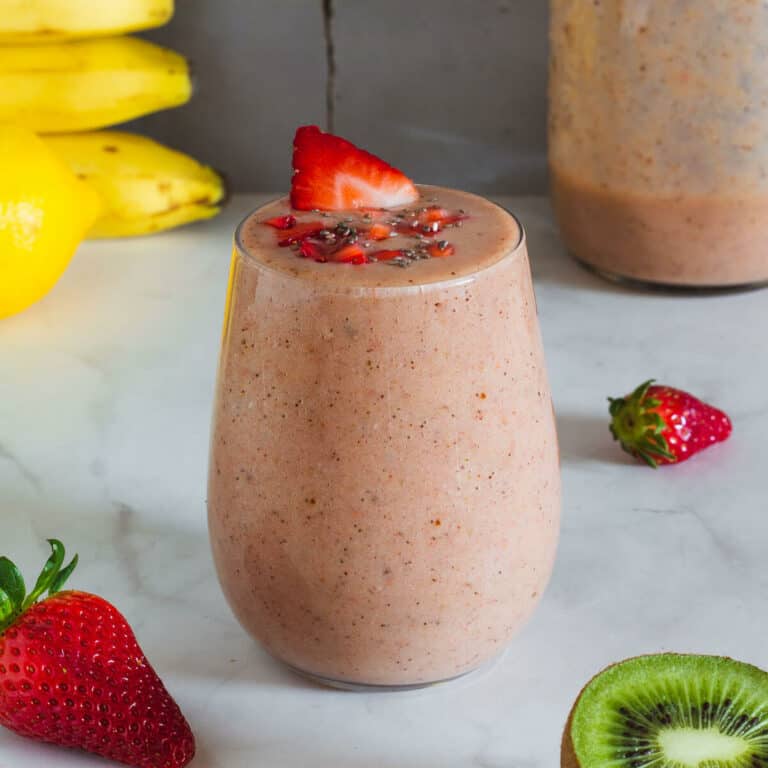 Strawberry Kiwi Banana Smoothie
This is delicious and Healthy Strawberry Kiwi Banana Smoothie. It is perfect for breakfast or a light snack, and it's packed with nutrients that are good for you. A refreshing and healthful way to start your day.
Equipment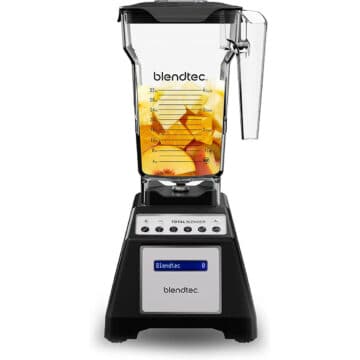 (affiliate link)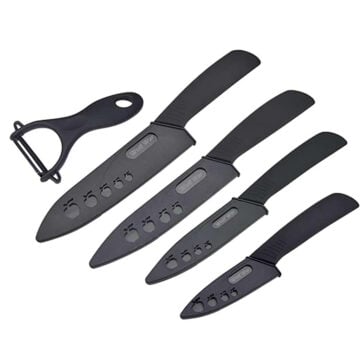 (affiliate link)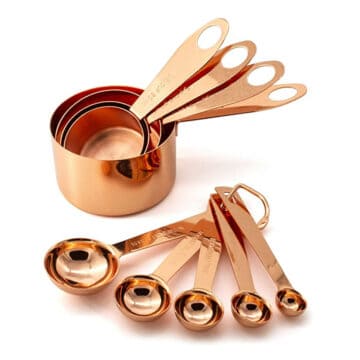 (affiliate link)
Ingredients
2

kiwis

medium-sized, peeled

5

strawberries

frozen

½

banana

ripe, better if frozen

½

cup

plant milk

unsweetened, almond milk or coconut milk

¼

cup

plant-based plain yogurt

or coconut or vanilla flavored yogurt

1

tablespoon

lemon juice

to bring up strawberries flavor
Optional
3

ice cubes

if using fresh strawberries

1

tablespoon

agave syrup optional

if not using ripe banana and kiwi

2

Organic Protein Plant-Based Powder

instead of the yogurt

½

tablespoon

chia seeds

or 5 almonds to add healthy fats and antioxidants

2

teaspoons

maca powder

for enhanced energy and stamina
Directions
Measure your ingredients and cut and peel the fruit.

Blend. Place the peeled kiwi, strawberries, banana, plant-based yogurt, lemon juice, and blend in a blender. Blend until smooth, about 40 seconds, or use your smoothie option in your blender.

Adjust. Add a dab of water to blend nicely and ice cubes to thicken it up.

Serve immediately.

Store. Smoothie leftovers will keep in a covered mason jar in the refrigerator for up to 1 day, though best when fresh.
Notes
This recipe yields 20 oz, about 590 ml: two medium-sized smoothies or one large smoothie.
Nutrition facts are calculated without the protein powder.
Adding the suggested protein powder adds 28 calories, 0 carbohydrates, and 5 grams of protein per serving.
Add agave or maple syrup for extra sweetness or extra dates. We like using dates because they have a ton of beneficial post-workout benefits.
Vegan Clean Protein: if using the clean protein powder

(affiliate link)

, add our 10% discount code OURPBWORLD10 at check-out to enjoy the benefit. (affiliate)
Nutrition Facts
Calories:
118
kcal
Carbohydrates:
25
g
Protein:
3
g
Fat:
2
g
Saturated Fat:
1
g
Polyunsaturated Fat:
1
g
Monounsaturated Fat:
1
g
Sodium:
90
mg
Potassium:
339
mg
Fiber:
4
g
Sugar:
15
g
Vitamin A:
102
IU
Vitamin C:
95
mg
Calcium:
151
mg
Iron:
1
mg
Nutrition Facts
Strawberry Kiwi Banana Smoothie
Amount per Serving
% Daily Value*
* Percent Daily Values are based on a 2000 calorie diet.
🌡️ Food safety
Cook to a minimum temperature of 165 °F (74 °C)
Do not use the same utensils on cooked food, that previously touched raw meat
Wash hands after touching raw meat
Don't leave food sitting out at room temperature for extended periods
Never leave cooking food unattended
Use oils with a high smoking point to avoid harmful compounds
Always have good ventilation when using a gas stove
See more guidelines at USDA.gov.
Nutritional Disclaimer
The information shown is an estimate provided by an online nutrition calculator. It should not be considered a substitute for a professional nutritionist's advice. See our full Nutritional Disclosure here.
Affiliate Disclaimer
Please note that some of the links here are affiliate links, and I will earn a commission if you purchase through those links. I recommend all of the products listed because they are companies I have found helpful and trustworthy.