Make this Yogurt-Free Mango Smoothie recipe for a filling breakfast that will help you begin your day by taking good care of your body from the inside out! This smoothie benefits your skin and eyesight while aiding in good digestion.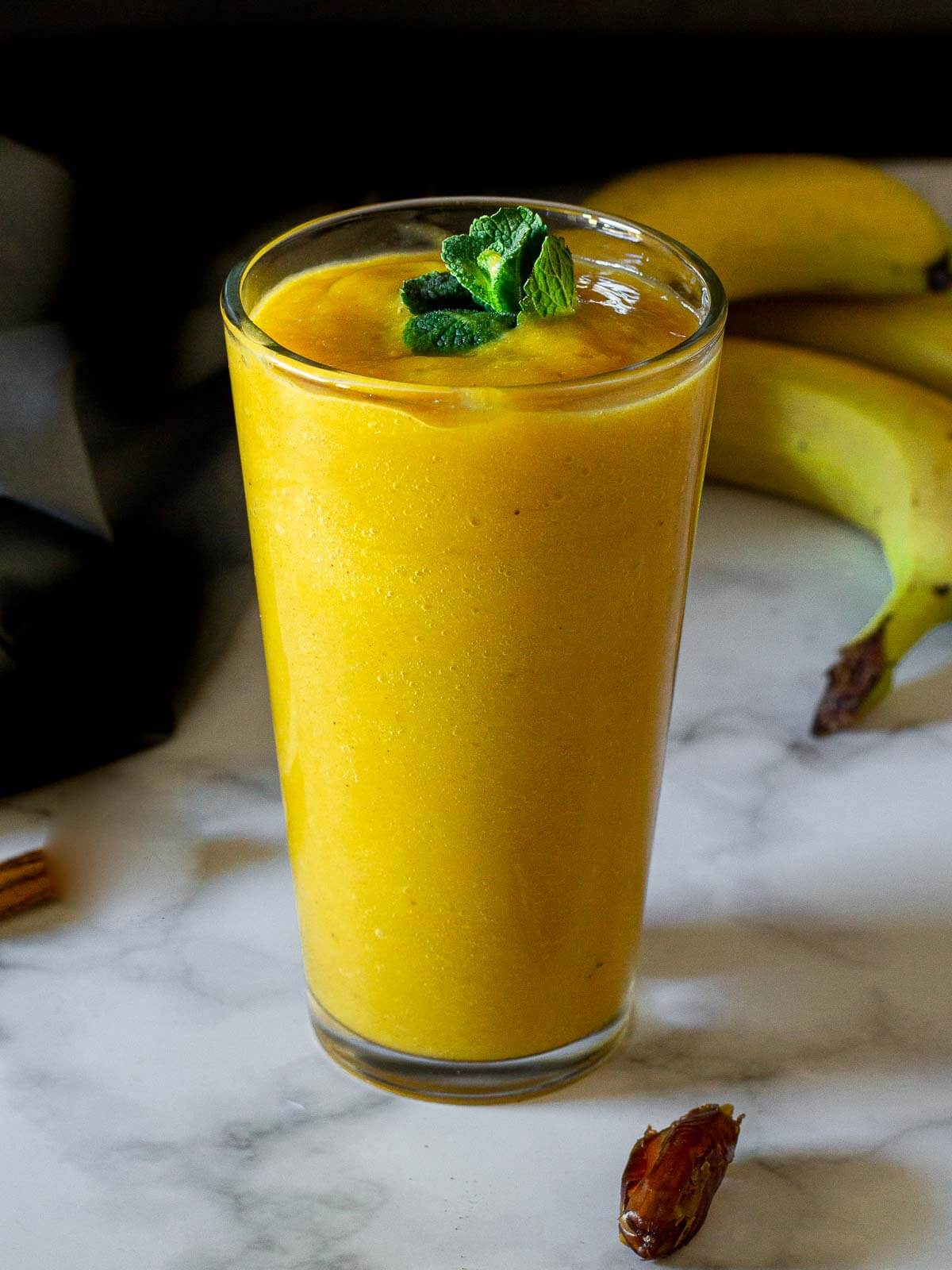 We make Juices and Smoothies as part of our daily routine. Having freshly extracted juices and blended fruit first thing in the morning is probably the best thing you can do for your body, mind, and overall health.
This dairy-free mango smoothie is rich and full of vitamins and minerals. This nutrition-packed smoothie is a great way to start your day ans tastes amazing! Mango is low in calories but full of nutrients and antioxidants.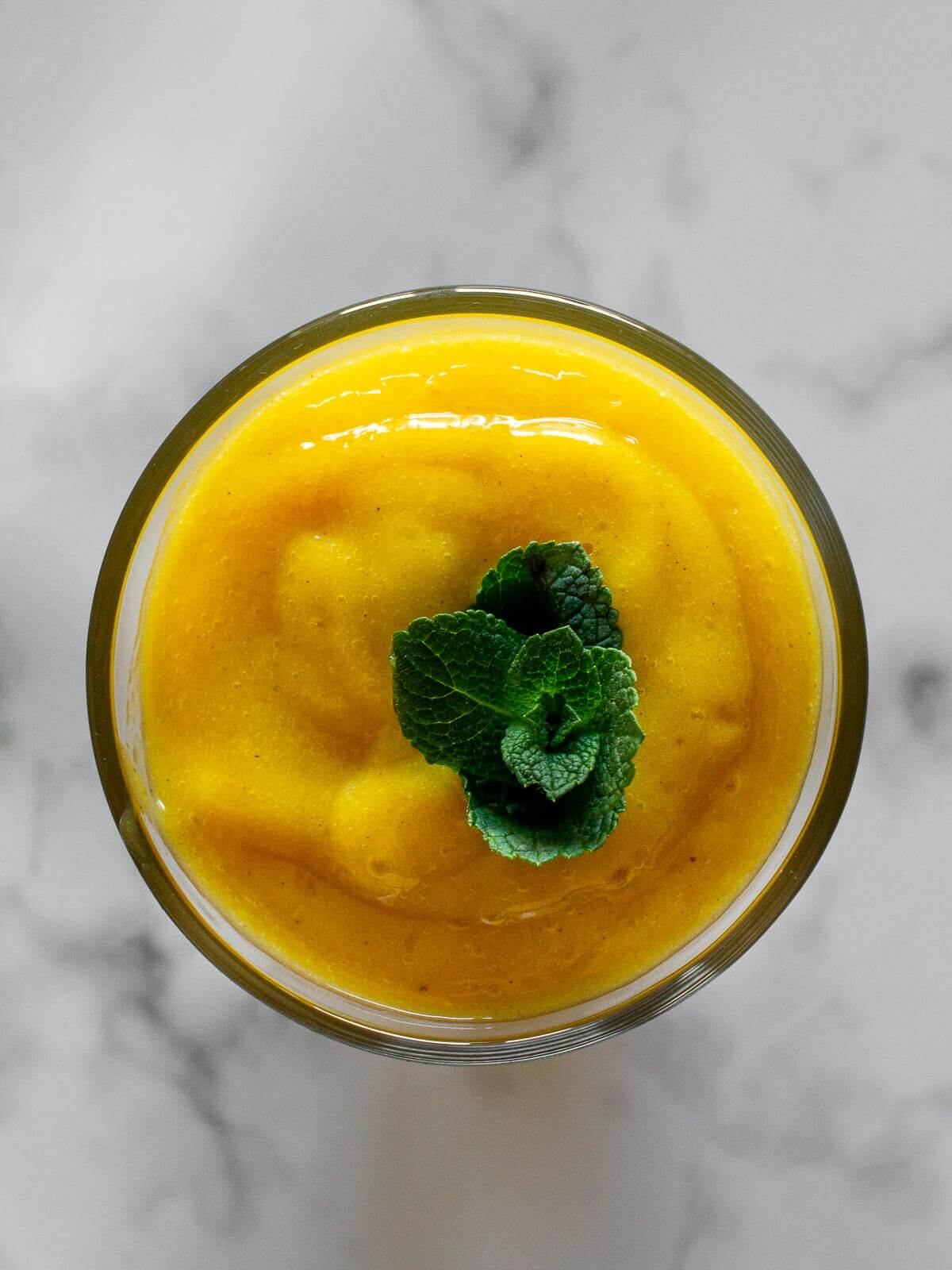 This is my go-to Smoothie when there is a long day ahead, and I need to make sure I am not only well-nourished but undoubtedly satisfied for hours. This mango as well as our Watermelon Smoothie, are our go-to smoothies for summertime.
🧾 Mango shake ingredients
We will use very simple ingredients to make a healthy mango smoothie, low in calories and full of flavor.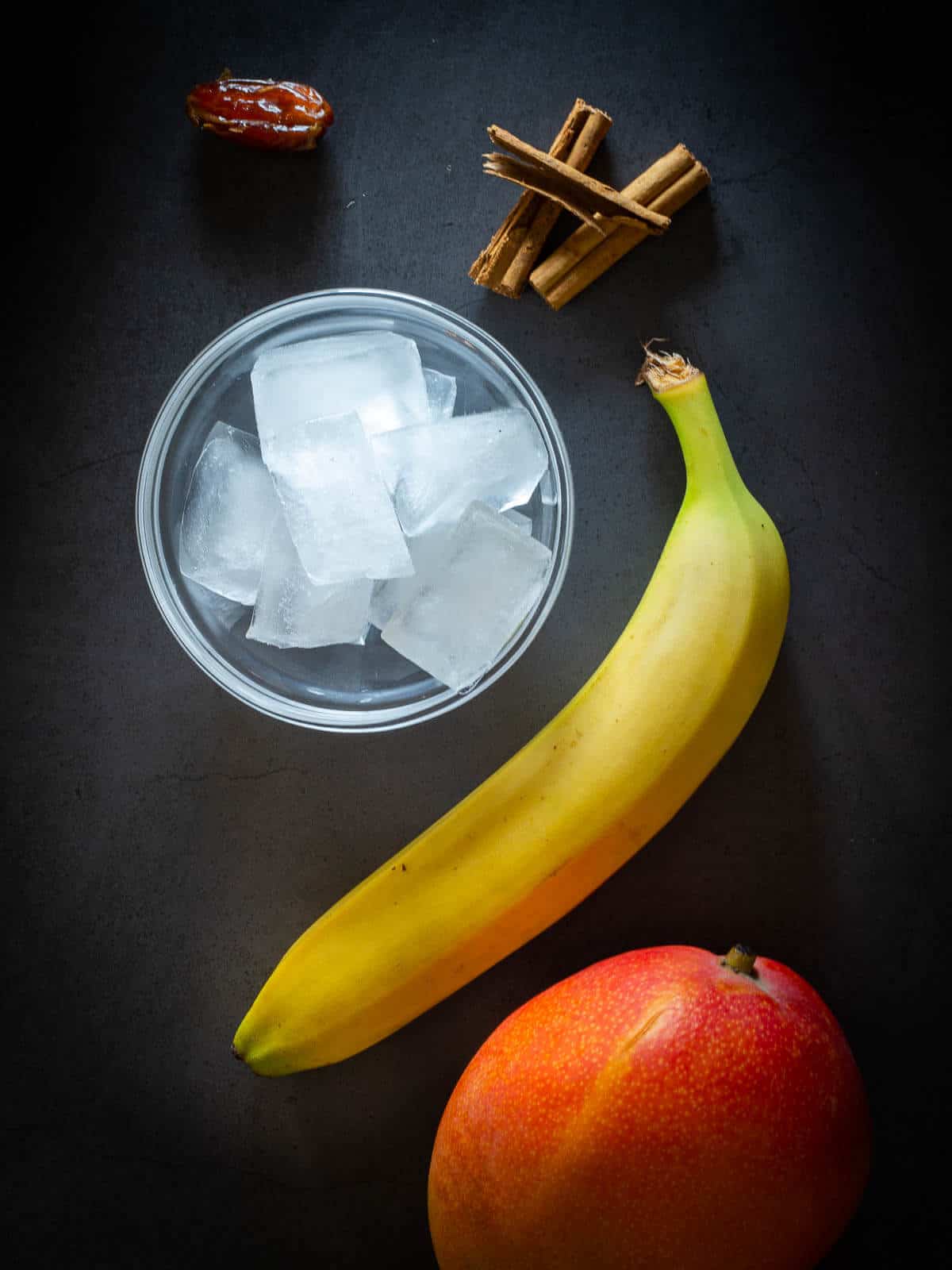 Fresh or Frozen Mango: Provides a tropical sweetness and creamy texture, and it's packed with vitamins A and C, which are great for skin and immune health.
Cinnamon: Adds a warm, spicy note that complements the sweetness of the mango and can help regulate blood sugar levels.
Dates: These natural sweeteners are rich in fiber and essential minerals, offering a caramel-like depth that can enhance the smoothie's sweetness without refined sugars. You can use date paste instead.
Frozen Banana: It gives the smoothie a thick, milkshake-like consistency and adds natural sweetness along with potassium, which is essential for muscle and nerve function.
Optionally add fresh mint for an extra fresh flavor to your mango banana smoothie.
🔪 Instructions
To make a mango smoothie, you can use fresh mango or frozen mangoes. Use a good quality blender so you can blend ice and frozen goods seamlessly.
Blend chopped mango, banana slices, pitted dates, ice-cold water, and pitted dates or date paste in a high-speed blender and blend until smooth and you reach the desired consistency (about 40 seconds).
Then, pour the smoothie into a tall glass and optionally garnish with mint leaves.
As a rule of thumb, you can make a fruit smoothie with frozen fruit without worrying about the nutrient loss because they are well-preserved.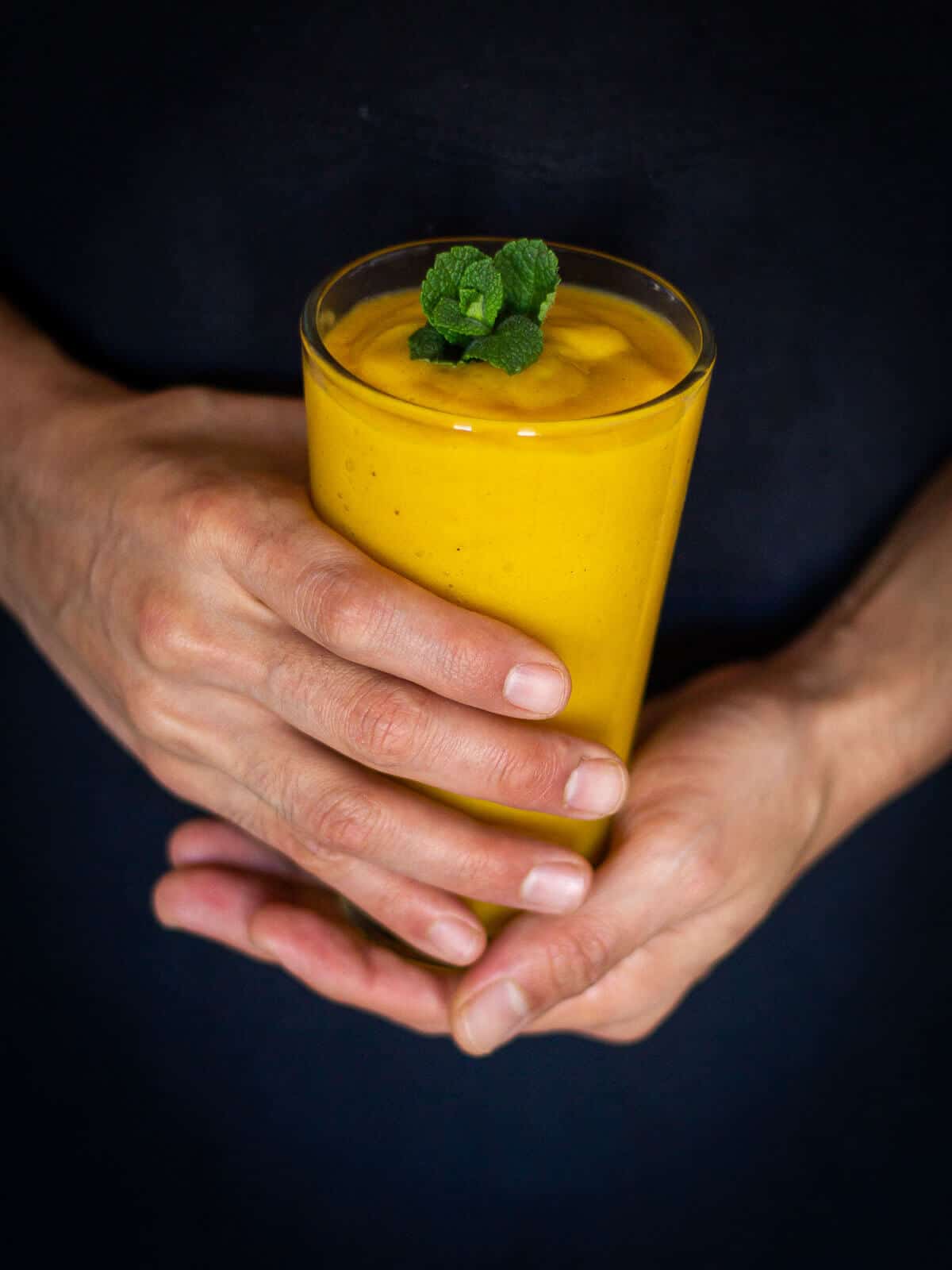 In addition, frozen fruit is usually picked at the best moment of the ripening process of fruit.
If you go for fresh mangoes and bananas, peel them and cut them into chunks. Remember, you can also do this the night before or even days before and have them ready-made to save some minutes of your morning routine.
Frozen bananas will help achieve the creamy texture we are looking for, without adding Greek yogurt into your mango smoothie.
The same applies to using oatmeal in your smoothies, or overnight oats; Rolled oats help to thicken out your breakfast recipes.
📖 Variations
Pineapple - make a banana mango pineapple smoothie by simply adding one cup of frozen pineapple chunks to make a fantastic smoothie full of tropical flavors. You can also simply replace water with pineapple juice.
Richer - we decided to make a mango naked smoothie, but you can use your non-dairy milk of choice, such as almond milk, coconut milk, cashew milk, oat milk, or soy milk. Mango smoothies are naturally creamy, given the fantastic texture that mangoes have, but you can also add half a cup of your favorite dairy-free yogurt. Our favorite is coconut yogurt.
Coconut - Instead of cold water, use the same quantity of light coconut milk to make a coconut mango smoothie.
Green - to make a green mango smoothie, add one cup of fresh or frozen spinach to the blender. It won't affect the flavor because spinach is very mild, especially if using baby spinach.
More antioxidants - add a tablespoon of chia seeds; it will be a thicker smoothie as chia seeds will jellify.
Sweetness - this healthy drink already has all the sweetness from frozen bananas and mangoes, but if you have a sweet tooth, you can naturally sweeten it with a tablespoon of maple syrup. Another option is to replace the water with orange juice. It will also taste amazing.
Make a Mango Protein Smoothie - add protein powder to raise the protein content. We like using the clean protein powder

(affiliate link)

(affiliate) from complement because it only used clean plant-based organic sources and makes smoothies super creamy.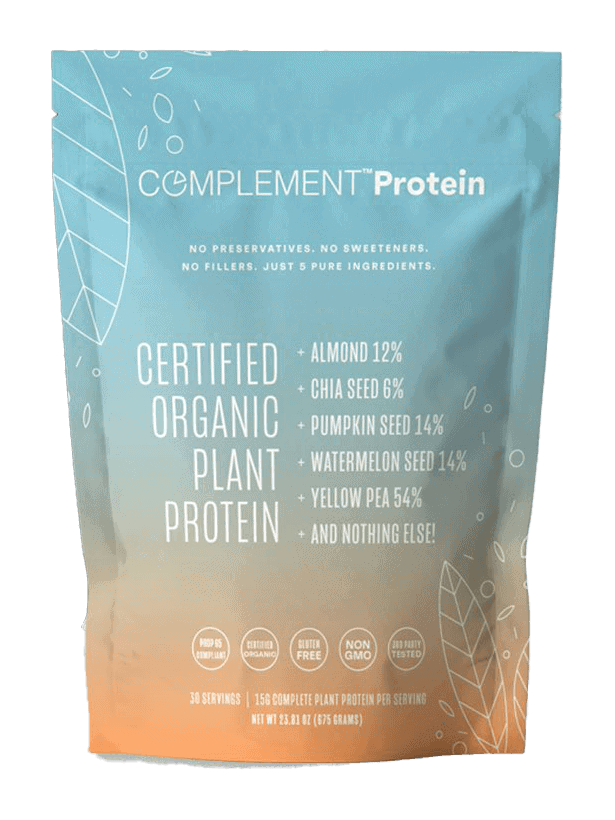 Read on: 3-ingredient pineapple coconut smoothie »
🤔 How to make a smoothie thicker
A thick smoothie can be a delicious and satisfying treat, but getting a perfect consistency can be a challenge. If your smoothie is too thin, you may want to add a thickening agent to give it some body.
However, adding too much can make your smoothie unpalatable, so it's important to find the right balance. One way to thicken a smoothie is to add a frozen ingredient, such as bananas or berries.
Another option is to use ice cubes made from juice or coconut water. You can also add dairy-free yogurt, oatmeal, chia seeds, or avocados for an extra boost of thickness. With a little experimentation, you'll be able to find the perfect ingredients to create a smoothie that's just the right consistency for you.
Read on: how to make a thick smoothie bowl »
🥭 5 Mango benefits you didn't know
Mangoes are considered an extremely healthy food.
May Improve Digestive Health
It may support Heart Health
Mangoes may also support Eye Health
May Improve Hair and Skin Health
May Boost Immunity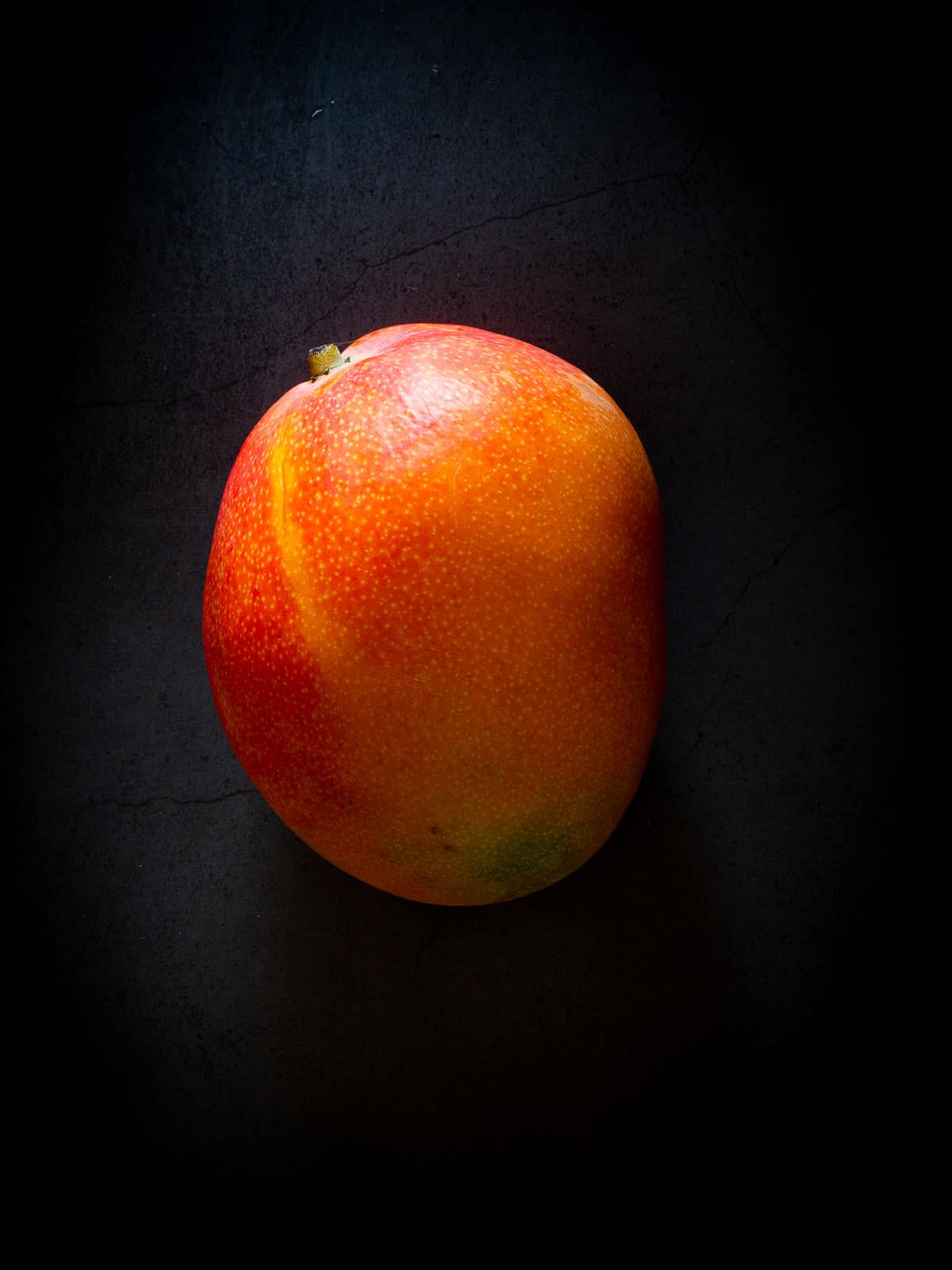 Bananas, just like mangoes, have significant benefits for your health, including improving digestive and heart health. This morning's fruit smoothie is all you need to boost energy and nurture your stomach and heart.
Note: if you are a person living with diabetes, it is recommended to avoid a high intake of well-ripened bananas.
❓ FAQ
What does a mango taste like?
Mango tastes like a cross between a peach and a pineapple. It is sweet and tangy with a hint of mushiness. When consumed unripe, it is sour and acidic, and some people in Latin America consume it with a mix of vinegar, lemon, salt, and pepper. 
A mango's flesh is orange with large white seeds in the center. Mangoes are often used in desserts but can also be used in savory dishes.
✅ Include fruit smoothies into your daily routine
Four times a week, after the morning workout, we have juice. One Green Juice, One Carrot Juice, and One Beetroot Ultimate Workout Juice.
Two times a week, we have smoothies, either a:
Give it a try! You will feel nourished and satisfied!
⭐ If you try this recipe, let us know! 💬 Leave a comment, rate it, and don't forget to tag us @ourplantbasedworld on Instagram. Cheers!
📋 Recipe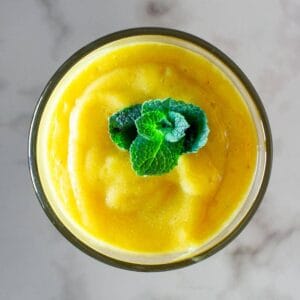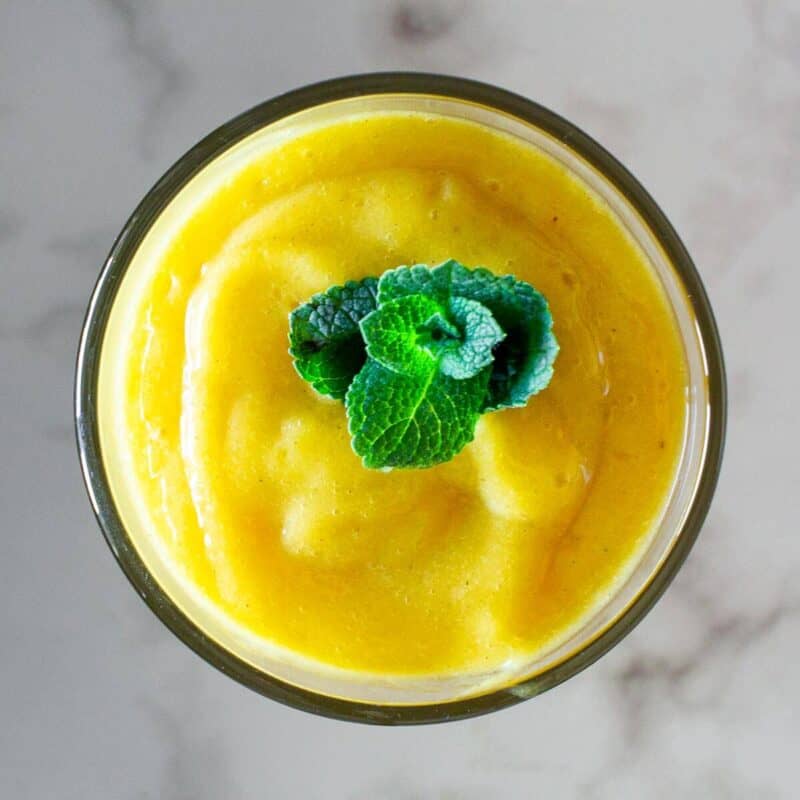 Mango Smoothie Recipe without Yogurt
Having this fruit smoothie for breakfast will help you begin your day taking good care of your body from the inside out!
Equipment
Ingredients
1

banana

large, ripe, previously sliced and frozen

1

cup

mango

fresh or frozen, cubed

½

cup

cold water

pinch

cinnamon

ground, or ground ginger

1

tablespoon

date paste

or ¼ tablespoon agave, 1 medjool date, or maple syrup
Directions
Wash and prepare the ingredients.

In a blender, add bananas, mango, water, sweetener of choice, and cinnamon. and blend until creamy and smooth.

Add more liquid (ice water) if too thick or ice to thicken.
Video
Notes
Nutrition facts are calculated without the protein powder.
Adding the suggested protein powder adds 56 calories, 0 carbohydrates, and 10 grams of protein per serving.
Add agave or maple syrup for extra sweetness or extra dates. We like using dates because they have a ton of beneficial post-workout benefits.
Vegan Clean Protein: if using the clean protein powder

(affiliate link)

, add our 10% discount code OURPBWORLD10 at check-out to enjoy the benefit. (affiliate)
Nutrition Facts
Calories:
224
kcal
Carbohydrates:
57
g
Protein:
3
g
Fat:
1
g
Saturated Fat:
1
g
Sodium:
9
mg
Potassium:
746
mg
Fiber:
6
g
Sugar:
41
g
Vitamin A:
1862
IU
Vitamin C:
70
mg
Calcium:
30
mg
Iron:
1
mg
Nutrition Facts
Mango Smoothie Recipe without Yogurt
Amount per Serving
% Daily Value*
* Percent Daily Values are based on a 2000 calorie diet.
Nutritional Disclaimer
The information shown is an estimate provided by an online nutrition calculator. It should not be considered a substitute for a professional nutritionist's advice. See our full Nutritional Disclosure here.
Affiliate Disclaimer
Please note that some of the links here are affiliate links, and I will earn a commission if you purchase through those links. I recommend all of the products listed because they are companies I have found helpful and trustworthy.