I have always been a fan of grapefruit but have generally stuck to freshly squeezed pink grapefruit juice. This grapefruit smoothie recipe is creamy, fresh and vitamins, and protein-packed.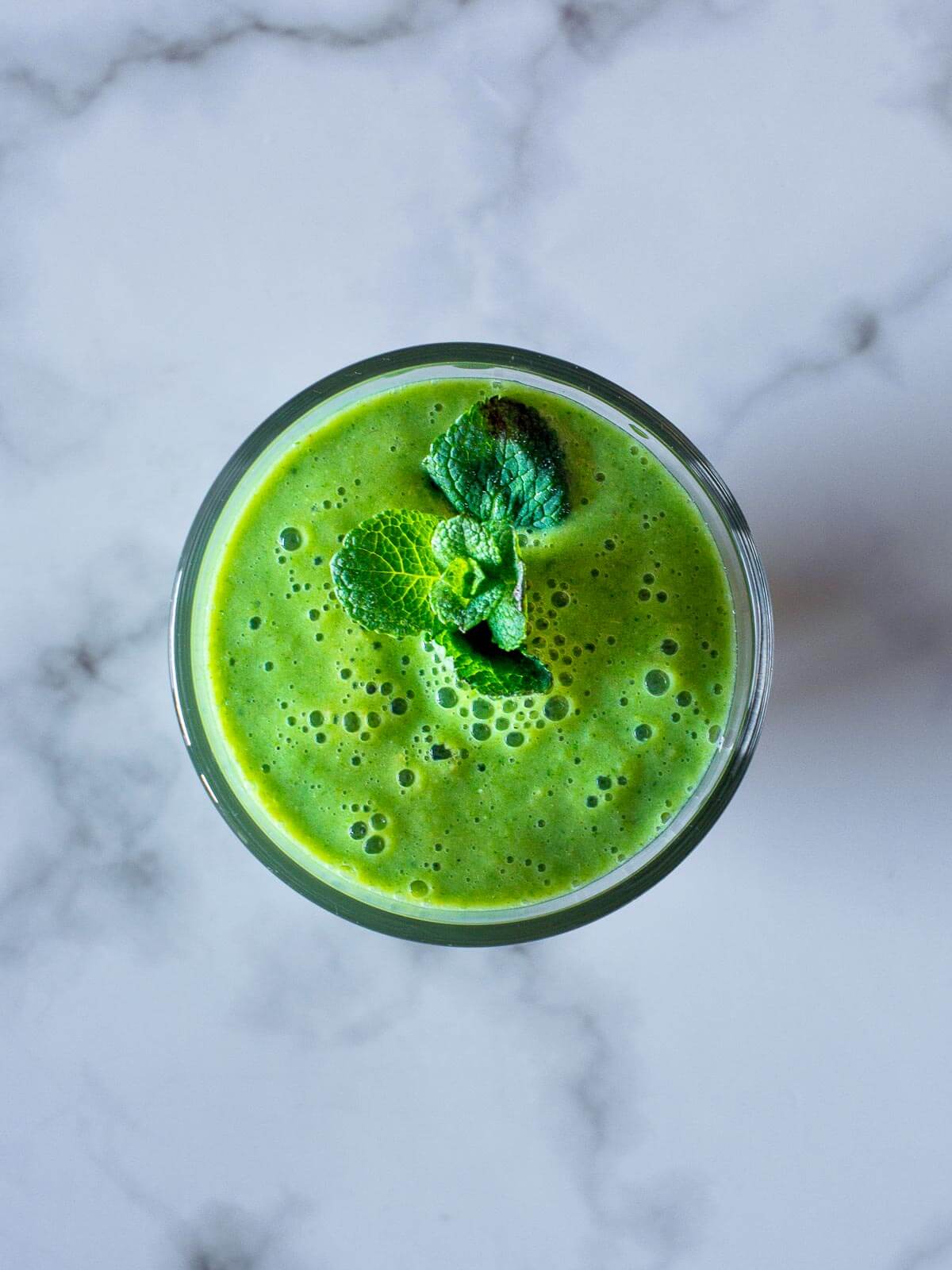 This Grapefruit Juice can be used as a post-workout smoothie, and when we aim to lose some weight, we drink our slimming juice, which has reduced sugar and also features de-bloating ingredients.
This grapefruit smoothie for weight loss is the perfect green smoothie to get back on track. This smoothie recipe features anti-inflammatory fresh ginger, pear's natural sweetness, and filling leafy greens and frozen bananas.
You can easily add it to your workout routine by adding grapefruit after a workout. It's right carbs can help you refuel. It has a high antioxidant quantity which helps to diminish inflammation and leads to better recovery. Add protein powder or chia seeds to increase this macronutrient's content in your refreshing smoothie.
Jump to:
🧾 Ingredients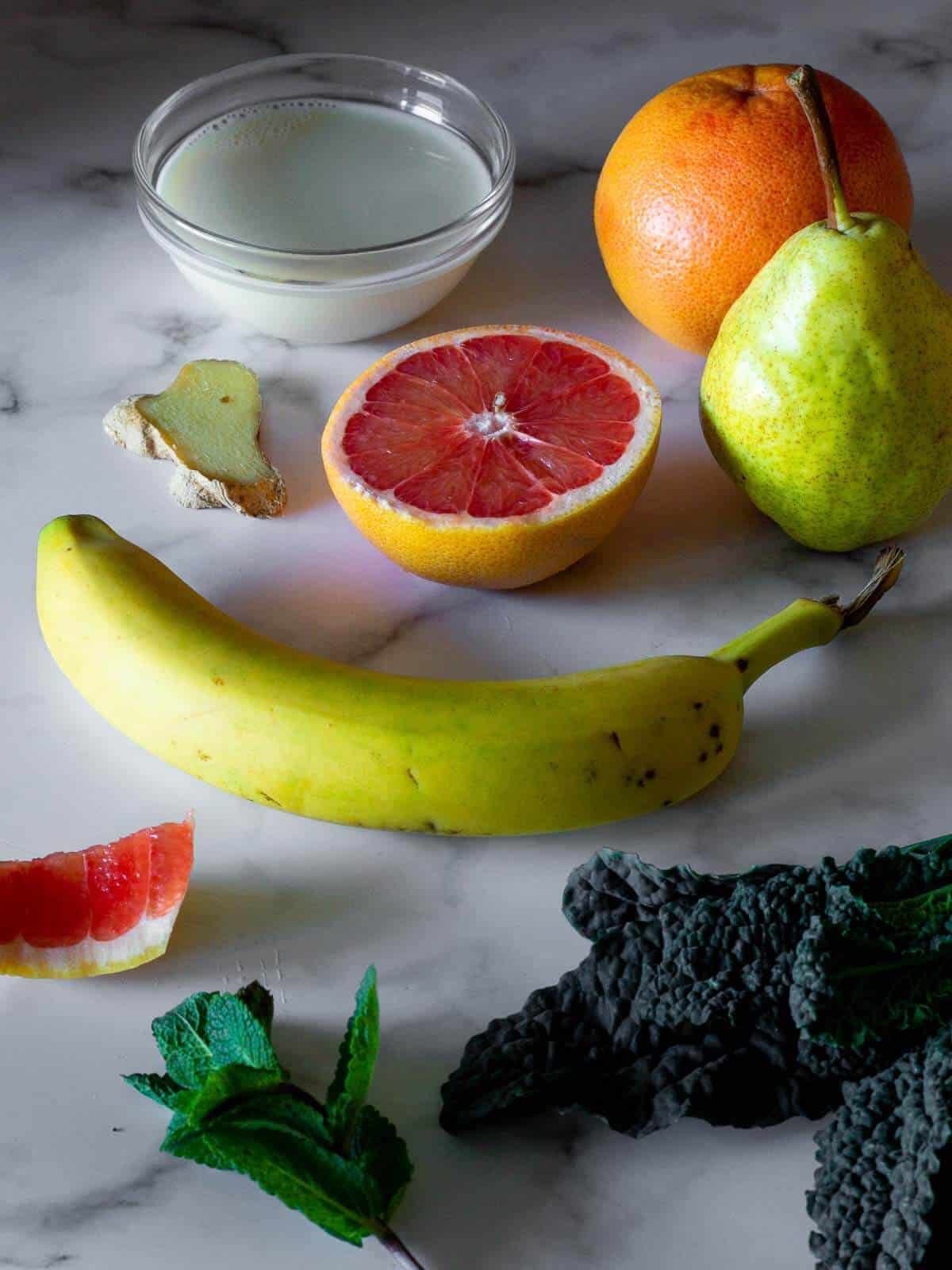 Pink Grapefruit: The pink grapefruit provides a tangy, zesty flavor that's both refreshing and packed with vitamin C, which is an antioxidant that aids in immune health. The natural sweetness of grapefruit balances the bitterness of kale and contributes to the overall flavor profile of the smoothie.
Pear: Pears are included for their natural, subtle sweetness and high fiber content, which aids in digestion and provides a satisfying texture. They also provide a good source of vitamin C and K, enhancing the smoothie's nutrient profile.
Plant Milk: Plant milk serves as the liquid base for this smoothie, enabling the ingredients to blend smoothly and giving the smoothie a creamy texture. Depending on the type chosen, it can also contribute additional nutrients like protein (in soy or pea milk), or healthy fats (in almond or coconut milk).
Banana: Bananas are used to add natural sweetness, creaminess and thickness to the smoothie, contributing to a more satisfying mouthfeel. They're also an excellent source of potassium, which can support heart health and help to balance electrolytes.
Kale: Kale is a superfood packed with fiber, antioxidants, calcium, and vitamins K, A, and C. Its addition helps to boost the smoothie's nutritional value, promoting overall health, and its earthy flavor complements the fruit ingredients, adding depth to the smoothie.
Optionally, you can add ginger and fresh mint.
See quantities and complete instructions in the recipe card.
Tip: Winter season, all the way to March is the perfect season to enjoy the most delicious citrus!
🔪 Instructions
Making this green smoothie is quick to make and requires only 5 ingredients and 10 minutes.
We need to blend all the ingredients in a high-speed blender. We love this Professional Blender which has a very accessible price, is super effective in crushing everything, and has a large volume capacity. We also use it to make our Almond Milk.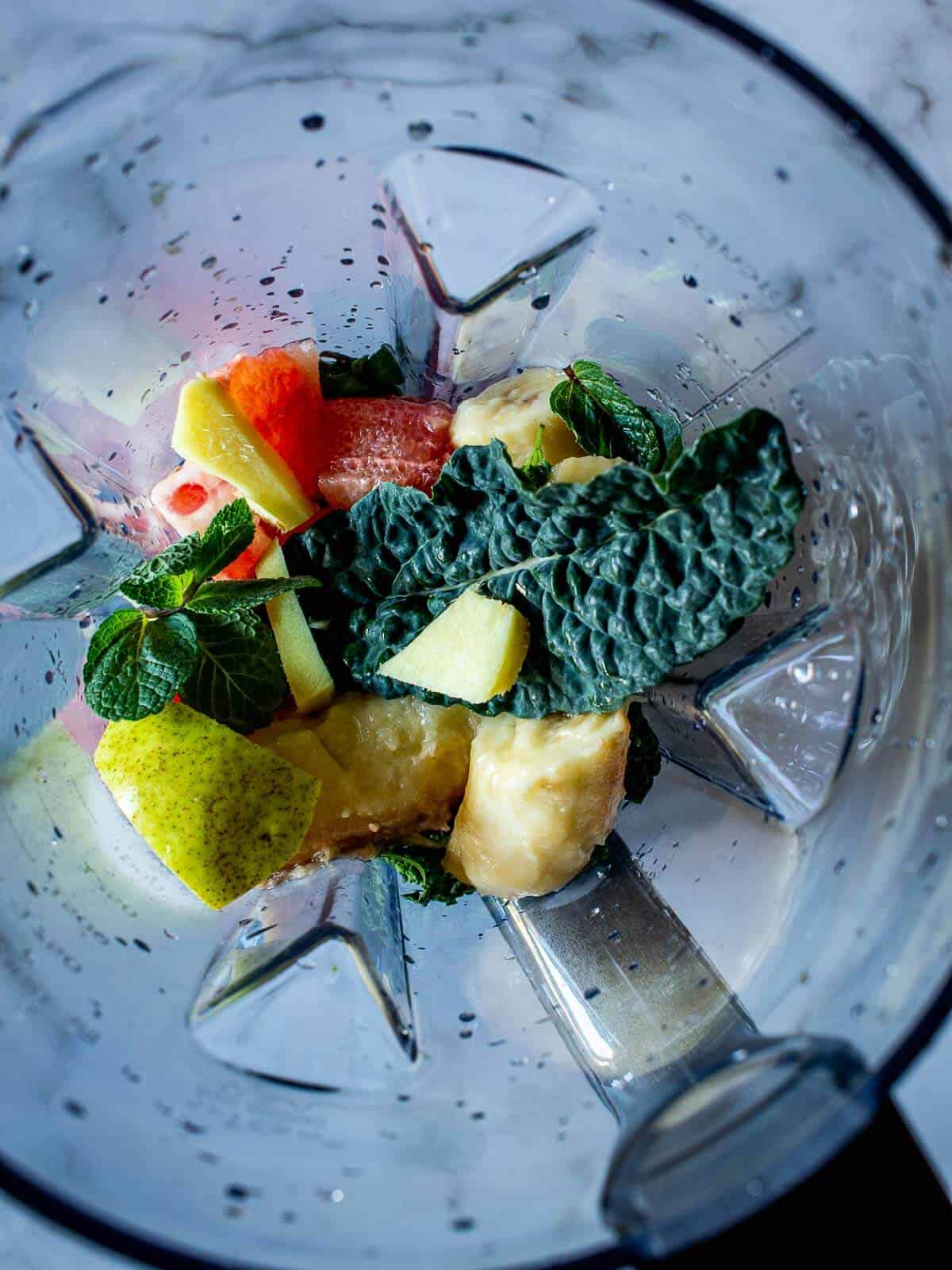 🧃 Smoothies and juicing
About two years ago, we started making smoothies in the mornings to give a little twist to our morning juicing routine, which typically includes our favorite Green Celery Juice.
We alternate between morning juicing, intermittent fasting, morning low-calorie detox-anti-inflammatory and immune system boosters, and now Smoothies!
New workout habits come with new plans, this is how we plan our week:
Intermittent Fasting on Mondays and Wednesdays. So, we have a Vinyasa Yoga class watching our favorite Yoga Channel from Jessica Richburg, which we discovered a couple of months ago and are loving it.
Four times a week, after the morning workout, we have juice. One Green Juice, One Carrot Juice, and One Beetroot Ultimate Workout Juice.
Two times a week, we have green smoothies, either this pink Grapefruit Smoothie, a Post-workout Protein Smoothie, or our times favorite Mango Smoothie.
We start with a Detox Lemon, Ginger, and Turmeric tea on the days we don't fast.
Want to know more about the benefits of Juicing? Check our post:
Juicing for Health: The Truth about Juicing
🍊 9 health benefits of grapefruit
Grapefruit is one of the healthiest fruits on earth. It's rich in minerals, vitamins, minerals, and antioxidants. Grapefruit's health benefits are the following:
Very hydrating.
May promote appetite control.
It's low in Calories, Yet High in Nutrients.
It may Benefit Your Immune System.
It's High in Powerful Antioxidants and it is full of powerful antioxidants.
Eating Grapefruit May Improve Heart Health.
It may promote appetite control, and it has been shown to aid weight loss.
Grapefruit may help prevent insulin resistance and diabetes.
May reduce the risk of kidney stones.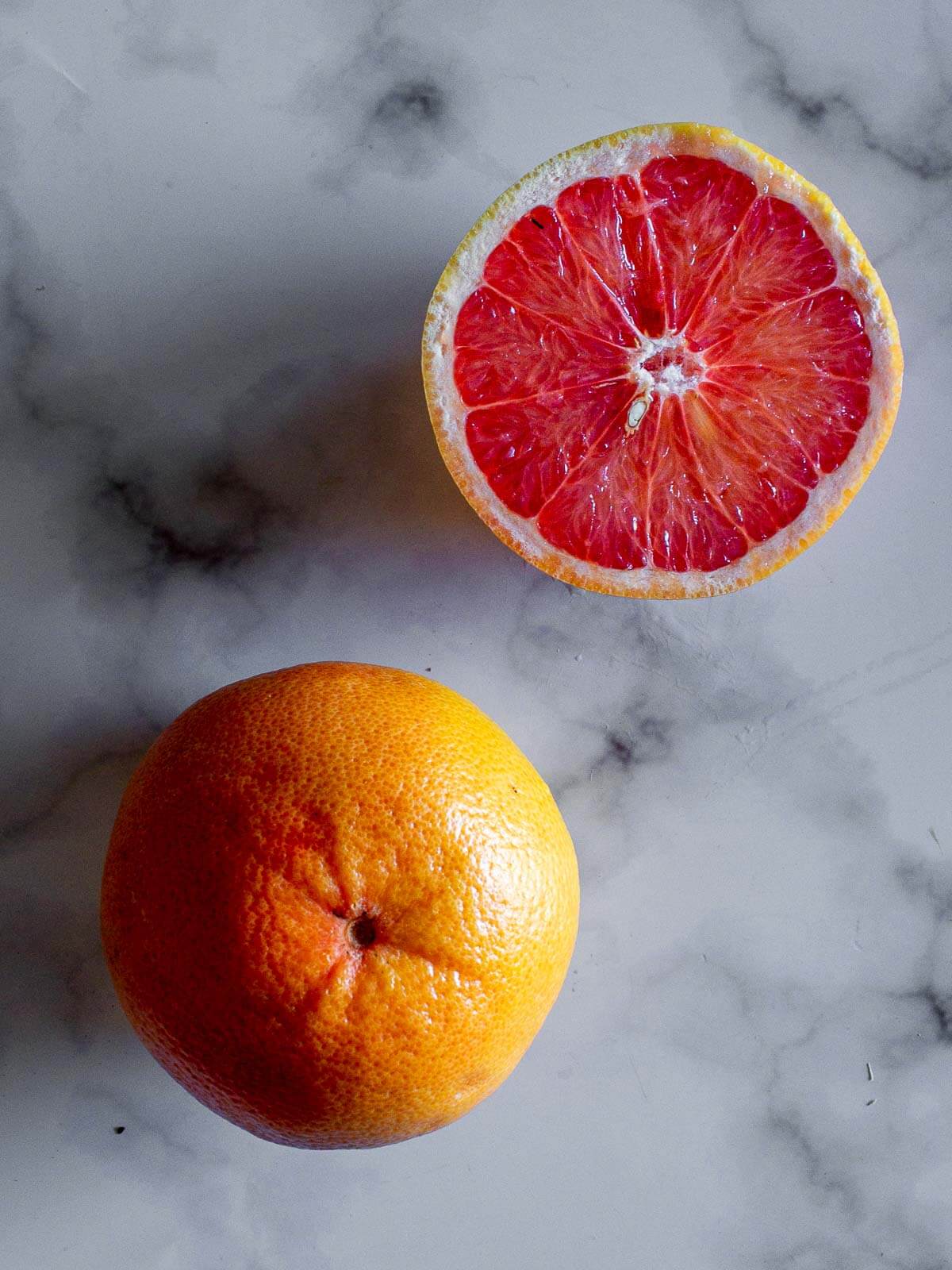 If you want more details about Grapefruit health benefits, visit HealthLine
This kale and fruit Smoothie is excellent for you these cold Winter days with lots of immune-boosting Vitamin C to ward off Flus colds.
In addition to kale's health benefits, this grapefruit banana smoothie also has plenty of potassium and fiber from banana and pear.
I also love the kale almond milk smoothie's texture, as it's refreshing, creamy, and still light.
Read also: High Fiber Smoothie for Constipation
❓ FAQ
How long does grapefruit last in the fridge?
Grapefruit has an incredible shelf life and can last for an extended period of time in the refrigerator. According to a study performed by scientists at Rutgers University, fresh grapefruits can remain fresh for up to 6 weeks when stored in optimal conditions.
When storing grapefruit in the fridge, it is best to keep them away from other fruits or vegetables emitting ethylene gas as this can speed up their spoiling process. It is also essential to make sure they are properly sealed and placed on a lower level shelf where temperatures are consistent between 40°F–45°F (4°C-7°C).
Additionally, it's advised not to cut your grapefruits until you're ready to consume them, as doing so could cause them to spoil more quickly.
Once you have opened your grapefruit, you'll want to consume it within 2 – 4 days after opening (unless otherwise specified on its packaging). If handled correctly and with proper care taken during storage, you should be able to enjoy plenty of juicy and delicious grapefruit even after spending some time in your refrigerator!
How to freeze grapefruit?
Freezing grapefruit is an easy way to prolong shelf life and make them last longer. Here's how you can do it:
Start by washing the grapefruit in cool water with a mild dish soap. This will help remove any dirt or debris from the skin of the fruit before freezing it.
Next, use a sharp knife to cut off both ends of the grapefruit, then cut it into round or wedged slices so they're easier to freeze and store later on. You can also blend your slices into smaller pieces if that's what you prefer!
Place your prepared slices onto a baking sheet lined with parchment paper or wax paper – this helps prevent sticking while freezing - then place in freezer until they're frozen solid (about two hours).
Finally, when ready to store grapes permanently, transfer each slice into an airtight container or Ziploc baggie and return them back to the freezer until needed! This method should help preserve your frozen grapes for up to three months without losing flavor or texture quality!
🥤 More Smoothie Recipes
If you don't have a good blender, we think it is an excellent investment; we use it at least twice a day, and it's really worth it. Try some of our favorite smoothies:
⭐ If you try this recipe, let us know! 💬 Leave a comment, rate it, and don't forget to tag us @ourplantbasedworld on Instagram. Cheers!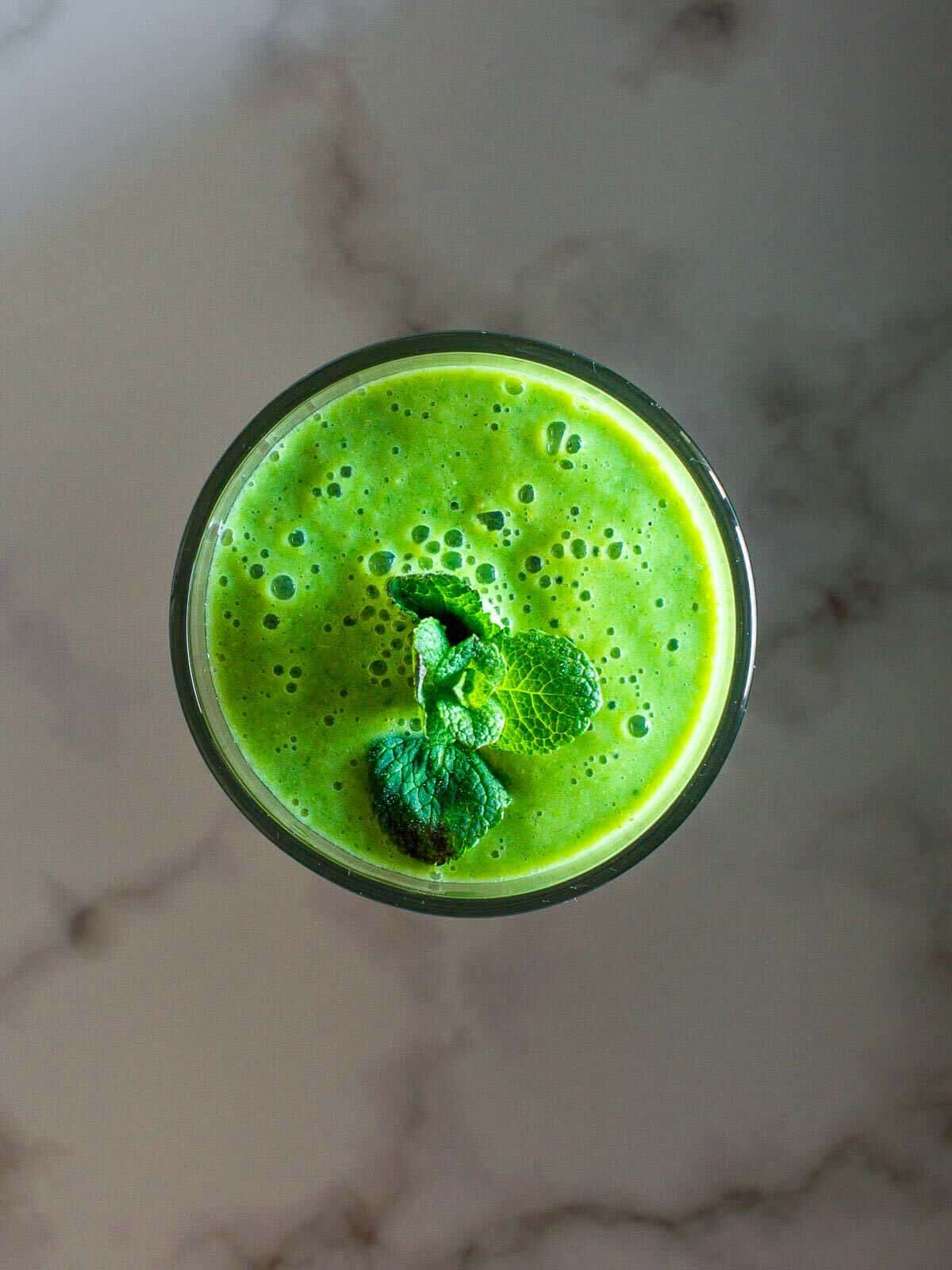 📋 Recipe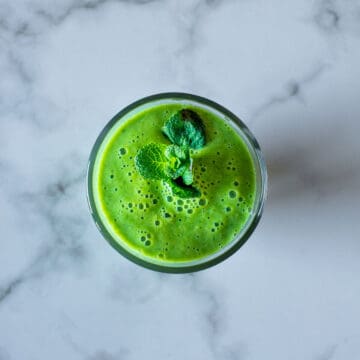 Grapefruit Smoothie Recipe
A simple and nutritious smoothie with detoxifying and immune booster benefits from grapefruit and ginger, vitamins, proteins, and minerals from kale, and sweetness from pear and banana.
Equipment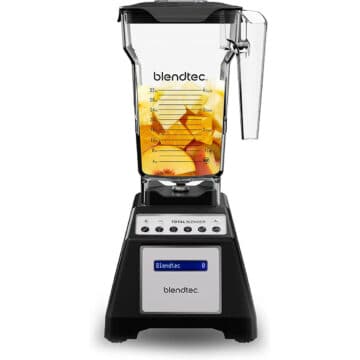 (affiliate link)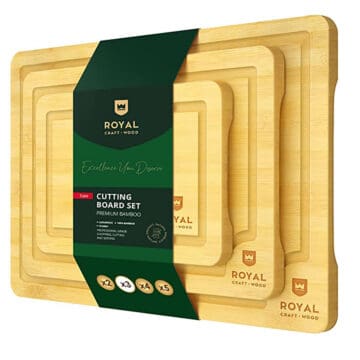 (affiliate link)
Ingredients
1

grapefruit

medium, peeled/ seeds removed

1

pear

ripe, large, cored

2

cups

kale

stems removed

1

ripe banana

large, previously sliced and frozen

4

ice cubes

½

cup

rice milk

unsweetened

1

teaspoon

fresh ginger

optional / peeled and chopped

10

mint leaves

optional
Directions
Wash and prepare the ingredients.

In a blender, add all ingredients and blend until creamy and smooth.

Add more liquid (ice water) if too thick or ice to thicken.
Notes
Nutrition facts are calculated without the protein powder.
Adding the suggested protein powder adds 43 calories, 0 carbohydrates, and 7.5 grams of protein per serving.
Add agave or maple syrup for extra sweetness or extra dates. We like using dates because they have a ton of beneficial post-workout benefits.
Vegan Clean Protein: if using the clean protein powder

(affiliate link)

, add our 10% discount code OURPBWORLD10 at check-out to enjoy the benefit. (affiliate)
Nutrition Facts
Calories:
224
kcal
Carbohydrates:
54
g
Protein:
5
g
Fat:
2
g
Saturated Fat:
1
g
Sodium:
53
mg
Potassium:
849
mg
Fiber:
7
g
Sugar:
27
g
Vitamin A:
8438
IU
Vitamin C:
131
mg
Calcium:
159
mg
Iron:
2
mg
Nutrition Facts
Grapefruit Smoothie Recipe
Amount per Serving
% Daily Value*
* Percent Daily Values are based on a 2000 calorie diet.
🌡️ Food safety
Cook to a minimum temperature of 165 °F (74 °C)
Do not use the same utensils on cooked food, that previously touched raw meat
Wash hands after touching raw meat
Don't leave food sitting out at room temperature for extended periods
Never leave cooking food unattended
Use oils with a high smoking point to avoid harmful compounds
Always have good ventilation when using a gas stove
See more guidelines at USDA.gov.
Nutritional Disclaimer
The information shown is an estimate provided by an online nutrition calculator. It should not be considered a substitute for a professional nutritionist's advice. See our full Nutritional Disclosure here.
Affiliate Disclaimer
Please note that some of the links here are affiliate links, and I will earn a commission if you purchase through those links. I recommend all of the products listed because they are companies I have found helpful and trustworthy.