If you like juicing, this Homemade Kiwi Juice Recipe is for you. We started juicing years ago, and in the process, we have perfected a series of juices, including this great kiwi and cucumber juice recipe.
A great juice has many easily digestible nutrients and has to be hassle-free, rich in vitamins and minerals. It has to give you a smile on your face as you look into the day unfolding throw your window. Just as fresh as our Cucumber, Carrot, and Celery Juice.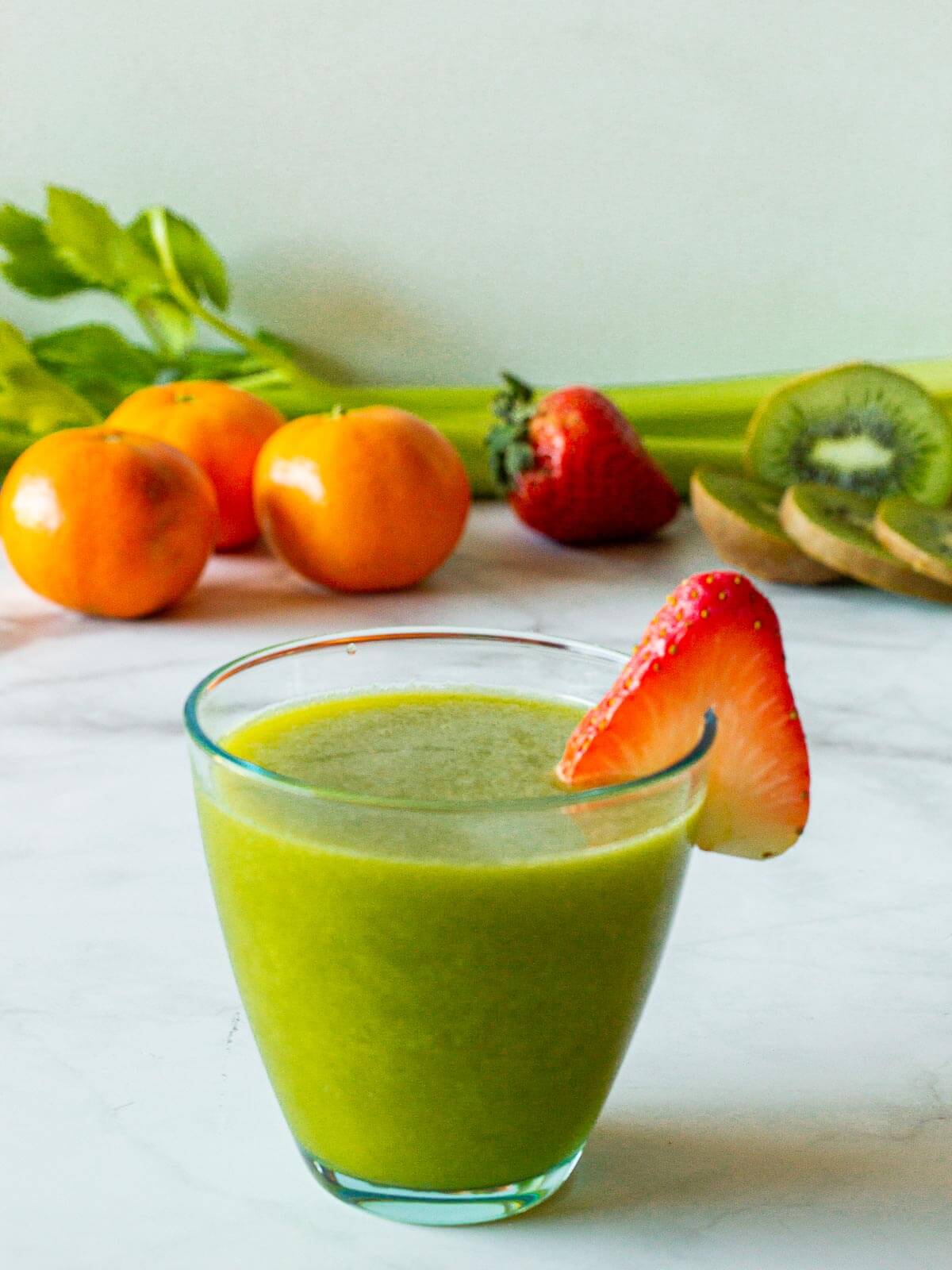 This kiwi juice recipe will be ready in less than 5 minutes with 4 ingredients and a juicer. Don't worry if you don't have a juicer. You can make it in a blender by adding an extra step and passing the blended produce through a cheesecloth.
Tip: March is the perfect month to indulge in this delicious juice as kiwi, celery, and tangerines are at their peak season.
Jump to:
🧾 Ingredients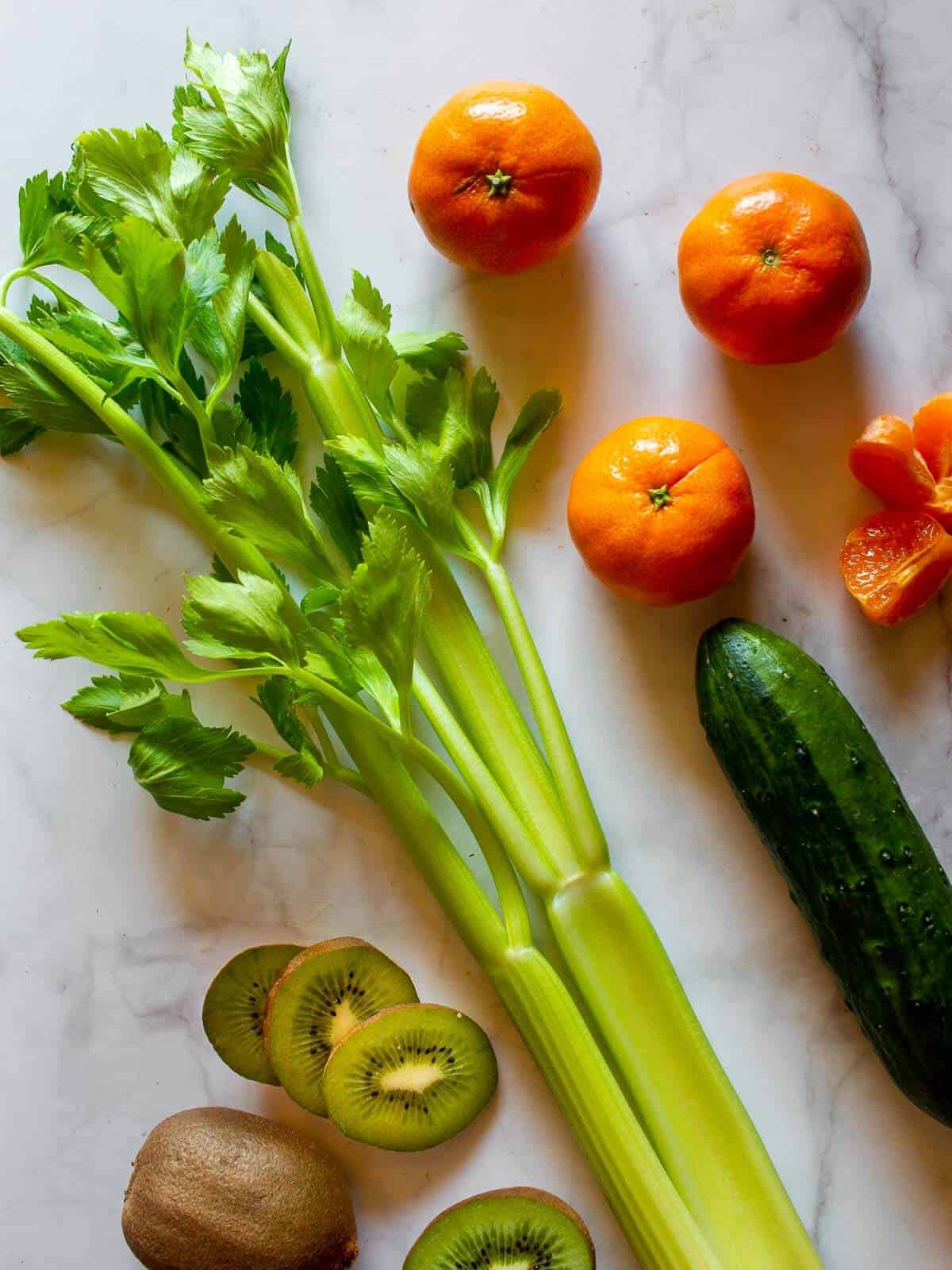 This simple kiwi juice recipe has only four ingredients.
Kiwi fruits (choose ripe kiwi, which is naturally sweet)
Clementines (or Tangerines/oranges)
Cucumber
Celery
Plus, ice cubes for a refreshing kiwi juice.
🔪 Instructions
How to make kiwi juice?
Wash kiwi, then optionally peel a kiwi, and chop – our Juicer instructions recommend chopping vegetables into pieces small enough to fit easily down the chute.
Tip: did you know that kiwi fruit skin is edible? That's why you don't need to peel it. I recommend cutting off the button as it is tough and challenging for your juicer.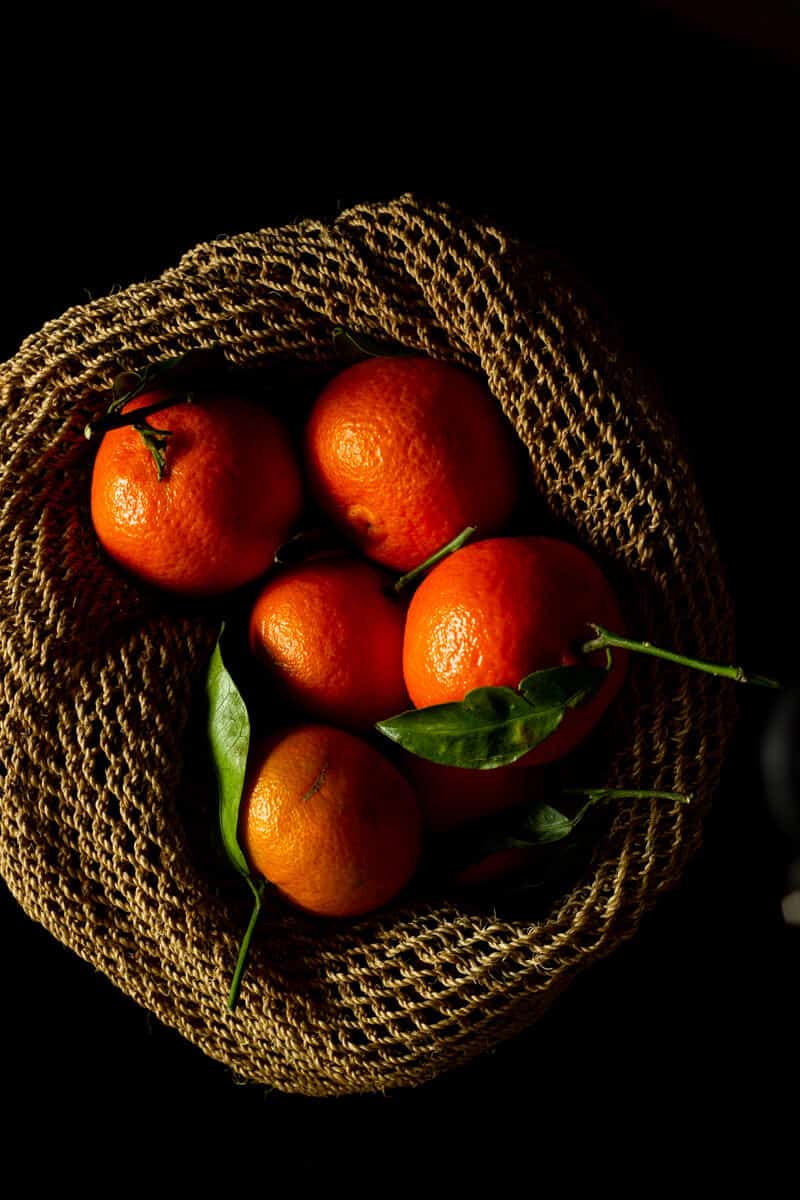 They also recommend peeling all citrus fruits as they can be difficult for the machine to process, which inhibits them from being fully juiced and adds unwanted bitterness due to their pealing.
Juice! Turn the juicer on and pass all the ingredients through the juicer, using your tamper. We recommend mixing the ingredients as you run them down the chute.
Put together some pieces of celery, cucumber mixed with clementine, unpeeled kiwis, and ginger (optional). When you push all mixed together, it helps to move things through.
If you decide (as we do) to use the celery leaves, they may get stuck. That's why pushing all ingredients together helps.
Serve and enjoy your fresh kiwi juice. Feel free to add ice cubs or sparkling water if you want to add some fizzy notes.
Get an excellent Cold-Pressed juicer, also known as a slow-masticating juicer.
It will be one of the best investments you have made this year! Trust me! Make sure you check the juicer's instructions before starting, as many juicers have different working mechanisms.
Use our Discount Code OPBW10 for 10% off (affiliate link)
If you don't have a juicer, you can also make juices, following these simple tips on juicing without a juicer plus three delicious recipes.
This juice can be made without a juicer. Blend the peeled produce in a high-speed blender, and if you want to consume the kiwi pulp, celery, and other fruits, go ahead without straining. Otherwise, pass the kiwi juice throw a fine mesh strainer and serve.
🫙 Storing
If you have leftover kiwi juice, store it in a glass container and keep it in the fridge for up to three days.
As a rule of thumb, you should try to consume juices high in vitamin C as soon as you juice them, as this wonderful vitamin and potent antioxidant loses its properties minutes after their pulp is exposed to oxygen.
See our storing juice tips.
💡 Top Tips
The great juice Formula: add something with enough water content, so you don't have to juice everything in your refrigerator, something cheap like celery and cucumbers.
Add other sweet fruits and have some tartness like apples or KIWIS and clementine. If you want an extra kick for anti-inflammatory properties and an immune-boosting superpower, throw in some ginger!
Use juicing smartly!
If you have problems with digestion or need to detox after over-indulging on foods and alcohol, juices can also offer great help!
✅ 10 Health benefits of kiwi fruit juice
So what are the benefits of kiwi juice? Kiwis are high in Vitamin C and fiber and provide many benefits.
Vitamin C content
Kiwifruit contains more than 200% of the daily recommended intake of Vitamin C, thus stimulating the body's immune response.
Wheezing symptoms
Kiwis have been linked to the reduction of wheezing symptoms in certain asthma patients, especially in children.
Insomnia
Kiwi isn't only good to get some sweet nurturing treat in the morning. If you struggle with insomnia, you are not alone. Conservative studies estimate that 10% to 30%4 of adults live with chronic insomnia. For other studies, this figure is closer to 50% to 60%.
Blood pressure
Kiwi fruit is excellent to lower blood pressure levels and reducing the risk of stroke and heart disease.
Low in calories
Kiwis have a low-calorie count making it a delicious and healthy option for snacking, sides, or a unique dessert.
Inflammation
Kiwi may protect the body from inflammation and disease.
Digestive health
This tart fruit can support heart health, digestive health, and immunity.
Rich in antioxidants
Kiwis are also rich in vitamins and antioxidants, such as Vitamin C. Antioxidants help to flush free radicals within the body and reduce oxidative stress and cell damage.
Weight loss
The soluble dietary fiber found in kiwis can help stimulate regular and healthy digestion and promotes weight loss. Check our juice for weight-loss programs.
Heart disease
The fiber found in kiwi can reduce risk factors for heart disease by lowering LDL or bad cholesterol.
Kiwi fruits, green leafy vegetables, kale, oranges, broccoli, etc., are especially useful in strengthening the respiratory system and prolonged coughing. These fruits and vegetables are also rich in magnesium, which helps clear the respiratory pathway naturally.
More details on Kiwi Benefits.
🤔 How much kiwi juice should you drink?
Eating one to three kiwis per day is enough for the majority of people to get the boost of nutrients from kiwi fruit.
This homemade kiwi juice uses two kiwi fruits suitable for two servings. So in one glass of kiwifruit juice, you are consuming one kiwi fruit.
🧐 Cautions
Regardless of all the fresh kiwi juice benefits, it is essential to know that many people have reported being allergic to kiwi fruit.
Symptoms can range in severity from very mild to more severe. Therefore, make sure you are not allergic to Kiwifruit before consuming it.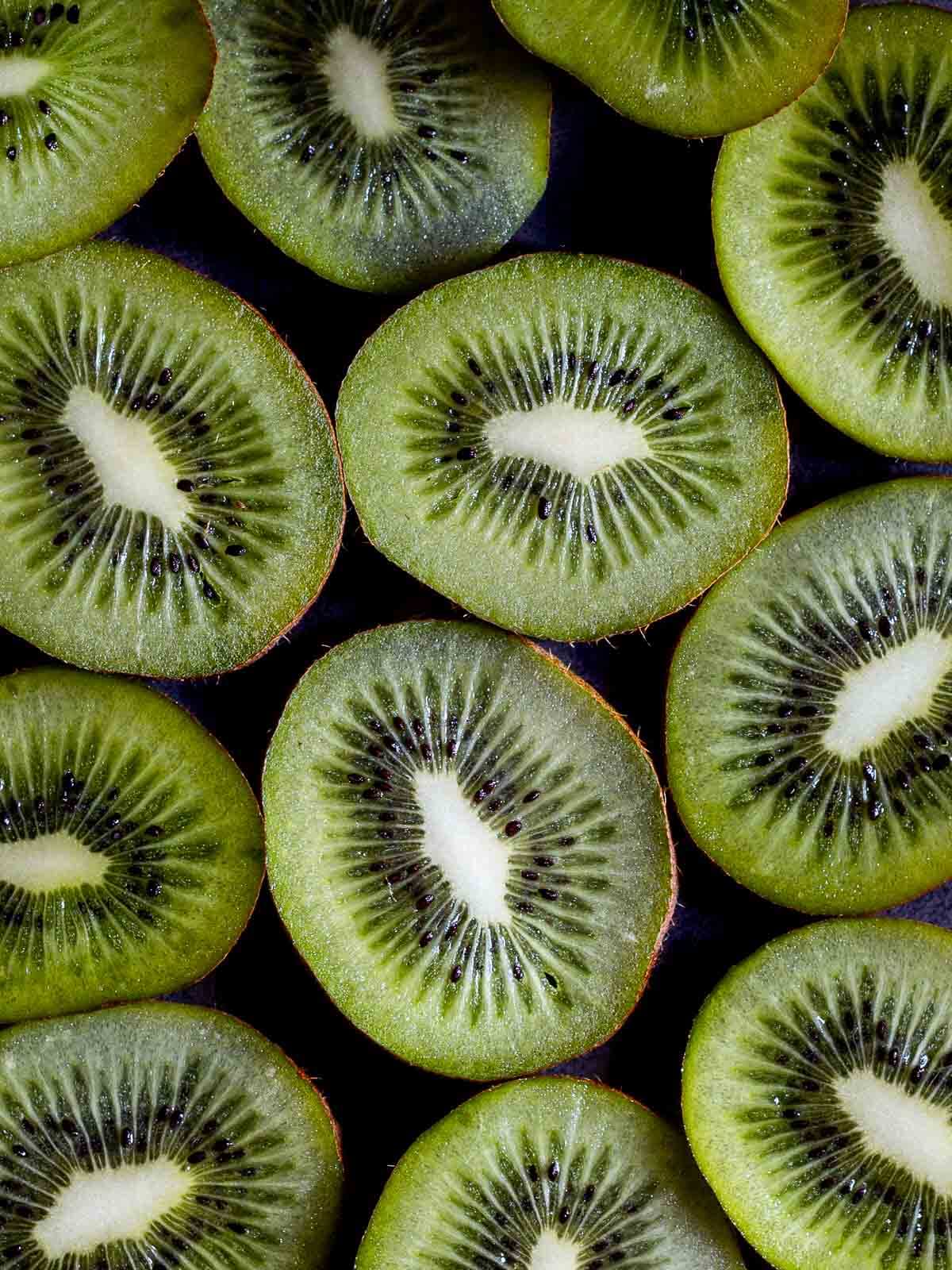 I love this benefit of kiwi! Do you know that eating 1–2 medium kiwis before bed may help you fall asleep faster and stay asleep longer? Kiwis are rich in serotonin and antioxidants, both of which may improve sleep quality when eaten before bed.
When I am feeling a little restless at night, I like having kiwis as a light dinner dessert.
Can you eat kiwi skin? Yes, you can eat kiwi skin as it is not toxic. It can only be eaten when the fruit is ripe and sweet, barely sour. If there are tiny black seeds on the inside (see picture), simply cut them out as they can taste bitter.
Some people experience some sensation in their lips, sort of an allergy, so try little by little, if you are planning on eating the whole fruit.
We thought it was an interesting piece of information to share!
🥝 How to choose kiwi
Choose kiwi fruit that has vibrant skin. If the kiwi is too hard to the touch, it might not have ripped enough; it is better to wait a couple of days until the fruit is slightly soft; that way, you can be sure that it will be sweet and not too acid.
Kiwi fruit juice tastes better when the fruit has fully ripened as it would be much sweeter, although for juicing, you don't need to wait for that much, especially if you are using other fruits like the suggested clementine.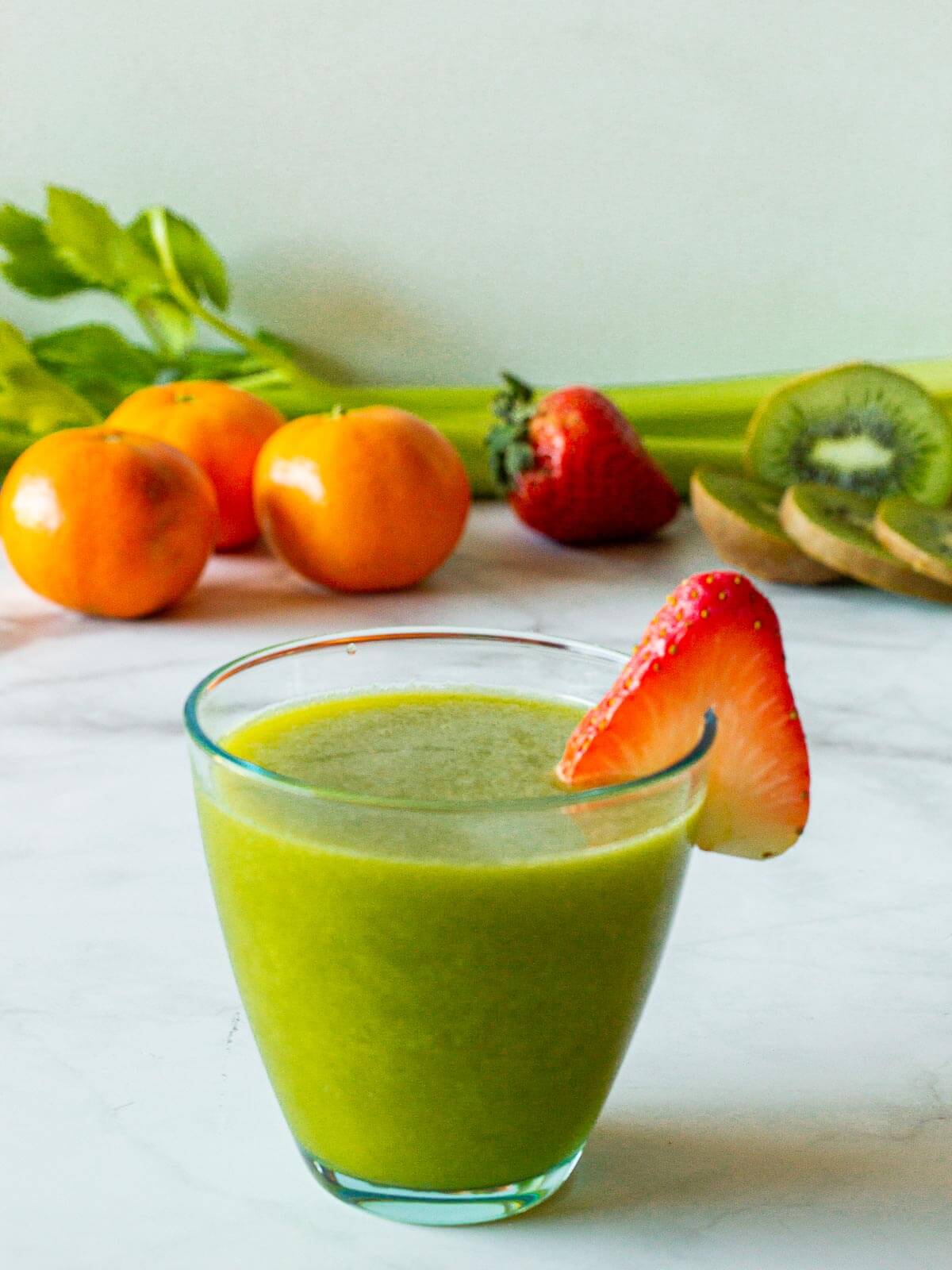 🧃 Juicing Tips
Before you get started, buy a high-quality juicer (see our Juicing for Health: the truth about juicing Post notes).
We recommend a slow masticating juicer (like this one), which better preserves the nutrients.
Try to buy organic produce whenever possible. If you can't find organic produce, be sure to wash thoroughly and peel the skin when possible.
Chop produce into small pieces that easily fit down your juicer chute. Try not to rush the process by cramming too much produce down the chute in one go. That can overwhelm the juicer and stress the motor/clog the machine.
Enjoy juice fresh or within 24 hours for the best flavor/nutrient content (store leftovers well-sealed in the refrigerator).
Compost the leftover pulp. Depending on the ingredients you use for your juice, you may be able to use it for things like crackers and bread.
If you are still asking yourself: is juicing good? We recommend reading our article which uncovers all the details you should know, unbiased!
📚 More nourishing beverages
⭐ If you try this kiwi juice recipe, let us know! 💬 Leave a comment, rate it, and don't forget to tag us @ourplantbasedworld on Instagram. Cheers!
📋 Recipe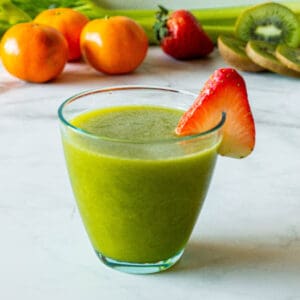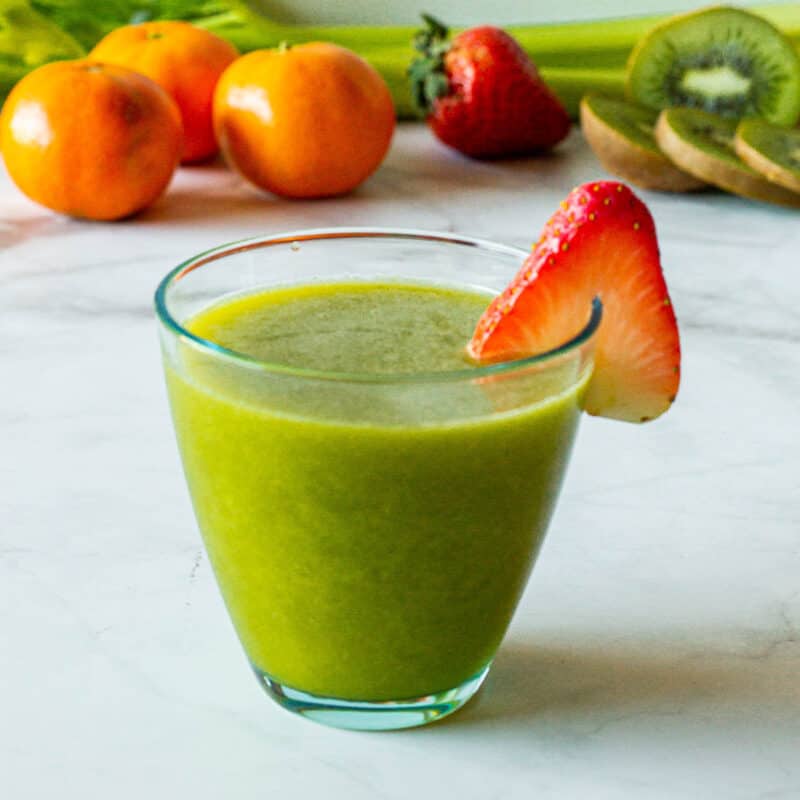 Simple Kiwi Green Juice Recipe + Juicing Tips
If you like juicing this homemade kiwi juice recipe is for you. We started juicing years ago, and in the process have perfected a series of juices including this great kiwi and cucumber juice recipe.
Equipment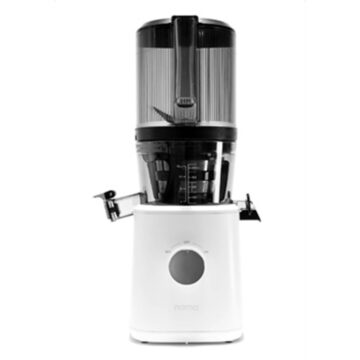 (affiliate link)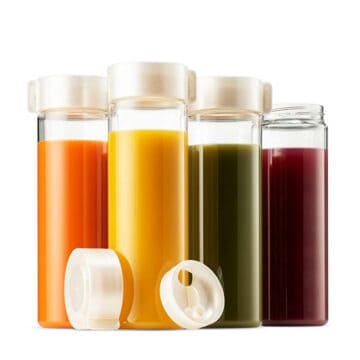 (affiliate link)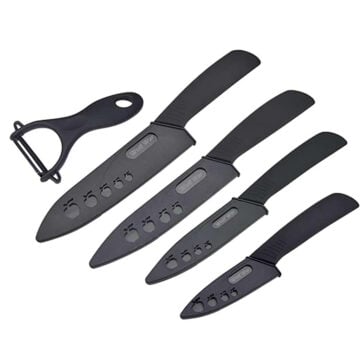 (affiliate link)
Ingredients
2

kiwis

2

clementines

or mandarine orange

1

cucumber

medium

2

celery stalks

1

cup

water
Optional:
1

knob

ginger

fresh, about 1 inch
Directions
Rinse the celery and cucumber.

Peel the clementines and clean the kiwi and ginger (if using) (no need to peel the ginger or kiwis).

Start introducing all the ingredients, combining the leaves and solids to prevent the juicer from getting stuck. Add water.

Serve fresh or store close in a container for no more than 24 hours, although we recommend having it freshly juiced.
Notes
Note: serving for juice should be 200 ml, about 80% of a cup. This recipe yields 700 ml (about 3 cups)
It is unnecessary to peel the ginger or kiwis; the Juicer will do it all.
If you want to thin the juice a little, you can add about half a cup of water.
Nutrition Facts
Calories:
73
kcal
Carbohydrates:
17
g
Protein:
2
g
Fat:
1
g
Saturated Fat:
1
g
Polyunsaturated Fat:
1
g
Monounsaturated Fat:
1
g
Sodium:
10
mg
Potassium:
421
mg
Fiber:
3
g
Sugar:
11
g
Vitamin A:
137
IU
Vitamin C:
84
mg
Calcium:
53
mg
Iron:
1
mg
Nutrition Facts
Simple Kiwi Green Juice Recipe + Juicing Tips
Amount per Serving
% Daily Value*
* Percent Daily Values are based on a 2000 calorie diet.
🌡️ Food safety
Cook to a minimum temperature of 165 °F (74 °C)
Do not use the same utensils on cooked food that previously touched raw meat
Wash hands after touching raw meat
Don't leave food sitting out at room temperature for extended periods
Never leave cooking food unattended
Use oils with high smoking points to avoid harmful compounds
Always have good ventilation when using a gas stove
See more guidelines at USDA.gov.
The information shown is an estimate provided by an online nutrition calculator. It should not be considered a substitute for a professional nutritionist's advice. See our full Nutritional Disclosure here.
Please note that some of the links here are affiliate links, and I will earn a commission if you purchase through those links. I recommend all of the products listed because they are companies I have found helpful and trustworthy.